Street art might not last as long as Rome's famous art masterpieces but, as the most significant global art movement of our time, the legacy of Rome's street art is here to stay. In this Rome Street Art Travel Guide, we'll explore the city's diverse and ever-changing array of colorful murals, graffiti, and street art and take a look at the history behind them.
It was about time that I finally arranged in one single place all the articles about street art in Rome that I've written in 11 years of street art blogging. In this Rome Street Art Guide, you can read about the top 26 neighborhoods to find street art in Rome, with additional local tips on where to eat, drink, and shop like a local in Rome.
Use my Rome Street Art Map (which is a regular Google Map, there is no need to download any app or install anything on your phone) to easily locate the best murals in Rome and enjoy the two street art self-guided walking tours I've curated for you to discover a less touristy side of Rome.
And if you fancy a private street art tour in Rome or a custom travel plan based on your interests and passions, just drop me a message ;)
Where to find street art in Rome?
Explore the top 26 neighborhoods to find street art in Rome, with additional local tips on where to eat, drink, and shop like a local in Rome.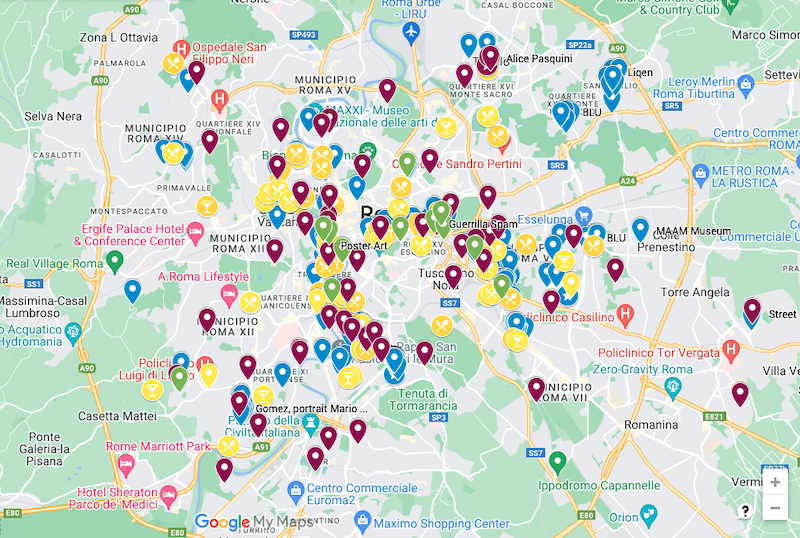 Where to find street art in Rome's historic center?
Street Art in Rome: Trastevere
The street art in Trastevere is much more spontaneous than the rest of the street art throughout Rome because the district's historic buildings are considered "cultural heritage" and are therefore protected by architectural constraints that make it very difficult to obtain the necessary authorizations to intervene with large-scale works. As is often the case, this limit has been interpreted as an opportunity by local street artists, who have made Trastevere the center of the capital's poster art.
In Trastevere, there are five walls of poster art whose visual impact is nothing less than that of the most famous murals of Rome.
Despite the architectural constraints imposed on the historic buildings of the district, it is still possible to admire some murals in Trastevere. My favorite mural in Trastevere is "I still remember how it was before" by English street artist My Dog Sighs, but I'm obviously biased because I was part of the organization that curated this mural and I even helped the artist in stenciling some of the eyes ;)
The mural of My Dog Sighs in Trastevere is made up of 540 eyes, each of which contains the reflection of the Roman skyline and the silhouette of characters born, dead, or who have worked inside the hospital Regina Margherita, to which the wall belongs.
To read about other street art in Trastevere, check out my article "Poster Art and Other Street Art in Trastevere"
Rome local tips handpicked by yours truly | Trastevere neighborhood
Eat: The best supplì in Rome at Supplì Roma in Via San Francesco a Ripa 137.
Drink: Ma Che Siete Venuti a Fa' (Via Benedetta 25) is the pub that kicked off the craft beer scene in Rome. A pioneer, a game-changer, and definitely the best pub in Rome for craft beer lovers.
Shop: Streetwear and more cool stuff about Romanity that Romans proudly wear at Elvis Lives, in Via San Francesco a Ripa 27.
Visit: UP Urban Prospective Factory (Via dei Salumi 53), an art gallery that often showcases the work of urban artists.
Street Art in Rome: Testaccio
Testaccio is one of my favorite neighborhoods in Rome. I love how Testaccio is reinventing itself without losing its authenticity, starting from the never-ending renovation of the former slaughterhouse ("Mattatoio" in Italian), a vast complex of wings and pavilions covering an area of 25.000 sqm.
While some pavilions stay abandoned, and you can peek through the gates and see the hooks on which the animals were hung, others have been renovated and now host cultural organizations and contemporary art spaces. The former slaughterhouse is also home to Villaggio Globale, a squat where I basically spent all my teenage years ;)
The courtyard of Villaggio Globale is a famous Hall of Fame among Roman graffiti writers (an area where graffiti writers can operate freely). At the same time, you can find some great poster art at Villaggio Globale's World Wide Wall -a collective wall boasting posters coming from all over the world.
Testaccio is also home to some beautiful, large-scale works, notably the "Jumping Wolf" by Belgian street artist ROA.
However, my favorite mural in Testaccio is "Not Forgotten" by English street artist Lucy McLauchlan on the wall of the abandoned stadium, but -again- I'm obviously biased because I was part of the organization that curated this mural, and I even helped the artist in painting it.
The mural by Lucy McLauchlan in Testaccio is inspired by the trajectory of a ball that changes sizes and colors as it flows over the wall. This winding trajectory is outlined through sections that are either painted or untouched areas of the rough wall.
In this way, Lucy juxtaposed her iconic black-and-white tones (which are also the colors of a football) with the original shades of ochre of the wall, which, in turn, match the traditional colors of the Testaccio neighborhood as well as the colors of the AS Roma football team who was housed at Campo Testaccio from 1929 to 1940.
Rome local tips handpicked by yours truly | Testaccio neighborhood
Eat: Street Food at Testaccio Food Market, in Via Aldo Manunzio 66.
Drink: Tram Depot, where you can order your drink at an old tram turned into a cocktail bar, and enjoy it at the open-air garden. Address: Via Marmorata 13.
Shop: Italian delicacies at Volpetti, in Via Marmorata 47.
Visit: The Protestant Cemetery, where Keats, Shelley and many other artists and poets rest in peace. Address: Via Caio Cestio 6, in the shade of Rome's Pyramid.
Street Art in Rome: Monti
Located just steps away from the ancient Colosseum and Roman Forum, Monti is one of the most iconic neighborhoods in Rome. Monti might have become a popular tourist destination but, in the past, the area was known as a haven for artists, writers, and creatives -among whom Spanish street artist Gonzalo Borondo, who lived in Monti while studying at the Academy of Fine Arts in Rome.
The neighborhood still cherishes two unsanctioned works by Borondo from back then: a countenance sketched with black paint as if it were charcoal in Via Urbana (right next to Piazza degli Zingari) and two figures looking out at their windows in Via Urbana 125.
More urban legends have left a sign in Rome's Monti neighborhood. There's a mosaic by Space Invader in Piazza della Madonna dei Monti and a stencil by C215 in Via Baccina, alongside several tags and throw-ups by the infamous 1UP Crew (perhaps the best-known graffiti crew in Europe).
Monti also boasts the urban art project Art Stop Monti, i.e. the ever-changing rooftop of Cavour metro station curated by NuFactory.
Rome local tips handpicked by yours truly | Monti neighborhood
Eat: Aromatic plants and vegan food at Aromaticus, in Via Urbana 134.
Drink: A cocktail at the art gallery Antigallery, in Piazza degli Zingari 3.
Shop: Urban design and hipster fashion at Mercatomonti, in Via Baccina 36.
Visit: Technically not in Monti, but very close to it, is the multidisciplinary art center Contemporary Cluster, in Via Merulana 248.
More Street Art in Rome's Historic Center
While looking at street art in Rome's city center, unquestionably, the most critical work is the "flying donkey." The donkey is the last-standing piece of a long mural painted in 1977 by a collective of students who wanted to highlight the critical conditions of the buildings in the area. The artwork is among the first-ever murals painted in Rome (and the only one still standing, albeit partially). It pioneered all the political murals that have followed, up to the Rome urban art scene as we experience it today.
More notable street art in Rome's city center can be found on the rooftop of the MACRO, the Contemporary Art Museum of Rome. Here, you'll find a mural by Ozmo recalling the "Pyramid of Capitalist System", an illustration published in 2011 in the magazine "Industrial Worker."
Most of the murals curated by Forgotten Project (which my friends and I organized from 2015 to 2018) are scattered around the city center. The mural painted by Addfuel is a stone's throw away from Piazza del Popolo (in Piazza della Marina), the sculpture "Uma Cabra" by Bordalo II is next to the secondary entrance of Saint Peter's Train Station, and Daniel Eime painted his mural on the facade of Flaminio Market (Via Guido Reni 31).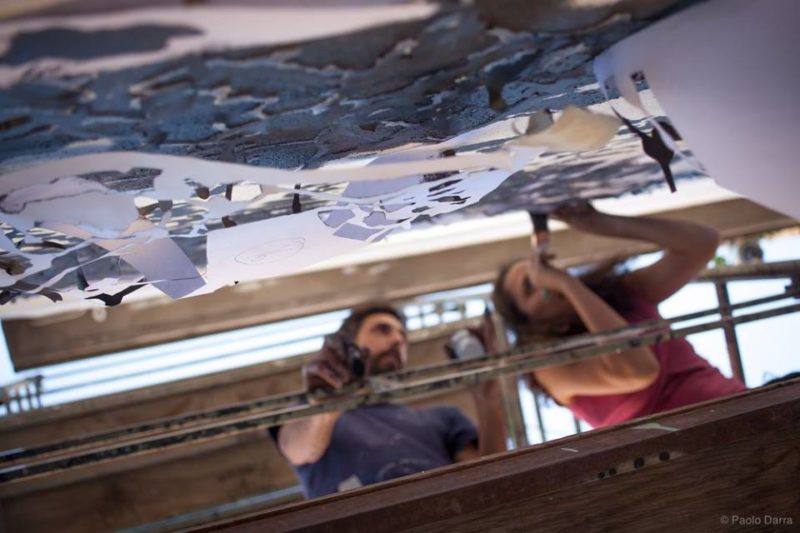 Two more murals can be found in the Prati neighborhood: a bear by Belgian street artist ROA, curated by Dorothy Circus, and a religious artwork by Mr. Klevra on the surrounding wall of the San Giuseppe Church, curated by Mirko Pierri – a.DNA Collective.
Still in the area, you can admire two staircases painted by David Diavù Vecchiato on the Trionfale food market, both depicting the iconic Italian actress Anna Magnani.
Lastly, street artist Maupal has his studio in Borgo Pio, the area next to the Vatican State, and so it's pretty common to stumble upon his poster art while wandering around Borgo Pio's picturesque cobblestone alleys.
Rome Street Art Self-Guided Tour: The Southbound Route
From Tor Marancia to Mira Lanza
Street Art in Rome: Tor Marancia
Big City Life is the most famous street art project in Rome. Stepping into the public housing complex, we discover a peaceful courtyard with tiny gardens and monumental murals. The area is strictly pedestrian, thus children play freely, and residents of all ages sit down in groups, chatting, laughing, and paying zero attention to those roaming around to take pictures of some of Rome's best street art.
There are 21 large-scale murals in Tor Marancia, all by renowned street artists. I like them all, but if I have to pick a favorite for this Rome Street Art Guide, I'll go for the one by German street artist SatOne.
"Talking Like a Waterfall" (2015) is a visual representation of the auditory sensations the street artist experienced in Rome. I've never thought of it, but the image of a waterfall of words for Italians' lively conversations is perfect; I wish I had come up with that!
To discover the story behind the other 20 murals in Rome's Tor Marancia, check out my article "Tor Marancia Street Art: The Story Behind The Most Photographed Murals in Rome."
From Tor Marancia, let's cross Via Cristoforo Colombo and enter one of the most picturesque neighborhoods in Rome: Garbatella.
Street Art in Rome: Garbatella
Garbatella is rich in many unsanctioned artworks by famous European street artists such as Alice Pasquini, Space Invader, and C215, among others. In Garbatella, you can also find many political murals and street art interventions.
The struggles for independence and freedom of humanity are painted on the walls of 'CSOA La Strada,' one next to the other. On the surrounding walls of this well-known squat in Garbatella, there are tributes to many different causes, from Kurdistan to Northern Ireland, Palestine, and Cuba.
At the beginning of 2020, before the coronavirus outbreak, there was renewed interest in street art in Garbatella, courtesy of the fourth edition of the festival Muri Sicuri, which ended at the start of the coronavirus-induced lockdown.
You can learn more about these new murals (and the old ones, too!) in my article "The Return of Street Art in Garbatella."
Rome local tips handpicked by yours truly | Garbatella neighborhood
Eat: Organic meals at Casetta Rossa, an informal restaurant in a park (Via Giovanni Battista Magnaghi 14).
Drink: Local craft beers at Hey Hop, on Piazza Bartolomeo Romano.
Shop: Vegan products at Vegustibus, in Via Giovanni Andrea Badoero 72.
Visit: The urban garden created by green-fingered locals in Via Rosa Raimondi Garibaldi 14.
Let's cross the railway bridge and we are in Ostiense, Rome's post-industrial neighborhood.
Street Art in Rome: Ostiense
When the factories in Ostiense moved to more remote areas, they left behind large and vacant spaces with an irresistible urban charm. This has occurred in many large cities worldwide: the first parts of town to become 'street art districts' are almost always those with an industrial past.
The most famous mural in Ostiense (and -probably- in Rome) covers two facades of the bygone warehouse of the Italian Air Force in Via del Porto Fluviale, which numerous migrant families have occupied since 2003. Playing with the architectural elements of the building, Italian street artist BLU created 27 faces with (initially) very bright colors.
Perhaps these colors have faded somewhat, but the work has not lost its fighting spirit. Without omitting references to the history and architecture typical of Ostiense, each character depicted tells a different story: of social injustice, exploitation of environmental resources, or, for example, inequalities caused by capitalism.
Another mural I especially like in Rome's Ostiense neighborhood is an old one by Axel Void, who depicted ​​the owner of a hardware store that used to be in that building back in the days when Ostiense was still the city's industrial engine. The owner is a character remembered with great affection by the neighborhood's elderly, and I love that we have an example of Axel Void's earliest style in Rome.
Lastly, in the shade of the gas holder (the landmark of the Ostiense neighborhood, "Gazometro" in Italian), there is a very popular Hall of Fame, an area where graffiti writers can operate freely.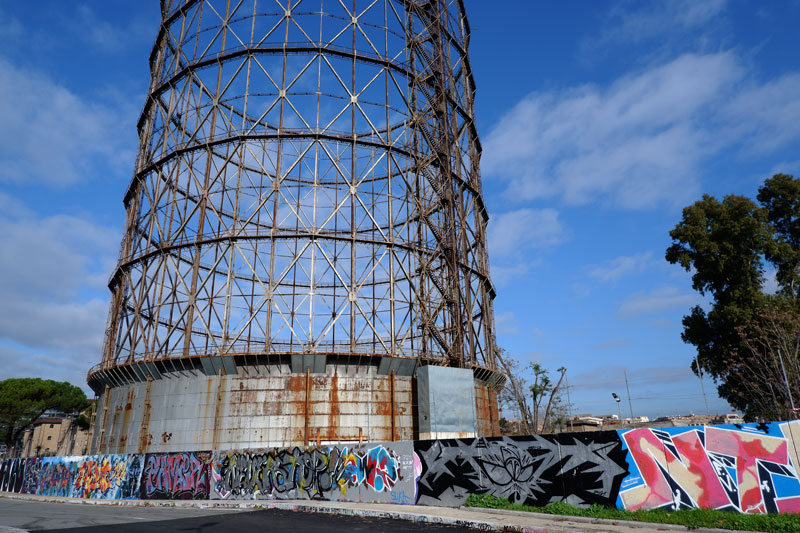 To discover the rest of the street art in Rome's Ostiense neighborhood, read my article "Murals in Ostiense, one of Rome's first street art districts."
Rome local tips handpicked by yours truly | Ostiense neighborhood
Eat: Vegan meals at Romeow Cat Bistrot, the restaurant with six resident cats in Via Francesco Negri 15. 
Drink: Craft Beers at Hopside, the pub overlooking the abandoned buildings of the former general markets in Via Francesco Negri 39.
Shop: Italian delicacies at Eataly, in Piazzale 12 Ottobre 1942.
Visit: The Centrale Montemartini Museum, where industrial archaeology meets classical art, in Via Ostiense 106.
Street Art in Rome: San Paolo
Now let's walk along Via Ostiense towards the student neighborhood that developed around Rome's 3rd University, "Roma Tre." Like any student area worldwide, this is a lively neighborhood with bars and places for young people, although the site is mainly known for the Basilica of Saint Paul Outside the Walls (Basilica di San Paolo).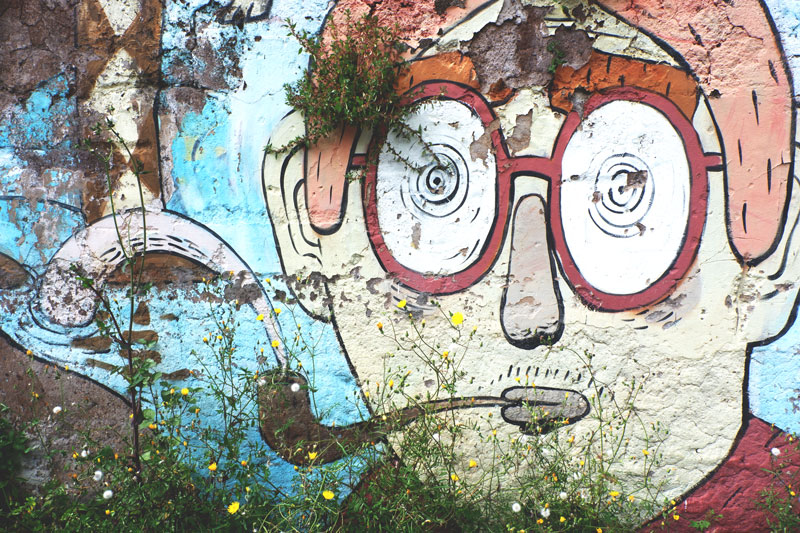 Before reaching the world-famous Basilica, we should detour to admire the street art along Via Libetta, a well-known clubbing street. From an old piece by Agostino Iacurci that is peeling off over time to the array of murals on the walls of the photography school 'Officine Fotografiche,' this hidden street boasts some pretty cool pieces!
But let's keep walking towards the Basilica because the area surrounding it has welcomed national and international street artists since 2011. Among these early works, my favorite is the one by Gonzalo Borondo on the walls of the LGBT Center Mario Mieli, which depicts a series of naked figures reinterpreting Plato's myth of Aristophanes.
In my old article about street art in Rome's San Paolo neighborhood, you can read about other early murals in this area.
As for the most recent urban art in Rome's San Paolo area, you can't miss the gigantic mural painted in 2020 by Dutch street artist Judith de Leeuw, dedicated to the LGBT movement.
San Paolo is also the area of CSOA Acrobax, a squat place whose facade has been fully painted by the renowned street artist BLU. Below is an image of the new work he completed in 2021 as a tribute to Carlo Giuliani, the guy killed by Italian police during an anti-globalization demonstration outside the G8 summit in Genoa.

To realize this mural, the street artist painted over another amazing mural he did in 2012 (which you can see in my round-up of all street art by BLU in Rome).
Rome local tips handpicked by yours truly | San Paolo neighborhood
Eat: Indulge into the food from the former URSS at the Associazione Culturale Caucaso, in Via della Collina Volpi 6.
Drink: A glass of great wine at Enoteca Quattrochiacchiere, in Via Gabriello Chiabrera 61. (this wine bar is well-known for organizing wine tastings, both in Italian and in English)
Shop: Second hand furniture, clothes, books, and more at Ex Novo, in Via Corinto 12.
Visit: A photography exhibition at Officine Fotografiche, in Via Libetta 1.
Street Art in Rome: Portuense
Now cross the Marconi bridge, and you'll be in the Portuense neighborhood. Walk along Viale Marconi until you reach the former soap factory Mira Lanza, now home of Teatro India. Overlooking the entrance of this theater, there is a portrait of Pier Paolo Pasolini by Portuguese street artist Frederico Draw, realized for the Forgotten Project in 2015.
Then venture inside the area of the former Mira Lanza factory that is still abandoned, where French artist Seth created his own open air museum.
Rome local tips handpicked by yours truly | Portuense neighborhood
Eat: Not strictly in Portuense, but the close-by Maritozzaro (Via Ettore Rolli 50) is the place where you can eat the best maritozzo in Rome (the iconic soft bun filled with whipped cream).
Drink: Selected beers at Birrificio Marconi, in Via Enrico Fermi 71.
Shop: Comics and graphic novels at Karma Komix, in Via Luca Valerio 32.
Visit: The cultural space TAG Culture, in Via di Santa Passera 25 (specializing in live music events).
Rome Street Art Self-Guided Tour: The Eastbound Route
From San Lorenzo to MAAM
Street Art in Rome: San Lorenzo
Graffiti and San Lorenzo go hand in hand: the aerosol art tells the story of a lively neighborhood − home primarily to students coming from all over Italy to study at La Sapienza University, and visited by those who are keen to enjoy the capital's nightlife.
Street art in San Lorenzo blossomed at a time when the phenomenon had not yet taken hold in many other parts of the city, and the traces of this pioneering period are still visible on its walls.
Nowadays, San Lorenzo boasts a healthy mix of commissioned works, unsanctioned pieces, independently-funded murals, stencils, tags, and many painted shutters, which are the characteristic of the neighborhood's street art scene.
My favorite wall in San Lorenzo was painted during one of the first jams ever ("Collective", which took place in 2010). I love the way the wall is peeling off as if it were a living organism.
To discover more street art in Rome's San Lorenzo neighborhood, check out my article "Street Art in San Lorenzo: a trip along large murals and painted shutters."
Rome local tips handpicked by yours truly | San Lorenzo neighborhood
Eat: Artisanal chocolate at the chocolate factory Said 1923, in Via Tiburtina 135.
Drink: Craft Beers at Luppolo 12, in Via dei Marruccini 12.
Shop: Graphic novels and other selected books at Libreria Giufà, in Via degli Aurunci 38.
Visit: The monumental cemetery of Verano, in Piazzale del Verano 1.
From the ancient Roman gate Porta Maggiore, let's take Via Prenestina. Our Eastern Rome street art tour develops along this ancient Roman road (the last stop, Rome's street art museum MAAM, is at Via Prenestina 913). Let's go!
Street Art in Rome: Pigneto
The first neighborhood we will cross is Pigneto, home of students, artists, and creatives. Pigneto may be squeezed between two of Rome's busiest consular roads (Via Prenestina and Via Casilina), but its heart is a pedestrian zone: famous by day for its local market and the charm of its bars with their unmistakable retro style, famous by night for its aperitifs, ethnic food, and nightlife.
Before becoming Rome's hipster stronghold, Pigneto has been an evocative setting for many films, first and foremost those by Pier Paolo Pasolini. Pasolini himself is one of the central figures in the history of Pigneto, and many street art pieces in the area are dedicated to him.
The best known are located along Via Fanfulla da Lodi, where Pasolini shot many scenes of "L'Accattone", and where he loved to spend his evenings sitting at the tables of the historic Bar Necci. These three murals – created on the occasion of the 40th anniversary of the artist's death – represent three different faces of Pasolini: the journalist, the poet, and the film director.
My favorite graffiti and street art hotspot in Rome's Pigneto is the Ex-Snia, a squat inside a gigantic disused factory. There is a powerful mural by BLU next to the entrance of the former industrial complex on Via Prenestina 173, and many more street art pieces inside it, including a small mural by Jorit.
To read about the many large-scale murals in Rome's Pigneto, check out my article "Where to find Street Art in Rome's Pigneto neighborhood."
Rome local tips handpicked by yours truly | Pigneto neighborhood
Eat: Yummy sandwiches at Dar Ciriola, in Via Pausania 2a.
Drink: At the wine bar Enoteca Vigneto, in Piazza dei Condottieri 26.
Shop: Feminist books at Tuba, in Via del Pigneto 39a.
Visit: The Lago Ex-Snia, a 10.000-sqm accidental lake that resulted from a construction error in 1992 (part of the former industrial complex Ex-Snia).
Let's cross Via Casilina and we'll be in Tor Pignattara, one of the best street art neighborhoods in Rome.
Street Art in Rome: Tor Pignattara
It's not a secret that Tor Pignattara is one of my favorite areas in all of Rome. The overabundance of street art that one can find wandering around here is just one of the things I love about this multicultural neighborhood the most.
Almost all urban art pieces we will spot in Tor Pignattara have been sponsored by Rome's art galleries, which aim to promote their upcoming exhibitions (namely Varsi and Wunderkammern, the latter also located in Tor Pignattara).
Among the many murals curated by the Wunderkammern art gallery, my favorites are two pieces by the Roman duo Sten & Lex. The first one is a large-scale, abstract mural on Via Francesco Baracca. Far away from their iconic portraits, this conceptual piece juxtaposes perspectives and irregular blots, yet another stage of their constantly evolving technique that never stops experimenting. This mural is characterized by adding blue to Sten & Lex's usual black-and-white palette, hence the title "Blu Landscape."
On Via Ciro da Urbino, instead, there is a smaller piece exemplificative of Sten & Lex's technique of broken molds, i.e., stencil molds glued to the wall that will eventually be destroyed, showing the "evolution" of the artwork, which changes through time. What I find especially interesting is that the mold's wreck represents the piece's uniqueness (versus the avowed reproducibility of stencil art).
To discover all the murals produced by the Wunderkammern art gallery and other unsanctioned street art pieces in Tor Pignattara, check out my article "Urban Art in Rome: Tor Pignattara Street Art Guide."
Rome local tips handpicked by yours truly | Tor Pignattara neighborhood
Eat: Traditional Roman cuisine at Betto e Mary, in Via dei Savorgnan 29.
Drink: A curated selections of wine and beers at Sip Bistrot, in Via Carlo della Rocca 37.
Shop: An urban contemporary artwork at the Wunderkammern Art Gallery, in Via Gabrio Serbelloni 124.
Visit: The Roman catacombs underneath the park Villa De Sanctis, in Via di S. Marcellino 34.
Let's keep walking and we are in Centocelle, a lively neighborhood whose streets are named after flowers.
Street Art in Rome: Centocelle
The graffiti and street art hotspot in Rome's Centocelle is the squatted Forte Prenestino, occupied in 1986. This former fort (one of the fifteen Roman forts constructed in the 1880s) has become the stronghold of Rome's activism movements, a hotbed of social initiatives, cultural events, and concerts. The Forte Prenestino has been promoting graffiti art since the early 1990s, for example, through the organization of the festival "Happening International Underground," the first of this kind in Rome.
More street art in Rome's Centocelle neighborhood can be found at BAM (Biblioteca Autogestita Metropolitana, meaning metropolitan self-managed library), including many pieces by Yemenite street artist Aladin, who lives in the area.
My favorite large-scale mural in Centocelle is by Italian street artist Etnik, who turned the letters of his graffiti name into a botanical garden. This mural was curated by Mirko Pierri – a.DNA Collective.
Rome local tips handpicked by yours truly | Centocelle neighborhood
Eat: Yummy Japanese ramen at Waraku, in Via Prenestina 321.
Drink: Organic wine at Enoteca Sfuso, in Via dei Castani 266.
Shop: Arabic delicacies at the Arab Market, in Via degli Aceri 96.
Visit: The former airport inside the Centocelle Archaeological Park, in Via Casilina 761.
Let's cross Viale Palmiro Togliatti and we are in Quarticciolo, an area known for its social fights.
Street Art in Rome: Quarticciolo
Quarticciolo is a left-wing neighborhood known for its cultural spaces, self-managed by the locals. This is where I met Jorit (read the interview!) while he painted a portrait of Brazilian activist Marielle Franco in Via Manduria.
However, my favorite mural in Rome's Quarticciolo is the one by BLU in Piazza del Quarticciolo. This massive mural is a contemporary take on the Venus of Milo and Michelangelo's David.
From Quarticciolo, we can either walk along Via Prenestina or take bus number 508 (just a 10-minute drive) to reach MAAM, the street art museum of Rome.
Rome Street Art Museum: MAAM, the Museum of the Other and the Elsewhere
I believe MAAM is home to the greatest collection of street art in Rome, and you definitely shouldn't miss this spot! However, the MAAM is not just a place where you can admire some of the best street art in Rome. Aside from being a museum, the MAAM is home to 200 people from different ethnicities. In 2009, they occupied an abandoned slaughterhouse located in the easternmost outskirts of Rome (Tor Sapienza), which gave birth to one of the most interesting examples of cohabitation: the first inhabited museum on Earth.
Read the story of MAAM and which artists you can find there in my article "MAAM, Rome's Museum of the other and the elsewhere".
Rome Street Art Map
Explore the top 26 neighborhoods to find street art in Rome, with additional local tips on where to eat, drink, and shop like a local in Rome.
Where to find street art in Rome: other / outer neighborhood
Street Art in Rome: Quadraro
Walking the streets of Quadraro Vecchio means immersing oneself in a village-like atmosphere: a place where the memory of the neighborhood is kept alive and handed down by its inhabitants and longtime shopkeepers. The area's history – marked first and foremost by one of the critical episodes in Rome during the Second World War, i.e., the Nazi roundup of around 2,000 men in April 1944 – is even eternalized on its walls.
Urban art made its way to Quadraro Vecchio courtesy of M.U.Ro., an acronym for 'Museo di Urban Art di Roma' -one of Rome's very first urban art projects.
My favorite mural in Rome's Quadraro neighborhood recalls the anti-fascist resistance. Painted in 2014 by Lucamaleonte, "Wasp's Nest" is named after the nickname earned by the neighborhood for its impregnability. Next to his signature, Lucamaleonte painted the physics formula of resistance.
To discover all the other murals curated by Diavù and his M.U.Ro. project, check out my article "Street Art in Quadraro: The Masterpieces of Rome's Museum of Urban Art."
Rome local tips handpicked by yours truly | Quadraro neighborhood
Eat: At the cozy Grandma Bistrot, in Via dei Corneli 25.
Drink: A glass of wine at Moggio Vineria, in Via dei Quintili 51.
Shop: Second hand clothes (and more!) at the Vintage Market & Handmade in Via Tuscolana 179.
Visit: The Parco degli Acquedotti, part of the Appian Way Regional Park, named after the ancient Roman aqueducts that run through it.
Street Art in Rome: Trullo
Trullo's redemption started from a poet collective (Poeti Anonimi del Trullo, meaning Trullo's Anonymous Poets) who, armed with markers, began writing poems in Roman dialect on walls, recalling the poetic tradition of Belli and Trilussa.
Shortly after that, and with the same spontaneity and genuinity that have distinguished the Poets, the Pittori Anonimi del Trullo (Trullo's Anonymous Painters) began painting facades, archways, yards, staircases, and benches to take over the public space that the municipality has been neglecting for so long.
Murals quickly followed. After local street artist Flavio Solo painted "Nina," street poets coming from all over Italy paired up with local street artists for the 3rd edition of the International Street Poetry Festival (which took place in 2015, after two editions held in Milan and Genoa, respectively in 2013 and 2014).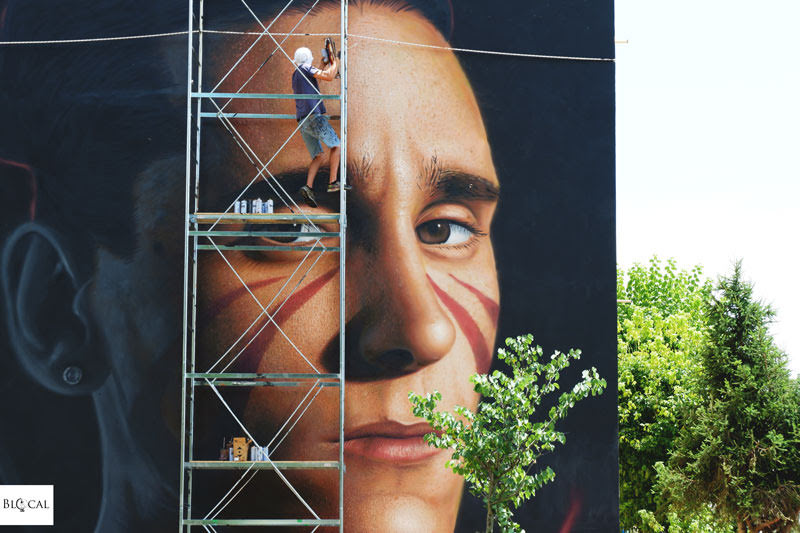 Discover all the murals produced during Trullo's street poetry festival in my article "Street Poetry and Street Art in Rome's Trullo Neighborhood."
Rome local tips handpicked by yours truly | Trullo neighborhood
Eat: Traditional Roman cuisine at La Tavernaccia, in Via del Tempio degli Arvali 27.
Drink: Beers and cocktails at Il Paiolo Pub, known for the many board games available. Address: Via dell'Imbrecciato 127.
Shop: Fresh products at Trullo's farmer market, in Via del Trullo 297.
Visit: The Montecucco hill, with its ruins and the stunning panoramic view over Southern Rome.
Street Art in Rome: Tor Bella Monaca
Tor Bella Monaca is the epitome of Rome's outskirts: huge concrete buildings, public housing, criminality, drug dealing, isolation, and institutional disinterest. In this scenario, Giorgio De Finis is currently building the Museo delle Periferie (Museum of the Outskirts), and I'm looking forward to it given the excellent work Giorgio has done with MAAM Museum first, and with MACRO Museum after that.
Among the street artists who painted a mural in Tor Bella Monaca are Sten & Lex, whose artwork is at the Tor Bella Monaca theater; Lucamaleonte, who painted a seaworld-inspired mural sponsored by Findus, causing a heated protest from environmental activists; and the street artists who took part to the second edition of the Big City Life (after the success of the Big City Life in Tor Marancia): Diamond, Mosa One, and Flavio Solo.
More spontaneous street art pieces are scattered around the nearby Largo Ferruccio Mengaroni, like this one painted in 2012 by Bol23, one of the first graffiti writers in Rome.
Lastly, a notable art project in Tor Bella Monaca suburb is the one organized by Comunità di Sant'Egidio, which saw local disabled people painting side by side with two Roman street artists: Elia 900 and Leonardo Crudi.
Street Art in Rome: Primavalle
Primavalle is a formerly rural area in the western outskirts of Rome that, during the Fascist era, was turned into a council housing 'hood. In 2015, the writer Maurizio Mequio (a.k.a. Poeta del Nulla) launched Muracci Nostri, a grassroots, crowd-funded street art festival that attracted more than 50 artists. This project is highly genuine and artistically naïf, firmly rooted in the local community.
My favorite murals in Rome's Primavalle neighborhood required a bigger production team, though (namely, that of Varsi art gallery). They were painted in 2016 by two world-famous street artists: the Italian Pixel Pancho and the Australian Fintan Magee.
The mural painted by Fintan Magee is particularly stunning: it depicts a woman staring at the horizon and holding a deer's head -an image coming from the artist's childhood in the suburbs of Brisbane, Australia, where he recalls a car accident caused by a deer crossing the street.
In this work, Fintan Magee questions the ethics of hunting and wonders about the equilibrium of nature. Once again, Fintan Magee takes the issue from a real world -where deer brought to Australia by Europeans are in conflict over the same food with the more aboriginal kangaroos and therefore despised and hunted by locals- and sets it into a dreamlike, suspended world where the border between life and death is erased.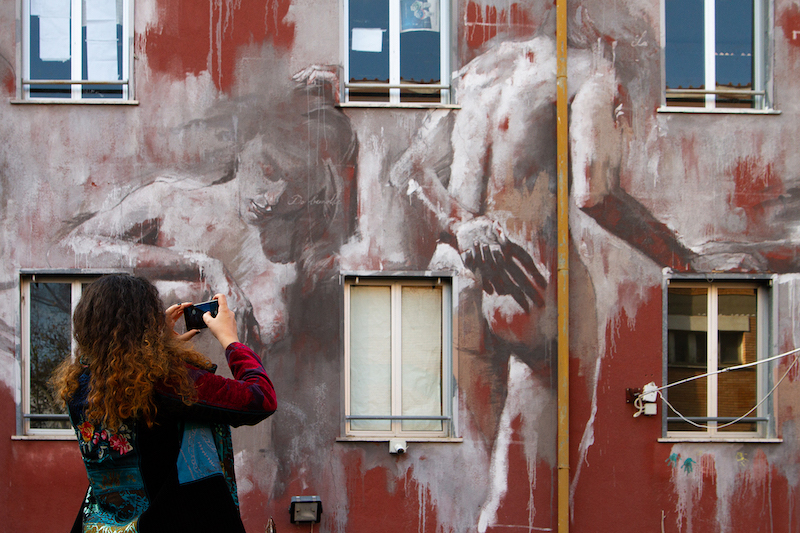 To learn about the rest of street art in Rome's Primavalle neighborhood, check out my old article "Street Art in Rome: Primavalle neighborhood."
Rome local tips handpicked by yours truly | Primavalle neighborhood
Eat: Pizza and other Italian delicacies at Buccilli, a third-generation bakery in Piazza Pio IX (that's actually in Pineta Sacchetti, and that's where we are heading next).
Drink: Craft beers at Beerwood, in Via Urbano II 41b.
Shop: Natural cosmetic products, teas and more herbal products at the herbalist shop Naturajo, in Via Pietro Gasparri 97.
Visit: The Pineta Sacchetti Park, from where you can enjoy an unusual view of Saint Peter's Basilica.
Street Art in Rome: Pineta Sacchetti
The Pineta Sacchetti Park is also where Pinacci Nostri (a cousin of Muracci Nostri) kicked-off, eventually producing over 50 small murals all around the neighbourhood. The characteristic of street art in Pineta Sacchetti is that all artworks tell a story about this village-like suburb, which wasn't even considered part of Rome until some years ago, as we can see in the mural painted by Hos.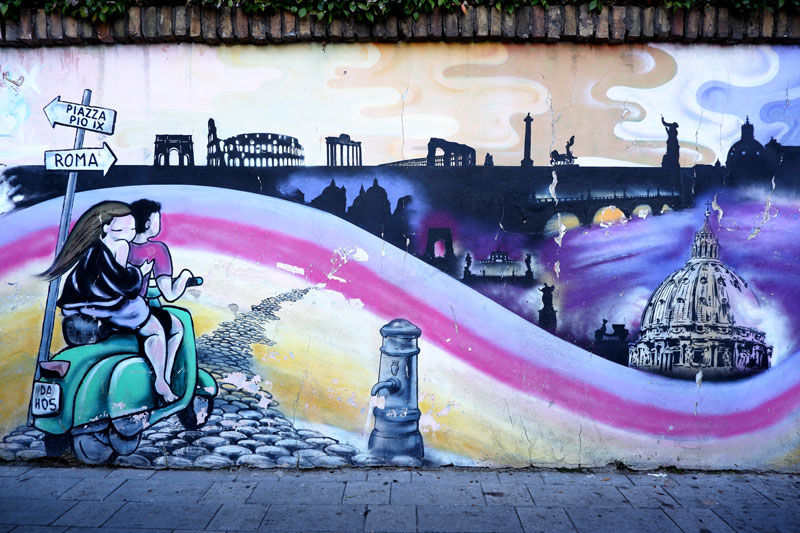 This operation of remembering and recounting stories from the past is typified in "Mnemosine," the goddess of memories painted by Carlos Atoche in Via Calisto II.
Indeed, time has stopped in this area of Rome. Look at the signs above the stores, at the elders reading the newspaper on a bench, at the farmers with their small fruit stands at the corner of the street… the atmosphere in Pineta Sacchetti is surreal, magical, like being in an old movie.
Street Art in Rome: Santa Maria della Pietà
Still part of the project Muracci Nostri is the revamping of some buildings inside the park surrounding the former mental asylum of Rome Santa Maria della Pietà. In 2015, the project brought 28 street artists to this forgotten park on the northern outskirts of Rome. The former mental asylum is my "place of the heart," and I highly recommend you visit both the park and the Museum of Psychiatry "Museo della Mente."
The street art at Santa Maria della Pietà isn't the best you can find in Rome. However, the despairing figures painted by Gomez on the façade of the Museum of Psychiatry are compelling (while the museum itself is among my favorite museums in Rome, you can't miss it!).
To see the other murals painted at Rome's former mental asylum Santa Maria della Pietà, check out my old article "Street Art in Rome: Santa Maria della Pietà."
Street Art in Rome: San Basilio
Located in the northeastern outskirts of Rome, San Basilio neighborhood is often associated with a high crime rate. Still, San Basilio is a green neighborhood with a village-ish atmosphere, a panoramic view over the Roman hills, and some amazing murals you can't miss!
San Basilio is home to SanBa, whose public art collection results from workshops and activities with children, students, and residents. The project began with two stunning murals by Spanish street artist Liqen, which are somehow related as they are both about an idyllic life on a planet finally cleaned up of pollution. In the following images, you can see how Liqen's mural has aged through the years. I find the organic evolution of street art extremely fascinating!
Still in San Basilio (although not part of the SanBa project) is a wall by BLU that had been censored by local authorities in a corner. Still, as time passes by, the white paint used by the city council is fading, and we can see what the street artist originally painted: a group of cops in the guise of pigs.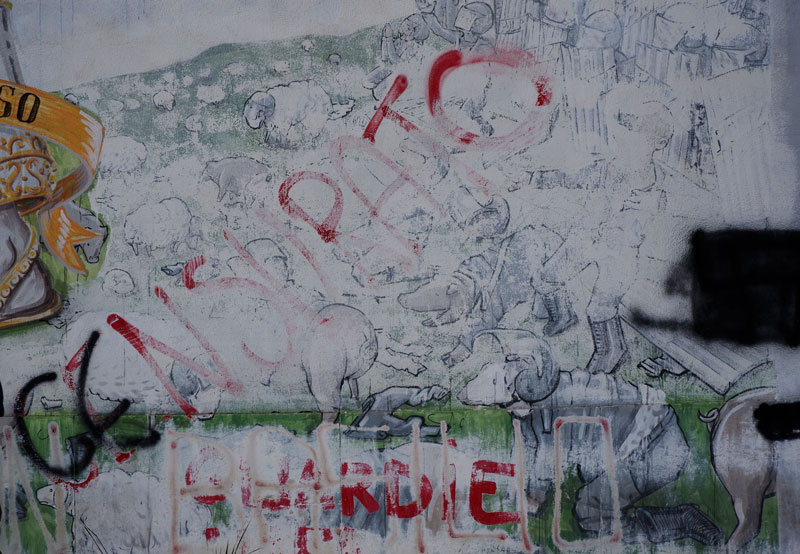 Read about the SanBa project and more murals painted in San Basilio in my old article "Street Art in San Basilio."
Street Art in Rome: Casal de' Pazzi
This area of Rome is well-known for the discovery of a prehistoric site from 200.000 years ago (the Pliocene era). Fossils found here have been preserved in good condition by the river's bed and are now on display at the Museo di Casal de' Pazzi. Among these fossils, there are the remains of an ancient elephant -Rome's mammoth- which gained international fame thanks to the famous comic author Zerocalcare, who tributed it with two murals and countless comic strips.
On the surrounding wall of the archaeological museum, local street artist Jerico Cabrera Carandang painted "Reflections," a block-long mural depicting the natural landscape and the ancient river that characterized this corner of Rome in prehistoric times.
BLU painted three more amazing murals in the area. ​​The latest one is titled "Capita" ("It happens"), and it depicts waterslides shaped like an intestine and leading into two separate tanks. The colorful waterslides lead into a tank where a few influential people float in the crystalline water, enjoying life. The gray waterslides, instead, lead into a tank of putrid water where a mass of regular people suffers poverty and injustice.
You can read about the other two murals painted by BLU in Casal de' Pazzi in 2015 in my article "Discover all the street art by BLU in Rome."
Street Art in Rome: Tufello
Nestled between one of Rome's largest public housing projects (Vigne Nuove) and the picturesque garden city of Montesacro (Città Giardino, a similar project to the garden city of Garbatella, but way less popular among tourists), Tufello is a residential area with a village-like atmosphere and some fantastic street art.
In Tufello, there is a piece by Alice Pasquini on the squat place LAB!Puzzle, and a mural by Lucamaleonte tributing iconic Italian actor Gigi Proietti, who grew up in the area. Among the lesser-known pieces of street art in Rome's Tufello area, there is a long mural about the Bolivian Revolution by Venezuelan artists Rommer, Ronald, Javier e Wolfgang and an old piece by stencil artist Hogre (it's very rare to find his older walls intact; this is the only one of this size still standing in Rome).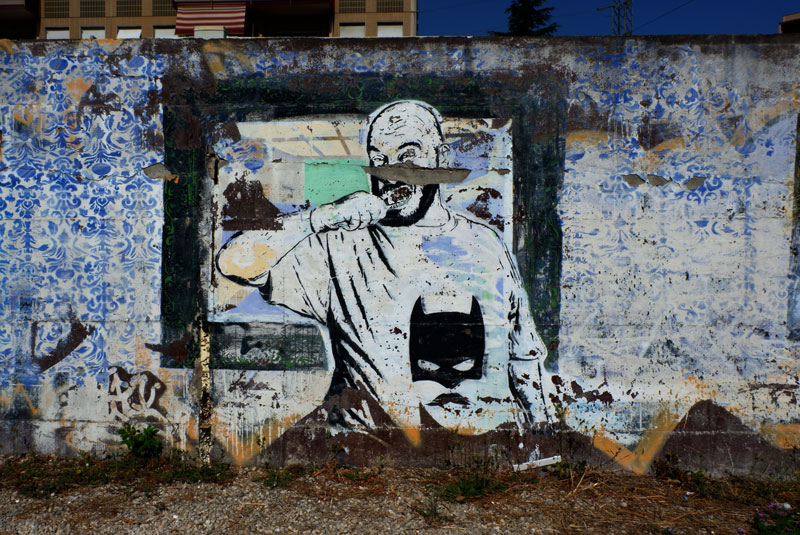 Street Art in Rome: Corviale
I grew up near the infamous 'Serpentone' (meaning "big snake" in Italian), the controversial council housing building consisting of two compact blocks 1 kilometer long and nine floors high. This compound was built during the 1970s, and it contains 1200 apartments. It is widely considered a city planning fiasco and a bandit cove, but thanks to urban art, Corviale went from a symbol of decline to a model of urban regeneration.
The first project to undertake this challenge was Corviale Urban Lab: for five years (from 2009 to 2013), the project invited many local street artists to paint in the area while organizing all sorts of cultural activities, including concerts and theater shows.
More recently, Dutch street artist Judith de Leeuw painted the side of the Serpentone building; with its 40 meters, hers happens to be the highest mural in Rome. Invited by the urban art project Street Art for Rights, Judith painted the image of a woman covered in oil, similar to the birds caught in oil in the sea due to pollution, next to another image of the same woman flying away once the oil has been removed from her body.
Rome local tips handpicked by yours truly | Corviale neighborhood
Eat: Not strictly in Corviale, but the artisanal gelato at the nearby Gelatomania has received lots of awards, so it's worth walking as far as Via Portuense 760 (it's a 15-min walk).
Drink: Roman craft beers at the taproom of Rome's brewery ETC (Eternal City Brewing), in Via del Ponte Pisano 84.
Shop: Collectables and second hand objects at Il Mercatino, in Via della Casetta Mattei 41.
Visit: The contemporary art center Il Mitreo (also the promoter of some of the street art in the Corviale area), in Via Mazzacurati 61.
Street Art at the Beach: Ostia
coming soon, stay tuned!
Rome Street Art Map
I hope this Rome Street Art Travel Guide helps you discover a less touristy side of Rome. Don't forget to get my Rome Street Art Map to easily locate the best murals in Rome, and if you fancy a private street art tour in Rome or a custom travel plan based on your interests and passions, just drop me a message ;)