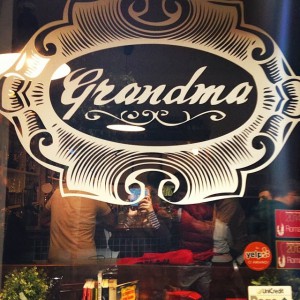 Grandma Bistrot in Rome, Quadraro
Sticking to my plan
to try the very best of This is Food Festival -but at the original restaurants' locations-
, last week we went dinner at
Grandma Bistrot
, one of the restaurants that struck me more during the festival at Officine Farneto.
I must say we really looked forward to this eating experience, so let's start admitting that maybe our expectations were too high… This, and the fact that, out of a table of 5 people, 4 professionally work with food (ok, I've numbered also myself among "the foodie 5" and I'm not actually cooking food for living, but still…) and the one left is engaged with a cook.
All this introduction to get on tiptoe to my consideration that the dinner wasn't so extraordinary as we were expecting (again: expectations are tricky things!); it wasn't so bad either, actually I felt in love with a couple of dishes ;) My favourite dish was the soup with chickpeas, marjoram and meat balls: don't miss it, 'cause it is extraordinary! Then I ordered a panzanella (traditional bread soup with tomatoes, red onions, beans and basil), which was good, and an amazing sandwich with felafel and hummus, the same recipe that bewitched me at the This is Food Festival and dragged me until Quadraro neighbourhood longing for one bite more.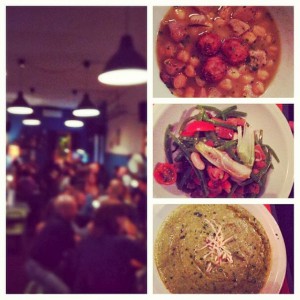 Grandma Bistrot in Rome, Quadraro
Another very good sandwich is the spelt bread sandwich with chicken and peppers, while the durum wheat focaccia with robiola cheese, figs and ham is just fine. Lastly we ordered spaghetti with octopus sauce, basil pesto and lemon and beef muscle cooked at low temperature and then toasted, with vegetables and bittersweet sauce; maybe we already had eaten too much, but we didn't love them -at least not madly.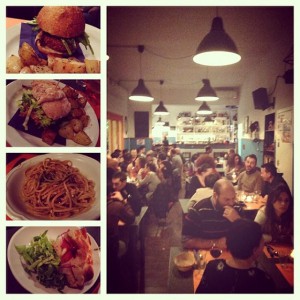 Grandma Bistrot in Rome, Quadraro
Desserts were outstanding (we had a cheesecake with persimmon sauce and a chocolate & ricotta cheese cake), but they are by De Bellis' pastry so… perfect as usual!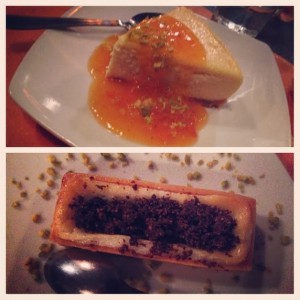 Grandma Bistrot in Rome, Quadraro
Altogether the food was fine, but what really fascinated us is the youngish and friendly atmosphere, the perfect synthesis of what
Quadraro neighbourhood
is becoming lately.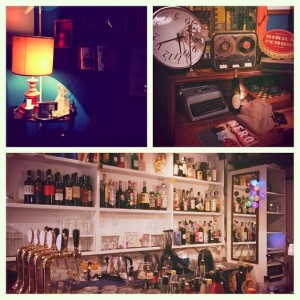 Grandma Bistrot in Rome, Quadraro
Quadraro is also the protagonist of an amazing urban art project (
M.U.Ro., the Urban Museum of Rome
). Grandma Bistrot itself has been part of this requalification project: on its outside wall you can admire a
Modigliani coverversion by Jim Avignon
, a contemporary German pop artist involved aswell in M.U.Ro. project.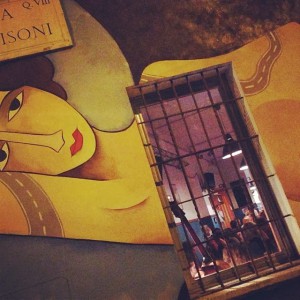 Jim Avignon – Modigliani graffiti. Street art in Quadraro, Rome || M.u.Ro. graffiti project 
Find this and many more (approved by locals) restaurants in my Rome Google Map!
Would you like to explore Rome off the beaten path with me?
Then book one of my alternative walking tours in Rome!