While there's an abundance of things to do in Rome in summer, the scorching heat may tempt you to seek refuge in the surrounding areas. Fortunately, Rome is perfectly positioned for unforgettable day trips to destinations that offer respite from the heat and provide an opportunity to explore the region.
I've been digging into the blog archive to collect suggestions from the past 12 years of BLocal Blog! In this article on summer day trips from Rome, you'll come across photos capturing a bygone era when snapping pictures with phones and enhancing them with Instagram filters was completely acceptable ;-) Meanwhile, the blogposts I'm linking to harken back to a time when they served as my digital journal, unaffected by the overwhelming presence of SEO in my life.
For now, I'm organizing my day-trip recommendations within these categories:
Street Art
Abandoned Places
Wonder
Picturesque Towns
Swimming
(Vegan) Restaurants
Tap-Rooms & Breweries
I'll keep updating this post throughout the summer, adding new spots -and, probably, new categories- as long as I discover them on my own quest for fresh air. So, save this article and come back every now and then, I promise I'll surprise you!
Day Trips from Rome, looking for Street Art:
Memorie Urbane Festival | Gaeta, Fondi, Formia and surroundings
The Memorie Urbane Festival began in 2011 in Gaeta and has since then brought to the seaside city hundreds of acclaimed street artists, many of whom had their first experience in Italy. Their street art interventions are scattered around 13 villages along the most beautiful stretch of coastline in Lazio, namely:
Gaeta
Fondi
Formia
Terracina
Arce
Latina
SS Cosma e Damiano
Itri
Cassino
Lenola
Velletri
Minturno
Castelforte
I already brought you to Gaeta to hunt the many murals created for the Memorie Urbane festival, first on my 30th birthday in 2014 and then again in 2018 when I documented the making of Jaune's street art intervention at Gaeta's waste collection center, and around the city.
Then, on my first summer back living in Italy (2021), I brought you to Fondi and Formia to discover the cities' amazing street art collection and enjoy Formia's lovely beach. We also stopped for a juicy caprese salad at the panoramic terrace Ristoro Arenauta -my usual ending of a day spent at Memorie Urbane festival ;)
I don't know yet where I'm heading this summer, probably back to Terracina because I've lost the photos I took in 2015, and I really want to write about those murals and sharing their stories with you -stay tuned!
Borgo Universo | Aielli
Still during my initial summer back in Italy, I visited Aielli to catch up with Italian street artist Millo, who was painting his mural for Borgo Universo street art festival. The medieval village of Aielli is nestled among the highest peaks of the Natural Regional Park Velino-Silente, so the air is brisk -an actual relief from Rome's sweltering temperatures.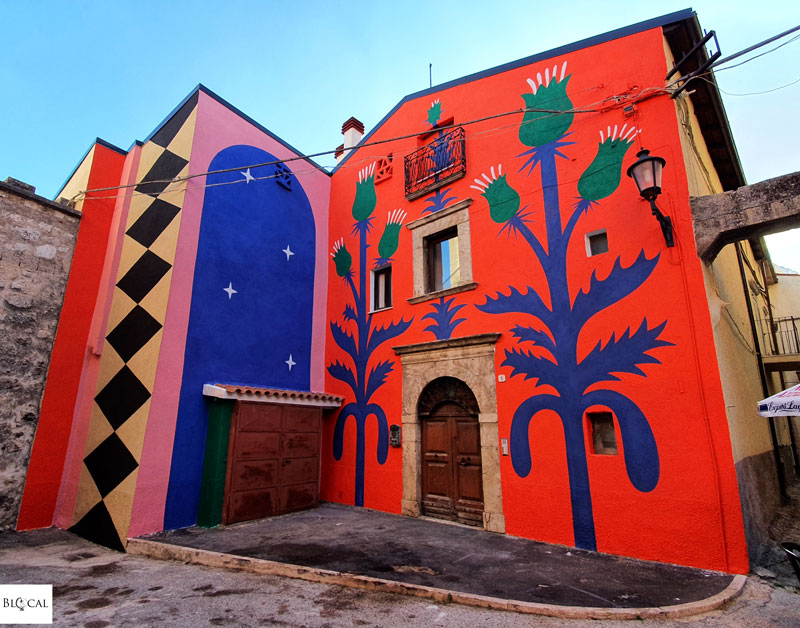 Urban Vision | Acquapendente
Another medieval village turned street art hotspot is Acquapendente, an enchanting village in that area of Northern Lazio called 'Tuscia,' which once was inhabited by Etruscans. Nestled in the unspoilt nature and not so far from the picturesque Bolsena Lake, this little village is the evidence that you don't need to go to a metropolis to hunt some great street art in Italy. In Acquapendente, urban art perfectly fits with ceramics, red bricks, and old stones.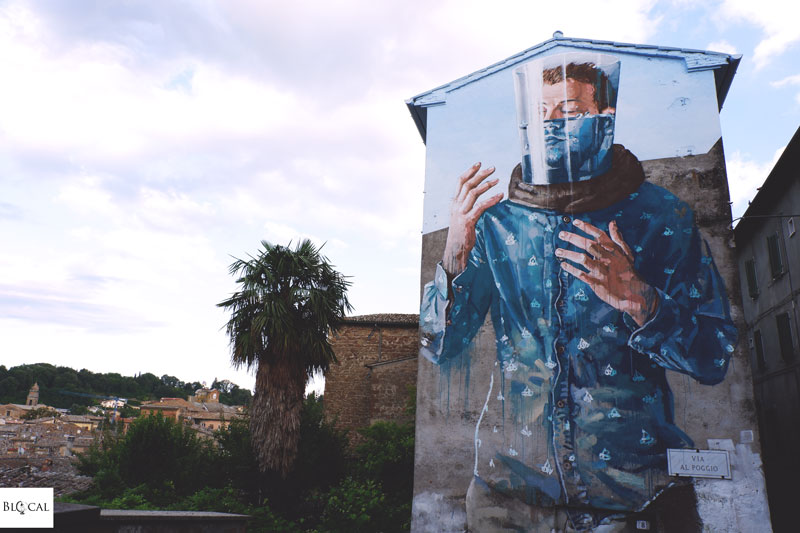 Mural by Gio Pistone in Barbarano Romano
Gio Pistone's artistic universe is a vibrant tapestry filled with abstract creatures fueled by flowing bursts of color.
Her "monsters" are not strange or unsightly beings; rather, they embody the idea of being "incredible" in the sense of being exceptionally skilled and unmatched in their own right, much like each of us is in our unique way. These singular entities interact and choose one another, giving birth to incredible adventures. I
n her work, Gio Pistone invites us to explore a world where the extraordinary and the exceptional come together in a symphony of creativity and imagination.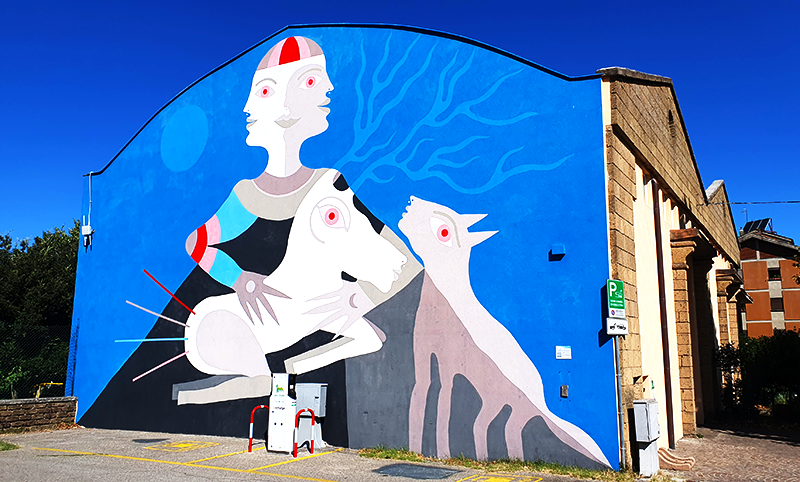 Her mesmerizing mural "Feronia" graces the entrance of the Marturanum Park in Barbarano Romano, near Viterbo. The artwork draws its inspiration from the "Dizionario Mitologico delle favole," (the Mythological Dictionary of Fairy Tales, in English) a book dating back to 1793.
Gio Pistone captured the essence of Feronia, the goddess of the woods and gardens. Legend has it that in a forest where her temple stood, a fire once broke out. Those who attempted to relocate her sacred image were astounded to discover that the very wood from which it was crafted began to sprout new leaves, compelling them to abandon their endeavor. Feronia's priests could walk upon burning coals without suffering harm, showcasing her divine presence and protection.
Gio Pistone's artwork breathes life into this ancient myth, infusing it with vibrant colors and a sense of awe. "Feronia" serves as a visual testament to the enduring power of nature and the mystical realm of mythology, inviting viewers to contemplate the profound connections between humanity and the natural world.
The mural is at the entrance of a natural park known for its ravines carved by streams in the tuff and its clayey hillsides.
Day Trips from Rome, looking for Abandoned Places:
Ghost Towns near Frosinone
At the very bottom of the blog archive, I've found an old-school blogpost listing three ghost towns and an abandoned paper factory near Frosinone. The ghost towns are:
Borgo Foglieta
Montecoccioli
San Gennaro
while the abandoned paper factory was called "Vita Mayer", and you can find it in Ceprano:
Ghost Towns near Viterbo
Still part of my 'Abandoned Italy' series is an article about three ghost towns near Viterbo, which are:
Falerii Novi
Celleno
Chia Vecchia
Monterano Antica
Monterano is probably the best known ghost town near Rome. It has been abandoned around 1799 after being destroyed by the French army and depopulated by malaria. Monterano ruins are so picturesque that since the '50s almost 100 movies have been shot in this spot, among which "Il Marchese del Grillo" with Alberto Sordi and "Ben Hur" with Charlton Heston.
Check out my old article about the ghost town of Monterano Antica!
Monterano ghost town is easier to reach than the ghost towns mentioned above, because you can get to Canale Monterano by regional train from Rome and then walk into the Natural Park of Monterano following the path leading to the ghost town for about 2 km.
Abandoned Factories near Rome's beach
I've been promising a new article on abandoned factories near Rome since months! Let me make up for my procrastination in this paragraph, by unveiling the GPS locations of three abandoned places near the beach:
Ex-Tacconi Laterizi (Torvaianica) GPS: 41.64637, 12.47584
Salumificio Cecconi (Ardea) GPS: 41.64486, 12.54201
Abandoned Swimming Pool (Santa Marinella) GPS: 42.04502, 11.82649
You can check out the two abandoned factories in Torvaianica and in Ardea in this video:
While below is a photo I took at the abandoned swimming pool at Santa Marinella (more photos coming soon-ish, in the article I keep promising since January :-/ stay tuned!)
All three locations are super close to the beach, so you'll have the chance to swim after indulging in some urban exploration!
Day Trips from Rome, looking for wonder:
Bosco del Sasseto (aka Whitesnow's Woodland)
Near Acquapendente (the village home to Urban Vision street art festival, mentioned above), there's this eerie woodland that will transport you into a fairytale-like setting, with towering trees, moss-covered stones, and a peaceful atmosphere that evokes a sense of calm and wonder.
Walking through Bosco del Sasseto is a truly immersive experience. The ancient trees, some of which are centuries old, create a captivating canopy that filters the sunlight and adds to the mystical ambiance of the forest.
Moreover, the forest is home to the ruins of the magnificent neo-gothic tomb of Marquis Edoardo Cahen. In fact, the Bosco del Sasseto and the nearby Castle of Torre Alfina were owned by the Belgian Jewish family Cahen.
Bomarzo Gardens
Bomarzo's Park of Monsters is a place where art, nature, and the whimsical collide. This extraordinary garden, created in the 16th century, is a surreal wonderland filled with larger-than-life sculptures and mysterious statues, depicting mythological creatures, gods, and fantastical figures.
These intricate and sometimes eerie sculptures, carved from solid rock, are scattered throughout the park. Among the Bomarzo Monsters park's admirers there are Jean Cocteau and Salvador Dalì!
At the very bottom of the blog archive, I've found an old-school blogpost I which I compared Bomarzo Gardens with Niki de Saint Phalle's Tarot Garden, which is in Tuscany -and so it doesn't qualify as a day trip from Rome, but I do recommend a visit anyway.
Day Trips from Rome, looking for picturesque towns:
Nepi
My grandparents' house has made the medieval town of Nepi my go-to destination whenever I crave a breath of fresh air. Perched on a hilltop, overseeing the vibrant countryside, Nepi boasts a rich historical legacy that traces back to ancient times. The town's fame stems from its revitalizing natural springs, with the renowned Acqua di Nepi gaining special recognition for its pure, mineral-rich water.
Taking a leisurely stroll through the historic core of Nepi is akin to embarking on a journey through time. This sentiment holds true not only for me, who spent countless summers in Nepi during my childhood, but for anyone who visits. With every turn, this ancient village unravels fragments of its captivating history, allowing visitors to glimpse into its remarkable past.
Tivoli
Just a short distance from Rome lies the picturesque town of Tivoli, renowned for its remarkable gardens, the stunning villas and the thermal baths.
One of the highlights is Villa d'Este, a UNESCO World Heritage site boasting magnificent fountains, terraced gardens, and breathtaking views. The nearby Hadrian's Villa, built by Emperor Hadrian, is a sprawling archaeological complex that allows you to step back in time and marvel at its grandeur.
However, my favorite spot in Tivoli is the abandoned paper factory, which -unfortunately- I've never managed to access.
Castelli Romani
Nestled in the scenic Alban Hills, the Castelli Romani region offers a refreshing escape from the Roman heat. This collection of charming hilltop towns, including Frascati, Castel Gandolfo, and Ariccia, is famous for its picturesque landscapes, verdant vineyards, and delightful cuisine. Indulge in a leisurely lunch, sample the region's renowned white wine, and enjoy panoramic views of the surrounding countryside and the magnificent volcanic lakes, namely: Albano Lake and Nemi Lake.
At the very bottom of the blog archive, I found an old blogpost about Nemi Lake. This is beyond cringe, though. :D It's one of those posts I keep online only because I'm nostalgic of the dawn of the blogging scene.
Tarquinia
Tarquinia is renowned for its rich history, Etruscan heritage, and archaeological significance. It was one of the most important cities of the ancient Etruscan civilization, which thrived in central Italy before the rise of Rome.
The Etruscans left behind a significant cultural and archaeological legacy in the area: Tarquinia's Etruscan Necropolises, which include burial sites with painted tombs, have been designated as a UNESCO World Heritage Site, while the Tarquinia National Museum houses an extensive collection of Etruscan artifacts, including beautifully painted tombs, pottery, jewelry, and sculptures.
The town is also known for its many churches from all ages, particularly Medieval and Renaissance, and a coastline that I personally don't like much, but when the summer gets hot it still does its job.
Finally, a special place in Tarquinia is the Sottosopra Heartcafe, a new spot that has already become very popular for their delicious piadine, which you can taste while enjoying an art exhibition and more cultural events.
Day Trips from Rome, looking for swimming spots:
In addition to the lakes of Castelli Romani, there are several other lakes in the vicinity where you can enjoy a refreshing swim during the Roman summer.
Bracciano Lake
Situated approximately 30 kilometers northwest of Rome, this volcanic lake is known for its stunning beauty, rich history, and charming lakeside towns. One of the lake's standout features is the majestic Orsini-Odescalchi Castle. Perched on a hill overlooking the lake, this impressive medieval fortress is a UNESCO World Heritage site and the wedding location of Tom Cruise and Katie Holmes.
On the lake shores, there are several picturesque beaches where people can relax and enjoy the tranquil beauty of the lake. My favorite is the free beach Santo Celso, which is right next to a forest (Bosco San Celso).
Martignano Lake
Situated about 35 kilometers northwest of Rome, this picturesque lake offers a serene and untouched natural environment. The Martignano lake, which is of volcanic origin, and its surrounding Regional Park provide a habitat for a wide range of plant and animal species.
For me, though, its best feature is being slightly difficult to reach; it makes the atmosphere very peaceful -or, at least, quieter than the nearby Bracciano Lake.
Vico Lake
At the very bottom of the blog archive, I've found yet another old-school blogpost, this time about a day at Vico Lake :)
Located about 50 kilometers north of Rome, this enchanting volcanic lake offers a tranquil and idyllic escape from the bustling city. Near the lake's shores lies the charming medieval town of Ronciglione, known for its well-preserved historic center and ancient traditions.
(Vegan) Restaurants
Agrolago | Trevignano Romano
Agrolago is a vegan restaurant overlooking the Bracciano Lake. I especially loved the vegan cheeses, they were so soft and tasty! If you go there at dinner, they double up to a vegan pizzeria.
Tap-Rooms & Breweries
Free Lions | Tuscania
When I visited the Free Lions Brewery, they were still setting up the tap-room in their backyard, but the amazing panorama was already available ;)
The owners were so kind to let us sit there and taste some beers anyway (from the cans available at the shop, not from the tap, obviously) and my favorite one was the Gose made with local raspberries, called Edgar Allan Pone :D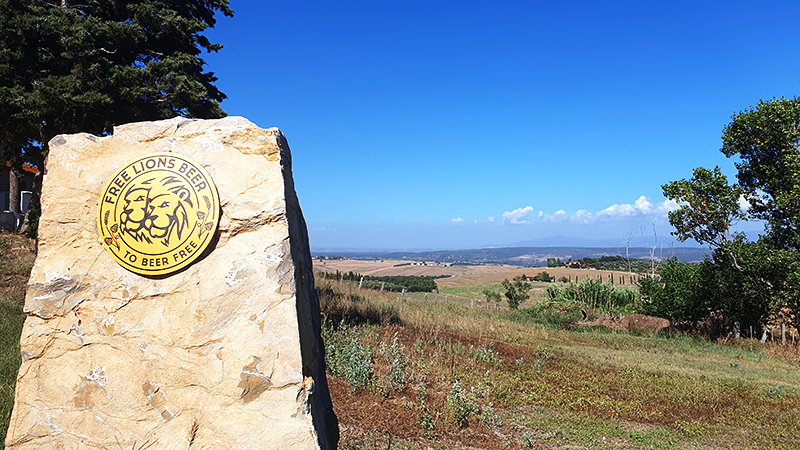 I promise I'll keep updating this article throughout the summer with new spots, as long as I discover them on my own quest for fresh air.
Stay tuned!