I've been eager to explore this extraordinary piece of architecture for a long time. Finally, on this windy Saturday morning, I'm taking you to Casa Albero in Fregene, a unique architectural masterpiece located less than an hour's drive from Rome.
Back in 1968, in Fregene, renowned architect Giuseppe Perugini, along with his wife Uga De Plaisant and their son Raynaldo, who was studying architecture at the time, bought a piece of land to build their summer home. Fast forward to 1975, and what emerged from this family's endeavor was an iconic architectural masterpiece of the 20th century. Remarkably, it was conceived by this entire family of architects for their own summer house.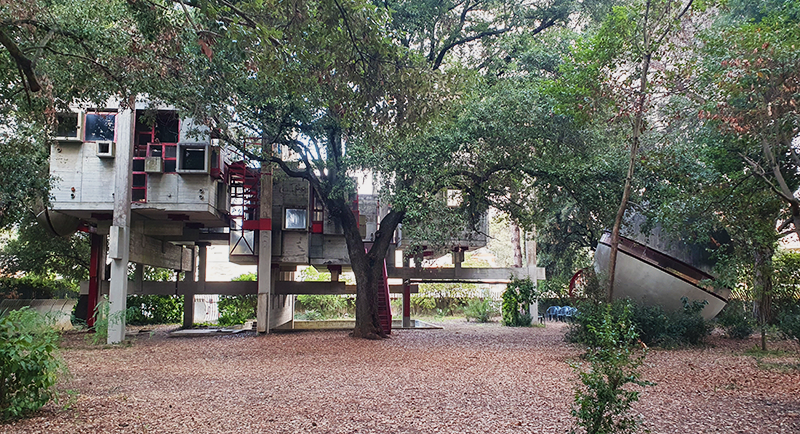 Casa Albero (Tree House) is a distinctive architectural design, named for two key features: it stands above the ground and offers limitless possibilities. The architects created a structure from modular elements that could be combined in countless ways, endlessly growing into the space like the branches of a tree.
Casa Albero embodies a futuristic vision with its innovative design principles. It breaks away from traditional architectural norms and embraces a more flexible and adaptable approach. The idea of creating a structure that can evolve and change to meet the occupants' needs aligns with a forward-thinking mindset. Casa Albero stands as a testament to the potential of architectural experimentation and the ability to create enduring spaces.
The structure of Casa Albero is almost entirely external. Its open design and partial interior freedom allow for the creation of adaptable spaces with movable walls based on actual needs. Furniture integrated into the walls allows for a spacious interior accommodating only mobile items like beds, tables, chairs, and armchairs.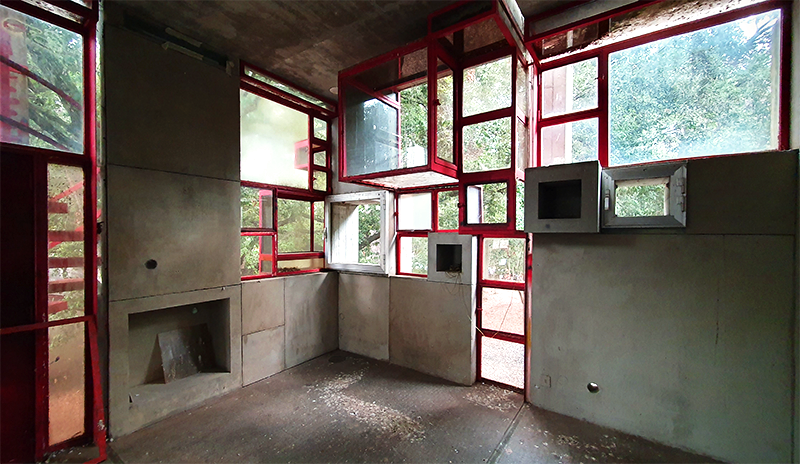 Visiting Casa Albero is no longer a clandestine affair, as it was for many years. You now need to book one of the occasional guided tours. On the tour I joined, the guide was Raynaldo Perugini himself, who warmly welcomed us and definitely enriched the experience with stories and anecdotes that helped us imagine the house in its former glory.
What struck me the most was imagining that the space beneath the dwelling was once a swimming pool, with water reflections illuminating the apartment through the reinforced concrete floor's openings.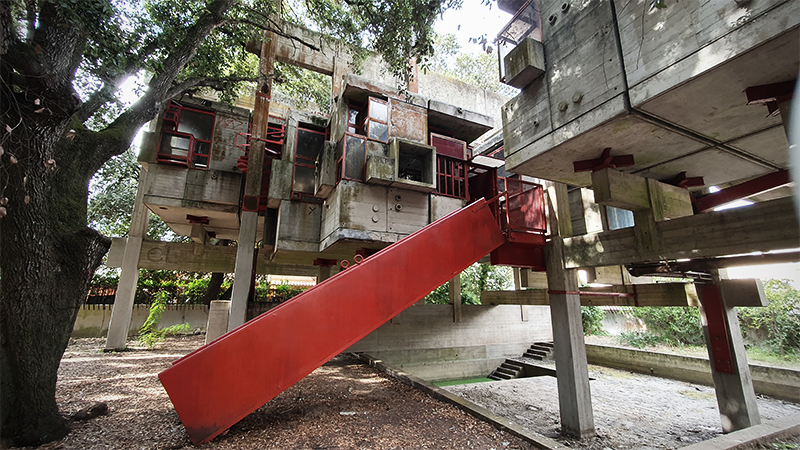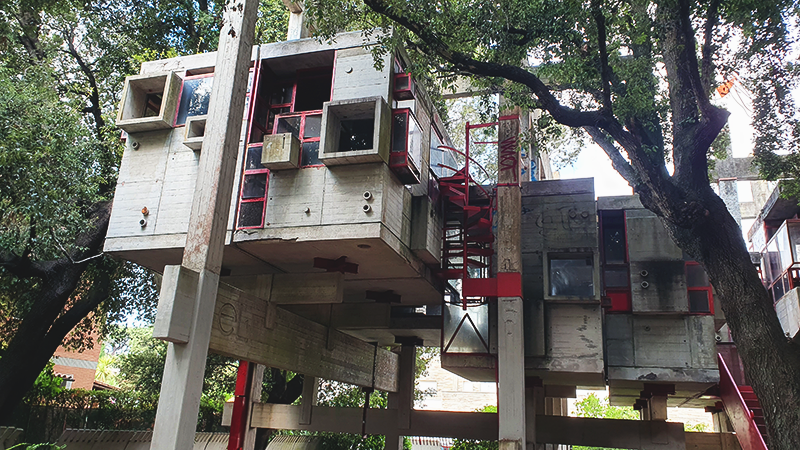 While some critics label it as brutalist due to its use of reinforced concrete, Raynaldo believes true brutalist designs should also have visually appealing volumetric solutions and a significant amount of reinforced concrete. Casa Albero, however, manages to make the heavy material appear light, aligning it more closely with avant-garde architectural movements of German expressionism and Russian constructivism.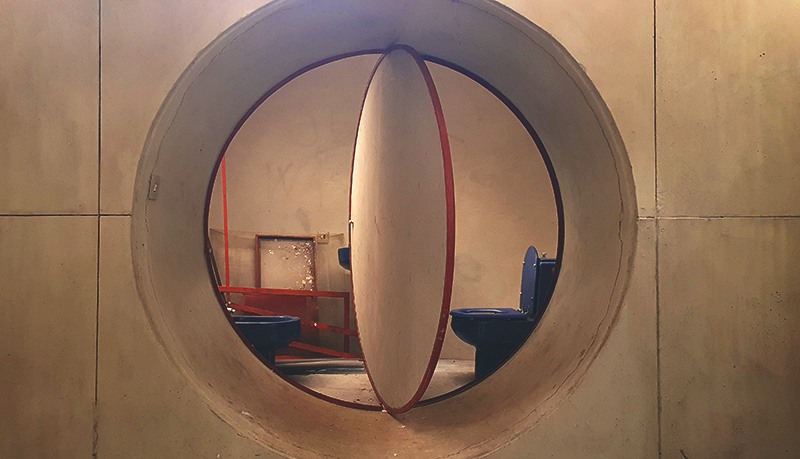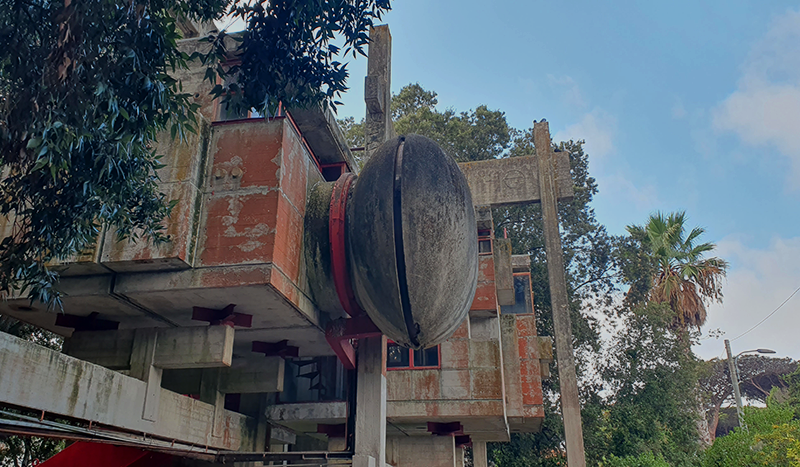 Today, Raynaldo's goal is to restore Casa Albero to its original form and use it for cultural events. The concrete 'ball' and 'cubes' in the garden have already been restored, while the walls of the main building underwent cleaning in preparation for a film shoot.
I don't have much more to add, really, as the overwhelming emotion that swept over me while wandering through the geometric spaces of Casa Albero was nothing short of sheer awe -a marvel that, precisely, leaves you speechless. So, I'll leave you to the images.
P.S. I'd love to hear your thoughts on this rekindled format. I'm toying with the idea of returning to my blogging beginnings, reminiscent of the early 2010s when these short glimpses of hidden gems were the norm here on BLocal blog, phone-snapped photos and all. So, going forward, I'll be experimenting with this "new-old" format, crafting blog posts designed to ignite your wanderlust and foster a genuine connection with our shared passion for off-the-beaten-path exploration. Stay tuned!