Ibug urban art festival sets its stage within different abandoned industrial buildings in Saxony, Germany, every year. This summer, our sanctuary was Leipzig's former yard and train repair factory, known as Reichsbahnausbesserungswerk/RAW. Over the course of two creative weeks, 80 street artists have transformed the abandoned site into the amazing temporary exhibition you can now visit over three weekends: August 18th to 20th, August 25th to 27th, and September 1st to 3rd.
Near the base of a red-brick water tower, an architectural relic from 1905 now granted heritage status in Saxony, a group of people toils away with their heads down, deep into the throes of the second creative week, all building toward this year's edition of Ibug urban art festival.
Emerging from the leafy woods that wrap around Leipzig's former train repair factory, I stumble along a muddied path that leads me into the heart of this summer's street art adventure. And there, right on the horizon, they come into view. A swarm of artists hopping from one decaying building to the next, wielding wheelbarrows, lugging long poles and buckets of paint. But not just paint — they have branches, beams, and massive plastic sheets in tow. Clearly, the RAW wasteland has ignited their creativity since day one.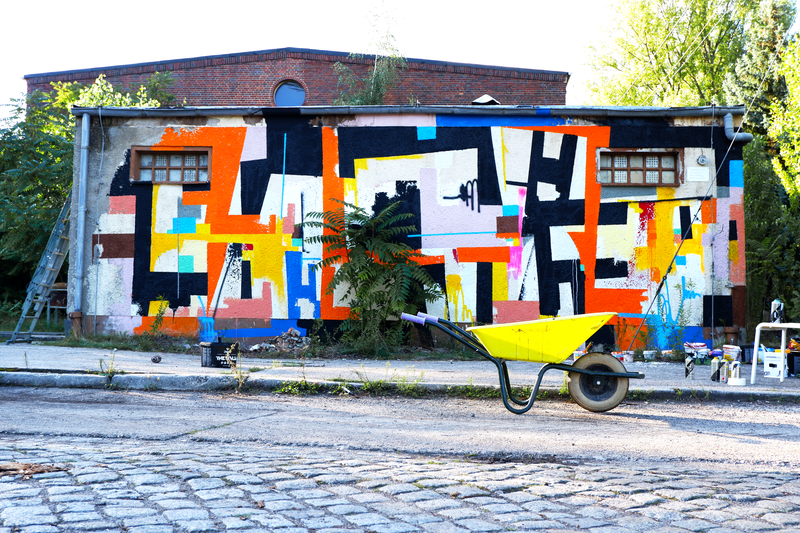 "You've gotta scope it out on Google Earth," Kenneth chimes in with an infectious glint in his eyes the moment we meet. "This place is crazy!"
Back then, this long standing member of the Ibug family was at work on his first piece for this year's festival, casting his neon-hued abstract landscapes on a small cabin situated just before the main warehouse's entrance.
"Any trains left around?" I finally pose the query that had been nibbling at my thoughts since discovering that this year's sanctuary was a train repair factory.
"Sure thing, there are some mind-blowing cargos hidden in the woods, but we signed a pact not to paint those," he replied, grinning.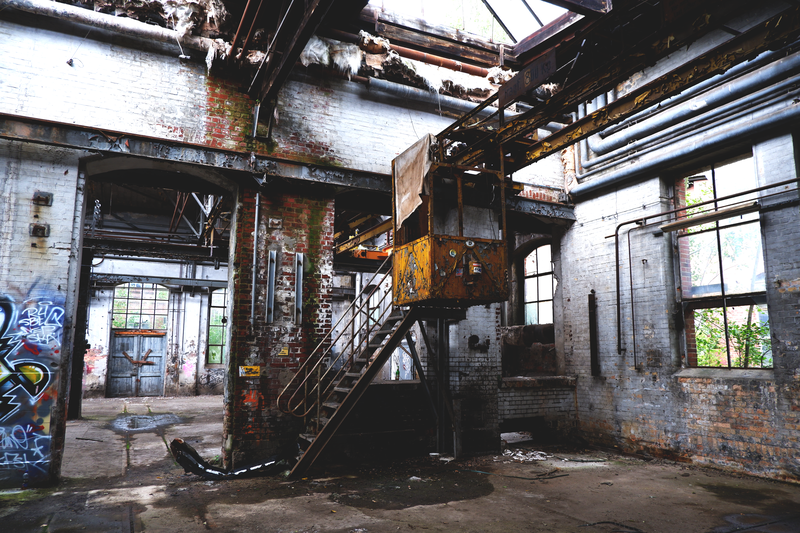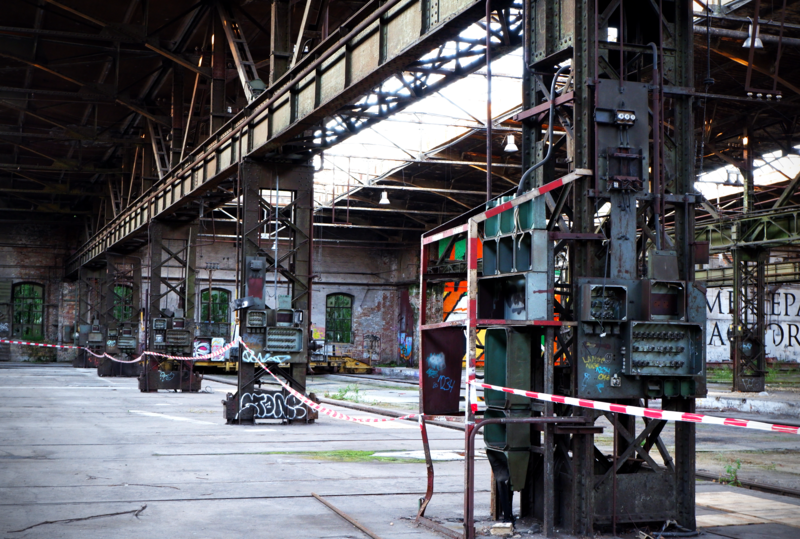 Yet, space to paint was hardly in short supply at Ibug 2023!
The RAW sprawled vaster than any of the forsaken factories we'd taken over in past editions of the Ibug urban art festival. This year's abandoned site was made of three main zones stitched together with myriad hidden corners and hallways waiting to be unearthed.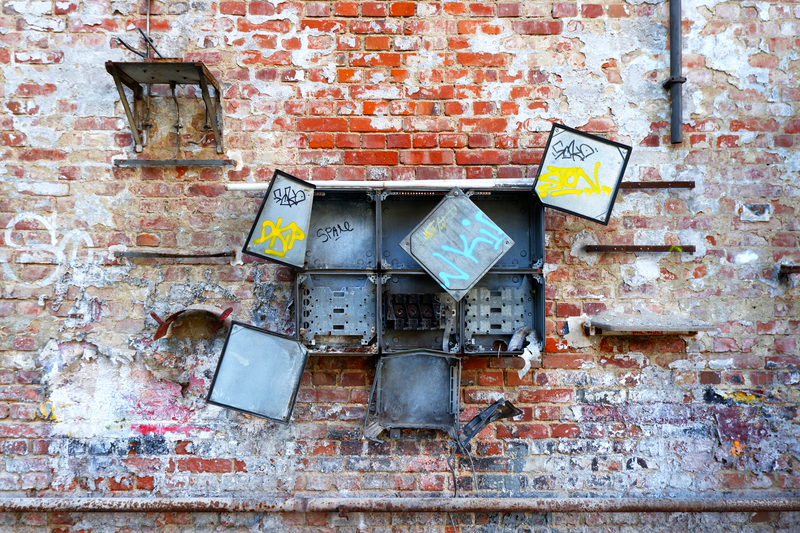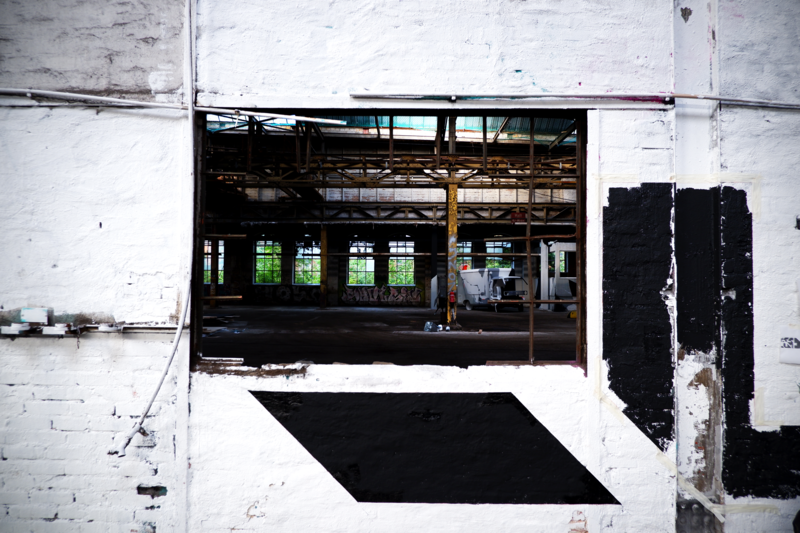 Walking past Kenneth's piece, I meet another Ibug-addicted street artist: the Frenchman, Benjamin Duquenne. Since his last Ibug foray, Benjamin had embarked on a 'rewilding' odyssey, blending various media to coax nature back into the public domain.
Here, as in countless forsaken corners around the world, nature had already begun reclaiming some of the territory from the defunct train repair factory. Witnessing nature's reclamation of abandoned sites is the facet of urban exploration I found most enthralling. However, Benjamin had taken rewilding to further heights, erecting an installation of locally-sourced branches that enshrouded the factory's central warehouse.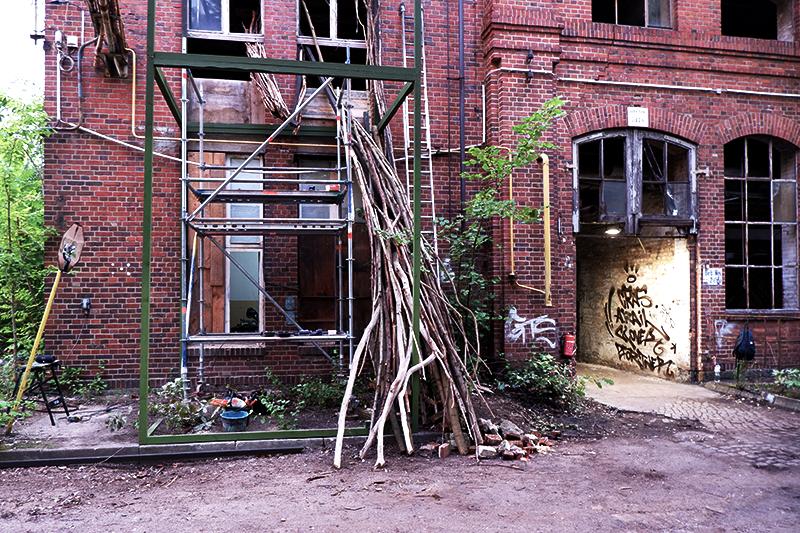 Just around the bend from Benjamin's creation, there's the entrance to the main hall. Here, I immerse myself in a heavenly space: shattered windows, large holes in the ceiling that offered passage to both sunbeams and raindrops, sprawling puddles reflecting the artworks birthed in the first creative week, the smell of paint, and a symphony of sounds echoing through diverse corners of the mammoth warehouse: the whir of drills, the percussive strike of hammers, the metallic clatter of spray cans, and music playlists ranging different genres.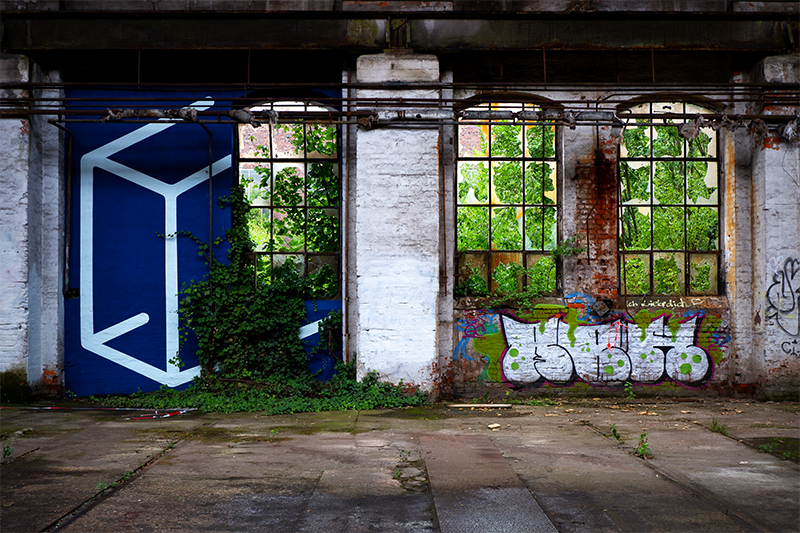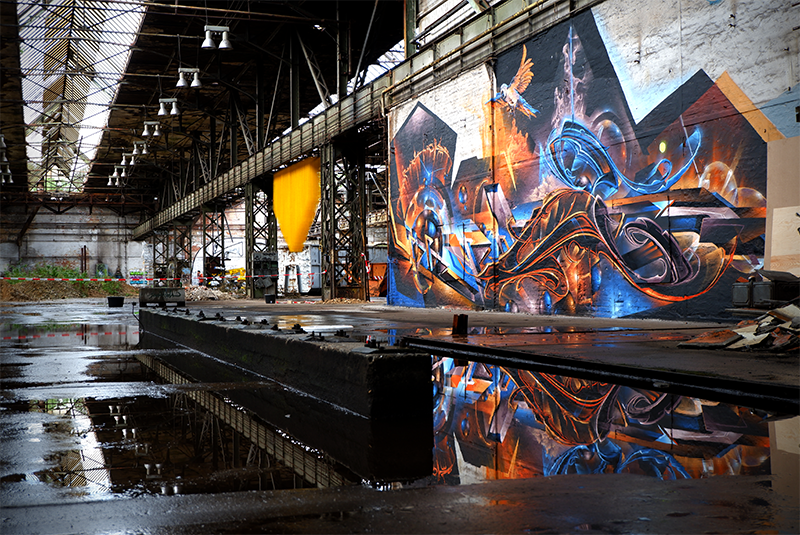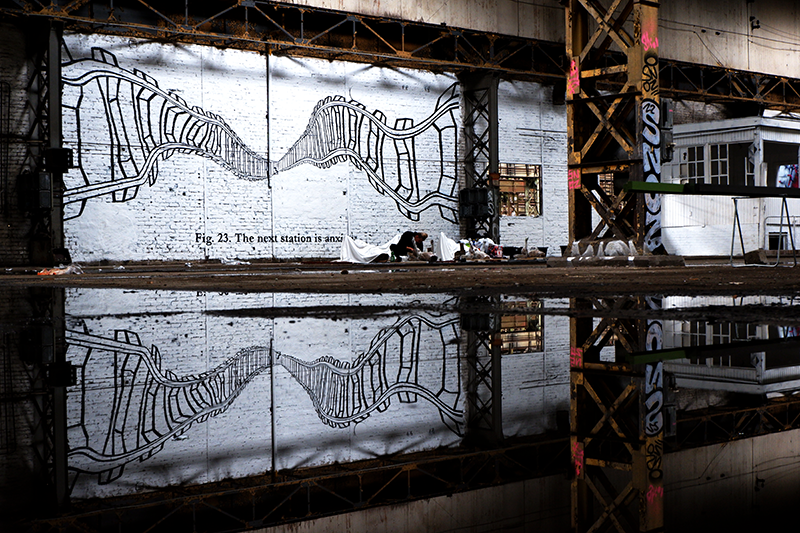 As I walk toward people I haven't hugged in years, I can't help thinking that it feels like coming home.
My gaze darts around the main warehouse, failing to capture it all at once.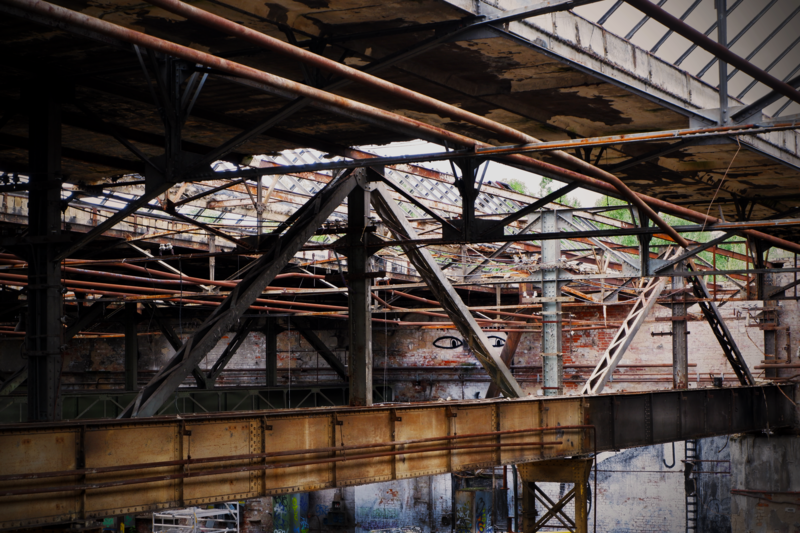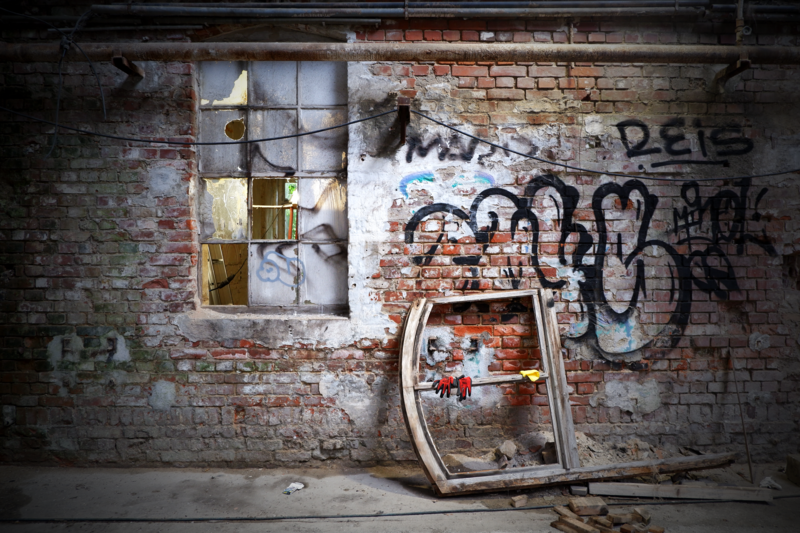 In contrast to previous Ibug festivals where the factory stood bare when I first entered, this year's commencement found it already scattered with several artworks created during the first creative week. And so, after an initial barrage of greetings and "long time no see" embraces, I started my first Ibug Tour eager to discover what artists have created so far.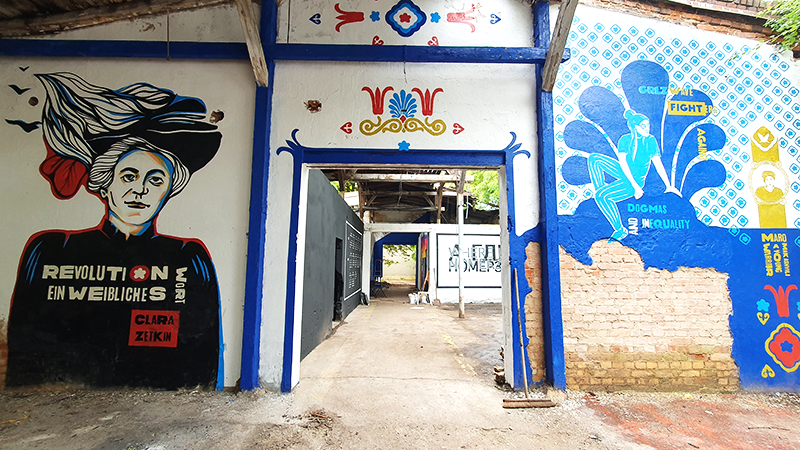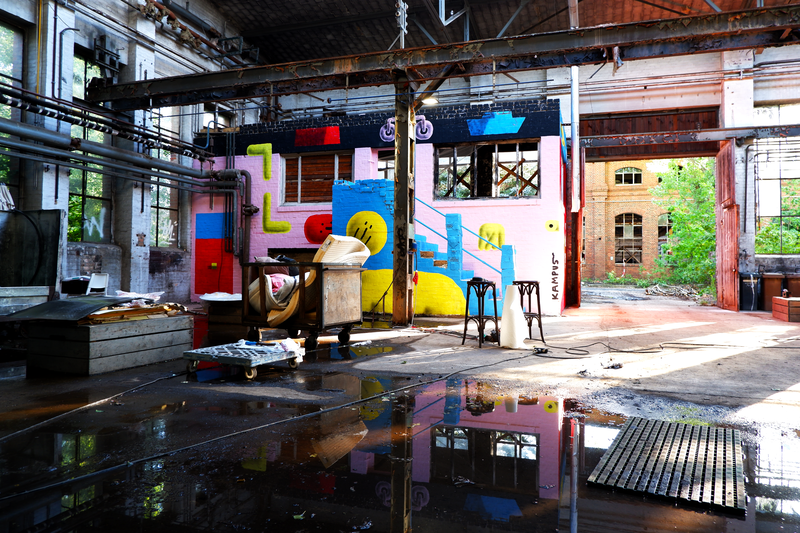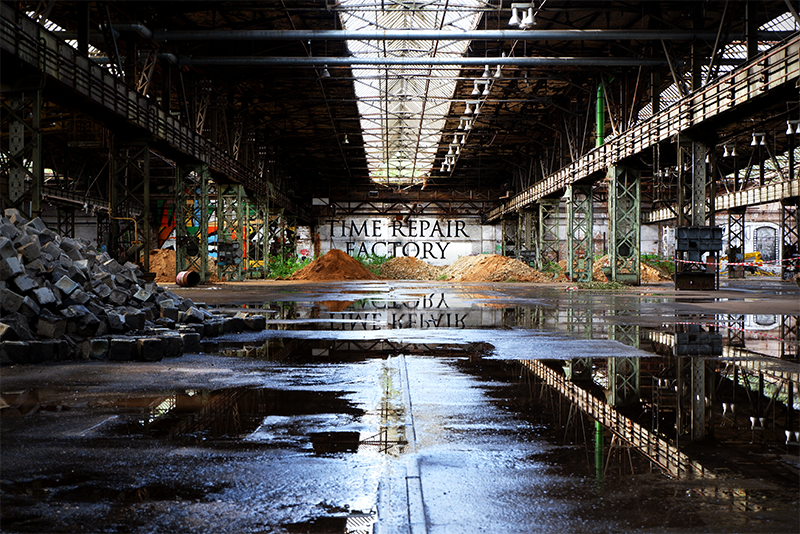 During this first scouting expedition, I also encountered new artists who have joined the Ibug family this year. All of them were immersed into their first pieces, consumed by the minutiae, bathed in intensity.
Little did they know that these carefully nurtured creations from the early part of the week would hardly encapsulate their Ibug journey. ;)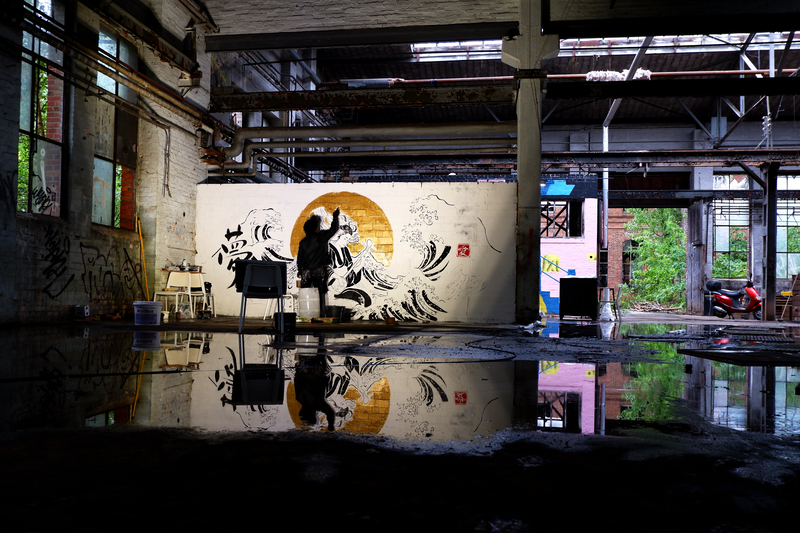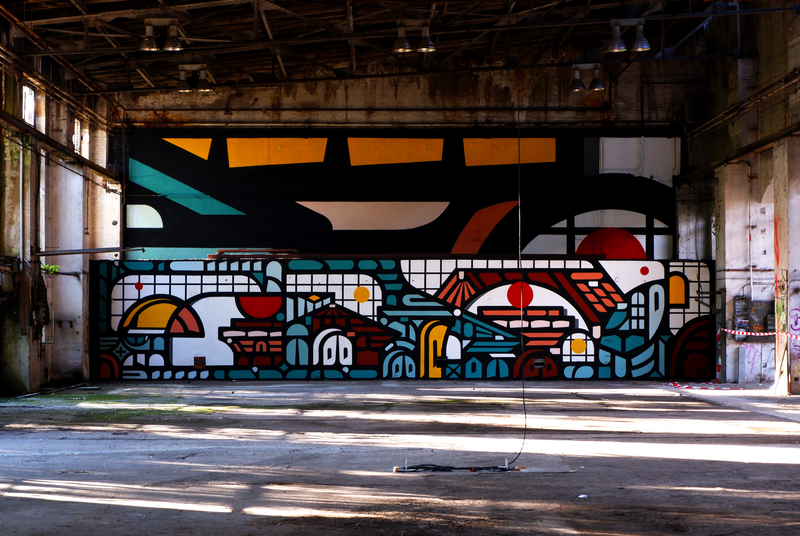 As many Ibug artists had pointed out to me in the past, Ibug isn't about perfect execution. It's about experimenting, about leaping from your comfort zone.
In my experience, the true Ibug fun usually flares less than 48 hours before we are meant to vacate the premises. ;)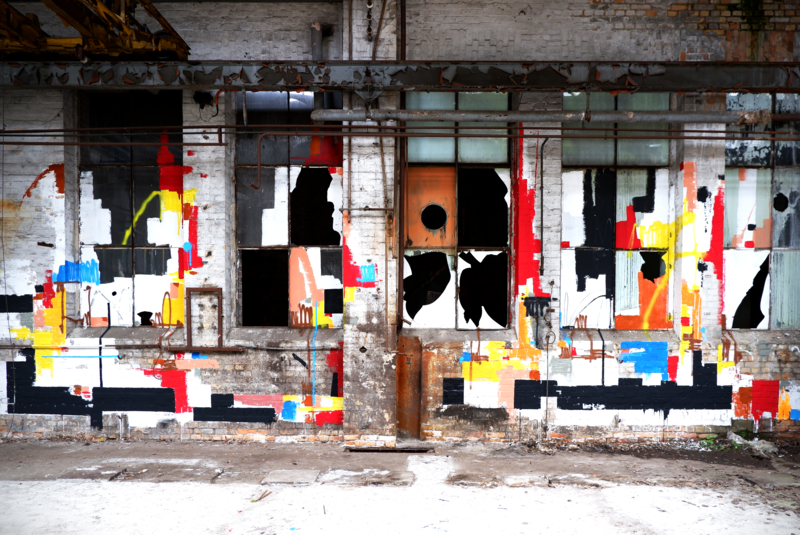 Anticipating that climax of creative frenzy, I couldn't help but notice how many artists were already venturing beyond their familiar boundaries on day one.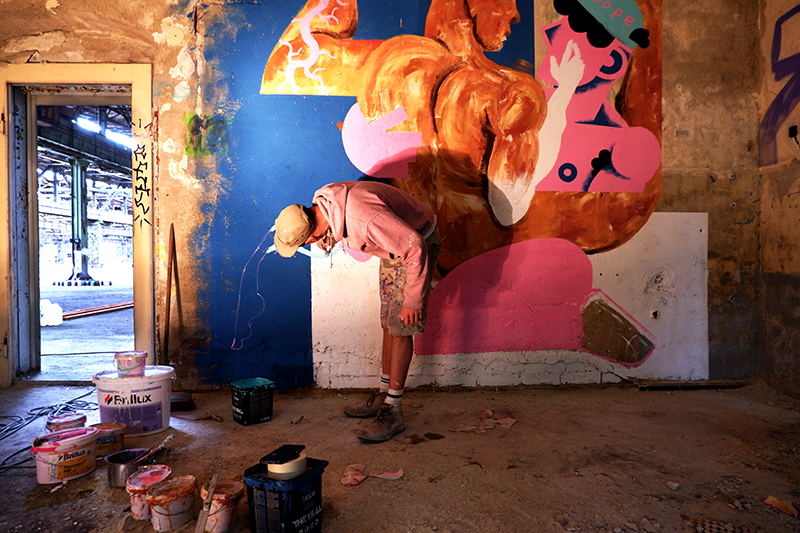 English artist Luke Carter, for instance, was experimenting with earthy hues foreign to him on the walls of his first room, while RMYR opted to stencil only a portion of his industrial images onto the wall.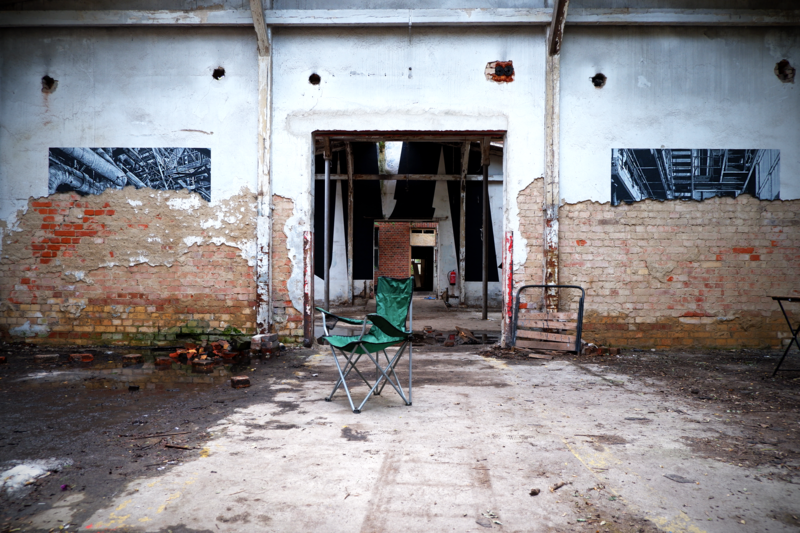 Nonetheless, at this point of the week, most artists were still wandering around looking for the wall that would speak to them -then claiming it, elaborating a sketch and, before getting started with the execution, cracking open a bottle of Ibug beer.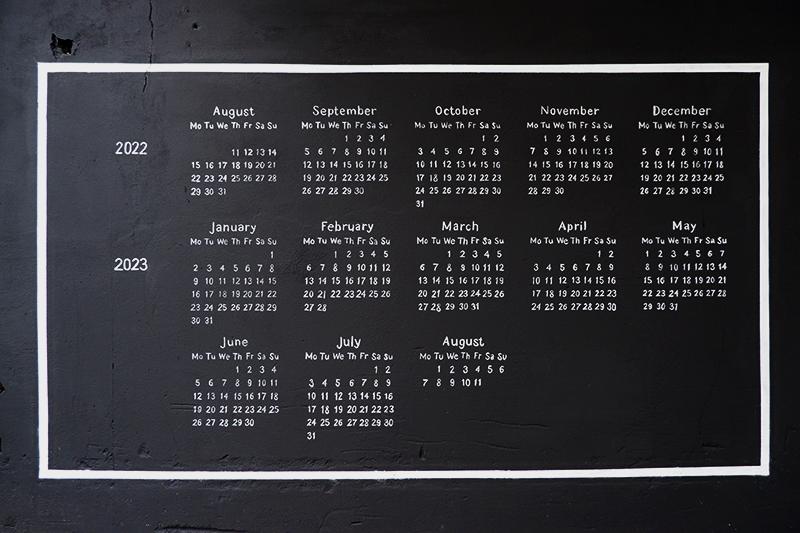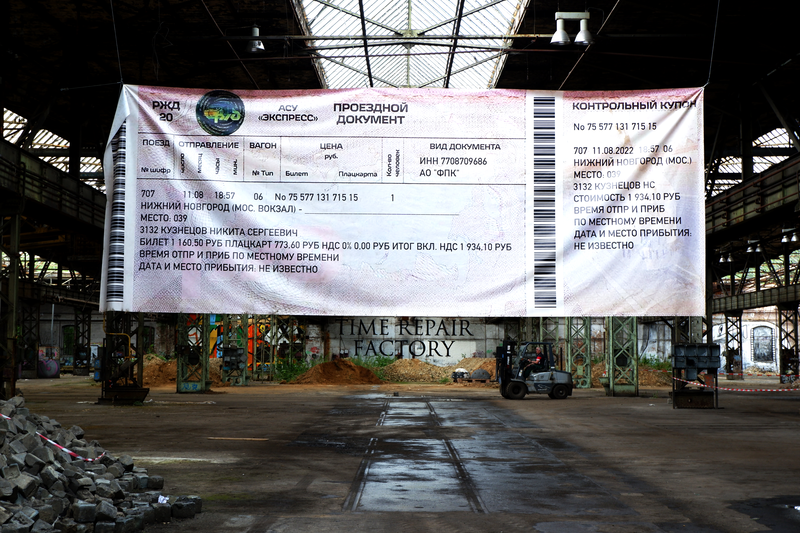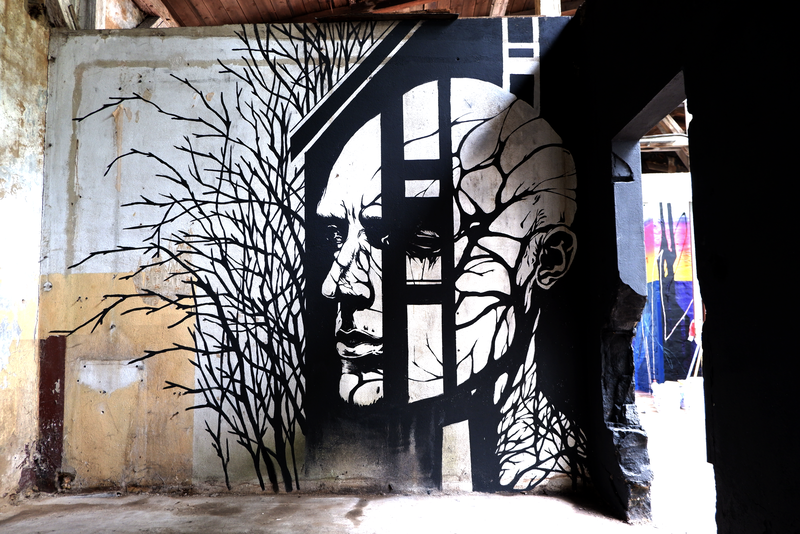 Next to a case of empty beer bottles, I found a miniature installation by local artist Schmii. A wee replica of a corner of this year's venue, accompanied by a cardboard sign inviting all to tag it.
No need to be told twice—I wrote "Latin Mafia" onto it, the name of our crew, founded back at Ibug 2018.
Schmii had stashed ten such miniature treasures across the forsaken factory, hidden in the most overlooked recesses, a delight reserved for the visitors with the most attentive and careful gaze.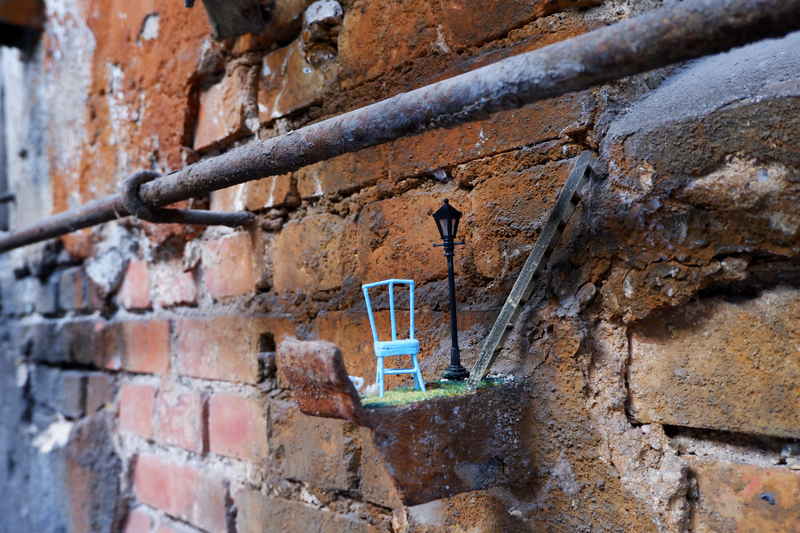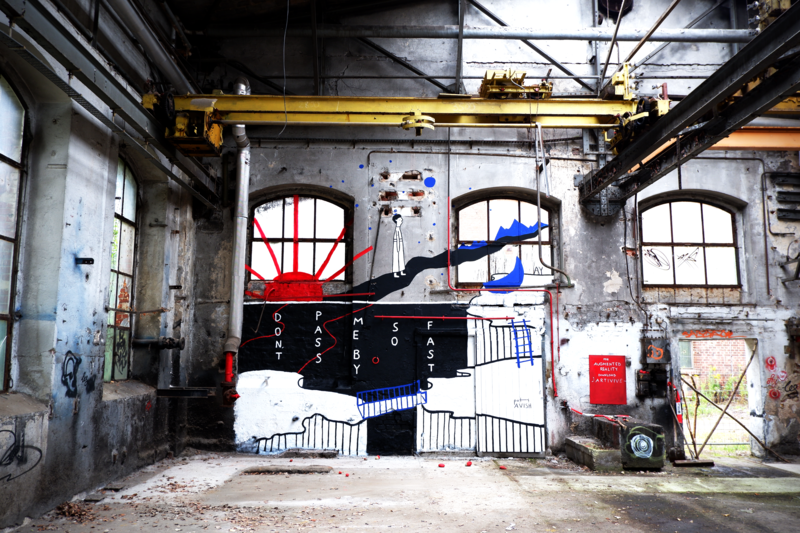 Beyond toasting with Ibug beers, artists' favorite pursuit at the festival is ferreting out covert spots, those inconspicuous nooks that would reward only the most inquisitive of visitors.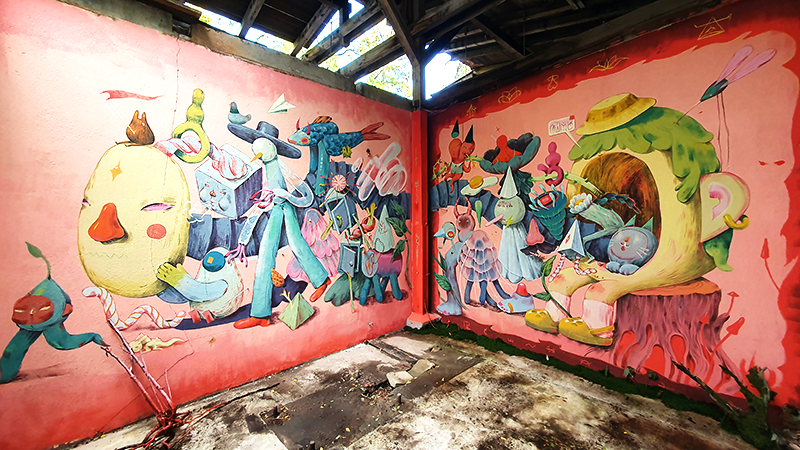 In this edition, my cherished concealed gem was the machine room.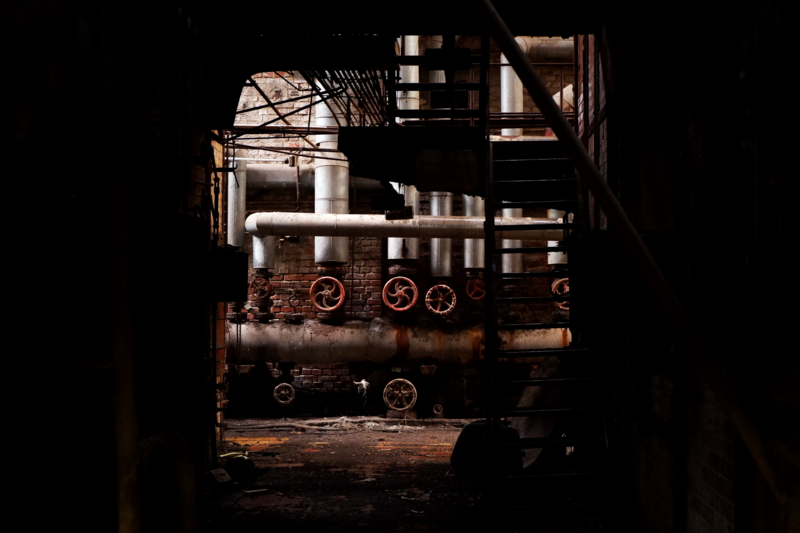 The hallway stretched out in a dim and rusty embrace, its ovens standing like colossal totems. Even prior to the artistic brilliance of Derix Glasstudios—a glass workshop founded in 1866—conjuring a breathtaking display of colored glass to mend the shattered panes of the original window, the machine room had already claimed the throne as my favorite corner of this year's venue.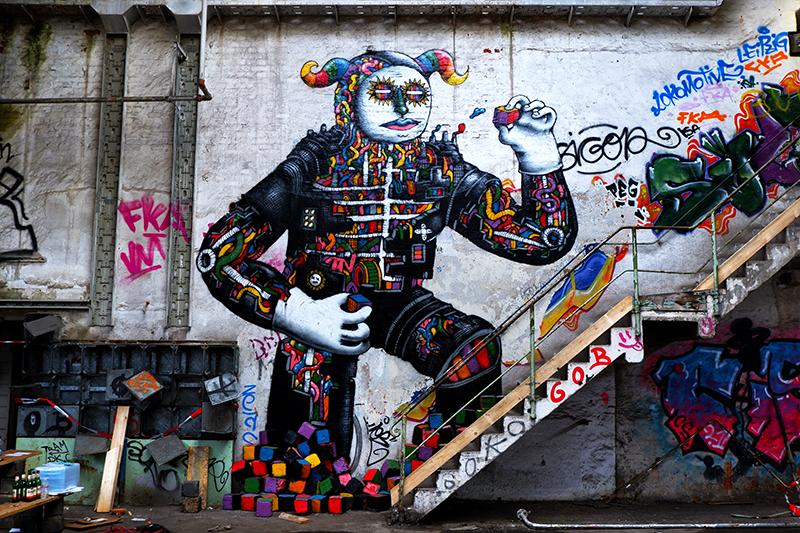 Another overlooked corner that caught my attention was the mezzanine level, selected by Lapiz to emphasize the theme he sought to delve into—the manner in which Xi Jinping addresses his critics and treats China's marginalized communities.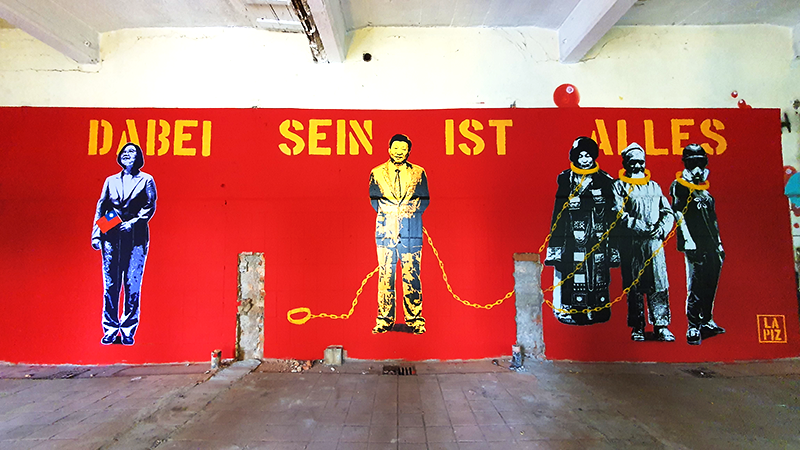 Lapiz had long aspired to bring this mural to life. While other festivals had hesitated due to its contentious nature, Ibug embraced it, valuing creative liberty.
This goes beyond the mere privilege of depicting any concept, no matter how provocative. It's about the sense that "anything is achievable": artists wander, find a spot, grab some paint, and the magic begins. The process is remarkably spontaneous and, somehow, organic.
This becomes especially evident in the second half of the week: once the 'main piece' is completed—thus dispelling performance anxiety—the vast empty factory appears to artists brimming with potential.
And so, while Wednesday becomes Thursday, adhering to the finest Ibug traditions, artists embrace a freer spirit, painting wherever inspiration led. This juncture is when the Ibug week reaches its zenith of improvisation.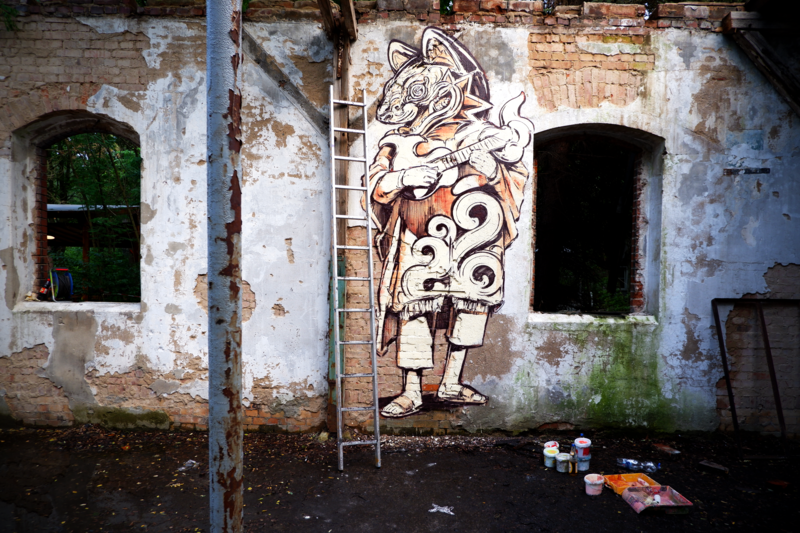 As the German graffiti artist Nasca shaded his paints with gritty black mud scraped from a puddle, local stencil master RMYR decided to spray one of his intricate industrial landscapes over the cobblestones scattered on the floor of the factory.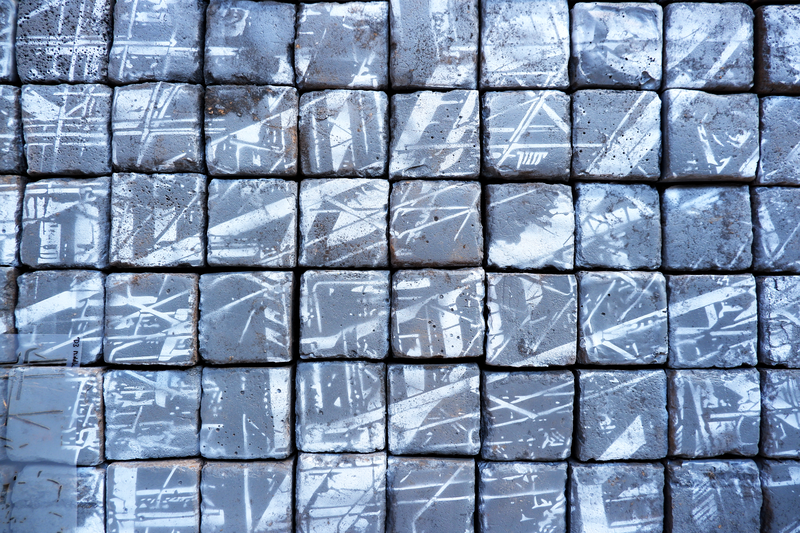 Watching the process unfold, old-school graffiti writer KASE confided in me, "I watched him carting those cobblestones back and forth, and I couldn't help but wonder: What the hell is he up to?"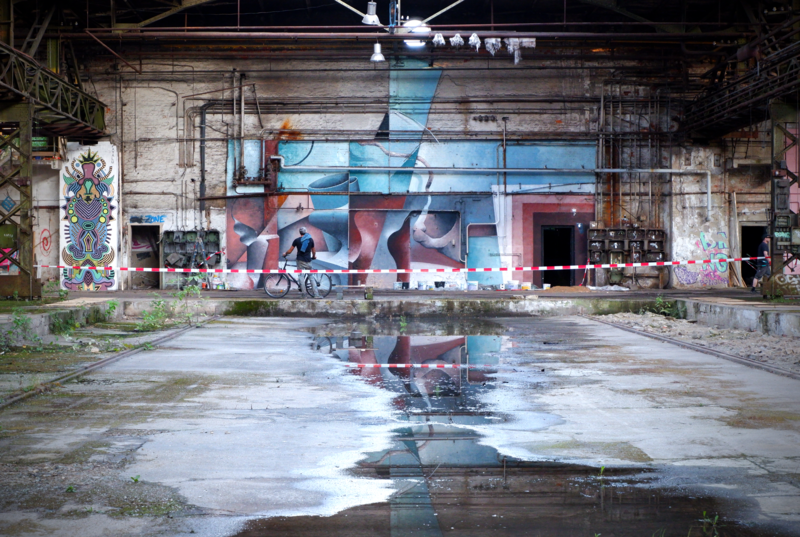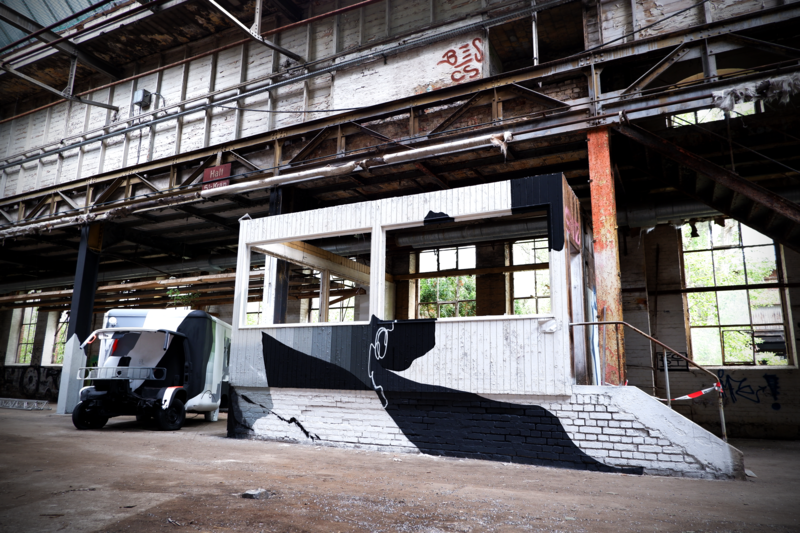 Another street artist who wove the factory's offerings into his artistry was the Belgian Bisser. Bisser wasn't new to painting within forsaken factories (in fact, the first time we crossed paths was during an interview for a book celebrating a now-demolished concrete factory in Ghent, Belgium).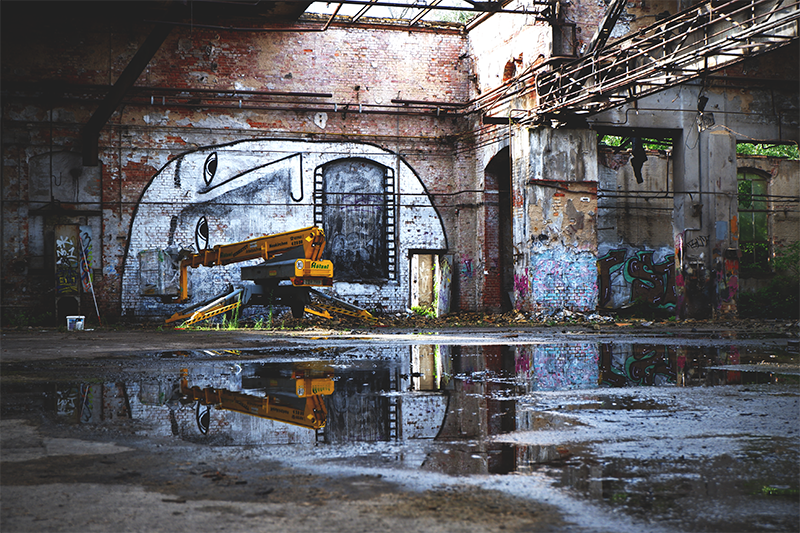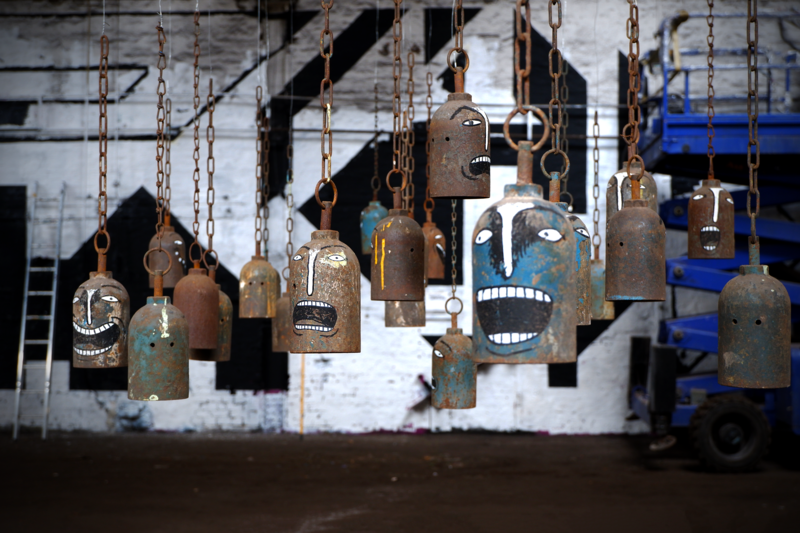 But here, Bisser could execute feats usually beyond reach in abandoned spaces: ascending to soaring heights with a cherry picker, or employing an array of tools from drills to welders. With time on his side, Bisser conjured an assembly of anthropomorphic characters that breathed life back into the abandoned realm.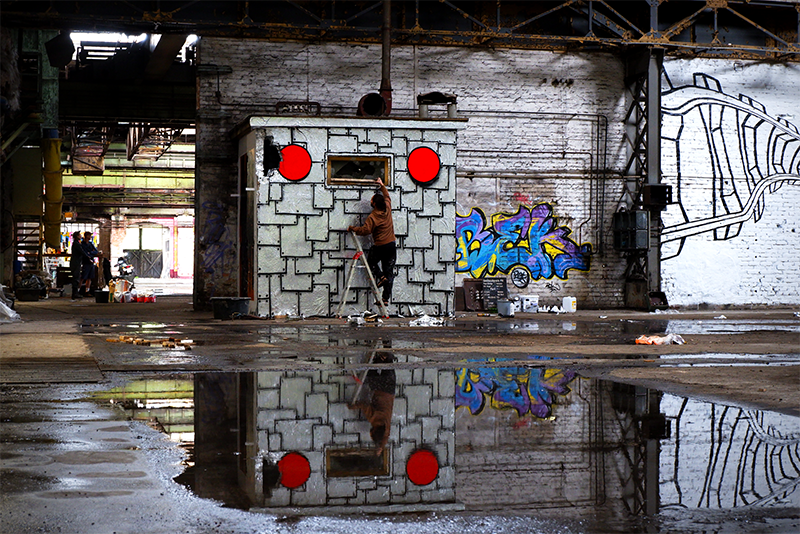 After the exploration and improvisation stages, the collaboration phase typically comes into play towards the conclusion of the creative week, adding a captivatingly unique aspect to the Ibug exhibition, with less than 48 hours left before it's time to put down the spray cans. ;)
During Ibug 2017, Italian street artist Luca Di Maggio shared, "Collaborations aren't usually simple; you need to find the right person… but at Ibug, they happen so naturally!"
Among the standout collaborative works from this year is a canvas jointly created by the unstoppable Kenneth, aka Naamlooozz, the German minimalist graffiti writer KAI, and the Argentinian visual artist Tomas Facio – a personal favorite of mine.
In my view, collaborations embody the core spirit of the Ibug festival.
The temporary exhibition is indeed the outcome of an extensive collaborative endeavor, involving both the artists and the crew. The primary objective of the creative weeks extends beyond showcasing individual artworks; it centers on building something powerful together.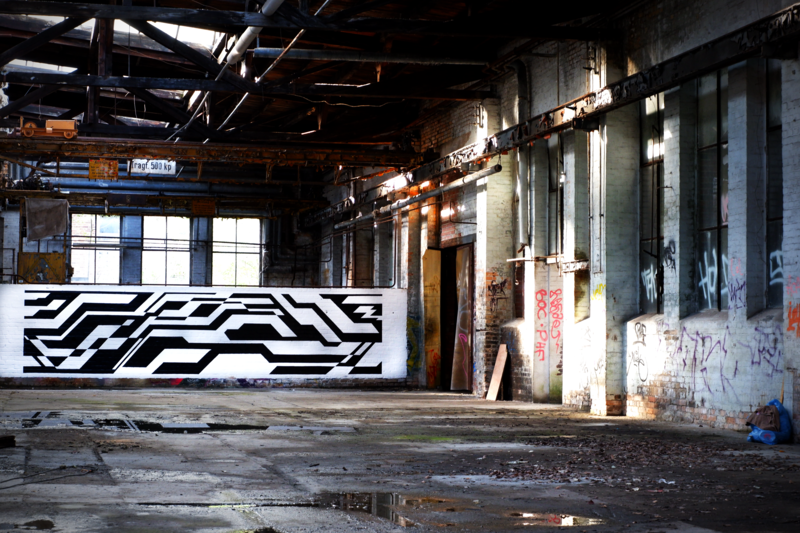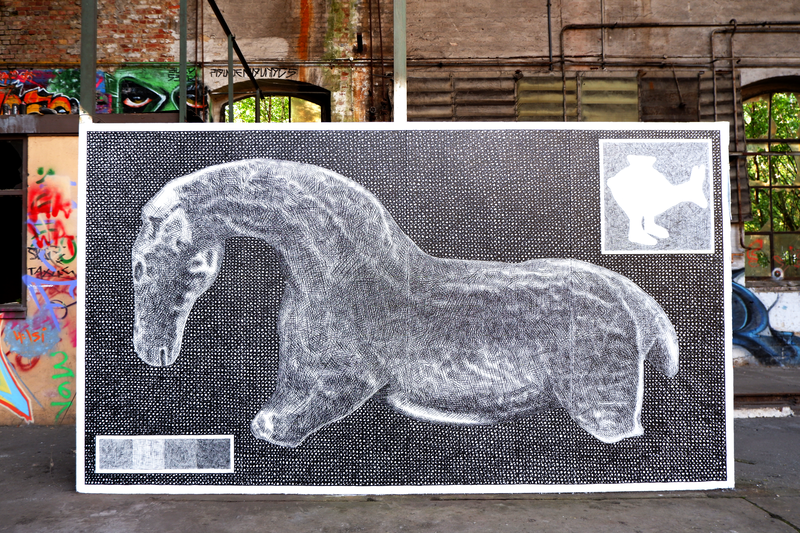 While each artist focuses on their own corner, their efforts converge towards a collective endeavor. And, as I always remark, the end result invariably surpasses the mere summation of individual contributions in its impressiveness.
In a way, the factory itself appears to actively engage in this collective undertaking.
Numerous pieces within the Ibug exhibition draw inspiration from the factory's surroundings, with compositions based on the particular shape of a wall and unique artworks created specifically for the location.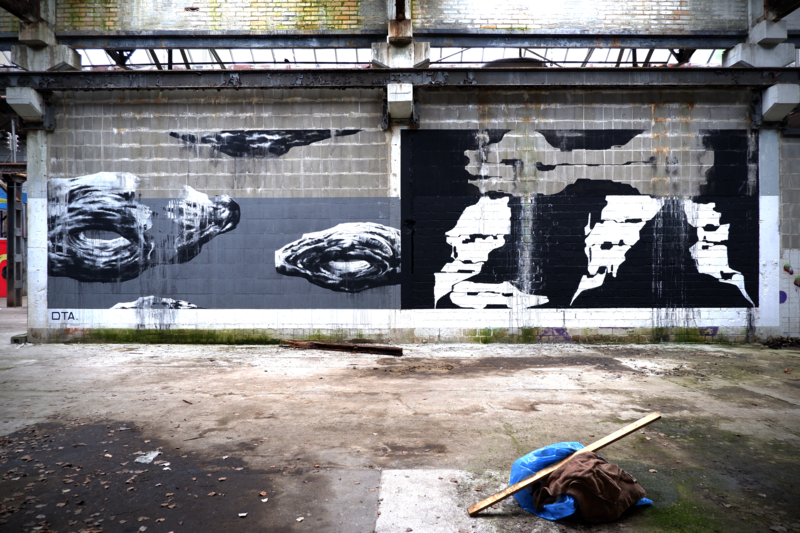 Ibug abandoned factory isn't just a canvas for painting; it assumes a leading role in the festival. Its various nooks, hues, textures, and layers interact with artists, profoundly shaping the end result to a degree where the two merge seamlessly.
Perhaps, though, it's the other way around.
It's us who have merged into the factory, becoming its new skin.
Ibug 2023 will be open over three weekends:
Location: Reichsbahnausbesserungswerk/RAW
Werkstättenstraße 4, Engelsdorf, Leipzig.
Info & Tickets: https://ibug-art.de/
Enjoy my Reels from the abandoned train repair factory!