Nestled within the picturesque landscapes of Sardinia, Italy, lies a hidden gem that combines art, music, and nature in a unique and mesmerizing way.
Welcome to Pinuccio Sciola's Giardino Sonoro (Sound Garden), a magical open-air sculpture garden located in the quaint town of San Sperate.
Here, visitors are invited to immerse themselves in an extraordinary sensory experience where stone becomes a melodic instrument and the air is filled with enchanting harmonies.
Pinuccio Sciola, the Birth of Sardinian Muralism and the Realization of the Sound Garden
Pinuccio Sciola, a renowned contemporary artist from Sardinia, is the visionary behind Giardino Sonoro (Sound Garden). Born in 1942 in San Sperate, Sciola developed a deep connection with his homeland and sought to showcase its cultural heritage through his art.
Pinuccio Sciola is the forefather of Italian muralism. In the era of student and workers' protests, Sciola painted several walls in the streets of San Sperate inviting the population to take action and to participate in the creation of new murals. This is how Italy's "Paese Museo" (Museum Town, aka San Sperate) was born, involving Italian and foreign artists for decades to follow.
San Sperate became the epicenter of Italian muralism, and you can still find many old murals throughout the village. 
If this alone isn't enough reason to visit San Sperate, maybe an immersive experience at the Giardino Sonoro is?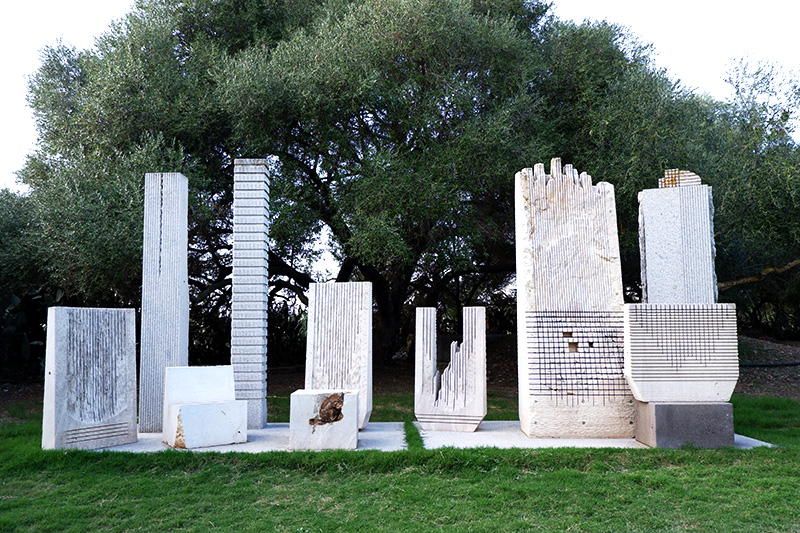 Exploring Giardino Sonoro
Influenced by nature, Pinuccio Sciola pioneered the concept of "sound stones," transforming the region's unique limestone into musical instruments.
As you step into Giardino Sonoro, you are greeted by a symphony of sounds emanating from the stone sculptures scattered throughout the garden. These sculptures, known as "sculpture-luths," feature holes and cavities strategically carved by Sciola, enabling visitors to interact with them by using their hands or small stones to create melodies.
Giardino Sonoro: The Melodies of Nature
Giardino Sonoro is not only an artistic marvel but also a testament to the harmony between human creativity and the natural world. As you stroll through the garden, you'll be captivated by the gentle whispers of the wind passing through the stone sculptures, creating a natural orchestra that blends with the melodies produced by visitors. This enchanting symphony of nature and art is a truly transcendent experience.
Beyond Giardino Sonoro
While Giardino Sonoro is undoubtedly the centerpiece of San Sperate for many visitors, the town itself has much to offer. Its narrow streets are adorned with vibrant murals, a testament to the community's commitment to fostering creativity. These murals were initiated by Pinuccio Sciola himself, back in the 1960s.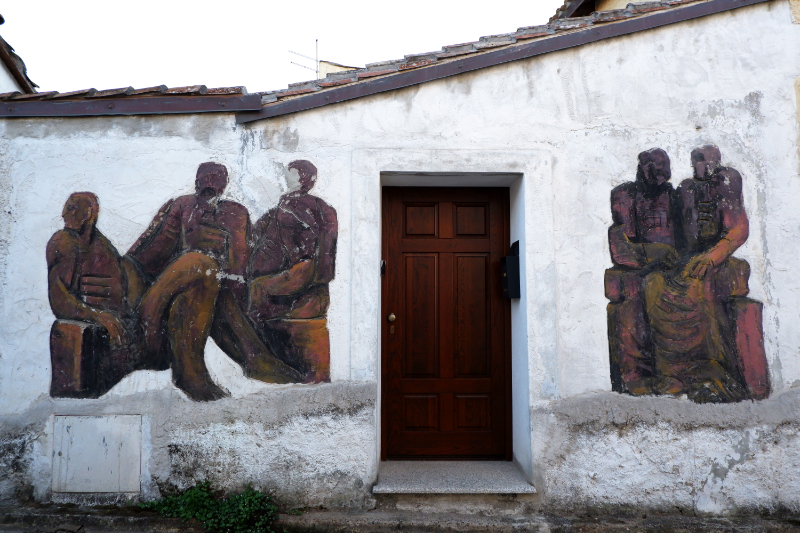 Inspired by Mexican muralism and its urge to connect people with art, Sardinian muralism originated in 1968 in San Sperate bringing to life people's feelings and opinions on the crumbling walls of this rural village in the south of the island.
Likewise his murals in the 1970s, Pinuccio Sciola's sound garden serves as a living testament to the power of art to transform a place and inspire its inhabitants.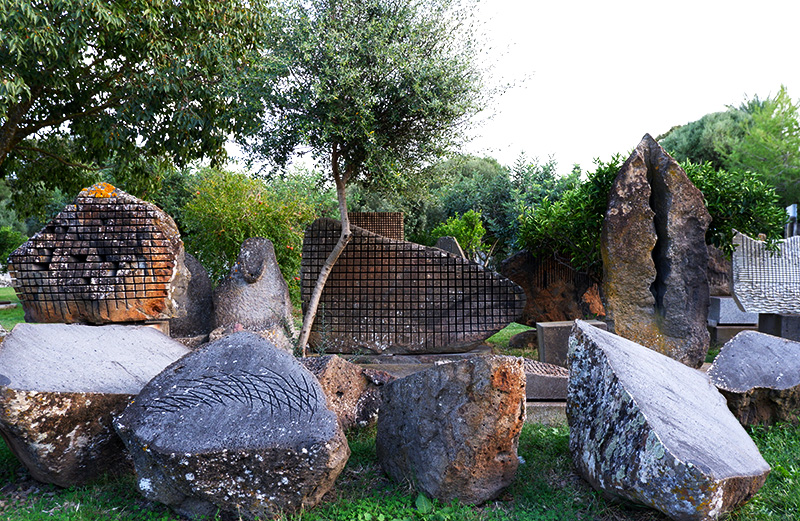 Pinuccio Sciola's Giardino Sonoro is a true hidden gem, inviting travelers to embark on a journey of art, music, and nature in the heart of Sardinia.
Giardino Sonoro stands as a testament to the transformative power of art, rekindling the spirit of a small town and captivating the hearts of those who venture to its shores. So, if you find yourself in Sardinia, take a detour to San Sperate and let the symphony of stone transport you to a world of magic and wonder in Pinuccio Sciola's Giardino Sonoro.
Sardinia Travel Map
Explore Sardinia off the beaten path with my Google map: