Sardinia, the second-largest island in the Mediterranean, is known for its stunning beaches, rugged landscapes, and ancient history. However, the island also boasts a thriving street art scene that often goes unnoticed by tourists. From the bustling city of Cagliari to the remote mountain villages of Barbagia, Sardinia is home to a diverse array of street art, ranging from politically charged murals to graffiti writing.
In this Street Art Travel Guide of Sardinia, I will explore the vibrant world of street art in Sardinia, delving into its history, key players, and must-visit villages. Whether you're a seasoned street art enthusiast or simply looking to discover a new side of this beautiful island, there's something for everyone in Sardinia's street art scene.
Arriving in Porto Torres at sunrise with the ferry from Rome, the first mural I wanted to check out is this masterpiece by Italian street artist BLU:
Table of Contents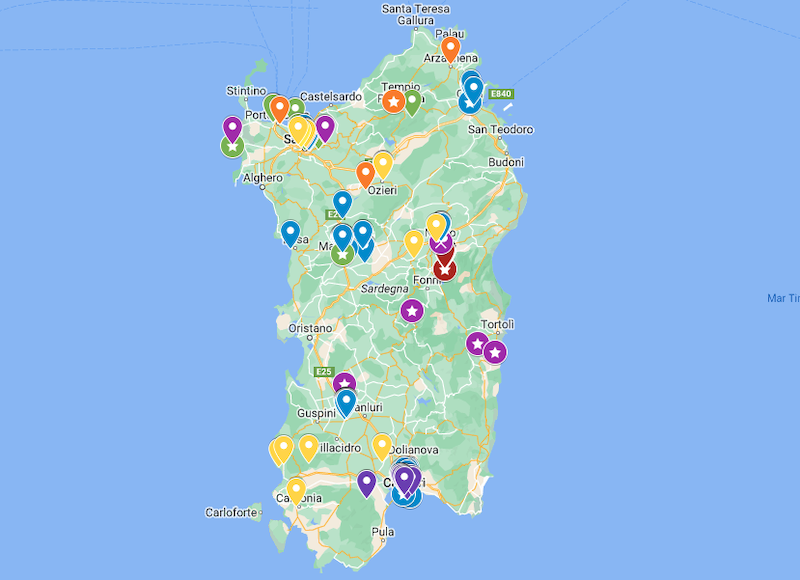 Mural Art in Sardinia
Sardinian muralism has no equal in Europe. Unlike the rest of Italy, where art on walls has a clear derivation from New York's graffiti and street art scene, Sardinia's mural art dates back to the 1960s.
Arisen to give voice to a marginalized, voiceless community, the Sardinian muralism focuses on the message rather than the aesthetics -political and social messages inspired by Marxism, so crucial to be further spelled out with a text.
Murals were painted with the belief that they should engage the community and make a difference in the lives of locals, who were directly involved in the realization of the murals. Sardinian mural art tradition spread throughout the island to speak against institutional power, its repressive policies but also the military exploitation of the island. More mural artists painted local heroes, artists, and philosophers and tributed rural traditions as opposed to industrialization and urbanization.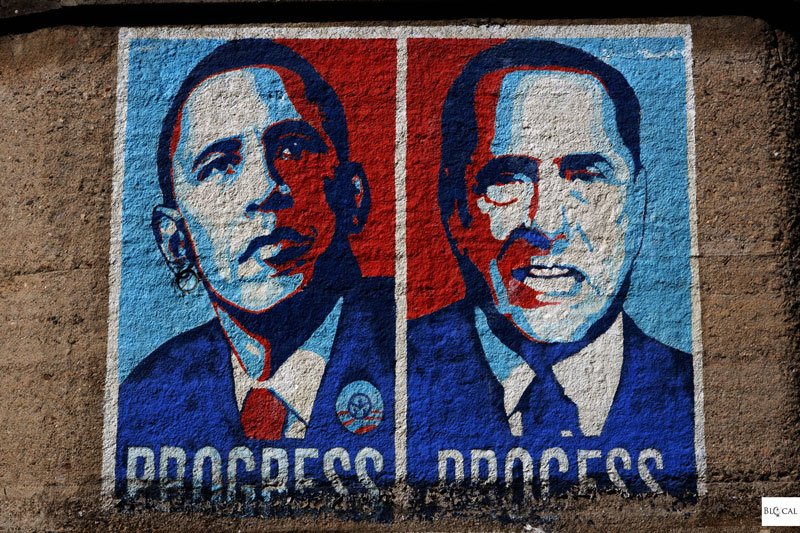 Eventually, the Sardinian muralism movement embraced more international themes, such as egalitarianism, anti-imperialism, solidarity, and pacifism –without losing its founding trait of being a political and educational experience rather than an aesthetic phenomenon.
Mural Art in Sardinia: San Sperate
Inspired by Mexican muralism and its urge to connect people with art, Sardinian muralism originated in 1968 in San Sperate bringing to life people's feelings and opinions on the crumbling walls of this rural village in the south of the island.
In the era of student and workers' protests, Pinuccio Sciola painted several walls in the streets of the city center inviting the population to take action and to participate in the creation of new murals.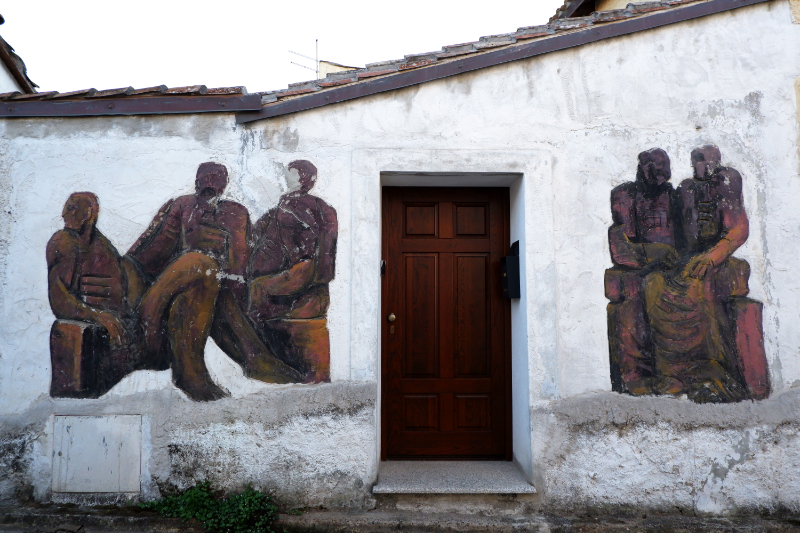 In the following years, the nonconformist and social protest spirit diminished, and the artworks shifted towards traditional figurative themes, such as professions of the countryside. However, this shift in focus hasn't implied a decrease of social value: highlighting the history and traditions of rural Sardinia, and the fact itself of planning cultural activities in small, rural villages, were ways to keep challenging institutional venues and Cagliari's official cultural circuits.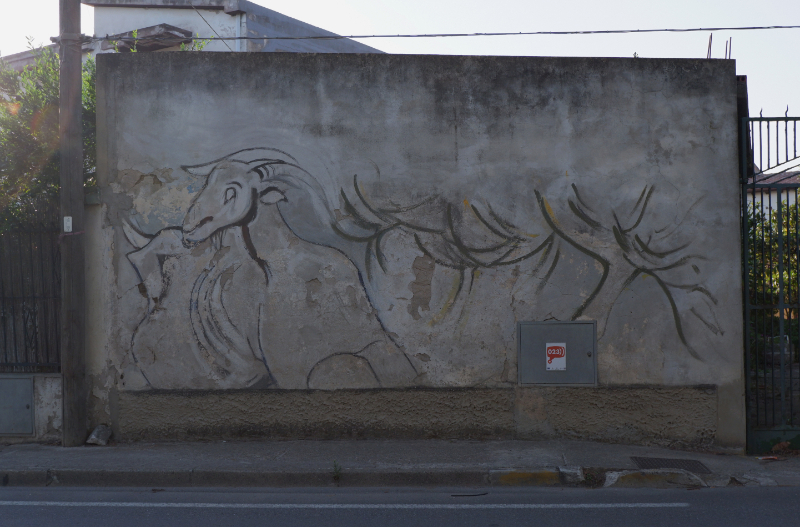 This is how Italy's "Paese Museo" (Museum Town) was born, involving Italian and foreign artists for decades to follow.
Finally, when New York graffiti spread throughout Italy, Pinuccio Sciola embraced the phenomenon by becoming the artistic director of San Sperate's graffiti art project "Il fiume dei writers" (The River of Writers).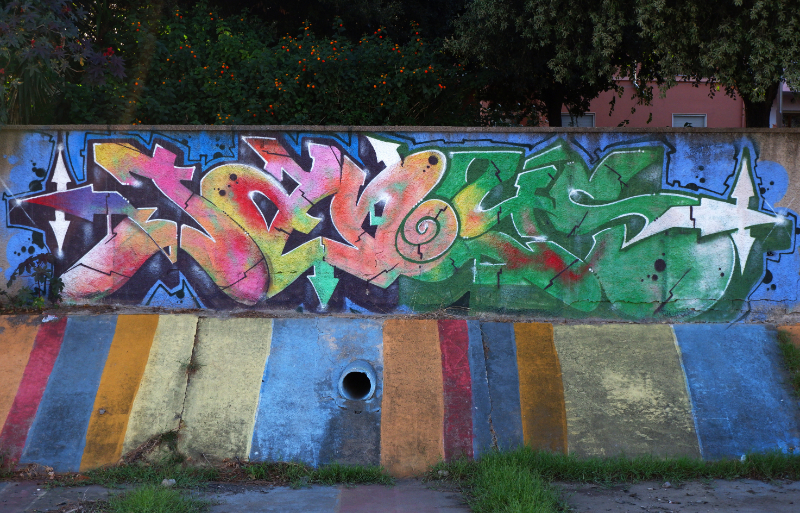 Orgosolo Murals are the best-known example of historical mural art in Sardinia. Sardinian muralism spread through the streets of Orgosolo starting from protests to thwart the establishment of the military base in Pratobello in 1969.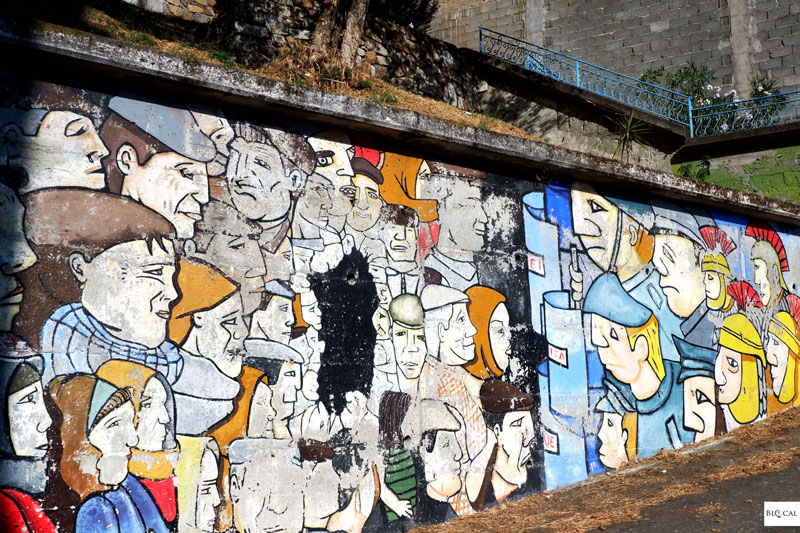 From 1975 onward, Francesco Del Casino and his students produced dozens of paintings on walls that resembled protest posters. Just like in posters, words are intertwined with images. I have already written about the importance of the message in the murals of Orgosolo, and I will leave the link to the article here for further information:
Graffiti in Sardinia
In the 1980s, the influence of New York graffiti reached Italy, including Sardinia. The movement spread primarily in major cities such as Cagliari, Sassari, Nuoro, and Iglesias. Eventually, some of the early graffiti writers transitioned into street artists, continuing to paint on the walls of Sardinia.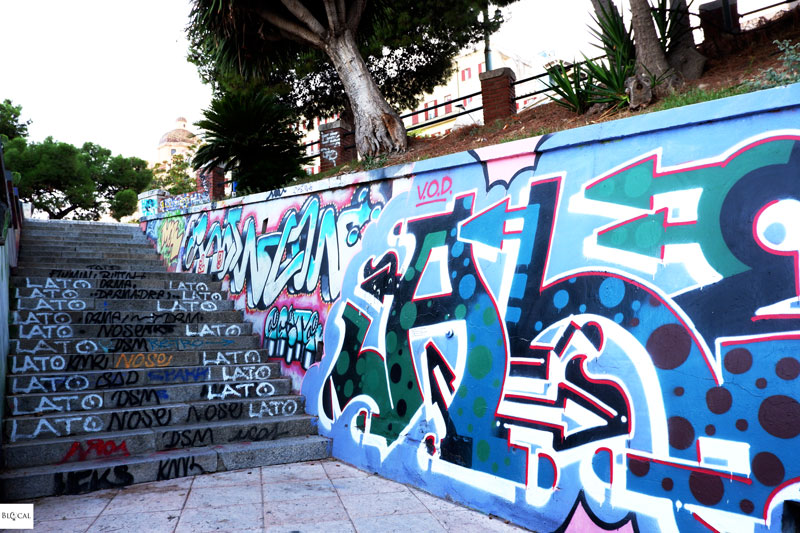 This trend gained momentum after 2000 when local authorities started using urban art as a means to revitalize towns and attract visitors. This marked the birth of street art festivals, showcasing the transformation of major cities and towns in Sardinia through urban art.
Let's explore some of the main festivals and the prominent cities and villages influenced by this artistic movement!
Cagliari is the largest urban center on the island, and it is no surprise that graffiti and street art have gained significant traction here. I have already extensively written about street art in Cagliari, so here I will summarize the must-visit areas and invite you to read my previous article to learn more.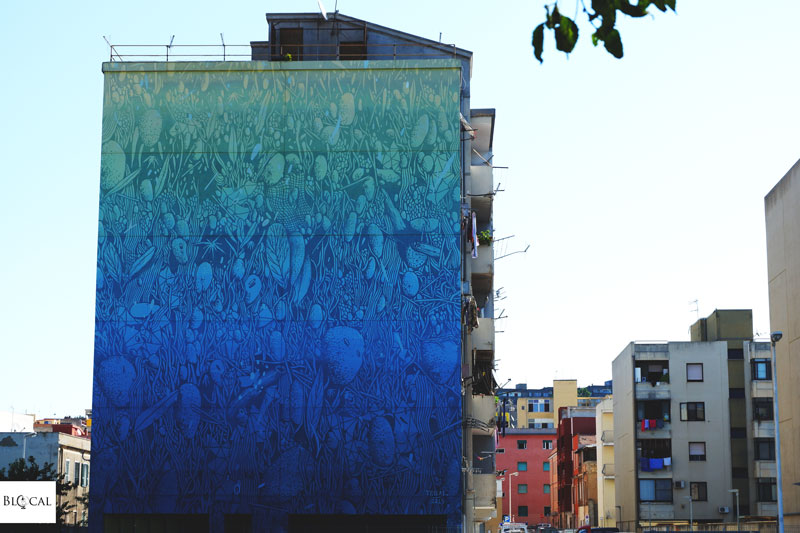 Where to find street art in Cagliari?
Castello: The castle area is a historic district, a neighbourhood of museums and university students where you can find many graffiti and spontaneous artworks.
Panda Monserrato: A street art project curated by my friend and fellow street art blogger Barbara Picci.
Galleria del Sale: An urban art project curated by Daniele Gregorini. It develops along a bike path that runs through a natural area, with beautiful murals by local and international artists.
Villanova: A Medieval area with many churches and historical palaces, home to Cagliari's best-known Hall of Fame (Via San Saturnino).
Pirri: A social housing neighborhood with several murals, especially on the former market ExMe.
Is Mirrionis: Another social housing neighborhood from the 1960s, with many graffiti pieces on the University Sport Center CUS.
Sant'Elia: The former fisherman village where I brought you in October 2022 on the occasion of the first edition of the street art festival Cagliari Urbanfest, organized by Associazione Asteras.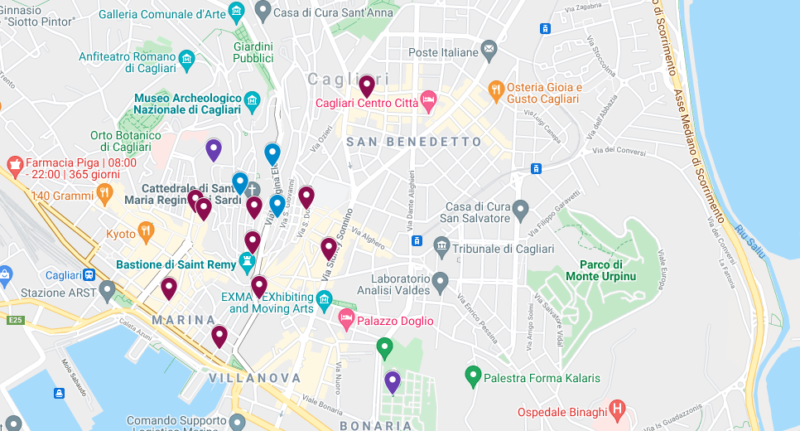 Street Art in Sardinia: San Gavino Monreale
From Cagliari, I recommend visiting San Gavino Monreale, which is just a 45-minute train ride or even less by car. This village, historically connected to mining, has found a new lease on life through street art with the project Non Solo Murales San Gavino.
San Gavino Monreale boasts over 70 murals created by a diverse group of local and international artists, all invited by the Associazione Skizzo.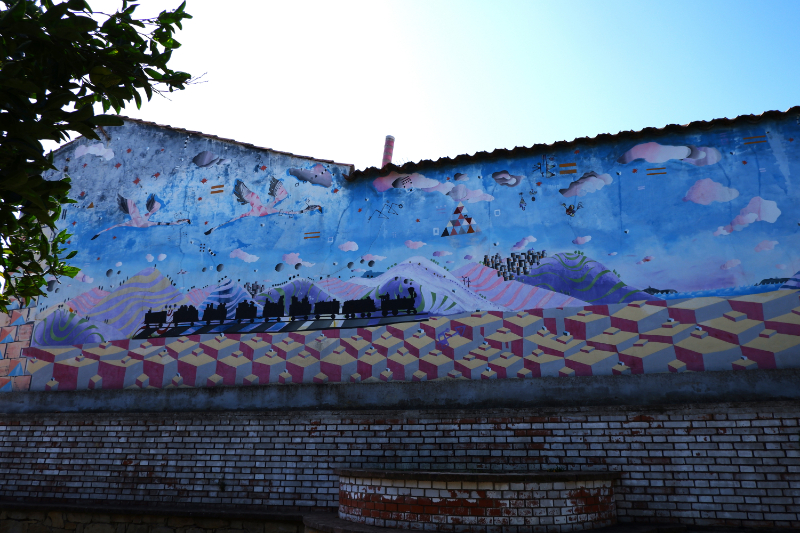 The cultural association takes its name from a kid who tragically passed away. The creation of a tribute mural in 2014 served as the project's catalyst. Among its prominent supporters is Giorgio Casu, aka Jorghe, a highly regarded artist who now resides in the United States.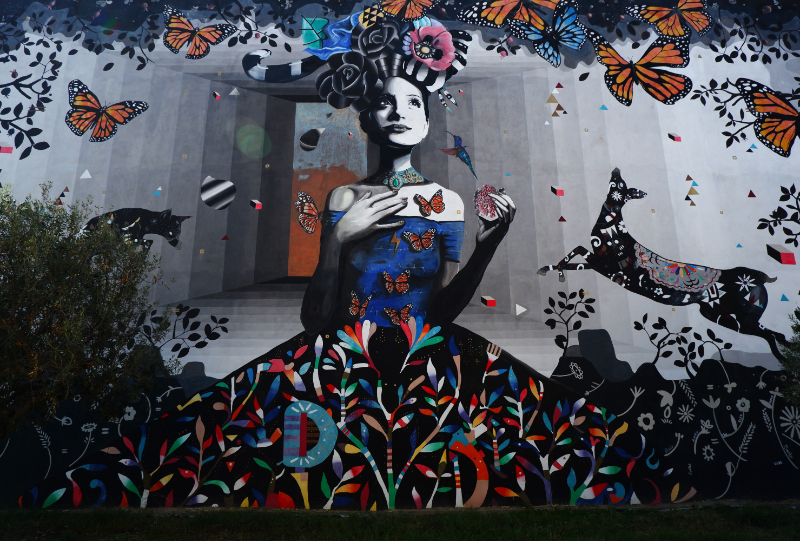 I have marked all the artworks on my San Gavino street art map, while here I will share my favorite pieces, focusing on renowned Sardinian street artists with international recognition and/or murals that showcase local traits.
Let's get started!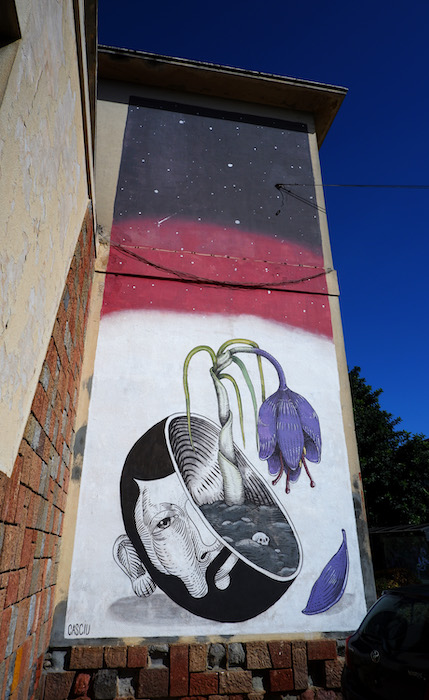 "Mr. Crocus" (2016) by Sardinian street artist Andrea Casciu is a double mural that contemplates the fragility of human beings. The two murals portray -respectively- men's birth and death through a symbolic representation of saffron, a renowned product of San Gavino. The village is the largest national producer of saffron, with an annual festival dedicated to this product.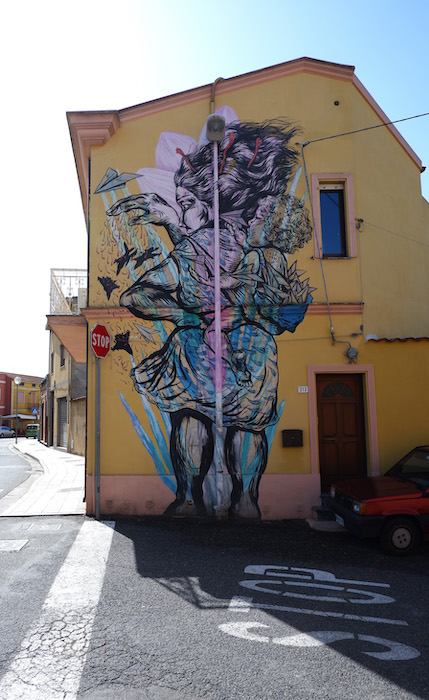 Dedicated to the peasant women who cultivate San Gavino's renowned saffron, "Stimi Stami" (2016) is a mural by Colombian street artist Bastardilla.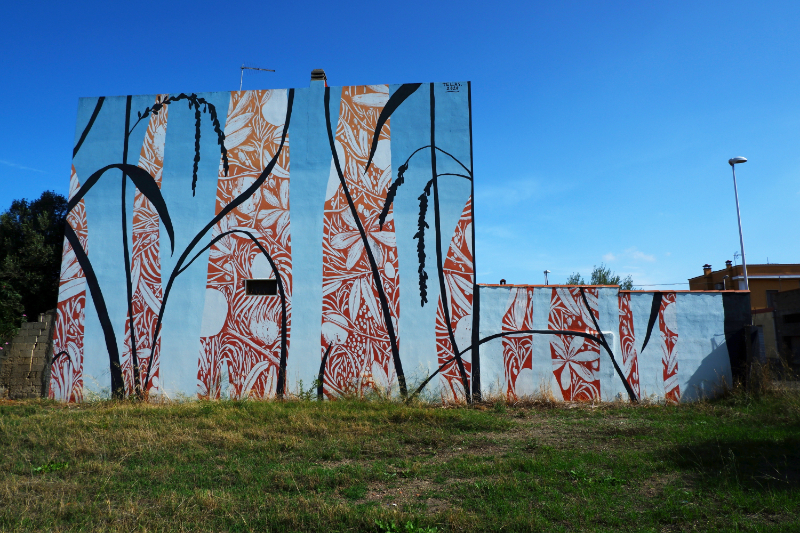 The work of Cagliari-born street artist Tellas is a result of a meditative process that combines spatial qualities, shapes, and species found in the environment. This particular mural, titled "Rice and Saffron", was painted in 2020.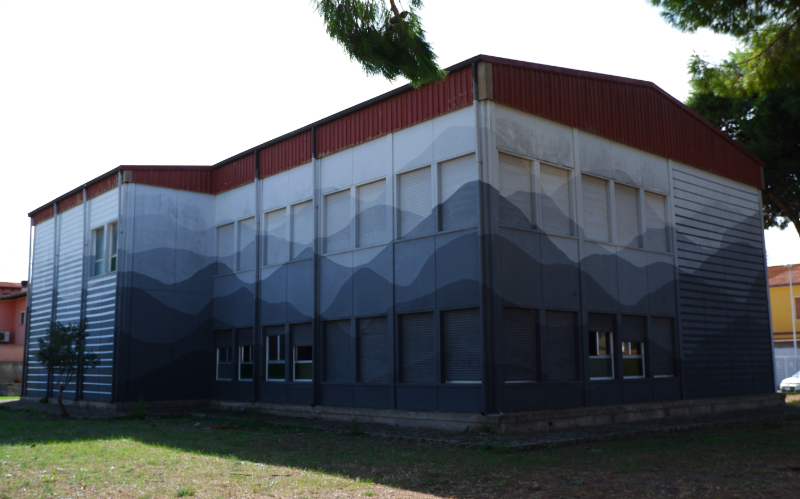 "Shapes" (2018) by Sardinian street artists Ludovica Frauu and Ciredz compares the local elementary school to a monolith by transforming the building into a naturalistic form. The artwork emphasizes the continuous dialogue between humans and the surrounding environment through a geometric aesthetic that is incredibly illusory.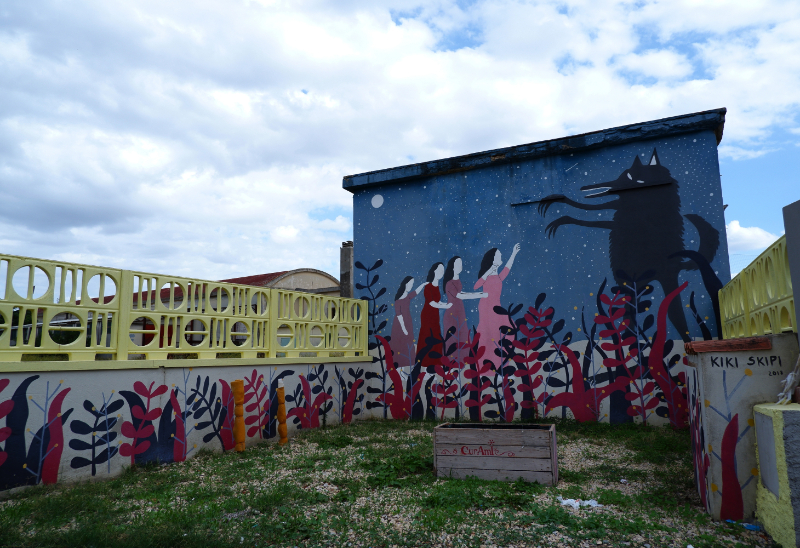 Sardinian street artist and illustrator Kiki Skipi, originally from Sassari and now living in Bologna, painted this mural in 2018 as part of the "Mulieres della favola" project. The mural brings attention to violence against women through a fairy tale representation of a group of women fighting against a black wolf.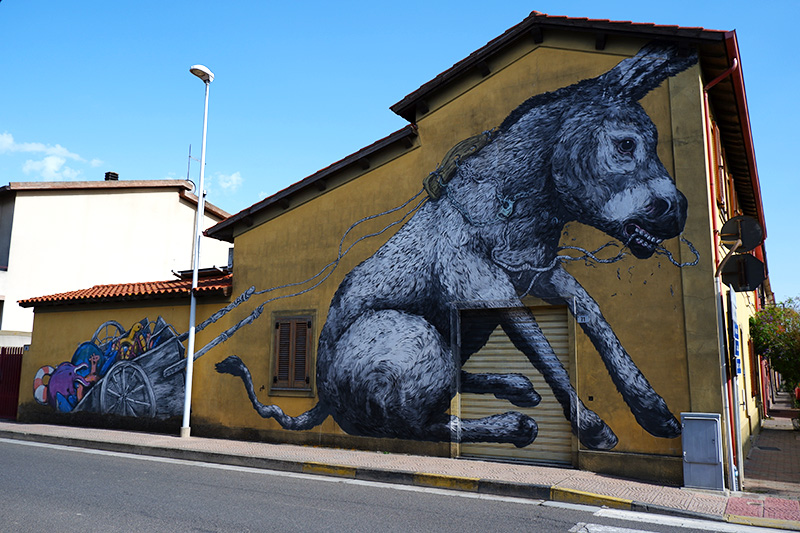 Ericailcane is an internationally acclaimed street artist originally from Veneto and currently residing in Sardinia. "Asinello" (little donkey) is the mural he painted in San Gavino in 2016 by giving the donkey a human-like appearance, a characteristic seen in many of his works, well-known for sharing social messages through anthropomorphism. The donkey references the past of the area, when numerous donkeys transported carts filled with grain to the San Gavino's mill.
"Carnival Princess" (2016) by Sardinian street artists La Fille Bertha pays homage to the local carnival tradition. San Gavino's carnival is one of the four recognized historic carnivals in Sardinia, known for its exquisite papier-mâché craftsmanship, which has become a cherished tradition.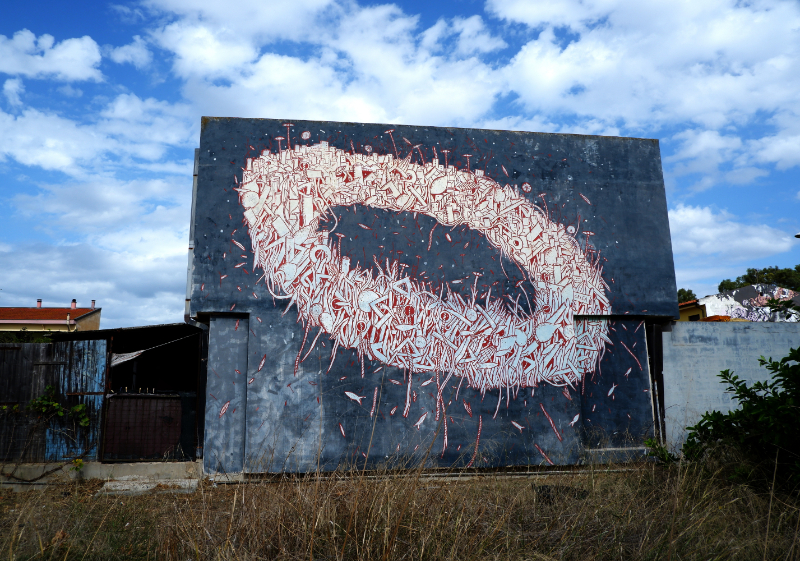 In line with Crisa's artistic production, this 2016 mural by the Sardinian street artist explores themes and patterns derived from natural and urban landscapes. Crisa represents abandoned objects to symbolize what no longer has life, intertwined with ropes and supported by wood, ultimately representing the world's instability.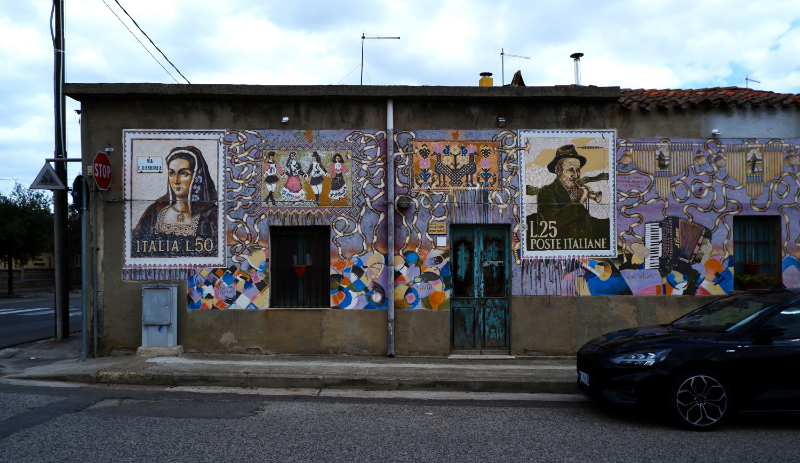 In 2016, local artist Sergio Putzu painted several murals illustrating the agricultural traditions of the region, employing a personal figurative style rich in references to various artistic currents.
Street Art in Sardinia: Sassari
Some of the most stunning murals in Sardinia can be found in Sassari, the second-largest city on the island and a hub of graffiti writing since the mid-1980s. The first mural that catched my eye in Sassari's city center was painted by Ericailcane in 2015 to celebrate the traditional "discesa dei candelieri," a folk festival that takes place every August 14th.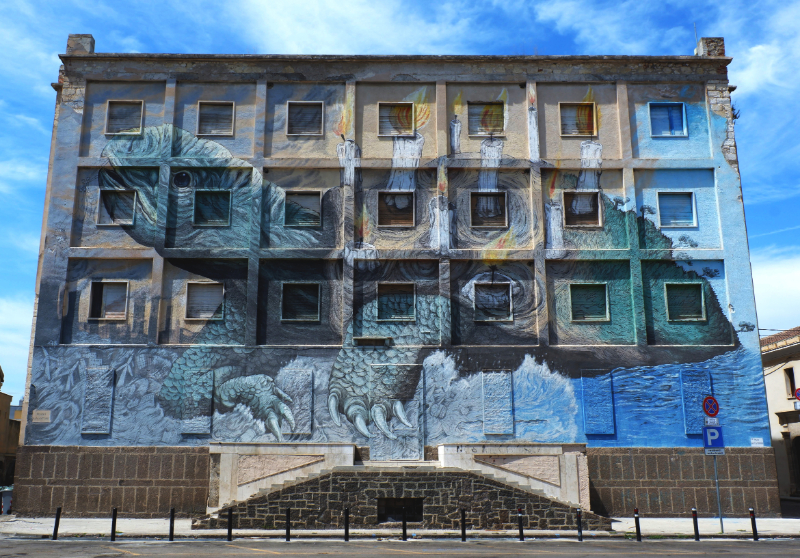 On the facade of an abandoned hotel, Ericailcane depicted a giant turtle, not only paying homage to the city's most cherished event but also denouncing the industrial development that has severely impacted the coastal areas of the region.
To discover more murals in Sassari, I ventured beyond the city center and drove to the less central areas of Corea, Carbonazzi, and Latte Dolce.
The Corea district originated as social housing in the 1970s. In this area, I discovered a remarkable mural painted by BLU in 2011 on an electrical cabin, depicting the effects of mass media news on our brain.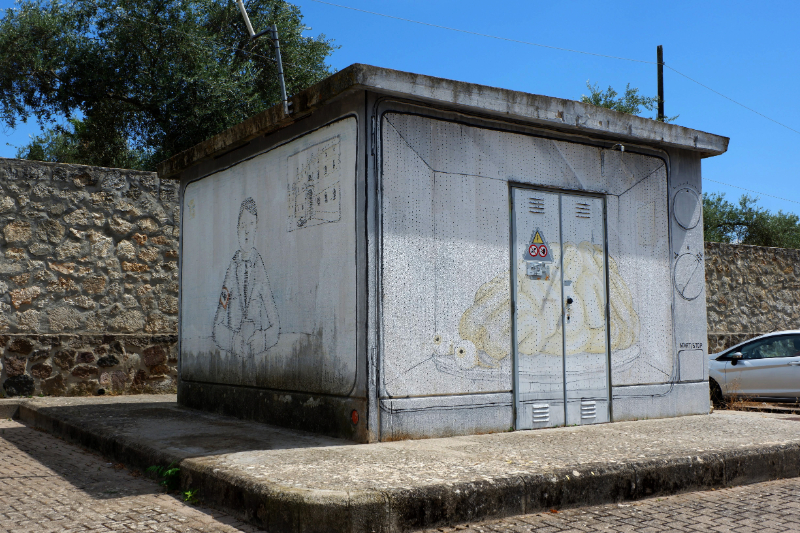 Similarly, Carbonazzi is another social housing area, built a couple of decades later. Invited here in 2012, BLU, Ericailcane, and Moneyless focused on environmental themes in their interventions at Piazza Aldo Moro.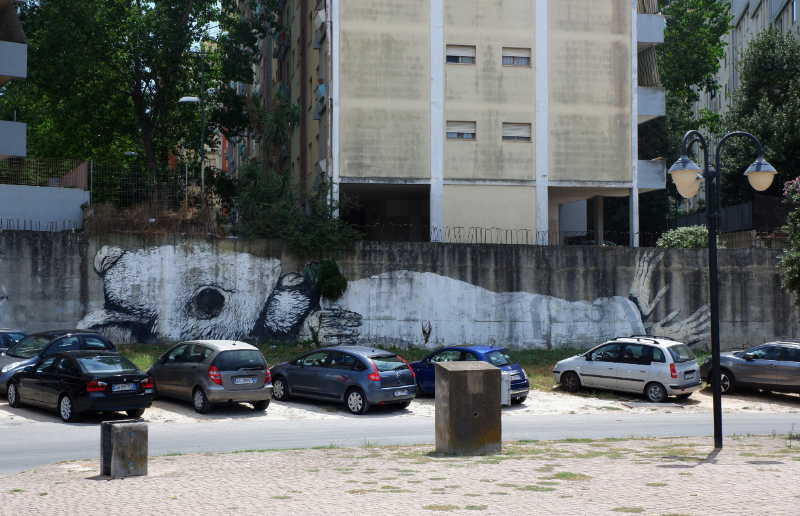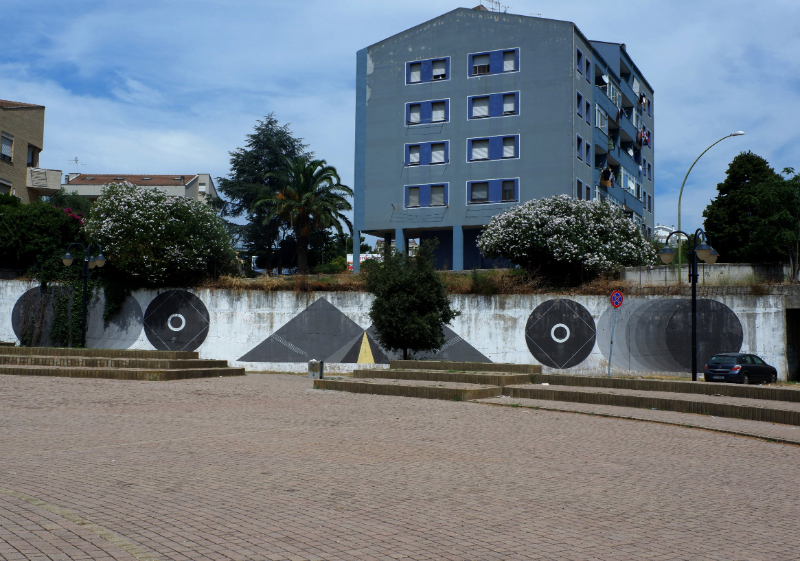 In 2014, Ericailcane returned to Piazza Aldo Moro for a project organized by the same artistic collective from Sassari that had invited him two years prior, "aliment(e)azione". This time, he painted in support of the right to housing. He painted next to BLU's mural from 2012, which featured giant hands trading vials filled with industries, airplanes, missiles, and tanks.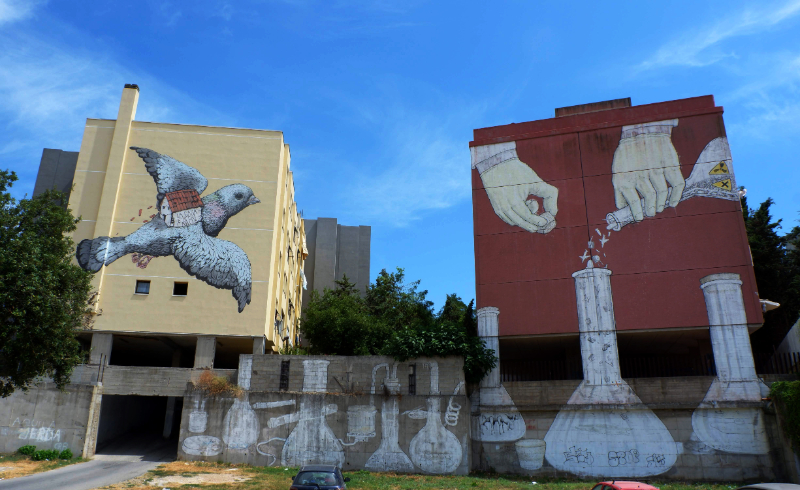 Dem also participates in the project, intervening with a series of colorful figures that blend anthropomorphic and abstract elements.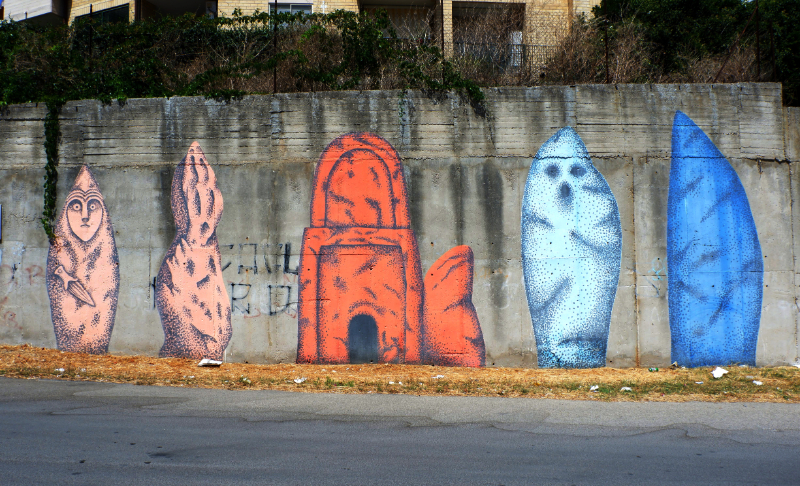 Finally, in the area known as Latte Dolce (meaning 'sweet milk' in Italian), there is a majestic mural painted by BLU in 2014 to encourage reflection on the weight of military servitudes on the island. There is no place in Europe more militarized than Sardinia. 65% of the Italian military land, which includes permanent defense structures, is located on the island. There are 37,374 hectares of militarized land on the island, accompanied by an occupation and immeasurable air and groundwater pollution.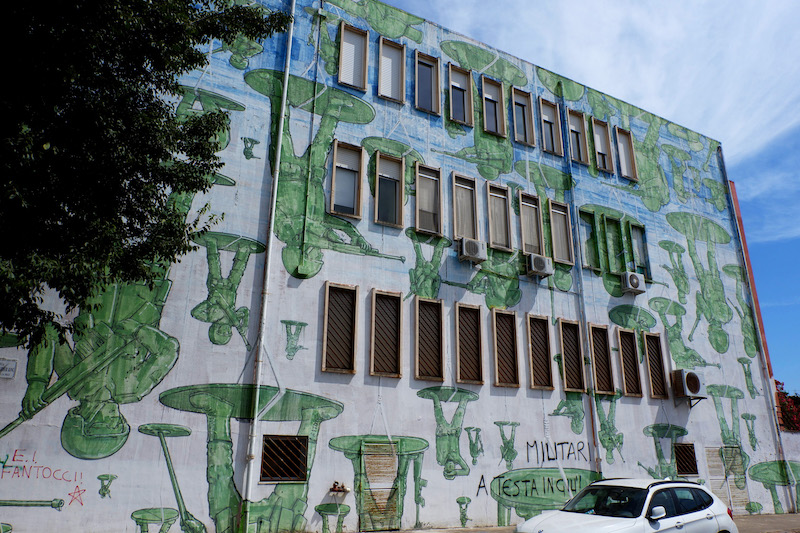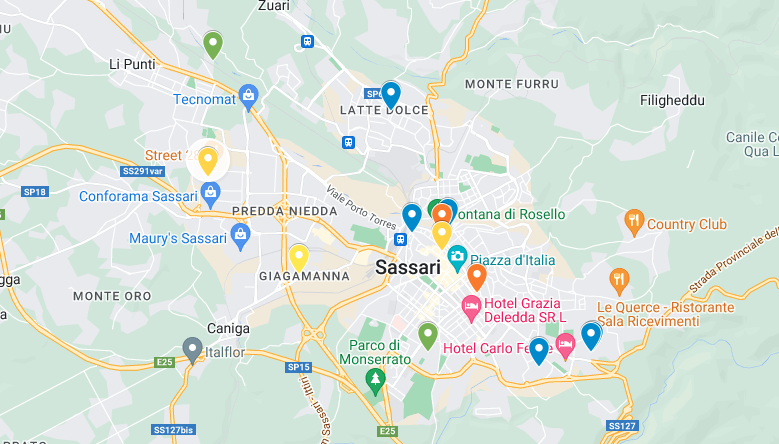 From Sassari, I suggest visiting the incredible contemporary art project Museo AAAperto in Aggius, and the former industrial site of Argentiera. Additionally, don't miss the street art in the mountain village of Osilo and the seaside village of Castelsardo.
It's best to have a car for these adventures and, while you're at it, why not consider exploring the numerous abandoned industrial sites in the area? Just an idea… ;)
Street Art in Sardinia: Osilo
Just outside Sassari lies the medieval village of Osilo, where street art has made its appearance thanks to a recent project connected to the community's historical memory, curated by Sardinian street artist Andrea D'Ascanio, aka Sardomuto.
In 2018, Sardomuto painted several animals throughout the village, depicting legends and traditions of the community on the walls.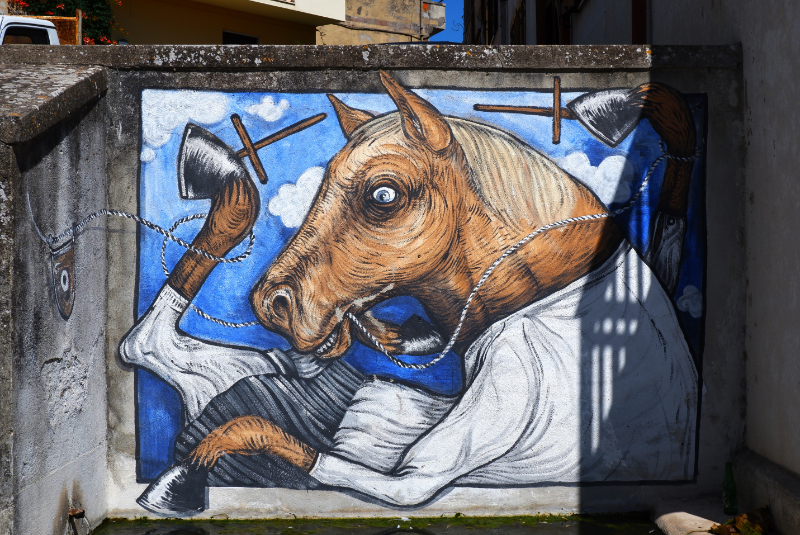 Sardomuto is an illustrator, engraver, and muralist. His subjects are inspired by the animal world, through which he explores the fragility and beauty that contrasts with the arrogance often displayed by human beings.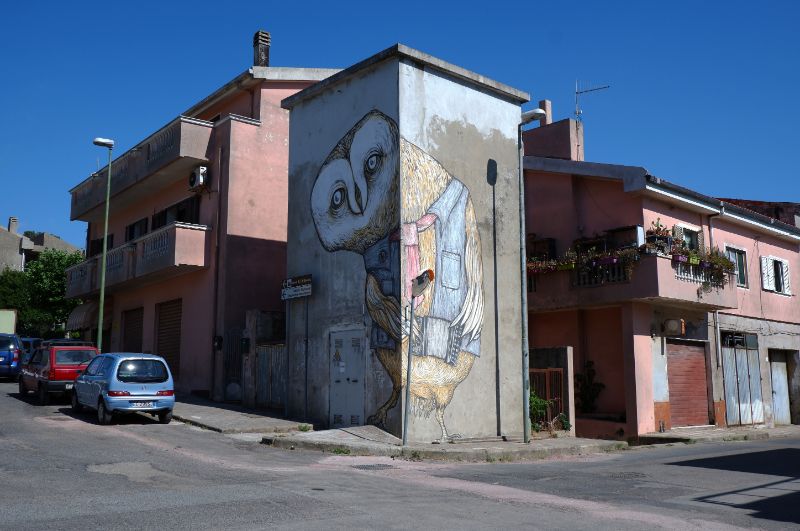 Aggius and the Contemporary Art Museum AAAperto
After driving along one of the most breathtaking roads I have ever encountered, we arrived in Aggius, a small village nestled at the foot of a granite mountain.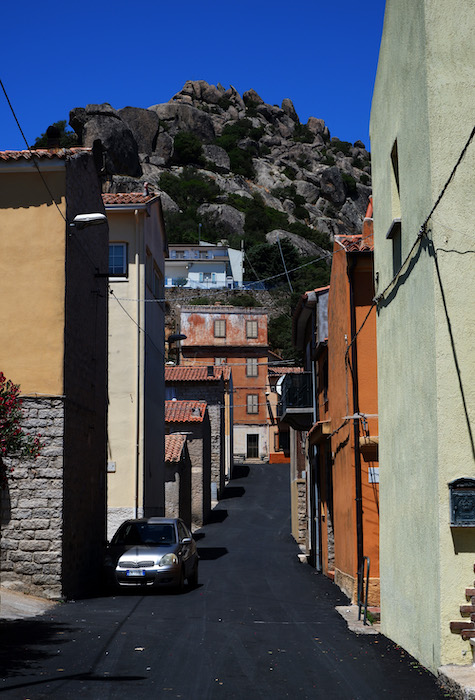 Aggius' notable public art collection was established in 2008 when contemporary artist Maria Lai involved the local community in the art project "Essere e Tessere" (To Be, is to Weave), aiming to explore the cultural and traditional roots of Aggius.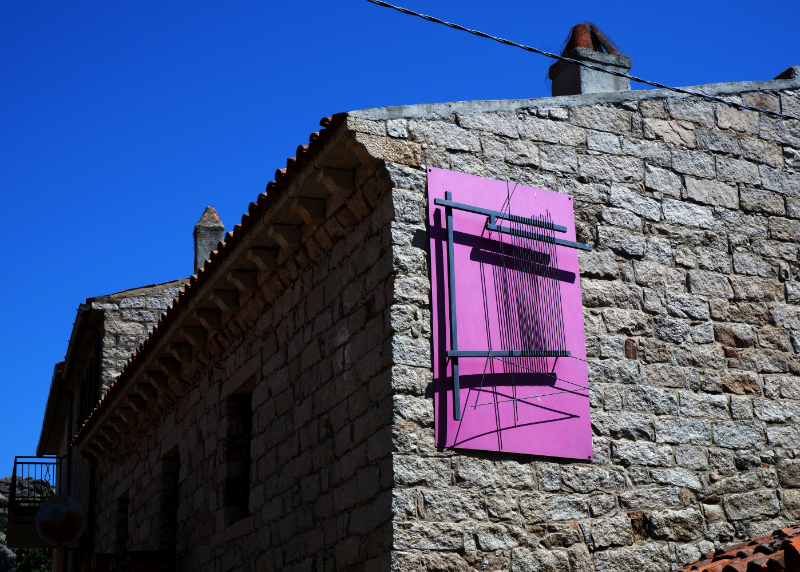 Maria Lai's abstract compositions, created on house walls with looms, form the nucleus of the AAAperto Museum of Contemporary Art, a permanent exhibition spread throughout the streets of Aggius, comprising three distinct paths:
"Essere e Tessere" by Maria Lai.
The permanent photographic exhibition "Dove c'è un filo c'è una traccia" ("Where There's a Thread, There's a Trace").
Urban art by Tellas, Basik, Andrea Casciu, Ciredz, Simone Sanna, and other street artists.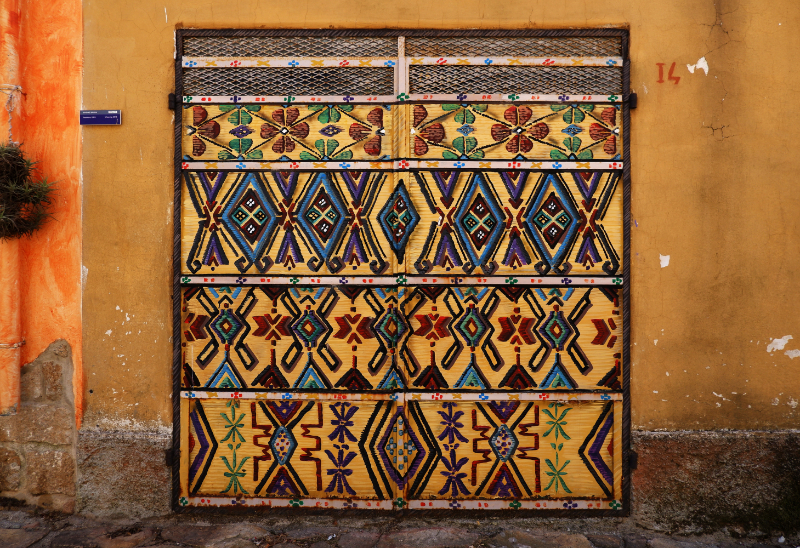 Aggius is adorned with three murals by one of my favorite street artists ever: Tellas. The Sardinian street artist spent considerable time in Aggius in 2018, creating murals inspired by the area's plants and natural elements.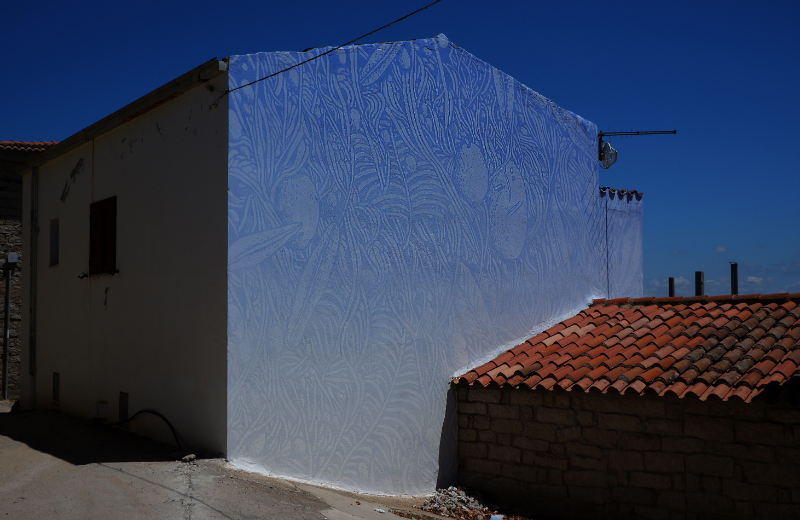 Additional murals were produced in the summer of 2022 by Sardinian street artists Andrea Casciu and Roberto Ciredz, as well as by Rimini-based street artist Basik.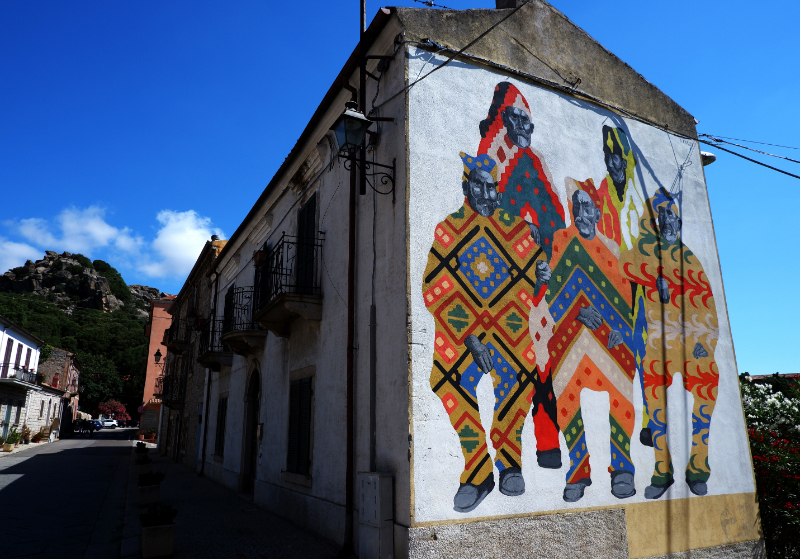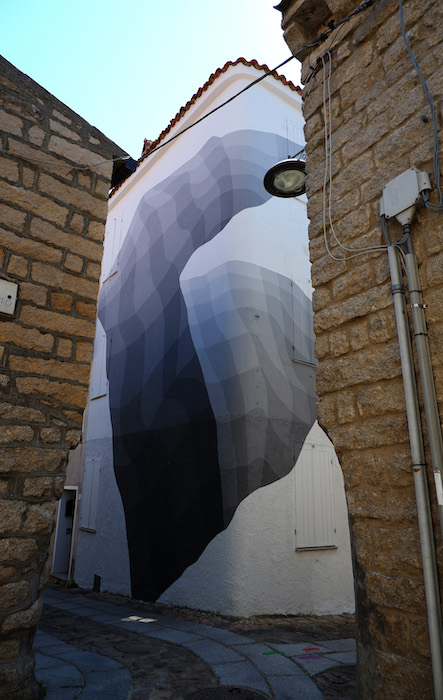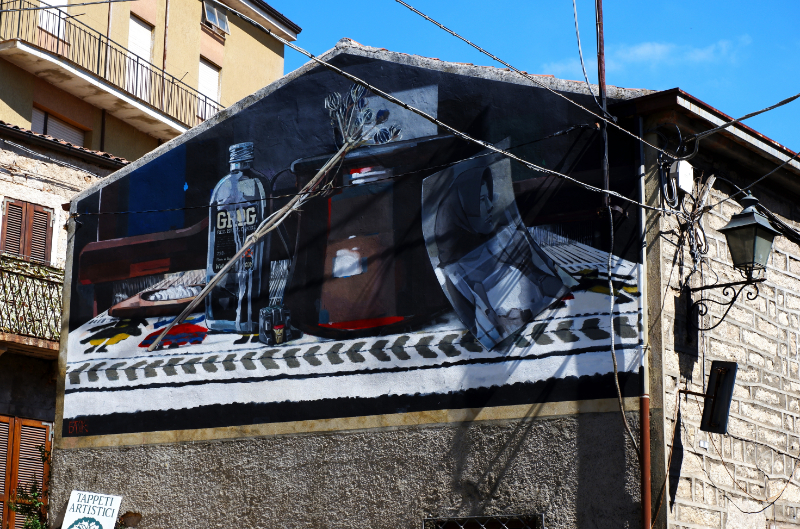 Basik also created a smaller piece in Aggius, which juxtaposes bandits and graffiti writers, both living and acting outside the law, symbolizing the connection between tradition and contemporaneity, and leaving a mark on the urban landscape.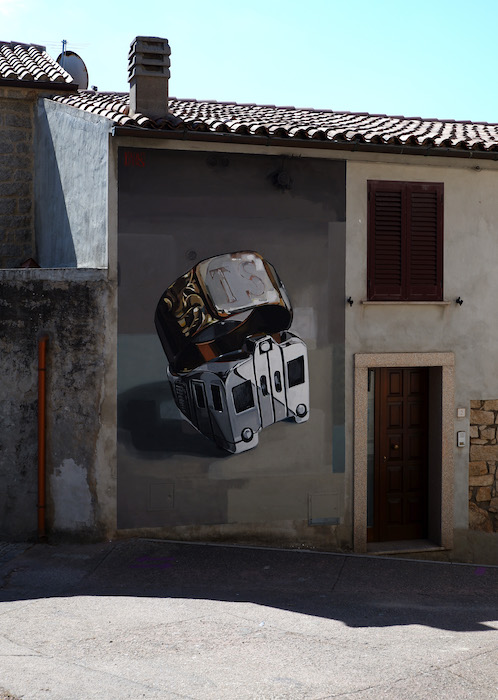 Despite its small size, Aggius is home to two more museums I highly recommend visiting:
The Museum of Banditry, with its unique collection of documents related to criminal activities, descriptions of the lives of famous fugitives, weapons used to pursue bandits, and more;
The MEOC Ethnographic Museum, which features sections dedicated to local tapestry and contemporary art, including artworks by Maria Lai.
Street Art in Sardinia: Castelsardo
In the seaside village of Castelsardo, street art can be found along a single street, Via Fonte Vecchia, which served as the canvas for the "Dimorare nella bellezza" project in 2017.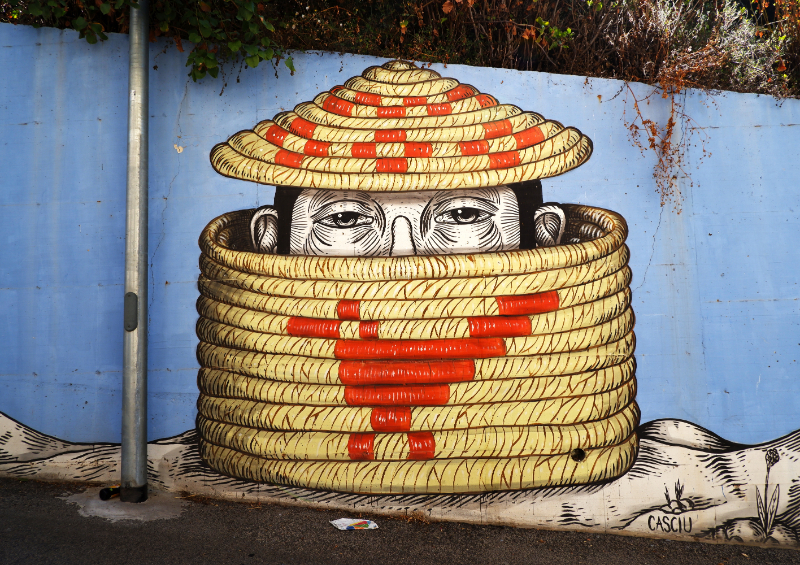 This urban art initiative, curated by Roman street artist Diavù, invited Sardinian and Italian street artists to the medieval village on the northern coast of the island to depict stories related to local traditions and history.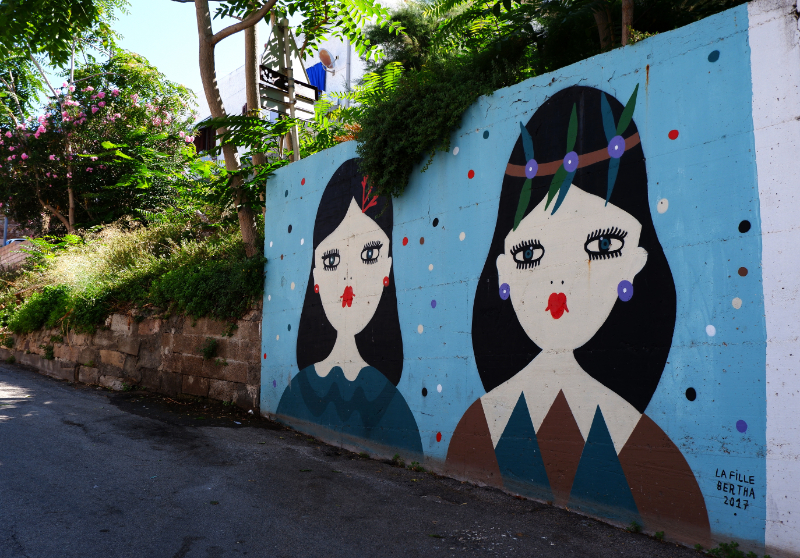 The Argentiera is a hidden gem in Sardinia that combines two things I adore encountering while traveling: industrial archaeology and urban art.
I previously wrote about the captivating Argentiera mining site and ghost town, so be sure to read the article for further details.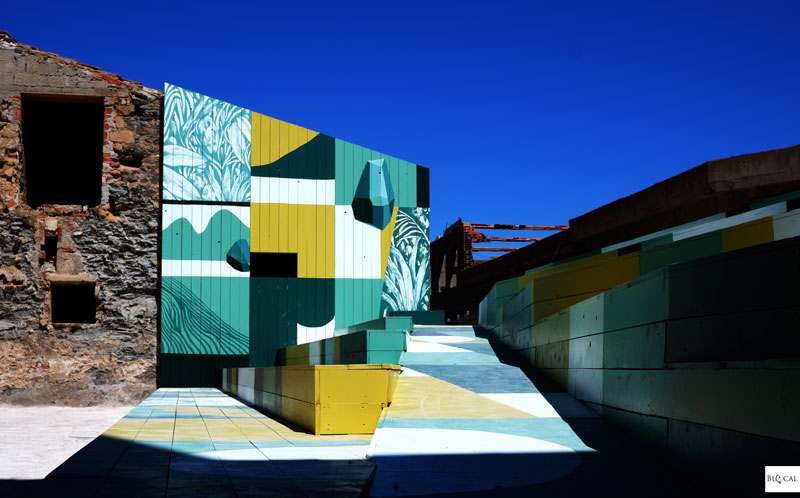 Here, I'll simply share a photo of the breathtaking staircase created by Tellas in 2022, but there are numerous other remarkable public artworks to explore (along with an incredible beach!).
Street Art in Sardinia: Ozieri
In Ozieri, you will encounter two more examples of Sardinian historical muralism dating back to the 1970s.
In 1969, Aligi Sassu painted "Il mito di Prometeo" (The Myth of Prometheus), representing the history of Ozieri through a universal metaphor depicting the struggle of humanity against tyranny. Completed in 1970, the mural was restored in 1998 and transformed into a mosaic to ensure its better preservation.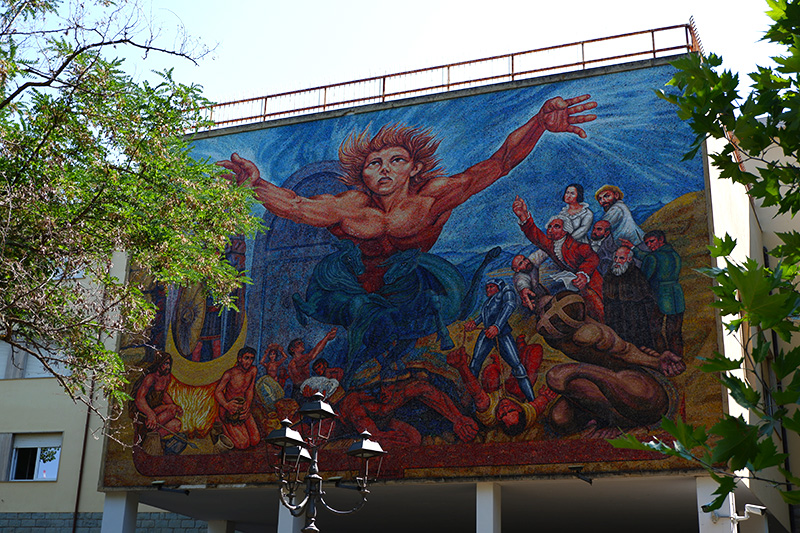 On either side of the prominent figure of Prometheus, you'll find symbols of ancient civilizations and historical personalities, including Francesco Ignazio Mannu (a key figure in the Sardinian uprisings of the late 18th century) and the poet Matteo Maria Madao.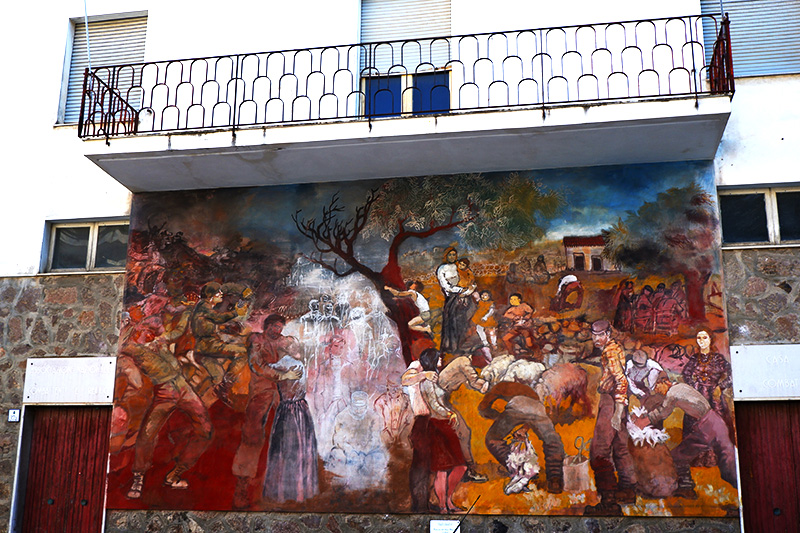 In 1971, Liliana Cano painted a mural that combines condemnation of war with the theme of rebirth and new life (represented by the central tree) through active participation in the community.
Street Art in Sardinia: Olbia
I was absolutely amazed to stumble upon a mural by none other than Buff Monster in Olbia!
How did he end up there, you may wonder?
Well, the renowned American street artist was invited to Olbia by Sky Arte as part of the docu-series "Muro," produced back in 2015.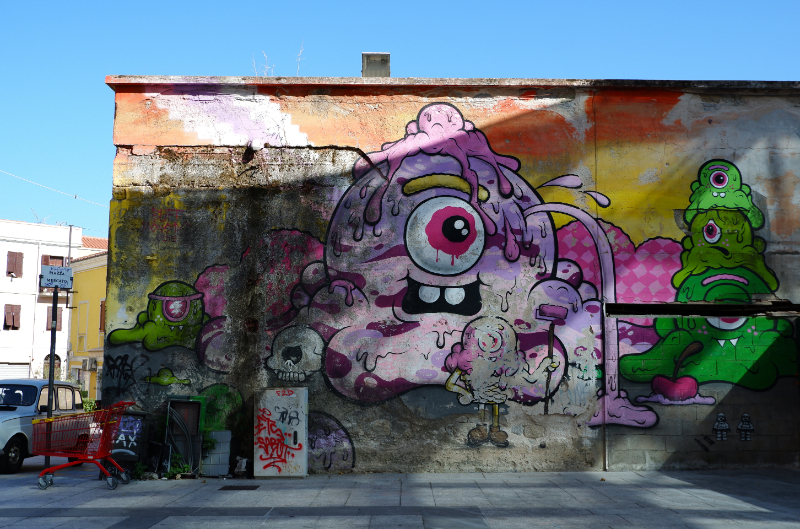 Buff Monster first made his mark in the streets of LA in 2001 with his iconic poster pastings. After making the move to New York in 2010, he shifted his focus to creating vibrant and eye-catching murals that have become his signature style. Since 2012, he has been weaving an ongoing narrative featuring his beloved melty ice creams.
Not too far away, at the train station's parking lot, you'll find more remarkable artworks painted in 2019 by Sardinian street artists together with students from the local art school.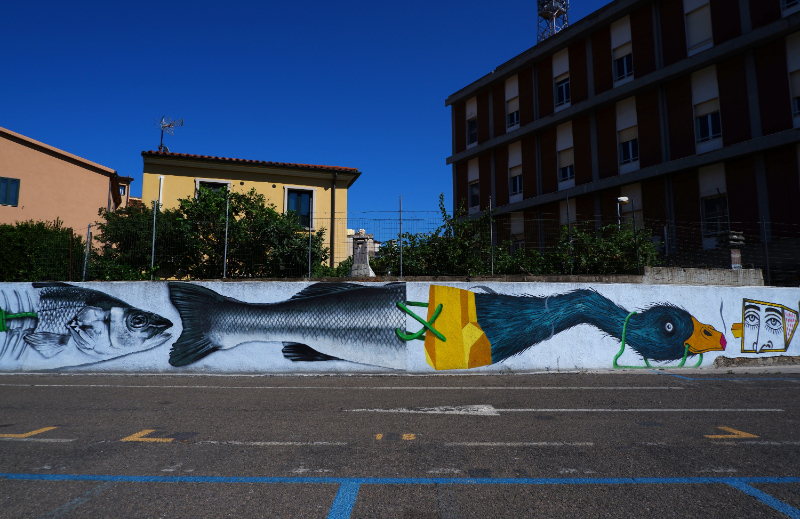 Another stunning creation by UndiciSei Squad can be found in the nearby Piazza Bardanzellu, dating back to 2016.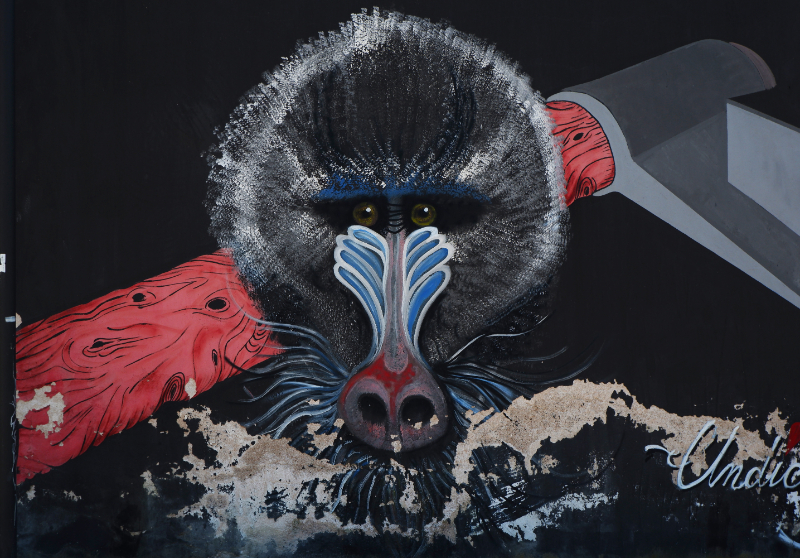 UndiciSei Squad is a Sardinian crew that was established in 2014. Its members are: Hadmar, GG, Toni M, and Paul01. Their distinct signature style features a prominent red mark, serving as a symbol and reminder of the importance of civic and social action. Their subjects often portray fantastical creatures immersed in dreamlike and surreal landscapes.
Street Art in Sardinia: Nuoro
A must-visit spot in Nuoro is the stadium, whose wall boasts captivating murals dedicated to Angelo Caria, an intellectual and prominent Sardinian independence advocate. Created in 2016, this series of murals was initiated by Pietro Costa, who invited numerous artists to paint side by side. Each mural features a verse from the poem "Bi fit s'istoria" written by Caria.
Just across the street, you'll find the compelling compositions by the UnidiciSei Squad crew, populated with fantastical figures and symbolic references that guide the observer towards social, environmental, and cultural themes.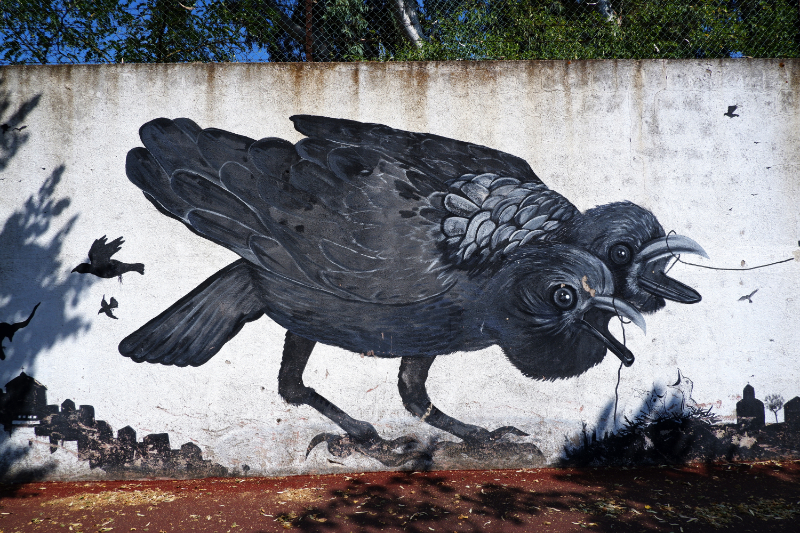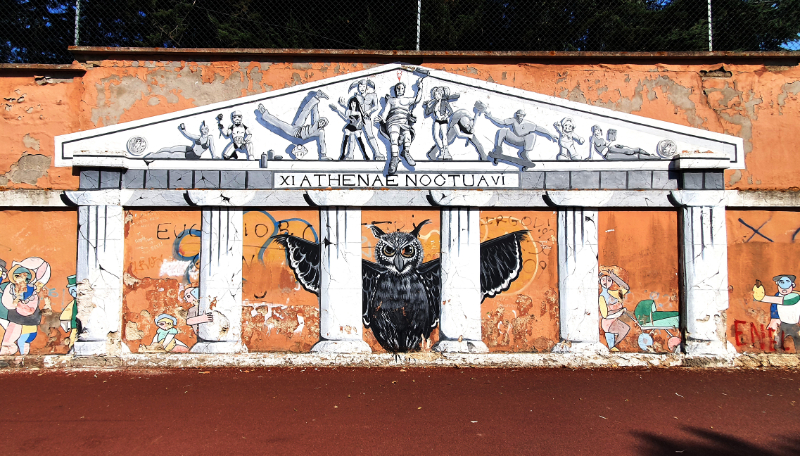 Nuoro is also adorned with several murals by Antonio Porru, known primarily as a ceramist. He is known for the technique of engraving on fresh plaster, which the artist developed from his experience with clay engraving.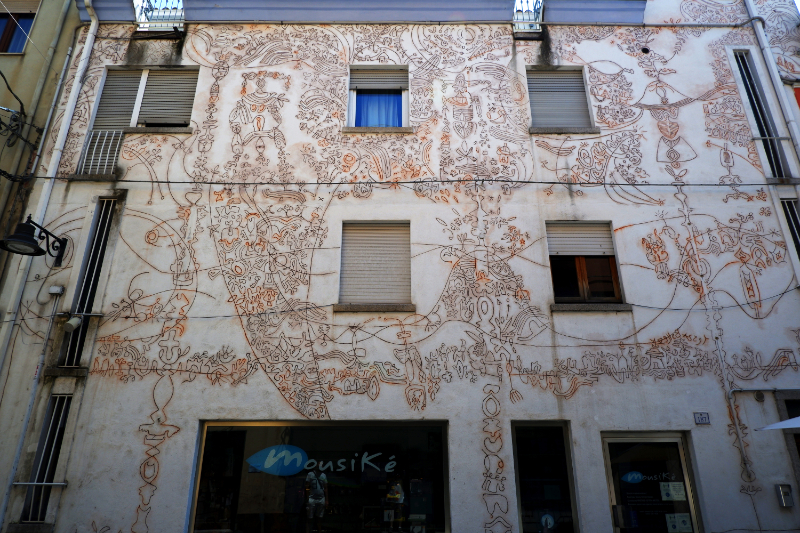 On Via Roma, you will find a political artwork from the 1970s. Elisabetta Carboni's piece is the sole survivor among those created in 1978, during a reunion of the most politically engaged muralists in Sardinia, which took place in Nuoro.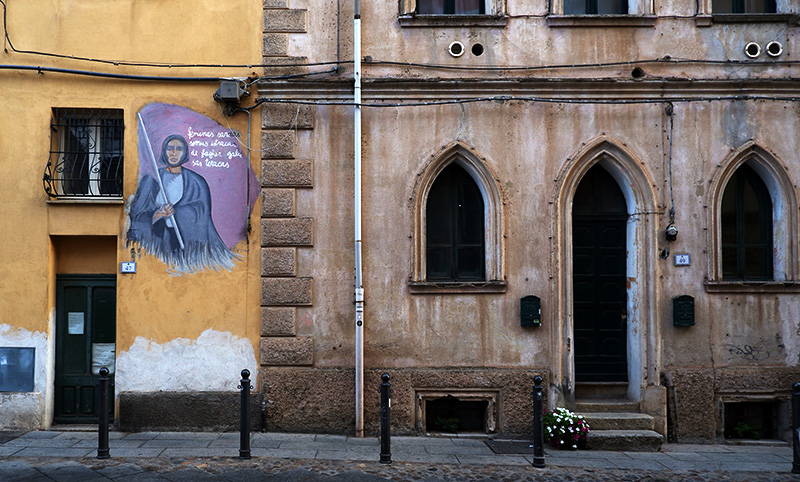 Not far away, you can admire the works of the Tela Urbana collective at the multifunctional center. Painted in 2015, these artworks depict figures from the world of art, science, and music, as well as icons, symbols, and masks from Sardinian tradition.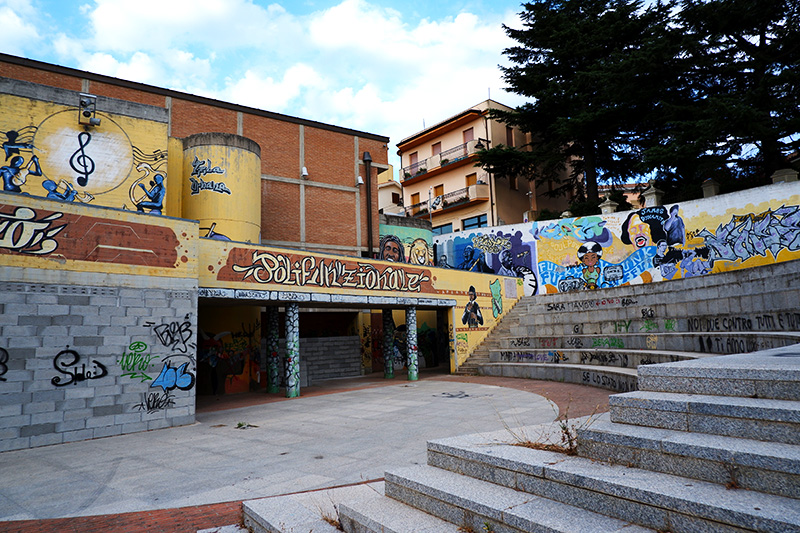 In Piazza Italia, you will come across several works by Francesco Del Casino, the promoter of the murals in Orgosolo. These murals are dedicated to Nuoro figures who distinguished themselves in the resistance against the fascist regime. The project was commissioned by the provincial section of ANPI (National Association of Italian Partisans) in 2018.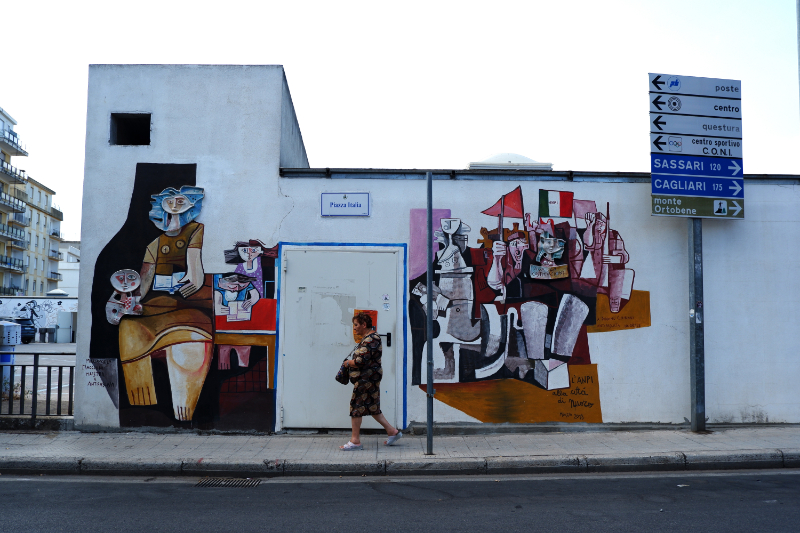 Lastly, in Piazza Su Cuzone, Tela Urbana created a magnificent mural in 2015 dedicated to the cycle of seasons.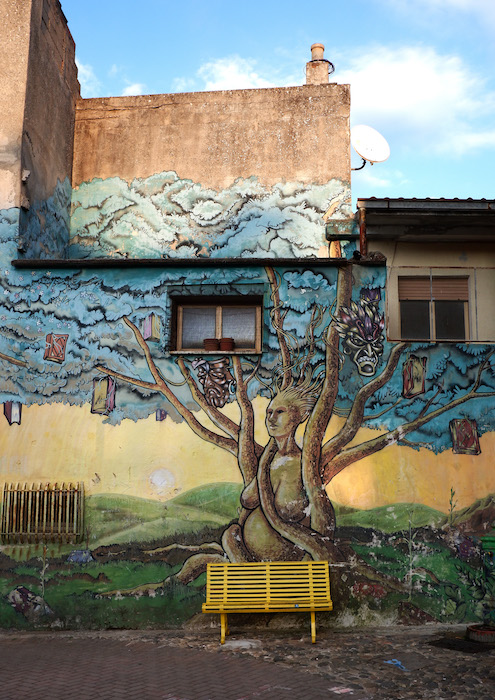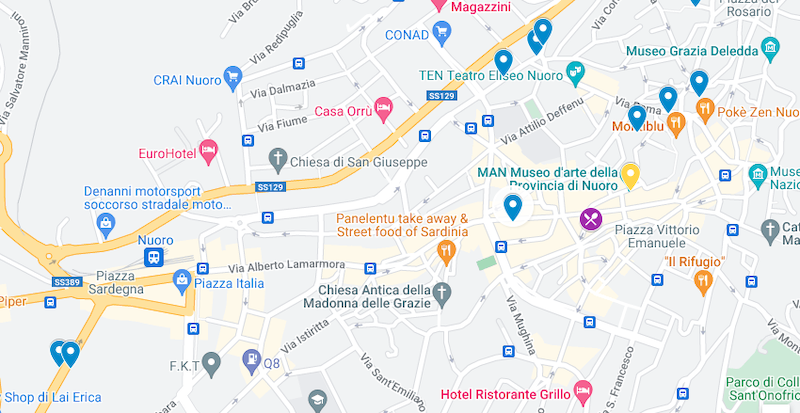 Macomer is a charming town in central Sardinia threatened by depopulation. Renowned for its prehistoric landmarks and a historical economic boom that sparked an industrial revolution, Macomer also confronted a crisis that triggered substantial emigration.
Its story is similar to that of many other villages in Southern Europe, but this one has a happy ending. A group of youngsters who had left the island looking for opportunities eventually came back and joined forces to bring new energy to their village by addressing social issues through public art.
In a previous article, I extensively covered the remarkable endeavors of a brave collective of young individuals who are using urban art as a means to combat depopulation in Macomer. I encourage you to delve into the details by reading my article about Macomer's Festival della Resilienza.
Street Art in Sardinia: Ottana
While on our way to Macomer, we unexpectedly encountered a significant fire, forcing us to take a detour. This detour led us to the charming village of Ottana, which wasn't originally part of our plans. However, I'm grateful that we stumbled upon it.
Ottana is renowned for its Carnival traditions, deeply rooted in ancient Sardinian culture and its agricultural and pastoral values. The village proudly upholds a tradition that has never been interrupted, and the Carnival is one of the most anticipated events for the local population, who actively participate, demonstrating a profound sense of belonging to their own culture.
The masks worn during the Carnival depict various characters, roles, and situations from rural life, such as plowing, sowing, harvesting, caring for, taming, as well as the illnesses and deaths of animals. These spontaneous interpretations come to life, resembling a script that unfolds before your eyes.
The walls of Ottana serve as canvases reflecting this intangible heritage. Murals dedicated to Ottana's iconic masks, known as merdules and boes, can be found throughout the village. These masks depict ancestral and unsettling figures with monstrous wooden masks intricately carved into them.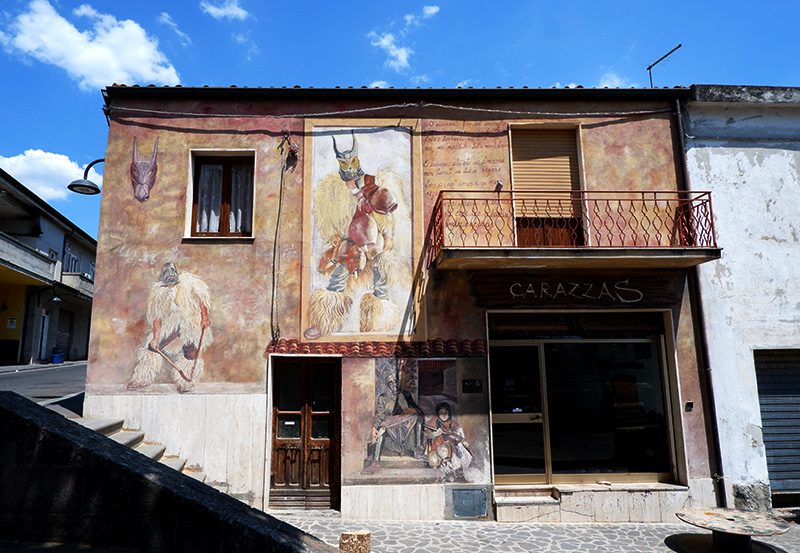 More Street Art in Sardinia
The aforementioned locations are the ones I had the pleasure of exploring in 2022, either in July (when I spent a couple of weeks working remotely from a little village in the north of the island) or in October, when I was invited to Cagliari as the media partner of the street art festival Cagliari Urbanfest.
I hope I'll get the chance to update this article in the future! ;)
There are countless other places that I regrettably couldn't explore during my time in 2022, and I eagerly anticipate the opportunity to discover them and share my experiences with you.
Here's a little video of the villages I've explored in summer 2022, between street art and urbex:
For those craving more, I have a fantastic recommendation for you. Check out the guidebook titled "Muri di Sardegna: Luoghi e Opere della Street Art" by Associazione Asteras, the incredible group of women behind the organization of Cagliari Urbanfest. This guidebook, published by Dario Flaccovio Editore, will take you on a visual journey through the captivating world of Sardinian street art.
If you prefer a personalized Sardinian itinerary tailored specifically to your interests and passions, I have just the solution for you. Introducing my new custom travel design service. Simply drop me an email and share your preferences, and I'll curate a memorable itinerary that caters to your desires. Whether you seek adventure, relaxation, cultural immersion, or gourmet delights, I'll ensure your Sardinian experience is nothing short of extraordinary. Don't hesitate to reach out and let me know what you love, and together we'll craft an unforgettable journey.