Emerging from the pandemic-induced hiatus, I find myself back in Germany, eagerly anticipating my time at Ibug urban art festival 2023.
Ibug has become my cherished summer escape over the years. My media partnership with Ibug festival began in 2017 and, ever since, I've experienced the festival's creative phase alongside dozens of street artists from all over the world.
Each passing summer, a new abandoned factory became our sanctuary, bearing witness to the metamorphosis of artistic expression.
Ibug sets its stage within different abandoned industrial buildings in Saxony every year. The concept behind this unique urban art festival is both straightforward and unparalleled: take an industrial wasteland, gather over 100 artists, and bring along a lot of paint.
This year, Ibug 2023 will conquer an industrial wasteland in Leipzig.
Following a two-week period of artistic creation and the digitization of all exhibits, visitors will have the opportunity to encounter a temporary exhibition over three festival weekends: August 18 to 20, August 25 to 27, and September 1 to 3.
Unveiling the Location for Ibug Festival 2023
This year, IBUG Festival will commandeer Leipzig's former train yard, known as Reichsbahnausbesserungswerk/RAW, situated in the Engelsdorf district.
Established in 1903, RAW came to be as a result of Leipzig Main Station's planned construction and the subsequent relocation of various auxiliary facilities to clear the construction site. Throughout the years, it served as a hub for steam locomotive, passenger car, and freight wagon repairs under different state enterprises. The advent of the steam locomotive era's end brought forth a new focus on freight wagon construction. However, with Germany's reunification in 1990 and subsequent railway reforms in 1994, the facility gradually lost its significance, teetering on the brink of closure multiple times.
Join me at Ibug Urban Art Festival 2023!
Once again, I am thrilled to immerse myself into Ibug's industrial wasteland alongside 70 street artists during the creative phase.
From August 6th onward, I will be present to document the second week of the production phase, providing insights into the making-of process, capturing behind-the-scenes moments through photography, and hopefully encountering the surreal situations that have always defined my dispatches from previous Ibug festivals.
Starting August 6th, be sure to visit my Street Art City Guides Instagram account for daily stories and reels from IBUG festival, and follow my personal account, Giulia Blocal Riva, to witness the daily progress of each artwork and read my reportages from the street art festival.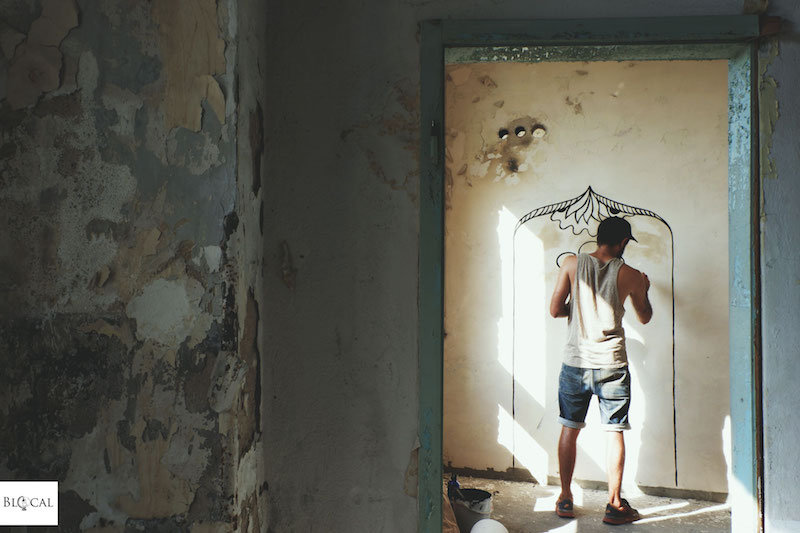 I also have plans to publish several articles here on the blog, allowing you to feel as though you were right there with me within the confines of the Ibug abandoned train yard. Make sure to subscribe to my monthly newsletter to ensure you don't miss any of them!
I eagerly anticipate once again being captivated by the enchantment of Ibug. As an artist once shared with me on my final night at the abandoned factory, once you become a part of the IBUG family, there is no turning back.
The Artists of Ibug Urban Art festival 2023:
Albin Uhlig (DE), Alva Moca (ES), André Schmidt (Leipzig), ANEL (GR), Arda (Dresden), ATEZ (IT), Benjamin Duquenne (FR), Bernhard McQueen – BRNZN (DE), bet.one_ds (Leipzig), Billy (UK), Bisser (BE), Blaqk (GR), BRAINFART – Nahuel, Bex, Facundo (CH), Brothers of Light (IL), Chiara Dahlem (DE), Dawal (FR), Dies Irae (DE), Dodici (NL), Dr. Yo (DE), DTA-Kollektiv (DE), EJSMONDT (PL), Element-Art (DE), Facio (AR), Florian Milker, Hannes Pogurzelsky & Robert Piehler (Leipzig), Fogeljunge (Leipzig), Freizeitgruppe Gestaltung (DE), Fritten Freddie (Hamburg), Frukty (RU), Gabs (BR), Gregor & Elias (Leipzig), IBIMS (DE), Infra (DE), Isakov (DE), Juliane Hoffmann (Leipzig), Kai Semor + Frederik (Köln), Kampus (PT), Uder&Schindl (DE/NL), Kathi und Oliver (AT), Keno Feros Dilkone (UA), Kori (RS), Lapiz (Hamburg), LPVDA (CH), Luke Carter (Leipzig), Magdalena Wiegner (DE), marija tiurina (NL/LT), Merny Wernz (UK), miezwars (Leipzig), naamlooozz (NL), Nasca (Berlin), Nikita Nomerz (RU), NNAMARI (NL), ODOUR ODESSA (DE), Oliver Bekiersz (DE), OMA Kollektiv – Oxana, Marie und Alisa (DE), Pati (UZ), PAY-Collective (Leipzig), Pietro Vitali, Mirko Dadich & Nicolò Andreatta (IT), Rmyr (Leipzig), Rootsen Sneeky (DE), Simon Schirmer (DE), Slava Ptrk (ME/RU), Structurals (CH), Thorsten Wohlfahrt (DE), Tina Chertova (GE), Tobias Hansel (DE), Tomislav Topic (DE), Vera Shirdina & Kirill Vedernikov (RU), Vladimir Abikh (RU), Waldstyle – Taher & Ilja (DE), Xuan (US)
The Crowdfunding Campaign
A crowdfunding campaign is taking place until the end of July 2023 to secure funds for the acquisition of new ladders and scaffolding, aiming to enhance the working conditions for the artists involved.
In addition to the opportunity for unrestricted donations, supporters can indulge in a selection of exclusive rewards, including captivating art prints crafted by esteemed Ibug artists and enticing merchandise. For further details regarding the crowdfunding campaign, please visit > https://www.99funken.de/ibug2023
See you at Ibug 2023!
Festival weekends: August 18 – 20 / August 25 – 27 / September 1 – 3
RAW Engelsdorf (Werkstättenstr. 4, 04319 Leipzig-Engelsdorf)
Opening hours:
Friday: 4 pm to 8 pm
Saturday/Sunday: 10 am to 8 pm
Beer garden on the festival grounds until 10 pm
Day ticket: 15 EUR / 10 EUR reduced
Family ticket: 30 EUR
(2 adults and a maximum of 3 children between 6 and 16 years old)
Supporter ticket: starting from 20 EUR
Admission is free for children up to 6 years old and disabled individuals with a disability degree of at least 50%.
Tickets are available for purchase online starting from August 1 at www.ibug-art.de