When executed thoughtfully, street art challenges individuals' relationships with the built environment. The 6th edition of Nuart Aberdeen street art festival went even further, questioning the very notion of a 'built environment.'
Do we really need so much curation in our lives?
This query shaped the theme of 'Rewilding' for this year's festival.
The theme not only influenced the selection of artists and their artworks but also drove discussions during the world's leading street art symposium, Nuart Plus, and the schedule of events that rewilded the Scottish city of Aberdeen from June 8th to 11th.
No one is better suited to explore this theme than Nuart's 'uncurator,' Martyn Reed. Since its inception in Stavanger, Norway, the Nuart Festival has championed street art as a force for social change and healing. By taking art out of museums, galleries, and public institutions, the festival reacts to the realization that, when confined, art becomes limited, cultivated, and domesticated.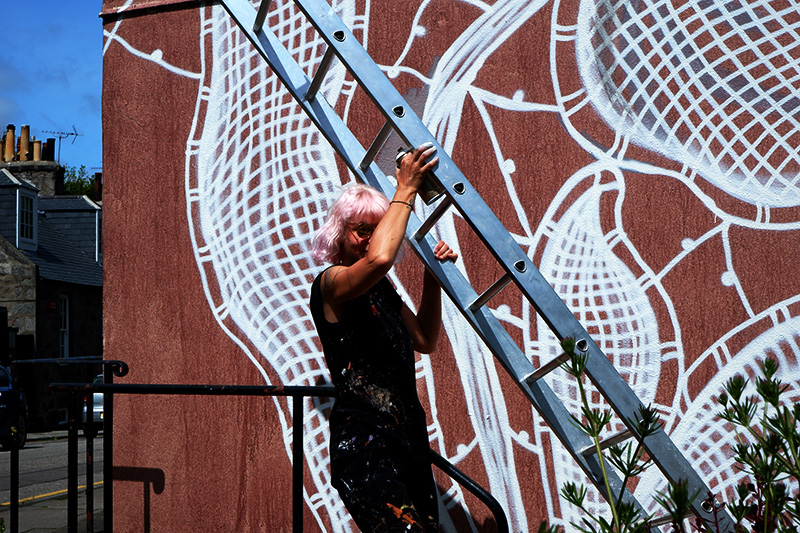 Street art, on the other hand, much like a wild plant or a wild animal, defies classification and containment. This remains true even in the era of neo-muralism, where festivals collaborate with city authorities to set up massive productions.
At least, this is still very true for the Nuart Festival.
Martyn Reed has always encouraged artists to work beyond the festival's confines and color outside the lines of designated walls. This approach allows Nuart to continue exploring and challenging power in the public sphere, asserting our right to shape it or even abstain from doing so, as suggested by this year's theme of "Rewilding."
As an idea favoring the restoration of ecological balance and enabling nature to thrive without excessive human interference, Rewilding challenges the prevailing human-nature relationship in industrialized societies, which often revolves around the idea of controlling and dominating nature.
Inspired by Gilles Clément's "Manifesto of the Third Landscape" and George Monbiot's "Feral: Rewilding the land, sea, and human life," Martyn Reed envisioned the latest edition of Nuart Aberdeen as a drive for rewilding both the city and the art scene, as well as a possible answer to a crucial question:
Nuart Aberdeen 2023: Aida Wilde (IR / UK)
The mesmerizing evolution of this collaborative poster art piece on the Crooked Lane wall was a sight to behold. The composition seemed to grow organically, as if the posters found their own way onto the wall.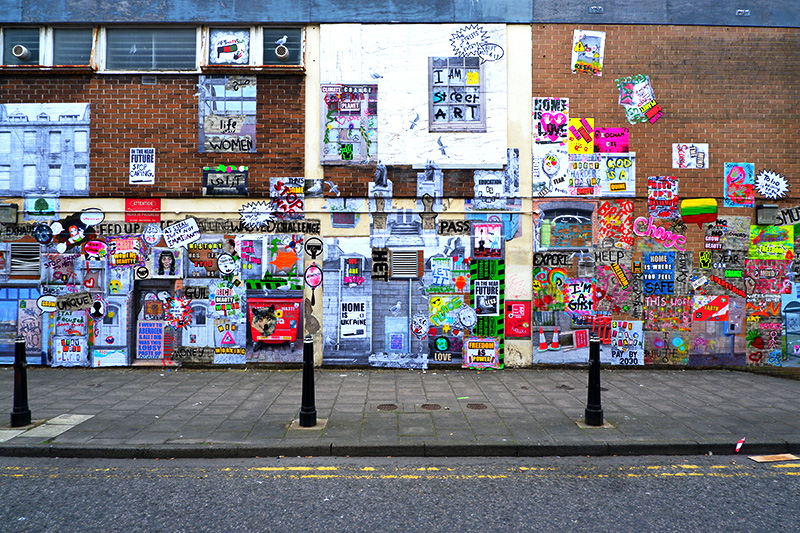 Alongside Aida Wilde's original visuals, dozens of pieces were designed by city school pupils from various backgrounds and schools, who worked with Aida Wilde to create this wild composition.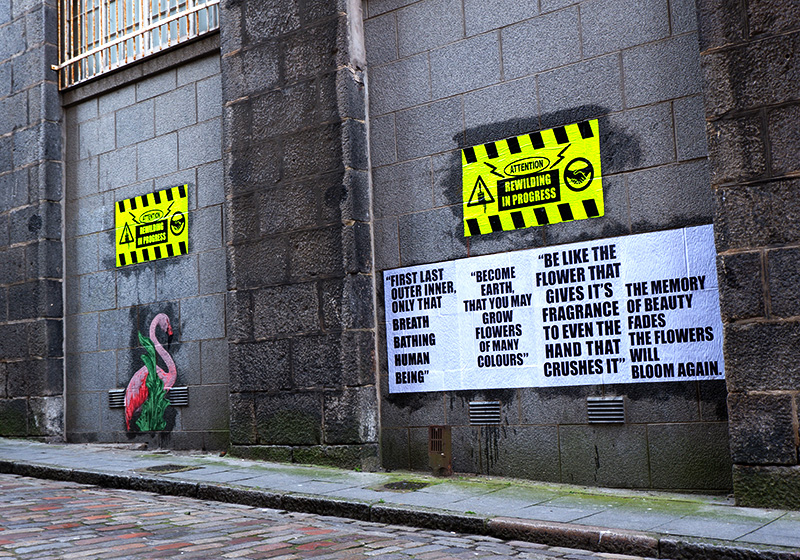 After completing the wall, Aida's creativity spilled over onto the granite city's hidden alleys. I had the privilege of joining her on this "rewilding in progress" mission and look forward to sharing more about the inspiring talks we had – stay tuned!
Nuart Aberdeen 2023: Escif (ES)
Escif's mural delivers a clear environmental statement, portraying the Caledonian forest – an ancient forest in Scotland now reduced to just 1% of its original size due to human action.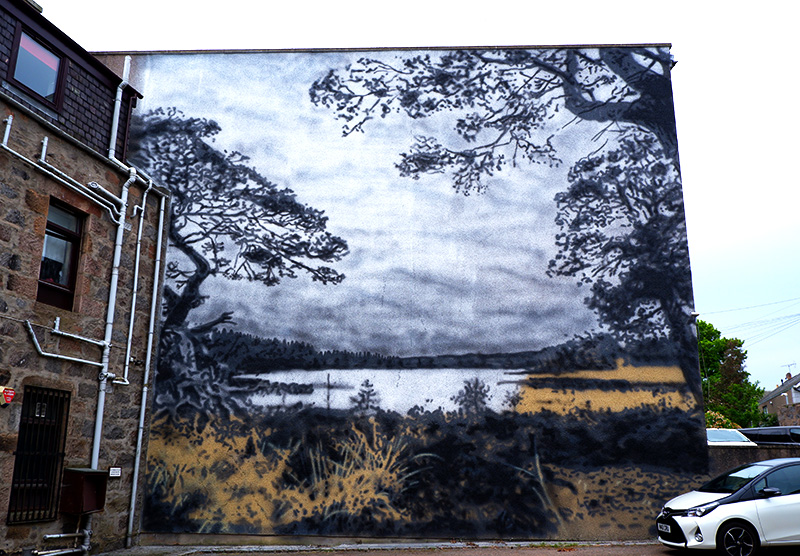 The Spanish street artist urges us to be mindful, reminding us that our actions have significant environmental consequences. Taking the first step and leading the way towards a more sustainable world, Escif used ink made from harvested pollution to paint this landscape, reinforcing the work's theme.
Nuart Aberdeen 2023: Jamie Reid (UK)
Environmental statements were further made by Jamie Reid, who, after designing the iconic album covers for the Sex Pistols back in the 1970s, is now actively engaged in campaigns for the activist group Extinction Rebellion.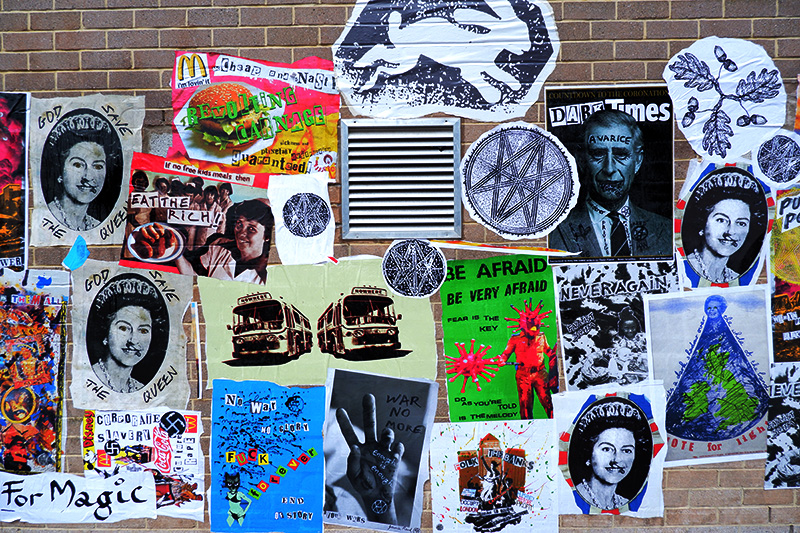 At Nuart Aberdeen 2023, Jamie Reid's extensive collection of visuals was on display, encompassing decades of work and messages, ranging from the works that have defined the anarchist movement to presenting his contemporary perspectives on climate change.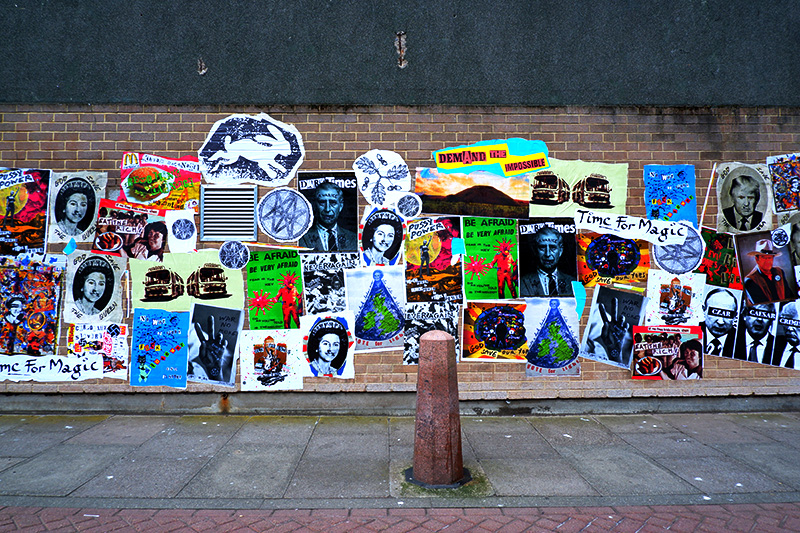 The title "Peace is tough" first appeared in a work featuring John Wayne in lipstick, wearing a badge that boldly declares "Peace is Tough." This title was also used for two exhibitions Jamie Reid co-held with Banksy in Glasgow back in 2001.
Nuart Aberdeen 2023: Murmure (FR)
"Anarchy" also happens to be the title of the mural painted by the French duo Murmure for Nuart Aberdeen 2023.
The artwork portrays a goldfish trapped in a plastic world, desperately attempting to break free. In an act of rebellion, it doodles the anarchy symbol, but alas, its efforts seem destined to fade into the mist.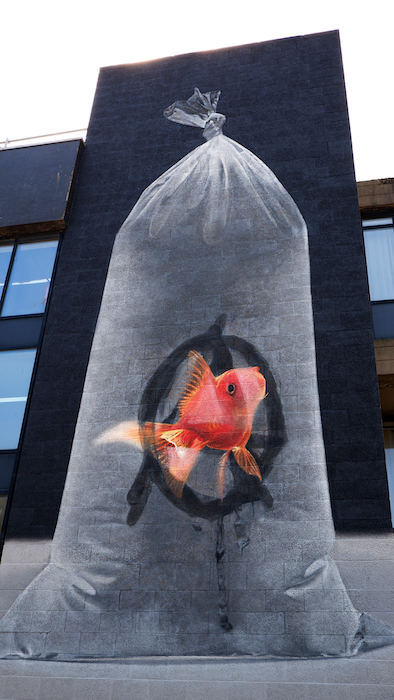 The image of "being trapped inside a plastic world" strikes a poignant chord with me. It resonates with the feelings of those who sense confinement in their lives, while also highlighting the artificiality and unnatural aspects of a world dominated by plastic. As animal ourselves, we may also experience uneasiness at being compelled to inhabit such an environment. Additionally, the goldfish's short memory serves as a powerful metaphor, reflecting how easily we can be distracted from the urgent challenges of climate change.
Nuart Aberdeen 2023: Manolo Mesa (ES)
I see Manolo Mesa's vases as a rare case of a goldfish that has successfully stepped out of the plastic bag.
Manolo Mesa is well-know for painting classic still-life subjects, particularly his iconic ceramic vases. Through his art, he endeavors to bring intimate, personal stories of everyday domestic life "into the wild." His vases aim to dignify the ordinary, celebrating daily objects, while also imbuing them with newfound significance when placed in a different context.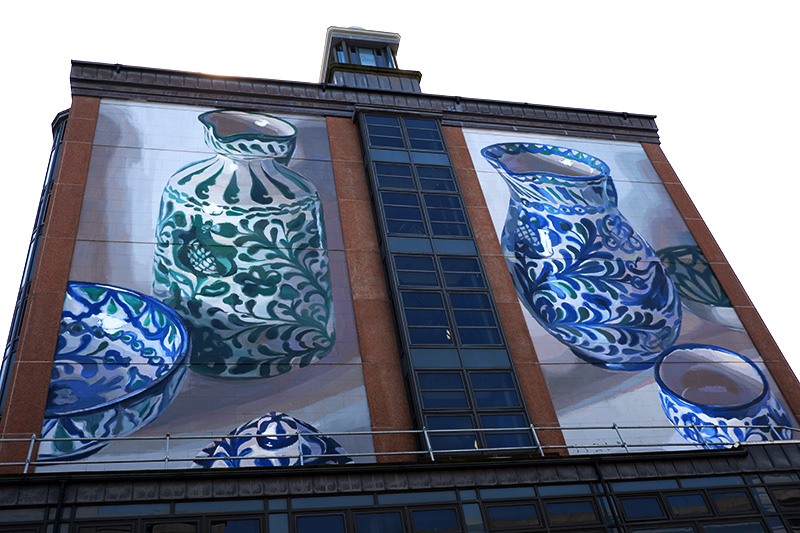 During Nuart Aberdeen 2023, Manolo created a captivating mural featuring a set of traditional pieces from Fajalauza Granadina, a renowned style of ceramics with a rich history dating back to the Nasrid period (13th to 15th centuries) when Granada was under Moorish rule.
Ordinarily, such traditional ceramic pieces find their place within the confines of a museum. However, Manolo challenges this perception, liberating them from the relatively secure yet confined museum cases and setting them free in the wild space beyond the museum walls.
Nuart Aberdeen 2023: Stanley Donwood (UK)
Still reclaiming the wild space are Stanley Donwood posters, which come from a print titled 'Trespass' concealed in the artist's archive. For Nuart Aberdeen 2023, his posters found space in the wilds of the city, engaging in a rewilding process through trespass and reclamation of space.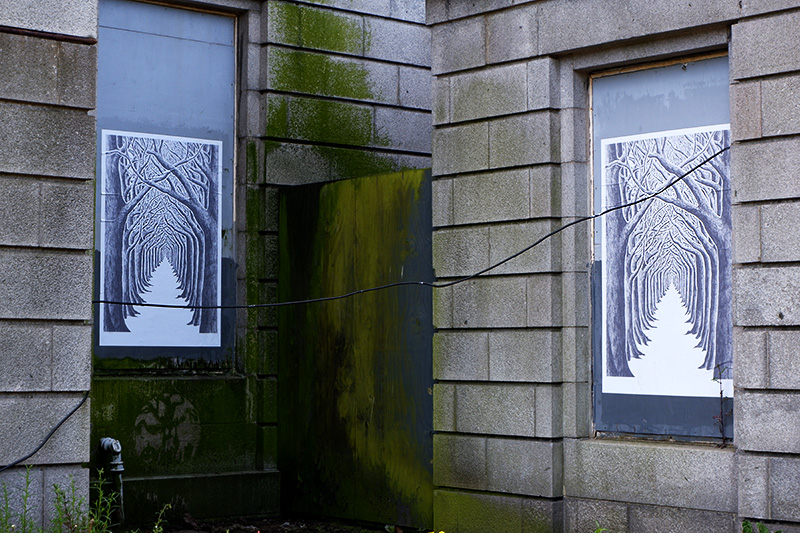 Each one was illegally posted, with many placed in positions where trespassing would have been necessary, serving as a means to alter the perception of the environment in which the image was situated.
Nuart Aberdeen 2023: Swoon (USA)
Also drawing our attention to the wilds of the city is the trail of posters crafted by SWOON throughout Aberdeen. As the first recognized woman in the male-dominated world of street art, SWOON has been active since the early 2000s and came out of street art retirement to participate in Nuart Aberdeen 2023.
It was truly an honor to interview her, and I am eager to share her inspiring story with you. For now, I'll offer you a glimpse of some images from the streets of Aberdeen.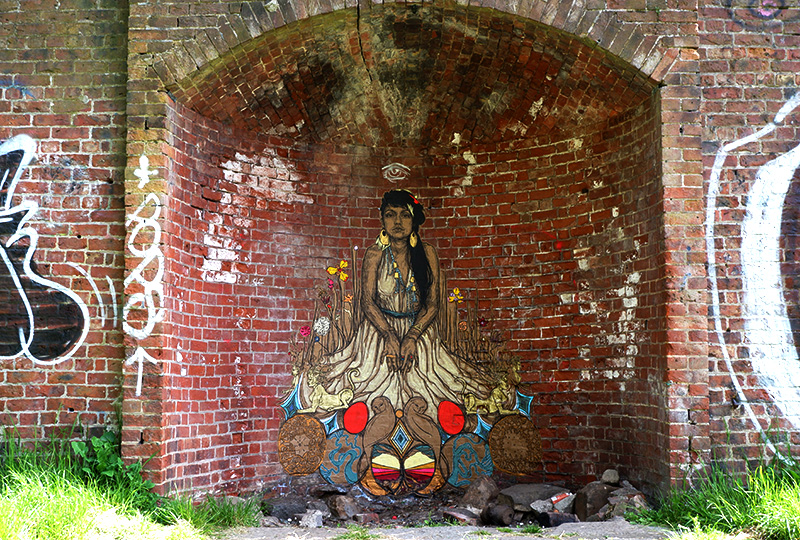 Nuart Aberdeen 2023: KMG (UK)
There's nothing wilder than witnessing kids unleash their creativity and color outside the lines!
Local artist KMG spearheaded the 3rd edition of "Chalk Don't Chalk," Nuart's participatory public art project aimed at fostering the re-imagining and re-purposing of public space in a dynamic and imaginative manner.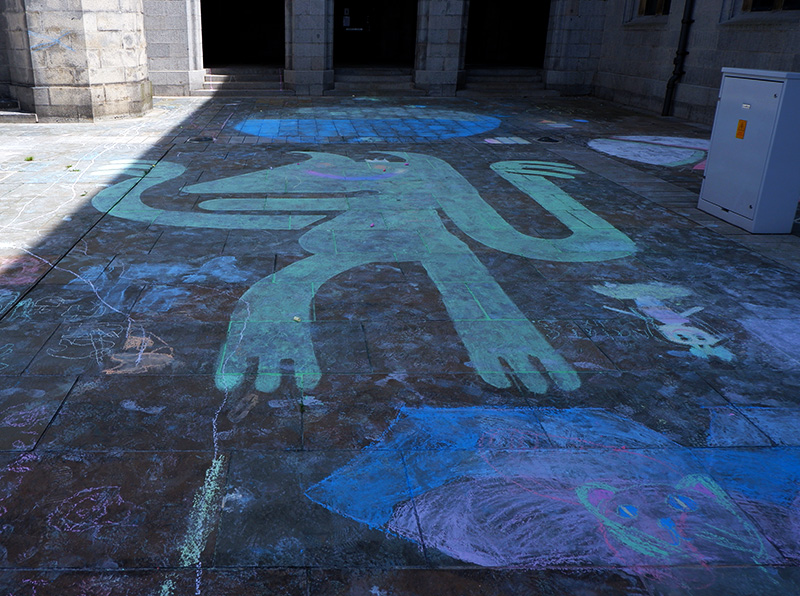 In an exuberant display, hundreds of primary school children took to the granite floor of Aberdeen's Marischal College Quad, collectively crafting one of the world's largest chalk murals alongside the renowned Scottish artist, KMG. Together, these young artists channeled their creativity to bring their characters to life, collaborating harmoniously to rewild the city's most iconic edifice.
Nuart Aberdeen 2023: Thiago Mazza (BR)
Bringing nature into the heart of the city offers another approach to rewilding, exemplified by the transformation of the side of an ordinary multi-storey car park into a vibrant oasis of lush tropical vegetation.
With a remarkable mastery in representing local plants, Thiago Mazza drew inspiration for this mural from a visit to Aberdeen's Botanical Gardens. The artwork celebrates the beauty of nature, breathing life into the urban landscape and infusing it with the spirit of the wild.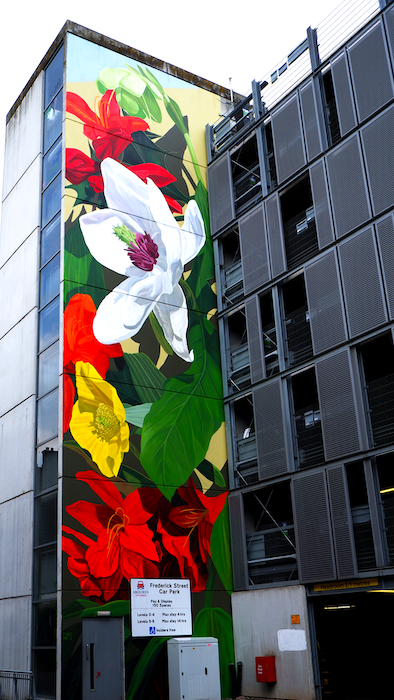 Thiago Mazza's meticulous process involves the painstaking creation of multiple layers of colors, resulting in a luminous, dense, and fleshy effect.
Nuart Aberdeen 2023: Nespoon
Polish street artist Nespoon also painted a local plant, namely the Scottish thistle, which holds deep significance as a symbol of pride and resilience for the locals. The inspiration behind this masterpiece came from a lace project by Evelyn Currie, a skilled lace maker associated with Aberdeen's Bon Accord Bobbins Lace Group.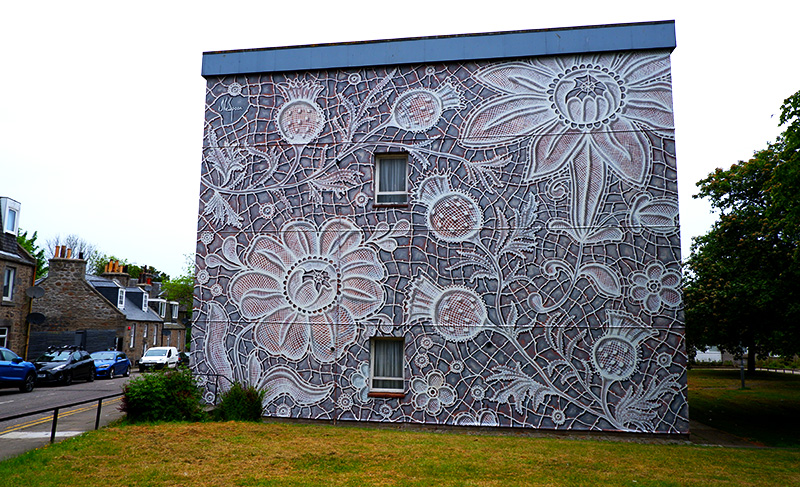 Nespoon's artistic practice beautifully weaves together with the area's rich tradition, employing spray-painted traditional local lace patterns on walls. This creative fusion pays homage to the cultural heritage, infusing the urban landscape with a captivating blend of nature and craftsmanship.
Nuart Aberdeen 2023: SNIK (UK)
Rewilding also encompasses the restoration of the richness and complexity of natural landscapes. Unlike other street art festivals that focus on just one, very popular medium, Nuart Aberdeen celebrates the diversity and variety of the street art scene, showcasing multiple protagonists and mediums.
And so, next to murals and posters, stencils find their place – highlighted in this edition by the world-renowned stencil duo SNIK. Renowned for their hand-cut, multi-layered stencils, SNIK brings their creative prowess to the forefront.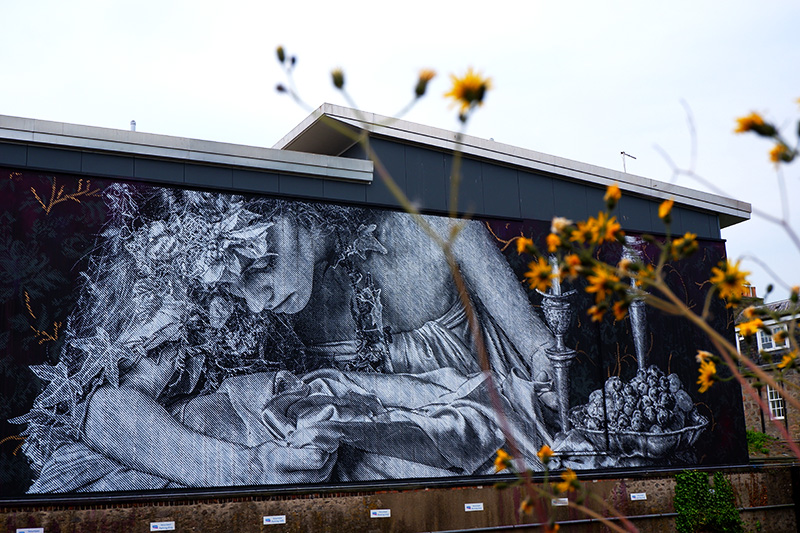 Their latest masterpiece, "An ending, a beginning," is their largest mural to date: it took them three weeks only to cut the stencils by hand. I loved the glowing effect, especially when seen at night.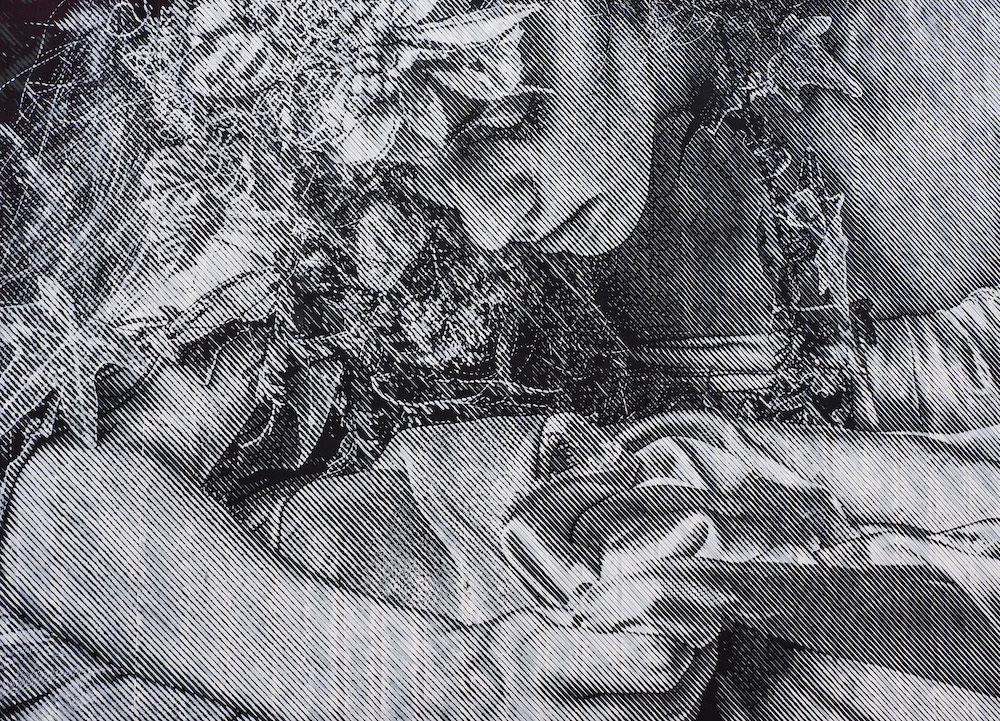 More than a mere narrative, this mural embodies an inspiration, evoking a sense of a bygone era.
Nuart Aberdeen 2023: Eloise Gillow (UK)
What we discover in Eloise Gillow's twin murals is, instead, a sense of a bygone space.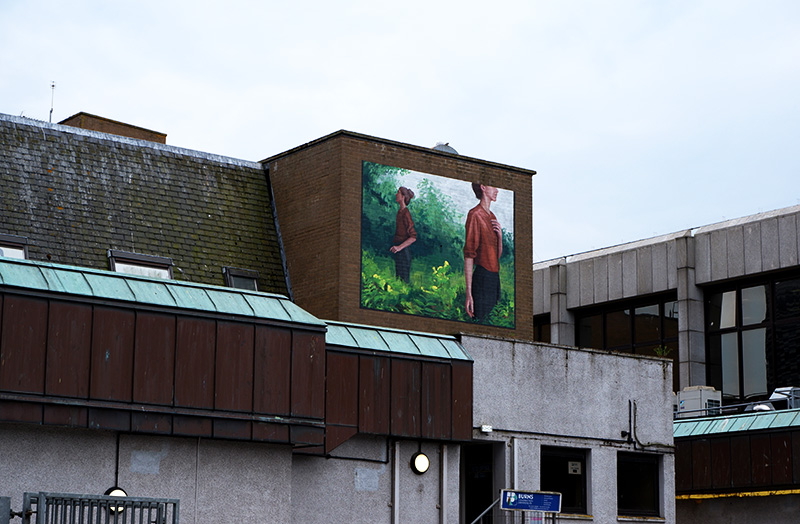 Drawing inspiration from classical paintings, these paired artworks serve as portals to another realm—a world where humans are seamlessly integrated into lush natural surroundings. It's not merely about contemplating nature, but rather, living harmoniously surrounded by its beauty.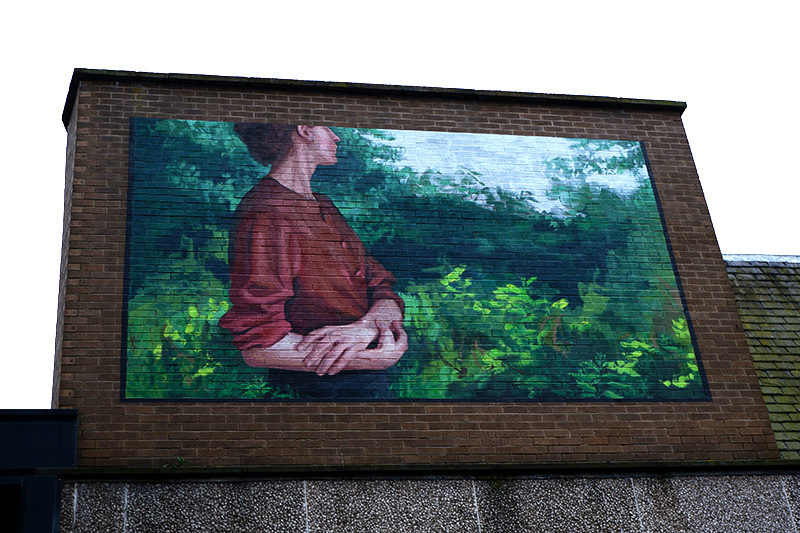 Nuart Aberdeen 2023: Tamara Alves (PT)
Tamara Alves delves into themes that explore the intricate interconnection between animals and humans. This particular mural seamlessly merges with the surrounding nature, as she skillfully incorporates foliage from the trees, making it an integral part of the wall.
Tamara's artworks beckon us to embrace our emotions as a wild and untamed driving force. The Portuguese street artist inscribed the word "animal" on the face of the woman, serving as a poignant reminder of our own nature.
Because we hunt the beast, but the beast is us.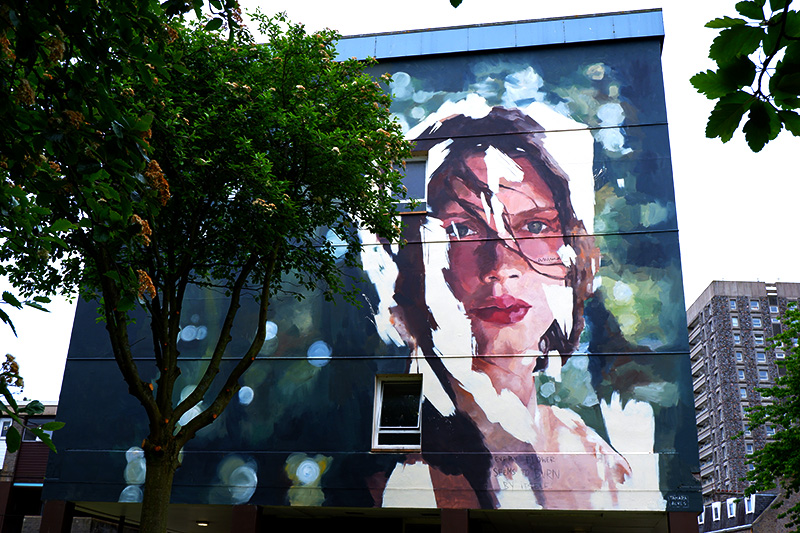 Stencibility: More street art to street art festivals.
One last mention goes to the remarkable Stencibility squad, a group of amazing individuals who traveled all the way from Tartu, Estonia, to present the captivating gallery show titled "Hello, Mister Officer" on Union Street during Nuart Aberdeen 2023.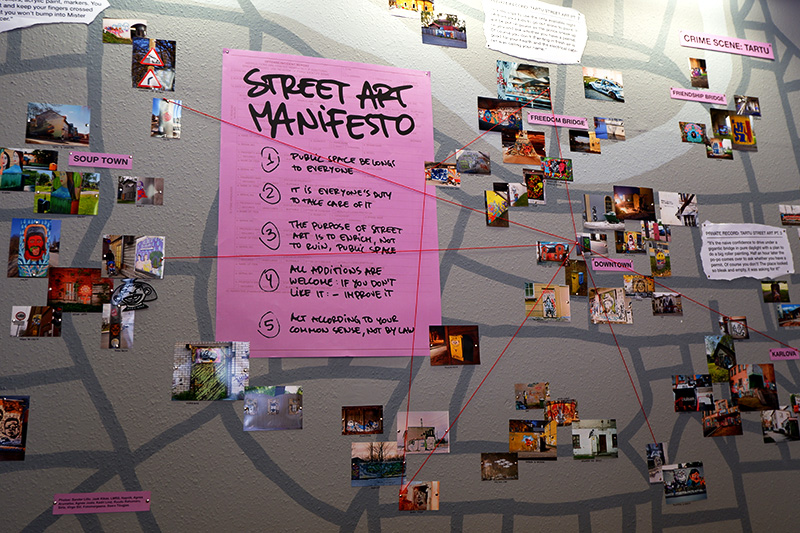 Established in 2009, the Stencibility Street Art Festival has earned a global reputation for championing independent street art, also known as anarcho-street art, in a time dominated by large-scale mural festivals. Much like the ethos of Anarcho-punk, Anarcho-street art offers an alternative platform for street artists, providing a festival framework that nurtures unsanctioned creativity, reminiscent of street art's original impact.
Practicing what they advocate in the streets of Aberdeen, the Stencibility squad has left behind an array of artworks, ranging from stencils to stickers and life-sized murals.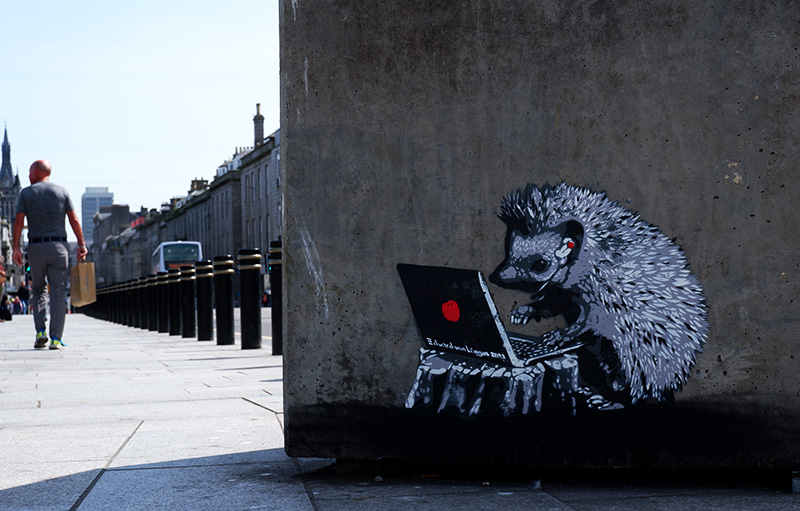 Wrapping up this article, I want to leave you the link to the excellent Nuart Journal, which released its "Trespass" issue during Nuart Aberdeen 2023.
Additionally, don't miss out on this year's video – make sure to check it out below!
Aberdeen Street Art Map: