Hailing from Iran, Aida Wilde has been hitting London's walls with her groundbreaking poster art since the early 2000s. Her reputation is built on a wide range of screen-printed installations and murals that serve as social commentary, with her work delving into subjects like gentrification, education, and equality.
During the 2023 Nuart Aberdeen street art festival, Aida Wilde created a captivating collaborative poster art installation on Crooked Lane. As I observed Aida at work on this magnificent piece, the composition seemed to evolve organically, as if the posters effortlessly found their place on the wall.
"My workshops might look freestyle, but they're not. I started working on this piece about a month ago, but the concept comes from my first trip to Aberdeen, back in 2017. My main reason for going was the Nuart Plus talks. I spent two days cooped up in the symposium, and just before I left, I pasted one of my 'Lousy Aberdeen' posters and some of those morphed animals I used to do.

Fast forward to this year's festival. When they asked me to join in, I got all nostalgic, flipping through my photos. That's when I stumbled upon the old abandoned building where I'd put up that 'Lousy Aberdeen' poster. You know, it had been sitting there, boarded-up windows and all, for ages. I thought, 'What a perfect starting point!' That's how I got the idea for the broken window theory. It's like what we're doing: for me, rewilding means putting back into the ecosystem.

So, the plan was to 'rewild' the wall using these abandoned facades -there's been so many businesses folding since the pandemic. Even in London where I live, you stroll down Oxford Street, and shops that have been there for 20 years have shut down. That's the concept. Then, to prep for the workshops, I came to Aberdeen a month before the festival, running around like a madwoman, taking all the photos I needed. I even threw in some shots of abandoned buildings from London, kinda mixing up the two cities.

That was step one. For step two, I had to get the students ready with the right materials. I set up in my studio, screen-printing different words for them to use in their collages."

Aida Wilde, Nuart Aberdeen 2023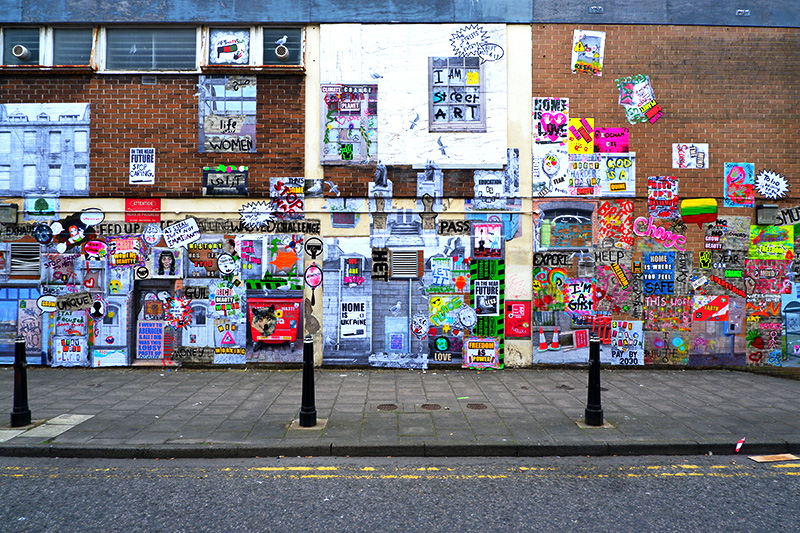 For Nuart Aberdeen, Aida Wilde hosted six workshops for students from three diverse schools, with ages ranging from 11 to 15, from various social and economic backgrounds. Aida began each workshop with a brief introduction, aiming to engage everyone in discussions about topics like artificial intelligence, the balance between technology and nature, climate change, the impact of social media, and encouraging them to ponder what they desire for their city and what they envision for the future.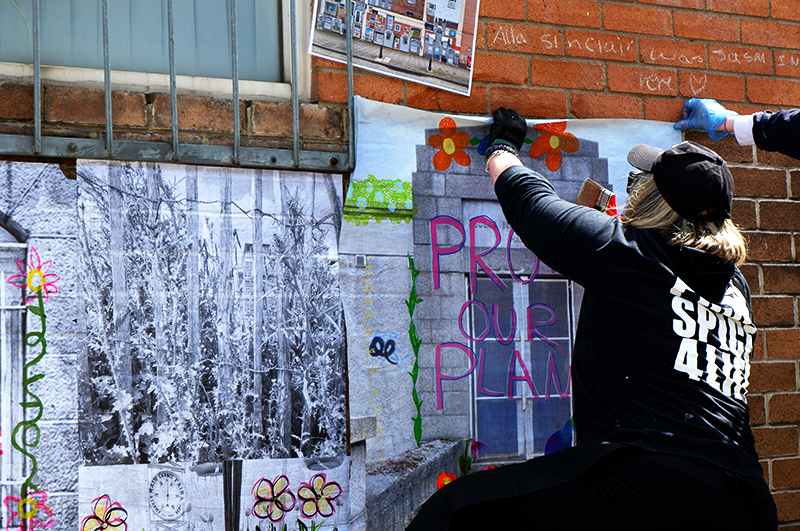 "I put a lot of thought into the words I picked, you know. I wanted them to be like Beauty, Nature, the Sea, our Planet, the Climate Crisis, just to kickstart their imagination. Once they caught on, it was like a wildfire of creativity. There was this one girl who came into the class saying, "I don't know what this is all about, I want to leave." I told her, "Give me five minutes for my intro, and then you can decide if you want to bail." Well, guess what? She stuck around all day and even made three posters for me in the end. That's the kind of engagement we're talking about here."

Aida Wilde, Nuart Aberdeen 2023
Aida Wilde has been teaching for quite a while, but at universities and colleges, and so working with a different crowd. Her teaching journey began at the same college where she did her own studying, back when it was known as the London College of Printing (now the London College of Communication, University of the Arts). She started teaching there about two and a half years after she graduated.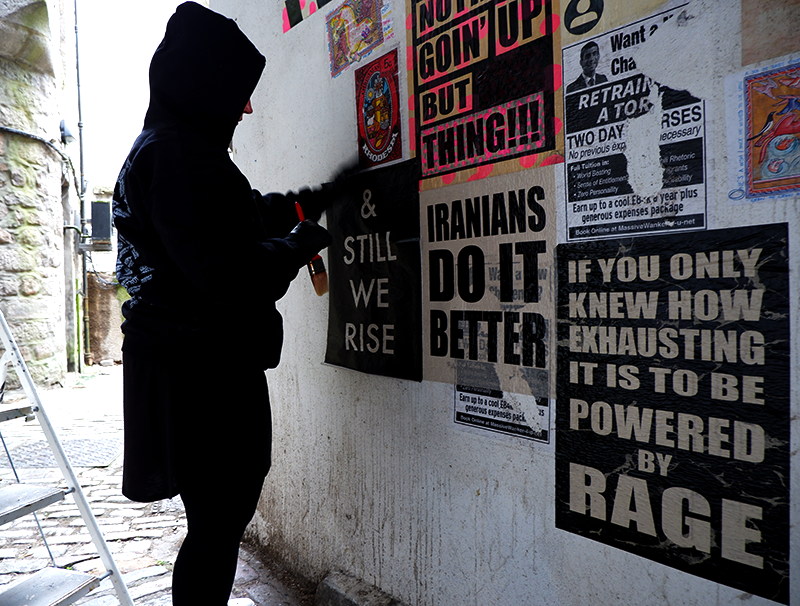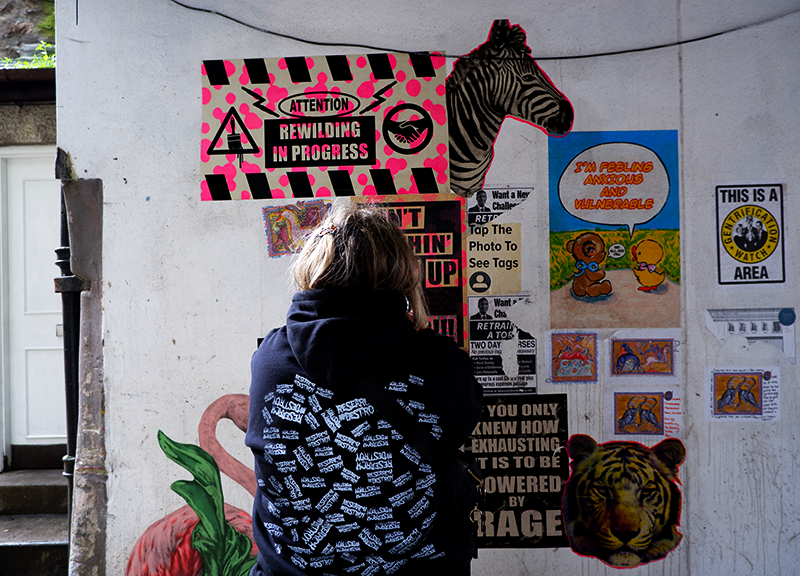 Aida entered the London College of Printing after a year-long foundation course where she learned how to blend her two main talents: textiles and photography. But, before she even got into silk screen printing, she was already into block printing since she was 15. She got the hang of it back in school when a teacher showed the class how to do single-color block printing. Aida, being the quick learner she is, soon figured out how to do it in three colors.
"Picture this: I was absolutely smitten with block-printing and totally hooked on the whole repetition thing. And then, I land in a college that's all about printing – I mean, the entire course was just printing, from start to finish. Nowadays, you hardly come across such courses; it's a bit of a dying trade. But in that place, I learned the ins and outs of printing on textiles, glass, metal, ceramics – you name it. I had one of the best instructors you could ask for. I was the eager beaver, the first one in the room, and usually the last one to call it a day. That's why they asked me to come back and teach there."

Aida Wilde, Nuart Aberdeen 2023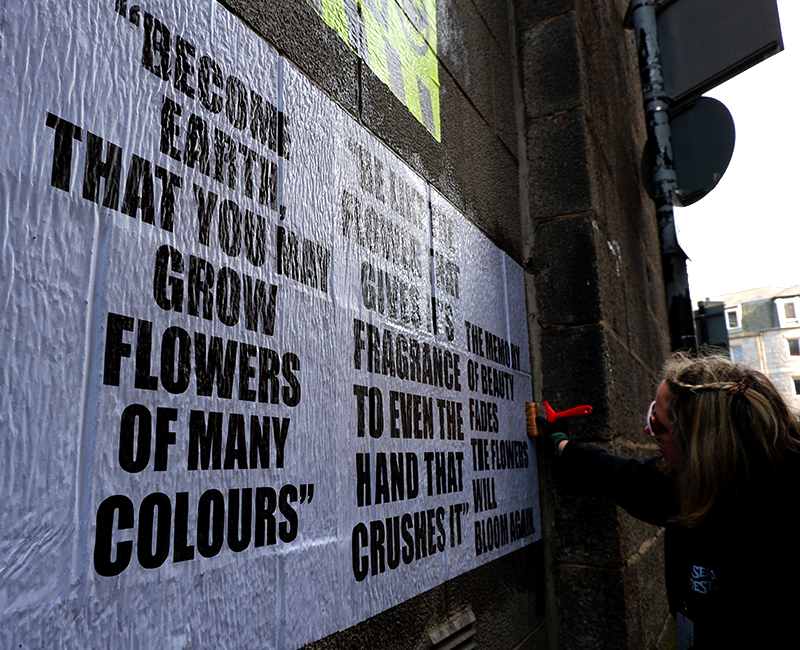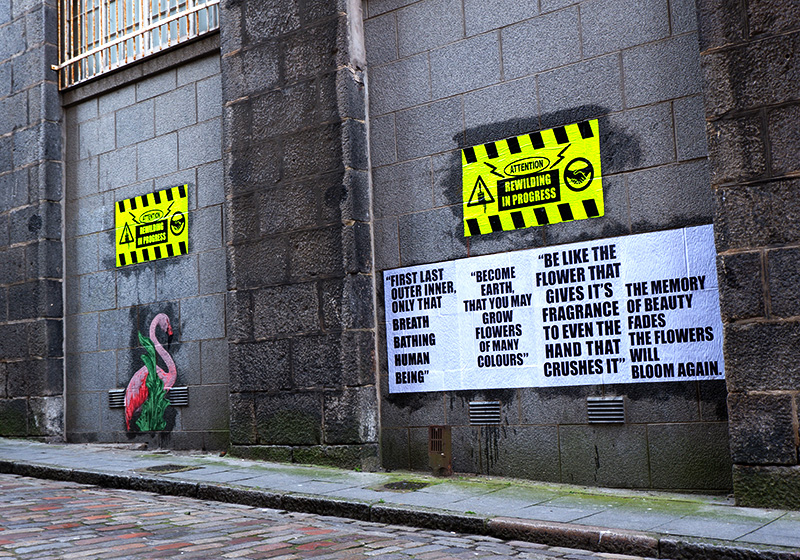 Back in the vibrant 2000s, during the heyday of London's street art explosion, Aida Wilde took her artistic creations to the city's streets. At the time, she ran a shop in the heart of the street art revolution, Brick Lane. Her shop was like a magnet for all the trailblazers of London's street art movement. It wasn't long before someone recognized her exceptional talent and encouraged her to take her posters to the streets.
"We headed over to Redchurch Street, just around the corner – that was the very first spot where I ever pasted my work. You know, back in those days, Redchurch Street wasn't covered in street art like it is now. It was the early days of the whole street art scene in London, and there weren't too many paste-ups around. So, when you slapped one up, it truly made a statement. It was ZOOT, a street artist from Birmingham, who got me into it, and once I started, I couldn't stop."

Aida Wilde, Nuart Aberdeen 2023
Through her thought-provoking installations, posters, and murals, Aida Wilde sparks vital conversations about critical issues, from displacement to freedom of expression. Her works are a reminder that art has the power to inspire change and ignite collective action.
One of Aida Wilde's political art projects that left a lasting impression on me is a street-based triptych inspired by the Iranian protests. This project not only draws from her personal experiences of displacement, loss, and trauma – her escape from Iran during the war with Iraq with her mother and sisters in the 80s – but also links those experiences to the struggles faced by many others.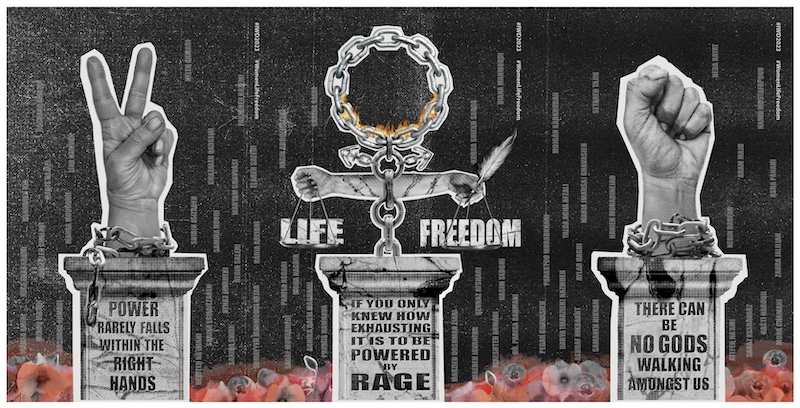 "The tragedy of Mahsa Amini's murder and the Woman – Life – Freedom movement had a profound impact on my family. We're a family of four women because my father was killed, which led us to seek political refuge in the UK. So, what was happening in Iran was deeply personal for us. We were all deeply affected by it, but it was challenging to talk about. We wanted to show our support for the women's protests, but the trauma from our past was still with us, and we had never really discussed it.

All of this brought up a lot of new emotions for us, and I gained a deeper understanding of my mother's and my oldest sister's struggles. My oldest sister was already 15 when we left Iran. When the protests erupted, I couldn't bear to watch the news. I was only getting bits of information from the web, and then even the internet was blocked, and our family in Iran couldn't contact us. At the time, I didn't have the strength to do anything about it.

Then, one day, while I was on a train, I just started crying for about 20 minutes. That day, something like a vision or a voice came to me. It was around November, and by the time this vision hit me, I reached out to Olly Walker. He's an amazing facilitator, curator, and has written books on street art. I had worked with him before on the 'Lousy Shoreditch' mural. I told Olly, "Listen, Olly, do you think anyone we know would be willing to help with this launch? I have these posters in my head; I just need some help."

Aida Wilde, Nuart Aberdeen 2023
Olly Walker brought UNCLE into the mix, and later on, Suse Hansen joined the team to handle press and communication. They created posters that were displayed in London, Bristol, and Manchester, spreading awareness about the Iranian women's freedom movement Woman – Life – Freedom. These posters, unveiled for International Women's Day in March 2023, showcase the hands of Aida, her mother, and her sisters.
"This was the first time I ever included any of us in a piece. Working on this project was both challenging and worrying. You see, we are political refugees because my dad was part of the government. Naturally, my mom was quite concerned for my safety. But I told her that it was too late; I had chosen this path, and there was no turning back. If I were still in Iran, I'd probably have been killed in that movement because you know me – I'd have jumped right in. From this distance, I did what I could. It's about justice for my family, justice for my father, justice for everyone who has been unjustly killed or imprisoned for simply having a voice."

Aida Wilde, Nuart Aberdeen 2023
Aida's determination to lend her voice to those in need is a testament to her unwavering dedication to justice and equality. She reminds us that art can be a powerful agent of transformation, and in an ever-changing world, Aida Wilde's work is a beacon of hope, a call to action, and a source of inspiration.
Marked by a passion for printing and a deep commitment to addressing vital social issues, Aida Wilde's journey paints a vivid picture of an artist who doesn't just create through slogans, collages and glitter, but who also tells stories of resilience, identity, and justice.