This is my personal journey through the world of large-scale mural art that has transformed Rotterdam into a paradise for street art lovers. Rotterdam serves as a canvas for gifted street artists from around the globe, each leaving their indelible mark on this ever-evolving urban landscape.
In this Rotterdam street art travel guide, I will delve into their awe-inspiring creations and uncover the unique stories woven into each mural.
Whether you're a seasoned mural art enthusiast or simply seeking a fresh perspective on Rotterdam, this travel guide promises an unforgettable journey. Join me as we immerse ourselves in the world of street art, explore Rotterdam's alternative side, and uncover the best murals that this captivating city has to offer.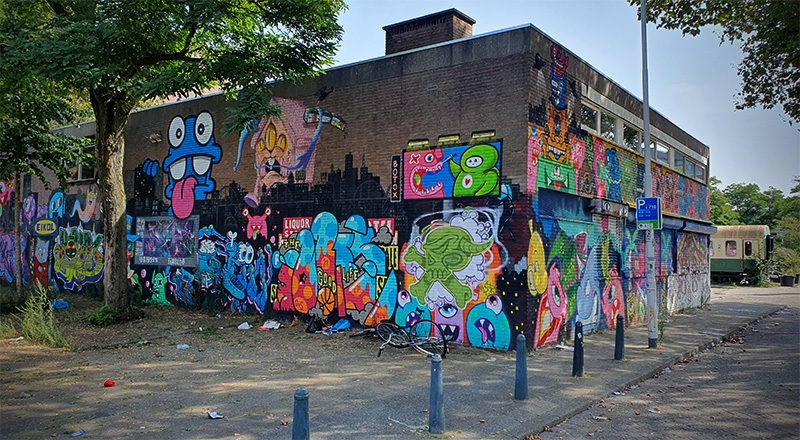 "All I ever heard about this harbour city is that, after being bombed flat during WW2, Rotterdam was completely rebuilt by some visionary architects who made it the modern and out-of-the-way urban jungle that it is today."

Myself, 2018
Above is the incipit of my first blogpost from Rotterdam, written during my very first trip to the Netherlands' second-largest city. Back then, I was living in Amsterdam, and Rotterdam quickly became my favorite getaway. Any excuse like an Art Week, Design Fair, Photography Festival, or Street Art Event was enough to get me to this modern city that won my heart with its wide streets and tall skyscrapers.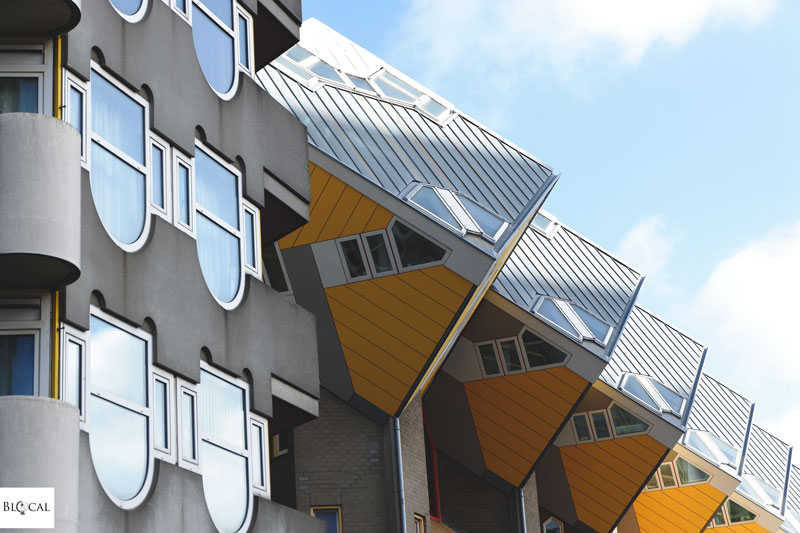 Even after leaving the country for good, my first step back onto Dutch soil was in Rotterdam, thanks to an invite from the street art festival All Caps in September 2023.
Rotterdam offers an abundance of attractions, from innovative architecture and cutting-edge design to impressive contemporary art museums. Personally, I have a soft spot for the Dutch Museum of Photography and the Museum Boijmans Van Beuningen's Depot, where visitors can explore the museum's storage area, providing a one-of-a-kind experience.
However, believe me when I say that the city has even more to offer in the realm of urban art. If you're not ready to take my word for it, embark on a street art adventure in Rotterdam with the following Rotterdam Street Art Travel Guide!
Get my free street art map, grab your bike, and let's get started!
Rotterdam Street Art Map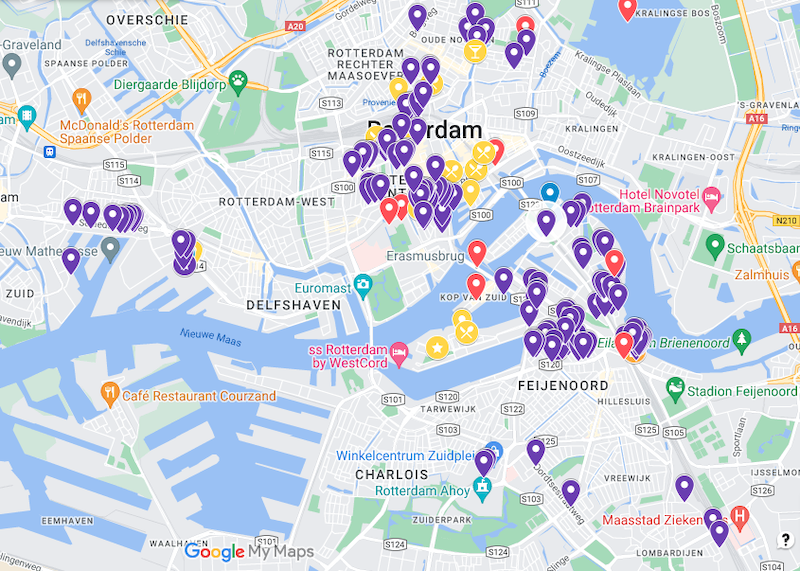 Street Art in Rotterdam's City Center
All around Witte de Withstraat, a charming street renowned for its vibrant bars, eclectic shops, and art galleries (including my personal favorite, TENT), as well as a contemporary art center, you'll discover a captivating array of unsanctioned street art. Notable examples include an enduring stencil by the Iranian siblings Icy & Sot, the cheerful characters crafted by Rotterdam's own Lastplak crew, and Tymon De Laat's piece "Mr. Merida" , which is based on a portrait taken in Merida, Mexico.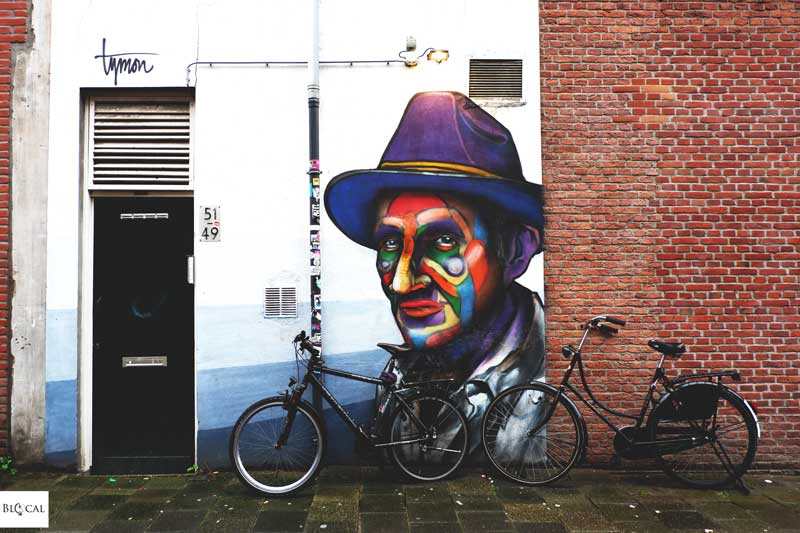 Lastplak is a graffiti collective originating in Rotterdam in 2001. Each member boasts an iconic character, serving as a distinctive signature (commonly referred to as logo graffiti). There's a huge mural in the city center that features all the Lastplak characters, such as OX-Alien's alien and PinWin's penguin, alongside the graffiti-gnome KBTR, hailing from Utrecht, and other guests, all set against the backdrop of Rotterdam's skyline.
At the end of the street, the Bier en Brood duo, known for their monochromatic murals, created "The Last Examination" on a building that once housed the commodity inspection department. Their design envisions a futuristic laboratory, with researchers portrayed as half-human and half-robots.
Ces53, an old-school graffiti writer who began his graffiti journey in 1985, presents "Painting in the Global Tradition, Slight Return." This mural symbolizes a melting pot, with Ces53's stylized figures in vibrant colors, each representing a distinct global culture that harmoniously converges into one.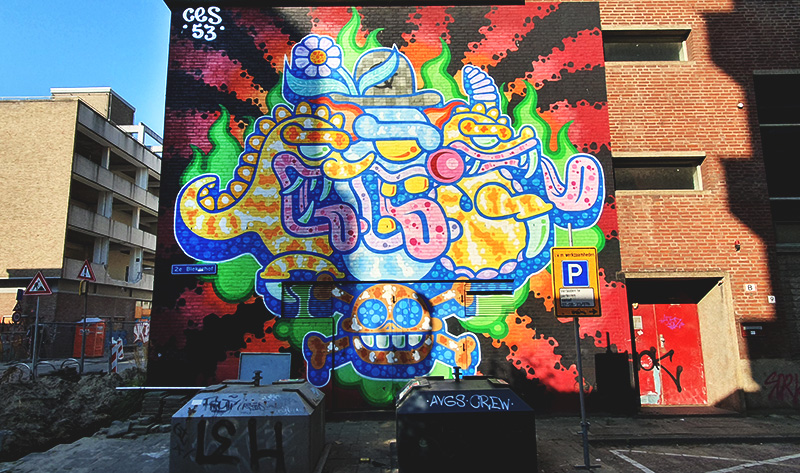 Next to my beloved Vegan Junk Food bar, Daan Botlek offers an imaginative reinterpretation of a quote from the ancient Greek philosopher Protagoras: "Mankind is the Measure of All Things." The piece features Botlek's iconic figures scaling a wall, often inspiring onlookers to pose at the base, creating the illusion of a human ladder.
Chilean mural artist Jorge Kata Nunez, a resident of Rotterdam and a political refugee since 1977, crafted a mural that encapsulates his personal journey and that of others who left their homeland for new experiences. Trotamundo, the horse with a world map, embodies freedom, while the diverse faces below represent cultural diversity and social cohesion. The mural also highlights the pride of one's origin.
Invited by R.U.A. in 2009, the urban art festival that initially brought me to the Netherlands, Brazilian artist Ramon Martins transformed an Asian figure with his signature vibrant colors. Next to it, a collaboration between OX-Alien and the graffiti-gnome KBTR, and a second piece featuring the Lastplak characters, while at the right corner of the photo you can spot a detail of Daan Botlek's abstract mural at the end of the street.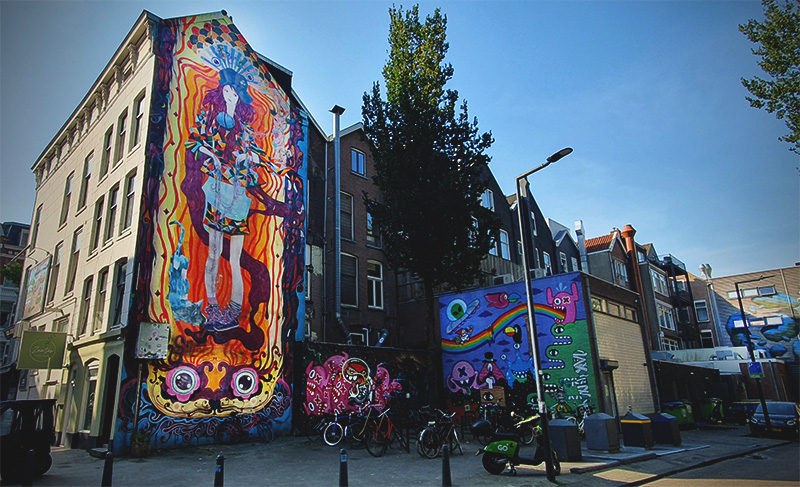 Tymon De Laat's "Love Birds," a departure from his usual style, holds special significance as he used it to propose to the love of his life. This artwork, created in collaboration with Robert Rost, explores the theme of natural migration.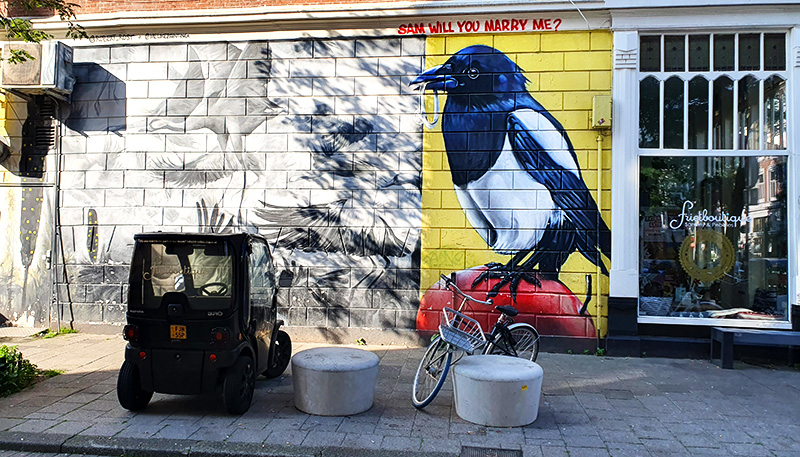 Opposite Tymon De Laat's work, a collaborative mural by Ox-Alien of the Lastplak crew and Mark Gross features a white ape, a subject commissioned by the mural's sponsor.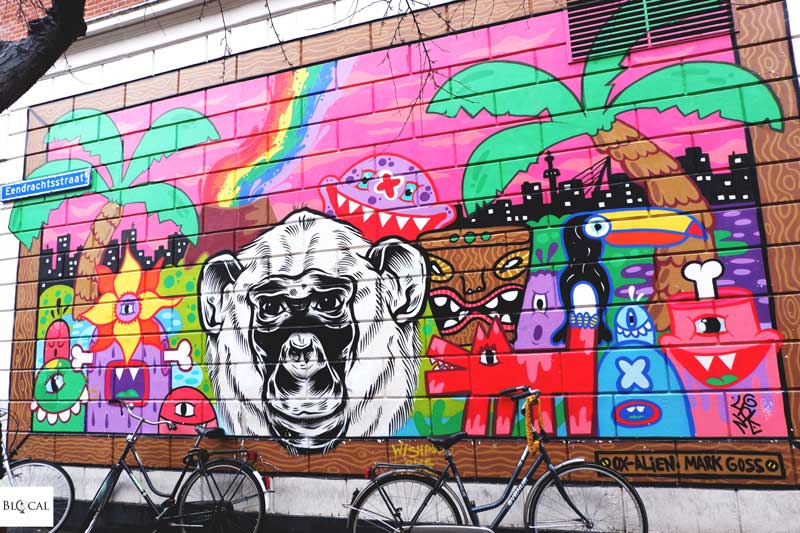 Originally a private garden, Eendrachstuin was gifted to the city in 1971 and has been maintained by residents ever since. To commemorate 50 years of collective effort, volunteers commissioned artist Floor Milou Smit to create a mural characterized by abstracted flowers and natural forms, rendered in subdued hues that enhance the garden's tranquil atmosphere. A second mural was commissioned to Telmo Miel, who addressed the idea of children relying on technology rather than their imaginations for exploration, offering a critique on the younger generation's constant digital connection.
Another urban art hotspot within the city center is the precinct surrounding the train station, offering a treasure trove of murals waiting to be explored. In the vicinity of Rotterdam's Central Station, near Delftseplein, you'll encounter a concentration of murals by illustrators and graphic designers, including Friso Blakevoort, RUL3RS, Franky Sticks, Levi Jacobs, and Said Kinos. On the same square, a mural by Brazil's renowned artist Speto showcases his unique style inspired by traditional Brazilian folk art. Under it, the writing 'All We've Got Iz Us" by illustrator and DJ Franky Sticks celebrates the hip hop community through a quote of a 1995 rap song by Onyx.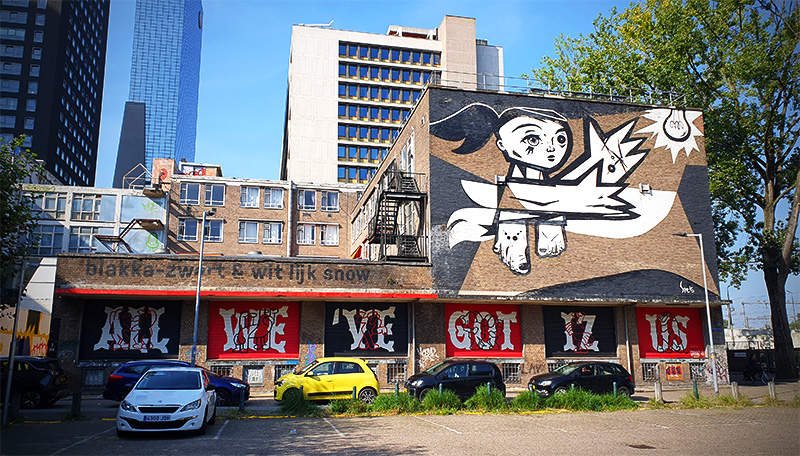 Around the corner from Speto's work, there's a striking collaboration by local street artist OX-Alien and Brazilian graffiti artist Onio, who specializes in mosaic-like paintings that represent societal chaos, conveying numerous narratives through intricate lines, forms, figures, and characters.
Across the square, a mural by Joren Joshua and the design agency Opperclaes bears the phrase "No place for beginners or sensitive hearts." The same building houses the graphic design studio of Thomas Bevelander and Jurgen Wiegeraad, who adorned the facade with an abstract piece.
On the opposite side of the rail track, Rotterdam artist Ozon portrayed an abstract ceramic sculpture using twelve different shades of gray.
Further along Kruisplein, you'll discover a cluster of stunning murals. Before even reaching the boulevard, there's a remarkable mural by Korean artist Royyal Dog next to a Korean restaurant. Royyal Dog is renowned for his portrayal of black women, an integral part of his tribute to black culture and hip-hop music, which he intertwines with references to his own cultural heritage, such as the traditional Korean dress known as 'Hanbok.'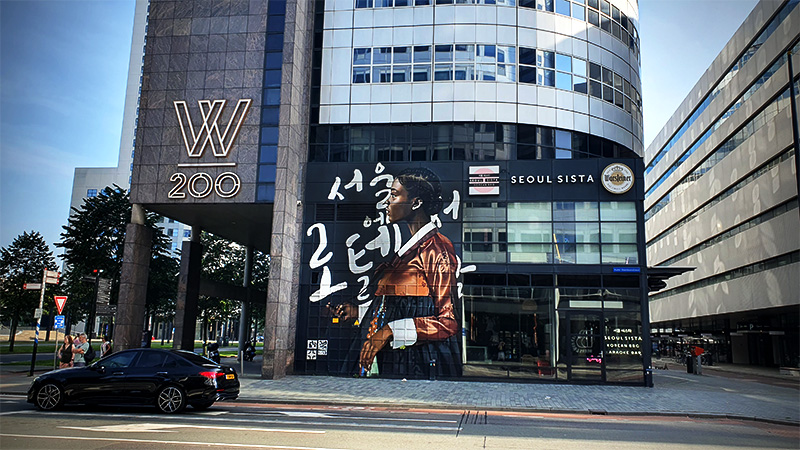 Now, we arrive at Rotterdam's Kruisplein, where we can admire a tall mural by the creative studio Venour and a captivating portrait by Judith de Leeuw of local icon and rapper Winne, known for saying, "Rotterdam is the hometown, better yet, Kruiskade."
Adjacent to them, French street artist Astro has crafted a diptych. Astro's calligraphy-based optical illusions create portals to other dimensions, a fusion of calligraphy and dynamic forms. His optical art plays with shadows, light, and perspective.
Behind Astro's, there's a second diptych, this one by Brazilian urban legend Onesto, still curated by R.U.A.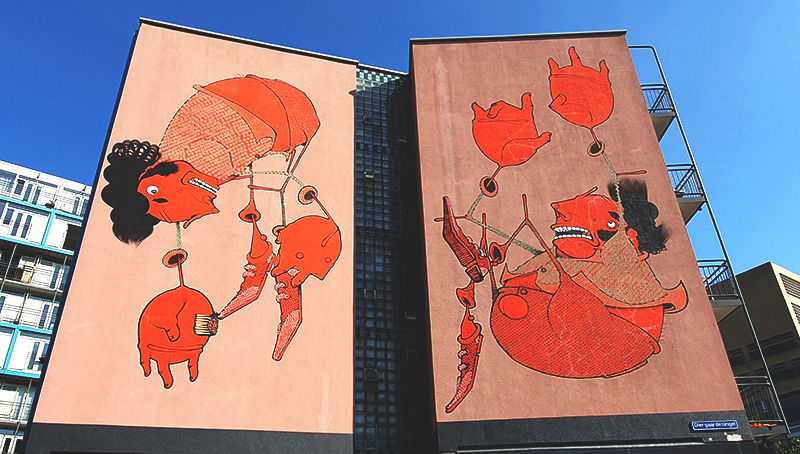 On the other side of Kruisplein, several murals are worthy of attention. Brazilian graffiti artist Onio embellished the corner of a building with his iconic black-and-white scribbles. Further along Mauritsplaats, the TelmoMiel duo conceived a mural that fulfills residents' desire for more green spaces and nature within the city, countering the backdrop of skyscrapers and concrete buildings with a vibrant burst of flowers.
Adjacent to it, another artwork brings nature into Rotterdam's urban environment: a photorealistic waterfall by Monique Benthin and Rick Messemaker. Created in 2018, "Calypso Fall" draws inspiration from Seljalandsfoss, one of Iceland's renowned waterfalls in Skaftafell National Park. The clever arrangement of the mural creates the illusion of water cascading from the wall.
Street Art in Rotterdam: Afrikaanderwijk neighborhood
I've previously introduced you to this neighborhood back in 2019 when I was invited to the Pow! Wow! Rotterdam festival. Since then, the streets have seen an influx of new murals, beckoning me to return and explore more street art.
One massive urban intervention that still stands proudly is the ROAR (Rotterdam Art Ride), a collection of public art created in 2018 by Dutch and international artists on the concrete pillars supporting the subway line between Maashaven and Rijnhaven stations. Among my favorites are the works of graffiti legend ZEDZ, Tymon de Laat, Danny Rumbl, and Bier & Brood.
At the other side of the Afrikaanburt area, Tim Bontan, also known as Bijdevleet, a graphic designer based in Rotterdam, crafted a typographic mural for Pow! Wow! 2020. This mural emerges amidst a cityscape dotted with cranes and construction fences, symbolizing Rotterdam's perpetual state of transformation.
Utrecht-based artist JanIsDeMan employed a playful optical illusion on an elevator shaft, transforming it into a whimsical rocket complete with buttons to select destinations, cleverly placed on a nearby transformer box.
In the area, you can still find all the murals produced by Pow! Wow! Rotterdam. Below are my favorites; you'll find a complete overview in my dispatch from the 2019 edition of the street art festival and, of course, they are all pinned in my Rotterdam street art map.
Australian artist Smug collaborated with Rotterdam's TelmoMiel duo to create a mural that serves as a poignant reminder of our fundamental equality beneath our exterior differences. Their depiction of a skeleton underscores the shared humanity that transcends race, gender, religion, and other distinctions that often occupy our thoughts.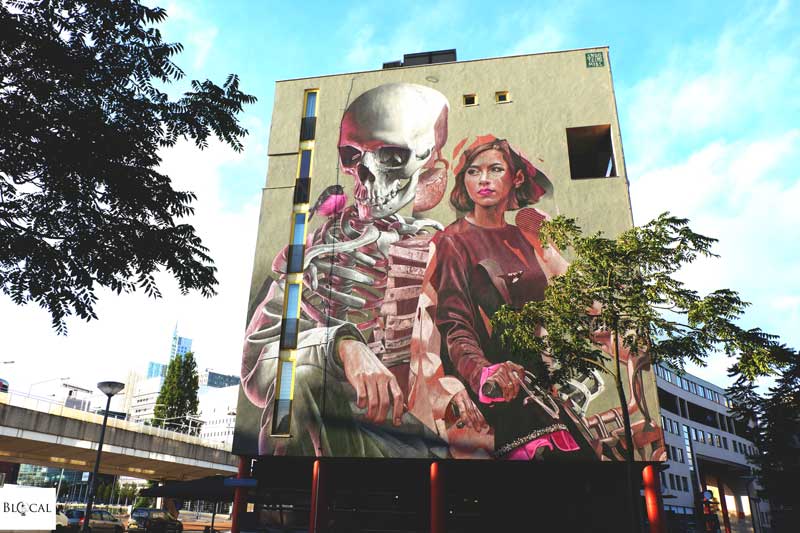 Super-A, known for intertwining famous cartoon characters with their real-life counterparts, portrayed Pinocchio wrapped around a child inspired by the artist's own son, who eagerly anticipated being featured in his father's global mural collection.
Woes, hailing from Hawaii, rendered one of his trademark cartoon pandas, often depicted with an irritable expression that aligns more closely with the true disposition of pandas, contrary to popular perception.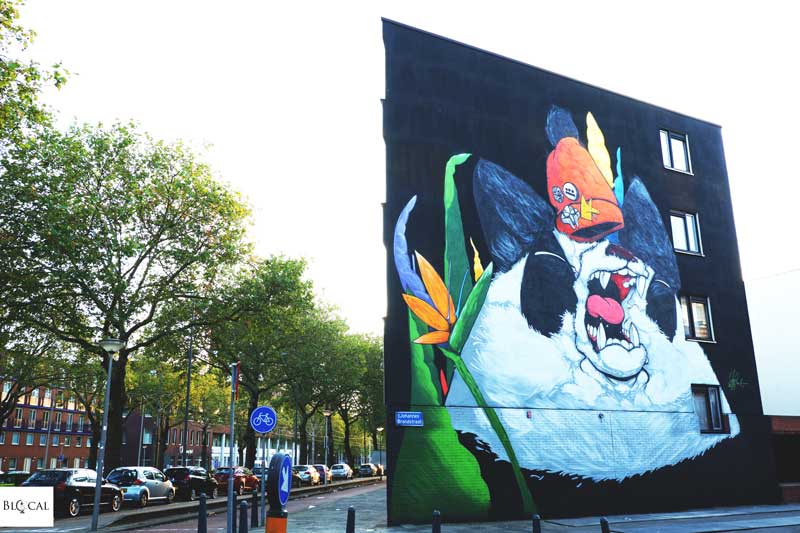 The mural by the French duo Murmure is part of a series with a garbage theme, aiming to provoke reflection on society's waste production and its environmental impact, particularly on animals. In this piece, a bird is trapped inside a plastic bag, conveying the urgency of the issue.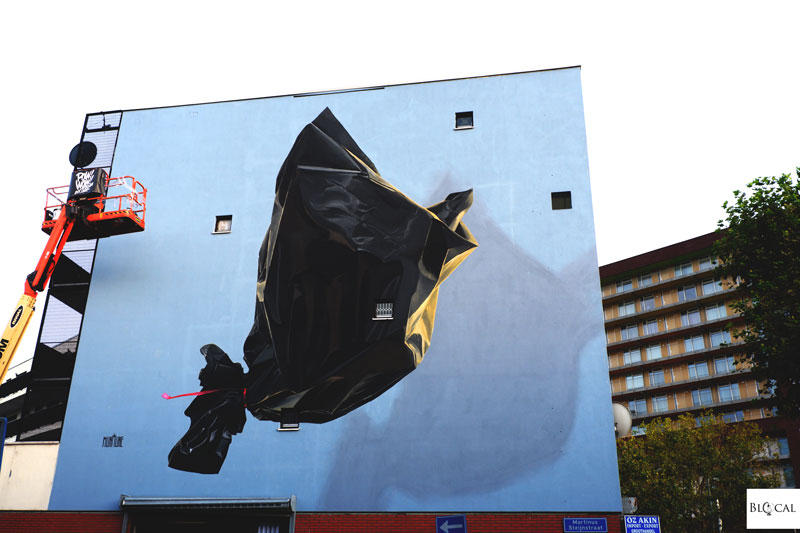 For Pow! Wow! 2020, Joram Roukes honored the neighborhood's working-class heritage with a worker depicted in an Arctic setting. The contrast between the worker's boots and the snow invites viewers to interpret the story for themselves.
Chas from the Loveletters crew presents his extensive 30-year exploration of letter forms in his piece. Known for his transparencies, he uses different colors in the overlapping parts of the letters, symbolizing the cultural diversity of Rotterdam and how these cultures influence one another. The text reads "Different travelers, same boat," with the reference to the city of Rotterdam ("same boat") painted in the green and white colors of the city's coat of arms.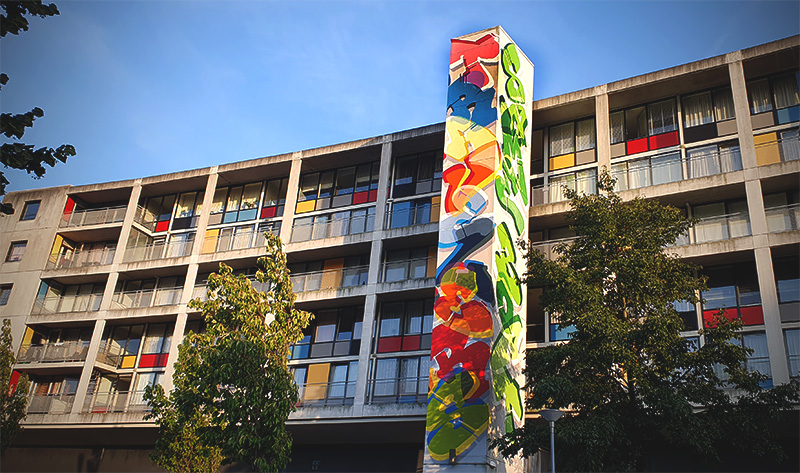 Rotterdam Street Art Map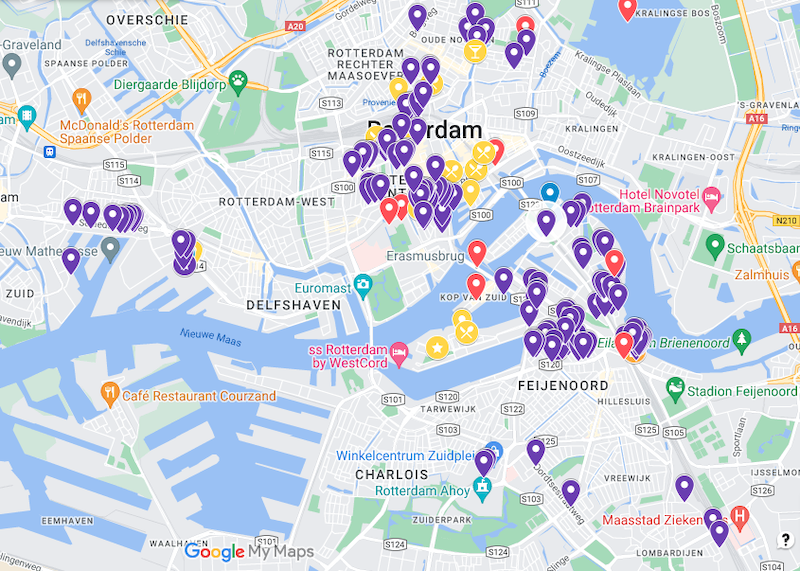 Street Art in Rotterdam: Feijenoord and Rotterdam South
Technically, the Afrikaanderwijk is already a part of Feijenoord. However, since the Feijenoord Street Art Route is pretty jam-packed, all thanks to the hard work of the All Caps festival team, I wanted to discuss them separately in two different paragraphs.
Feijenoord, once primarily known for its football stadium, has transformed into the epicenter of urban art in Rotterdam. It proudly showcases artworks from three editions of Rotterdam's All Caps festival, which took place in 2021, 2022, and 2023. While I provided comprehensive coverage of the most recent edition in UP Magazine, here in this article, I'd like to showcase my personal favorites (though you can access all the murals, from all three editions, on my Rotterdam street art map).
My preferred mural from All Caps 2023 is by Portuguese street artist Jorge Charrua, featuring Rotterdam's basketball team members. This mural serves as a potent reminder: never forget your origins. The message is clear: these individuals honed their skills on the streets before becoming professional athletes. Basketball, closely tied to hip-hop culture, has often turned courts into canvases for graffiti and street art.
Jorge's mural is the first of four urban artworks within a warehouse area, alongside works by Ricardo van Zwol, Tommy Hagen, and George Rose.
Around the corner, English artist Sophie Mess adds a burst of vibrant flowers, set against Onesiker's 155-meter-long abstract piece. The French artist harnessed vital energy with airless paint sprayers and fire extinguishers, reminiscent of graffiti bombing.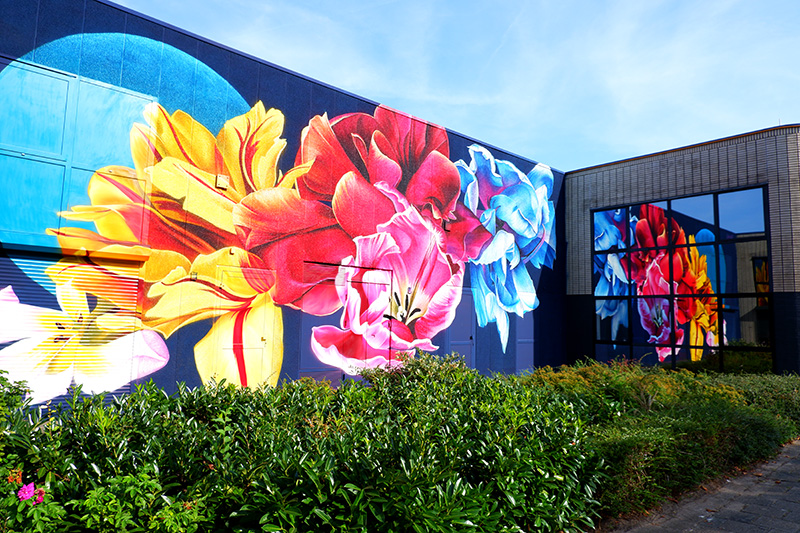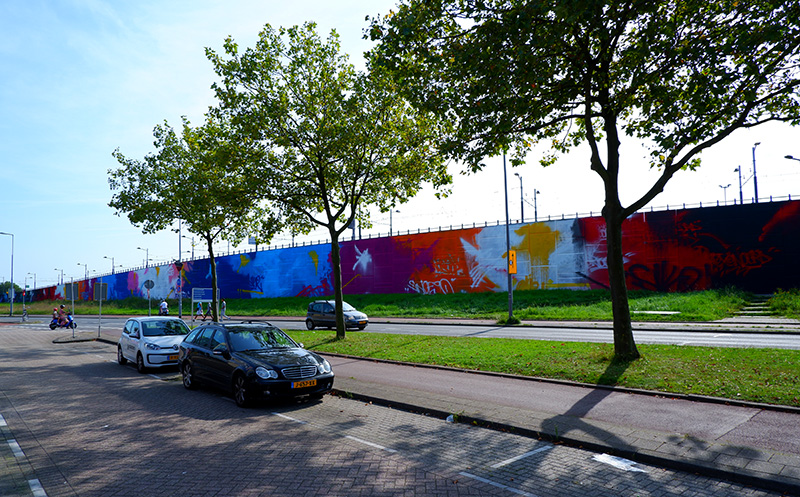 Another noteworthy intervention comes from Brazilian pixadora Eneri. The Pixo movement, rooted in Brazil's popular typography culture, draws aesthetics from hardcore punk-rock album covers. Pixadores transpose these unrefined, cryptic symbols onto walls, thus being criticized by the residents, who can hardly stand them.
In my October newsletter, I've extensively explored how Eneri's artwork was (badly) received by locals, delving into the debate on whether residents should have a say on what gets painted in their neighborhood and the broader discussion on what street art should (or shouldn't) represent. If you're interested, check the October issue out, and remember to subscribe for monthly street art discussions in your inbox.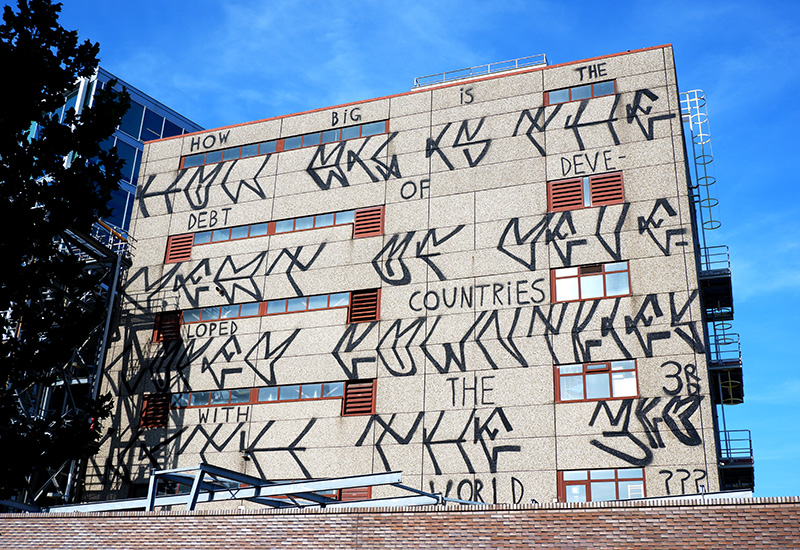 Additional artworks in the area emerged during previous editions of Rotterdam's All Caps festival. I particularly admire Bustart's rendition of Bugs Bunny, reassembling details of the beloved character into an arrangement inspired by the way graffiti writers assemble their letters. Despite being a composite of parts, the popular bunny remains instantly recognizable.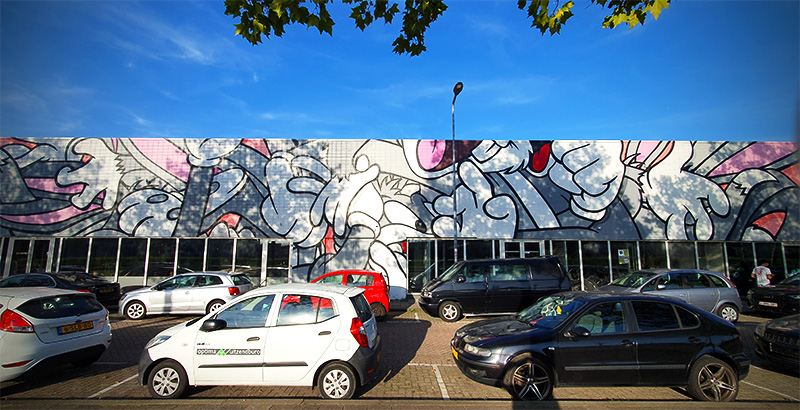 From 2022, the Nomad Clan duo's striking mural still resonates. They depicted Ibn Rushd to challenge prevailing European misconceptions about Muslims and pay homage to free thinkers unafraid of challenging the status quo.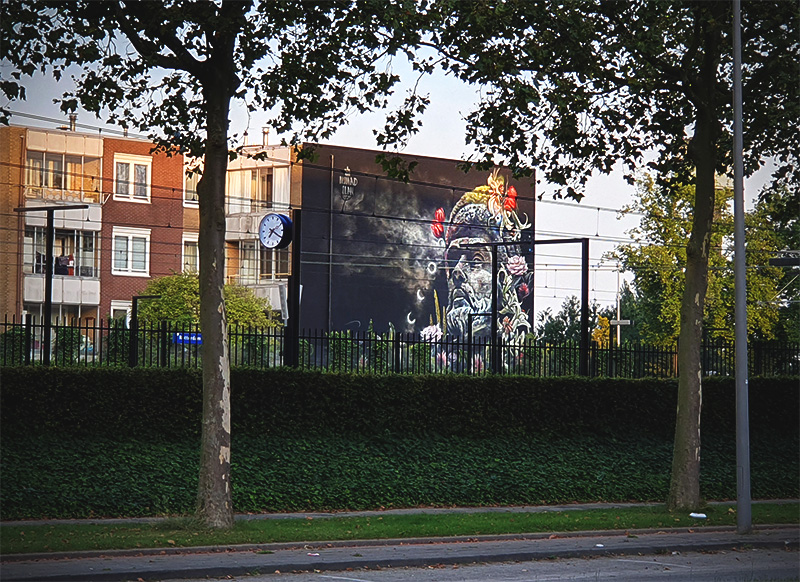 On a school across the rail tracks, Ten Hundred's mural titled "Hope for a brighter future" features a central child figure, a woman with "future" on her backpack, and a book with the Arabic word for "hope" on its cover, emitting waves. A third figure, a man holding a key with creation's fire in his hand, completes the tableau.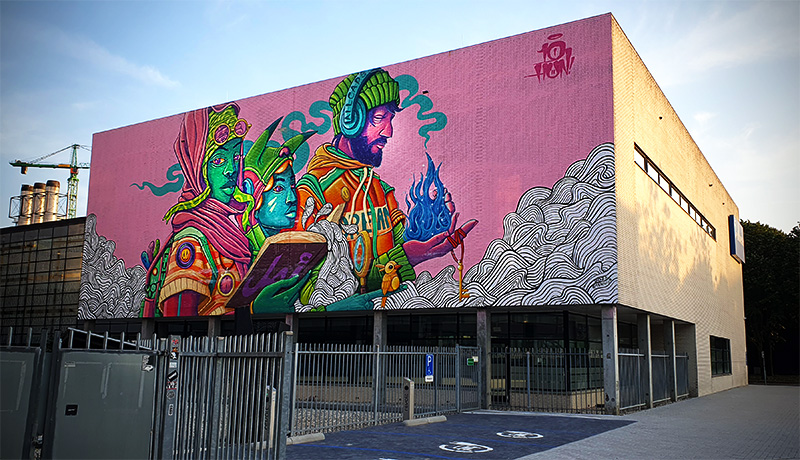 Lastly, Reinier Landwehr's vivid mural captivates viewers with a self-created fantasy world characterized by abundant smileys, with a creeper, surreal undercurrent.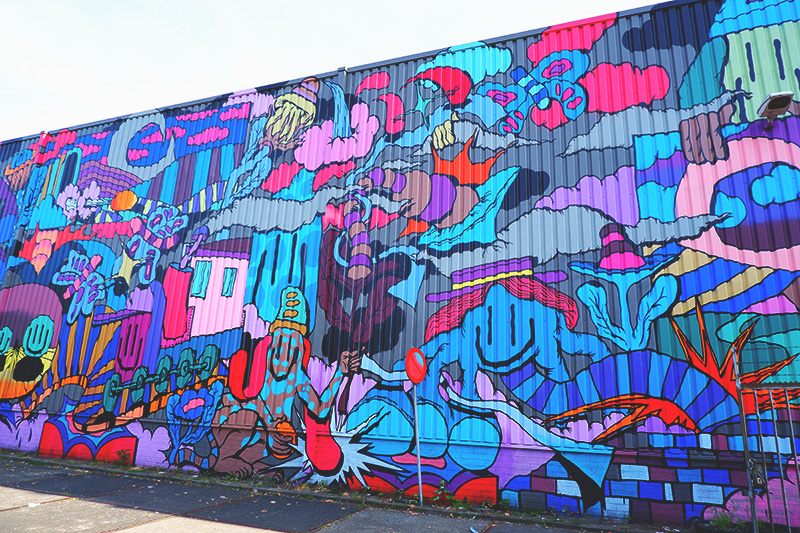 If you continue toward the water, you'll discover three more pieces from the same edition of All Caps festival, created by Monde, Jelmer Noordeman, and David Bruce.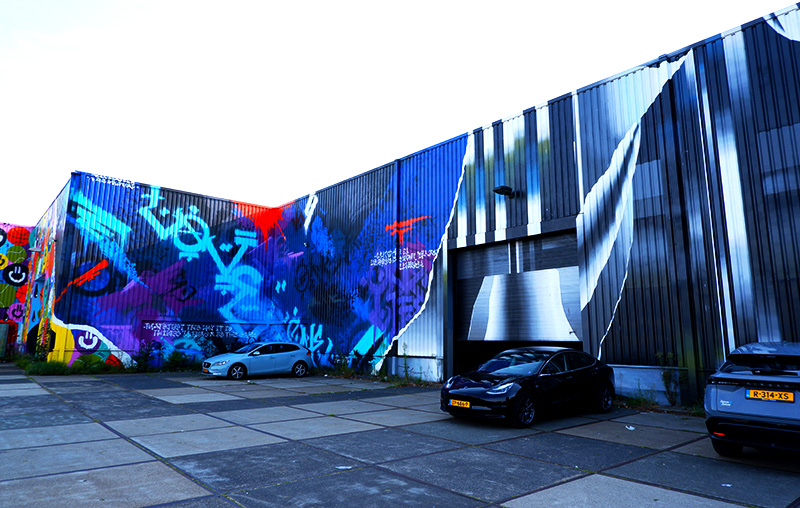 Yet, my standout work from the 2022 edition is the stunning piece by How & Nosm, titled "The Roots of our Community." Unfortunately, the playground was closed when I went there, so I could only see the artwork from the outside.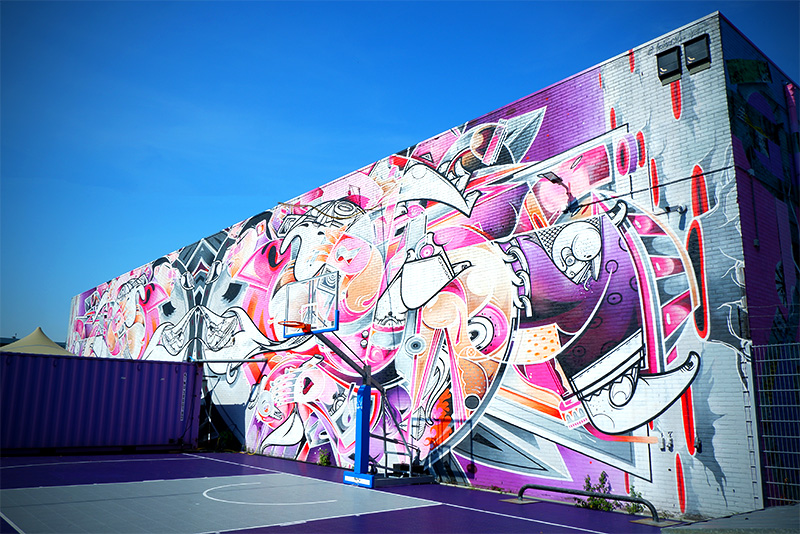 How & Nosm's extensive mural adorns the warehouse hosting Skateland Rotterdam's indoor skatepark, where four murals had already been painted during the previous festival edition by Andre HZS, Engin Dogan, Ola Kalnins, and Roids.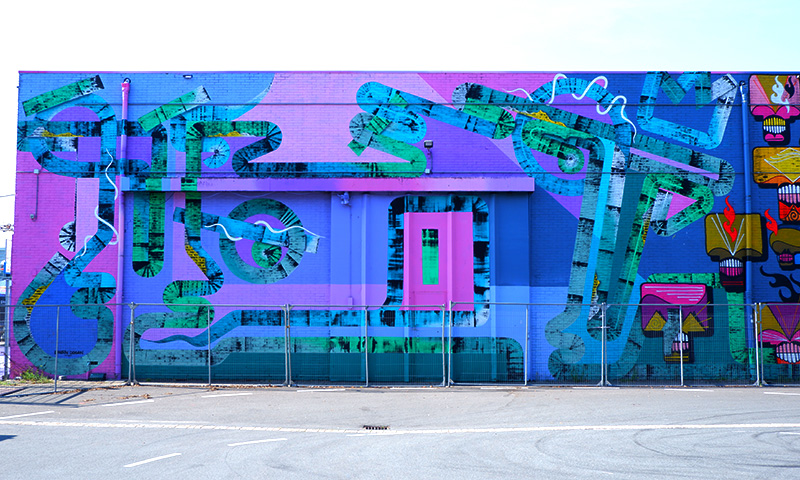 Three more noteworthy artworks from 2021 include one by Nils Westergard, who reimagined a sheep in wolf's clothing inspired by the lyrics of American rapper Aesop Rock.
James Klinge painted Klaas Vaak, the Dutch version of the Sandman, a mythical figure from European folklore responsible for lulling people to sleep and inspiring beautiful dreams.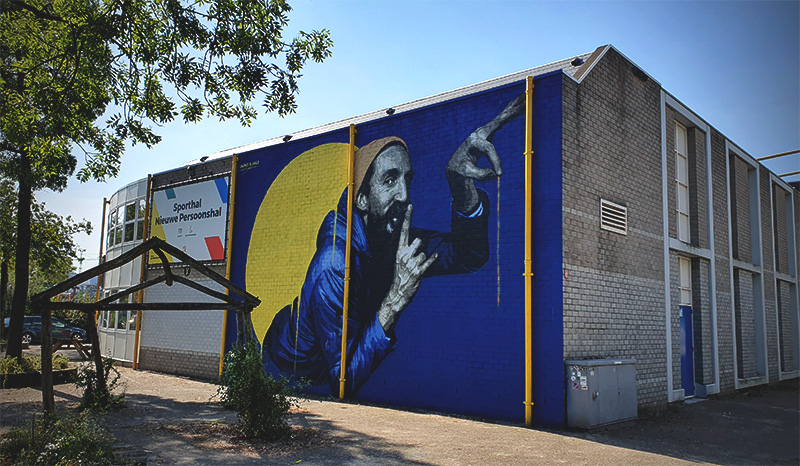 The third piece is a landscape in flat colors and geometric shapes by Australian muralist Helen Proctor, who was living in Rotterdam at the time. Influenced by Indigenous Art from Australia, Helen paints emotional landscapes using stylized shapes to allow viewers to fill them with their own memories and experiences.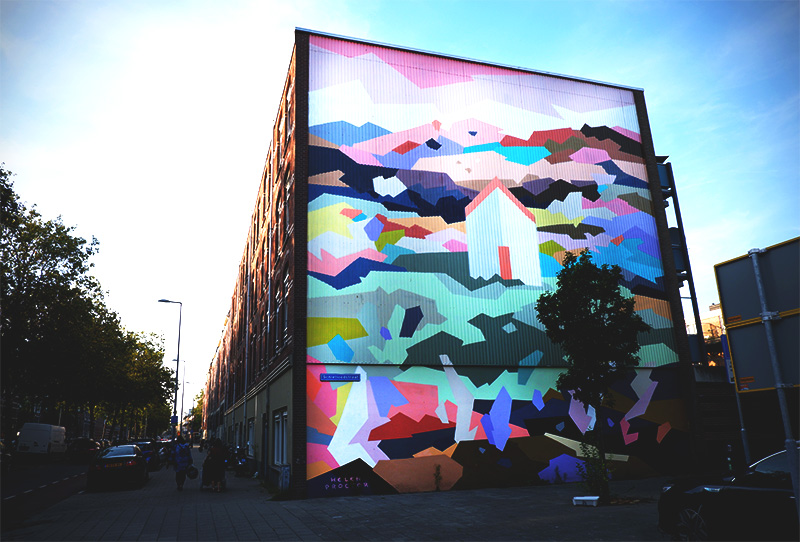 Beyond the captivating works produced by the All Caps Festival in Feijenoord, the southern region of Rotterdam boasts an array of remarkable artworks.
In an area where streets bear the names of eminent philosophers and poets, Ricardo van Zwol skillfully rendered portraits of Aristotle, Homer, Sappho, De la Fontaine, and Molière, each adorning their respective street.
In a nod to Ancient Greece, South African artist Mister Copy contributed a portrait of Aphrodite, the goddess of love and seduction, as part of his "Modern Mythology" series. This collection seamlessly melds floral elements, wings, Greek columns, and contemporary portraits with pop culture symbolism.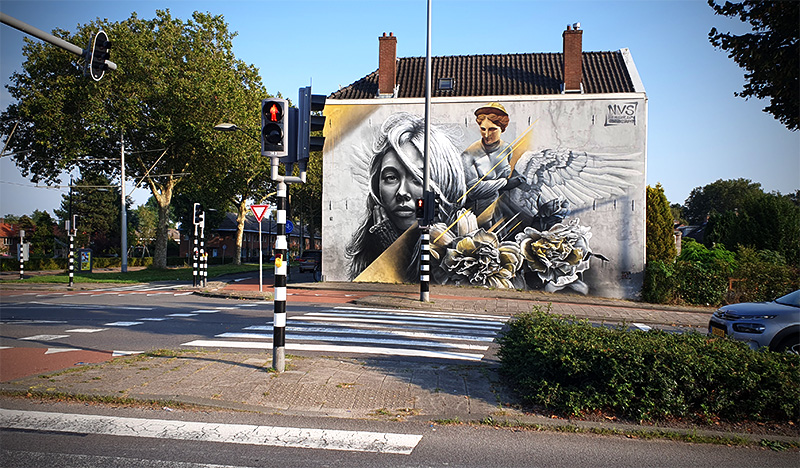 Further along Dordtsestraatweg, you'll encounter a typographic masterpiece by Gary Stranger that spells out 'Home.' Originally, the artwork read 'Home Switi Home,' but the 3D letters in the tiny park overlooking the mural have since been removed.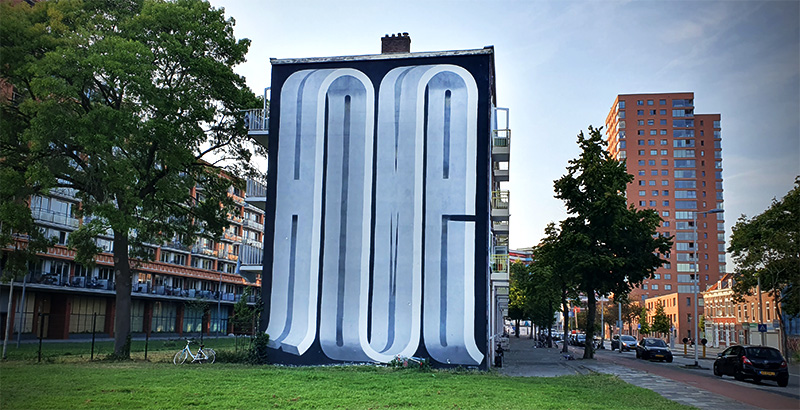 Just a bit farther, on the pedestrian bridge facing the Rotterdam Ahoy arena, you'll find another typographic creation composed of the words 'Income' and 'Outcome,' skillfully painted by Tim Sake from the Lastplak collective.
Adjacent to this piece, a massive mural by Tymon De Laat was unveiled in 2021 to commemorate Rotterdam's role as the host city of the Eurovision Song Contest, held within the Ahoy Arena across the street. Titled "Birth of a New Age," this mural portrays Jeangu Macrooy, the Netherlands' finalist, drawing inspiration from the singer's Surinamese heritage.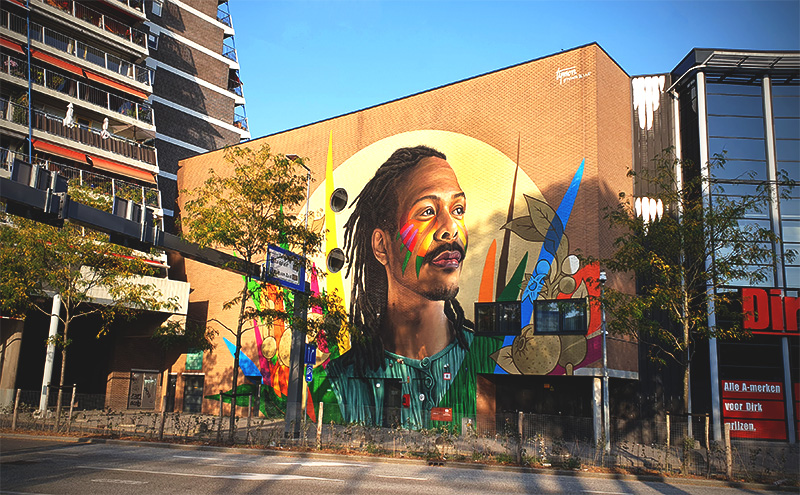 Street Art in Rotterdam: Crooswijk and Rotterdam North
Nestled along the Rotte river, Crooswijk boasts a captivating history rooted in its past as a station for marines. Many of the street names here still bear testament to that heritage. Amidst this historic backdrop, two murals in Crooswijk held a special place in my heart.
One of these murals, created by Mr. June, is an optical illusion masterpiece. Mr. June's distinctive geometric style revolves around the hexagon, which, he explains, plays a vital role in the microscopic world of both organic and inorganic chemistry.
The second mural, a striking diptych by Telmomiel, came to life during the Croos Play street art and sports event. It features depictions of athletes, including high jumpers and hurdle runners, paying homage to the spirit of healthy competition that drives people to excel.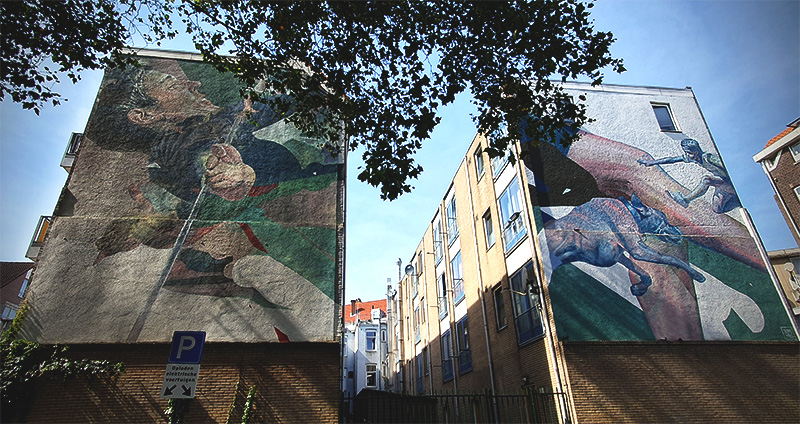 On the opposite side of the river, you'll find a neighborhood that has retained much of its pre-World War II architectural charm – Oude Noorden. As one of the few areas that has survived the bombings, it exudes a unique atmosphere and character. My personal favorite mural in this vicinity is a collaborative work by Spanish artist Sebas Velasco and Rotterdam's dynamic duo, Telmomiel, titled "Hit the Lights," painted in 2017. It portrays a young man seated on the street, gazing into the distance with a plastic bag on his lap. I was enamored by the seamless blend of their artistic styles.
Nearby, at a square where an old tram is parked (now housing the vegan restaurant Gare du Nord), you'll encounter two more captivating murals. Notably, the Lastplak Collective's creation features a meticulously detailed black-and-white portrait by Belgian-American artist Nils Westergard, alongside the graffiti-gnome from Utrecht known as KBTR, and other iconic Dutch graffiti puppets.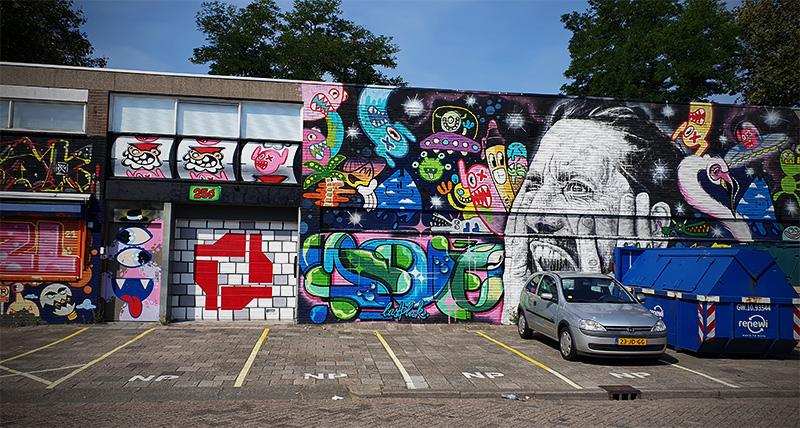 Lastly, a burst of South American color graces the northern reaches of Rotterdam, courtesy of Colombian painter Juan Barco. His mural captures an iconic Dutch image: a woman cycling in high heels, with a whimsical touch of tulips tucked in her bike's basket, making it even more iconic.
Street Art in Rotterdam: Merwe-Vierhavens (M4H)
I previously took you to the Merwe-Vierhavens district during the Design Art Fair in 2018, praising this once-industrial dock area for its raw and industrial look. Since then, the area has kept transforming into a thriving hub for innovative start-ups and industries.
In 2018, this same district played host to Rotterdam's Pow! Wow! street art festival; back then, Portuguese street artist Nuno Viegas was still living in Rotterdam, where he shared a studio with Tymon De Laat. Together, they painted a massive mural on a former warehouse in the M4H district: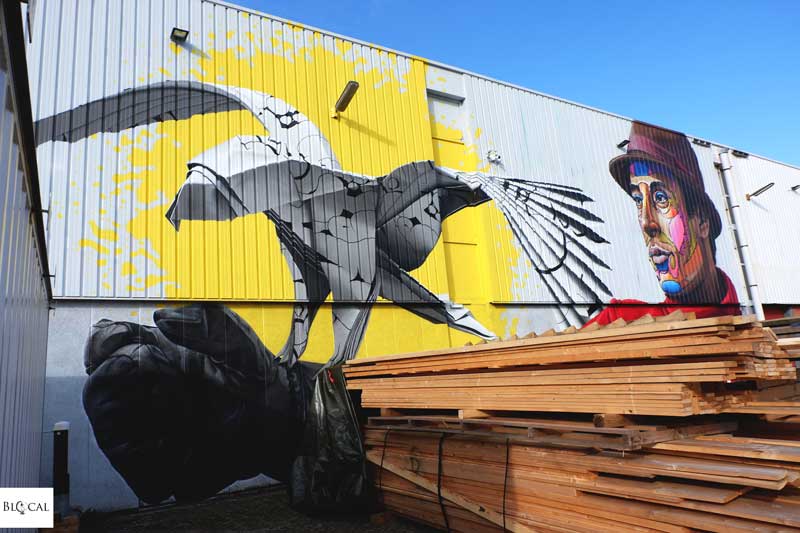 All around Rotterdam's former dock area, you'll discover a treasure trove of urban artworks by talents like Fanakapan, Super A, Dzia, Mr. June, Bier en Brood and many more street artists!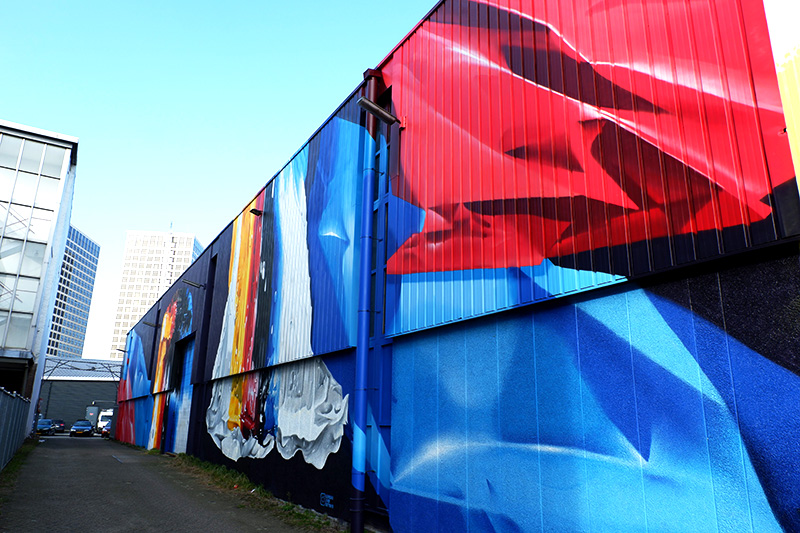 As we wrap up our street art exploration through the vibrant streets of Rotterdam, it's clear that this city has established itself as a haven for mural art enthusiasts. The melding of contemporary art, urban culture, and graffiti has birthed a unique and ever-evolving muralism scene that paints a vivid picture of Rotterdam's creative spirit.
Throughout this Rotterdam street art travel guide, we've embarked on a journey off the beaten path, venturing into the heart of alternative Rotterdam. Along the way, we've uncovered the best large-scale murals, each narrating its own compelling story through the skilled hands of street artists from around the world.
Whether you're a seasoned street art connoisseur or a curious traveler seeking a fresh perspective on this captivating city, grab your bike and start exploring Rotterdam with the help of the Rotterdam street art map provided.
Rotterdam Street Art Map