As previously mentioned in my Barcelona Street Art Travel Guide, I am here to prove that the finest street art in Barcelona isn't confined within the city limits. Instead, it thrives in what is known as the Greater Barcelona Metropolitan Area. After taking you to Sabadell, this time I'm guiding you to Granollers and Cardedeu, two charming towns along the same train line that together offer a perfect day trip from Barcelona for street art enthusiasts.
¡Vamonos!
Street Art in Granollers, Barcelona
Granollers is a city located approximately 30 kilometers (about 19 miles) northeast of Barcelona, easily accessible by train. This historic city, dating back to Roman times, features a diverse blend of architectural styles, from ancient structures to more contemporary buildings, alongside an array of captivating urban art.
The prime destination for discovering street art in Granollers is the Roca Umbert Art Center. Originally a 19th-century textile factory, this industrial space has undergone a transformation into a cultural center, fostering arts and culture in Granollers.
What makes Roca Umbert truly special is its preservation of the architectural heritage of the original factory, which now serves as the backdrop for the striking urban artworks adorning the walls.
Upon entering the former factory, one mural that immediately captivates attention is "Scientia" by Jofre Oliveras. This remarkable diptych delves into the prevailing societal violence that many individuals endure daily, whether overtly or subtly. It highlights the oppression faced by all dissenting voices, emphasizing the urgent need to reaffirm freedom of expression and critique systemic violence. In this mural, the scientific realm is unmistakably depicted as a focal point where debates and arguments are suppressed to serve specific interests.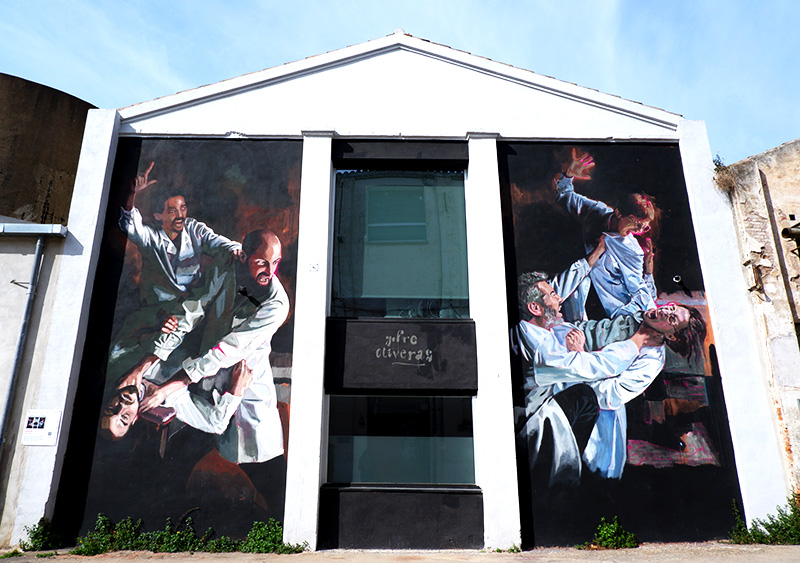 Across from it, there's an exquisite collaboration by Daniel Muñoz (SAN), Zoer, and Aryz. Crafted in 2016, this triptych showcases Zoer's photorealistic cars intertwined with digitized letters, Daniel Muñoz's illustrative characters characterized by bold lines, and Aryz's pastel figures and nearly abstract, organic shapes. I love how they mixed their distinctive style!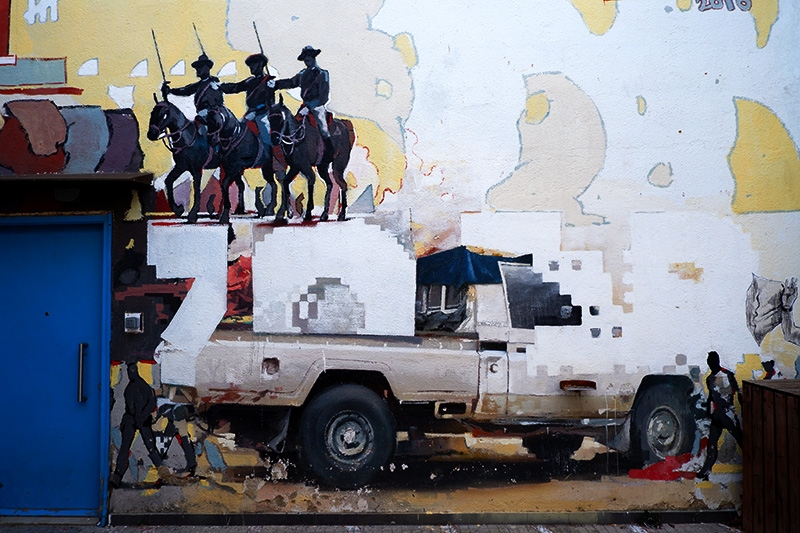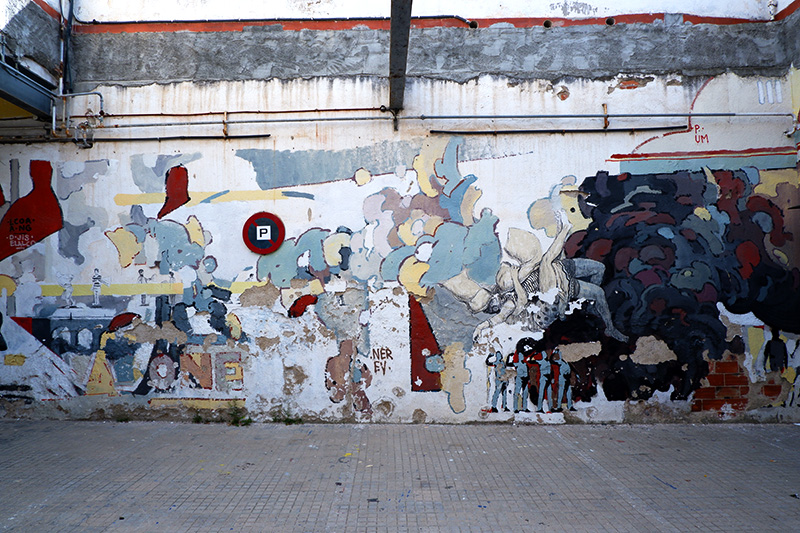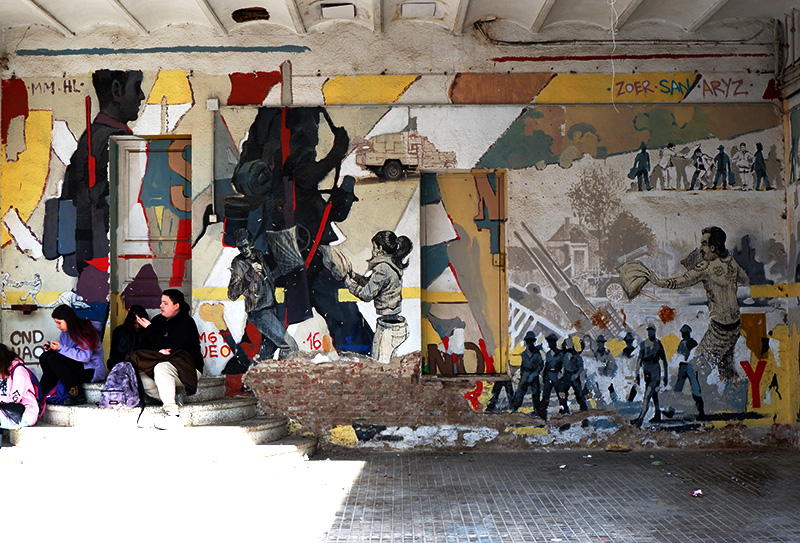 On the opposite side of the former factory, two striking murals painted by Mohamed L'Ghacham, with assistance from Ivan Floro, commemorate the 80th anniversary of the bombings in Granollers during the Spanish Civil War. These artworks delve into the concept that wars not only unfold on battlefields but also ravage the everyday lives within homes, destroying the ordinary routines of people.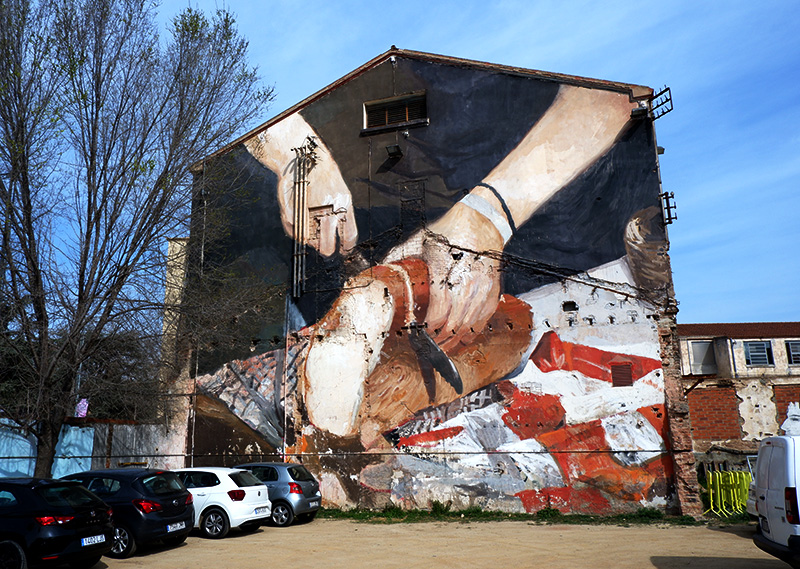 Mohamed specializes in transforming candid family moments into expansive murals. His primary focus is family portraits, capturing the universal essence of familyhood. As he told me last year:
"Any family can feel portrayed in my murals. They can remember those same family moments, and draw their own conclusions. I'm not a portrait artist, I prefer to paint the atmosphere, the colors, the sensations, the little moments of daily life. A family portrait is universal: everybody, no matter where they come from, understands it."

Interview with Mohamed L'Ghacham @ Nuart Aberdeen 2022
The power of these two images lies in their ability to evoke empathy for those living their daily lives amidst war zones, both in the past and the present.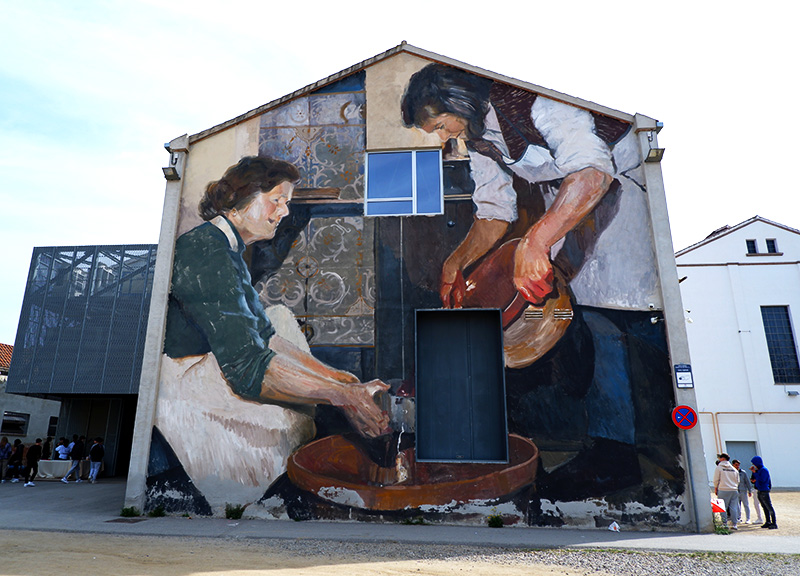 Within Granollers' Roca Umbert, Pau Farell and Arnau Bellavista crafted a blue-and-white mural depicting the individuals who utilize the cultural center's workshops and spaces, fostering a sense of belonging within the community.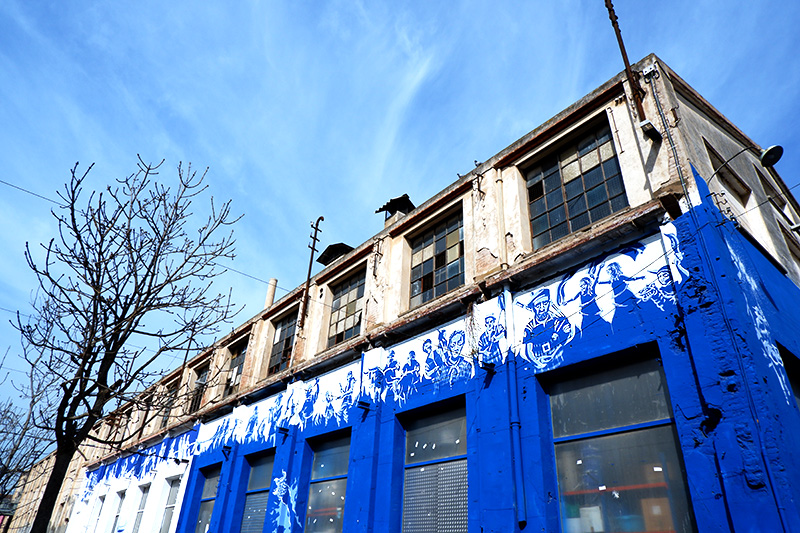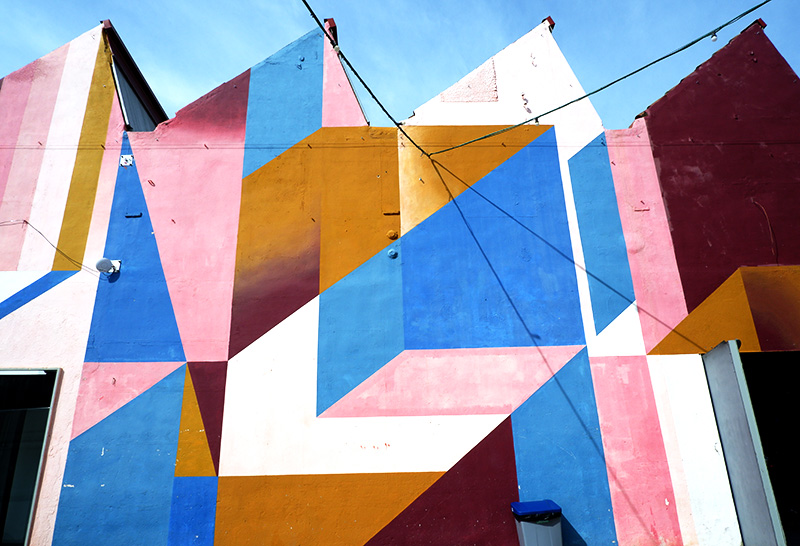 Another captivating mural within the Roca Umbert complex is by local artist and activist Roc Blackblock. In 2016, he collaborated with the children of the Ferrer i Guàrdia school to create a mural paying homage to the values of the modern school promoted by pedagogue Francesc Ferrer i Guàrdia in the early 20th century.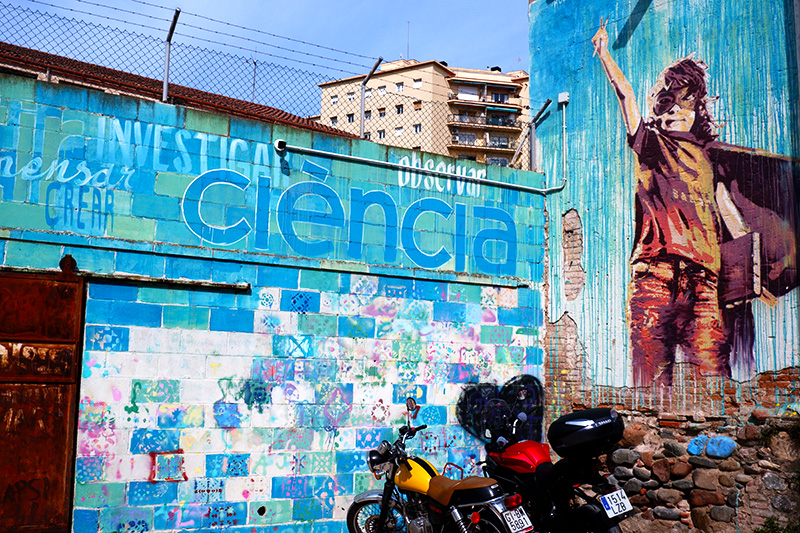 After exploring Rocaumbert, venture into the streets of Granollers, where you might spot an earlier piece by the talented artist Cinta Vidal or a vibrant, abstract work by Sixe Paredes, titled "Geometry."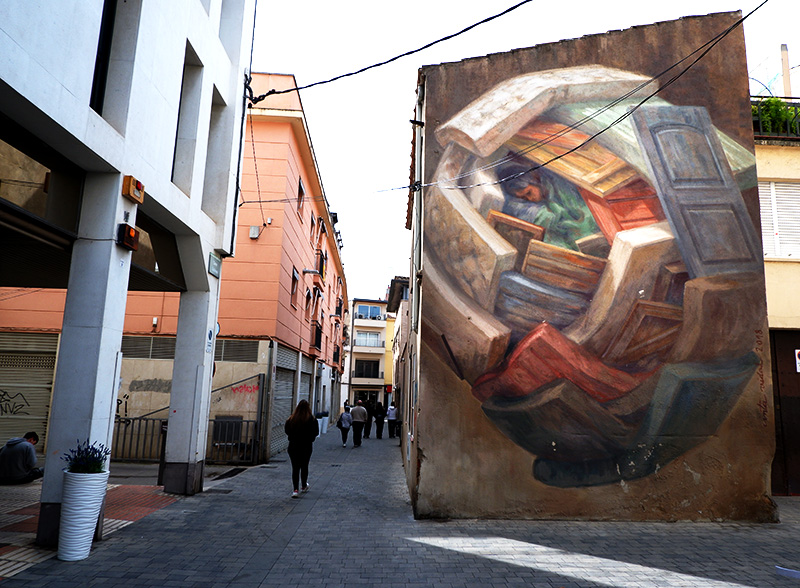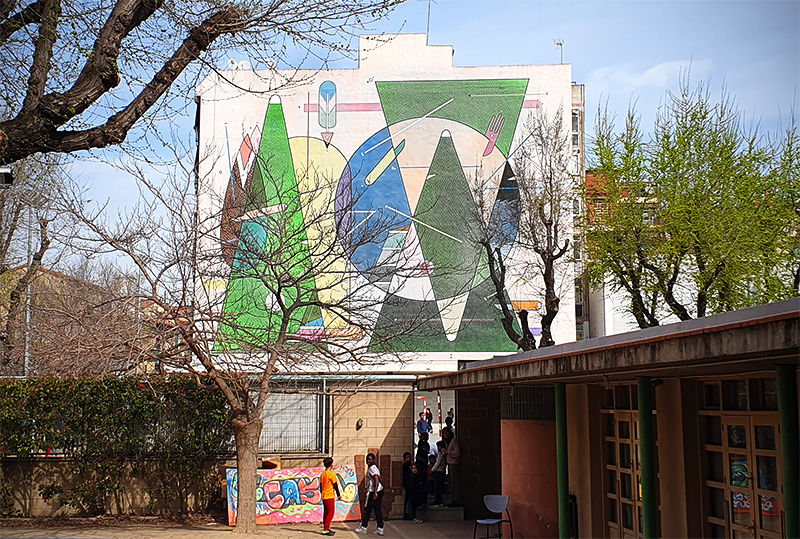 Another beautiful mural, located on the opposite side of the city, is "TOMO," a diptych painted by Velvet and Zoer. On the left, the artists depict chopsticks discovered at a local dance school, while on the right, you'll find ceramic creations from the Toni Cumella ceramic factory. Hailing from Granollers, this factory is renowned worldwide, and its precious ceramics are employed by renowned architects in the likes of Renzo Piano.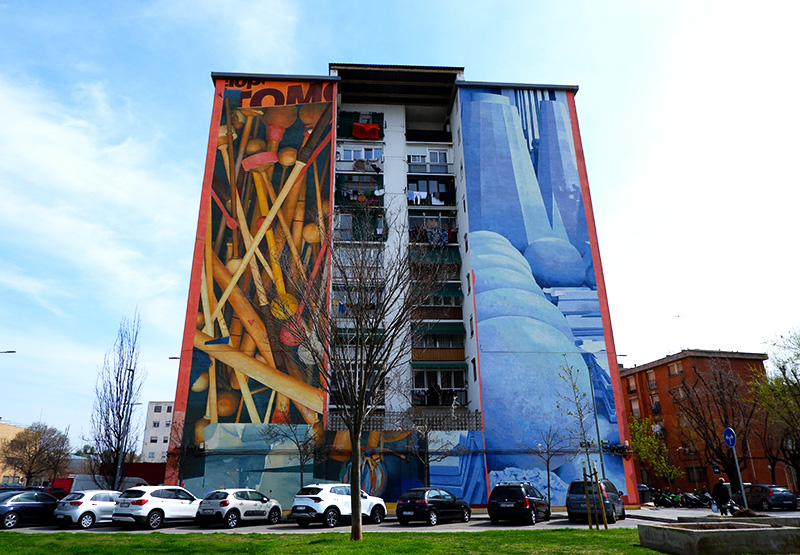 However, the true hidden gem of Granollers is the majestic Hall of Fame along the riverbanks. Over the years, the river has receded (a common occurrence in many southern European rivers), leaving ample space for local and international graffiti artists to paint freely. Here, you can spot numerous pieces by the internationally acclaimed Aryz, who resides in nearby Cardedeu, and his international friends, including the Brazilian twins Os Gemeos.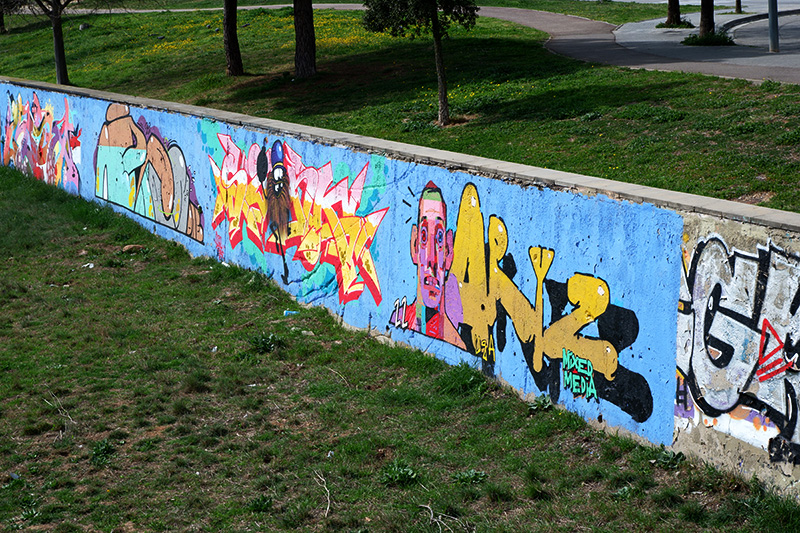 Granollers Street Art Map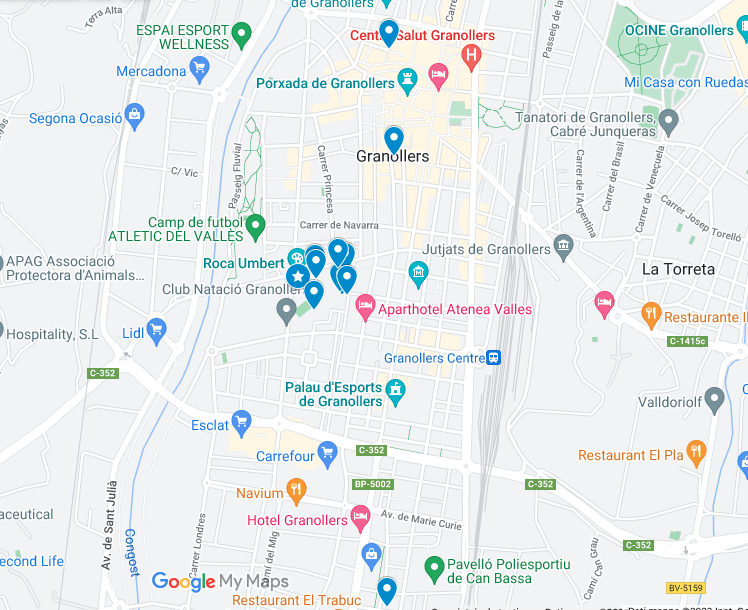 Street Art in Cardedeu, Barcelona
Just a brief 5-minute train journey from Granollers, we arrived in Cardedeu, the hometown of artists like Aryz and Cinta Vidal, among others. Cardedeu is celebrated for its breathtaking landscapes and the extensive hiking trails found in the nearby Montseny Natural Park.
In Cardedeu, I encountered an array of urban artworks by Aryz, ranging from a monumental mural painted in 2017 to quick pieces adorning construction panels throughout the town.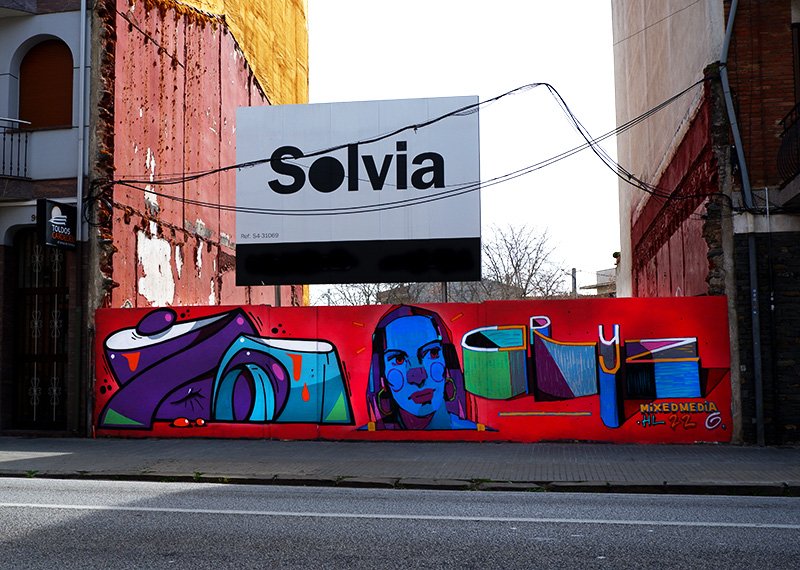 Among the notable pieces in Aryz's hometown, one that stands out is a collaborative masterpiece he crafted alongside Daniel Muñoz (SAN) and Rostro, displayed in a local Hall of Fame.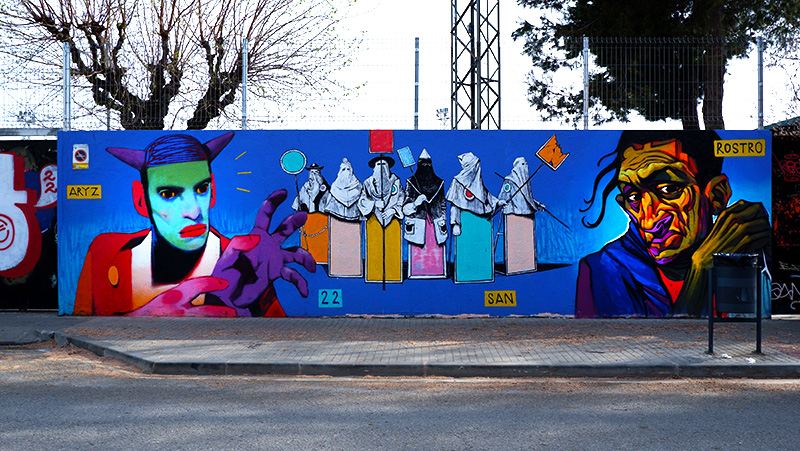 While exploring Cardedeu, I visited Cinta Vidal, who had recently relocated to her new studio. Cinta's enchanting workspace is nestled within what once operated as her parents' toy store. Similar to any storefront, it features a street-facing window, offering a glimpse into Cinta's surreal and imaginative universe.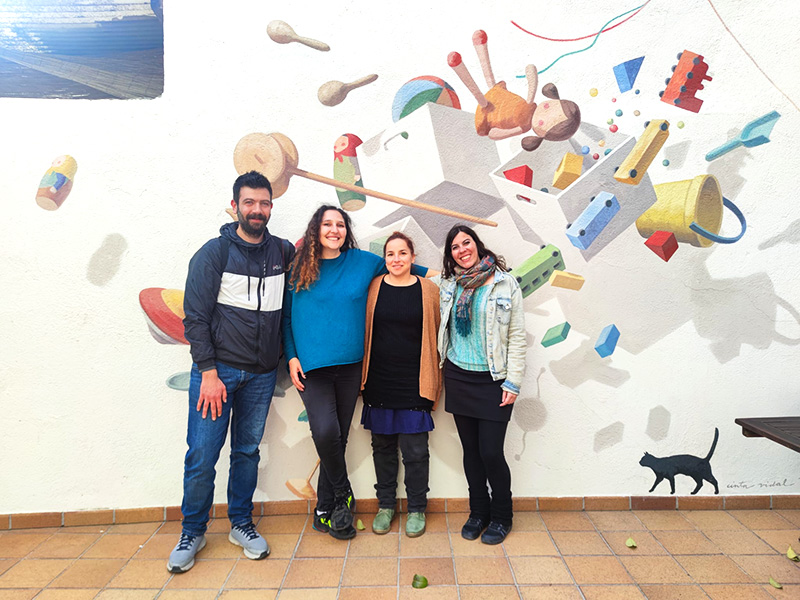 During my visit, Cinta was diligently working on canvases for an upcoming exhibition at New York's Thinkspace art gallery, set to make its debut. Stepping into her creative realm was an enthralling experience. Cinta Vidal's art captivates with its imaginative style and compositions that seemingly defy the laws of gravity.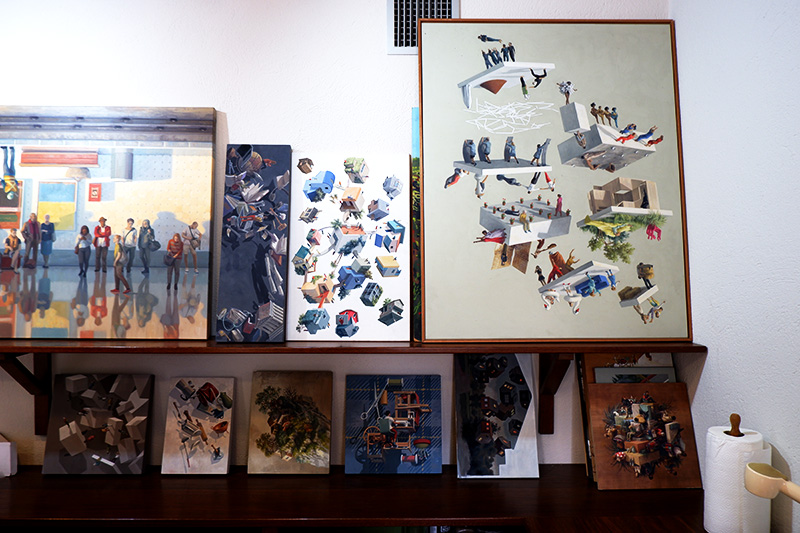 Cinta Vidal's creations often transport viewers into surreal and dreamlike realms, where buildings, interiors, and landscapes coexist in multiple orientations, challenging conventional notions of space and perspective. The result is a sense of wonder and intrigue that accompanies every encounter with her work.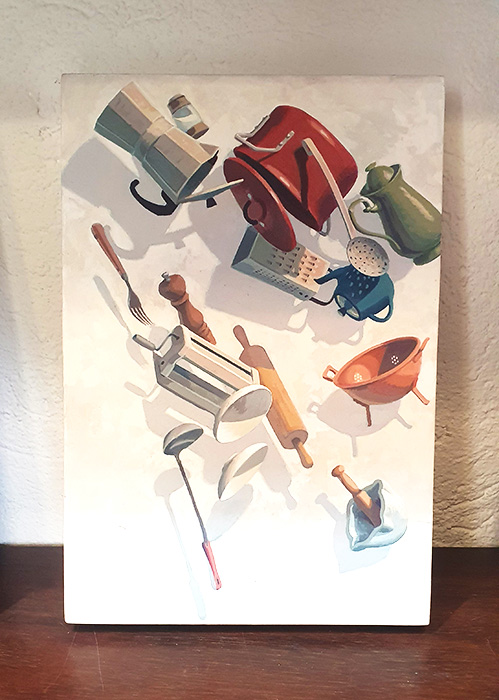 In Cinta's artistic world, each mural has a counterpart in canvas form. Above, you can see the canvas reproduction of the mural she painted in Civitacampomarano for CVTà Street Fest 2022, where our paths initially crossed.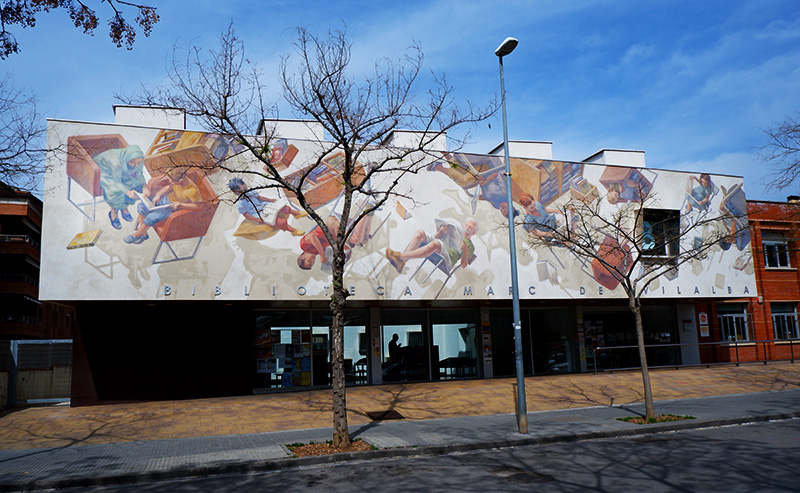 Street Art Map of Barcelona and Beyond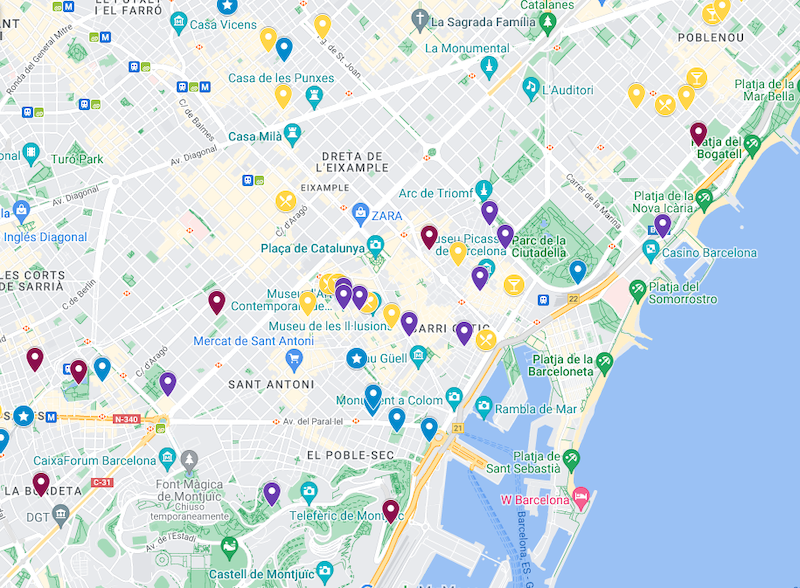 As I've ventured through these two remarkable towns, it's abundantly clear that the best street art in Barcelona often thrives beyond the city limits. Together, Granollers and Cardedeu offer a captivating journey through the dynamic world of street art. Beyond their historical charm and natural beauty, these hidden gems serve as inspiring canvases for many artists, thus becoming the thriving heart of Catalonia's street art scene.