The best street art in Barcelona can actually be found outside the city. Today I'm bringing you to Sabadell, the hometown of graffiti legend Treze.
Sabadell is one of the least touristy places in Catalonia.
Situated approximately 20 kilometers (12 miles) north of Barcelona, Sabadell is accessible by train in less than an hour, and so there are no excuses for not exploring the artistic legacy of graffiti artist Treze in this vibrant city.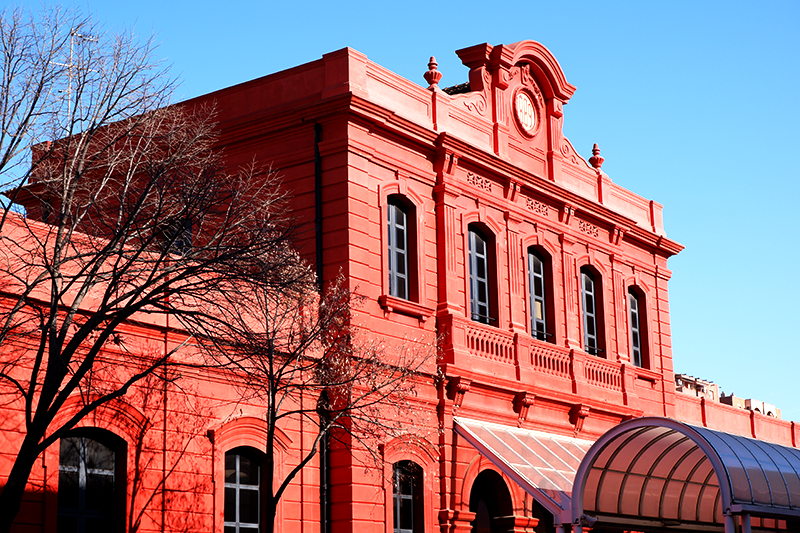 Sabadell has a rich history that dates back to Roman times, and it has seen various cultural influences over the centuries. The city played a significant role during the industrial revolution in Spain, particularly in the textile industry. It was one of the pioneering centers of the cotton industry in the country, which brought prosperity and growth to the city.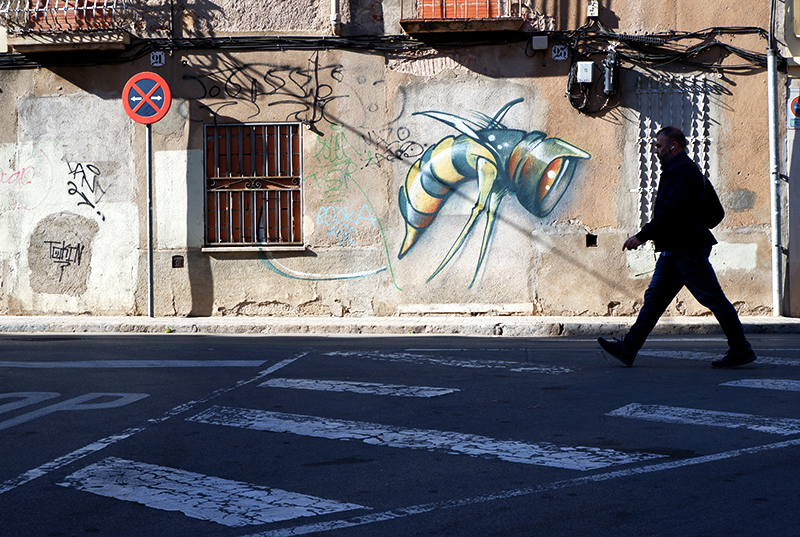 Who was graffiti artist Treze?
Active from 1986 to 2018, Guillem Vivas Pérez, aka Treze, was a renowned graffiti artist hailing from Spain, celebrated for his remarkable portrayal of female faces and animals.
A defining aspect of Treze's artistry was his adeptness at harmonizing traditional graffiti techniques with contemporary artistic elements, resulting in visually mesmerizing and thought-provoking masterpieces.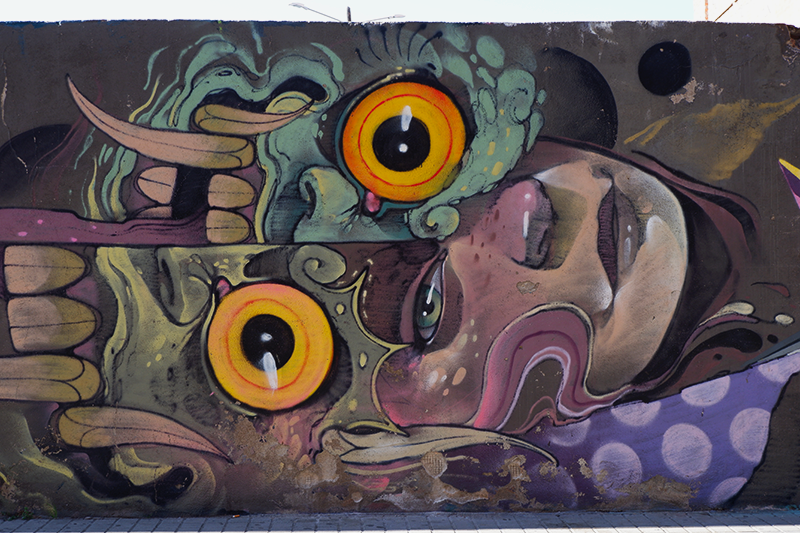 His artistic prowess garnered widespread acclaim, particularly for his unique and unmistakable style that seamlessly fused classic graffiti lettering, vibrant hues, and iconic imagery like girls, birds, and various animals. What set Treze apart were his signature soft-colored palettes and delicate outlines, which he skillfully employed to master a watercolor wash technique while tastefully incorporating bold fatcap effects.
These captivating features contributed to the allure and lasting impact of Treze's creations in the world of graffiti art.
Although Treze might no longer be with us, in his hometown of Sabadell numerous murals bearing his distinctive style continue to grace the streets and can be admired by graffiti enthusiasts.
Where to find Treze's murals in Sabadell?
Street Art in Sabadell: around the City Center
In Sabadell's city center, there's a parking lot with a long mural by Treze near the entrance. The protagonist wears a traditional Leak mask from Bali, Indonesia.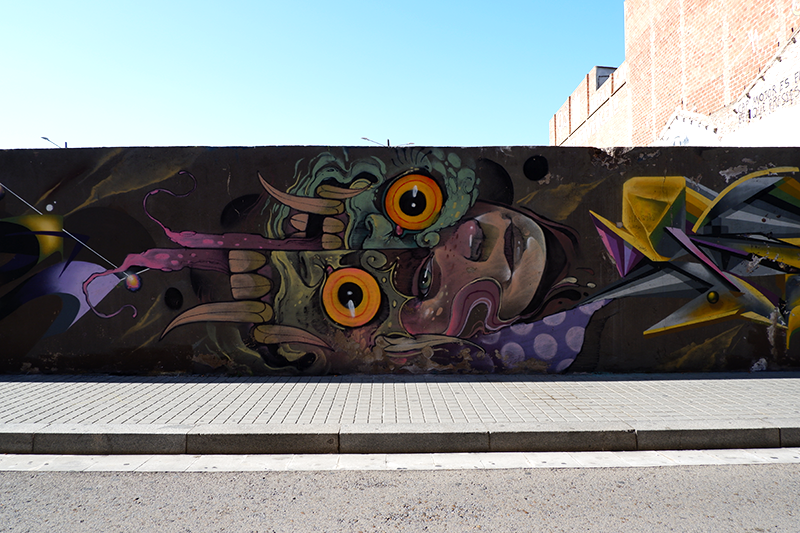 This long piece was painted together with Gris One and Treze's wife Zurik: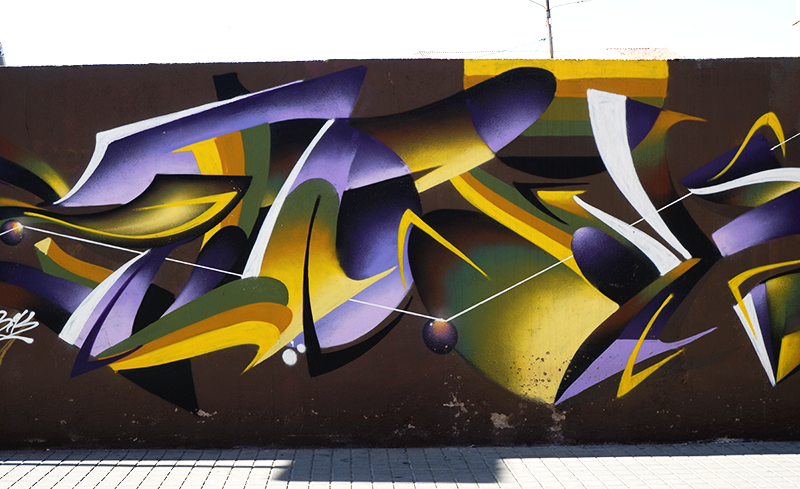 Inside the parking lot, Zurik painted also a mural paying homage to Helena Jubany, a 27-year-old journalist and librarian murdered in Sabadell in 2001. The circumstances, motive, or material perpetrators of the murder were never completely clear, leading to the case being dismissed and the trial not taking place. Hence, Zurik calls for justice.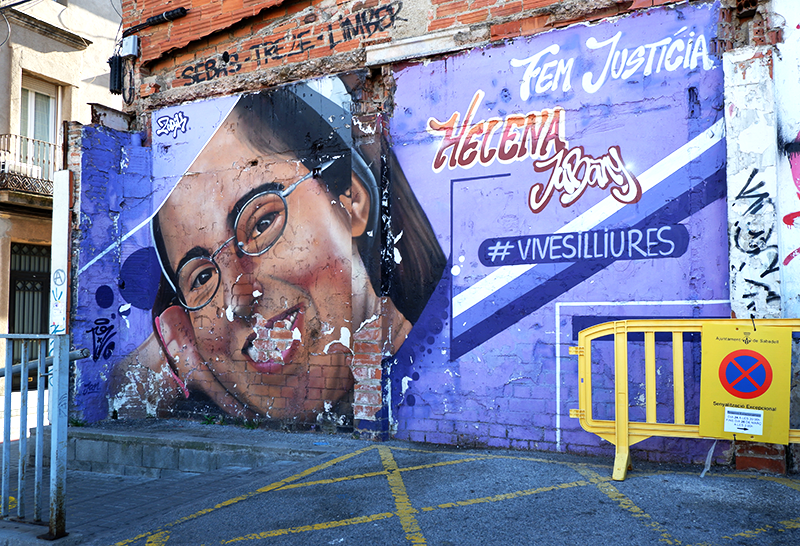 On the wall surrounding the parking lot, there are more pieces to be admired, including an abstract piece by German artist Fabian Zolar.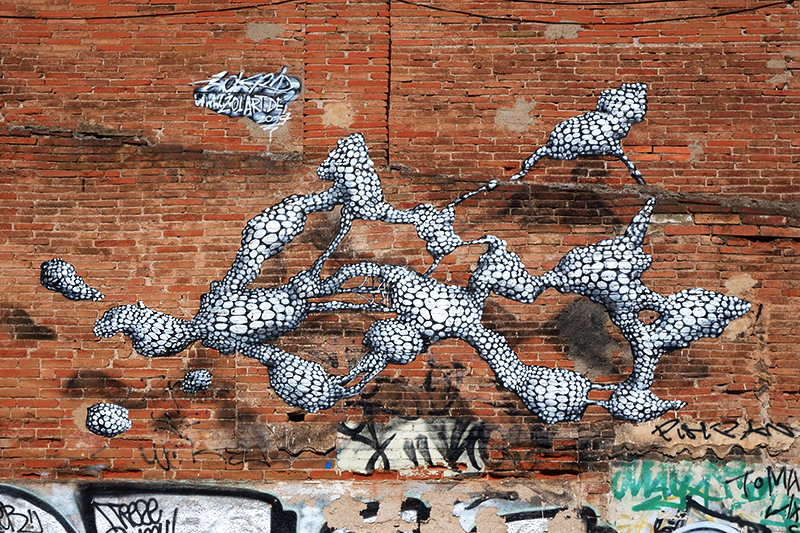 A short walk from the parking lot, there's another amazing mural by Treze, featuring some of his iconic characters. The mural is inspired by Italian comic author Sergio Toppi (well, Treze's entire production is influenced by Sergio Toppi, as Treze often disclosed). This piece was painted in 2015 together with Krane and Werens.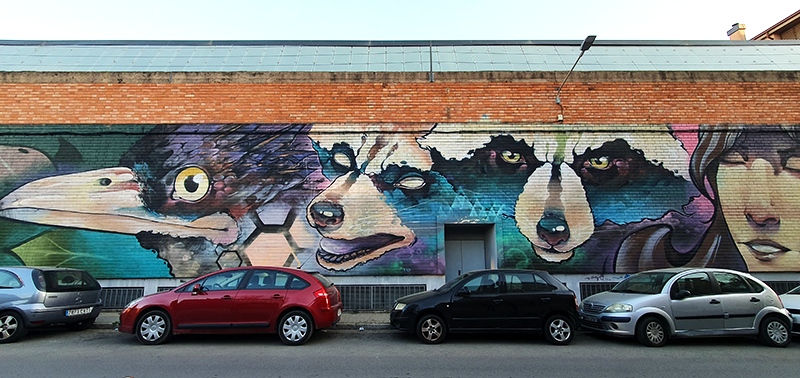 Here's the part painted by local artist Werens (more about his art at the bottom of this Sabadell Street Art Guide):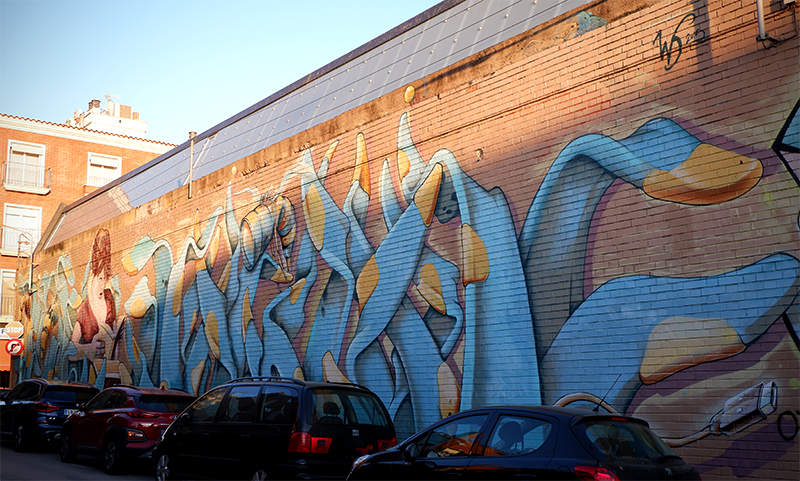 Treze frequently depicted raccoons in his artwork. Another raccoon by Treze can be spotted in the window of a neighboring Tattoo Shop.
Street Art in Sabadell: Zona Creu Alta
More murals by Treze can be found around Sabadell's Creu Alta area. There's an art center with murals by Treze both on the surrounding wall and in the main courtyard.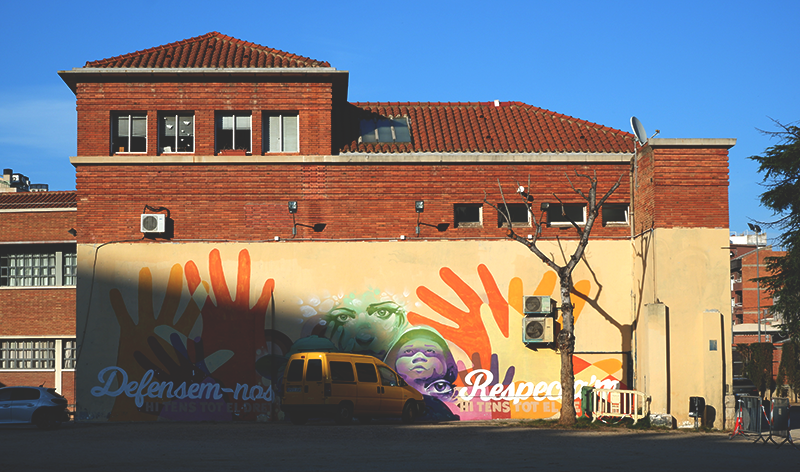 On the surrounding wall, Treze paid homage to American painter Norman Rockwell by painting a clown from Rockwell's popular clown series. Circus performers and the enchanting circus atmosphere form recurring themes in Rockwell's production, drawing inspiration from his childhood circus visits.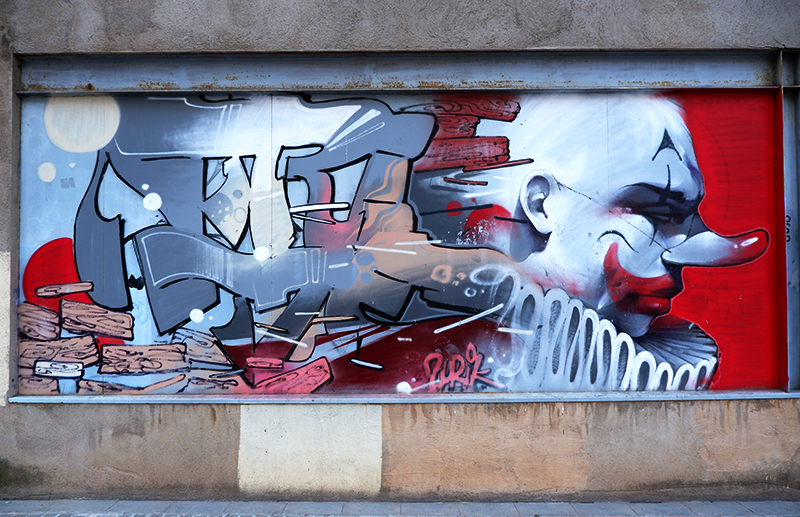 Next to Treze's clown piece, the circus theme is carried on by other street artists, such as Honor, Limbo and Werens: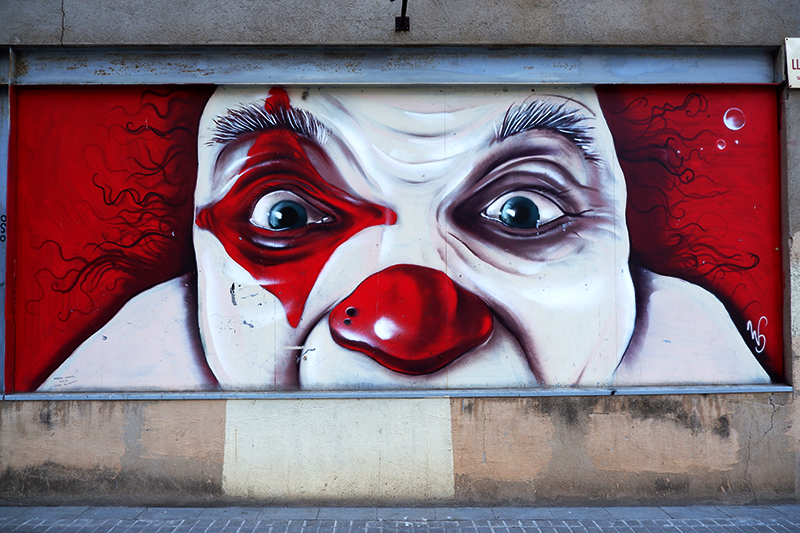 On the surrounding wall of Sabadell's art factory, there are also two cool pieces by Lake: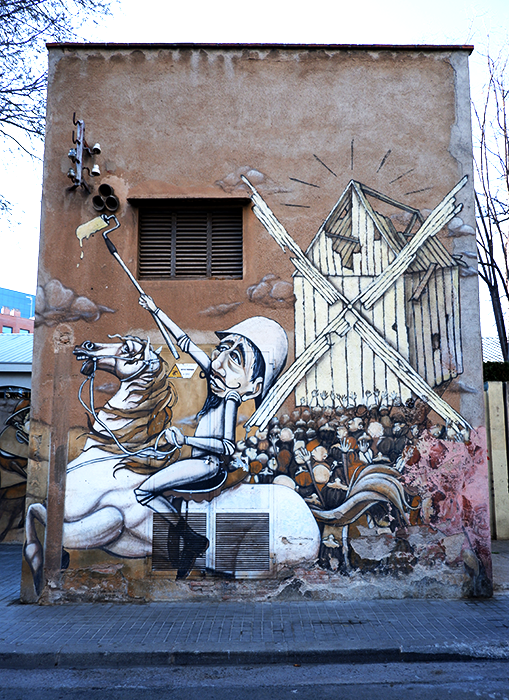 Still in Sabadell's Creu Alta area, there's this beautiful wall painted by Treze with Zurik, Skape and Akos: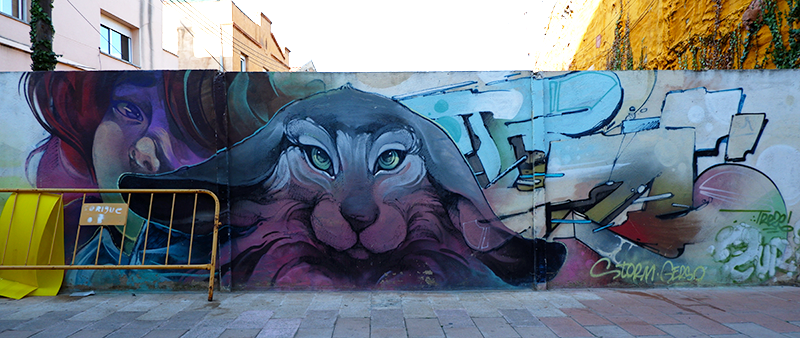 and this cubist portrait of a woman drinking coffee, which is still by Treze although it boasts a slightly different style:
Just around the corner, there's this mural by Werens: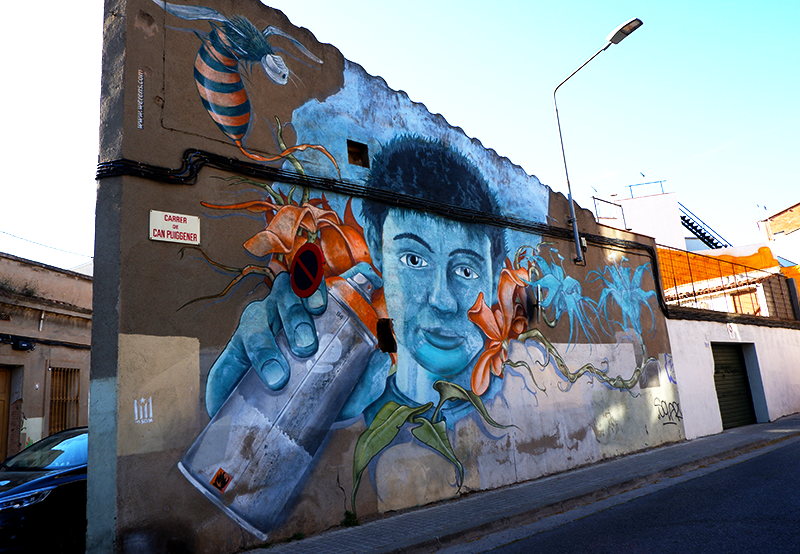 Street Art in Sabadell: Zona Hostafrancs
Coming from the Parc de Catalunya, the first mural you are going to encounter is this one from 2015, painted by Treze together with Canadian muralist Emmanuel Jarus.
The mural is a tribute to the iconic character Ophelia from Shakespeare's "Hamlet." It emerged from a collaboration between Jarus and Treze, who was bravely battling cancer at the time. Despite the challenges, their combined talent resulted in a poignant and beautiful artwork.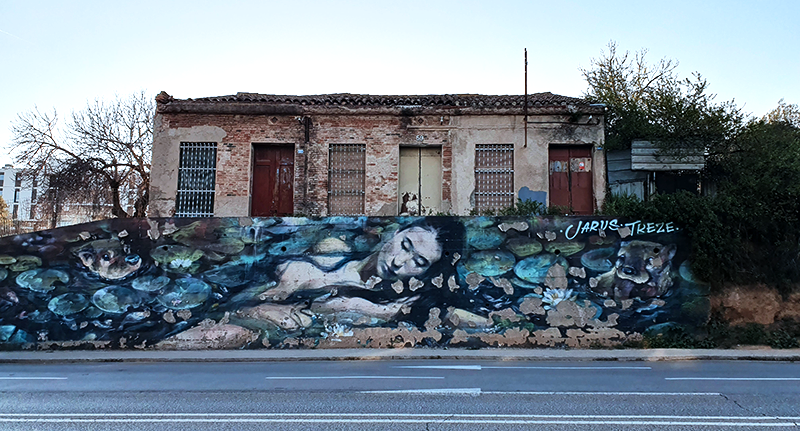 Inspired by the new Montana Water-Based Collection, the mural centers around a water theme. Ophelia, known for her tragic role in literature, serves as the muse for this piece. Her essence is traditionally linked to a young woman floating in water, surrounded by natural elements. In this rendition, Treze masterfully created most of the aquatic creatures, infusing the mural with vitality and motion.
One year later, Treze painted this stunning piece with Miedo and Dave Bonzai: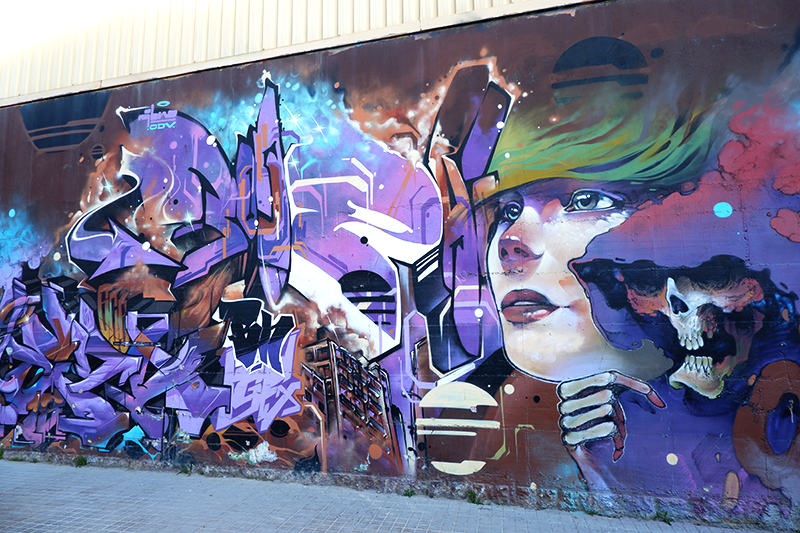 More Street Art in Sabadell
Still in Zona Hostafrancs, overlooking the magnificent Treze's mural pictured above, there is a smaller mural by the Dutch duo Telmomiel. Titled "A glove story", it was painted during the Wallstalk International Graffiti Meeting of May 2014, organized by the spray can brand Montana Colors with the help of Treze himself.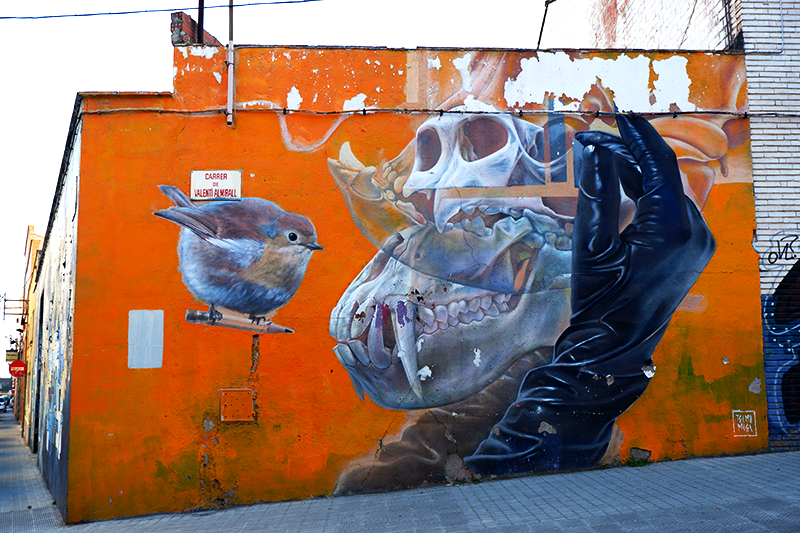 Just around the corner, there's yet another piece painted during the same graffiti jam by Barcelona graffiti artist PONK together with two Dutch graffiti artists: NASH (Loveletters Crew), who painted the photorealistic shark, and graffiti legend ZEDZ, who wrote his name on the right.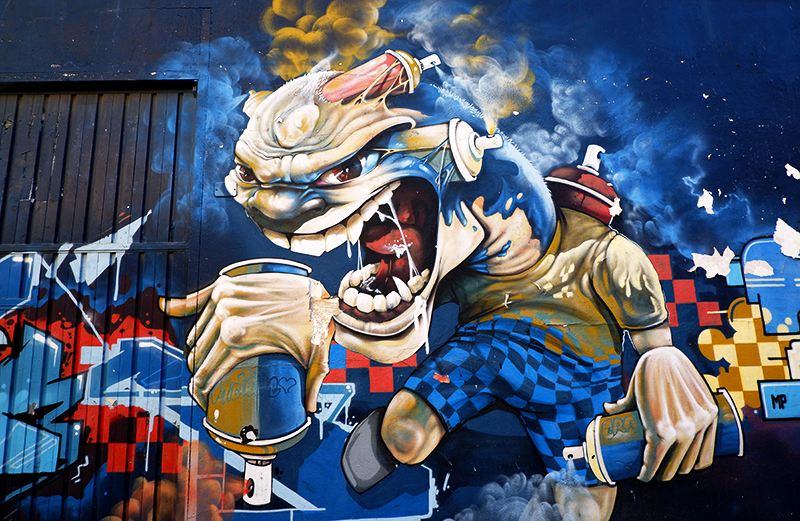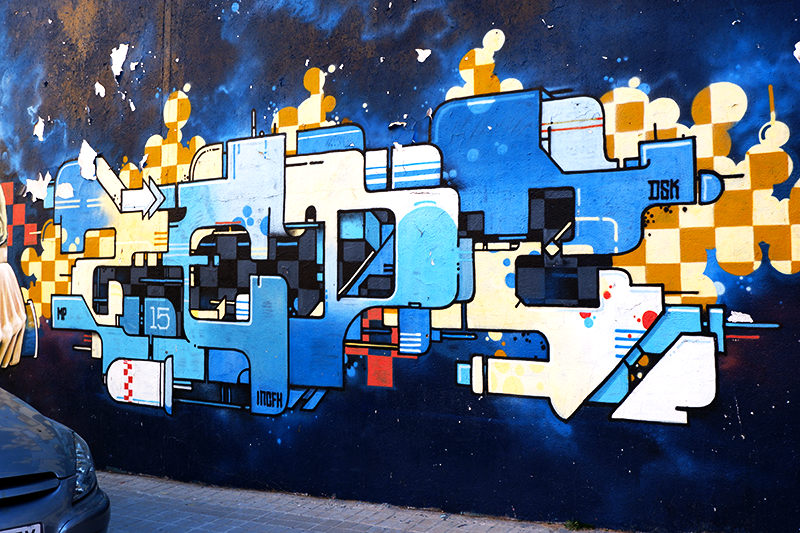 Street Art by Werens Graffiti in Sabadell
Ramon Puig (aka Werens Graffiti) stands as a trailblazer in the realm of Catalan graffiti, leaving his mark across Europe while maintaining a profound connection to his Sabadell origins. With an unwavering dedication spanning three decades and ongoing, he has poured his artistic soul into the walls of his hometown.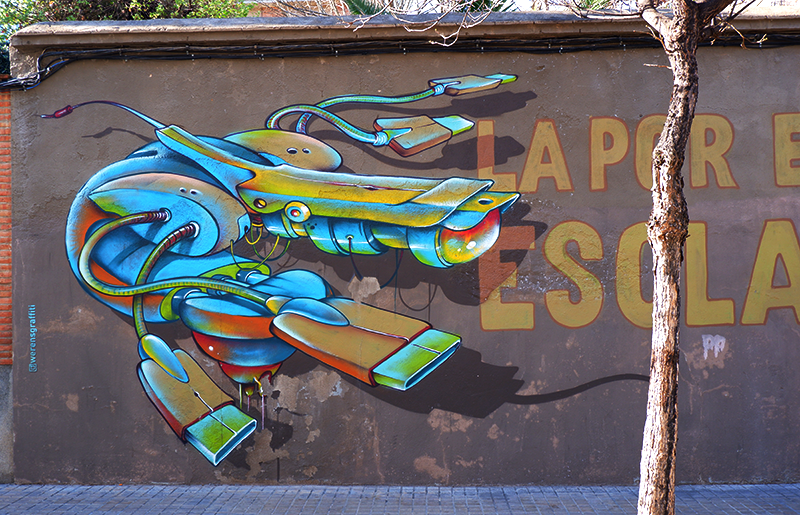 His signature creation, an iconic wasp sporting a drone, USB or spray can cap in lieu of a head, captures attention and imagination alike, infusing Sabadell's streets with vibrancy, spontaneity, and dynamism.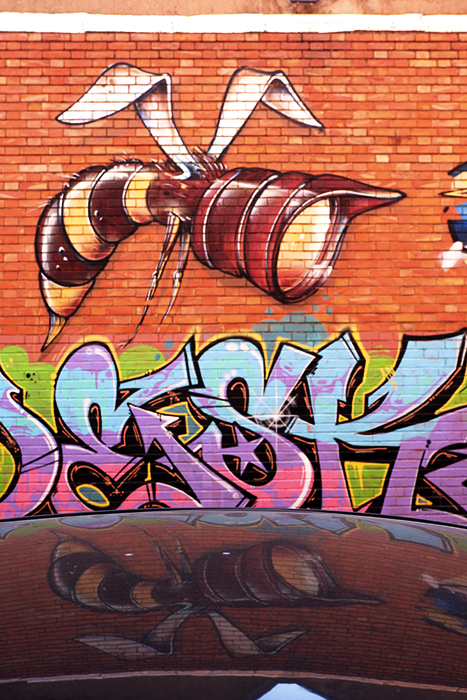 "For me, painting graffiti is the best way to bring art closer to everyone; it's my way of contributing to making the world a more bearable and pleasant place, striving to counteract the effect of those who seem to prefer gray, uniform, sterile, and lifeless cities."

Werens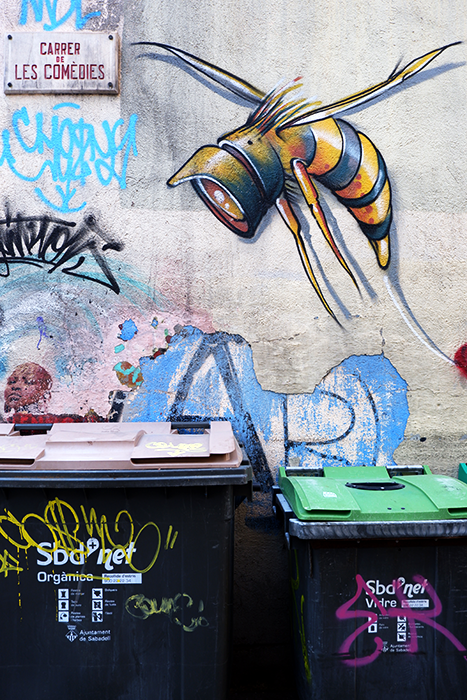 Sabadell Street Art Map