Street art in Barcelona has a storied history deeply intertwined with the global urban art scene, making it a renowned hub for graffiti and urban expression. The city is not only the birthplace of Montana Colors, the iconic spray paint brand designed for graffiti and urban art, but it was also once considered Europe's graffiti and street art capital.
However, around 2006, a significant shift occurred in Barcelona's graffiti culture when the city council implemented stringent measures to combat civil disturbances, resulting in tightened graffiti laws, hefty fines, and widespread whitewashing of colorful areas.
But here's the good news: on my recent visit, I discovered that Barcelona's street art culture is far from extinguished. Vibrant and dynamic, it continues to thrive. From fully tagged doors to painted shutters, throw-ups, and ubiquitous stickers, the city still pulsates with creative expression at every corner.
While murals are harder to come by in the city, they can be found in nearby villages, easily accessible by train. Worry not, as I'll be your guide to uncovering these hidden gems both within the city and beyond in this freshly updated Barcelona street art travel guide.
¡Vamonos!
Barcelona Street Art Travel Guide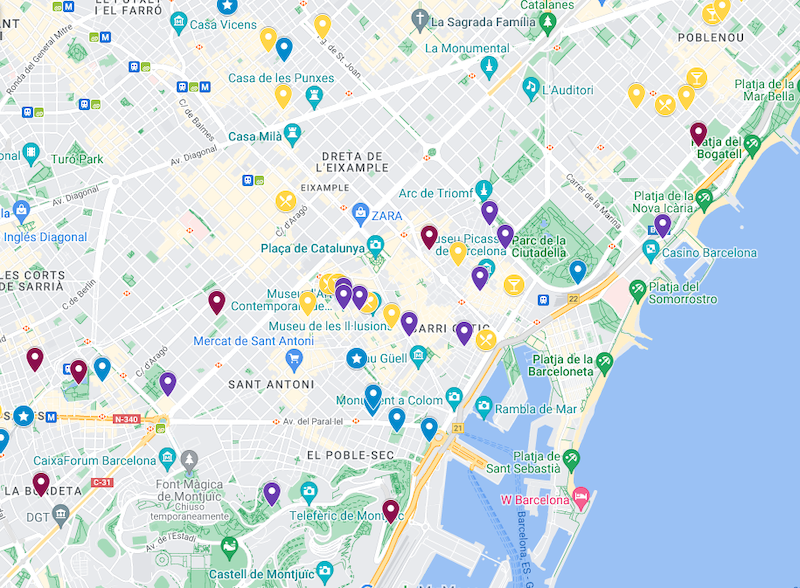 Do you want a personalised travel itinerary based on your interests and passions?
Then check out my concierge service ;)
Best Neighborhoods to find Street Art in Barcelona
Street Art in Barcelona: Poblenou Neighborhood
In the first edition of this Barcelona Street Art Guide, I was fervently singing the praises of the Poblenou neighborhood. ​​However, upon returning this year and wandering around its streets, gentrification has become evident.
Once characterized by abandoned factories covered with graffiti, which fueled my initial enthusiasm back in 2016, Poblenou is now undergoing a metamorphosis into a gentrified area featuring luxury condos, gleaming skyscrapers, and upscale hotels.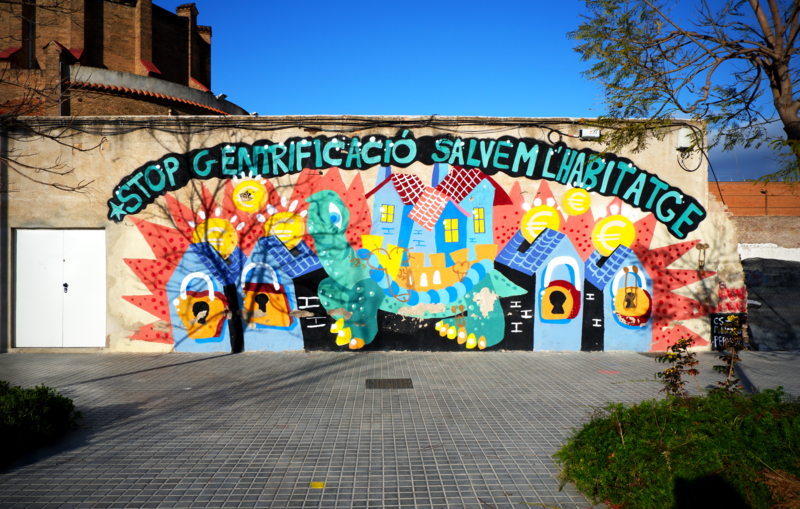 Nevertheless, Poblenou remains an essential destination for anyone seeking street art in Barcelona, and so… ¡Vamonos!
Poblenou was once a bustling industrial hub during the 19th and early 20th centuries, teeming with factories and industrial structures. Yet, as the 20th century drew to a close and many factories shuttered, Poblenou grappled with economic challenges.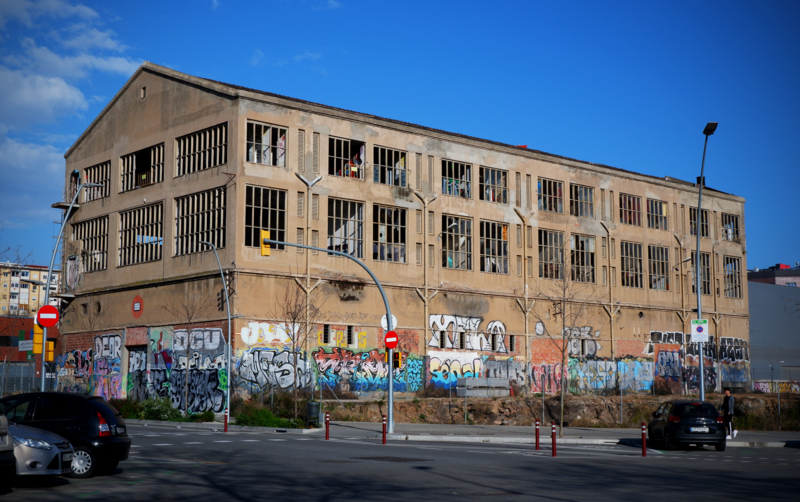 While Poblenou's once abundant alternative charm may have diminished, my recent visit reignited my affection for the neighborhood. What captivated me most during this trip was the discovery of Barcelona's supermanzanas, among which Poblenou's stands out as one of the finest examples. A supermanzana is a grouping of several city blocks that are interconnected to create a larger, pedestrian unit. The primary aim behind these supermanzanas is to alleviate traffic congestion in residential areas while simultaneously expanding public spaces for pedestrians, cyclists, and the proliferation of lush greenery.
Poblenou is also home to the renowned urban haven, La Escocesa, an artist residency and creative space that has been active since the early 2000s, nestled within the walls of a former textile factory. La Escocesa has played a pivotal role in nurturing artistic innovation and collaboration within Poblenou's thriving artistic community.
In 2016, I had the privilege of being invited to visit the space and meet the artists at work (scroll down to view snapshots from that unforgettable tour). However, the new management team at La Escocesa wasn't as welcoming during my recent visit. Nonetheless, I found myself irresistibly drawn to sneak in and appreciate some of the scattered artworks in the courtyard. ;)
In the vicinity of La Escocesa, a treasure trove of old and new murals awaits your discovery. I'm happy to report that Crisa's abstract mural and Jupiterfab's "social street portrait" remain intact and have weathered the test of time quite admirably.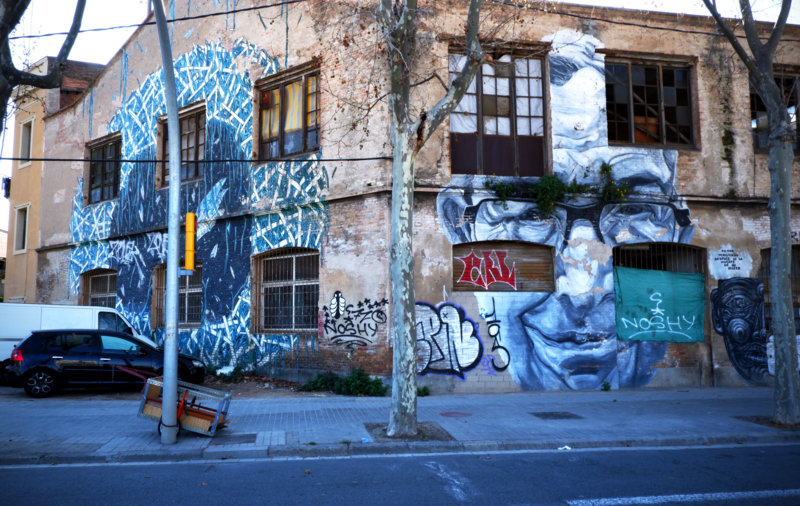 Additionally, you may chance upon a mural crafted by Dutch street artist Ives One, a resident of Barcelona, as well as an entire street taken over by Tim Marsch. Although originally hailing from France, Tim, like Ives One, has long called Barcelona his home.
However, my most cherished discovery in Poblenou was a creation by Pez, perhaps the most renowned street artist from Barcelona, celebrated for his iconic character—a grinning fish. His art radiates positivity and whimsy, harmonizing seamlessly with the perpetual cheerfulness of his signature fish motif.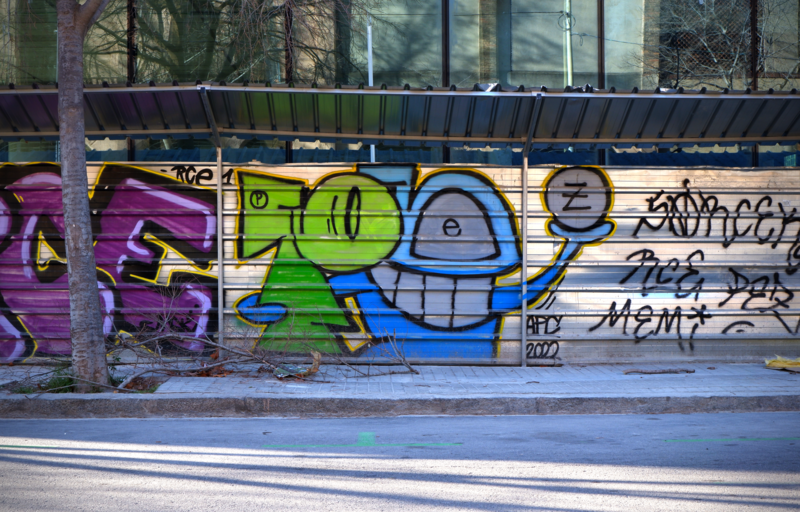 Street Art in Barcelona: Gracia Neighborhood
Gracia's history is intricately interwoven with that of Barcelona itself. Initially established as an independent village known as "Vila de Gracia" in the 17th century, it remained autonomous from Barcelona until the mid-19th century when it was annexed. Gracia's narrow, winding streets and quaint squares harken back to a tranquil, agrarian past when it thrived as a peaceful community on the city's outskirts. However, today, the area bustles with activity, and even the artistic renaissance of the late 19th century has given way to a surge in tourism.
Yet, amidst this urban evolution, Gracia's charming labyrinthine lanes and cozy squares offer an ideal canvas for street art, particularly for stencils, posters, and painted shutters.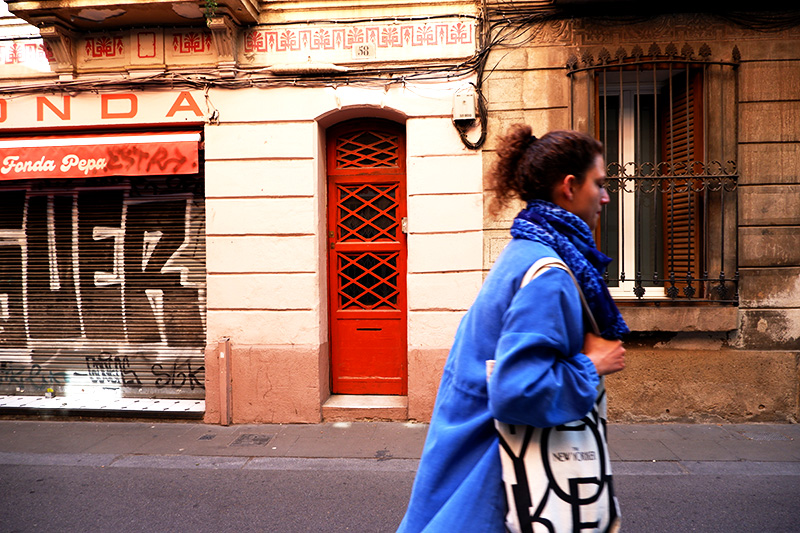 One remarkable shutter I came across in Barcelona's Gracia neighborhood was painted by Nase, a Dutch graffiti artist who now calls Barcelona home and represents the international graffiti crew POP.
Nase's artistic journey began with a background in MultiMedia Design, from which he draws patterns and optical illusions, infusing them into traditional typography and graffiti writing.
Another captivating shutter in the streets of Gracia belongs to Medianeras, an artist duo from Argentina now residing in Barcelona, working at the intersection of mosaics and mural art. During my time spent with them at the Ibug festival in 2018, they shared their unique approach to public art, centered around the concept of "medianeras" – the walls that connect neighbors. Their belief is that public art not only enhances the beauty of cities but also champions the idea of shared spaces among individuals.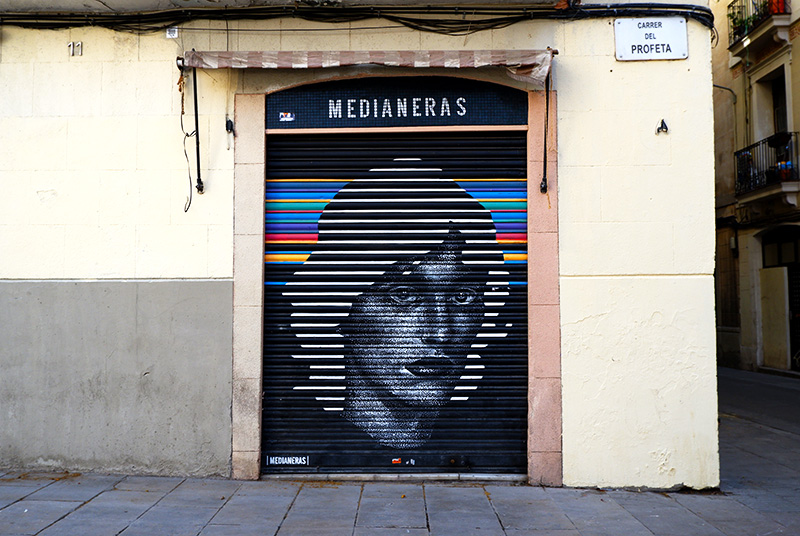 A wall that simply cannot be missed in Gracia is a collaboration among several iconic street artists and graffiti writers from Barcelona. Among them, El Chupet Negre adds his characteristic pacifiers to the composition, while Konair leaves his mark on the streets with his signature icicle.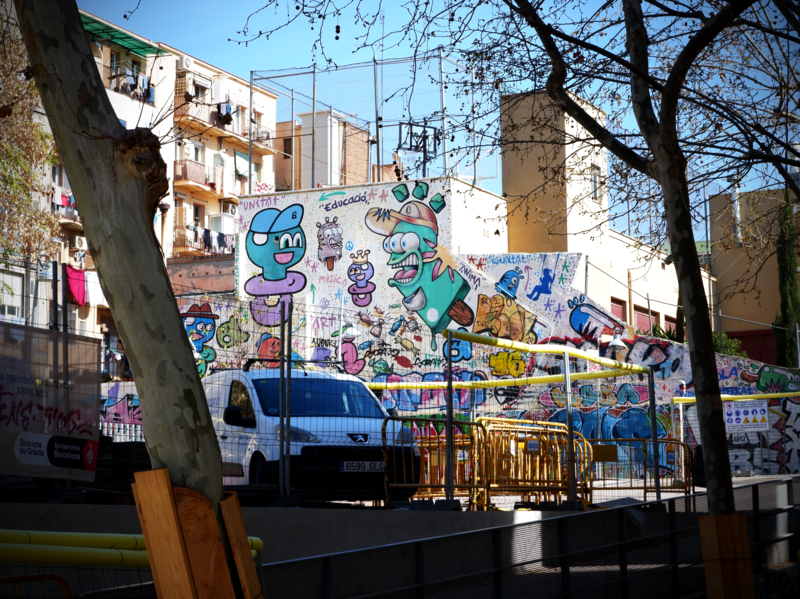 Lastly, in 2022, Italian street artist TVBoy sought to inspire future generations with a mural paying homage to Alexia Putellas. In this artwork, the footballer is depicted as a superheroine, donning a Barcelona Football Club shirt and a superwoman cape. The mural appeared on Father's Day, partly motivated by the artist's own young daughter, who expressed her ambition to become a footballer.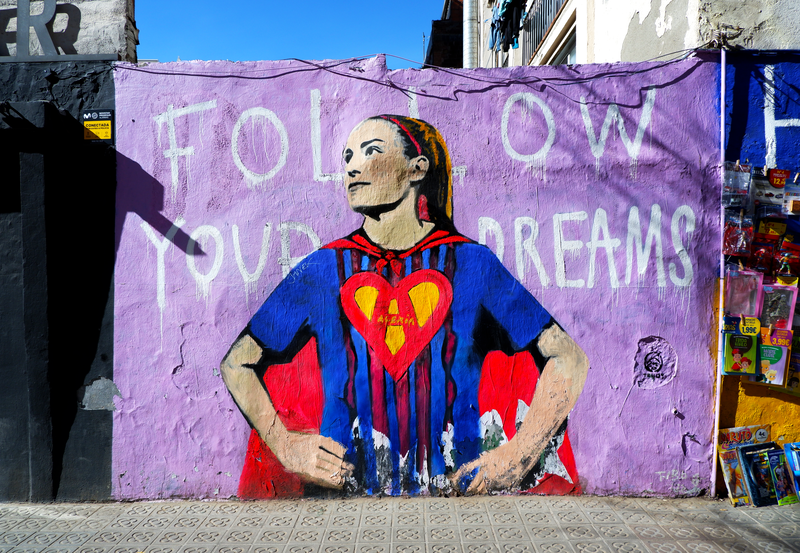 Street Art in Barcelona: El Carmel Neighborhood
Not far from Gracia lies El Carmel, perched on the hills and offering stunning panoramic views of Barcelona. This residential neighborhood boasts a tranquil atmosphere in contrast to the bustling city center. El Carmel thrives on a tight-knit community, with local markets, schools, and cultural centers serving the needs of its residents.
For most people, the famous landmark in El Carmel is the UNESCO-listed Park Güell, designed by the renowned architect Antoni Gaudí. But I'm not most people, and for me the icon of the neighborhood is a stunning mural by Italian street artist BLU: "Els Taurons".
The mural was originally painted in 2009, and then reinterpreted by BLU himself shortly before my latest visit to Barcelona.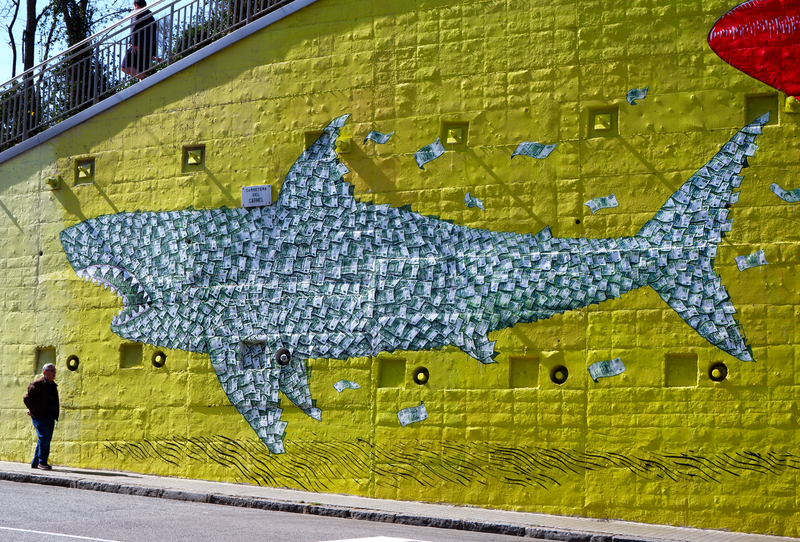 The loss of this mural in 2021 deeply affected the local community, leading to a collaborative project involving over 500 residents. After a year of joint artistic efforts, the "Carmel Mossega" project culminated in the unveiling of BLU's new mural.
BLU's art always carries a strong political and social message. In its original design, the mural featured a shark constructed from 100€ bills consuming the faded acronym 'PSOE,' representing the Spanish Socialist Workers' Party. BLU's shark symbolized Capitalism, telling a story of resistance to the financial crisis in a neighborhood like El Carmel, home to workers and immigrants.
In 2023, BLU revisited the vanished banknote shark's original design, delivering a compelling conclusion to a story/image that began in 2009. Zooming out from the initial capitalist shark image reveals a broader perspective: the euro-made shark becomes prey to other symbolic creatures.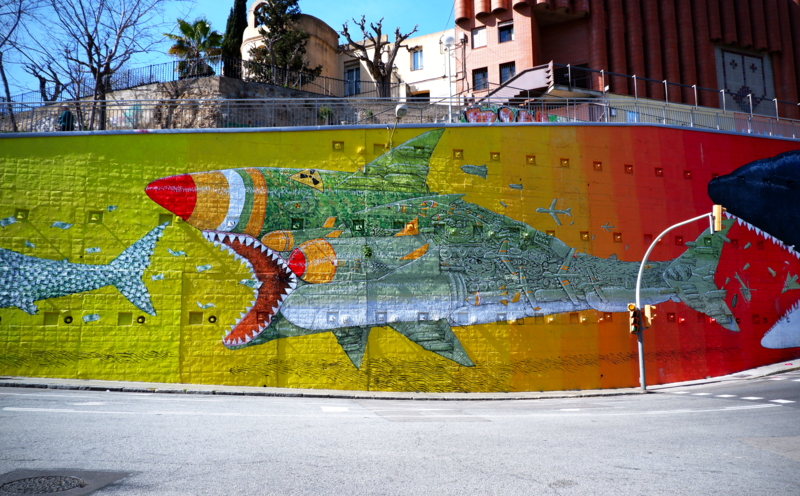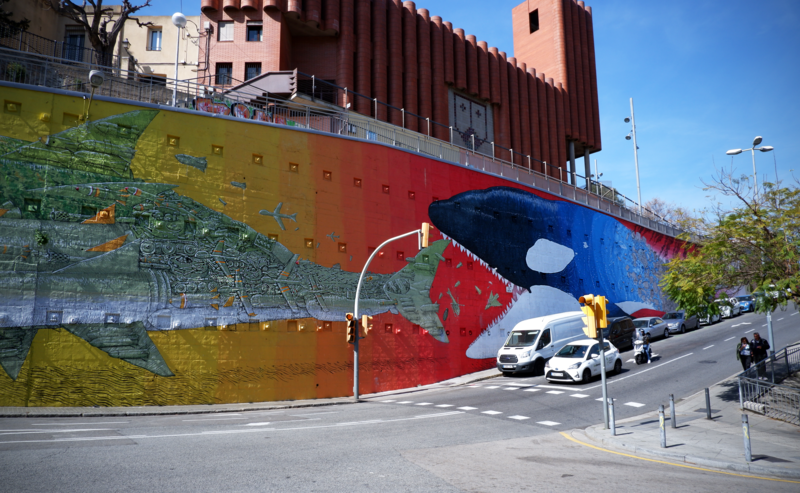 For more street art in El Carmel, explore the surroundings of the Centre Civic Boca Nord, adorned with vibrant works by artists like Cepa Uno, Lily and Sergi Bastida.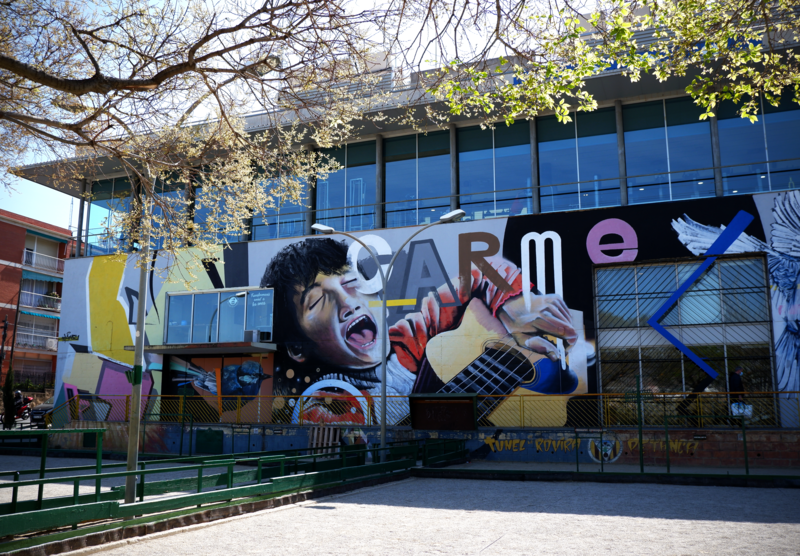 El Carmel's elevated location also grants unparalleled views of Barcelona, particularly from the historic Bunkers del Carmel. These abandoned bunkers, originally built during the Spanish Civil War as defensive installations, are my favorite spot to savor the city's enchanting skyline, especially during sunrise and sunset.
Street Art in Barcelona: El Raval neighborhood
Bordering La Rambla, El Raval is a central neighborhood renowned for its vibrant nightlife and multicultural ambiance. While it has become increasingly touristy, it still offers a treasure trove of street art to discover, especially small-sized stencils, posters, and beautifully painted shutters, some created by globally acclaimed street artists.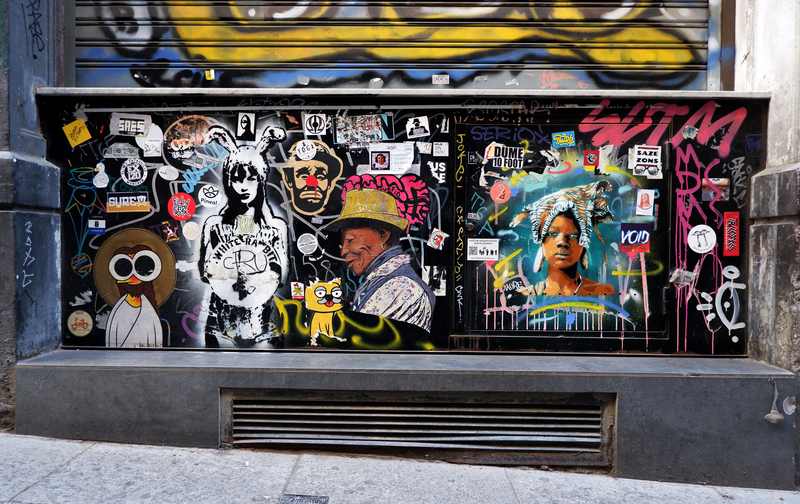 One of the must-see murals in El Raval is by Deih, a renowned street artist hailing from Valencia. Deih's graffiti journey began in the mid-1990s, evolving into mural painting that draws inspiration from a wide range of sources, including Japanese imagery and various science fiction genres like cyberpunk and steampunk.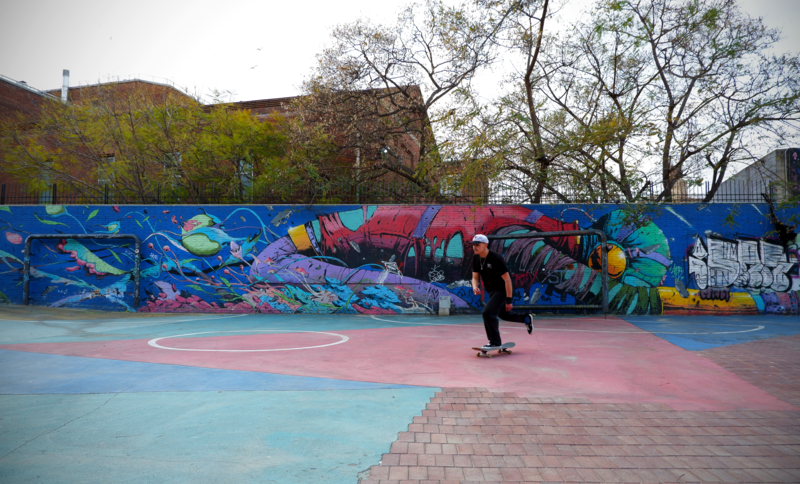 El Raval also boasts the Arnau Gallery's wall, which serves as a canvas for rotating murals by internationally acclaimed urban artists.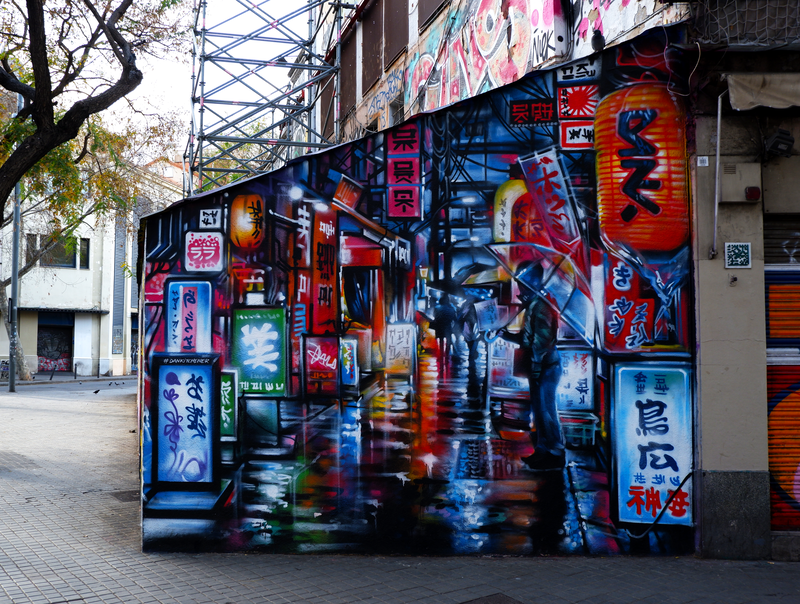 Heading toward the sea from the Arnau Gallery's wall, you'll discover two major graffiti hotspots: the Jardins de les Tres Xemeneies, which also functions as a skatepark, and the Walter Benjamin Gardens.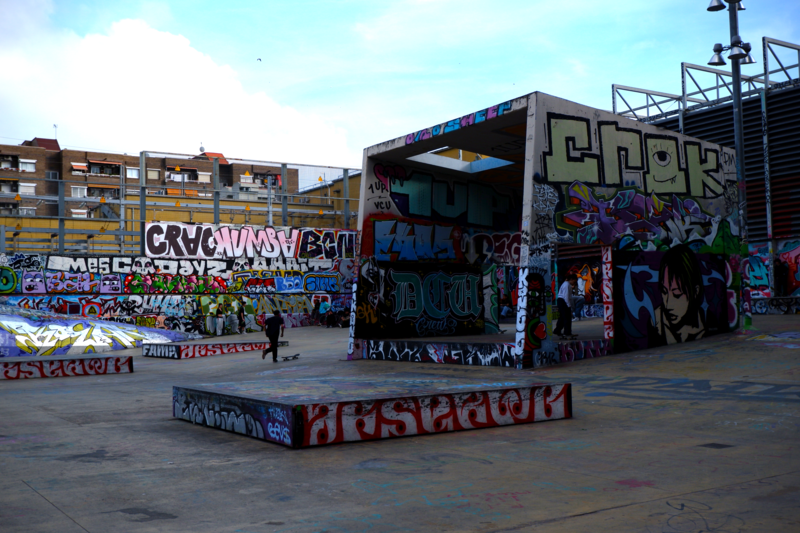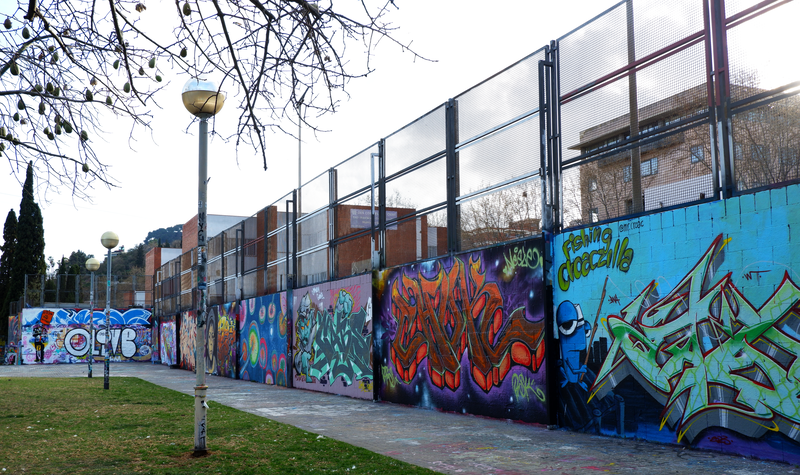 Furthermore, El Raval is home to several cultural institutions and art venues, including the Barcelona Contemporary Culture Center (CCCB) and the Museum of Contemporary Art (MACBA), where you can find Keith Haring's mural in Barcelona.
Painted in 1989 on an abandoned building in the Raval neighborhood, this mural was carefully transferred to a new location while preserving the original paint, thanks to MACBA. It was ultimately recreated on a new wall in February 2014, commemorating the 25th anniversary of its initial creation. Painted in red, symbolizing blood, the mural features Keith Haring's iconic imagery, encompassing themes of children, life, sex, death, and his advocacy against AIDS.
Near MACBA, I encountered several locations hosting artistic interventions as part of the #Visibles project by artist Teo Vázquez, paying homage to homeless individuals. These works are displayed on the walls of buildings where these individuals typically seek shelter and incorporate QR codes that provide insights into their personal stories.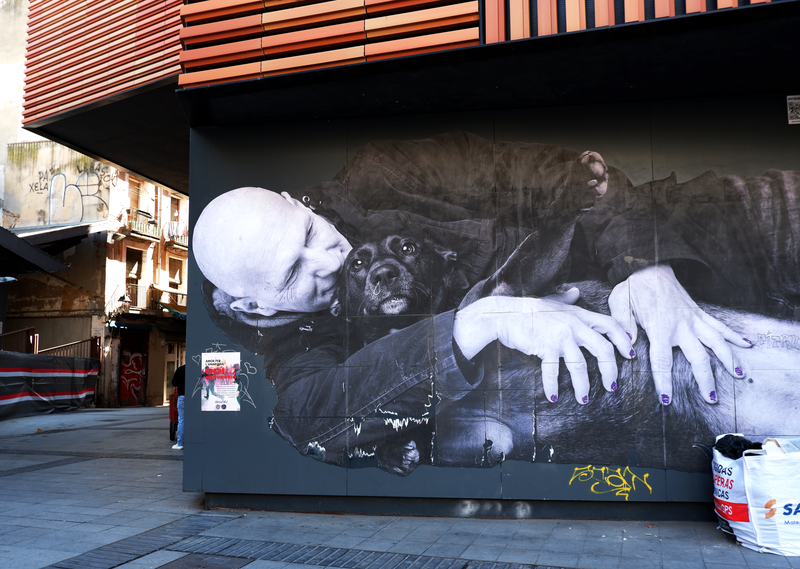 Another significant mural in the area pays homage to Senegalese artist Makha Diop, known as the "Mayor" of Barcelona for his role in supporting the African community's adaptation to the city. Painted by Barcelona's street artist Conse, renowned for his realism, this large-scale tribute captures the essence of Makha Diop's legacy.
Before leaving El Raval, treat yourself to a meal at Flax & Kale, where the interiors have been adorned by Valencia's renowned street art duo Pichiavo, including the restrooms, which are arguably the most aesthetically pleasing restrooms in Barcelona.
If you prefer a drink, consider visiting the alternative bar Nevermind, a renowned gathering spot for graffiti artists and skaters. Here, they are free to express themselves, whether by tagging on the walls or enjoying the mini skatepark within the bar's premises. Amidst a plethora of vibrant tags from writers worldwide, Nevermind proudly showcases a piece by Barcelona's graffiti artist KRAM, who has been active in the scene since 1997.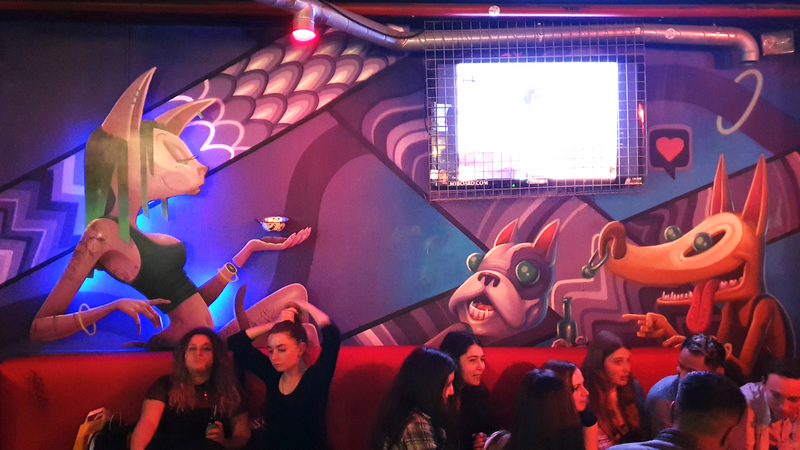 Street Art in Barcelona: L'Hospitalet de Llobregat
While technically situated just outside Barcelona, L'Hospitalet de Llobregat is seamlessly accessible via the city's metro system, which extends throughout the Barcelona metropolitan area. And so, for the purpose of this Barcelona street art travel guide, I include L'Hospitalet de Llobregat as one of the neighborhoods where you can discover some of Barcelona's best murals.
L'Hospitalet de Llobregat boasts a diverse and densely populated community, complete with the social challenges that often accompany such urban density. This vibrant area is home to a rich tapestry of cultures and ethnicities.
The urban art scene here is especially captivating, primarily centered around La Florida – Les Planes, a district where the organization Rebobinart has initiated the remarkable community mural project known as Mural Art in the Blocks Florida.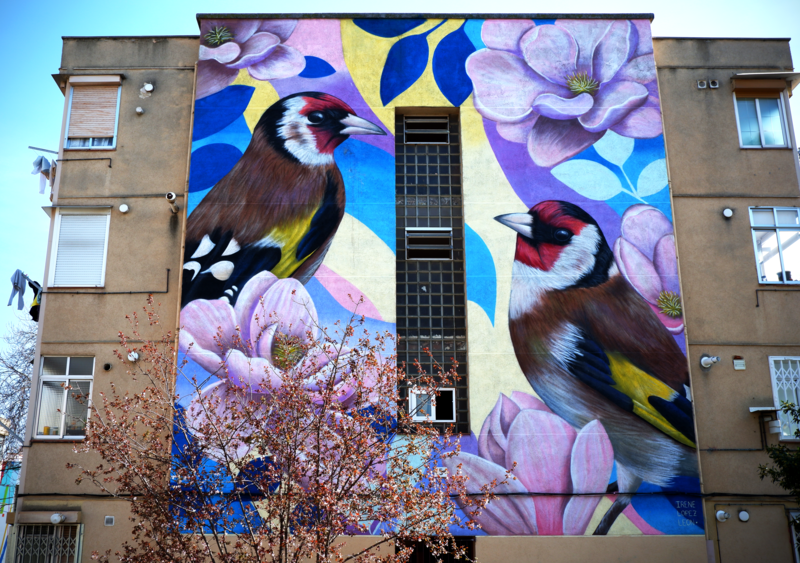 Community mural projects serve as a testament to the power of collaboration and local involvement in creating impactful public art. They seek to beautify public spaces, convey meaningful messages, and reflect the unique identity and values of the community while empowering various social collectives within the city through the medium of mural art.
Therefore, every mural in Barcelona's La Florida – Les Planes emerges from a deeply participatory process involving both the street artist and the local community.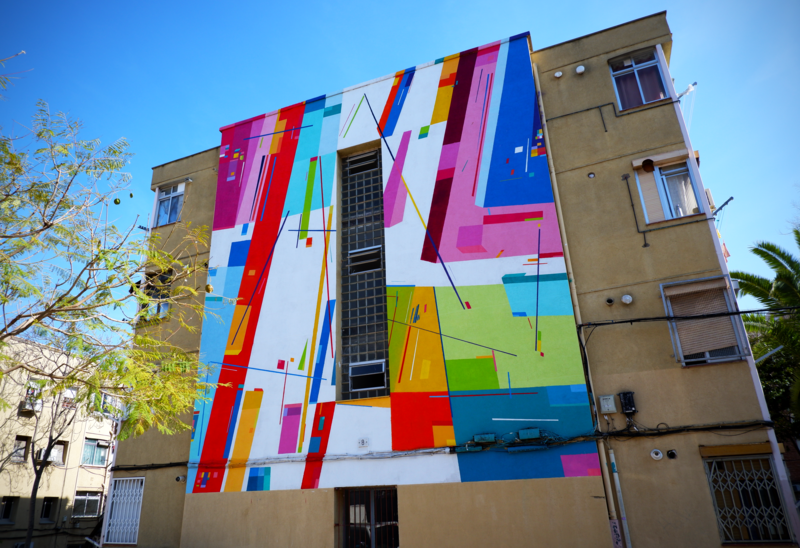 One standout mural in L'Hospitalet was brought to life in 2019 by the exceptionally talented Elisa Capdevila, who beautifully honored the elderly residents of the district. Before ever touching her paintbrush to the wall, Elisa engaged with the elderly community members, brainstorming ideas together to craft a narrative that would infuse coexistence, mutual understanding, and a sense of community into their lives.
With their insights serving as her creative compass, Elisa masterfully depicted two local grandmothers engrossed in a good read, capturing the nuances of human relationships with remarkable sensitivity and her stunning realism.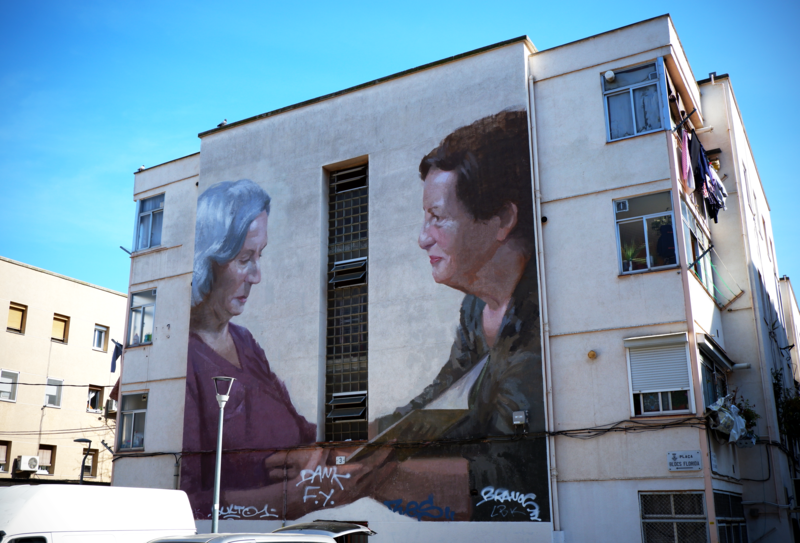 Moving through the neighborhood, you'll encounter several other captivating murals that each tell a unique story. For instance, one mural by Laia Costafreda, painted in 2021, features her signature floral motifs. The concept for this mural emerged from a two-hour workshop with local students, who contributed various proposals.
Lara Costafreda carefully analyzed these ideas and selected three themes: vegetation, abstract shapes, and birds. The mural elegantly blends these elements with Lara's distinct floral style, intertwining concepts tied to the school, such as "play" and "freedom," with those that reflect the La Florida neighborhood's social dynamics, including "social justice."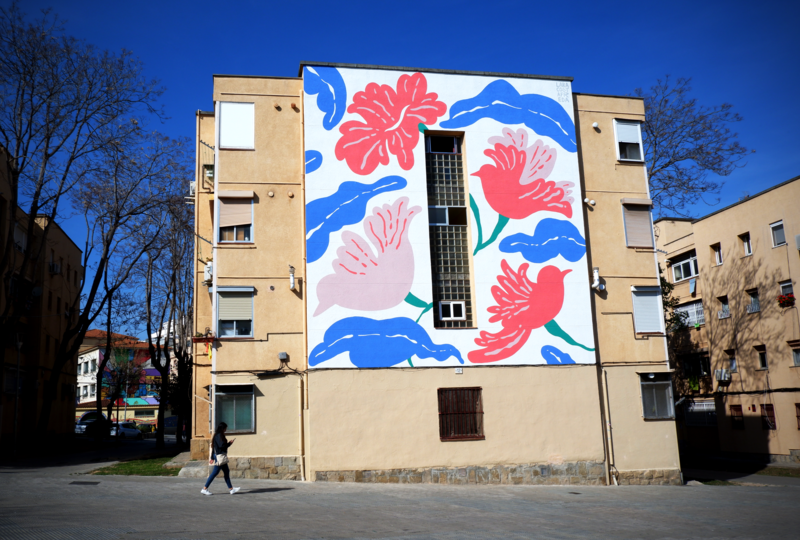 Another compelling mural in the La Florida area is "Freedom, Strength, and Joy" (2018) by Btoy. This concept blossomed from participatory sessions conducted with the Women's Care and Information Center, where participants sought to celebrate the strength and resilience of Florida's women.
The mural's protagonist, dressed as an aviator, exudes unwavering determination—a metaphor for the collective will to drive change, the freedom to be oneself, and the empowerment to shape one's own destiny.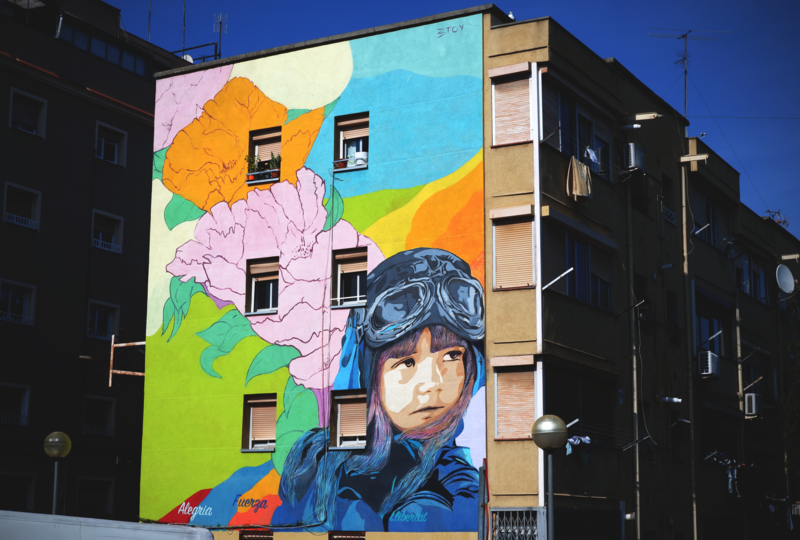 The La Florida area also boasts murals by Erb Mon, Santiago Jaen, Jerico Delayah, and Camil Escruela, each contributing to the neighborhood's vibrant artistic landscape.
Should you be up for another metro ride, you'll have the chance to appreciate one more remarkable mural in L'Hospitalet de Llobregat, a true masterpiece crafted by Slim Safont. Completed in 2019, this mural not only showcases Slim's early artistic style but also serves as a heartfelt tribute to the industrial legacy of the area. It commemorates the textile factories and the immeasurable contributions of numerous unsung heroines who played a pivotal role in shaping the identity of a neighborhood currently transitioning from its industrial past to a yet-to-be-defined future.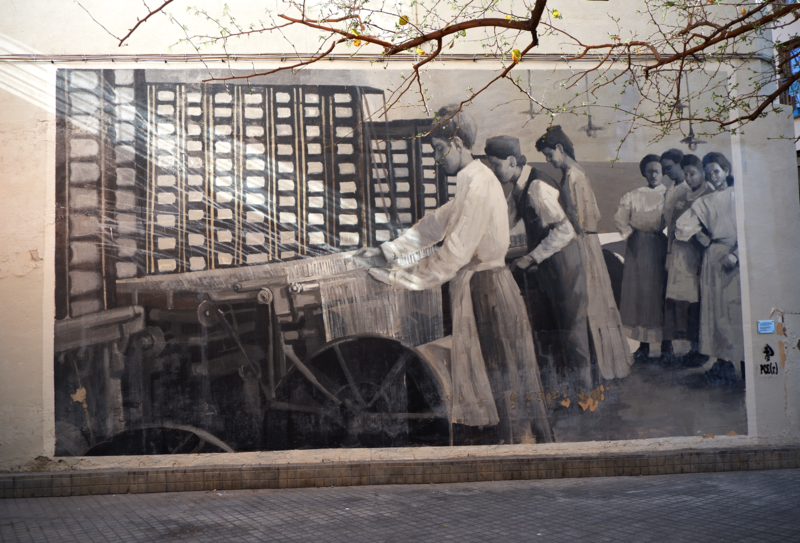 Download my Barcelona Street Art Map, which I've now updated with many new murals and urban spots!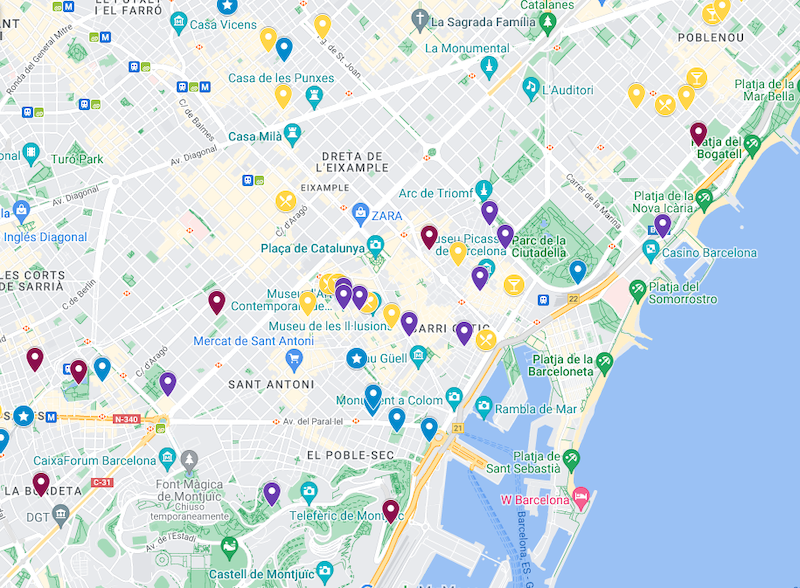 Barcelona Street Art Travel Guide: nearby towns easily accessible by train
I believe that the finest street art in Barcelona isn't confined within the city limits. Instead, it thrives in what is known as the Greater Barcelona Metropolitan Area.
Hop on a train and ¡Vamonos!
Street Art in Granollers
The prime destination for discovering street art in Granollers is the Roca Umbert Art Center. Originally a 19th-century textile factory, this industrial space has undergone a transformation into a cultural center, fostering arts and culture in Granollers. Here you can find many murals by internationally renown street artists, check out my Granollers Street Art Guide for more!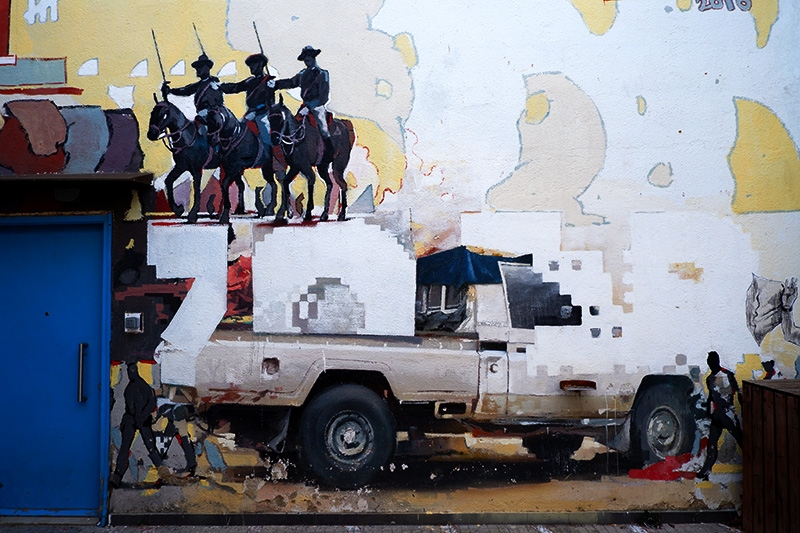 More murals can be found around the streets of Granollers. My favorite is this stunning piece by Velvet and Zoer, but there are many more urban arworks awaiting for you in Granollers, and a special mention goes to the Hall of Fame along the river: truly unmissable!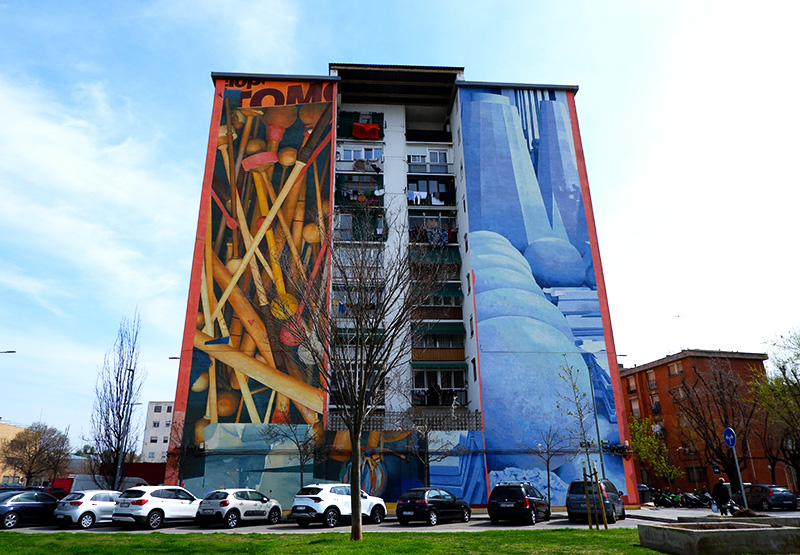 Click on the button below to discover all the amazing street art in Granollers!
Street Art in Cardedeu
Known for its breathtaking landscapes and the extensive hiking trails found in the nearby Montseny Natural Park, Cardedeu is the hometown of celebrated street artists like Aryz and Cinta Vidal, among others.
In Cardedeu, I encountered an array of urban artworks by Aryz, ranging from a monumental mural painted in 2017 to quick pieces adorning construction panels throughout the town, and visited Cinta Vidal's studio. Click on the button below to find out more about street art in Cardedeu.
Street Art in Sabadell
Sabadell is one of the least touristy places in Catalonia. Situated approximately 20 kilometers (12 miles) north of Barcelona, Sabadell is accessible by train in less than an hour, and so there are no excuses for not exploring the artistic legacy of graffiti artist Treze in this vibrant city.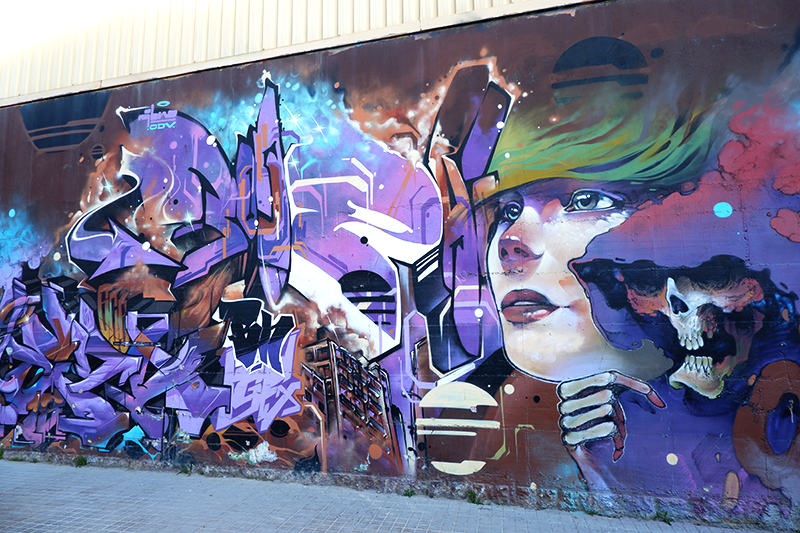 Active from 1986 to 2018, Guillem Vivas Pérez, aka Treze, was a renowned graffiti artist hailing from Spain, celebrated for his remarkable portrayal of female faces and animals. What set Treze apart were his signature soft-colored palettes and delicate outlines, which he skillfully employed to master a watercolor wash technique while tastefully incorporating bold fatcap effects.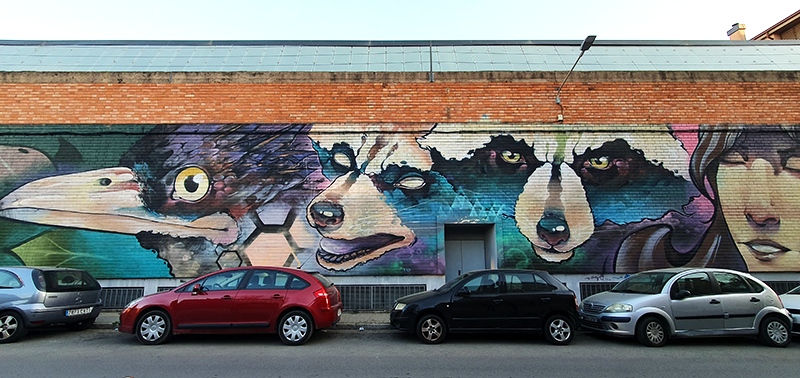 Although Treze might no longer be with us, in his hometown of Sabadell numerous murals bearing his distinctive style continue to grace the streets, alongside pieces by other graffiti writers and international guests.
Have a look at my article about street art in Sabadell to find out more about this little town, and get the free google map to start exploring Treze's graffiti legacy in Sabadell.
Best Murals in Barcellona:
Borondo's mural in Carrer Pallars 297
[Update 2023: This mural doesn't exist anymore]
Invited by OpenWall Conference 2015, Borondo realized this stunning, expressionistic mural in the Poblenou district depicting a castell (human tower), which is something very traditional during Catalonian festivals. Castellers from Barcelona wear a red shirt, together with the traditional white trousers and black sash. The mural is titled "Fer Lenya", a term used when a castell falls. Here Borondo's spontaneous, expressive brushstrokes and colours shape the forms of his characters, the dripping paint finishes the magic. And even if the castell is about to fall, the tone is contemplative, as in many other works by Borondo.
Jorge Rodriguez-Gerada's mural in Carrer de la Selva de Mar 215
Born in Cuba, Jorge grew up in USA and then moved to Barcelona 10 years ago, falling in love with the city immediately. He approached street art when he was in college, starting with some works on New York City's billboards that aimed at changing the semiotics of the city, until he began drawing on walls rather than on paper and creating his signature hyper-realistic portrait murals that look like large-scale pictures. Realized during the OpenWall conference 2015, this mural is a composite portrait that combines the facial traits of ten different women from the neighbourhood: a 29-meter high tribute to the local community foreseeing a future where differences will melt and we will be united, as a planet.
Ethos' mural in Av. Mare de Déu de Monserrat 13
[Update 2023: This mural doesn't exist anymore]
Yet another mural realized during the OpenWall Conference 2015, this mesmerizing work by the Brazilian artist Claudio Ethos refers, like the rest of his artistic production, to both comics and surrealist art. Using a minimal colour palette, Ethos depicts emotional states such as struggle and urban anxiety through his flexible and surreal characters, who are always a bit misshapen and kind of stretched: the twisted protagonists of a dismantled reality.
Agostino Iacurci's works at Urban Outfitters (Plaza de Catalunya)
The Italian artist, Agostino Iacurci, painted a couple of hoardings for the opening of the shop, Urban Outfitters, in downtown Barcelona. Both works depict his iconic, vivid-coloured men hiding behind plants, symbolizing the equilibrium between man and nature, which is actually an apparent quiet that is about to end.
Find these murals (and many more!) in my Barcelona Street Art Map!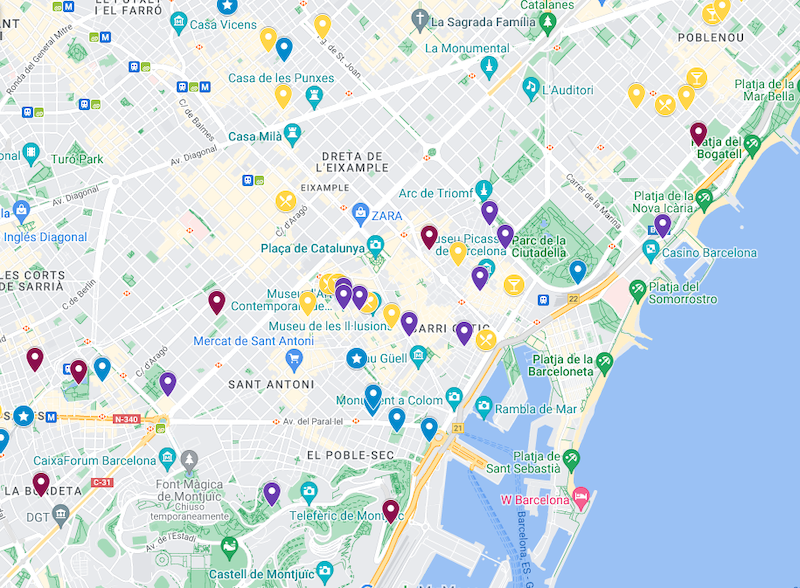 Do you want a personalised travel itinerary based on your interests and passions?
Then check out my concierge service ;)
Barcelona Street Art Travel Guide: Urban Hotspots
Nau Bostik, La Sagrera
Nau Bostik is a cultural and artistic center located in the neighborhood of La Sagrera in Barcelona. It's a unique space that hosts a wide range of cultural events, including art exhibitions, live performances, workshops, and more. Nau Bostik is known for its commitment to supporting local artists and promoting community engagement through the arts.
Nau Bostik started as a cultural and artistic project in 2013 when a group of artists and activists took over a disused industrial complex in the La Sagrera neighborhood of Barcelona. They transformed the abandoned factory into a dynamic cultural space, which eventually became a significant hub for cultural activities in Barcelona and has played a role in the city's vibrant artistic scene.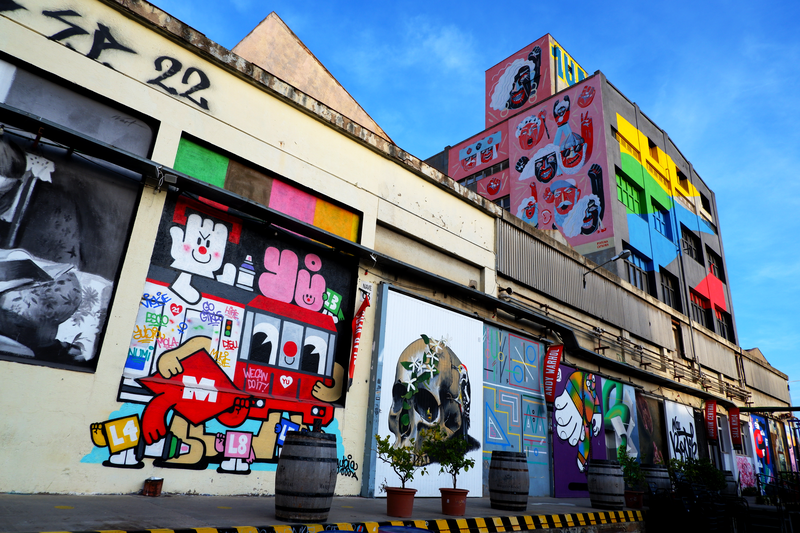 A captivating array of large-scale and smaller urban artworks by celebrated street artists adorn the walls of the former factory. Amidst this open-air gallery, Nau Bostik also houses B-Murals, an organization passionately committed to fostering urban art and street culture. Their diverse activities encompass exhibitions, workshops, artist residencies, and the execution of urban art projects and murals all around the city.
La Escocesa, Poblenou
Photos from my visit back in 2016:
At the heart of the very hipster neighbourhood of Poblenou, inside a factory that produced chemical products for the textile industry, nowadays there is a cultural centre of 21 ateliers for local and international visual artists, who are selected through a contest and "replaced" every couple of years. La Escocesa is usually closed to the public, except during exhibitions or during the Festival de Murales, a street art festival involving ten street artists a year. Together with my fellow travel blogger, Duncan Rhodes, I went inside the former factory to check out the murals from the latest street art festival;
Here are my favourite ones:
Axel Void's mural at La Escocesa
[Update 2023: This mural doesn't exist anymore]
Well, you already know how much I love him! Here the Spanish-American artist painted a work that is very different from his usual style inspired by classical paintings. While his portraits are usually so realistic as to look like photos, this time a man's countenance is wrapped into a cloud of decadence that blurs the details of his head.
JAZ's mural at La Escocesa
[Update 2023: This mural doesn't exist anymore]
Titled "FRANCO arrives to Barcelona", this huge mural is about the independence movement in Catalonia. Once again the Argentinian artist is suggesting a reflection on modern society and its social and historical themes, and he does so through a play on words (the artist's real name is Franco Fasoli) that refers to his arrival in Barcelona at the exact same time as Catalonia gaining independence, which was voted through on the day the mural was unveiled.
Pastel's mural at La Escocesa
[Update 2023: This mural doesn't exist anymore]
Yet another Argentinian street artist made his mark inside La Escocesa former factory. On the wall at the bottom of the chimney in the middle of the yard, Pastel painted a circle made up of naturalistic components, like plants, which are typical of the area and whose colours are taken from the palette of the surroundings. Through his traditionally figurative imaginary inspired by the local flora, once again the artist is using symbolism to explore and share stories about the spaces where he paints and the local identities inhabiting it. This is what I like the most about Pastel's art: it's never a work sketched somewhere else and imposed on the wall, but rather it develops from the wall itself and its surroundings as the result of a two-way relationship.
Skount's mural at La Escocesa:
[Update 2023: This mural is partially painted over]
With this mural, which is titled "Trash in head", the Spanish artist focuses again on political and social issues. In this mural his iconic characters, who aim at representing our inner worlds, are hiding their faces inside black garbage bags, which are labelled with a word representing a threat of the modern age -racism, tv, authority, dominion- impeding their movements and vision. A few more pictures from my street art hunt at La Escocesa former factory:
Graffiti in Barcelona: Hall of Fame & Skateparks
Graffiti at Jardins de les Tres Xemeneies
Some photo from 2016:
Barcelona Street Art Map
Find these murals (and many more!) in my Barcelona Street Art Map, along with more off-the-beaten-path spots to see in Barcelona and my favorite places to eat and drink in the city.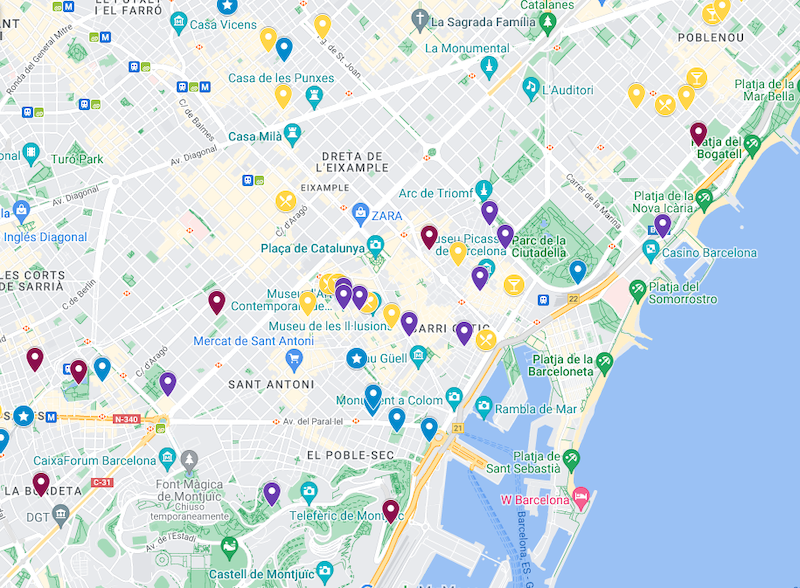 SalvaSalvaSalvaSalva