The proximity to some of the most famous beaches in the world may have made Cagliari famous, but the capital town of Sardinia offers so much more than unspoiled coastlines and postcard-pretty landscapes.
It's an authentic city, worth a visit all year round.
When I asked the locals what the thing they loved most about Cagliari was, the answer was always the same: their quality of life. In Cagliari, the rich cultural offerings of a lively student city are combined with the easy lifestyle of a village. Cagliari is blessed by the sea, a mild climate all year round, and exceptional Sardinian cuisine.
Cagliari is a beautiful city made of limestone buildings and art nouveau palaces, although there is no lack of a busy street art and graffiti scene.
Did you know that some of the most internationally renowned Italian street artists are from Sardinia?
Where to find street art in Cagliari
Street Art Inside a Former Military Airport > Panda Monserrato
Inside the former military airport in the outskirts of Cagliari, my fellow art blogger Barbara Picci and her partner in crime, Matteo Ambu, are curating a muralist project, called Panda Monserrato, which is aimed at revamping the former hangar in order to make the area more suitable for local kids and youngsters, especially for those who love playing basketball (since the place is now a sporting club with a basketball school).
Panda Monserrato is still a work in progress: many walls are yet to be assigned and some artists have yet to return to finish their piece. It was there where I found murals by the well-known Sardinian street artist Crisa and other local artists that I've just discovered during my time in Cagliari, such as Skan, Enea, Marco Pautasso, Fema, Luca Allegrini, Freom, Kofa, Daniele Grg, and Barbara Picci helself (a.k.a. Brabs).
Crisa's artwork at Panda Monserrato is striking. It's quite different from his usual production, and I love the palette of colors that he implemented here, which perfectly matches the rusty surface of the former hangar.
[Edit 2022: fun to see how, back then, this style looked "unusual" to me, while I can see now, in 2022, that this was the first step towards the direction that Crisa has taken since. To see this evolution in pictures, check the paragraph about street artist Crisa below]
Also Skan created a beautiful mural on the forgotten walls of the Panda Monserrato, where he painted one of his most surreal, iconic images of countenances that intersect, overlap, and merge in a dreamy scenario.
Barbara Picci and Matteo Ambu invited not only street artists but also local contemporary artists, such as Marco Pautasso (who painted a face in bright, neon colors), to paint on the walls of the former military airport in Cagliari.
Street Art at Cagliari's Galleria del Sale
Curated by Urban Center Cagliari, Galleria del Sale is an urban open-air art gallery on a cycling path that runs along a canal. Started in 2014, the project hosted both Italian and international street artists, who were invited to paint along with the theme of the relationship between men and nature, since the cycle path ended at the entrance of the Molentargius Natural Park (more on this beautiful park below).
My favorite murals at Galleria del Sale are the ones by Zed1 and the three well-known Sardinian artists Skan, Andrea Casciu, and Freak, who painted a flamingo (the symbolic animal of the city) wearing a gas mask.
Graffiti and Street Art in the City Centre of Cagliari
Through the Facebook Group "Street Art Cagliari" I got in touch with several graffiti and street art lovers, who all advised me on where to find street art in Cagliari. One popular spot that everybody mentioned was the staircase leading to Terrapieno, where you can find an amazing piece by Skan, among many others murals.
Cagliari's Hall of Fame > Via San Saturnino
Nearby was the Via San Saturnino, which is Cagliari's "Hall of Fame." Not only is it packed with graffiti new and old, but it's also the entrance to what I figured to be the most picturesque area of all Cagliari: the Villanova neighborhood.
[Update 2022] Four years later, these are the graffiti and street art pieces I spotted walking along Via San Saturnino: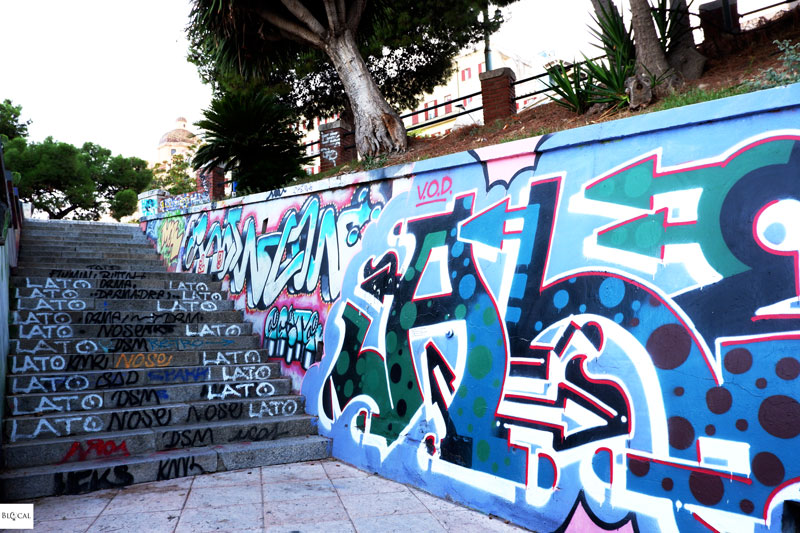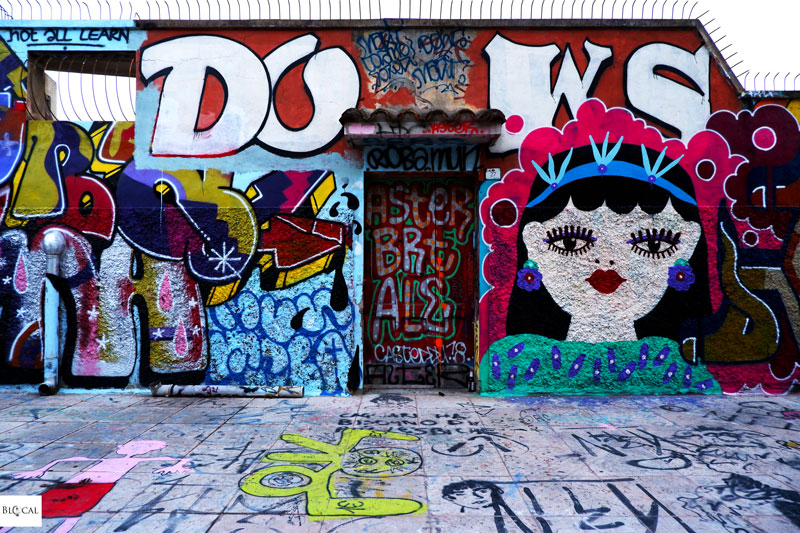 Street Art at Exmé in Pirri
The ExMé is a former market in Pirri, a low-income area of Cagliari. Pirri's buildings are mostly social housing, therefore consisting of tall grey blocks.
Shut down and therefore abandoned in the 1990s, the former food market of the area had been neglected for 15 years, during which it became a place for selling drugs. Eventually, the onlus Domus de Luna took it over and transformed it into a youth center promoting music, art, and sport among young people (as an alternative to crime).
Domus de Luna realised many more social projects around Cagliari using street art as a powerful tool, some of which are in this same area. Just opposite to the former market, there is Casa Futuro, where young people with disabilities learn to become self-sufficient.
A few meters further on the same road, there is a school (scuola Dante Alighieri) that has been renovated by a team of local street artists (Manu Invisible, Ciredz, Patta, and many more) with the aim of promoting a context that stimulates personal growth and interpersonal closeness.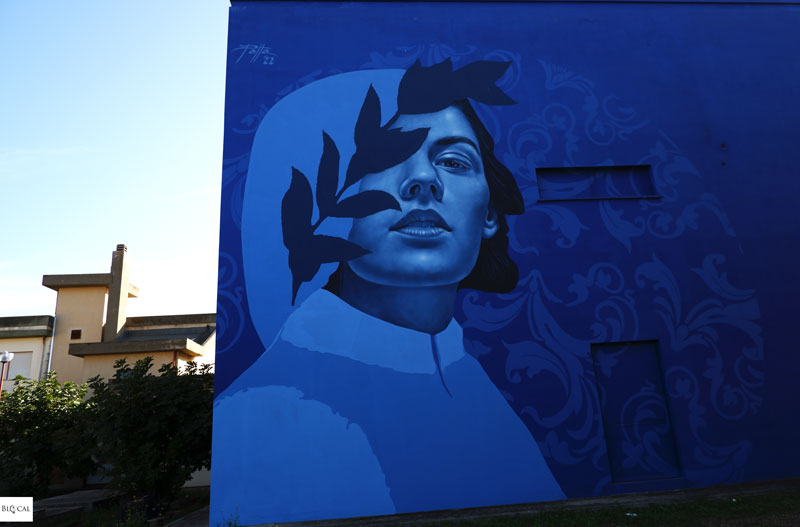 More Street Art in Cagliari's Pirri neighbourhood
Painted by Crisa on a quite neglected building, my favorite mural in Pirri is about war and the scars that it leaves, both literally and metaphorically.
Another beautiful mural in Pirri is the one by the Belgian Dzia, which depicts a couple of pink flamingos. The piece is inspired by the two balconies of the facade, which suggested to the street artist the idea that the two people standing on them will communicate easily. So the flamingos start from the two corners of the facade and eventually reunite at the top.
I also liked the collaborative piece by Manu Invisible and Frode, a long black wall that served as a blackboard, on which Manu Invisible painted colorful beams of floating light to symbolize the renaissance of the neighborhood, while Frode painted an equally colourful parrot.
Another collaborative piece that stands out in the Pirri neighborhood is the one by Davide Medda and Kofa, which is characterized by colors and patterns recalling Sardinian arts and crafts, especially the baskets. In the middle of the mural is a young girl looking at the future. I like the assumption that the future should root into traditions in order to lead to a true renaissance.
Street Art in Sant'Elia, home of the first ever Cagliari Urbanfest
As a media partner of the urban art festival Cagliari Urbanfest in October 2022, I came back to Sardinia to document the first edition of the festival taking place in Sant'Elia, a neglected neighborhood directly on the sea.
More Street Art in Cagliari
Coming from Cagliari's underground scene of the early 2000s, La Fille Bertha is now a talented muralist painting worldwide. She studied psychology but chose to work as an artist and illustrator in Cagliari and abroad.
Her iconic female faces are surreal in colours and shapes, often characterized by animal-like appearances. Painted in a soothing palette of pastel colours and irregular patterns, her fairytale-ish creatures are women-animal hybrids coming out from her subconscious.
On my last evening in Cagliari, I stopped at La Fille Bertha's studio (Studio Boreale), which is also a tattoo parlour, a spray can dealer, and an art shop where you can find La Fille Bertha's limited edition prints. We had a lovely chat over a beer, so expect more about this great female street artist on the blog soon!
Street Art by Crisa in Cagliari
Federico Carta (aka Crisa) is a pioneer of Cagliari's street art scene. He began writing graffiti in 1996 (at the age of 12) and soon embraced street art with a particular love for crumbling walls of abandoned buildings.
Natural shapes inspire Crisa's street art; his early pieces grew organically like a plant, sometimes embedding elements that recall the human presence in the natural world.
Crisa's street art is, still today, about the relationship between men and nature.
One of Crisa's giant murals in Cagliari is on the food market in Via Quirra. It's a gift from the street artist to his city, painted to support an anti-AIDS campaign.
Murals by Tellas in Cagliari
My favorite mural in Cagliari is an old piece by Tellas in Sant'Avendrace (Via Tevere 26). Titled "Under the City," this stunning mural was painted in 2015. Here, the Sardinian artist depicted a seascape inspired by the Santa Gilla ponds. It represents the hidden potential of the inhabitants of Sant'Avendrace, a remote area that is slowly turning into a lively neighborhood.
I found a second wall by Tellas in Monserrato, an area in the outskirts of Cagliari that is well known for the production of wine. He painted it in the color of red wine, and in between Tellas' iconic figures we can see a wine leaf.
Murals by Manu Invisible in Cagliari
In Monserrato there is also a mural by the Sardinian artist Manu Invisible on a veterinary clinic. Manu Invisible is known for using a special paint that mixes colors with a fine quartz powder, making his artwork sparkle.
By Manu Invisible are also two more murals that I spotted in Cagliari, both on public schools and both honoring the Italian artists to whom the two schools are named after. The first one is a portrait of the writer Ugo Foscolo, while the second is an homage to Michelangelo Buonarroti.
Jana's public intervention in Is Mirrionis neighborhood
Not long ago, the contemporary artist Daniela Frongia (a.k.a. Jana's) created a work on a powerhouse in Via Barbagia. It's an interesting piece of art made of ropes that form curious abstract shapes on a black background. Since the beginning of her artistic career, which has evolved into something diverse and multi-faceted, Daniela Frongia has often used ropes and fabrics. Textiles play a central role in her art and in her life, too: she grows both flax and cotton plants and she knows how to weave Sardinian wool.
Visit Cagliari off the beaten path > The Monumental Cemetery of Bonaria
The Monumental Cemetery of Bonaria opened in 1829 in an area that was once used as a necropolis by the Punics, Romans, and early Christians.
Bonaria Cemetery's chapels and tombstones were built by the most important artists working in Cagliari between the 19th and the 20th centuries, a time when families flaunted their richness by building precious memorials.
The cemetery expanded on a hill: the more you climbed your way along the lines of cypress trees -but now there are also more Sardinian palms and hibiscuses- the better view you'd get.
The renowned historical and artistic heritage of the Bonaria Cemetery comprises of statues, busts, pyramids, funerary urns, and mausoleums that are in styles ranging from neoclassical to baroque and art nouveau. They are made mostly of marble, which I found to be a funny juxtaposition considering the exposed limestone on the hill.
Visit Cagliari off the beaten path > The Park of Molentargius
The Park of Molentargius is well known for being home to hundreds of pink flamingos: there are so many that became the symbol of the city. Even the way they are called in Sardinian language, ("sa genti arrubia," which can be translated as "population of red people") stresses the fact that they constitute a large group (and it is the funniest name I've ever heard of. I couldn't stop stuffing random sentences with it, just like when children learn a new word).
The area was once a place for the extraction of salt from the sea, an activity that stopped in 1985. It became a natural park in 1999, and it was named after the donkeys, "su molenti", that carried the salt from the basins. Nowadays, the regional natural park of Molentargius is a well-known place for many migratory bird species, among which are my beloved pink flamingos.
The 15 best Cagliari restaurants, bars and places to go out
Food Market in Cagliari > San Benedetto
San Benedetto is the main food markets in Cagliari and, apparently, the largest one in Italy. It didn't seem so big to me, but with its 8,000 sq. ft. on two levels it claims to be the largest indoor food market in Europe.
However, I would say that the San Benedetto food market in Cagliari is the cleanest and prettiest food market I've ever seen. Wandering around its pyramids of fresh fruit and vegetables, I couldn't help noticing how beautifully the food had been arranged.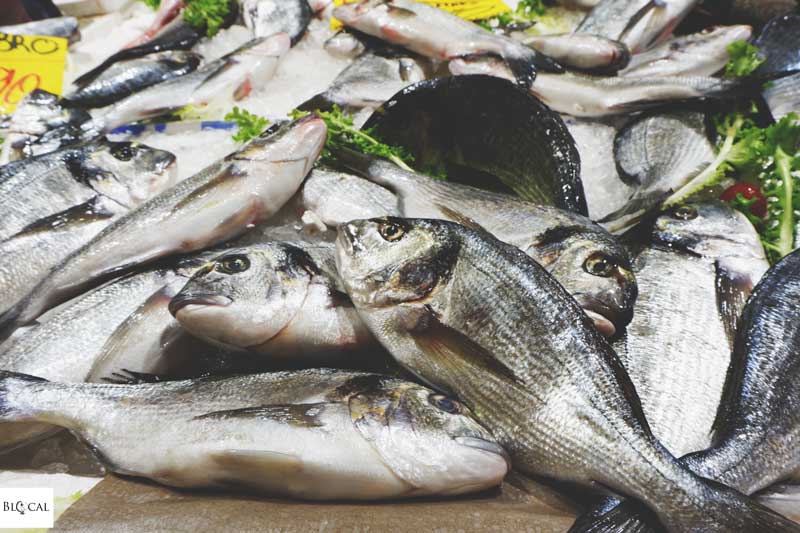 The lower level is completely devoted to fish. You can also find a few stalls serving fried fish, but they didn't look too convincing to me… so I opted for buying the fish and cooking it at home, together with a local sea weed, called "salicornia," that I tried for the very first time (discovering that it's super tasty!).
A Restaurant with a Social Purpose > Locanda dei Buoni e dei Cattivi [update 2022]
From the same onlus that builds community homes and shelters where street art is used as a powerful social tool (i.e. the above mentioned Exmè project), there is this excellent restaurant pursuing work inclusion for the former guests of the community homes. However, the Locanda dei Buoni e dei Cattivi is a "good" restaurant for more than one reason: it also won several awards (including the prestigious Michelin award) for its genuine cuisine made of fresh, local products.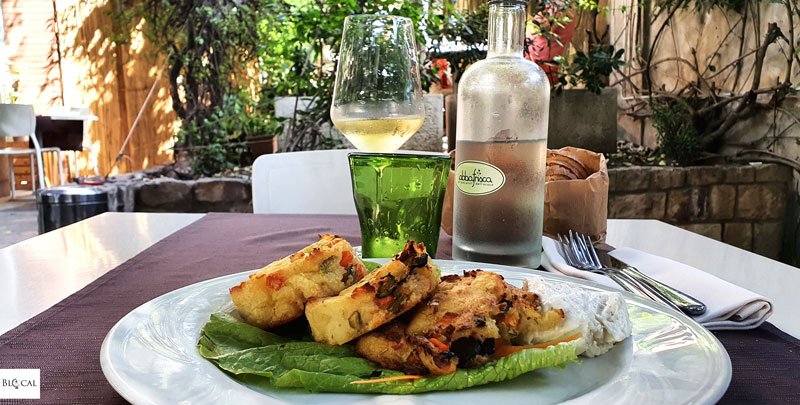 I sat in the lovely indoor garden, but if you prefer to eat inside you might want to sit next to the artwork by local street artist La Fille Bertha ;)
A Family-Run Restaurant > Trattoria La Damigiana [update 2022]
This trattoria in the city center of Cagliari serves home-cooked, traditional dishes from Sardinia. I had two traditionally vegetarian dishes: the stuffed pasta called culurgiones (large ravioli stuffed with cheese, potatoes and mint) and melted Pecorino cheese (quite tough on my stomach, but definitely worth it).
Fresh, Handmade Pasta > Kai [update 2022]
Kai is a pasta workshop and restaurant in the city center of Cagliari. It's a create-your-own plate restaurant, where you can pick among several types of pasta (all of which are fresh and handmade), different sauces, and toppings. The quality is excellent: the pasta is fresh and the sauces are homemade. They also sell biscuits and other baked products, all artisanal and traditionally Sardinian. Highly recommended!
Vegan Snacks and Specialty Coffee > Caffé dell'Arte [update 2022]
I love this café! First of all, they are super welcoming. You know, those cafés where the wifi password is in plain view and you'll never be hounded by passive-aggressive baristas. I spent the whole morning there (writing these exact lines you're reading now!), enjoying a special cappuccino with oat milk and a tasty hummus toast. Breakfasts and light lunches come with many vegan options, alongside high quality coffee brew on the spot.
A craft beer pub > BrewBay House [update 2022]
Nice pub with a great selection of craft beers, although the selection of vegetarian and vegan dishes is poor. It's ok for an aperitivo, but then you'll have to go somewhere else for a proper meal.
Panoramic Café in Cagliari > Caffè degli Spiriti
My chance to get to know Cagliari better arose when I got invited to attend International Summer Week 2018. The event kicked off on the panoramic terrace of the "Caffè degli Spiriti." Here, we had our opening party and got to know each other while sipping local beers on the large mattresses scattered around the terrace. The place is fancy yet relaxed, although perhaps a bit pricey, but the view is worth it.
[Update 2021: Unfortunately this café has closed permanently]
Panoramic Café in Cagliari > Caffè delle Arti
The next day, we partied on yet another panoramic terrace: the nearby Caffè delle Arti. This terrace is higher and more intimate than the one at Caffé degli Spirtiti and they serve exceptional craft beers from the region.
And here is the view:
Vegetarian Restaurant in Cagliari > Made
There was also a nice bistro for when you need a healthy meal fix. They serve smoothies, juice, salads, and all things fresh. I had an amazing tuna salad made from olives and legendary Sardinian cheese. It probably wasn't the lightest option on the menu, but it was friggin' tasty!
Bakery in Cagliari > Dulcis
This bakery serves homemade, traditional sweets from Sardinia and a lot of different cakes too! However, when I entered it, the first thing that got my attention was the scent of fruity teas in the air; I wanted to try them all!
Deli in Cagliari > Salsamenteria
Another good spot for foodies who also have a thing for design is the Salsamenteria, where you can find everything from regional cheeses to fresh juice and local craft beers, either to buy or to consume there on the tables in the middle of this trendy open space area.
Pizzeria in Cagliari > Down Town
It's not easy to make pizza for more than 150 people, baking it all in just one coal oven while still serving them almost at once. But at Down Town Pizzeria, they made it happen and pizza night was the favorite dinner of all of my fellow summerweekers. Despite the fact that I find it weirdly uncommon to eat pizza in Sardinia, I must admit the pizza here was delicious and, on top of that, the pizza maker looked exactly like Jack Sparrow.
Pizzeria in Cagliari > Il Porcile
Here, we had our "Last Survivor's" dinner to celebrate the end of International Summer Week 2018. That night I was pretending to be on a diet, and so I just ordered some grilled vegetables, although I ended up tasting different slices of pizza from my neighbors, which I must say was crispy and delicious.
Fish Restaurant in Cagliari > Civico Mare
Although Sardinian cuisine revolves around meat, I couldn't help the fact that the beautiful sea nearby was making me crave fish. So I dragged a friend to Civico Mare, a hip fish restaurant in the city center where we shared the several options from the lunch menu: mussel soup with garlic croutons, orecchiette with aubergine cream, smoked tuna and pesto, and a salad with shrimp and celery. The food was nice, although we were expecting bigger servings, so we left the restaurant slightly disappointed.
Hipster Bar in Cagliari > Florio
I walked past Florio's outside tables during Summer Week's treasure hunt. They were scattered around a tiny postcard-pretty square, which was filled with laughs and toasting glasses. I intended to go there for a drink before leaving the city, but unfortunately I couldn't make it… Hopefully next time!
More Cool Places to Visit in Cagliari
A cultural space inside a former factory > Sa Manifattura [Update 2022]
Sa Manifattura is a creativity hub created after the restoration of Cagliari's tobacco factory, built in the 18th century upon the ruins of a convent. The factory shut down for good in 2001, becoming an iconic example of industrial archaeology in Sardinia. Given its central location, the former tobacco factory was promptly restored and turned into a bustling cultural center hosting events, performances, conferences, and the city's cultural and scientific enterprises. There is also a quiet library on the ground floor, from where I'm writing you these lines ;)
A secret spot > Manuel
Still on my wish list is this hidden bakery that produces brioches and more baked goods for Cagliari's cafés. Rumor has it that if you manage to knock on the right door Manuel will open up and give you a freshly baked brioche straight out from his oven. The perfect ending after a long (party-filled) night.
A Panoramic Terrace > Ghetto degli Ebrei
Ghetto degli Ebrei is is where I ended my beautiful week in Cagliari with that crazy bunch of people known as summerweekers. Our closing party was at sunset on a beautiful terrace overlooking the city. We had external catering provide food and drinks, which is something quite common at the Ghetto degli Ebrei: they don't normally serve food, but the terrace is so breathtaking that it's often rented out for feasts and other events. Otherwise, you can simply come here to enjoy the view and temporary art shows.
Cagliari Travel & Street Art Map
Get my street art map of Cagliari, where you can also find my favorite restaurants and cafés in Cagliari, not-touristy spots to visit, art centres, and much more!
You can hover over these (or any image) to quickly pin it!