I recently had the opportunity to explore the charming village of Calcata, which plays host to the R/Esistenza Street Art Gallery. Despite its name, R/Esistenza Street Art Gallery is not a traditional gallery confined within four walls; rather, it's an urban journey teeming with public artworks that have blossomed from the interaction between artists and the welcoming local community.
Thoughtfully curated by Ondadurto Teatro (Lorenzo Pasquali, Alin Cristofori, Margò Paciotti), this project originated in 2021 in Antrodoco, a quaint village nestled in the Apennine Mountains of the Lazio region. The project attracted some of Italy's most influential street artists, from pioneers of the Italian street art scene to emerging talents.
These artists have thoughtfully interpreted the identities, history, and culture of both Antrodoco (from 2021 to 2022) and Calcata (from 2022 to 2023), two picturesque gems in the Lazio region. The overarching vision is to transport this creative spirit to a new village each year, forging connections and bridges between different communities through the transformative power of art.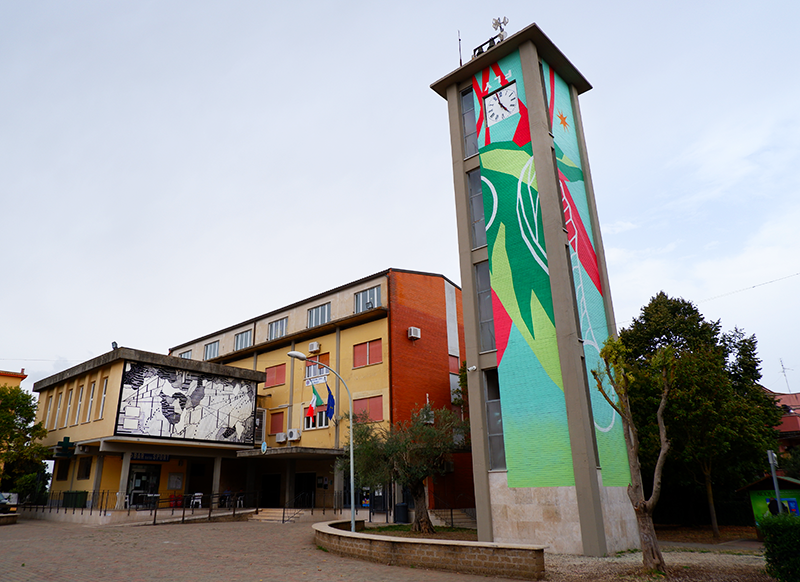 While I haven't had the chance to explore Antrodoco just yet, last month, I was invited to witness the unveiling of Orticanoodles' striking new artwork in Calcata.
Situated just an hour's drive from Rome, Calcata is renowned for its medieval architecture and its unique atmosphere. Perched atop a tuff rock hill, surrounded by lush countryside, Calcata has evolved into a sanctuary for artists and free spirits.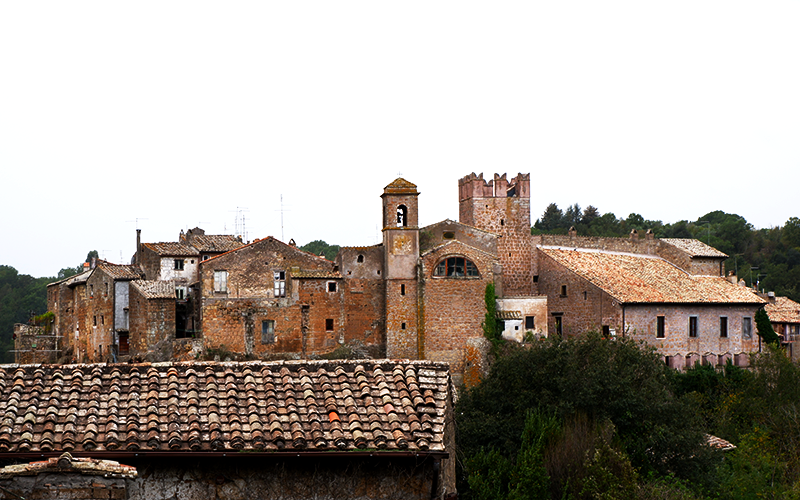 Needless to say, I couldn't pass up the opportunity to explore the striking murals that adorn Calcata's streets!
Mural by Lucamaleonte in Calcata, Italy.
Lucamaleonte's artwork in Calcata is intricately linked to a mural he simultaneously painted in Antrodoco. The artwork centers around the theme of play, a common thread woven into murals painted in both Antrodoco and Calcata during 2022.
In the initial sketch, there were depictions of a dog and a cat playing together, reminiscent of the mural in Antrodoco that Lucamaleonte painted during the same period. However, the composition evolved, and the dog disappeared from the scene, transforming the piece into a tribute to Calcata's feline residents. Hence the title, "Liberi Come Gatti" (Free as Cats).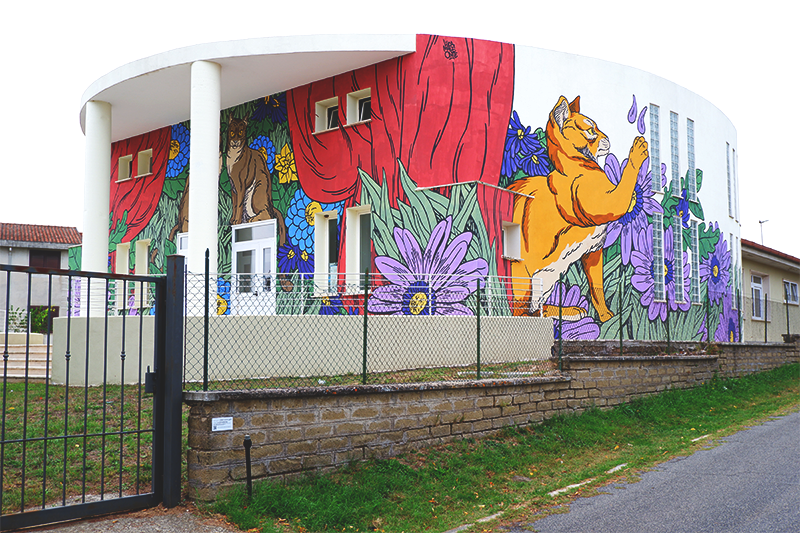 Within this feline-themed artwork, a lush natural backdrop comes into view. Lucamaleonte, an artist who has been painting on walls since 2001, has a penchant for depicting animals and elements from the natural world. He finds comfort in the universal recognition and connection people have with these subjects and enjoys drawing parallels between animal behaviors and human traits.
Using his signature illustrative style characterized by precise black lines, Lucamaleonte paid homage to Calcata's cats while respectfully enhancing a wall that already featured a mural, albeit one that had deteriorated over time.
Mural by Alessandra Carloni in Calcata, Italy.
Alessandra Carloni has brought two of her distinctive fairytale scenes to Calcata, one gracing the exterior of the local library and the other found indoors. Her murals always feature a central character that was once quite small but has now grown to an enormous scale within her pastel worlds.
This supersized character embodies a message deeply connected to the place with which he engages – in this case, Calcata. Both murals explore the theme of play and delve into the duality between past and present that defines Calcata, with its two distinct areas: "old Calcata," characterized by medieval architecture, traditions, crafts, and artisanal pursuits, and the "modern Calcata," with its contemporary architecture by the founder of postmodernism Paolo Portoghesi, who lived here.
Titled "Un gioco antico" (An Ancient Game), the mural on the external wall features an antique carillon. This miniature marvel unfurls the historical heart of Calcata, with the main character nestled within the heart of the village. This character shoulders the iconic Church of Santi Cornelio and Cipriano, designed by the "superstar" architect Paolo Portoghesi. The carillon's melody weaves together the past and present through the perpetual traveler character.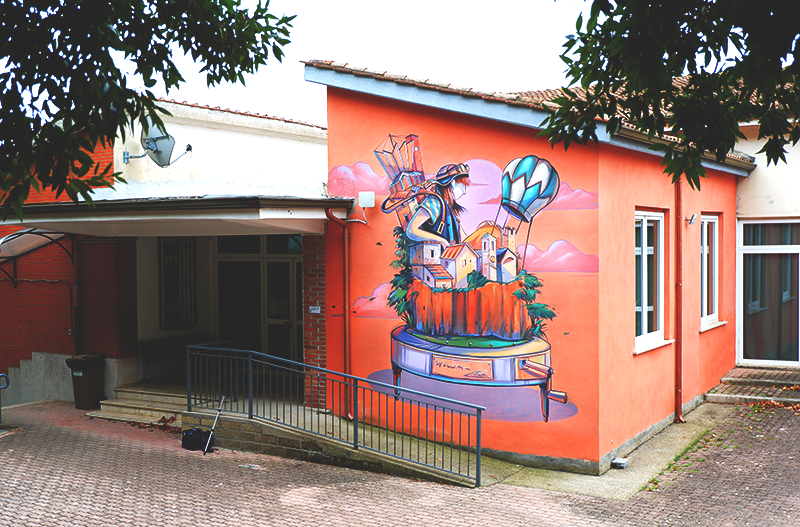 Inside the library, the mural titled "Un volo sulla storia" (A Flight Through History) interprets the theme of play by placing Alessandra Carloni's character aboard a toy airplane. This plane soars over the ancient gates of the city, representing a meeting between two worlds: the ancient one that the airplane glides over and the contemporary world resting on the plane's back, characterized by references to Calcata Nuova, including -once again- the renowned church by Paolo Portoghesi.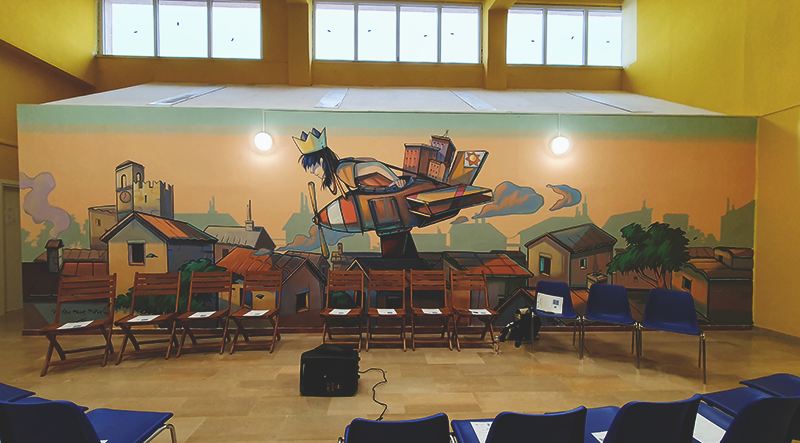 Mural by Sten & Lex in Calcata, Italy.
I'm constantly amazed by the evolution of Sten & Lex's artistic style, which has transitioned over the years from their early stencils in 2000 to photorealistic portraits, abstract shapes, and pixel art that resembles a tapestry. Throughout their two-decade-long street art career, they've continually pushed the boundaries of their style while remaining true to their signature technique: the stencil poster.
This stencil technique involves affixing a poster to the wall and then carefully cutting out the image printed on it. The artwork emerges through gradual weathering and erosion of the stencil, courtesy of natural elements like rain and wind, unveiling its organic evolution over time. What's more, by leaving the mould onto the wall, each piece becomes unique, in contrast to the typical reproducibility of traditional stencil art.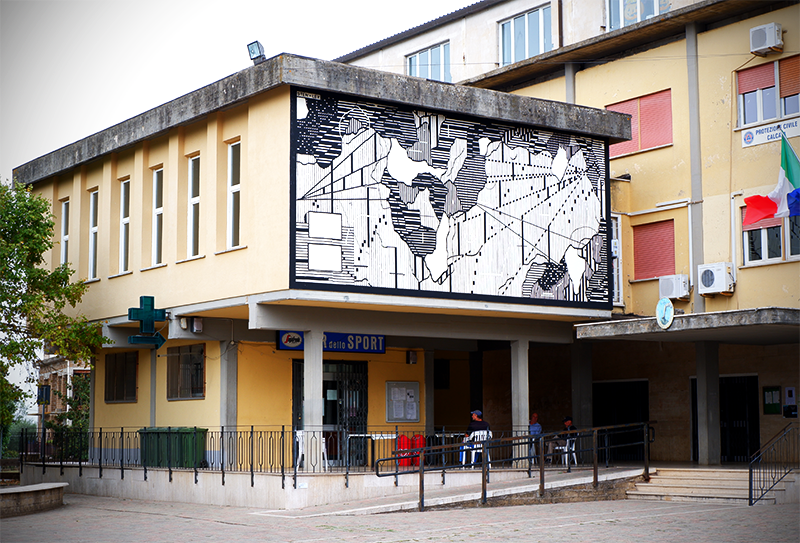 The mural created by Sten & Lex in Calcata is part of their "Confini" series, featuring abstract maps. For Sten and Lex, a map holds multiple meanings, encompassing geological, political, and cultural aspects. They were drawn to the idea of crafting new compositions devoid of real-world references, thereby creating an entirely fictional world with its own topography and timeless borders, where boundaries hold no meaning.
Mural by Orticanoodles in Calcata, Italy.
Directly across from Sten & Lex's mural, the Orticanoodles collective embarked on an ambitious project one year later, adorning all four sides of the city's clock tower. Hailing from Milan's Ortica neighborhood, Orticanoodles is one of Italy's street art pioneers.
Their artwork, titled "FLY – Stato di Equilibrio" (FLY – State of Balance), pays homage to the enchantment of nature and its extraordinary capabilities. This abstract creation is born from zooming in on natural elements, such as maple seeds, which carry symbolic significance from both the East and the West.
The title of the intervention, "FLY," is deliberately written upside down to engage the viewer actively. It prompts one to ponder, "Why is it written upside down?" This intervention isn't meant to provide answers but to encourage questioning, transforming the artwork into a subject for analysis rather than a mere decoration.
Upon closer examination, one discovers that not only is "FLY" written upside down, but the entire creation is intentionally inverted: the leaves from the tree appear at the tower's base, while the seeds defy gravity, positioned above. Simply turning one's perspective upside down reveals the artwork "in a normal orientation." It's in this invitation to overturn one's viewpoint that the artwork's message is found.
The Church by Paolo Portoghesi in Calcata, Italy.
As you stand in awe of the murals created by Orticanoodles and Sten&Lex in Calcata's main square, it's impossible to miss the beautiful church designed by Paolo Portoghesi, the Church of Santi Cornelio and Cipriano.
This church is a striking testament to Portoghesi's architectural legacy, boasting a unique and innovative design that incorporates elements of postmodern architecture. Its unconventional structure draws inspiration from geometric shapes, particularly circles and triangles, which not only create a sense of harmony and balance but also symbolize the Holy Trinity and the unity of the Christian faith. Furthermore, the church's design incorporates elements inspired by nature, with references to trees, leaves, and other organic shapes, establishing a profound connection to Calcata's natural surroundings.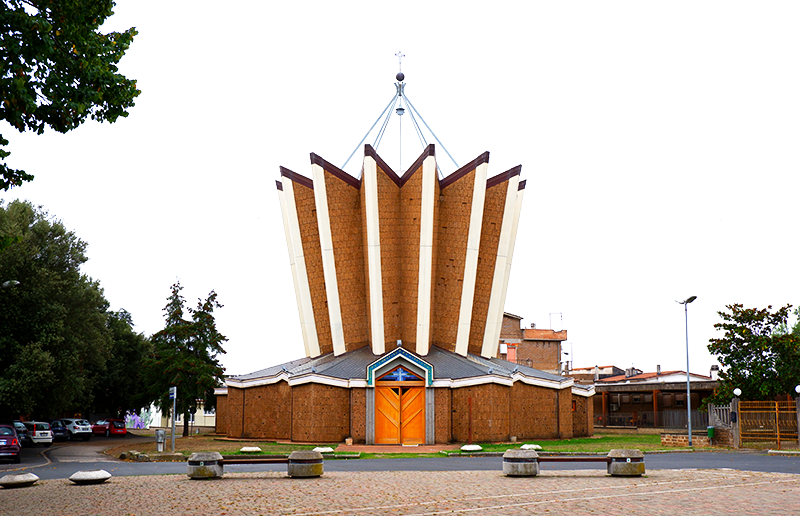 This church holds a special place in Paolo Portoghesi's career and legacy. Not only did the renowned architect call Calcata home for 30 years, but he also expressed his wish for his funeral, which took place on June 1, 2023, to be held in the very church he designed back in 2009.
In Calcata, the celebrated architect and founder of postmodernism also created a "Garden of Wonders," an attraction I regret not having had the chance to visit due to inclement weather during my visit. Nonetheless, this serves as a wonderful reason to plan a return trip to the charming village of Calcata. Stay tuned!