Rome is one of the world's greatest food cities, but finding good vegan and vegetarian restaurants can be challenging. Fortunately, Rome's vegan and vegetarian dining scene continues to grow, providing more options for travelers trying to eat vegan in Italy.
I've been eating vegetarian in Rome for the past two years, and here is a look at my favorite vegetarian and vegan restaurants in Rome, plus a list of popular Roman dishes that are traditionally vegan or vegetarian, which you can find almost everywhere, and also a list of useful Italian expressions and vocabulary for vegans and vegetarians.
17 Vegan and Vegetarian Restaurants in Rome
Rifugio Romano | Termini
For vegan travelers in Rome, Rifugio Romano is a must-go. The restaurant recreates traditional Roman recipes like Carbonara and Matriciana using exclusively plant-based ingredients. Their smoked bacon is something to die for, and the cream they create to reproduce the egg yolks is truly impressive. I always recommend it to travelers because, here, they can try traditional Roman cuisine, which is essential to understanding our culture.
Nativa | Aurelio
Nativa is the new vegan restaurant in town: everybody wants to try their colorful dishes, so if you plan to eat here during your holiday in Rome, I recommend you book a table. And don't be disheartened by the buzz: Nativa restaurant really lives up to the hype. Their vegan food is creative, and the dishes are refined: it's the kind of experience that will make denigrators of veganism change their mind.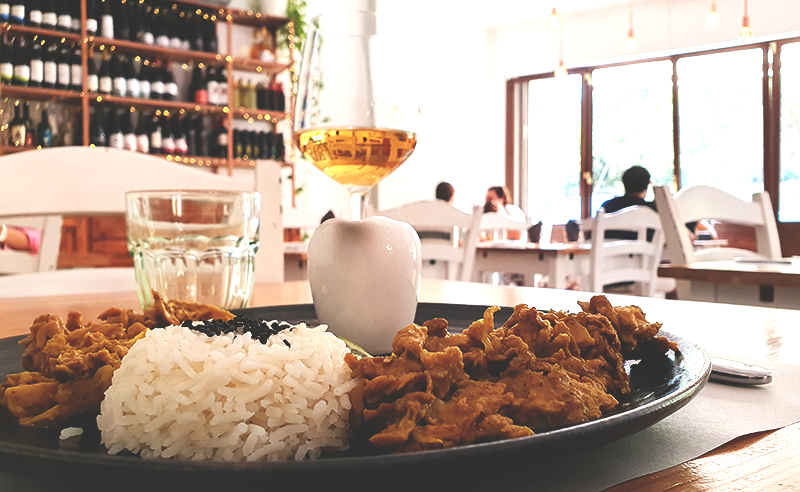 Indigeno | Pigneto
The vegan restaurant Indigeno specializes in fermentations, so you should try their homemade tempeh alongside other fermented ingredients. The restaurant is cozy and informal, but the dishes are curated for a complete sensory experience. I love their homemade cheese, which is so light and fluffy, and the many appetizers. Moreover, this is where I first tried the liquor produced by the Trappist monks of Rome's Tre Fontane Abbey, kicking off a new addiction.
Misticanza | Tuscolano
Rome's vegetarian restaurant Misticanza (meaning "mixed salad") is a friendly place close to the Appian Way Regional Park where you can try different vegetarian meals according to seasons. It specializes in seitan, which is rigorously homemade, and thus it has nothing to do with that thing with the same taste and consistency as cardboard that can be found at supermarkets. If you want to give the seitan a second chance, try Chef Marta Maffucci's cuisine.
Aromaticus | Monti + Trastevere
Aromaticus started as a place selling aromatic plants. They soon began serving juices, soups, and vegan meals. I recommend it for lunch because their dishes are light and simple -think of couscous with vegetables, soups, and quinoa bowls. They have two locations, both very central, so you'll likely walk past them on your holiday in Rome.
Ops! | Salario
Ops! is the classic place where office people go for lunch. There is a buffet with fresh vegetables, cereals, and other vegan, ready-made meals. Customers compose their plates as they want and then pay by weight. It's the typical place where most customers aren't even vegan; they just enjoy a quick yet healthy lunch near the office.
Vitaminas 24 | Pigneto
Vitaminas 24 is a cozy vegan restaurant that doubles as a café, offering an array of refreshing juices, tropical fruits, and organic beverages. Located in a converted butcher shop, Vitamina 24 exemplifies the Pigneto neighborhood's transformation into the cruely-free hub of Rome. Here I had the pleasure of discovering jackfruit for the first time, falling in love with it!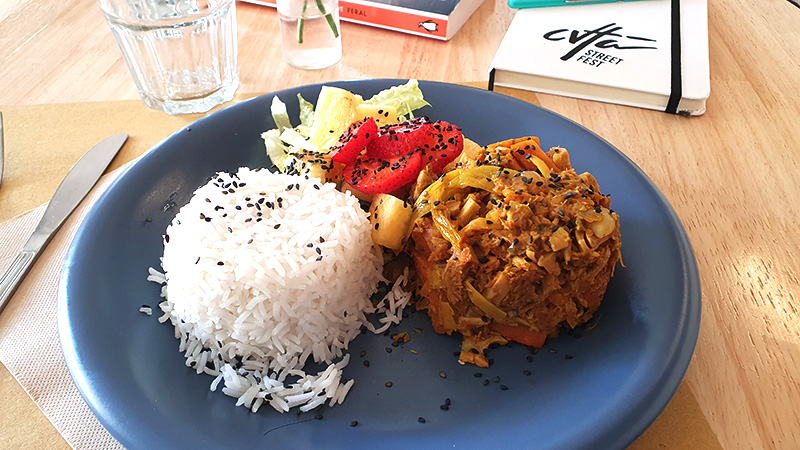 Buddy | Historic Center
I love this vegan café! First of all, they are super welcoming. You know, those cafés where the wifi password is in plain view and you won't be hounded by passive-aggressive baristas. Buddy specializes in brunches, coming in all sizes -from the small hummus sandwich, which is what I usually order, to Beyond Meat burgers with fries on the side. It's a stone's throw away from Piazza Navona, which makes it super convenient for vegan travelers in Rome.
Flower Burger | Prati + Salario
I've been eating at Flower Burger regularly, even before becoming vegetarian. They specialize in veggie burgers served with colorful buns that are perfect for spreading awareness about veganism all over the 'gram. Their burgers are tasty, with many options and special seasonal editions, and I love their sweet potato fries.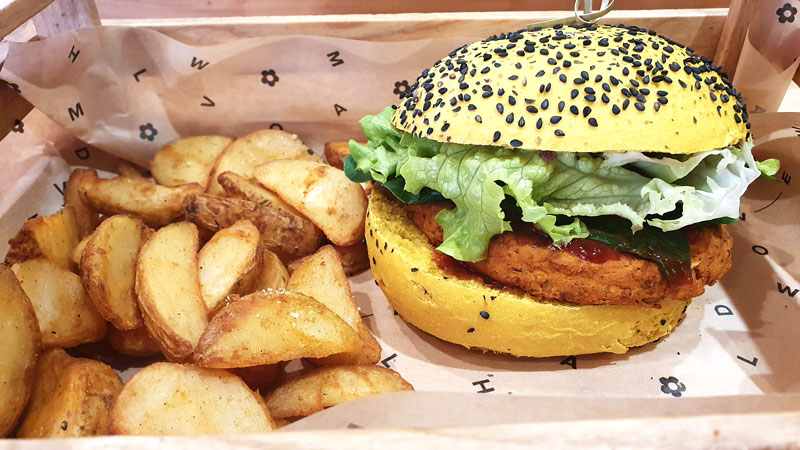 Romeow Cat Bistrot | Ostiense
Many vegan friends say this is the best vegan restaurant in Rome. I don't believe in its primacy, but its cuisine is pretty good. The peculiarity of Romeow Cat Bistrot, though, isn't their outstanding vegan cuisine but the fact that the restaurant is home to several resident cats, which roam among the tables wishing to be cuddled.
100% Bio | Ostiense
At 100% Bio, lunch is buffet style: you can pile what you like onto a plate and pay by weight. You can choose fresh and organic products, varying from cooked vegetables to legumes, tofu, and other plant-based ingredients. I've never been here at dinner, but I believe their à la carte vegan cuisine is as good as the lunch options. Moreover, 100% Bio is a cool spot for the Aperitivo -an all-Italian experience that is part of our culinary routine.
Il Margutta Veggy Food & Art | Historic Center
Very close to Piazza di Spagna, on the elegant Via Margutta, there's the oldest vegetarian restaurant in Rome (opened in 1979): Il Margutta Veggy Food & Art. The place is as fancy as any other restaurant in the area, full of artworks as a tribute to the long-time relationship between Via Margutta and the local artist community. They specialize in brunches, but the whole menu and the wines are excellent.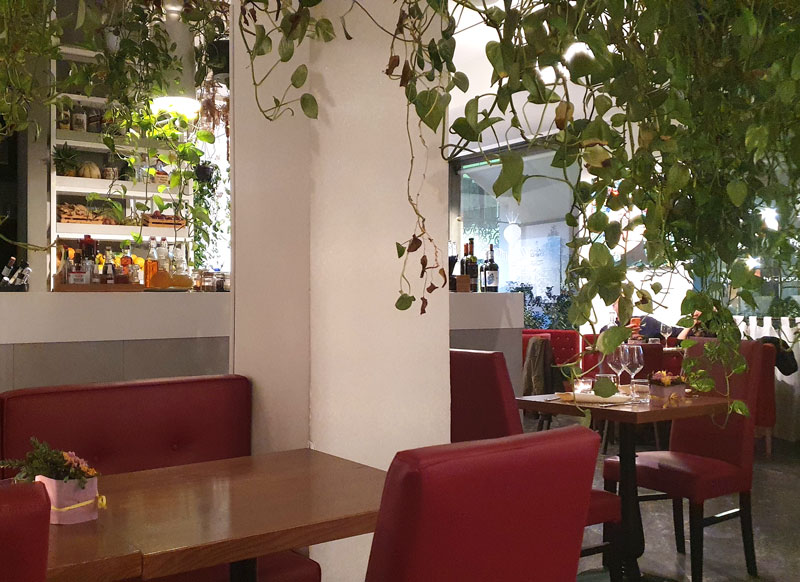 Impact Food | Parioli
I still need to try this plant-based fast-food, as Impact Food opened only a couple of weeks ago. Both its menu and the bright aesthetics remind me of Amsterdam's Vegan Junk Food chain (I was a regular when living in Amsterdam ;) ). Here you can eat burgers, nuggets, and other tasty plant-based meals while knowing that the company is also careful about its environmental impact -hence the name. I'll tell you more when I try their burgers!
Ma Va' | Prati
Ma Va' is a very unpretentious restaurant serving traditional Italian dishes that are vegan. I like that they do "normal" dishes, home-style cooking that is elevated by using fresh, seasonal ingredients. I often order mushrooms or risotto with whatever vegetables are in season. They are not in the 'hype' of vegan restaurants in Rome, but they have steadily kept serving good vegan meals since 2015.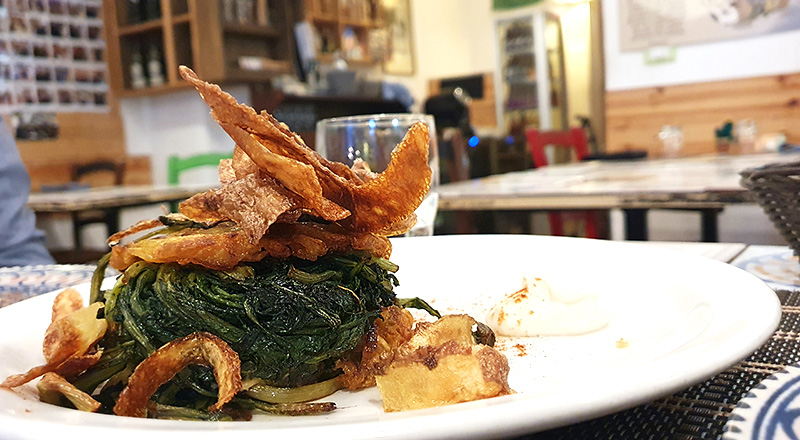 Bibliothè Art Gallery | Historic Center
Bibliothè is an Ayurvedic restaurant very close to Piazza Venezia. I often stop here for their "meal of the day," a meal composed according to Ayurvedic indications, always vegetarian and often vegan (you can always ask for the vegan option, obviously). Moreover, they have a vast library of books about yoga, Ayurvedic medicine, and everything oriental studies, and they also organize cultural events and art exhibitions of artists coming from the east (especially from India).
Bensi | Monti
Bensi is a veggie café in the picturesque Monti neighborhood. It's the perfect place for a light lunch -think of salad, pasta, juices- and its characteristic is that the owners are big fans of jazz music -you'll see what I mean when you are there ;)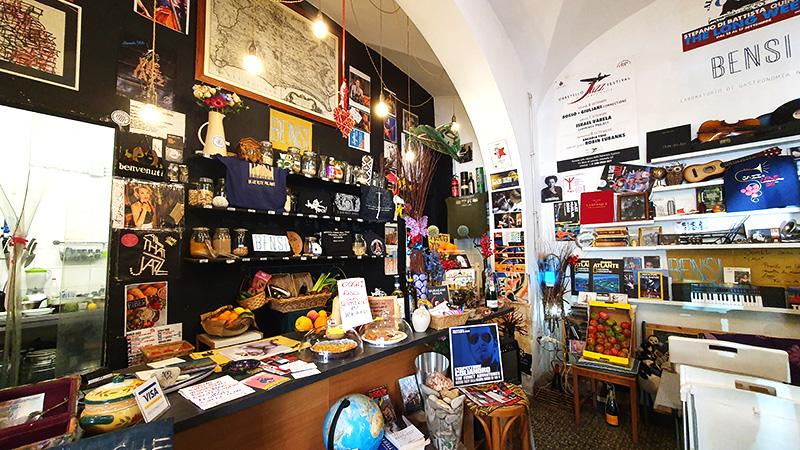 Status Quo | Ostia
Ostia is the area of Rome that stretches along the sea. On a summer evening, we tried a delicious vegan restaurant called Status Quo, specializing in gluten-free meals. The place is cozy, with artworks on the walls, the perfect treat after a day at the beach!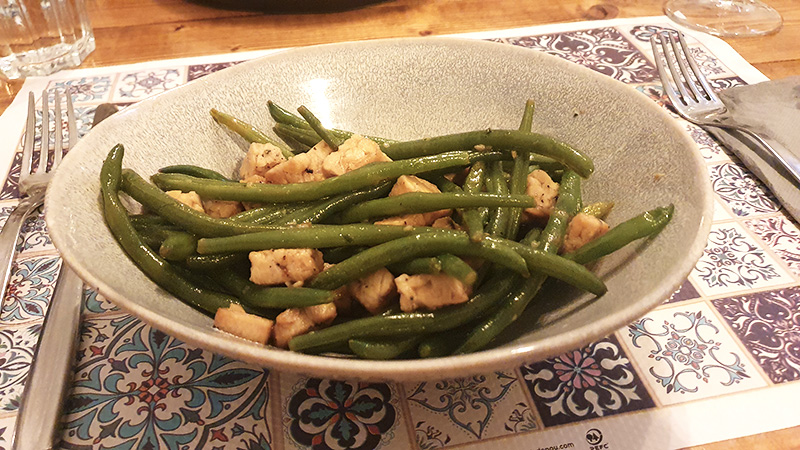 8 Traditional Roman Dishes that Are Vegan or Vegetarian
Pizza e Fichi
Focaccia with figs is Rome's vegan snack par excellence! We have been eating this ubiquitous poor dish since Ancient Roman times. It is so typical that it originated the saying "mica pizza e fichi," meaning "it's not a trivial matter."
Carciofi "alla Romana" and "alla Giudia"
Artichokes are at the core of traditional Roman cuisine, either as a tasty seasoning for pasta and pizza or as the protagonists of the dish. Among the many artichoke recipes you can taste in Rome, there are "Carciofi alla Romana" (artichokes in the Roman style), where artichokes are stuffed with breadcrumbs, parsley, and mint and braised, and "Carciofi alla Giudia" (artichokes in the Jewish style), where artichokes are opened out like a flower and deep-fried until they are crisp.
Cacio e Pepe
Cacio e Pepe is my go-to pasta when eating out. It's so iconic that you can find it everywhere in Rome, although only some restaurants know how to do it properly. It's not vegan because the sauce cream is made of black pepper and pecorino cheese. However, Rifugio Romano and other vegan restaurants in Rome make an excellent cacio e pepe using plant-based cheese.
What pasta is traditionally vegan at a typical Roman restaurant?
First of all, the Spaghetti Ajo, Ojo & Peperoncino: a poor dish originally from southern Italy, although everyone believes it's from Rome. This pasta is simple, seasoned with garlic, olive oil, and red chili. It's so simple that it's unlikely you will find it on the menu, but be bold and ask.
Another vegan pasta from Roman cuisine is Penne all'Arrabbiata, a spicy tomato pasta made of a few fresh ingredients we -Italians- always have in our kitchen: pasta, fresh tomatoes, hot chili pepper, garlic and fresh parsley.
Puntarelle
Puntarelle are the inner part of a chicory head aka curly endive. They are Rome's typical side dish in winter, suitable as a foil to fatty dishes. To make this dish, the softest leaves of the chicory head are thinly sliced and dressed with a sauce that traditionally has anchovies. Still, restaurants often have the option without anchovies because many customers don't like their strong taste.
Vignarola
Another typical Roman dish made of vegetables, Vignarola, is a spring vegetable stew made of broad beans, peas, and artichokes. The best time to try it is when its main ingredients are abundant, tender, and sweet, and so from April to June. The traditional garment is fresh mint, which gives to vignarola its typical taste. Still, there are many versions of Vignarola (some also with pork or bacon, so be aware! and check the last paragraph of this article to learn how to ask about it).
Ciambelline al vino
A typical Roman dessert that is traditionally vegan is ciambelline al vino: wine biscuits made without butter or eggs. These ring-shaped cookies come in two types, white and red, according to the kind of wine used to make them (yes, wine is the key ingredient here). Originally from Castelli Romani, the wine area just outside Rome, you can try them almost everywhere -they are so ubiquitous that they often come as the complementary dessert after you pay the bill.
Moreover, in Rome you can find multiple dressings and sauces for pizza and pasta that are either vegan or vegetarian, and you can always ask for a dish "without meat" (more on how to do it in the last paragraph of this article).
For example, supplì (Rome's iconic street food) is often made with regular tomato sauce instead of meat sauce -ask for a "supplì mozzarella e pomodoro" to try it.
Where to buy vegan food in Rome?
While it's becoming increasingly common to find a vegan croissant in the cafés around the city center, and cappuccinos are made with soy milk or other plant-based milk almost everywhere, when it comes to specific products such as ice cream or chocolate, or even vegan snacks to buy and bring back to the hotel, it's wise to go to specialized vegan shops in Rome to have a variety of choices. Here are my favourites:
Grezzo | Monti + Ghetto + Parioli
Grezzo means "raw," as this pastry shop is vegan and dedicated to raw food (food that is uncooked and unprocessed, such as fruits, vegetables, nuts and seeds), particularly raw chocolate and desserts made with raw chocolate. At Grezzo, they substitute eggs, milk, wheat flour, yeast, and sugar with uncooked ingredients like raw chocolate and almond milk, which is the key ingredient of Grezzo's famous ice cream.
Gelarmony | Prati
At Gelarmony, instead, vegan ice cream is made with soy milk and fresh fruit. I love their vegan whipped cream; I put it everywhere, even into the espresso. My favorite treat here is the Sicilian granita -a very special slush that goes perfectly with the soy whipped cream. I recommend you try the white figs granita, it's simply the best!
Wani | Ostiense
The name of this vegan bakery is the acronym "We Are Not Ingredients." At Wani, they sell all kinds of vegan baked products, from croissants to cakes, pizza, and tarts for lunch. Highly recommended!
Radagast | Centocelle
The vegan bakery Radagast, instead, is more about sweet baked products -think of vegan cakes, cookies, muffins, tiramisu, and other desserts.
If you are looking for a vegan store in Rome where you can buy some snacks to bring back to the hotel, you should go to Vegustibus (Garbatella neighborhood) or I-Vegan (Aurelio neighborhood). You can also grab some simple food in both shops, like a sandwich, salad, or wrap. There is also a vegan store at the Testaccio Food Market (stall 83), but they are open only in the morning (like the rest of the market).
How to ask for no meat or dairy in Italian:
If you want to be triple sure you are not getting meat, fish or any other product derived from animals, it helps to know how to ask for it. So, let's learn some Italian phrases!
"No meat please" = "Senza carne, per favore"
"Is there meat in this food?" = "C'è della carne in questo piatto?"
"Is there fish in this food?" = "C'è del pesce in questo piatto?"
"I don't eat cheese" = "Non mangio formaggi"
"No dairy please" = "Senza derivati del latte, per favore"
"Are there eggs in this food?" = "Ci sono delle uova in questo piatto?"
"I am vegetarian" = "Sono vegetariano"
"I am vegan" = "Sono vegano"
"I don't eat meat or fish" = "Non mangio nè carne nè pesce"
"Without eggs" = "Senza uova"
I hope this guide to vegan and vegetarian food and restaurants in Rome will come in useful!
You can find these vegan and vegetarian restaurants, as well as more local tips on where to eat, drink, and shop like a local in Rome, in my free google map of Rome. If you want a personalized itinerary based on your interests, passions and dietary requirements, check out my travel concierge service.