JR is a French street artist and photographer. He started out in the early 2000s pasting photo portraits onto Paris walls using wheat paste and glue. His work is meant to make the world a better place.
JR is a French street artist and photographer
Originally from the outskirts of Paris, JR is a French street artist and photographer whose pseudonym stands for the initials of his first name: Jean-René. Born in 1983, JR grew up in the Parisian suburbs. As a child, he was fascinated by the graffiti art he saw around the city and, at the age of 13, he started tagging around, writing the name "Face 3."
In 2000, JR found a camera in the Paris subway station and taught himself how to take pictures. He began using photography to create his own art, utilizing a technique he called "photograffeur", a combination of photography, graffiti, and street art.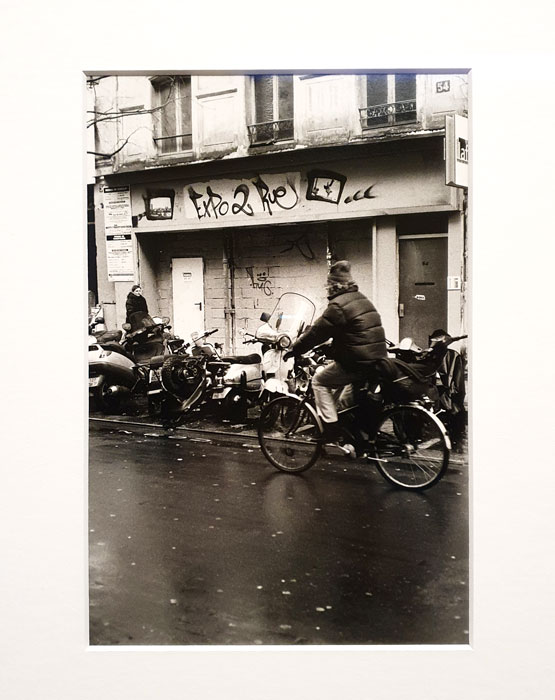 With his new camera always by his side, JR quickly switched from tagging and graffiti to taking photos of his friends in action. Photocopying the prints was the easiest way to reproduce these photos, which JR later pasted on vacant lots and spaces around the city, spraying frames of red paint around them, and captioning them with the title "Expo 2 Rue" (Sidewalk Gallery).
"I own the largest gallery in the world -the walls of the city!"

JR
By bringing his artwork to public spaces, JR offered an accessible way for people from all walks of life to appreciate and engage with art. Already from his early works, we can see how he used the structure of cities – lines, shapes, and forms – to create a backdrop for highlighting individuals.
"I'm an artist. I take portraits of people all around the world. I print these portraits of women and men onto huge sheets of paper in black-and-white. Then I paste them onto the walls of cities across the world. I paste them onto houses, large buildings, and even on sidewalks, so that everyone can see them. For me, cities are like giant art galleries: even those who don't usually visit museums get to see my work. Exhibiting these photographs in public spaces is also a way for people who might be unknown in a city to be seen by everyone. It's a way to get people wondering about who these men and women are, and for them to share their stories -their memories, their experiences, their lives. These stories get people thinking and talking, and can change the way people see each other and the way we see the world."

JR
Portraits of a Generation: JR's first public art project
In 2004, together with his film-maker friend Ladj Ly, JR embarked on a project called "Portrait of a Generation", which consisted of him photographing people from Paris' social housing projects, printing out their portraits in large scale, and wheatpasting them in public areas.
"I take the names and, above all, the faces of people who live at the margins of society and give them back their individuality"

JR
JR photographed the young people from Paris' marginalized communities (namely, the banlieues of Cité des Bosquets in Montfermeil and La Forestière in Clichy-sous-Bois) with a 28mm lens at close range, hence the distorted faces.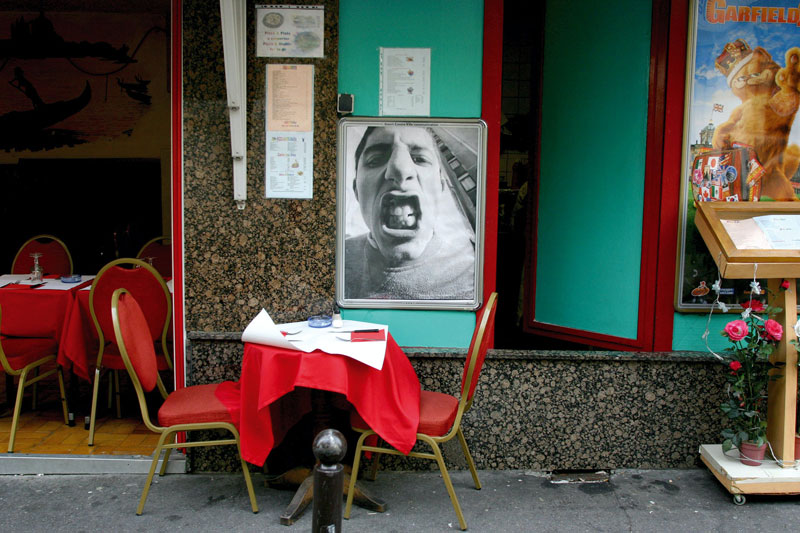 This aesthetic eventually became common to the artist's first major projects. Its power lies in the fact that it plays on the prejudice the media had spread about them: that the residents of the outskirts were criminals.
"I used 28mm portraits, with a lens that meant you had to be very close to your subjects and which deformed faces just as the media deformed our vision of the suburbs."

JR
The project plays on preconception about young people from the suburbs, and -in particular- about people of color, as exemplified in the popular photo "Hold-up" depicting Ladj Ly holding his camera as if it were a gun.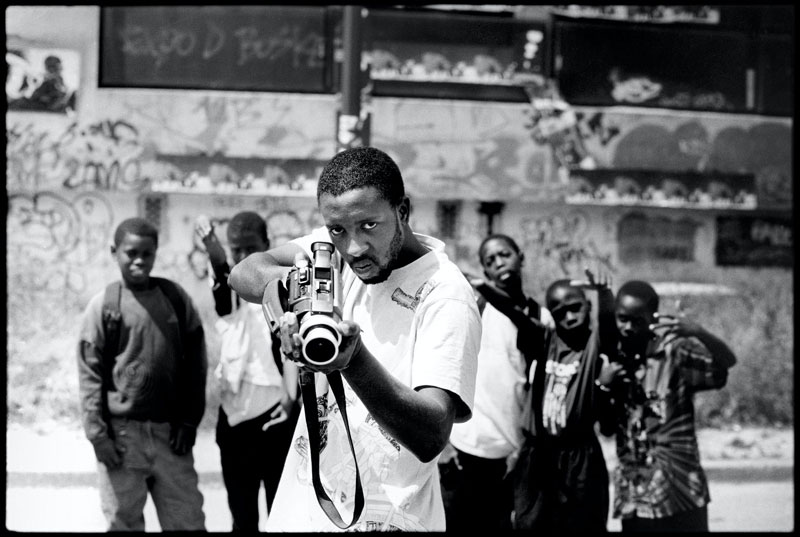 The photo became a powerful symbol when riots spread throughout France in 2005, and is arguably what catapulted JR to fame as an artist. Media coverage of that era often featured this iconic picture as its backdrop.
JR returned to Les Bosquet in 2014, after creating the choreography "Les Bosquet" for the New York City Ballet inspired by the riots of 2005. His purpose was to produce a film that would communicate the strong desire of the inhabitants there to exist despite difficult conditions and make beauty out of it.
JR creates art that is temporary and fleeting
Works of art created by JR are never intended to be permanent. His street posters, crafted out of paper, inevitably suffer from the whims of Mother Nature and his larger-scale installations are only temporary – yet the experience they bring is truly remarkable for those who come across them.
Using portrait photographs taken in collaboration with people from around he globe, JR's projects begin an exploration into what it means to form a community. By printing these images in large formats usually reserved for those in positions of power or celebrities, passers-by are encouraged to engage in conversations about what they see. This dialogue generates a stronger sense of belonging and empathy between strangers.
Through his artwork, JR seeks to shift our perception of reality. He tackles fundamental questions about how we view our environment and whether it is possible to ever truly comprehend what's going on around us. He delves into both everyday experiences and extraordinary occurrences, seeking to probe our understanding of life in all its forms.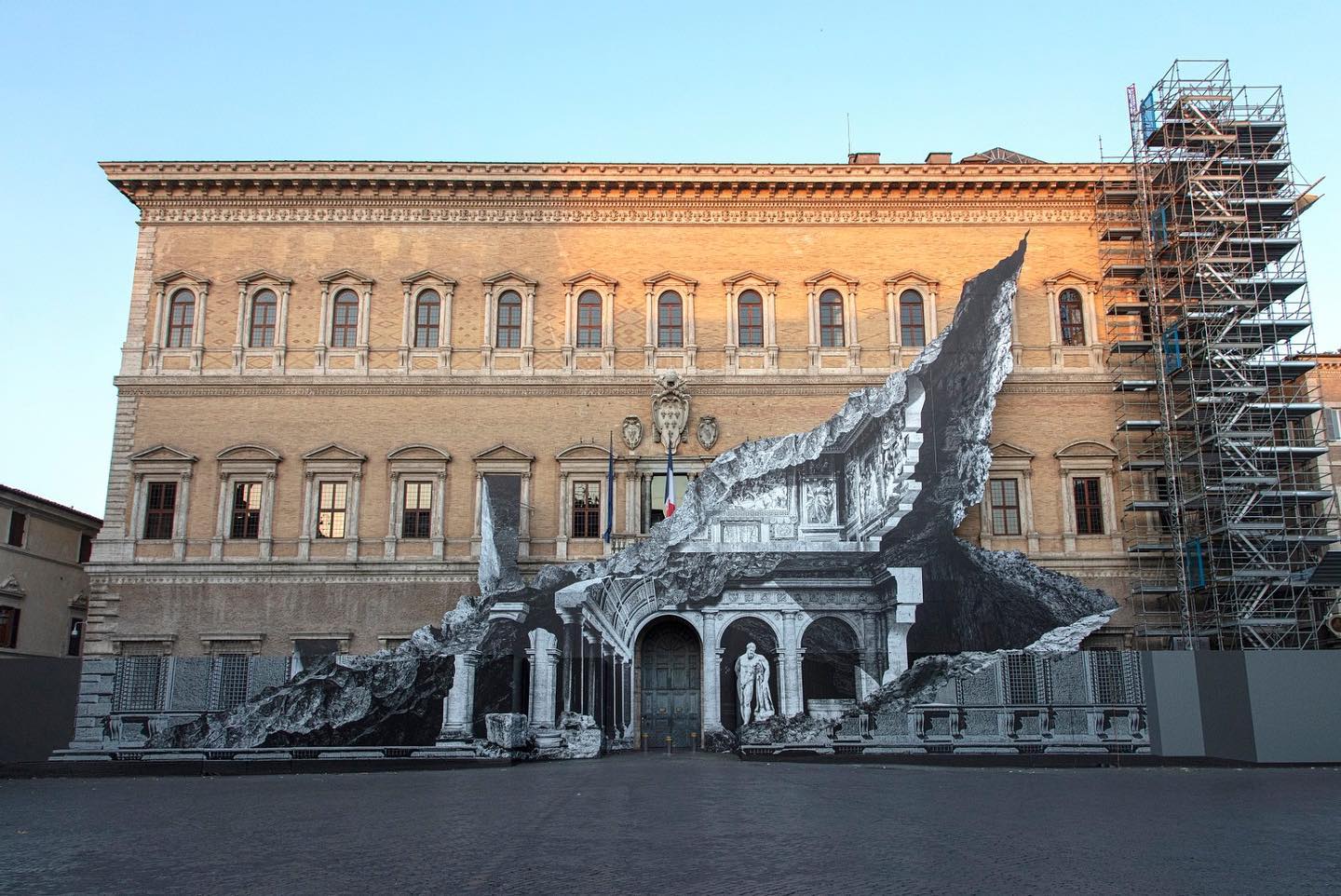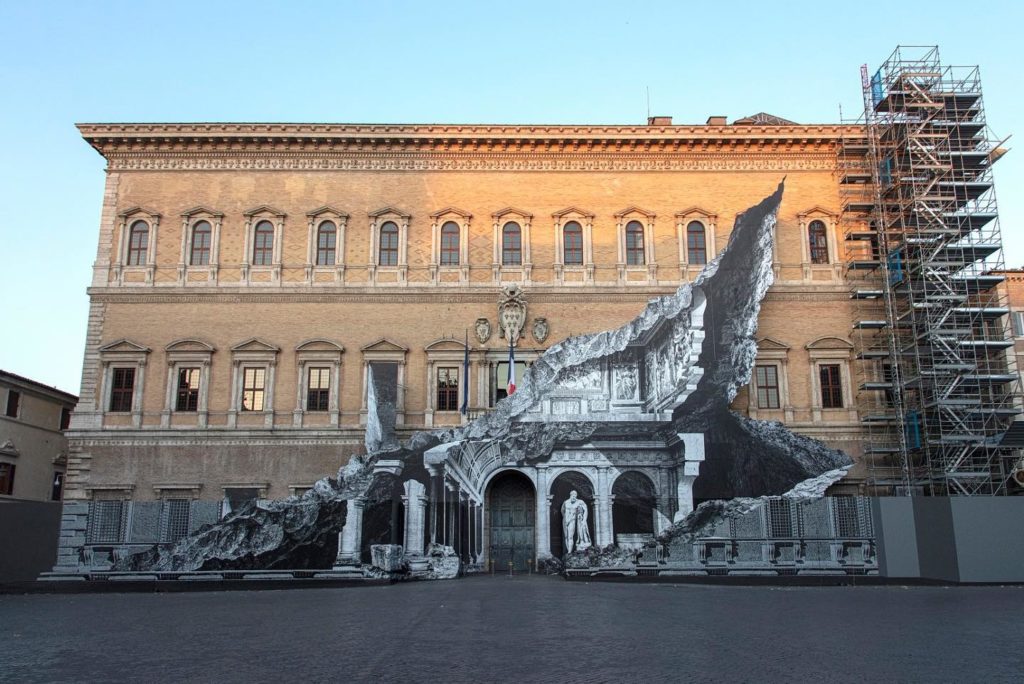 JR creates art that brings attention to social issues
By creating art, JR focuses on individuals and groups who have been overlooked or misrepresented. He takes a strong stance on issues including immigration and poverty with the mission of sparking conversation around these topics. By bringing attention to these matters, JR hopes to promote ideas such as identity, freedom of speech, and discrimination.
JR has said that he wants his work to be accessible to everyone, regardless of their background or where they live. He has used this accessibility to create a platform for discussion around the most pressing issues of our time and create connections with people from all over the world.
"Art can change the way we see the world."

JR
Can art change the world?
The work of JR poses us with an interesting query. To get a better understanding, let's look at some of the street artist's main projects:
Face 2 Face (2006)
In 2006, JR initiated a unique project with the goal of creating unity between two hostile territories. He traveled to Israel and Palestine to shoot large-format portraits featuring individuals who had the same occupation and pasted these portraits side by side. When passer-by spotted these posters, they were often curious as to which nation the individuals belonged to. These photographs served as visual reminders of a potential shared understanding between people from differing backgrounds.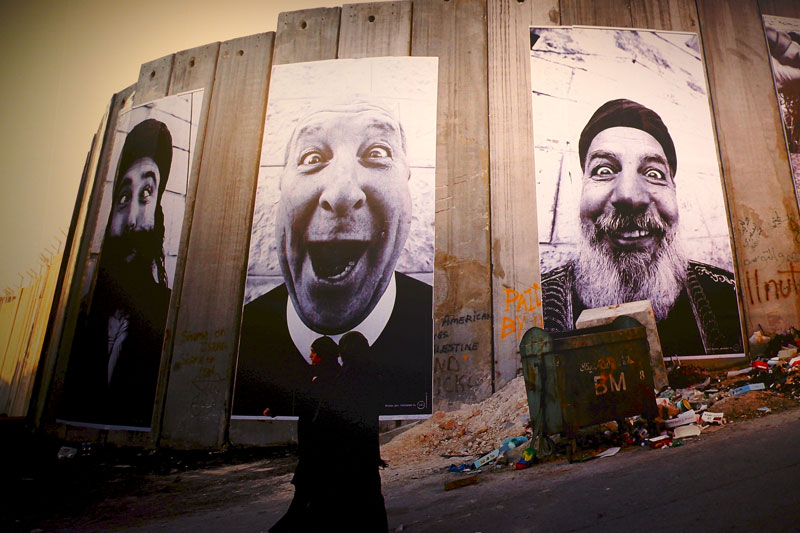 Casa Amarela (2009)
Back in 2008, a terrible incident occurred when police arrested three young men from Morro da Providência, a favela located within Rio de Janeiro. They were sold off to a hostile favela and tragically murdered, with their corpses ultimately returned to their families. It was then that JR set out for the Brazilian city and initiated a project with the women of the favela –among them relatives of the victims- pasting photographs of the women's eyes looking down on Rio on forty buildings.
Maintaining his connections with its inhabitants, in 2009, together with photographer Mauricio Hora, JR created Casa Amarela (Yellow House) situated in Morro da Providência. The remarkable structure included a moon on top of the building which opened up to serve as lodging for visiting professionals. In exchange for this accommodation, the guest artists conducted workshops and classes for both adults and children from the favela.
Women Are Heroes (2008 – 2010)
In his project "Women are Heroes", JR sought to recognize the foundational role that women play in society. From 2008 to 2010, he visited a variety of countries such as Brazil, Sierra Leone, Liberia, Kenya, Cambodia and India – engaging local women by discussing their lives and producing portraits of them. Through pasting these eyes and faces on walls in public spaces all across the globe, from Europe to even a container ship at sea, JR was able to share the stories of these courageous women far and wide.
The Wrinkles of the City (2008 – 2015)
JR's project, The Wrinkles of the City, seeks to uncover and celebrate the visible remnants of past events. Starting out back in 2008 with a focus on Cartagena – a small port city which was the last to surrender to General Franco during the Spanish Civil War (1936-1939) – JR used photography to capture portraits of its oldest residents. As part of his ambitious undertaking, these faces were printed on larger-than-life scale and installed on buildings throughout the city, creating an interesting juxtaposition between generations and their shared history.
Having achieved success with this endeavour, JR continued travelling across other cities that experienced major cultural, social or economic shifts during first half of the 20th century. With each stop he made -however- The Wrinkles of the City also aimed at challenging deeply-rooted beliefs surrounding the elderly population.
Inside Out (2011 – ongoing)
JR's brainchild, the global collaborative public art project known as 'Inisde Out', is an avenue for individuals and groups to bring awareness around a certain issue and/or an overlooked community. After deciding upon their cause, participants take portraits of themselves or others which are then sent to JR's studio. Here he will print large-scale posters before shipping them back out so they can be pasted up in the designated area.
Chronicles (2017 – 2019)
This project consists in assembling individual portraits (taken against a green screen) into collages. Taken as a whole, these portraits stand for a community, a city, or an interest group. The Chronicles are inspired by Diego Rivera's murals and the tradition of Mexican muralism.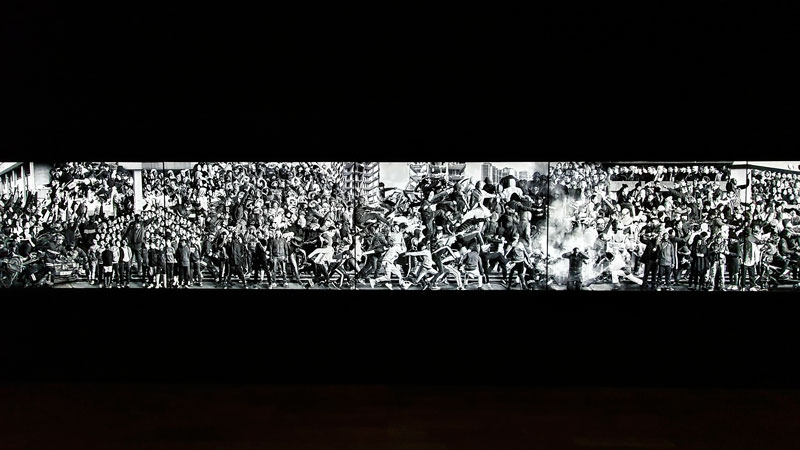 JR completed four "Chronicles" installations; the first was the mural in Clichy-Montfermeil (2017), in which he portrayed over 750 people from different groups forming a society to show the residents as a community.
Kikito (2017)
Kikito is the title of a gigantic artwork created by JR in 2017 across the border between the USA and Mexico. The installation shows Kikito, a toddler whose house in Tecate overlooks the border fence, playfully peeking over the wall.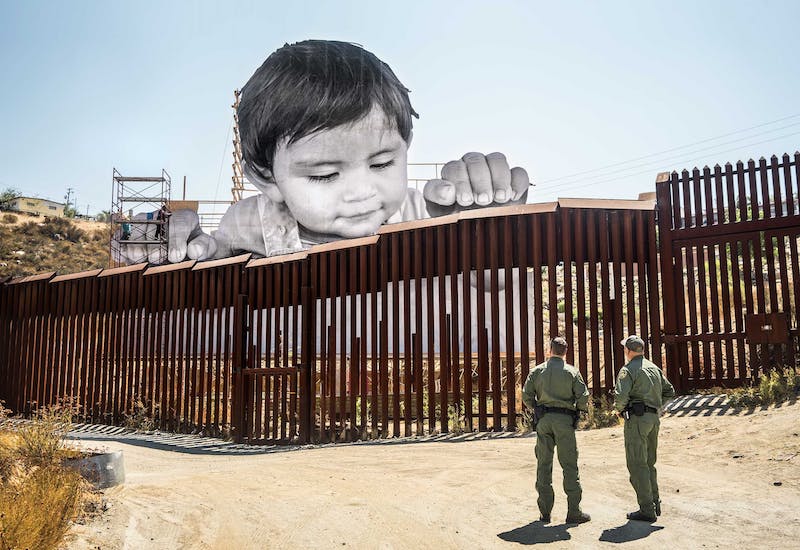 On the last day of the installation, JR organized a picnic across both sides of the wall. Families from both the US and Mexico came together to share a meal around a long table stamped with JR's iconic eyes, turning his art into an international social event.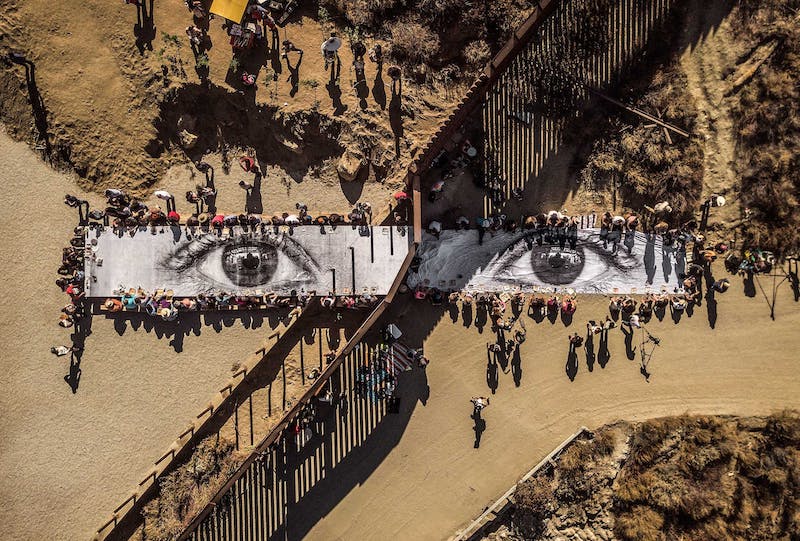 Tehachapi (2019 – 2020)
At the maximum-security prison in Tehachapi, California, JR collected the testimonies, stories, and portraits of the inmates and some prison guards and pasted the collective picture in the prison's yard with everybody's help.
Through this participative art project, JR has opened the doors of a maximum-security prison, but he has also enabled a somewhat unique cooperation between inmates from different ethnicities and rival gangs and between the incarcerated population and the prison guards.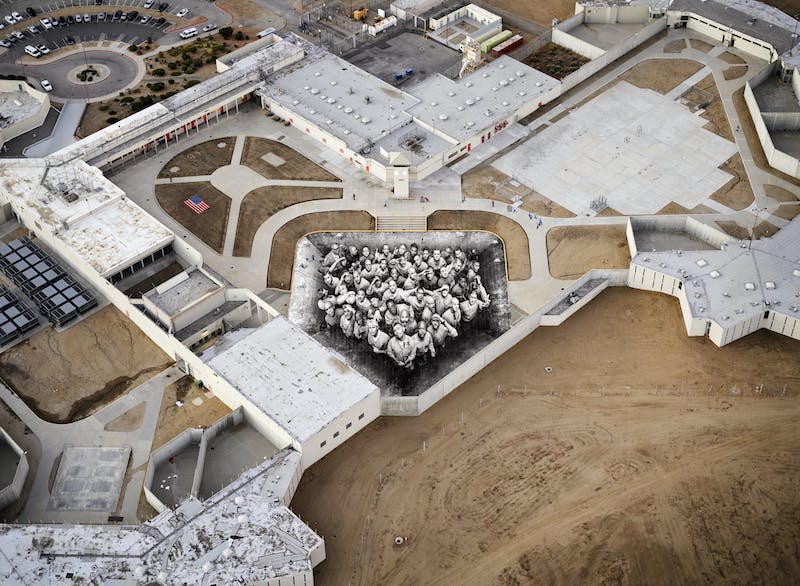 Upon his return to Tehachapi during February of 2020, JR was taken aback by the broadness of the landscape. Acting on this newfound inspiration, he and a group of inmates worked collaboratively to construct an illusionistic mural. The final product was a giant image of the nearby mountain range placed directly onto one of the walls inside prison grounds, allowing the prisoners to witness and appreciate their surrounding environment.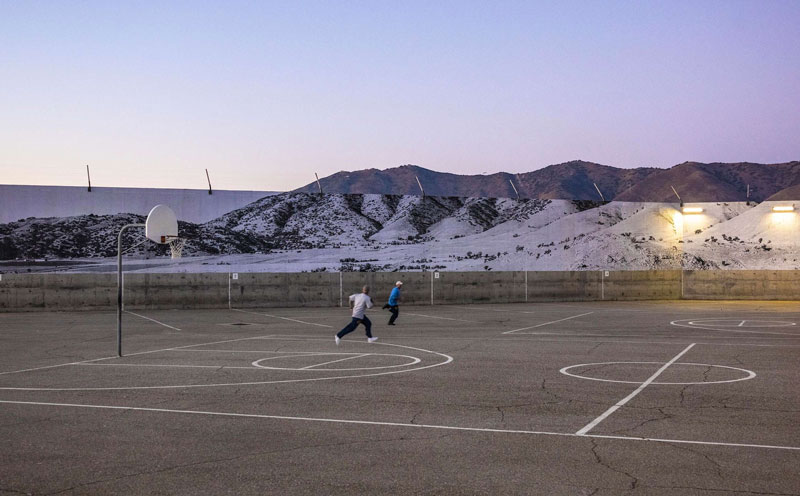 "To change the way you see things is already to change things themselves"

JR
On March 14th 2022 in the streets of Lviv, Ukraine, more than 100 Ukrainians unfurled the image of Valeriia, a five-year-old refugee girl immortalized by photographer Artem Iurchenko as she crossed the border with Poland. The performance has then been brought to other cities across Europe as a powerful statement on the strength, courage, and resilience of the Ukrainian people and is a reminder of the hardships they are facing.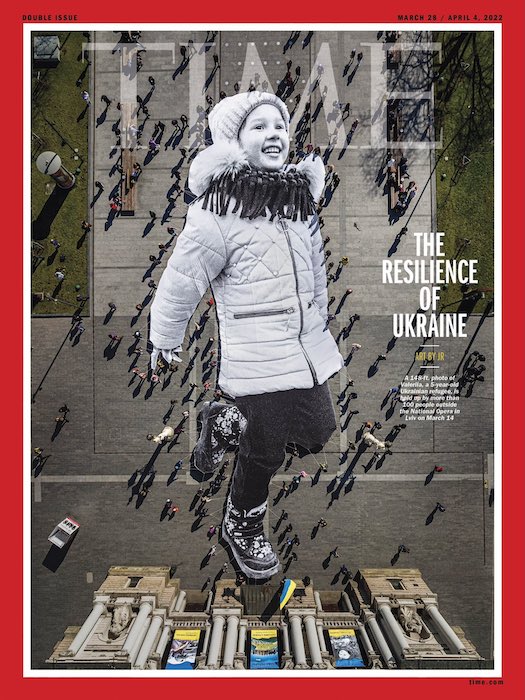 "This little Ukrainian girl is the future, the hope, the joy, the beauty, and, in this ugly war, she reminds us what our Ukrainian friends are fighting for."

JR
JR movies
In addition to being a photographer and street artist, JR is also a filmmaker who has directed several films on his own work and others' within the culture of street art. Since 2015, JR has released three feature-length movies, all of which have been met with critical acclaim. Thanks to his deft direction, JR has established himself as a powerful visual storyteller, capable of creating meaningful and powerful narratives.
Women Are Heroes (2015)
JR's first foray into feature-length filmmaking was the 2015 documentary "Women Are Heroes." The film follows the artist as he travels to various cities around the world, such as Kenya, Brazil, and India, to document the lives of women living in poverty. Through the lens of JR's camera, we witness the courage and resilience of these women as they fight against gender inequality and strive to better their own lives and the lives of those around them.
Faces Places (2018)
Two years later, JR released his second film, "Faces Places", directed together with the eminent filmmaker Agnès Varda. The documentary movie follows the journey of these two French artists as they travel around France and make art together. On their journey, they meet people who have interesting stories to tell and make friends along the way. Faces Places is a documentary about the power of art and its ability to bring people together. It is so much more than just a movie about art – it is a film about friendship, connection, and appreciation.
Paper and Glue (2021)
Lastly, "Paper and Glue" (2021) retraces JR's artistic career documenting his most monumental projects to date, exploring art's ability to challenge perspectives and unite communities. This thoughtful and thought-provoking film follows the journey of JR and his team as they collect stories from individuals and create immense art installations in public spaces around the world. The film provides an in-depth look into JR's creative process, from story gathering to installation. It's a fascinating behind-the-scenes look at the artist's work and the inspiring stories of people from all walks of life.
Can art change the world? The biography of French street artist JR shows us that yes, art can change the world. Through its ability to create emotion, promote understanding, and inspire action, art can be a powerful force for positive change. Art has the power to bring awareness to important issues, draw attention to injustice, and incite social and political action. By using art to express ideas, values, and stories, artists can create powerful messages that have the potential to make a meaningful and lasting impact on the world.