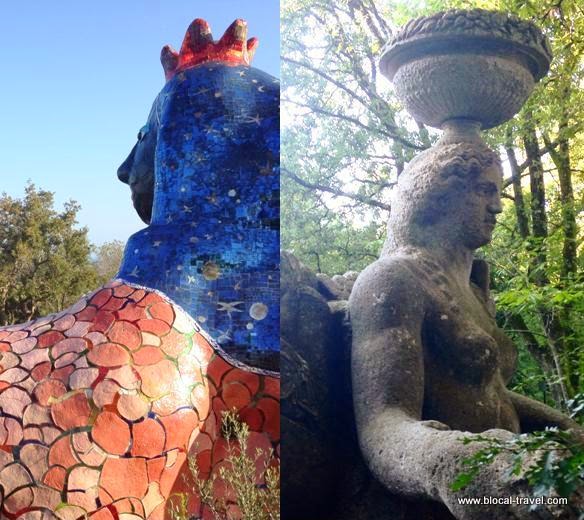 I've always thought there is way too less fantasy into our daily life.
I personally fight this tremendous lack living into my own dreamworld and enjoying any experience which could trigger my imagination.
(they actually are very close to each others -about 100 km- but they belong to two different Regions of Italy: Lazio and Tuscany).
Walking around (and inside!) those marvelous statues feels like strolling into Wanderland!
So… let's forget about real life and have a fun walk together into two beautiful Italian artistic parks.
BOMARZO MONSTERS PARK || LAZIO
This Manieristic monumental complex is made of mysterious statues, caves and buildings scattered all over a wild forest (which is called Holy Wood) and it has been such a fun to wander around this astonishing park looking for them. My favorite one is the slanted house, which gives you a drunken feeling when you enter it!
TAROT GARDEN || TUSCANY
I eventually came back this year on Easter Monday and -maybe because it was a holiday- I found the park way more crowded than I reminded; it has been very hard to snap a few photos without strangers in them! (but even if a bit over-crowded the Tarot Garden is still worth a visit!).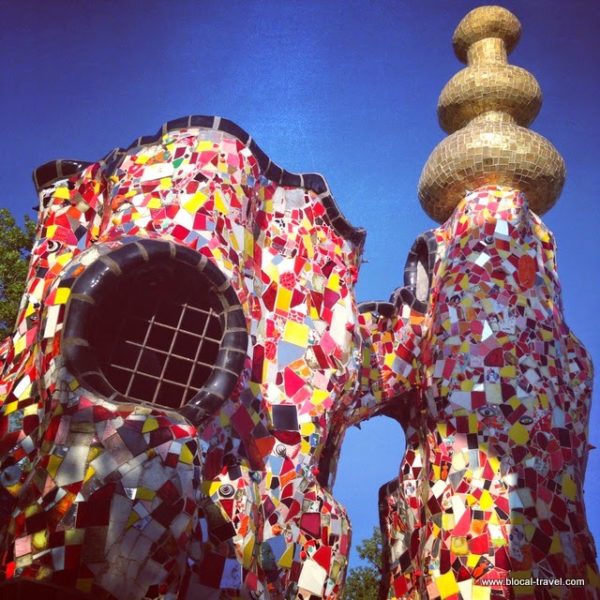 Halfway between Art and Architecture, the Tarot Garden is a magic break from Real Life, a fantasy world where Men, Art and Nature blend together.
The Garden's sculptures are covered with mirrors and ceramic mosaic and you can also enter some of them and dream about how amazing would be to live in such a colorful house: in that case, I'm sure my daily life would no more lack fantasy!
The view of the town raising on a cliff is very striking, especially at night when the large outcrop of tufa is surrounded by fog and the medieval town seems suspended, as in a fairy-tale.
The place is simple but elegant, beautiful and homey; its best feature is the natural and tasty food, as you can see from this picture of our breakfast! :)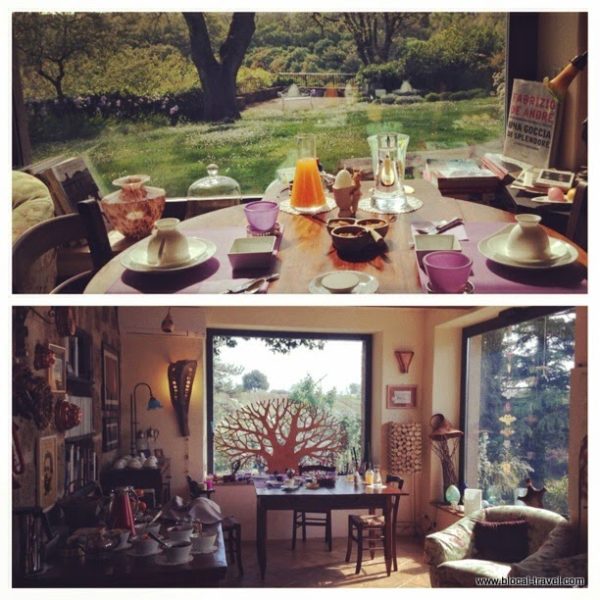 Are you ready to let a bit of fantasy into your daily life?
Now you know where to go!