Eating vegetarian in Munich was easier than I expected. Besides many vegan and vegetarian restaurants in Munich, every place offers vegetarian and vegan options. I was curious if German is good for vegetarians. Eventually, I realized there are many places where you can eat non-German food in Munich, alongside alternative restaurants and cafés serving great vegan food all day.
In this Munich food guide for vegetarians, I'm reviewing the Munich's vegetarian cafes and restaurants I tested (and tasted) for you; as usual, I've pinned them in my Munich travel and street art map, together with more spots handpicked by yours truly :)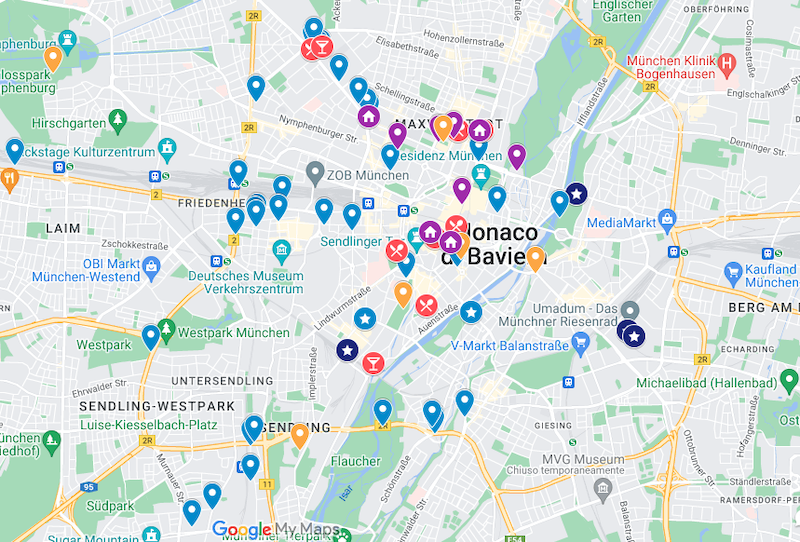 Vegan in Munich: The Restaurant Max Pett
As soon as I stepped off the central station, I walked towards this vegan restaurant famous for not serving alcoholic beverages with their vegan dishes, in line with Doctor Max Pett's philosophy (1818 – 1901), Germany's first professor of hygiene and chairman of the "Association against the Abuse of Spirits." I didn't know that before stepping in, though, so I unknowingly ordered a zero-alcohol beer on my first evening in the Oktoberfest city, and I even ended up asking the name of the beer brand, as it tasted so good -who would have thought?
At the vegan restaurant Max Pett, I had the autumn bowl with pumpkin, beetroot, salad, cereals, and more tasty veggies. Max Pett is also a vegan café serving vegan cakes, teas, juices, and the restaurant's signature, zero-alcohol beverage.
Munich Vegetarian Restaurant Prinz Myshkin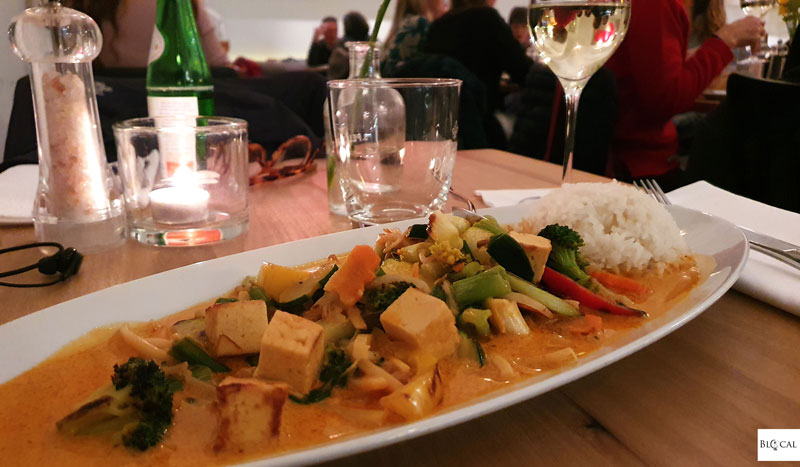 Prinz Myshkin is a fancy vegetarian restaurant in Munich city center, with a wide selection of dishes and excellent wines to pair them with. I had a Red Thai Curry and a glass of white wine -a comforting dinner I truly enjoyed after walking in the rain for a whole day. The restaurant was super busy, which is unusual for a vegetarian restaurant, at least in Southern Europe.
Alternative Café in Munich: FIKA, Interior Store and Café
FIKA is a lovely café in Munich with a Scandinavian vibe and tasty sandwiches with vegan and vegetarian options. The name means "a gathering of friends, colleagues or family" in Swedish, which is the vibe they champion. Comfy chairs and couches, tropical plants, drawings on the walls, and a lot of light -in this aesthetically pleasing café, you can buy cups, candles, lamps, textiles, and more products by Scandinavian designers. I had a Chai and a sandwich with grilled mushrooms and hummus; it got me going for the rest of the day.
FIKA café is in the Westend (aka Schwanthalerhöhe), which quickly became my favorite neighborhood in Munich: vinyl shops, graffiti shops, ateliers of artisans and designers, yoga centers, nice cafés like FIKA, old buildings, beer gardens, beautiful park (the Bavariapark), and the oldest beer factory in Munich: the Augustiner. A neighborhood you definitely shouldn't miss!
Alternative Café in Munich: Kaffee Werk (inside the Werksviertel-Mitte)
I have no picture of this one because the conversation was so good I just forgot that I had to take one, but the place was super friendly, and they have specialty coffees, particular blends, and cakes and croissants. Kaffee Werk is located inside the urban hotspot Werksviertel-Mitte (and it's the only coffee place you'll find open on Saturdays morning), which is an extraordinary area of creativity, street art, and music that claims to be Europe's largest creative area. I don't know if that's true, but I recommend visiting it and stopping at Kaffee Werk for a specialty coffee.
Munich Vegan Bar: Lost Weekend
Lost Weekend is a place for live music and events, run by a group of internationals (primarily English and Irish) passionate about music -they even opened their independent music label! We went to this place after Shepard Fairey's show, as this student bar is next to Munich A-Museum. When we arrived, I was starving and worried about what I could eat in a bar, but they had a few sandwiches and were vegan! Lost Weekend is a hotspot in the Munich University area, crowded with students and young people. Besides live music, they are known for comedy nights and flea markets on Sundays.
Munich Cat Café: The Vegan Restaurant Katzentempel
Katzentempel is a vegan restaurant in Munich inhabited by many cats, who are super cute and fluffy, and they spontaneously come to your table to be cuddled. I had the Cheshire Cat Burger, a Beyond Meat burger with coleslaw, pickled onions, cucumber, and mixed salad. And then, after the vegan meal, I indulge in cuddling the cats :)
I later learned that the cats living in this vegan restaurant are rescues adopted from animal welfare organizations -my favorite was a cat with three legs peacefully sleeping beside my table. He gave me an excellent example of how to relax, calming me with his peace of mind.
Munich Taproom: True Brew Craft Beer Microbrewery
When in Munich, I couldn't exempt myself from craft beer tasting. The best craft beer I had in the whole weekend in Munich was at the taproom of the True Brew Brewing Company. The place has a very relaxed atmosphere, comfy couches, and some street food options served from an ape car.
This taproom is in another neighborhood of Munich that I liked a lot, the area between the Alter Sudfriedhof Cemetery, which I visited earlier that day, and the Munich river Isar.
Munich Vegetarian Meals: the Cooperativa Restaurant
Still in the same nice area, across a little pedestrian bridge on the canal, I found this restaurant serving some vegetarian dishes. I still need to figure out what I ate, but I could recognize tofu, eggplants, zucchini, and lots of balsamic vinegar. At Cooperativa Restaurant, they also have a great selection of beers!
Vegan in Munich: The Brother Mill Café and Bakery
Most cafés in Munich have vegan options. I stopped at The Brother Mill on my way to the Jewish Cemetery; the scent of the baking cakes filled the street, and the place was super cozy. I sat next to one of the big windows and indulged in people-watching while sipping my cappuccino and waiting for the rain to stop.
DAMI, Asian Bar in Munich
After spending the whole morning walking in the rain, on my way to MUCA Museum, I spotted an Asian restaurant with steaming soups full of veggies. I couldn't resist! At DAMI Asian Restaurant, I had vegetarian Ramen, which was nice and warmed me up after a rainy day.
Café in Munich: The Flower Cafe
The Flower Café is a small cafe at the entrance of the artists' district (Kreativquartier München). I had a hot tea to warm up before the second half of the evening, relaxing in this cute café that smells of cinnamon.
Dean&David: The Healthy Fast Food Option
Dean&David is a franchising fast food company serving healthy food like salads, bowls, sandwiches, and smoothies. It was founded in 2007 by David, inspired by the food he ate on a world tour. It's not exclusively vegan, but they have plenty of vegan and vegetarian options for a quick meal. I had a smoothie with a friend here, sitting on the lovely alfresco terrace while waiting for the opening of the nearby Soda Bookshop of curious publications.
Munich Café Vollaths
Vollaths is a lovely breakfast place. They serve many cakes and croissants, vegan options included. I had been walking for a few hours on Sunday morning to find a café open, and when I finally found Vollaths, all the tables inside were taken. However, at that point, I was so desperate for a coffee that I didn't mind sitting outside.
Airbrau: The Brewery Inside Munich Airport
I waited until the very last minute to sit at a typical Bavarian pub. The Airbrau Brewery inside Munich Airport is a microbrewery, where you can also order some vegetarian dishes. I had the oyster mushroom burger and a beer produced there. The burger wasn't that good, but the smell of hop filling the place got me at my first sip of beer. The most particular place to eat inside Munich airport!
Find these vegetarian restaurants in Munich and more cool spots in my Travel & Street Art Map of Munich: