MUCA Munich is the first museum in Germany to exhibit artworks from renowned and internationally acclaimed artists with an urban background. When I visited Munich's Museum of Urban Contemporary Art, MUCA was celebrating its 25th anniversary with a "Jubilee Exhibition" that provided a new context for the urban art collection of Christian and Stephanie Utz, the founders of Munich's Museum of Urban Contemporary Art MUCA.
The exhibition has five themes: Pop Spirit, The Figure Through Time, Ephemeral Images, The Street As Collage, and Obey or Defy. Each area explores the connections and synergies among street artists, graffiti writers, and contemporary artists whose work is somehow influenced by the urban fabric and driven forward by the urge to democratize both the public space and the art world.
Having worked for several years at a similar contextualization of graffiti and street art for the opening of Amsterdam's STRAAT museum, I found it extremely interesting to look at how MUCA founders Christian and Stephanie Utz carried on a similar task (connecting the dots) to arrive at somewhat different conclusions.
Moreover, by visiting MUCA's "25 Years" exhibition, it became evident that their urban art collection grew organically, following the collectors' taste and intuition -as opposed to a chronological, rational, and -ultimately- soulless "street archive." That's what I liked the most about this exhibition at MUCA: it shows a personal point of view on the evolution of this global phenomenon. It also reveals an appreciation that is so compelling to have led not only to the establishment of a great collection of urban contemporary art but also to the foundation of the first museum of this kind in Germany, which makes their collection available to a broad audience.
The Collection of the Museum of Urban Contemporary Art in Munich
And now, let's walk together through MUCA's "25 Years" exhibition:
MUCA Munich: Pop Spirit: Banksy, Andy Warhol, Alex Katz, Burton Morris, Yoshimoto Nara, Harland Miller, Steve Woods, Yayoi Kusama
Entering MUCA's main space, there is a small room on the left that connects street works in the likes of Banksy's "Paranoid Pictures" (2003) with forms and motifs familiar from commercial advertising. Artworks that resonate with the observational practices and the mischievous spirit associated with Pop Art, whose lead artists like Andy Warhol and Keith Haring are represented in the MUCA collection next to street artists that have parodied images coming from advertising.
In particular, Banksy's "Paranoid Pictures" deliberately mimics Andy Warhol's use of the Paramount Pictures brand in his "Ads series." While Warhol's "Paramount Pictures" was commissioned by the owner of the film studio, Banksy's ironic version is laced with disdain for the commercialism of Hollywood.
MUCA Munich: The Figure Through Time: Frank Auerbach, Conor Harrington, Antony Micallef, The Miaz Brothers
MUCA's main room explores a wide range of Contemporary Figurative paintings. Here, the highly expressive, gestural figures of Antony Micallef are showcased next to the Miaz Brothers' uncanny portraits and Conor Harrington's realistic human figures on abstract background.
In particular, much attention is dedicated to Irish-born artist Conor Harrington, whose noblemen, ladies, soldiers, and footmen in 18th-century costume float through indefinite, disintegrating spaces. Conor's work seamlessly blends elements of neoclassical painting (the realistic depiction of the human figure) with contemporary influences, including influences from his graffiti background.
Other artworks in this room I particularly appreciated are the formal portraits by the Italian duo Miaz Brothers. Using an airbrush, they meticulously graded layers of spray paint to render the mist of time -a focus lost with temporal distance. In this scenario, the viewer's visual memory and interpretation are essential in cutting through the fog.
MUCA: Ephemeral Images: Banksy, Barry McGee, Conor Harrington, Os Gemeos, Richard Hambleton, Keith Haring
In the main room, there are also artworks grouped around their Ephemerality, which is a defining trait of the graffiti and street art culture and, at the same time, the characteristic that most clashes with the idea of a "street art museum." A "museum" is created to preserve and conserve, which feels downright a paradox to the eyes of many graffiti and street art enthusiasts.
The artworks grouped in the "Ephemeral Images" section range from Keith Haring's subway drawings to Banksy's street installation "Vandalized Phone Box," which was swiftly removed from the streets of London after the artist had installed it illegally in 2005.
However, by installing a sculpture in the city center of London, Banksy proved artists could cut out the conventional hierarchical process needed to display artworks in public, namely the approval of the establishment, and reach a broad audience by using the 'graffiti ethos.'
Still part of this section is the work of Brazilian twin brothers Os Gemeos, whose artistic production is strongly influenced by graffiti and hip-hop culture of 1980s New York City.
Os Gemeos were introduced to the American graffiti scene in 1993 by Barry McGee, a key figure in the 1980s San Francisco graffiti scene (he wrote the name TWIST). Often disparaging the pressure of living within the urban environment, Barry McGee's earlier public art is underpinned by a sense of melancholy.
Also on display is a stop sign of the 'Godfather of Street Art' Richard Hambleton, who rose to prominence during the early 1980s in New York by painting a silhouette lurking in shadows. Borrowing from the notion of tagging, Hambleton's repetitive reproduction of these figures caught the media's attention -earning him the nickname "shadow men."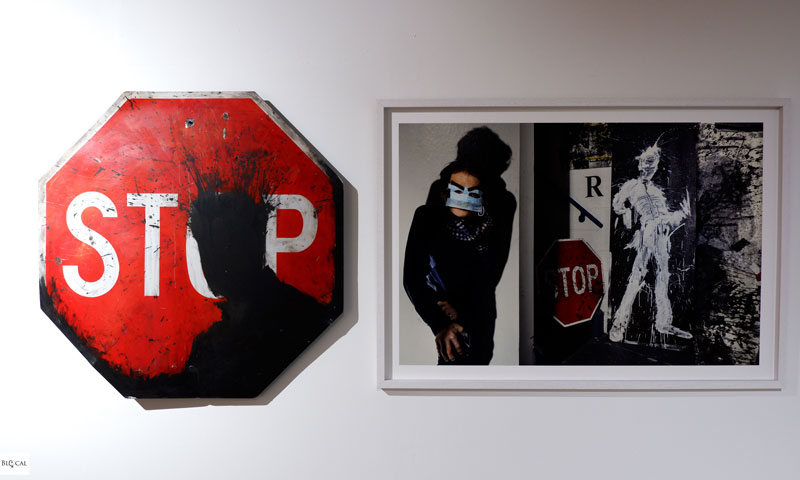 MUCA: The Street As Collage: Vhils, Swoon, Christo, JR, KAWS, Jacques Villeglé, Dan Rawlings, Judith Supine
Establishing a parallel between the street and a collage, this section shows actual collages, like those of Judith Supine, and street collages created by pasting posters and artworks next to advertisements, bills, and public announcements. The street practice of Subvertising (subvert + advertising) was embraced by KAWS at the beginning of his career, when he would subvert the bus shelter adverts displayed around NYC, painting his characters over the slick promotional posters.
JR began his career printing photographs and sheet pasting them to the sidewalks of Paris. Initially conceived to exhibit works in public without any interference from gatekeepers (think of Banksy's 'graffiti ethos' mentioned above), this simple technique proved to be the foundation of JR's career, with the photographs eventually reaching a monumental scale.
Since the early 2000s, Swoon has used her extensive knowledge of printmaking to wheat-paste her portraits directly onto the street, often on discarded material.
Another artist using discarded materials as his medium is Dan Rawlings, also on display in this room of Munich's Museum of Urban Contemporary Art.
MUCA Munich: Obey or Defy: Shepard Fairey, May '68, Russian Propaganda, Banksy, Antony Micallef, Pejac, Burton Morris, Zevs
This last room frames street art as a socio-political art form, ideally starting from the protest posters designed by French students in May 1968.
A long wall is dedicated to the political posters designed by Shepard Fairey (aka OBEY), whose work is inspired by the ideological posters of the 1960s-1980s communist Russia (also exhibited). Shepard Fairey appropriates the same visually controlling style yet subverts the customs to encourage awareness of the still-vital influence and universal omnipresence of ideological imagery. 
In this room, there are also some political artworks by Banksy. From the playful reworking of a Police Riot Helmet (a symbol of state authority undermined and repurposed as a disco ball) to Banksy's "Vandalised Oils" series, where the artist reworks an idyllic countryside landscape with a military-grade helicopter hovering in the background.
Another street artist speaking out against the destruction of the natural world is Pejac. His works and interventions in the urban landscape are often subtle, even poetic, as he uses miniature figures or refines existing elements of buildings to create new subject matters.
Bonus Track: Invader at MUCA Munich
On the mezzanine floor of Munich's Museum of Urban and Contemporary Art are some studio works by French street artist Invader, who started his 'invasion' of the world in 1998. Taking inspiration from early video games, Invader began to construct pixelated versions of well-known characters, produced using mosaic tiles and then illegally cemented to the walls.
The subversive power of mosaic art in the streets lies in the decontextualization of an art form traditionally associated with the opulent interiors of palaces and mansions. It's yet another way to democratize art by making it available for free to a broad public -the ultimate goal shared by many artists exhibited at Munich's Museum of Urban Contemporary Art.
Visit MUCA, Munich's Museum of Urban Contemporary Art
Address: Hotterstraße 12, Munich
Opening Hours:
Wednesday – Sunday: 10:00 a.m. to 6:00 p.m.
Thursdays: 10:00 to 20:00
Find MUCA Museum and many more cool spots (and murals!) in my Travel & Street Art Map of Munich:
Do you want a personalised travel itinerary based on your interests and passions?
Then check out my concierge service ;)