Shepard Fairey is an iconic artist and activist who has had a profound impact on contemporary culture. His most famous work, the "Hope" poster created for Barack Obama campaign, has influenced the turn of American elections. Fairey's art is often political and rebellious, challenging authority and promoting social justice. His influence can be seen in a wide array of mediums, ranging from art, music, and film, to fashion and politics.
Shepard Fairey's unique style of street art and political commentary has captured the attention of people all over the world.
A couple of months ago, I met Shepard Fairey at the opening of his exhibition at Munich's A-Museum. Although small in size, the exhibition "New Clear Power" retraced Shepard Fairey's artistic career -a journey that, as is often the case for pioneers, is intertwined with the evolution of the street art movement as a whole.
Born in South Carolina in 1970, Shepard Fairey studied Graphic Design at the Rhode Island School of Design. While attending the RISD, Shepard Fairey started to place his drawings on skateboards and T-shirts, eventually hitting the streets with one of the most memorable guerrilla marketing campaigns of all time.
Shepard Fairey's OBEY campaign saw the artist plaster the streets of America with a graphic image of Andre the Giant alongside the caption 'OBEY.'
In 1989, Shepard Fairey created a sticker featuring the now-iconic image of the former wrestler Andre Roussimoff, next to the sentence 'Andre the Giant has a Posse'. These were simple stickers meant to impress his art school and skateboard friends. According to the Obey Giant website, "The sticker has no meaning but exists only to cause people to react, to contemplate and search for meaning in the sticker".
[The Andre the Giant 'OBEY' image that launched Shepard Fairey's street art career over 40 years ago continues to be a mainstay in his imagery. Both photos were taken in November 2022 in Munich]
The image of Andre wasn't referring to anything in particular, the former wrestler wasn't a symbol for any cause, nor carried any political or social message. It was just a drawing but, once Fairey began reproducing it on stenciled posters and hand-printed stickers that were mailed to any corner of the world, that drawing became viral – and yet nobody knew what it meant.
Its presence was ubiquitous, albeit enigmatic and inexplicable, and the public response was enthusiastic: people started talking about the stickers, engaging with them, and wondering about the message behind -like they would with political posters or commercial ads.
"At first, I was only thinking about the response from my clique of art school and skateboard friends. The fact that a larger segment of the public would not only notice, but investigate, the unexplained appearance of the stickers was something I had not contemplated. When I started to see reactions and consider the sociological forces at work surrounding the use of public space and the insertion of a very eye-catching but ambiguous image, I began to think there was the potential to create a phenomenon."

Shepard Fairey
After noticing how messages shared on billboards look legit -official, even- to people, Shepard Fairey co-opted this phenomenon to create street art that went underneath the subliminal idea of what illegal graffiti or street art would be.
Not only the operation "spread your name, as far as you can" was perfectly in line with the ambitions of graffiti writers, but what Shepard Fairey did was also in line with the purpose of the first generation of street artists, those who aimed at stimulating curiosity in the passersby and encouraging questioning of one's environment.
As part of this early generation of street artists, Shepard Fairey wanted to create a moment of pause and consideration for the passerby in an otherwise consumption-driven cityscape and to ignite a sense of inquiry in people's navigation of their environments. Fairey contested public space by calling attention to the narrative created by billboards and all manner of advertisements and signage that tells citizens what to do.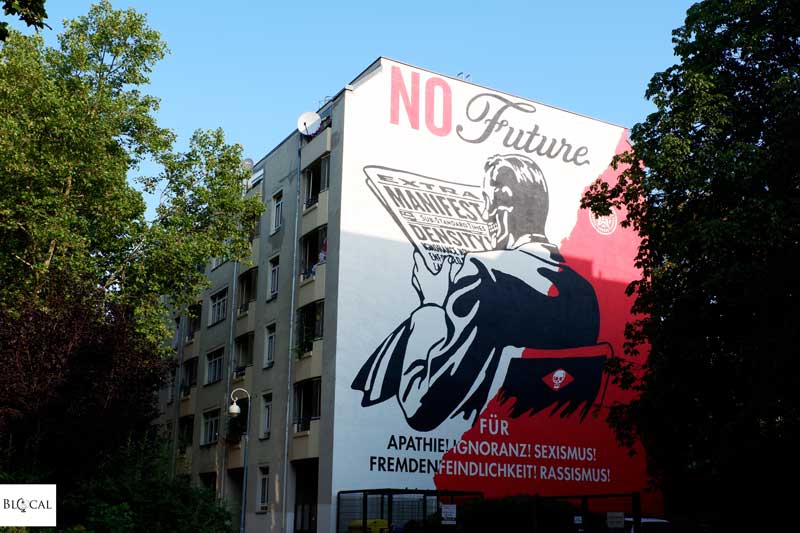 The OBEY Giant campaign was a take on propaganda that encouraged people to question authority.
Interested in the power of simple icons and text, the artist used a brainwashing tool -the propaganda poster- but to motivate people to lead and not to follow. Using an image and an accompanying directive definitely captured people's attention.
The encouragement of action and reaction is a message convincingly translated through his imagery. The essence of propaganda, to entice people into action by promoting a particular point of view or political cause, is flipped on its head in Fairey's work.
The essence of propaganda is flipped on its head in Shepard Fairey's work.
Fairey appropriates the same visually controlling style as the ideological posters of communist Russia, yet subverts the customs to promote ideas that are progressive and positive.
An interest in propaganda imagery and graphic design propelled Fairey to work initially with a black, white, and, on occasion, red palette as well as explicitly accessible images. The complexity of his work comes from the multiple layers of possible meaning abundant in his pieces.
Screen-printed, stenciled, painted, pasted, or collaged, Shepard Fairey's images have become increasingly rich in their simplicity of design and complex messaging.
As Fairey's art began to gain attention—and notoriety—he started using it to make political statements.
Many of Shepard Fairey's works are political; from the iconic portrait of Barack Obama "Hope" (2008) to many heroic and inspirational political portraits painted on huge buildings all around the world.
His murals remind us of the struggles that have been fought before and empower us to fight for a better future. They stand as a reminder that even individual voices can make a difference in shaping a brighter tomorrow.
However, for Shepard Fairey, supporting the causes he believes in doesn't end with the realization of his powerful murals all around the world. In 2012, the artist founded the OBEY Awareness Program, a charity with the mission of increasing awareness and inspiring action on important social issues.
The Program is supported through the sale of clothing and accessories from the streetwear brand OBEY Clothing, which Shepard Fairey launched in 2001 and has become, ever since, one of the most recognizable clothing brands in the world.
The Program works to support causes including human rights, freedom of expression, the environment, and animal rights, turning the message of Shepard Fairey's art into something tangible that has been able to achieve concrete and measurable results.