When you think about graffiti and street art in Germany, the first place that comes to mind might be Berlin, but, actually, the German graffiti scene was born in Munich. Over the decades, Munich's scene has only evolved, attracting renowned graffiti writers and street artists from abroad eager to leave a sign in the city where it all began.
Do you want a personalised travel itinerary based on your interests and passions?
Then check out my concierge service ;)
Munich is also a city that takes pride in its role in street art history: not one, but three museums in Munich are dedicated exclusively to urban art, while several contemporary art museums are often showcasing the work of important street artists (when I visited Munich, the Kunsthalle Munchen was hosting the largest retrospective to date dedicated to French street artist JR).
"The Munich Street Art scene is very dynamic. There are lots of artists here, trying to survive in Munich. Both new places and already settled street art places (like Bahnwärter Thiel, Schlachthof, and Brudermühlbrücke) keep up the dynamic of Munich Street Art. In Munich, we have street art museums and an organization supporting urban art (Verein Urbane Kunst, or VUK). With these institutions, street art will thrive furthermore. It's a young scene.. and the scene's elders are still there, keeping up doing talks and connections (especially through the Munich Graffiti Library). The most crucial person in the scene is still LOOMIT. He is still connecting, doing art, and giving workshops… without a single stop in more than 30 years. Is it different from another city? hmm… I don't know. As far as I can see, Munich still has the tremendous power to push art forward."

Daniel Man, street artist and curator.
"I don't see myself as a member of the scene but as an ally. From my perspective, we have a unique situation in Munich. The community of the street art and graffiti scene is strong as much among the pioneers and the international guests who keep coming (back) to Munich as among the new generation. The community recently founded the "Roundtable Street Art"- a meeting format every three months open to everyone to discuss upcoming projects and new developments or interact with each other. Unique is also the political situation: among the representatives of the city, there is an immense appreciation of the street art and graffiti scene and, therefore, a decent amount of cultural funding."

Magdalena Waller, Verein Urbane Kunst (VUK)
On top of all that, Munich is home to the respected Munich Graffiti Library, where you can browse through fanzines and graffiti books and learn about the evolution of the German graffiti scene from Munich to Berlin and beyond.
"The city of Munich is funding a lot of money for Street Art & Graffiti, which is quite unique in Germany or even in Europe. What I like about the Munich graffiti scene is that everybody is super chill, the people know each other, and there's a bond between the different chapters and generations."

Benjamin Schandelmaier, Munich Graffiti Library.
A Brief History of Graffiti in Munich
Let's go back to the 1980s. Munich was, and still is, a very rich city that loves order and tidiness -a city nicknamed "toytown" or "Playmobil City" for its neat and picturesque appearance.
"It was the last weekend in March 1985. The idea came from the film Wildstyle; that was the first media where we got to see what graffiti looked like. I still remember watching that movie on German television in November 1983. Since then, the idea of a train was always on my mind and of the other writers'. There was no scene back then; we all started in solitary. But that year, 1985, was the year we got in contact with each other, and it was clear from the start we had to do a train. We were seven, and four of them have been graffiti activists since that train. It was just like the movie made us do it: the experience we've seen in the film, how these New York City guys were doing trains. We had to do that ourselves."

Loomit, the forefather of German graffiti.
When Loomit and his friends sprayed the first train in Germany in 1985 (which went down in the graffiti history of Europe as the "Geltendorfer Zug"), the police thought it was related to terrorism. Train bombing was immediately taken very seriously, literally, as a matter of state security, and controls hadn't eased up even when they realized it basically was a harmless activity of a bunch of teenagers. Munich had the first Vandal Squad in Europe, anti-graffiti police especially designed to arrest train writers.
Such hyper-controlled situation brought German graffiti writers to earn their worldwide reputation as 'strategists' for meticulously planning any action, for maniacally cleaning after themselves, and for wearing latex gloves so as not to leave fingerprints as well as other soldier gear like the balaclava, the cap covering the head and neck with an opening for the eyes. After all, the love for organization and planning is probably the greatest stereotype of German culture. ;)
Trains in Munich are either S-Bahn, the suburban train system, or U-Bahn, the subway trains covering the city center. Graffiti-wise, the distinction lies in the accessibility of the yard (S-Bahn train yards were easier to hit because they were outside the city) and in the photo opportunity: S-Bahn trains only go below ground in the city center, meaning that graffiti writers could take good photos of the train in the open air stations. That's why the Munich graffiti scene has trained and flourished mainly on the S-Bahn trains.
"In Munich, the past is essential: the city has been open to graffiti art since the early stages of the movement. We had Richard Hamilton [ed., a forefather of New York graffiti] painting his shadow man in Munich back in the days, so even from the dawn of the movement, Munich was already going to the extreme with the apostles.
Today, we are still an old but very mature scene among so many cities where so many good artists are coming from. We have a lot of events where all the generations meet each other, and we have a lot of programs that combine different artists. I appreciate this about Munich: it's a very cooperative scene compared to other cities, and there's a true graffiti community.
Munich is also very wealthy, so from the early stages, we had some funding from the city. Munich is a role model for many things; for example, for the department responsible for bridges and underpasses, which got in contact with the graffiti scene in 1994. It was like an open gate we went through: they could wash away graffiti pieces and have them appear again in two weeks or ask graffiti professionals to do something."

Loomit, the forefather of German graffiti.
Street Art in Munich: Urban Hotspots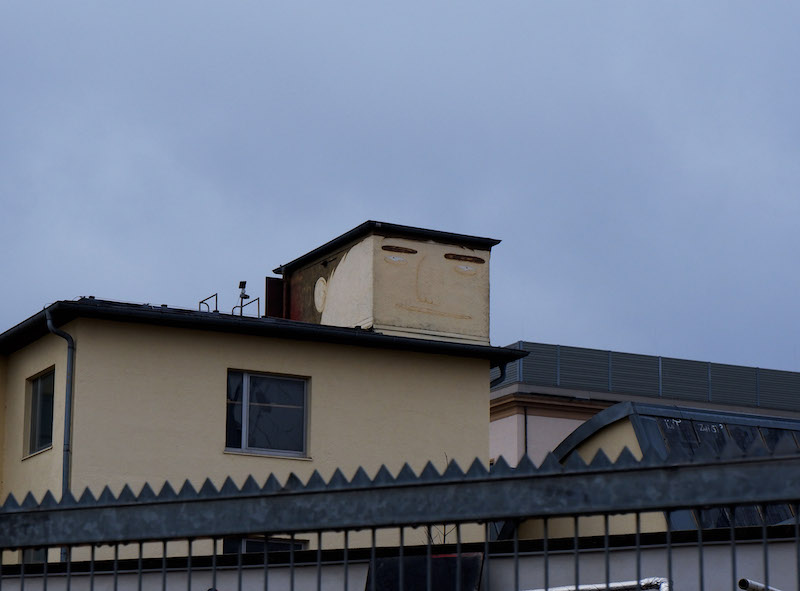 And now, let's fast forward to the present time, to the city that has promoted many murals in different neighborhoods, has welcomed internationally renowned street artists, and has facilitated the establishment not only of urban contemporary art museums (plural!) but also of an archive for writing culture -the Munich Graffiti Library– that raises awareness on this subculture and acts as a place of exchange between graffiti culture and the rest of the Munich creative scene.
"The Munich Graffiti Library was born in 2020. I decided to show my collection (25 years of collecting) to a wider audience on Instagram. A dream from the beginning was to open up a physical library and have a place where people could come by and have a look at the books, especially for research purposes. Then I heard about a room in the city center of Munich, where you need to participate in a tender. We're trying to transfer knowledge about the history of Graffiti; that's our main goal."

Benjamin Schandelmaier, Munich Graffiti Library.
In this contemporary Munich, like in many other cities, you can find popular urban hotspots born on the site of former factories: the Werksviertel-Mitte and the Bahnwärter Thiel.
Urban Travel Munich: Werksviertel-Mitte
In 1996, the 90.000 sqm area of a potato products factory was redesigned into the Ost Art Park, a gigantic entertainment center with clubs, bars, artist studios (among which, the studio of the legendary graffiti writer Loomit), and small businesses. From 2003 onwards, this creative area was known as 'Kulturfabric,' eventually becoming the Werksviertel-Mitte as we know it today around 2016 when an extensive demolition happened and the cultural area shrunk to give space to residential buildings.
Nevertheless, you can still find plenty of street art in Werksviertel-Mitte. From the work of local street artists like Beastie Stylez to artworks by street art legends like the Brazilian twins Os Gemeos, who often hang out here with their friend Loomit.
Next to throw-ups by the American graffiti duo Utah and Ether and political commentary pieces like the 'Putin kissing Putin' by German stencil artist Lapiz, at Munich Werksviertel-Mitte you can find stunning street art pieces painted during "Hands Off The Wall," a festival born in Vienna to empower female artists.
"I brought 'Hands Off The Wall' from Vienna to Munich in 2020, when Loomit suggested I come to Munich and take over the walls in Werksviertel Mitte with my female Graffiti and street art festival. He offered a 140mx7m wall to paint on, and I could not say no to this offer. Ever since we have stayed in Munich, because in Vienna we could paint on the "Wiener Wand," which are legal walls provided by the city, meaning that our art would not stay for long because everybody can paint over them. The walls in Munich, instead, are permanent and will stay for years to come."

Chinagirl Tile
Urban Travel Munich: Bahnwärter Thiel
On the other side of the city is the Bahnwärter Thiel, an urban hotspot in the former Munich cattle yard (demolished in 2008). Rising next to the train railway, this graffiti spot is characterized by several trams and subway cars alongside shipping containers -all entirely painted. The area now hosts clubs, bars, live music venues, flea markets, and vintage shops.
Moreover, the outer wall of the Bahnwärter Thiel area is a very popular Hall of Fame (the Tumblinger Hall of Fame, where "Hall of Fame" stands for a wall that graffiti writers can paint legally, open to everyone).
Street Art in Munich: Murals in the City Center
Over the decades, the streets of Munich have attracted renowned artists like the street art forefather Blek le Rat, whose stencils have inspired multiple generations of street artists, Banksy included. On the occasion of his exhibition at Kronsbein Gallery in 2016, Blek le Rat painted one of his famous self-portraits in Munich just opposite the art gallery that hosted his artworks.
Another street art legend who left a piece in Munich is the Italian BLU, whose mural dates back to 2015. Invited by Positive Propaganda, the Italian street artist used his typical sense of humor to make passers-by reflect on their relationship with money, the relationship between money and power, and the power held by banks in our lives. The character painted by BLU in Munich is religiously worshipping the ATM (as suggested by the beam of light) and greeting it with the nazi salute, which indicates submission to its rules.
On the other side of Munich's city center, close to the beautiful Alter-Südfriedhof cemetery, I spotted a mural by the Jukebox Cowboys, in which the two artists combine their graffiti lettering with characters and comic elements.
Another street art piece in the city center of Munich that you should notice is by Spanish street artist Liqen. "Adam & Eve" reflects on the extremes of rich and poor, the discrepancy and decadence of contemporary society. Looking at nightlife in a central square in Munich, the street artist noticed how rich people were drinking and enjoying life while poor people roamed around to collect empty beer cans and bottles (rich people party's 'leftovers'), which they could return to the supermarket in exchange for a few cents.
Another Spanish street artist who painted several murals in Munich is Escif. In Munich city center, you can admire "Durch die Blume gesagt," meaning "to say something in a roundabout way," and a wordplay based on "Blume," which is German for flower. Painted in 2016, this stunning mural depicts a flower vase decorated with military tanks and weapons -a reference to Munich as the home of two leading German arms manufacturers: MTU and Krauss-Maffei Wegmann.
While wandering in the city center of Munich, I stumbled upon yet another piece by Escif nobody knows about -part of the artist's lesser-known series juxtaposing realistic images and runic lettering, which has appeared already in his hometown of Valencia.
In the city center of Munich, you can also find two museums focusing on urban contemporary art: the MUCA Museum (covered), which happens to be the first museum of this kind in Germany, and the newly opened AMuseum, founded by the people at Positive Propaganda.
Street Art in Munich: Graffiti and Street Art *under* the City Center
Many underpasses in Munich have been turned into street art galleries. From the very central "Oskar-von-Miller" tunnel, where graffiti legend Loomit painted the life of Princess Sissi and King Ludwig I,
to the Unterfuhrung Friedensengel, the underpass in the Maximiliansanlagen Park, right beneath the popular tourist attraction "Angel of Peace." In 2010, many international street artists, including the Chilean Inti, painted a piece here.
More underpasses that got a graffiti makeover are the Maria-Ward-Unterführung, the Unterführung Isarring (inside the famous English Gardens), and the Trambahntunnel Obersendling. Graffiti in Munich are also very common on the cement pillars of bridges like Muffathalle, Ludwigsbrücke, Corneliusbrücke, Reichenbachbrücke (in the photo below), Brudermühlbrücke, and Donnersbergerbrücke.
Munich Street Art Self-Guided Tour: Murals on Dachauer Street
Street Art in Munich – The Dachauer Route: 30 mins on foot
Munich's great street art route goes along Dachauer Street, from the excellent urban art museum Kunst-Labor-2 to the urban hotspot known as 'Kreativquartier.' Between these two must-see places for urban travelers, there are a series of stunning murals by world-renowned street artists invited to paint in Munich by the non-profit organization Positive Propaganda.
Coming from the city center, and even before arriving at the Kunst-Labor-2 Museum, the first mural you'll spot is a double piece by Californian street artist Skullphone. Painted in 2018, "American Attraction" ponders the ubiquitous presence of advertising in our everyday life.
This is not simply a theme heart-felt by Skullphone; the omnipresence of digital billboards has also inspired his signature technique of "digital media painting," consisting of thousands of hand-painted dots in the screen colors RGB (red, green, blue) that makes Skullphone's images look like digital billboards.
On the facade of the former health center now hosting the urban art museum Kunst-Labor-2, we find a fantastic mural by German street artist Case Maclaim, powered by MUCA Museum.
Further on Dachauer street are two stunning murals by Liqen, "Roach Race" and "Ex Human."
A sign saying "Illegally parked vehicles will be towed at the owner's expense" with the image of a military tank being towed away is what you'll find today in place of a solid anti-military piece painted by Escif in 2018. The censored work depicted an army tank that was actually a pos, with a credit card swiping through it. On the credit card, it was written "Credit War."
Take the narrow alley, and you'll see a beautiful mural by Aryz, inspired by the many refugee families living just across the street.
Time for a quick detour from Dachauer Street to find Shepard Fairey's mural "Paint it black" (2015). The artwork addresses the extent to which politics is stuck in the clutches of international oil companies, the influences of oil companies on global politics, and the disastrous consequences of their operations on nature and the environment. 
The last stop of our self-guided tour along Dachauer Street is the Kreativquartier, another urban hotspot in Munich born inside the former Luitpold barracks. Twenty hectares for cultural, creative, social, and commercial use where it goes without saying, you can find plenty of street art.
Here, we can find the iconic yellow fists of Berlin-based Graffiti Writer Kripoe (CBS Crew), a mural realized in cooperation with Amnesty International (for the "Hands Up For Gun Control" campaign) that speaks against German armaments.
Opposite it is another Munich street art piece curated by Positive Propaganda: a street installation by Mark Jenkins, the American artist known for his sculptures in uncommon situations and positions to create a surreal and enigmatic landscape.
By venturing further into the Kreativequartier, you'll stumble upon more street art, posters, stickers, and graffiti. One mural, particularly, is worth mentioning: the one painted by Feoflip for the music club Import Export.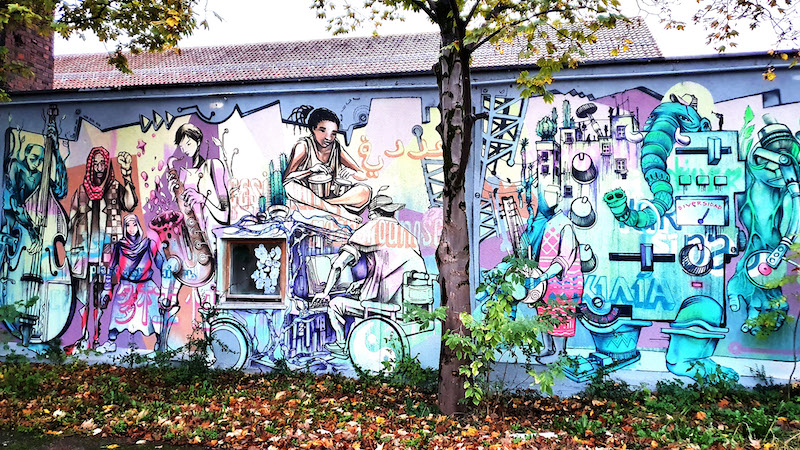 Munich Street Art Self-Guided Tour: Murals in the Westend
Street Art in Munich – The Westend Route: 15 mins on foot
The Westend is one of the Munich areas undergoing gentrification. Just like it's happening in similar neighborhoods around Europe, the cost of living in Munich Westend is rising, sparking a housing problem that eventually destroys the authentic soul of the neighborhood by pushing old residents and small businesses away.
Street art has always been a great medium to highlight urban issues, and two murals in this area make passers-by reflect upon the area's gentrification. The ethnic and cultural diversity of the older inhabitants of the neighborhood inspires the matchbox painted by No Name,
while the mural painted by Italian street artist Ericailcane uses the image of a woodpecker to represent the double-fronted situation of housing shortage and housing destruction. Ericailcane's woodpecker is carving its house without considering the ants and fireflies living on that same tree. In this mural, old residents join forces to protect themselves from their attacker and his attempt to steal their food and take over their living space.
Still in this area there is a mural painted by residents during a workshop with the Mexican mural painter Sergio Checo Valdez. Painted in 2015, this mural is completely different from other murals that can be found in the neighbourhood; it recalls the so-called "communal participatory murals" that are the bone of Mexican Muralism.
Two more murals to see in Munich Westend are the one by Agostino Iacurci on the Meininger Hotel and the powerful mural by American artivist Mona Caron, who reflects on the oil and gas industry and how we can 'break free' from them.
Munich Street Art Self-Guided Tour: Murals in the South-West
Street Art in Munich – The South-West Route: 2 hours on foot, but you can take the bus from A to B, and from C to D
In 2014, several street artists were invited to paint the concrete pillars on Candidplatz. My favorites are those by Herakut, speaking about the refugee crisis, Case Maclaim's iconic hands, and Lapiz's stencils.
From Candidplatz, take a couple of buses (X30 and 53) to Munich NYX Hotel, whose facade was painted by SatOne and Daniel Man in 2018.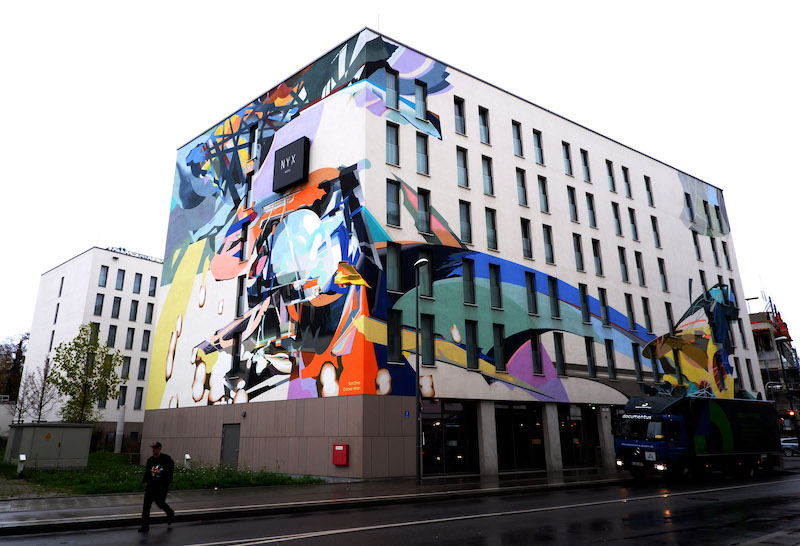 "To break the "grid patterns" on the buildings around the hotel, we had to set a colorful explosion to bring a dynamic spot to that place. So we decided to make a design that could do this, to break the grids of the environment. By making digital collages with Rafael's [SatOne's] artwork and mine, we finally matched together as one. Mine is the upper part of the wall, Rafael's the lower part. And we had a center where we got together."

Daniel Man
Not too far from there, in 2017, the same Daniel Man organized Scale Wall Art, an urban art project inside the former Siemens Campus.
"The SCALE project was a PAT ART LAB project. The Real Estate Company Patrizia funded it. They had a few years of brainstorming about what to do with that area they owned (not anymore). One day they asked me to organize a private festival. We had the dream of involving many people, but it was hard to discuss. It's a gated area. So even the festival was not really a festival. My motivation to do it was to bring a part of my graffiti family together, a gathering. Part of the Munich Graffiti Scene and OsGemeos, my bros. So this was to be meant as a single event. The area was almost abandoned when we made SCALE. I think that they sold their part to another company. I don't know what happened afterward."

Daniel Man
When I visited the former Siemens Campus in Munich, the area was utterly abandoned and fenced off (I did sneak in, though… the access point is near the mural by SAK Crew).
Except for Sainer, Loomit, and the graffiti writers of Munich's legendary SAK Crew, all other artists teamed up for a total of four gigantic collaborations.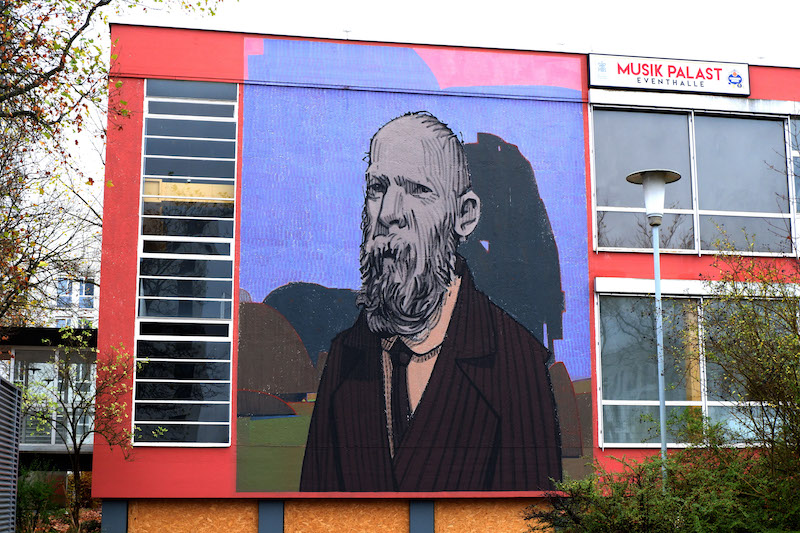 Hop back on bus number 53 to find two more gigantic murals, this time on Munich's ring road. In 2019, Escif painted "We The Forest," a long mural speaking against deforestation. From Brazil to Indonesia, the vital rainforest has been destroyed to make space for monocultures that keep the price of food in western countries low, regardless of the dramatic impact such behavior has on the planet. With this mural, Escif reminds us that, through our consumer behavior, we can fight against deforestation by coming together as trees in a forest. The mural's title is somehow a pun: it can also be read as "We Deforest."
Opposite Escif mural, there is the latest mural produced by Positive Propaganda, this time to celebrate the opening of their new museum (Amuseum) with the Shepard Fairey retrospective show "New Clear Power."
Meeting Shepard Fairey at the opening of his show at Munich Amuseum was indeed the reason for my trip to Munich, but that's a story for another time ;) Stay tuned!
Munich Street Art Map
Find these murals and more alternative spots to see in Munich in my travel and street art map: