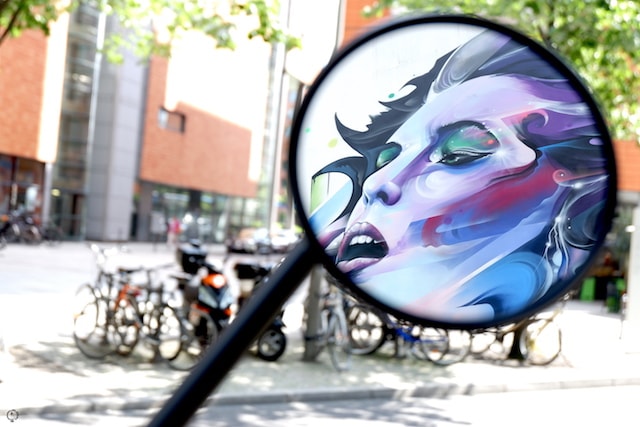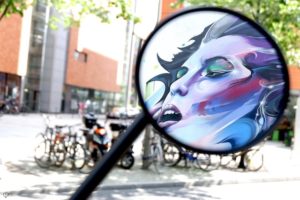 Everybody seems to think that street art in Berlin is dead and undoubtedly the city isn't anymore the ultimate destination for graffiti writers and all kinds of artists.
However, Berlin is home to two of the most popular graffiti crews worldwide (1UP and Berlin Kidz), a quirky Museum of Stickers and the art-gallery-turned-street-art-museum Urban Nation Berlin.
Urban Nation is responsible for the majority of urban art in the city, so our Berlin street art tour couldn't start anywhere else than from their HQs on Bulowstrasse.
[UPDATE 2018: At last, I visited Urban Nation, read more below!]
Where to find the best street art in Berlin?
Get my Berlin free street art Google Map:
Do you want a personalised travel itinerary based on your interests and passions?
Then check out my concierge service ;)
Street Art in Berlin > Schoneberg and beyond
A formerly blighted area, Bulowstrasse is where I found the best street art in Berlin. I was there in August, thus before the realization of the 'Art Mile' for the opening of the Urban Nation Museum, but the area was already packed with street art. On Bulowstrasse itself, I spotted artworks by Martin Whatson, Hyuro, my beloved Fin Dac, Icy and Sot, Cranio, Bailon, Adele Renault & Shoe and Nils Westergard.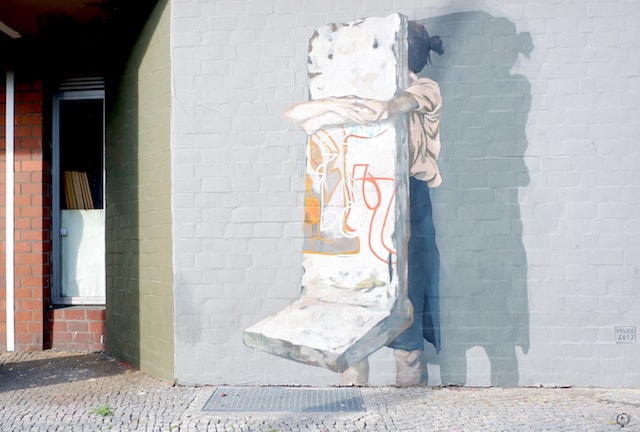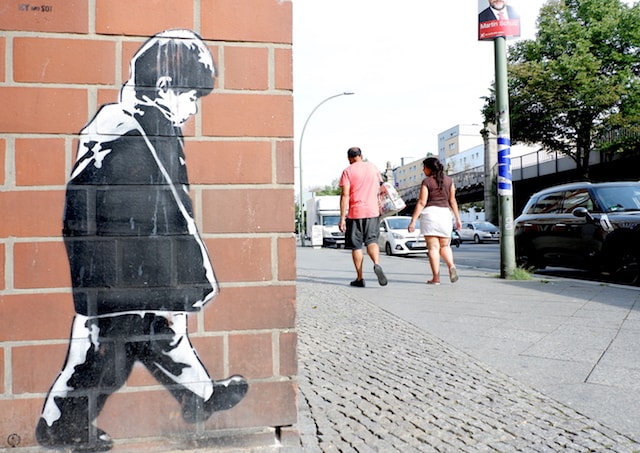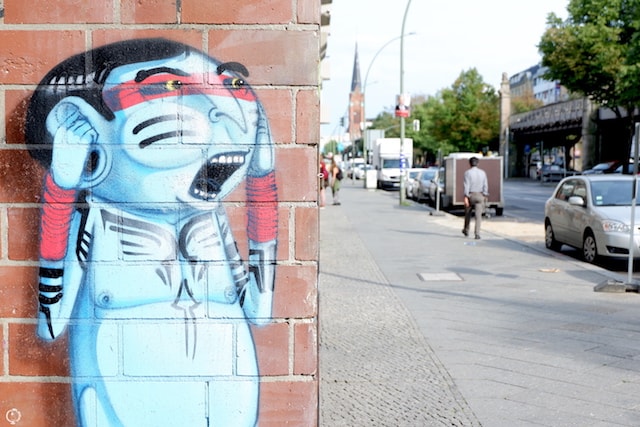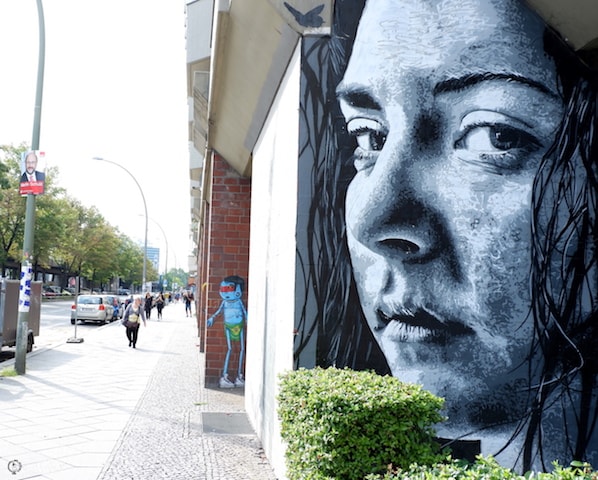 The legendary street artist Shepard Fairey painted two large-scale murals in the area: one titled "Israel / Palestine" on Bulowstrasse and a second piece titled "No Future" with a man holding a newspaper on a secondary street.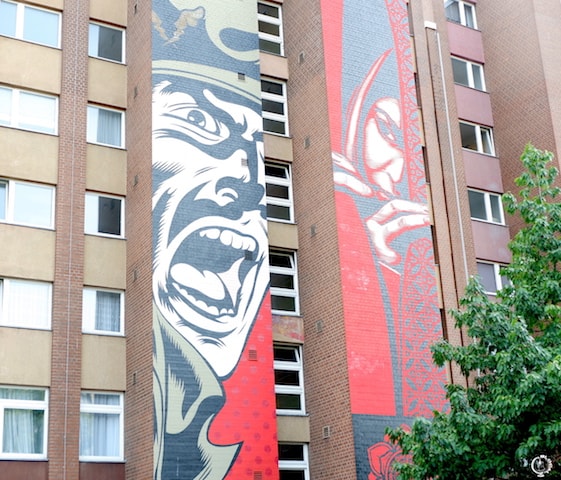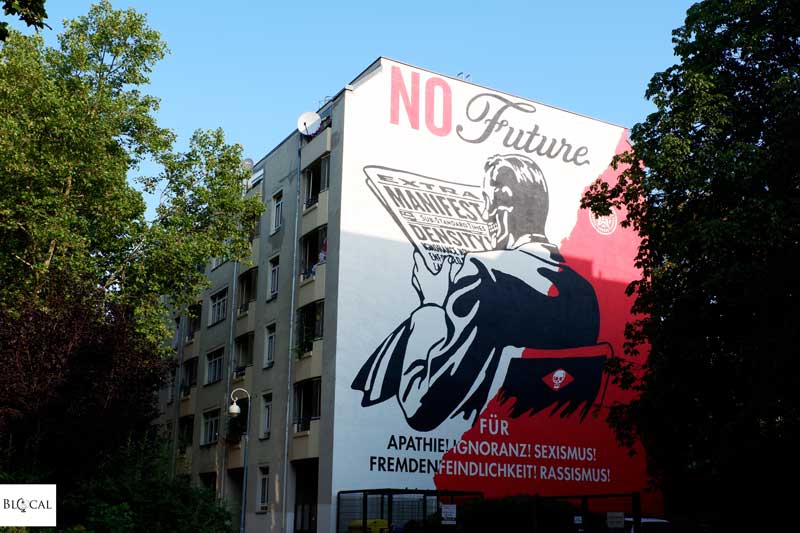 A bit further, the Portuguese street artist Vhils realized one of his iconic, carved portraits depicting Sven Marquardt, a photographer and the doorman of the nightclub Berghain. It is just one of the four jackhammered portraits he left in Berlin for the project "Go Forth", which was sponsored by Levi's.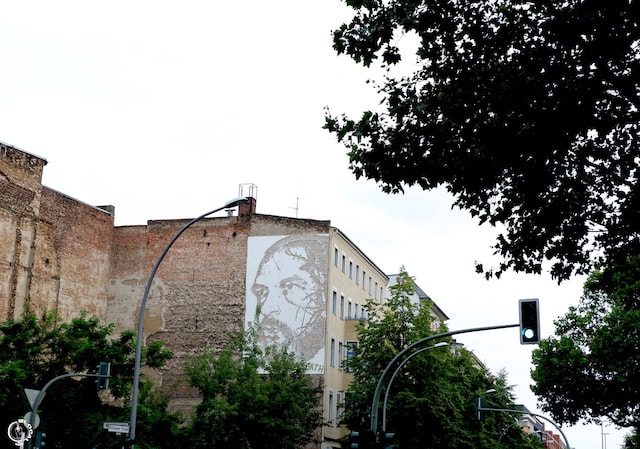 Entering the neighbourhood from here, I stumbled upon the colourful holes into the walls by the Polish artist 1010, and then two bright murals facing each other: one by the Brazilian duo Bicicleta Sem Freio and one by the French artist Fafi.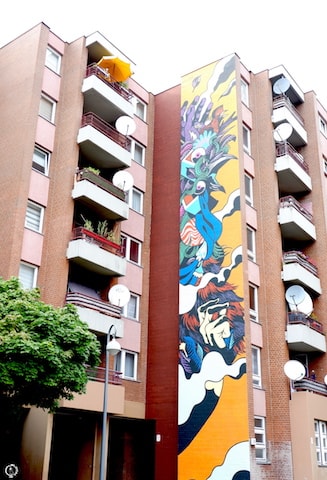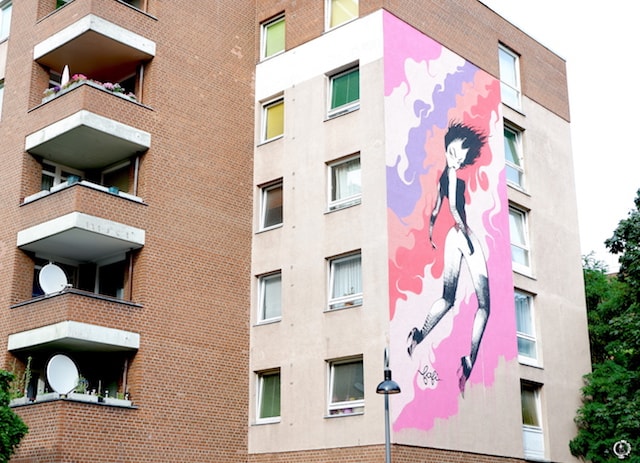 Nearby, there are the comics-based characters by Phlegm, who –here, again- is showing his ability in revamping the most irregular surfaces.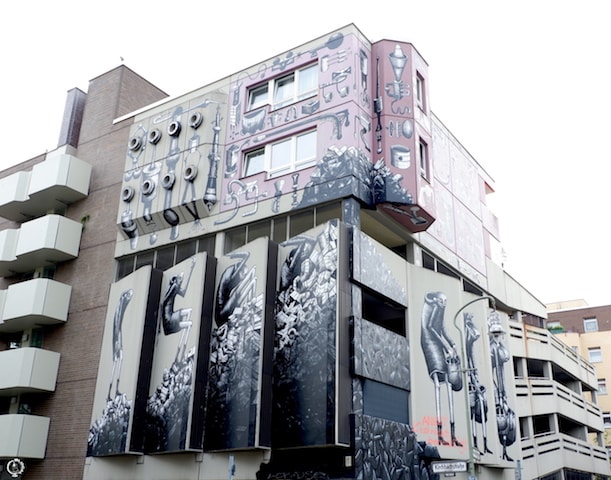 Behind a skate ramp at the entrance of the park, there is a beautiful artwork by the Chinese Qi Xinguha, who did something a bit different from the usual 3D street art he is well known for.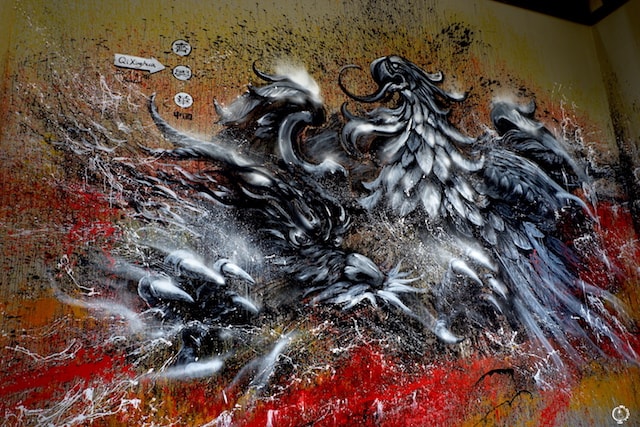 In the northern area of the neighbourhood, there is a collaboration piece by Sokar Uno and El Nasca on the lateral facade of a building that had already been colour-washed by Kera 1.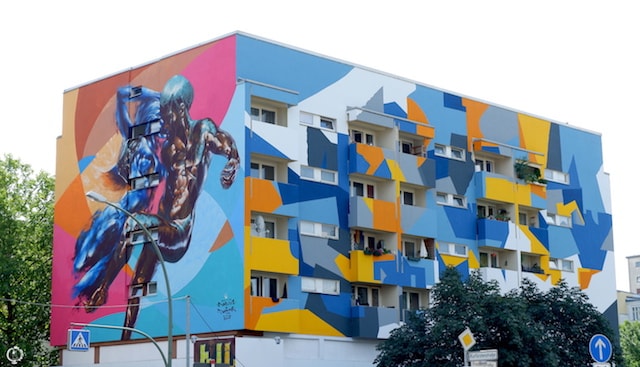 The large-scale mural by the English crew Nomad Clan is based on the fact that hundreds of bunnies burrowed underneath the Berlin Wall and moved freely around, unlike Berlin's human inhabitants.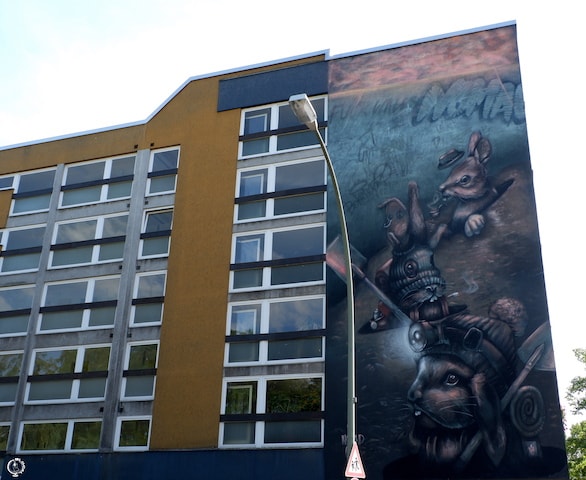 Mr Cenz painted his interpretation of Maleficent from the sleeping beauty tale near Potsdamer Platz, the square where I found a piece of the Berlin Wall covered with an iconic character of Thierry Noir, who was the first artist to paint the Wall. He did it to make it stand out like a mutation in the city, not to make it a beautiful piece of public art.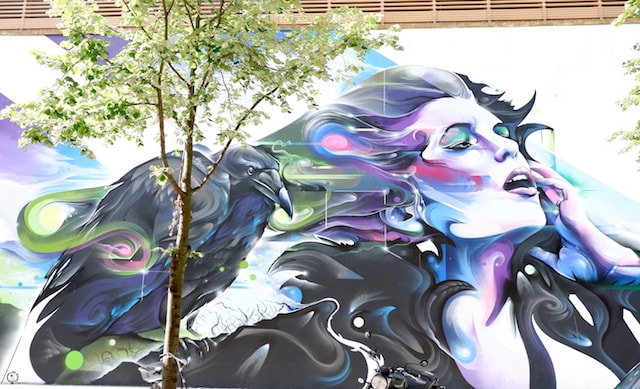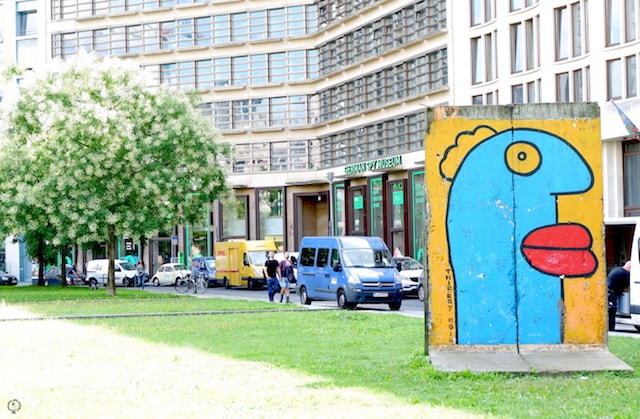 Update 2018 >

More murals spotted in Schoneberg

Lots of murals were painted for the opening of the Urban Nation street art museum, and so after I left Berlin. At last, this year I could catch up with them all :) Here are my favorites: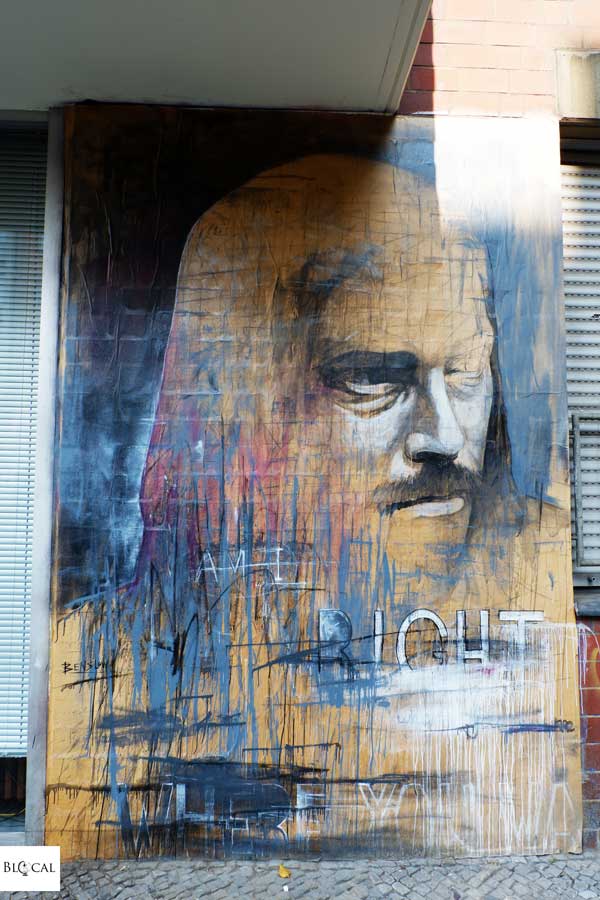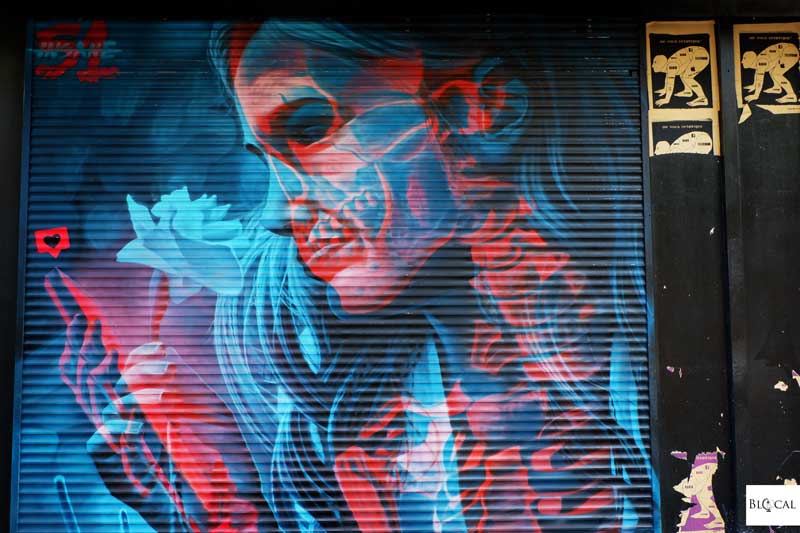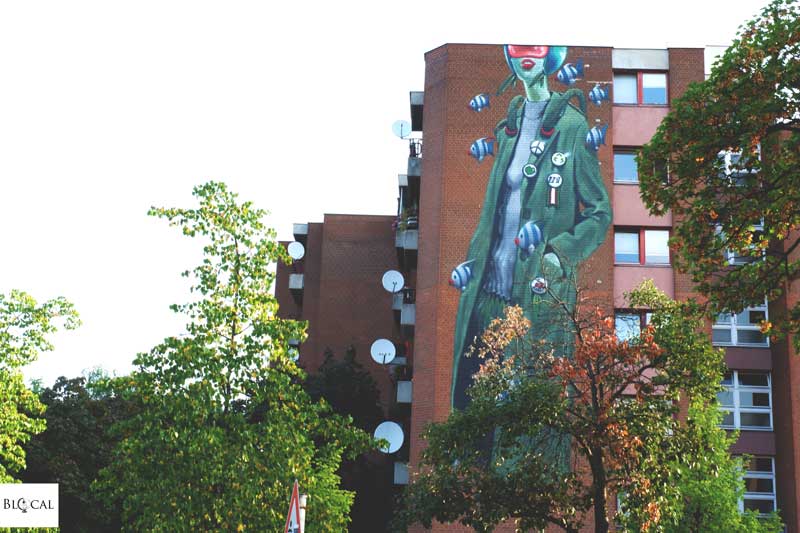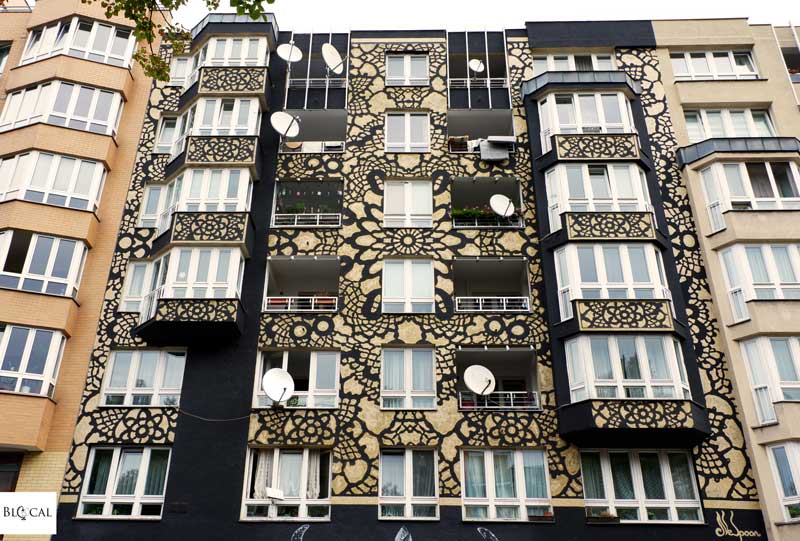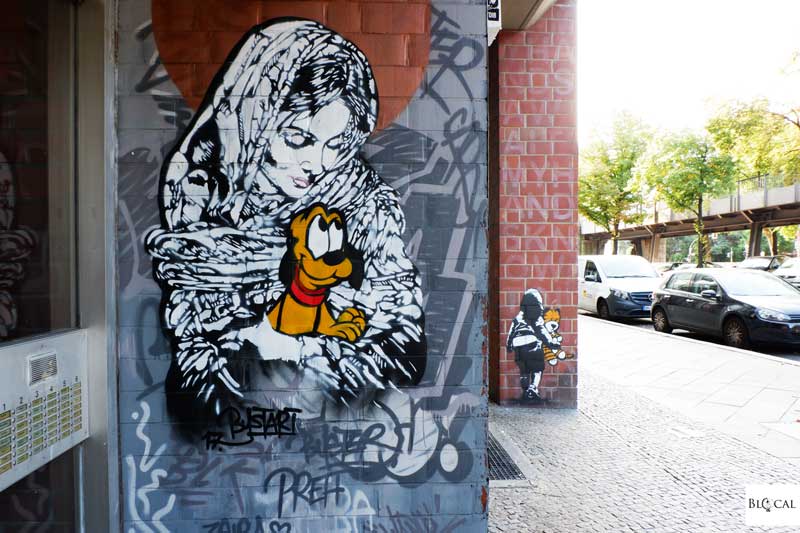 Update 2018 >

Visiting Urban Nation Museum

At last, I visited Urban Nation, the museum for urban contemporary art. Some of my favorite artists ever have a piece in this collection and, although it is obviously different to see their art on canvas rather than on the streets, they have some really great pieces!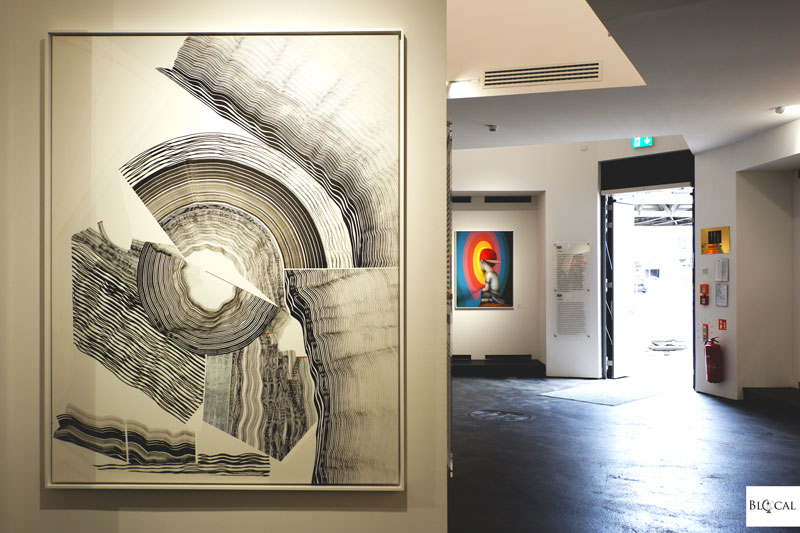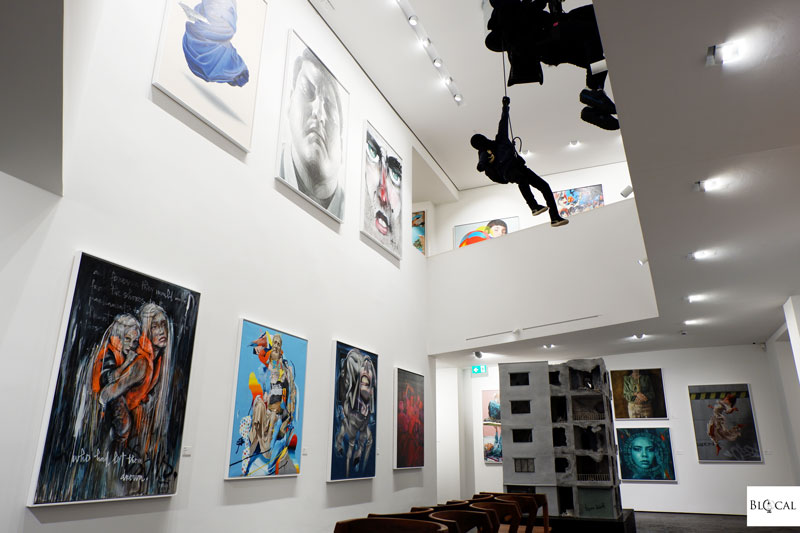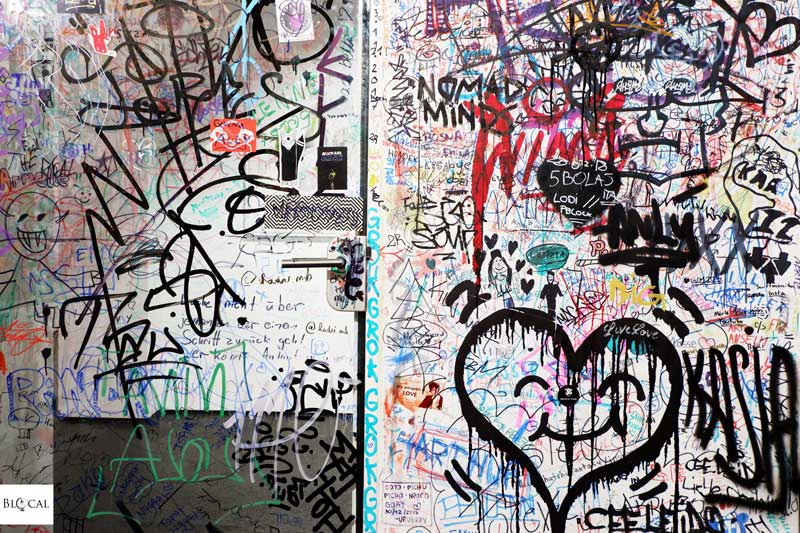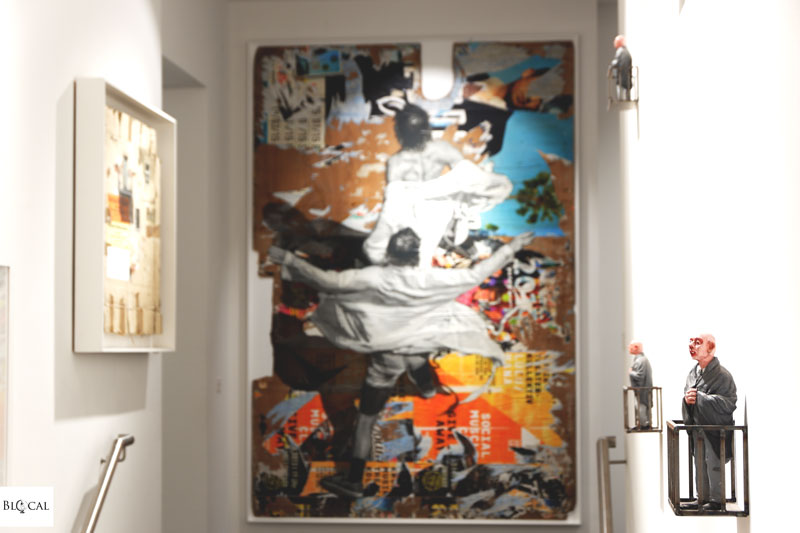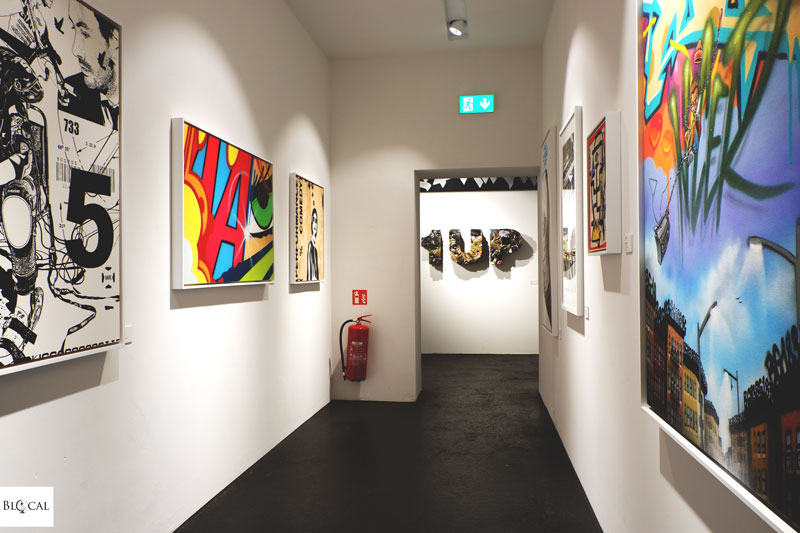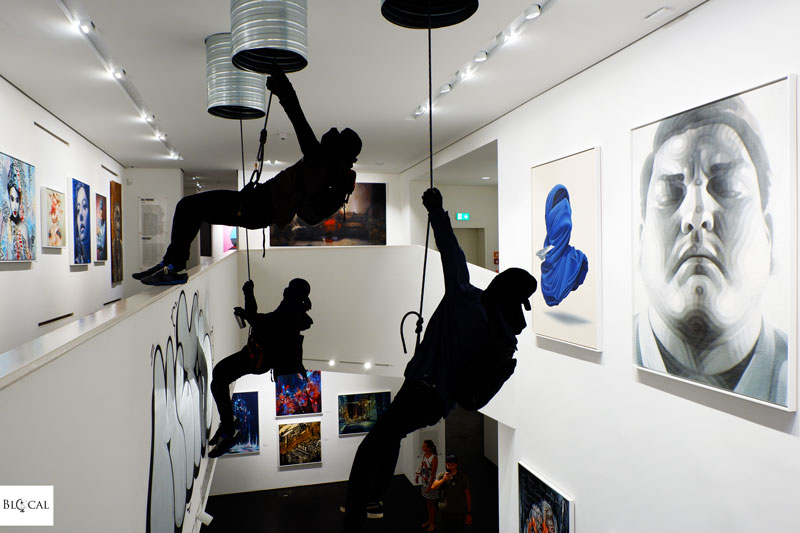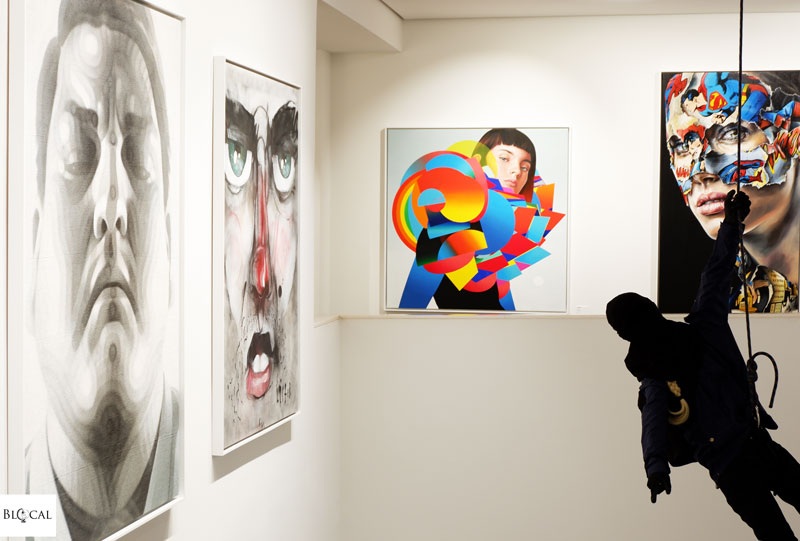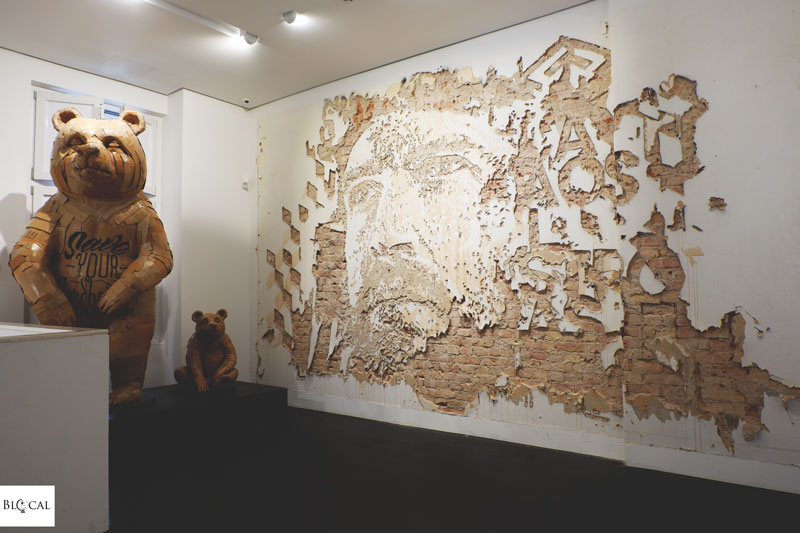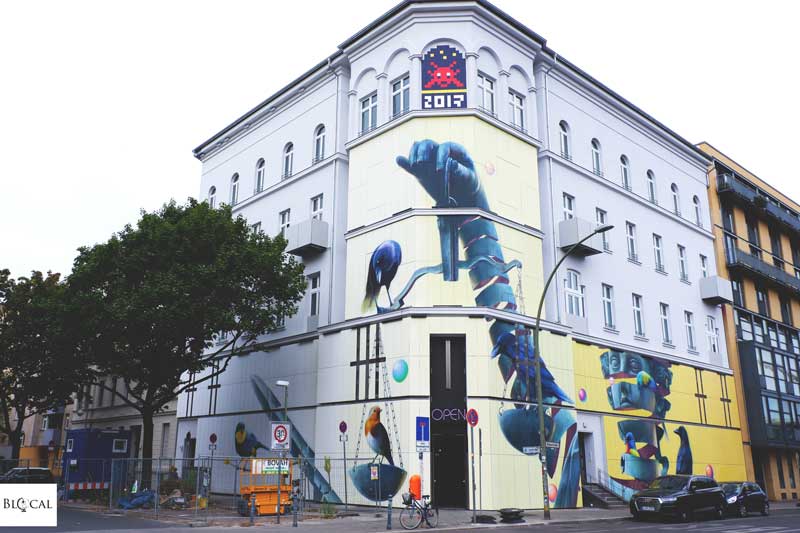 Street Art in Berlin > Kreuzberg and beyond
In Kreuzberg, I found the quintessence of Berlin's graffiti and street art scene, which is made up of many tags, stickers, posters and spontaneous pieces, among which several stencils by the legendary French artist C215.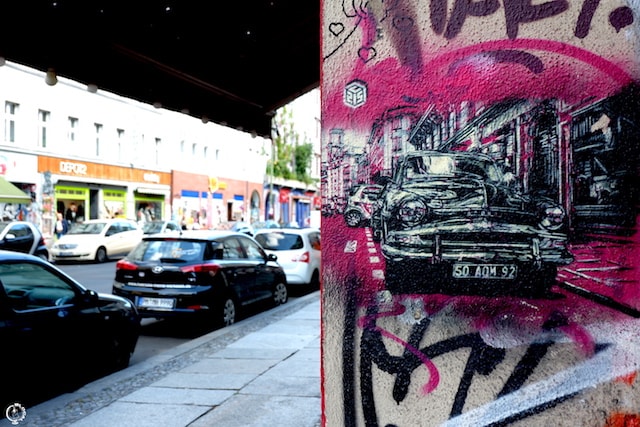 This where you can find those squat buildings that are the very last bastion of that subculture that made Berlin the capital of street art and graffiti in the first place. Among these buildings, there is the former squat Tommy Weisbecker Haus, which is named after the 23-year-old anarchist killed by West German police in 1972. This building is covered with two large-scale murals depicting respectively a surreal sky and a pile of TVs showing different sides of contemporary life.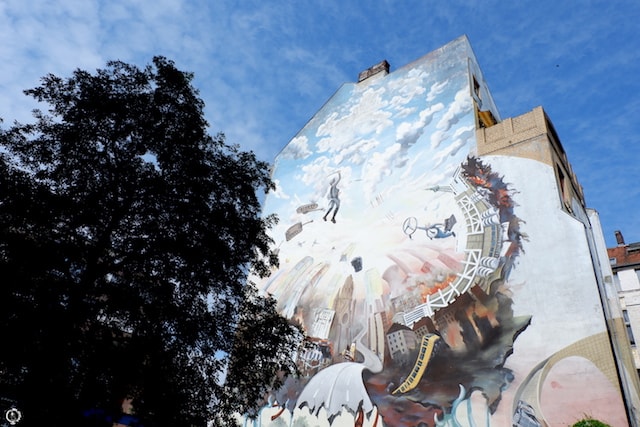 Just around the corner, I spotted a mural by Jadore Tong (aka S.y.r.u.s.) depicting a colourful elephant playing with a balloon.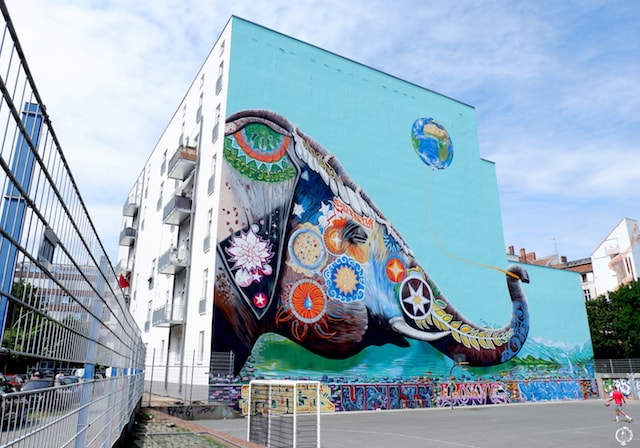 More murals are around Mehringplatz: one by the Danish street artist Don John showing a flock of exotic birds flying out of a hoodie's hood, and a 'classic Shepard Fairey' by the legendary street artist.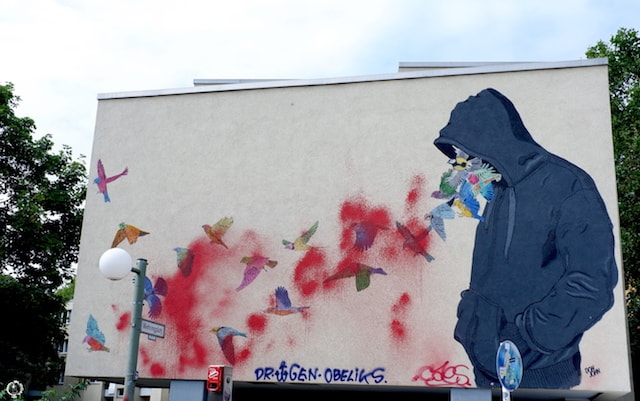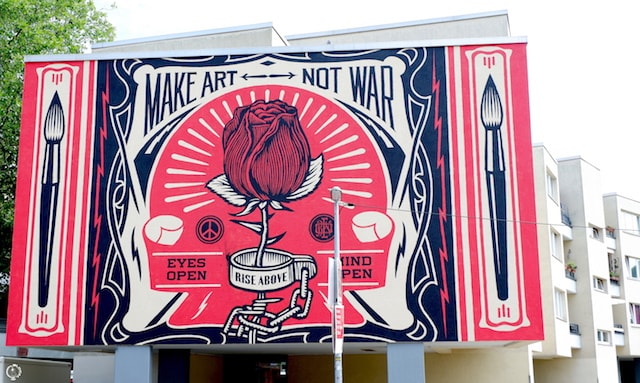 Both pieces were curated by Urban Nation Berlin, like two more murals nearby: one geometric artwork by the Cryptik Movement and a realistic piece by Onur & Wes21 depicting a shattering apple.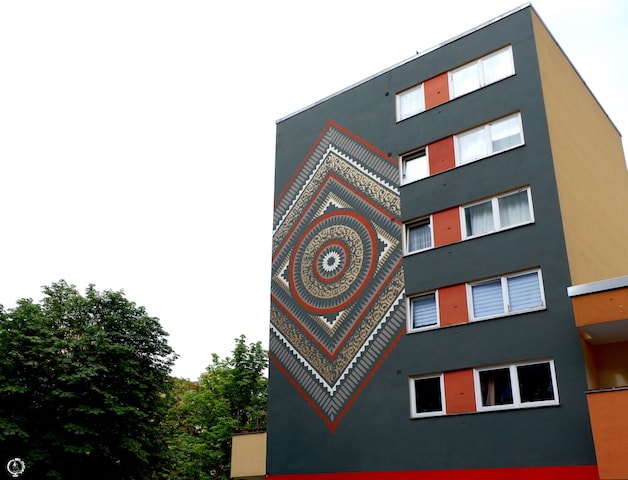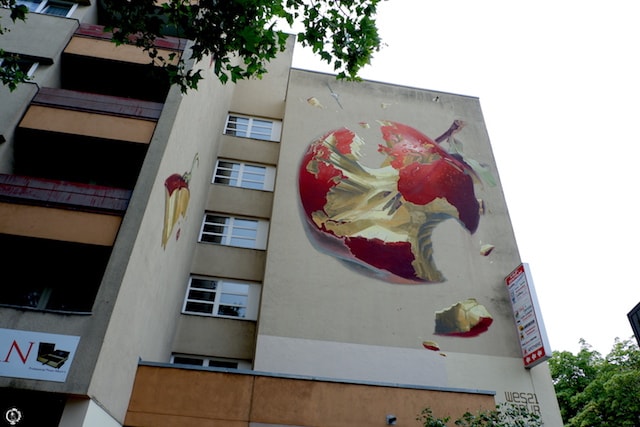 My beloved Axel Void, who btw had called Berlin home for some time, realized a beautiful piece about man's striving for power titled "Homo Homini Lupus" (man is a wolf to man).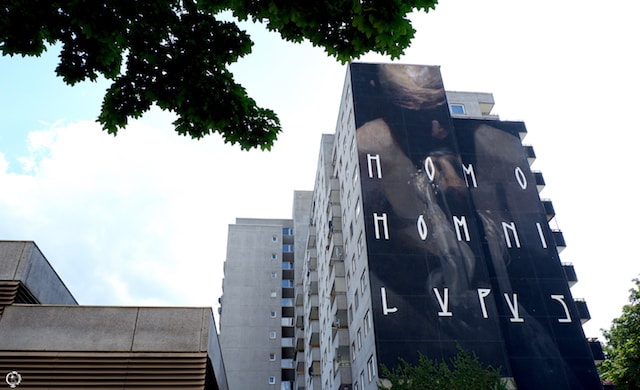 The Italian Agostino Iacurci painted his iconic, dreamlike characters for the project "We are creative in Puglia". They face each other's right where the city used to be split into two parts, representing the meeting of two different yet similar cultures.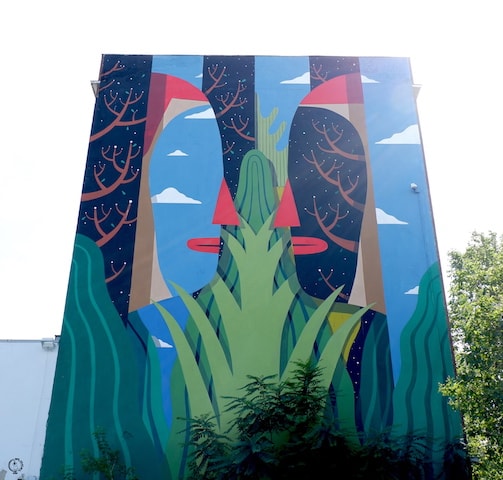 Surprisingly enough, "FaceTime" was the first mural that the Berlin-based urban artist duo Various & Gould has ever painted: a patchwork face, which is a collage of many different countenances, mimicking the increasing diversity of the city.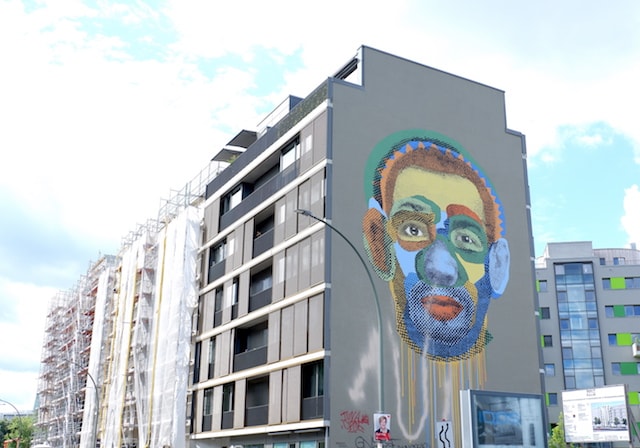 The pioneer of the photorealistic street art movement Case Ma'Claim painted one of his recurring subjects –overlaying hands- thus turning a boring wall into one of the most iconic ones in Berlin.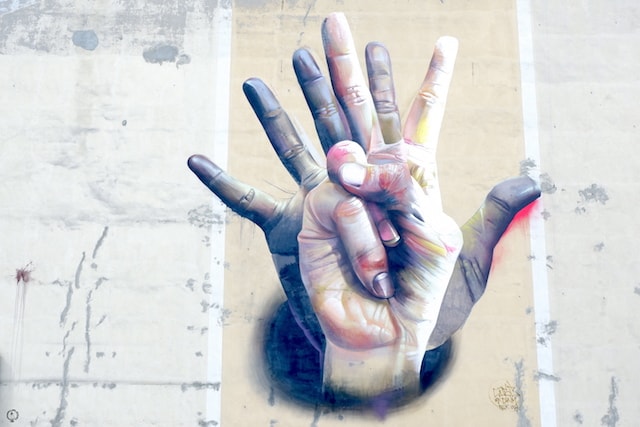 Among colourful graffiti hidden inside a parking lot, I spotted the 'shadow' of what used to be a mural by Alaniz and a cool 'rebel Barbie' piece.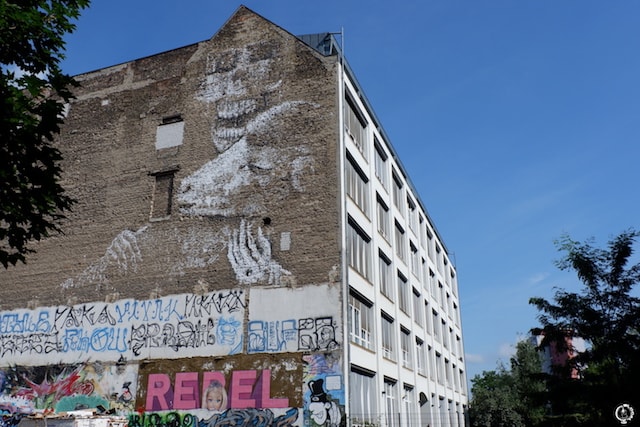 I tried to enter the abandoned ice factory near the river, which is known for being packed with graffiti, but I couldn't get in.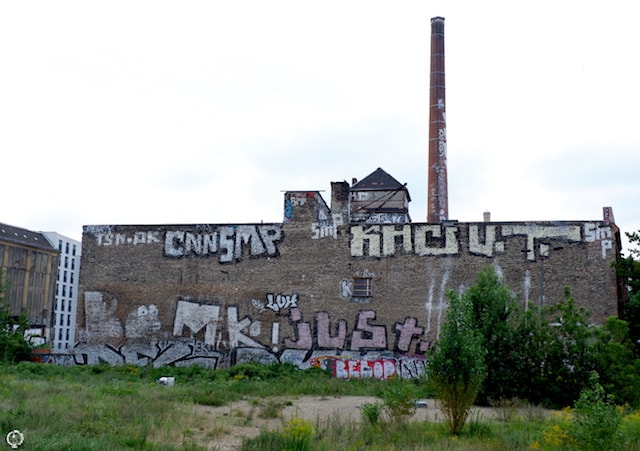 However, the beach bar and reggae club YAAM on the other side of the river is also full of graffiti. Moreover, at the top of the YAAM building, the Portuguese street artist Vhils left another of his "Go Forth" portraits, the one depicting the street artist Gould.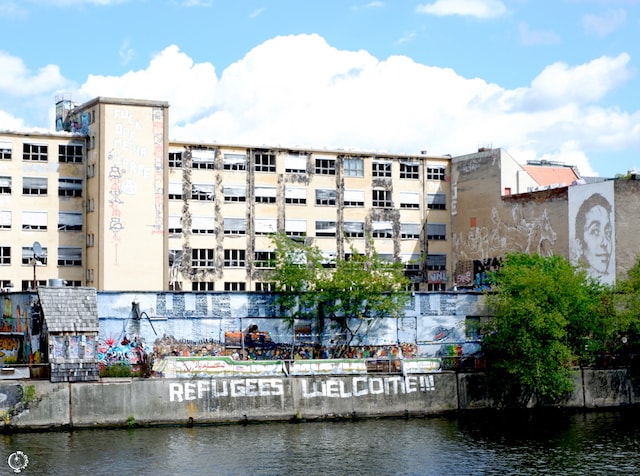 Another beach bar showing off some great urban art is Sage, where several street artists, among whom Caro Pepe, Nelio, Kid Crash and Low Bros, have left their signs.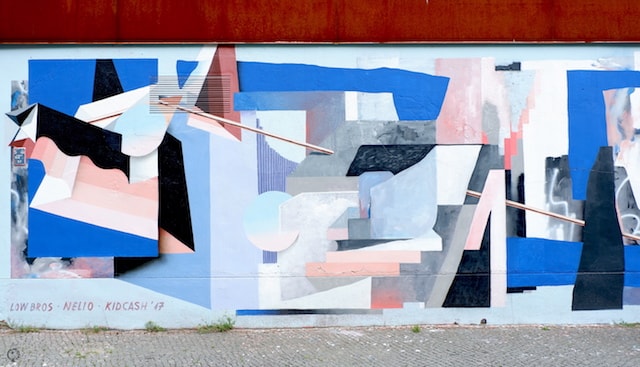 As you might already know, BLU blackwashed his murals in Berlin to bewail against gentrification. However, two murals are still visible, and they are both in this area. The first depicts the Berlin Wall turned into a wall made of 100€ bills and the second is a pink monster composed by tiny naked men holding each other in fear, who is eating the only individual man standing out from the crowd.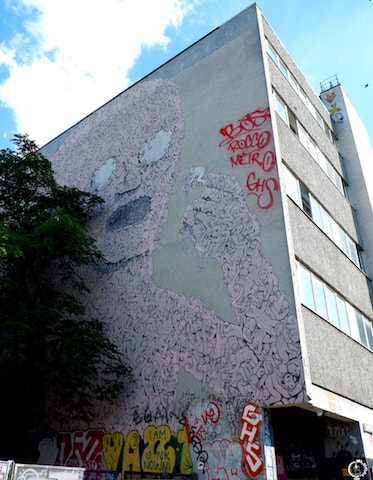 The Brazilian twins Os Gemeos brought to Kreuzberg one of their iconic yellow characters, while next to it there is a sketchy mural by Berlin-born artist Nomad.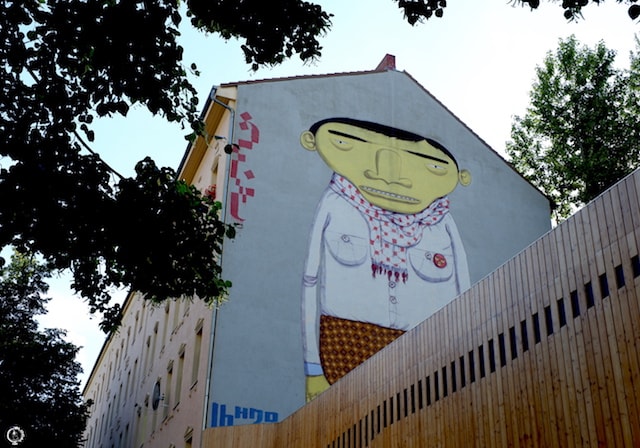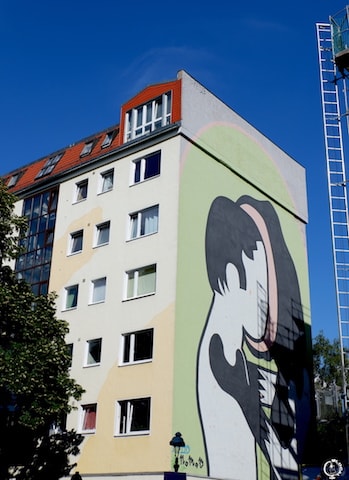 A blind facade outside the metro station has been covered by ROA's black-and-white animals and, just a few steps away, there is one of the most iconic pieces of street art in Berlin: the astronaut by Victor Ash, the homage to David Bowie's "Space Oddity".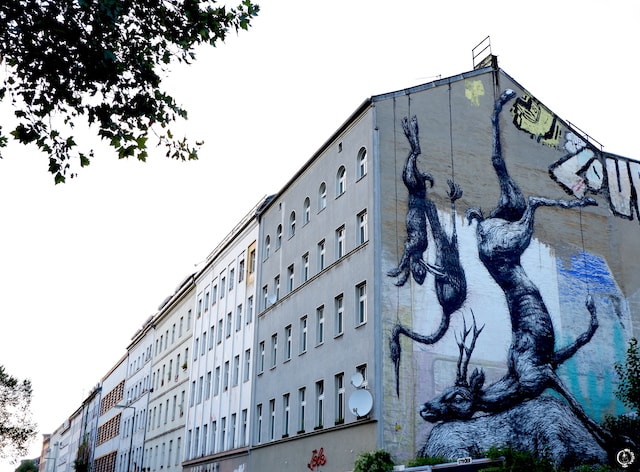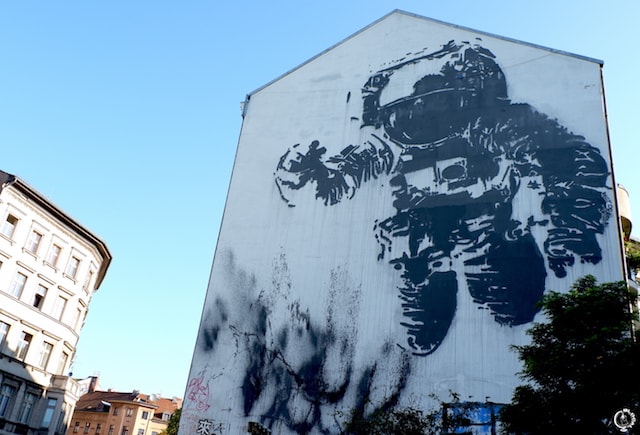 Nearby, the French artist MTO spray-painted a polyptych on four shutters depicting a hyper-realistic Jack Nicholson (Shining mood on).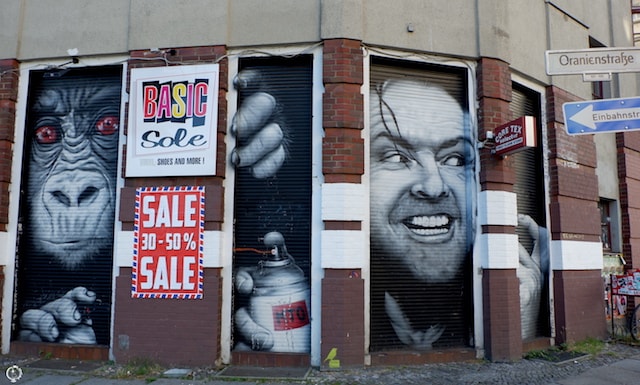 Street Art in Berlin > Friedrichshain and beyond
Entering Friedrichshain from the overpass, don't forget to look down to the railways where -hidden behind some trees- I spotted an early piece by the Israeli psych-pop crew Broken Fingaz.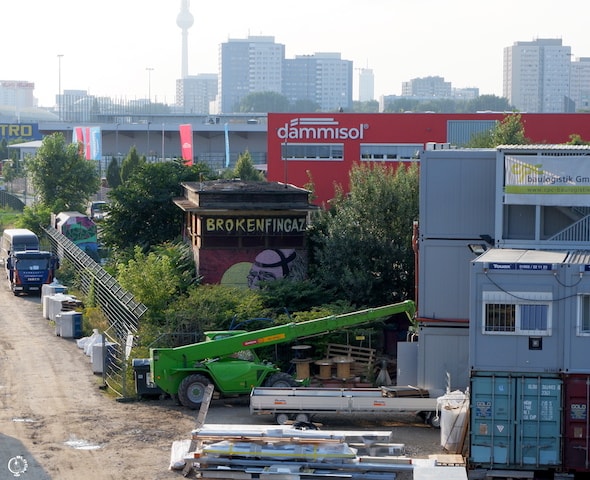 After checking out the red-and-white large-scale mural by One Truth Graffiti, I went to what became one of my favourite spots in Berlin: RAW-Gelande, a former train repair station turned into subcultural compounds, whose derelict buildings are covered with graffiti and street art. One of those buildings hosts Urban Spree, an artistic space where, among an exhibition space and artistic residencies, craft beers and a tattoo parlour, there are 'rotational walls' and some long-term street art pieces, such as the beautiful toucan by my beloved Bordalo II.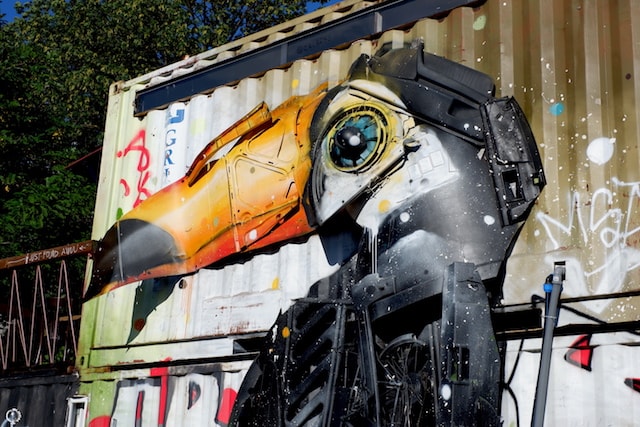 Wandering around RAW-Gelande, I found lots more; my favourite was a classic WRDSMTH in the courtyard of the club Cassiopeia.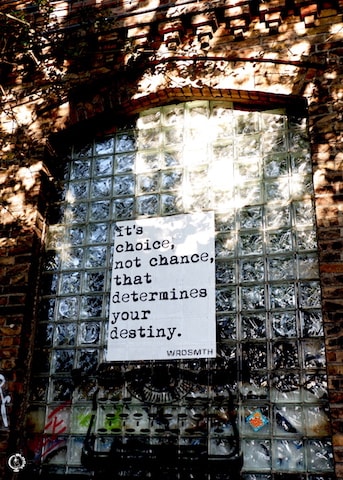 The South African Ricky Lee Gordon painted a horse half submerged by water to address the theme of climate changes –but with the hope that nature will survive an apocalyptic scenario. Rather than a mural, the piece looks like a classical painting or even an old photography. The depth is given by the perspective, and the 'aliveness' given by the water and the doves in flight is mesmerizing.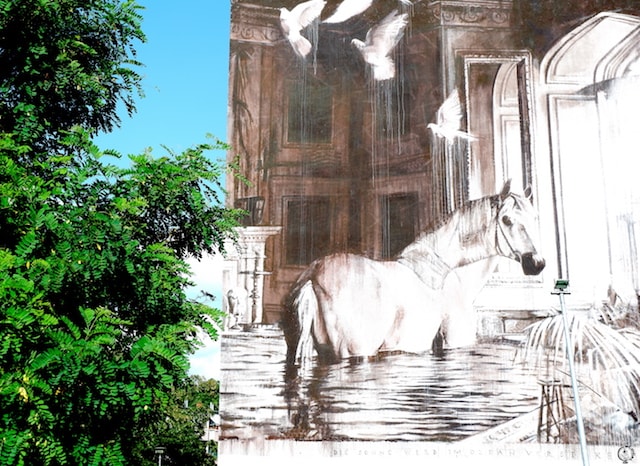 Titled 'Attack of the 50 Foot Socialite', the mural by the LA street artist Tristan Eaton is a colourful reinterpretation of the poster of Nathan Juran's sci-fi movie.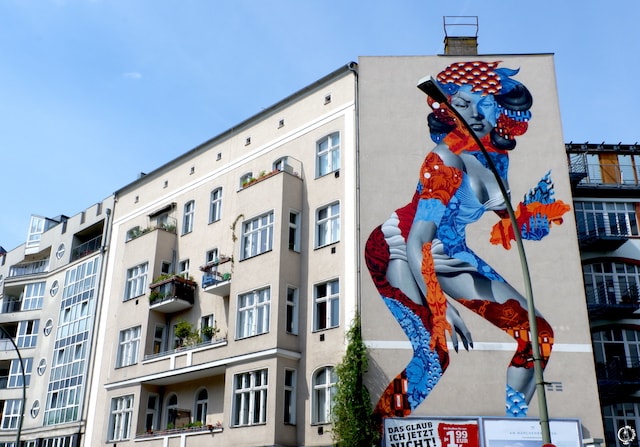 The Herakut duo depicted two kids with a woman, whose clothes are adorned by a quote by Martin Luther that has been translated into 20 different languages as a tribute to Berlin's multiculturalism.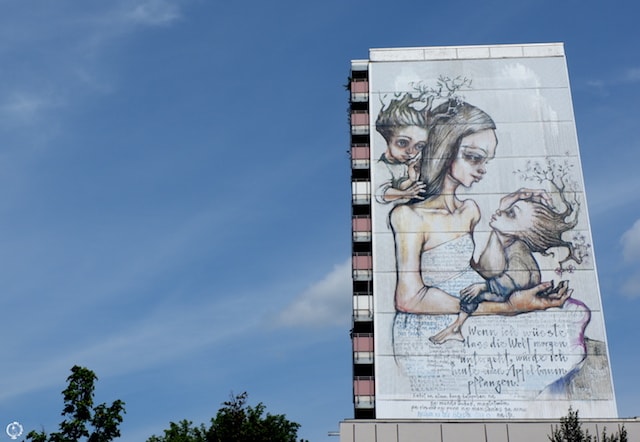 Street Art in Berlin > Mitte and beyond
Let's begin from yet another mural by the Belgian street artist ROA, who chooses his subjects among the local fauna, therefore depicting large-scale black-and-white animals that are often perceived as 'dirty', but with whom we co-exist inside our towns.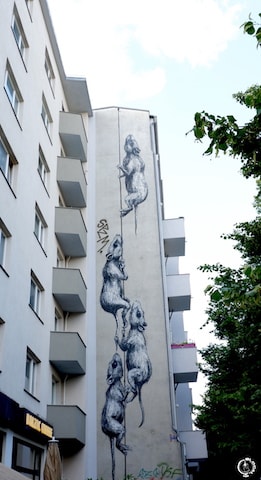 A bit farther on Schonhauser Allee, Askew One painted a girl with neon colours on a bright blue background.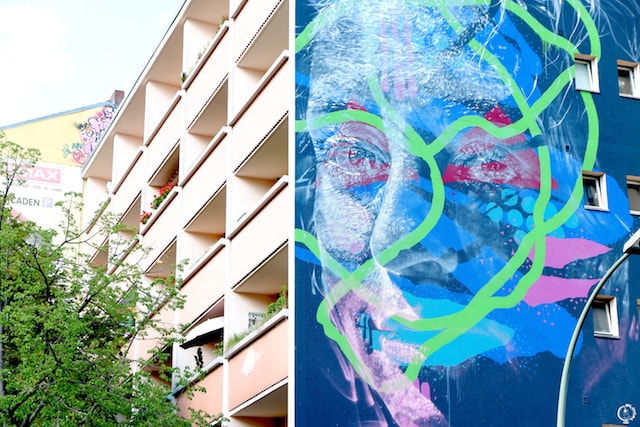 French street artist JR brought his extensive project "Wrinkles of the City" to Berlin in 2013. From photos of old local people, he made large-scale paste-ups on walls that have a 'wrinklish' texture.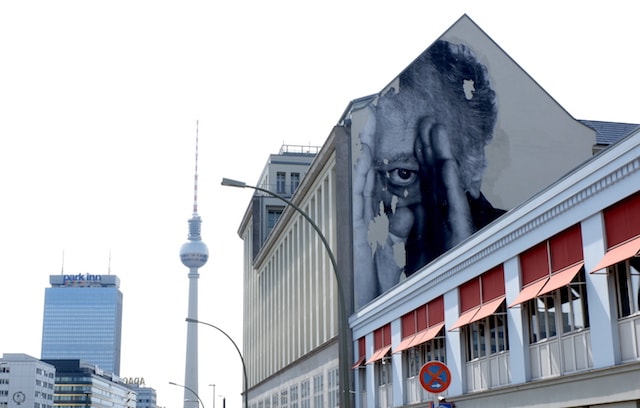 Read also: Can art change the world? The story of JR
Finally, in the actual Mitte area, I entered that maze of fancy courtyards that is Hackescher Hofe where, in between trendy boutiques and dozens of tourists, several international street artists have left their signs, among whom Ericailcane, Caro Pepe, Dede, JimmyC and Gregos.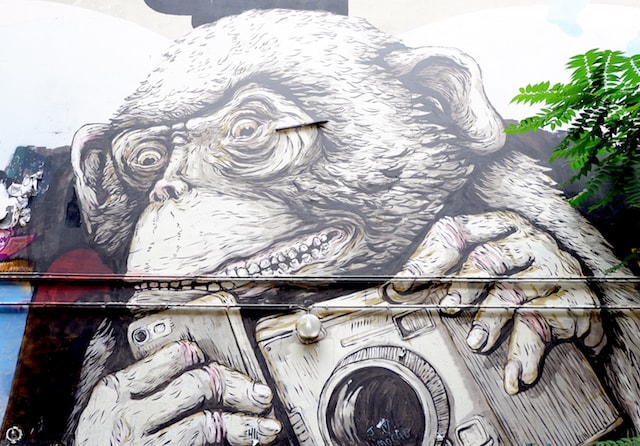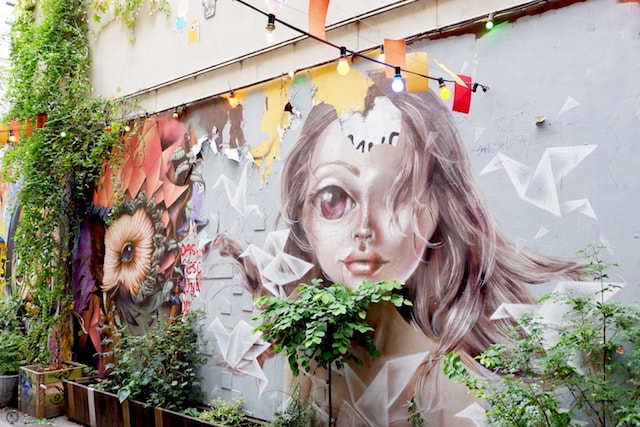 At the Berlin Wall Memorial, there is a realistic mural depicting a steak sliced by a knife that is engraved with 'Berlin 1961 – 1989'. It was realized by Markus Haas, who won the mural contest "If walls could talk" with this powerful metaphor of the separation of the two part of the city.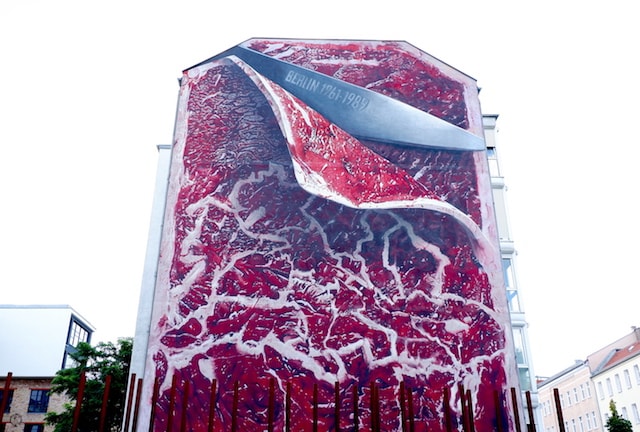 The second paste-up from JR's "Wrinkles of the City" that I had found is at the Technical University of Berlin; the only part still visible is the eye, which however is always the best feature of JR's characters.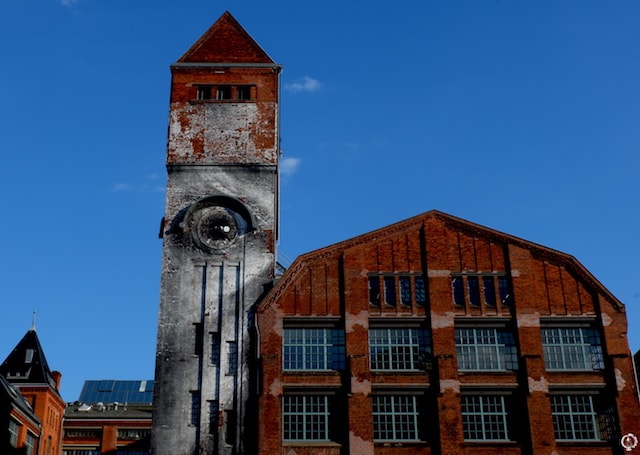 At Wedding neighbourhood, the American duo JBAK painted the pop countenance of a woman on a wall overlooking a tiny cemetery.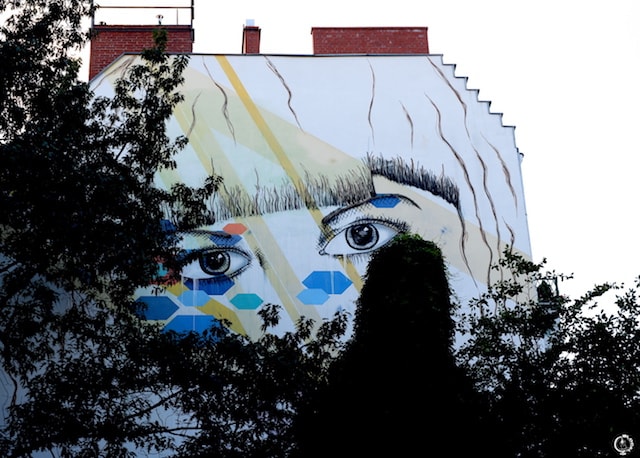 Street Art in Berlin > Art Park Tegel
This urban art project, which was curated by Urban Nation, is made up of just a few large-scale murals, but by some of my favourite street artists ever!
The Australian Fintan Magee was inspired by a children's book by Michal Foreman, where he found the story of a couple separated by war, with a baby representing their hope for what future holds.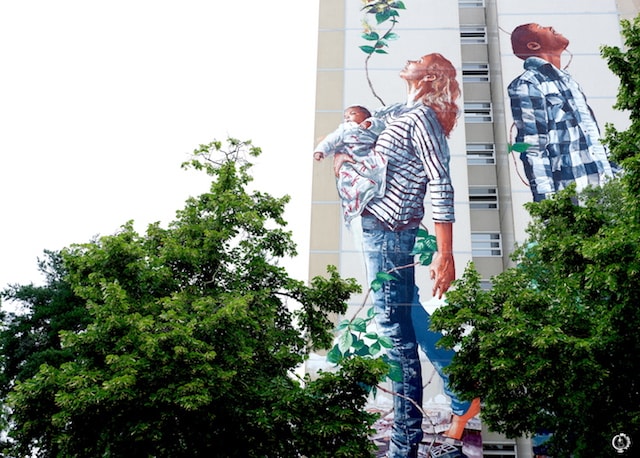 Read also: Discover the art of Fintan Magee, a leading figure in Australian street art
Borondo's piece, which is about immigration, is so dark and controversial that had risked being removed, but luckily it is still there! It depicted a girl with a sad face and covered with blood facing an eerie forest. In the forest, there is a man tied to a tree and pierced by a bunch of arrows.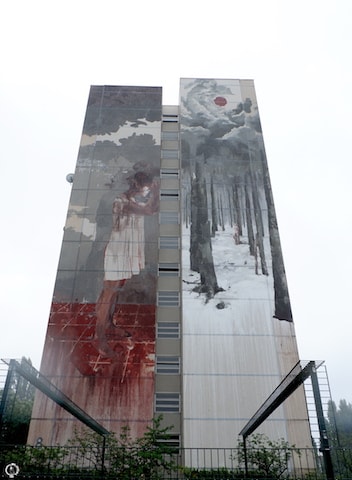 At the top of the intricate composition by the twin Spanish brothers How and Nosm we can notice the 'eye of destiny', while Pixelpancho's humanoids are occupying the space mirroring each other's upside-down.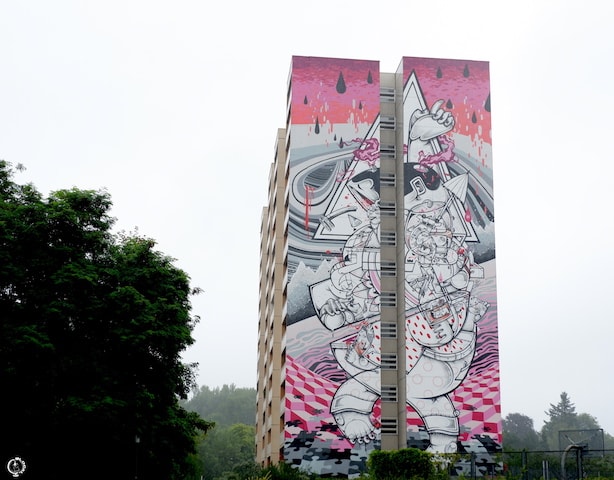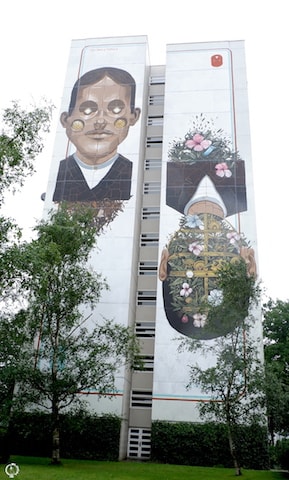 The Dutch duo made up of Collin Van Der Sluijs and Super A. painted a blue feathered bird that, despite the simplicity of the subject, is full of impressive details, while the Amsterdam-based group The London Police expressed the importance of teamwork and human and robot working together. They did so by painting their iconic stick figures, which always make me smile.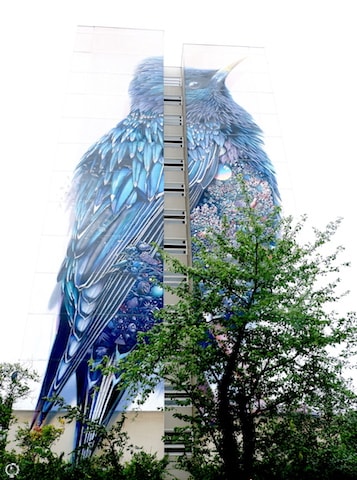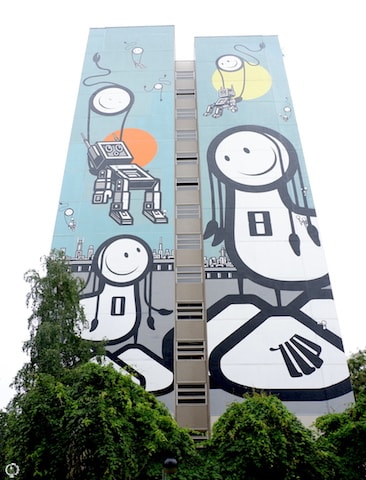 Street Art in Berlin > Teufelsberg: the abandoned listening station covered with graffiti
Atop a hill made after WW2 of all the debris from West Berlin, there is a former NSA listening station. The US units began operations in 1961; in the 1990s the former station was about to be turned into hotels and apartments, but it never did and had since then been abandoned.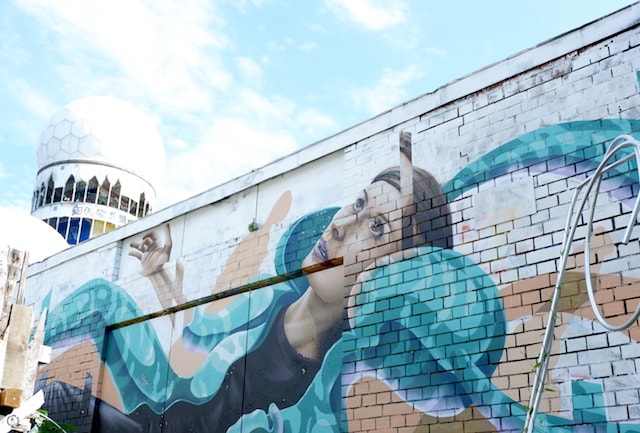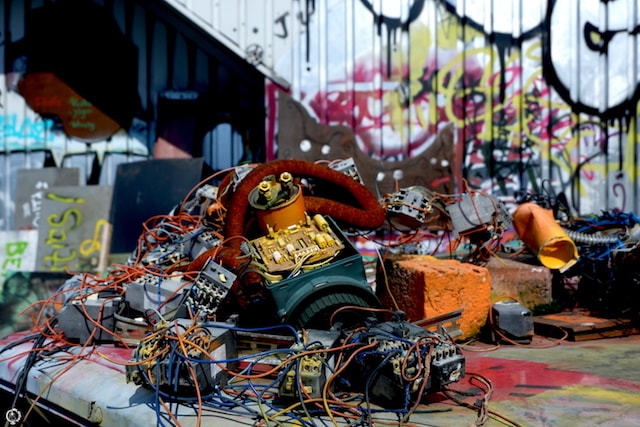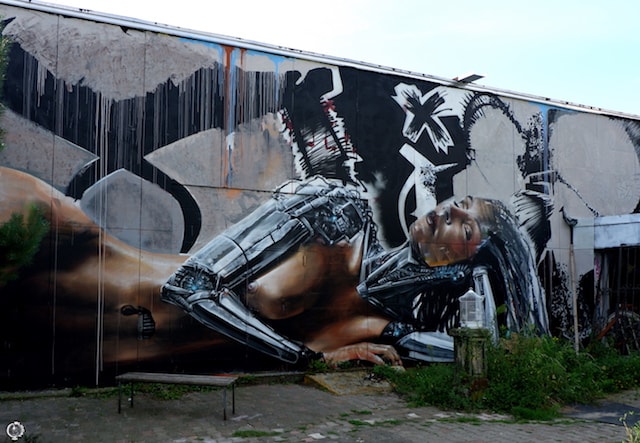 Likewise many other neglected places, it became a must-go for local and international graffiti writers and street artists, to the point that today you need to "pay a ticket" (15€) to the guy who has turned the space into a graffiti art museum.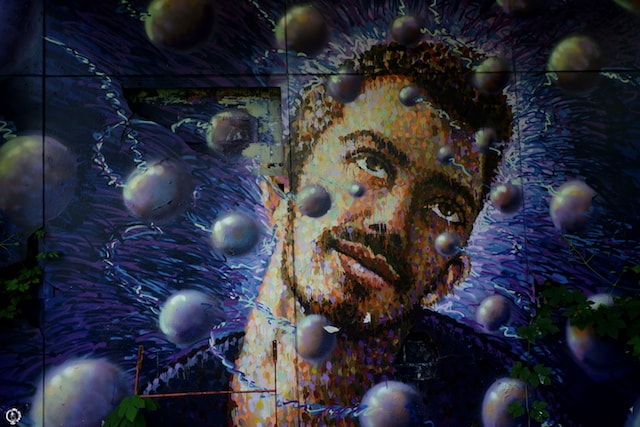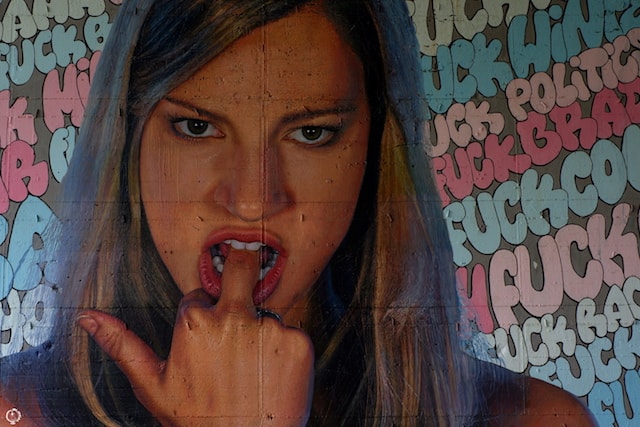 Many well-known street artists and graffiti crews have painted there: wandering around its empty warehouses while climbing my way up to Teufelsberg's pierced dome, I stumbled upon hundreds of different murals.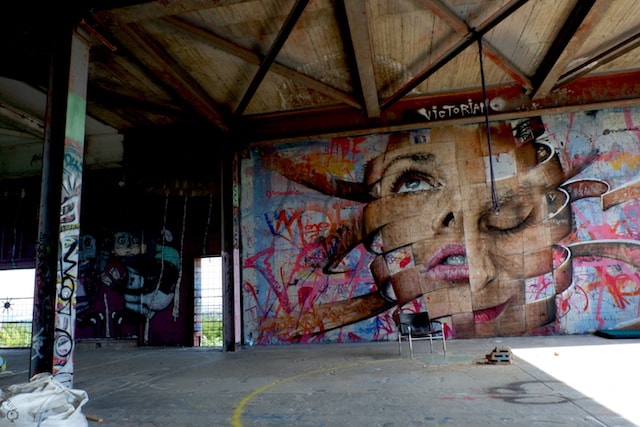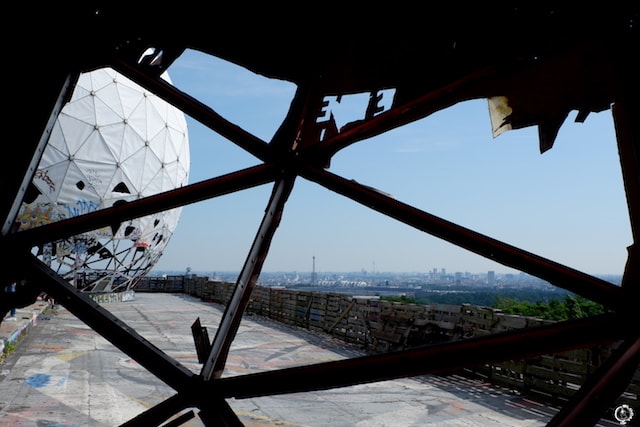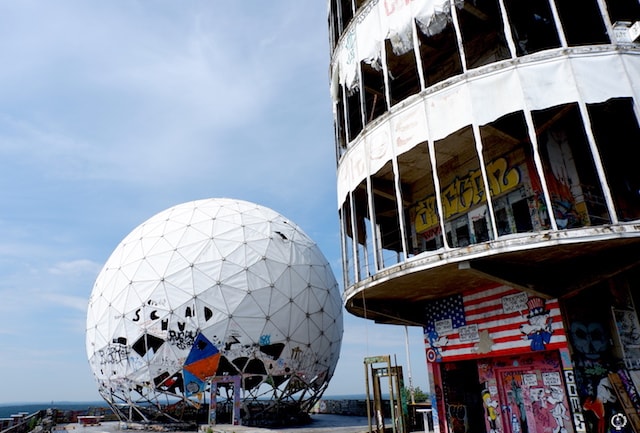 The 'turnover' is fast since there is always some artist at work. Moreover, the latest edition of the legendary urban art festival Stilbruch took place here.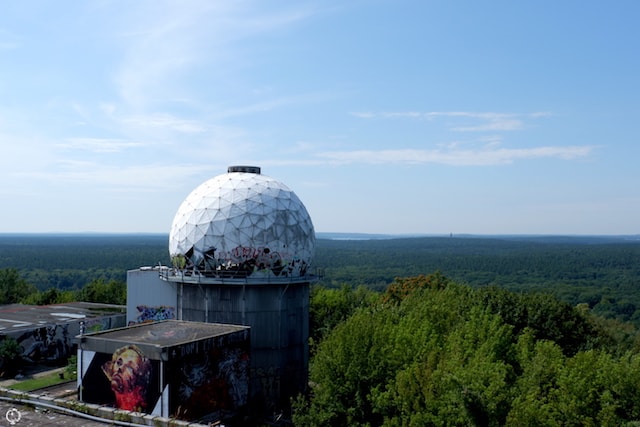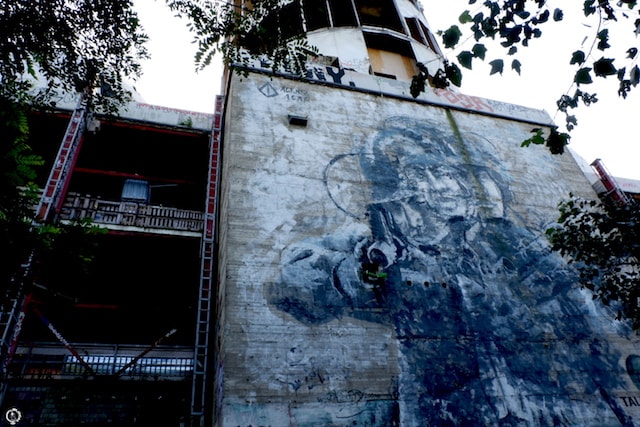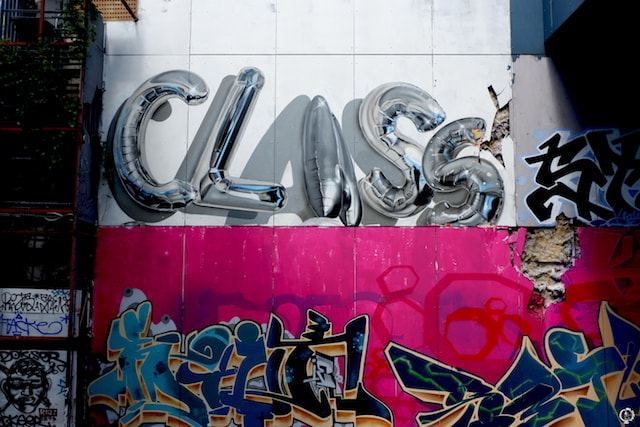 Berlin Street Art Map:
Find these murals and many more cool things to see in Berlin in my Berlin Street Art Google Map!
SalvaSalvaSalvaSalvaSalvaSalvaSalvaSalva