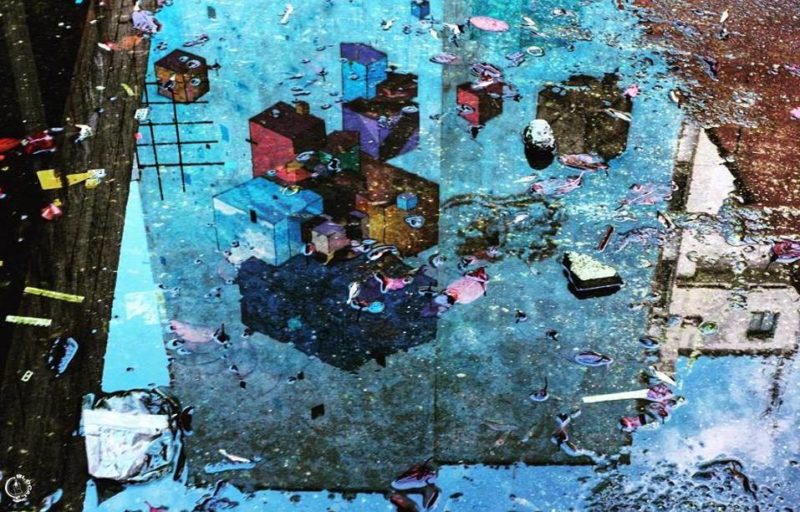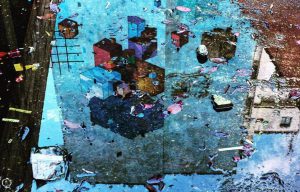 It's not a secret that Tor Pignattara is one of my favourite areas in all of Rome, and the overabundance of street art that one can find wandering around here is just one of the things that I love about this multicultural neighbourhood the most.
Almost all urban art pieces that we are going to spot in Tor Pignattara have been sponsored by Rome's art galleries, which aim to promote their upcoming exhibitions (namely Varsi and Wunderkammern, the latter also being located in Tor Pignattara).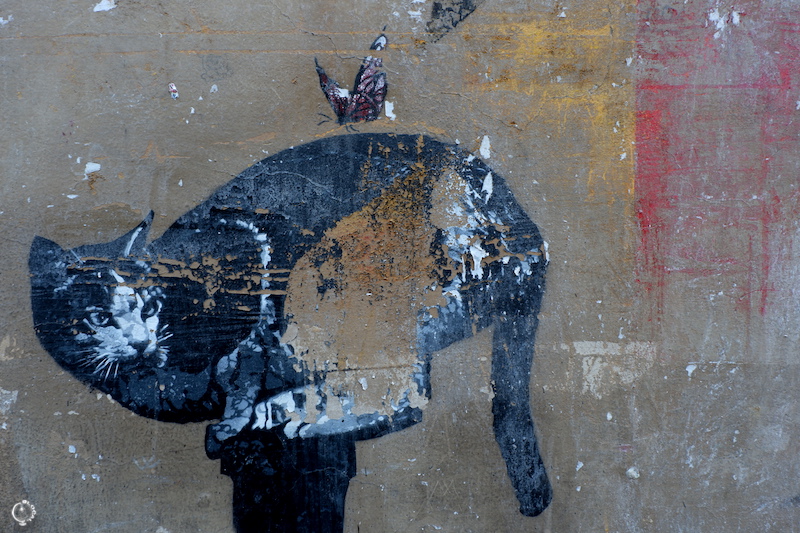 This allowed the realization of majestic pieces that would have been impossible to paint illegally, bringing to the area legendary street artists from all over the world. However, street art – in Tor Pignattara like everywhere else- also means gentrification. While street artists keep flying to Rome to bring their art to this eastern corner of the city, local residents grabbed their own spray-cans to declare their dislike.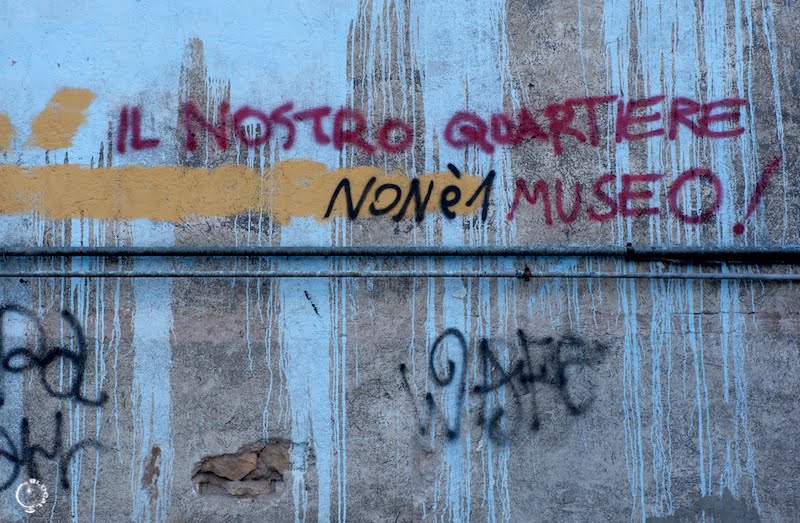 Lastly, it's impossible to talk about street art in Tor Pignattara without mentioning Carlos Atoche, a local artist originally from Perù who has not only painted several large facades in the neighbourhood, but who has established his studio here, which opens to the public for sporadic cultural events.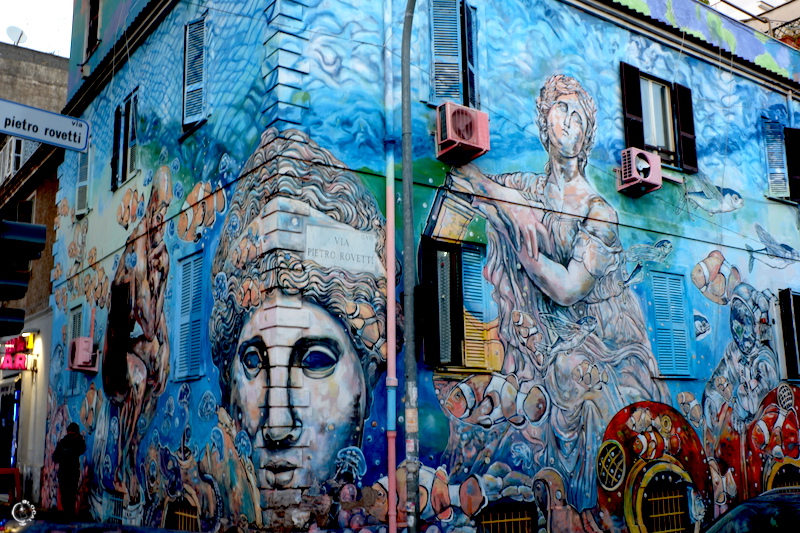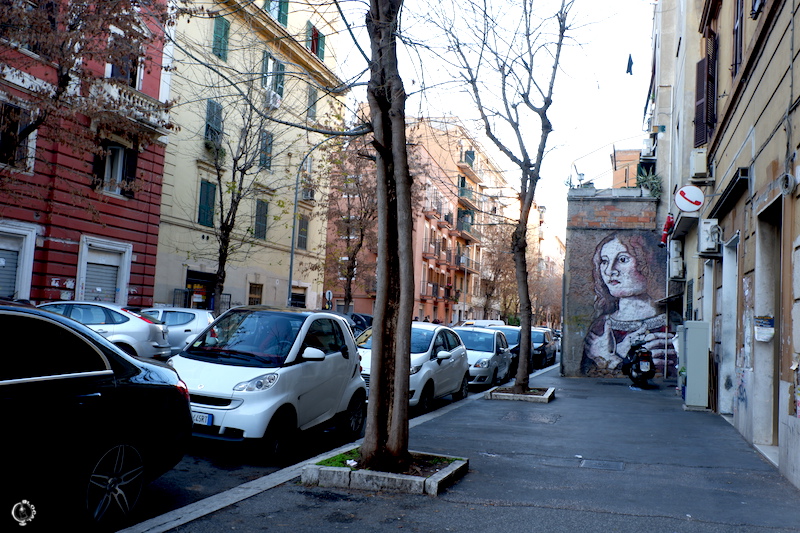 Tor Pignattara Street Art Guide: Around the Hospital Santa Caterinadella Rosa
Street Art Rome: MaisMenos, Via Giacomo de Conti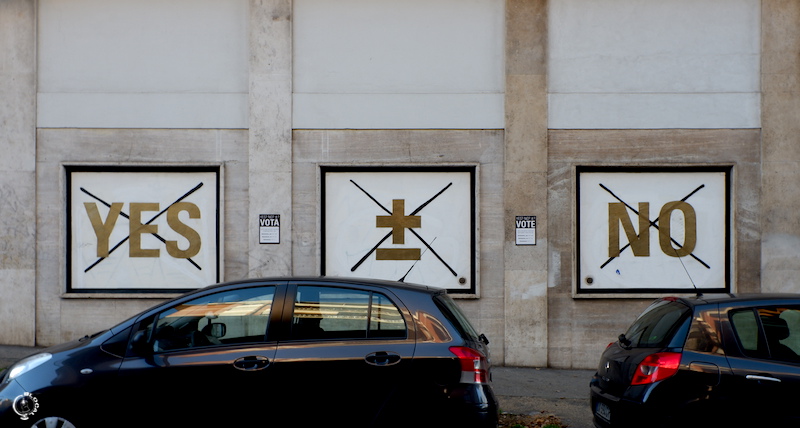 Painted to promote his solo show at the Wunderkammern Art Gallery ("State of Minds", 2017 – read about MaisMenos exhibition), this mural is part of Miguel Januario's 1-year-old series "Vota Mais Menos." The Portuguese artist uses the same propaganda mechanisms that governments do for conveying social protest, and it does so by starting from the core value of western democracies: voting. The piece is interactive: everyone is invited to share what they vote by using the hashtags #maismenos_yes #maismenos_no #maismenos.
Street Art Rome: Agostino Iacurci, Via Nicolò Forteguerri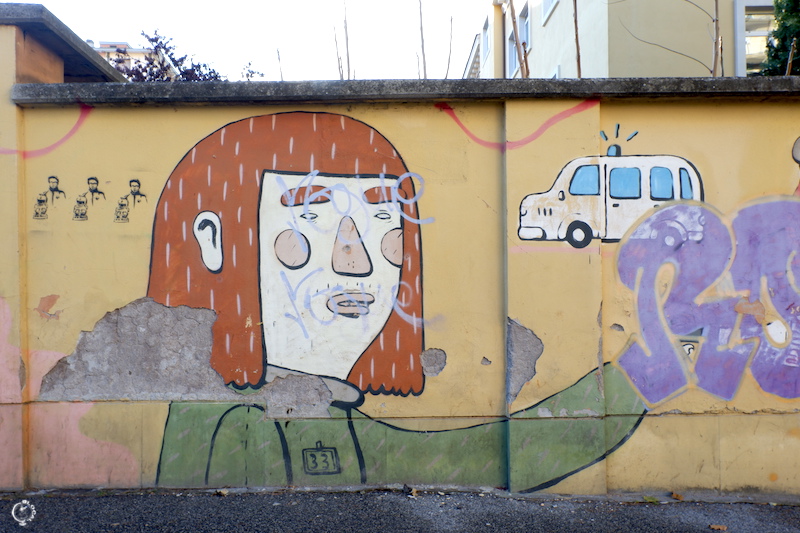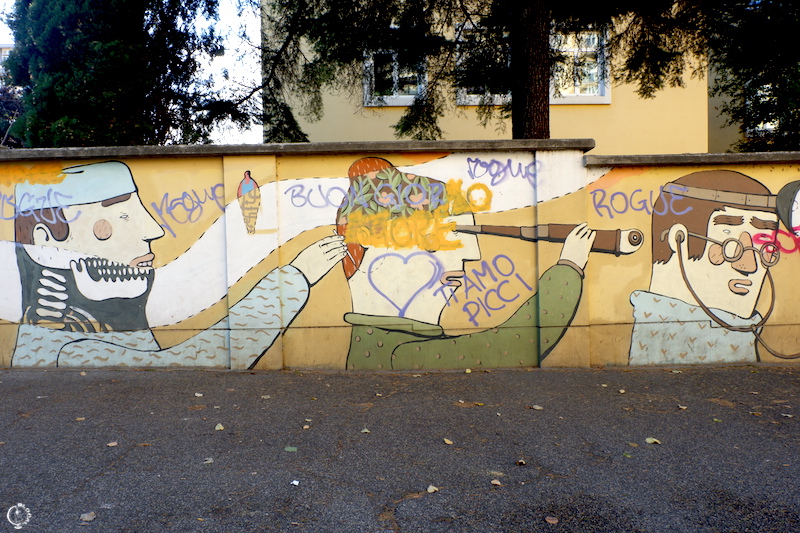 This long mural was painted back in 2009 during the writing and breakdance convention "Cromiae Prenestinae," which was organized by Walls. The piece is not at its best anymore, however it is still beautiful. I like Agostino's early style, and the fact that we still have a couple of examples of it in the city (another early piece by the Italian artist Agostino Iacurci is in Via Libetta).
Street Art Rome: Mr. Thoms, Via Nicolò Forteguerri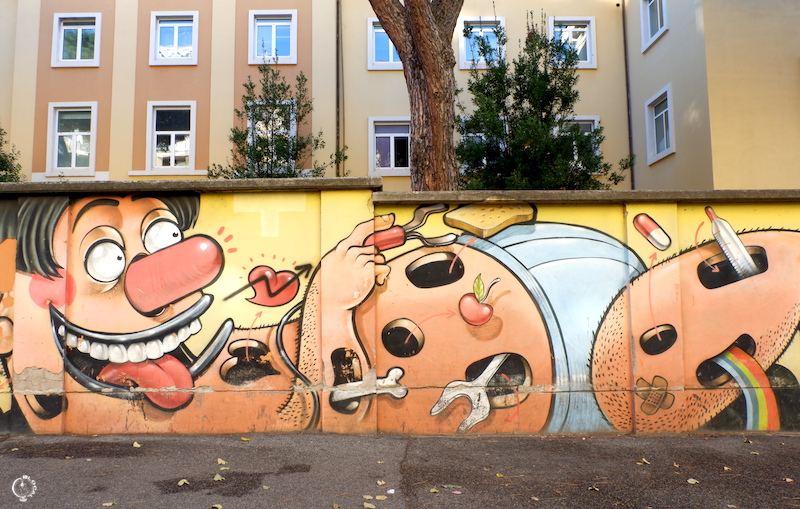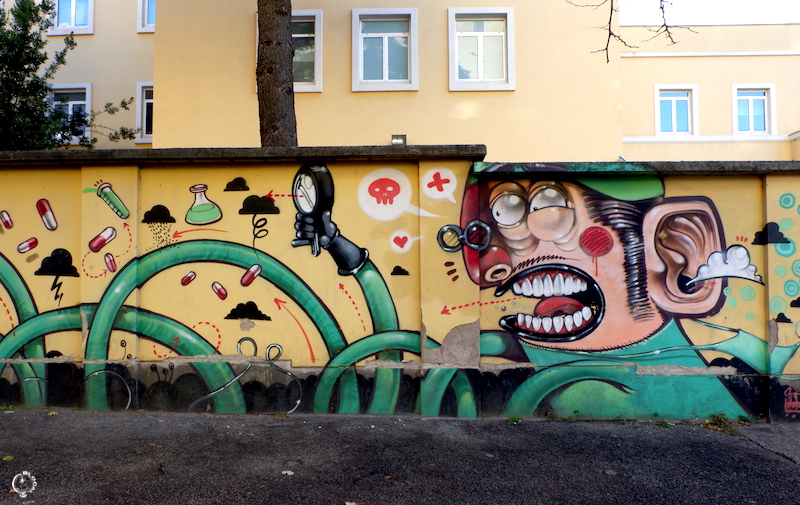 On the other side of the main entrance, and during the same writing and breakdance convention "Cromiae Prenestinae", the local artist Mr. Thoms painted this long piece featuring his iconic characters.
Tor Pignattara Street Art Guide: Borgata della Maranella
Via della Maranella and the surrounding areas are named after the small river (Fossodella Maranella) that runs underground. The area developed spontaneously at the beginning of the 20th century when families from Puglia and Abruzzo moved to Rome to find jobs.
Street Art Rome: Etam Cru, Via Lodovico Pavoni
The Polish duo Etam Cru was invited in 2014 by the Varsi Art Gallery to paint the largest mural in Rome (it's 32 meters high!). It depicts a homeless man drinking coffee while coming out from a dumpster, which symbolizes consumerism and the bad side of contemporary society, such as the fact that many people don't have a roof over their heads.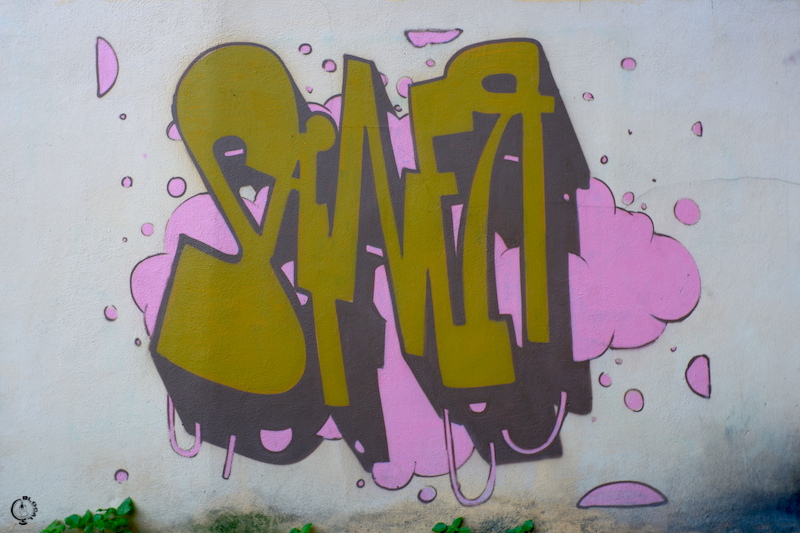 Next to this large-scale piece is an equally beautiful lettering by one half of the duo: Sainer.
Street Art Rome: Ella & Pitr, Largo Bartolomeo Perestrello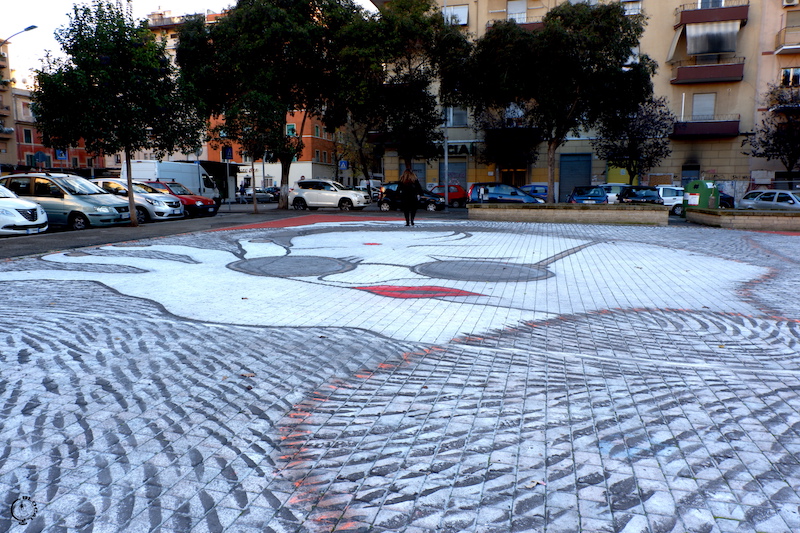 Painted just a couple of weeks ago (during Martelive 2017), the iconic old lady by the French duo Ella & Pitrnow curls herself up in Largo Bartolomeo Perestrello. It's always weird to see a flat-lay Ella & Pitr's from the street perspective, as it will take you a few minutes to get exactly on what part of their body it is that you are walking on, but eventually the reconstruction-effect is always fun. I wish I had the guts to ring someone's doorbell and ask for a bird's-eye photo!
Street Art Rome: Etnik, Via Bartolomeo Perestrello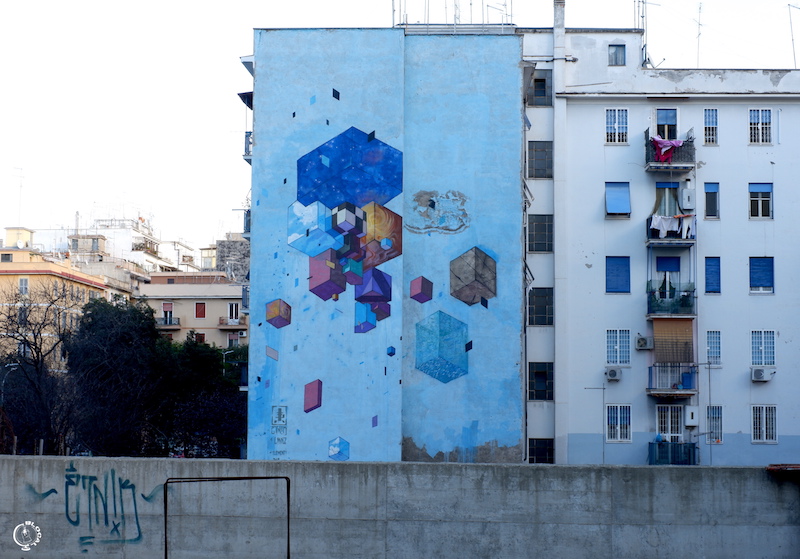 Painted as a teaser of his solo exhibition at Varsi Art gallery ("Gravità," 2015), this piece throws us into Etnik's cityscapes, which are made up of 3D geometric architecture and squared volumes. The works by this Italian artist Etnik are always characterized by a strong sense of movement, such as the centrifugal and centripetal forces, or the uplifting effect that pushes the elements of this piece towards the sky, challenging gravity through the absence of footholds.
Street Art Rome: Dulk, Via Antonio Tempesta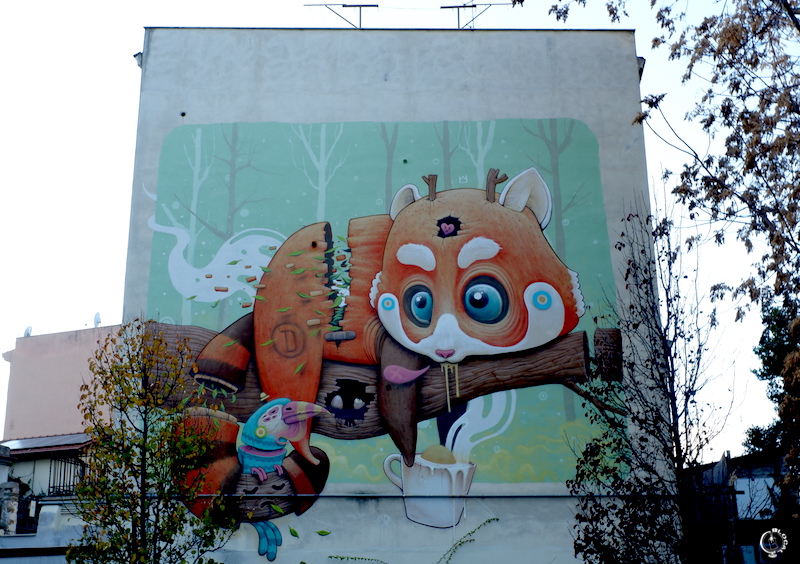 Just opposite to the Etnik's piece, the Spanish artist Dulk painted one of his surreal animals: a furry fox with big, dreamy eyes who is about to eat an egg that she had taken from a bird's nest. Inspired by Flemish art, Dulk's animals are always broken, brightly coloured and hyper-detailed. This wall was curated by Varsi Art Gallery to promote Dulk's solo exhibition in Rome ("Broken Thoughts," 2015).
Street Art Rome: Jef Aerosol, Via Maggiolo Visconte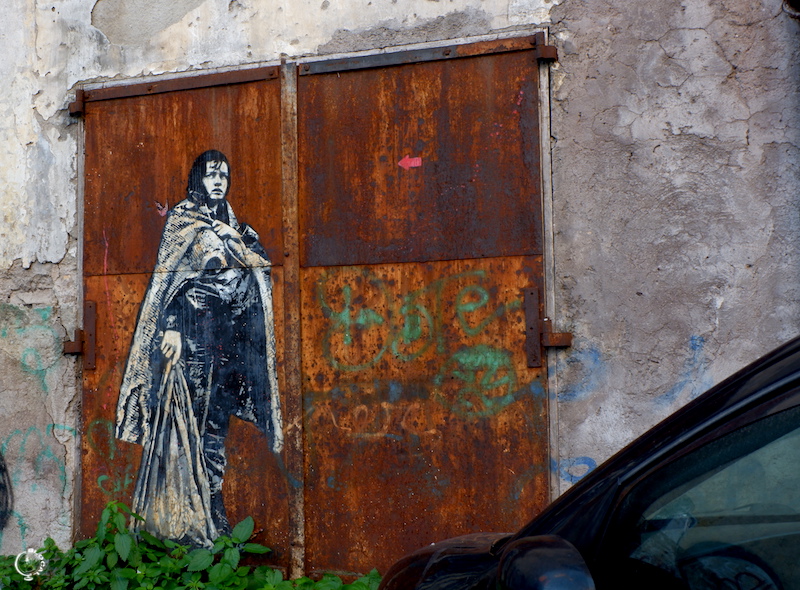 At this point of the tour, after so many "curated by" pieces, some ol' hidden street art is what you deserve!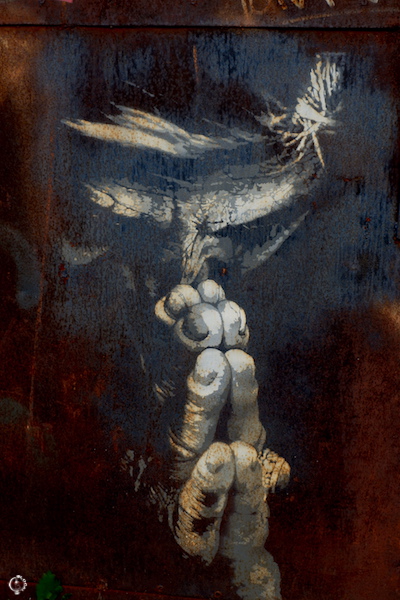 Upon entering this hidden alley, there is first a rounded face by the local artist Atoche and then two beautiful pieces by the French "master" Jef Aerosol, both stencilled on rusty gates.
Street Art Rome: Diavù, Via dell'Acqua Bulicante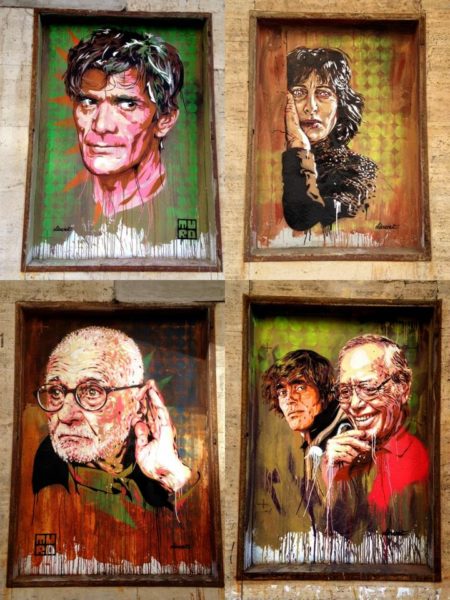 I've already written about the four portraits of movie stars born or professionally grown in this neighbourhood painted by the local artist Diavù on the ex-Cinema Impero. They depict, respectively, Pier Paolo Pasolini, Anna Magnani, Mario Monicelli, and the Citti brothers. The good news is that since he had painted them, the once-abandoned cinema has now become more active, and it plays host to several different kinds of cultural activities.
Tor Pignattara Street Art Guide: Around Via di Tor Pignattara
Since the first time I wrote about Tor Pignattara, the area has changed a lot. even if the community of immigrants from Bangladesh, the small, unpretentious mosques, and some of the old shops (like the typical Italian grocery stores "Vini e Oli") are still resisting.
Street Art Rome: Herakut, Via Capua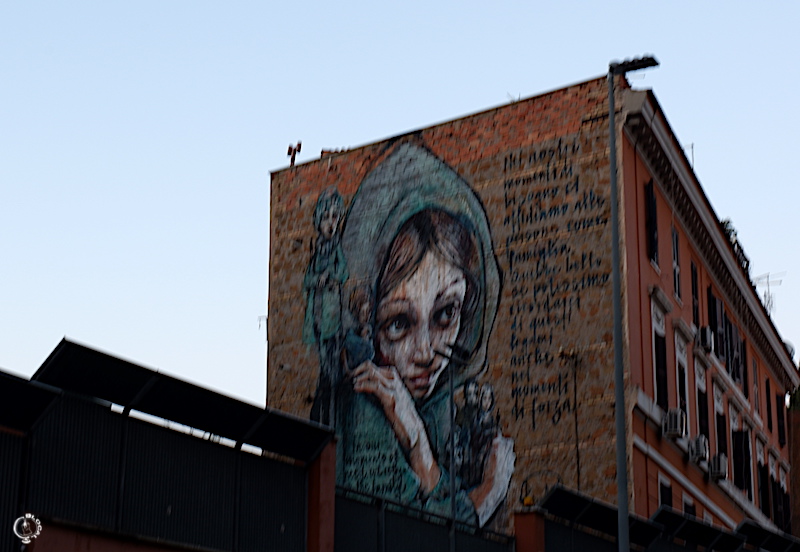 Before venturing into the actual area of Tor Pignattara, let' stop at the beginning of Via Capua to admire this large-scale mural by Herakut. You should know by now that I'm not a big fan of the German duo, but I like this piece in Rome more than many others that they've done in other cities. It was painted to promote their solo exhibition at Varsi Art Gallery ("Santa Miseria," 2015) and it depicts a Palestinian refugee holding onto her beloved ones. The poem written next to her underlines the importance of strong relationships, which are to be nurtured in both times of war and in times of peace.
Street Art Rome: Sten & Lex, Via Francesco Baracca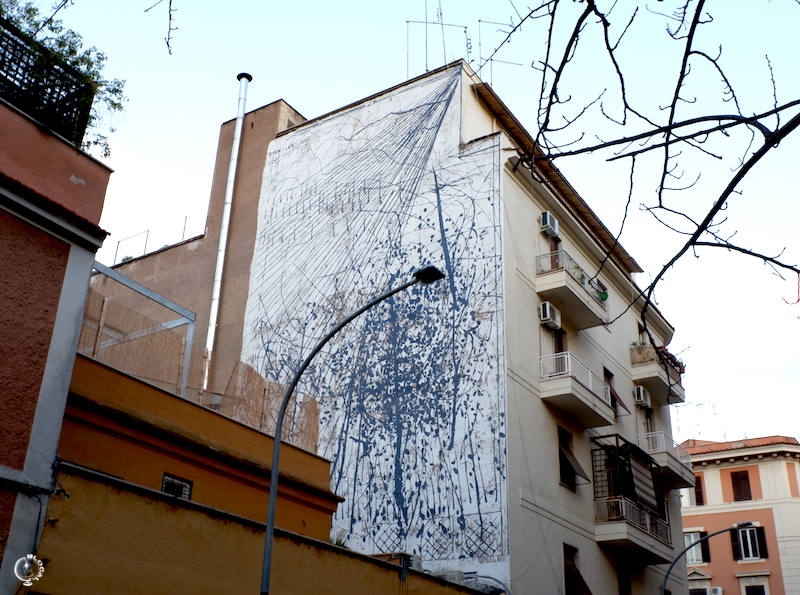 The thing I like the most about this abstract mural by the Italian duo Sten & Lex is that the shapes drawn play with the shadows of the trees in the street. Far away from their iconic portraits, this conceptual piece is a juxtaposition of perspectives and irregular blots, yet another stage of their constantly evolving technique that never stops experimenting. Curated by the art gallery Wunderkammern, on the occasion of the opening of their solo exhibition ("Matrici Distrutte," 2015), this mural is characterized by the addition of blue to Sten & Lex's usual black-and-white palette, hence the title "Blu Landscape."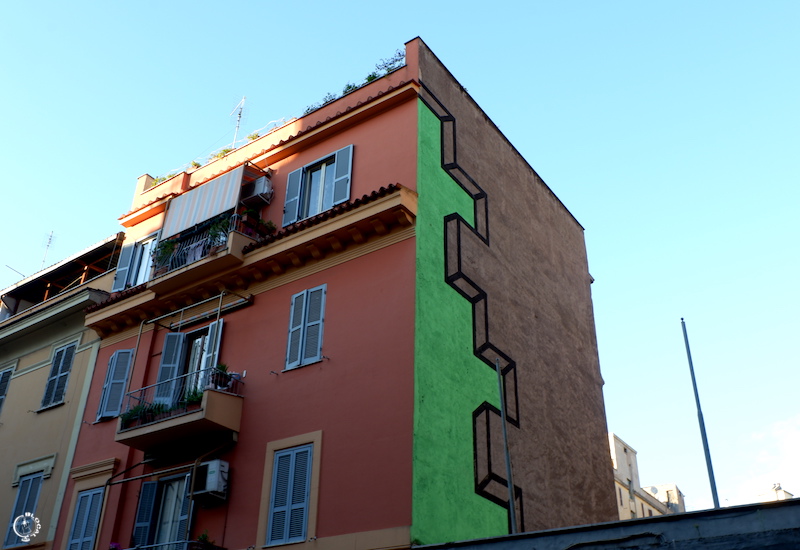 Aakash Nihalani used this wall on Via Alessi as a support rather than just a surface to paint on, playing with our minds through geometrically-designed visual effects. Yet another brightly coloured mural by this artist of Indian extractions who drastically transforms the architectural perception of the urban space. This wall was realized to launch his solo show at the Wunderkammern Art Gallery ("Vantage," 2014 – read about Aakash Nihalani's exhibition).
Street Art Rome: L'Atlas, Via Alessi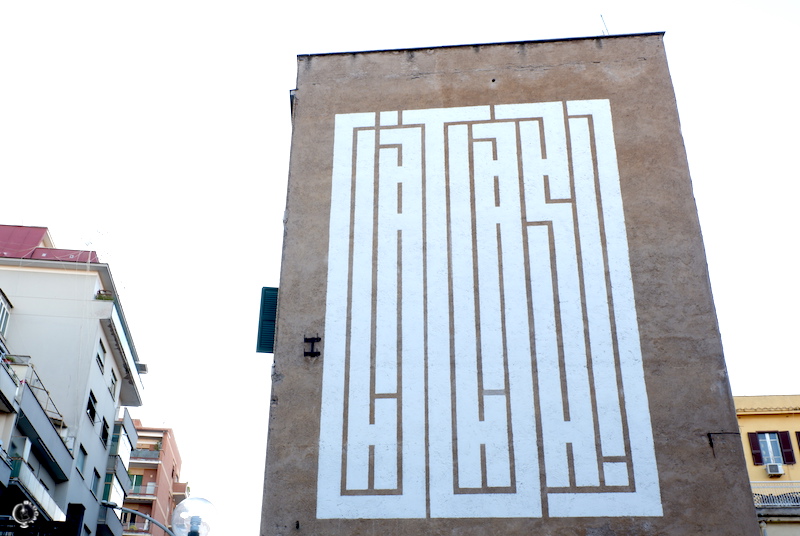 Realized to promote his solo exhibition at the Wunderkammern Art Gallery ("Transversal," 2015), this mural by the French artist L'Atlas consists of one of his iconic rehashes of calligraphy, which is pushed towards abstract art. His artworks are geometric mazes that enclose the space, and they look like ancient ideograms of which we lost the meanings to.
Street Art Rome: Nicola Verlato, Via Alessi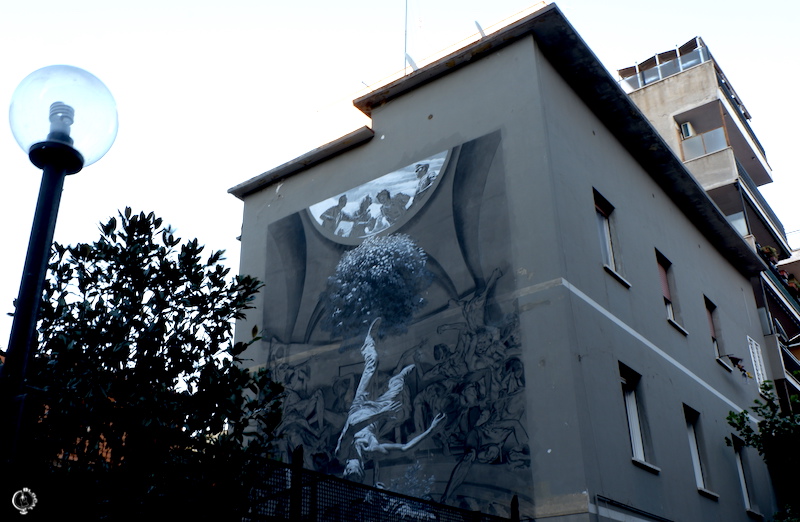 Just opposite of Atlas' piece, there is this large-scale mural by Nicola Verlato, who is an Italian artist living in LA. It depicts the descent of Pasolini's body at the moment of his death in a very monumental and classical style. At the top, we can see his killer Giuseppe Pelosi with two journalists, while at the bottom we find a young Pasolini on his mother's lap, surrounded by the Italian poet Petrarch, who was Pasolini's ideal mentor, and Ezra Pound, who had a totally different political belief to that of Pasolini, but they shared the feelings of being betrayed by the same society that they wanted to redeem.
Street Art Rome: Jef Aerosol, Via Gabrio Serbelloni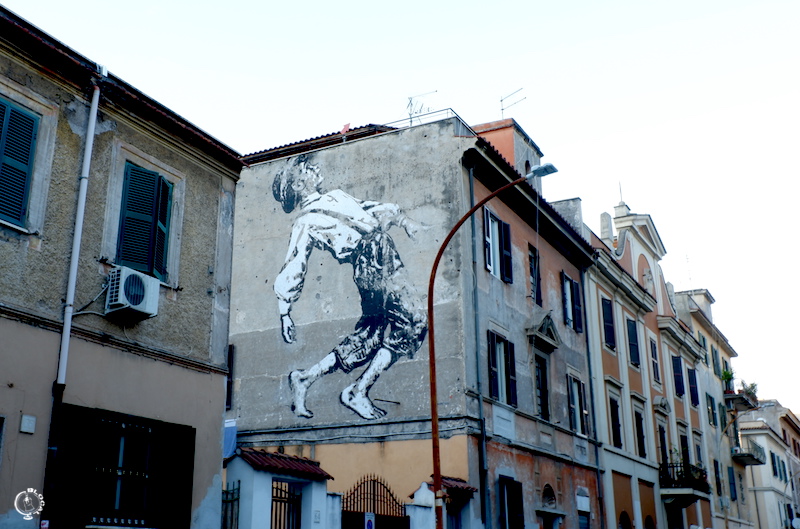 Once again, we find a piece by the legendary French artist Jef Aerosol, this time it is a large-scale one. The mural was realized to promote his exhibition at the Wunderkammern Art Gallery ("Anony(fa)mous," 2014) and it depicts Mark Twain's Tom Sawyer. I wonder why he chose this subject…
Street Art Rome: Agostino Iacurci, Via Oddi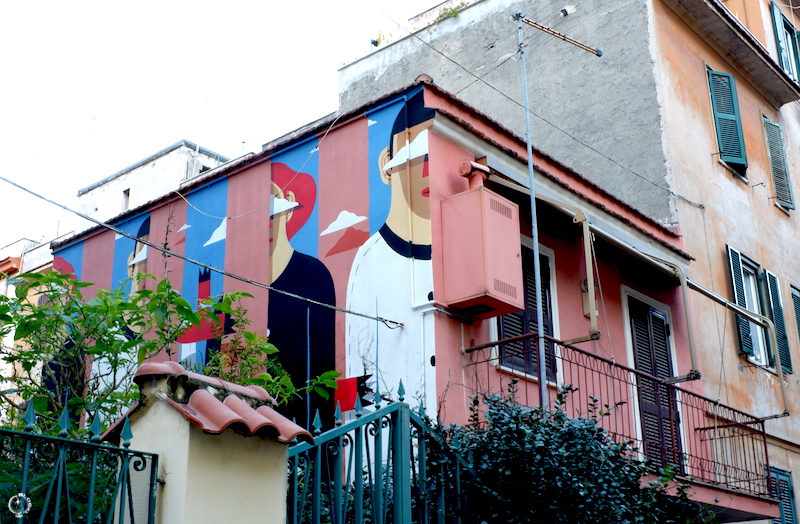 Painted in 2015, this piece is completely different from the one that we saw at the very beginning of this street art tour. Here, we finally find Iacurci's iconic characters and his most contemporary poetic. Titled "Clear sky on the pink house," the mural is divided into several vertical stripes that give the illusion of movement and depth to the viewer.
Street Art Rome: Sten & Lex, Via Ciro da Urbino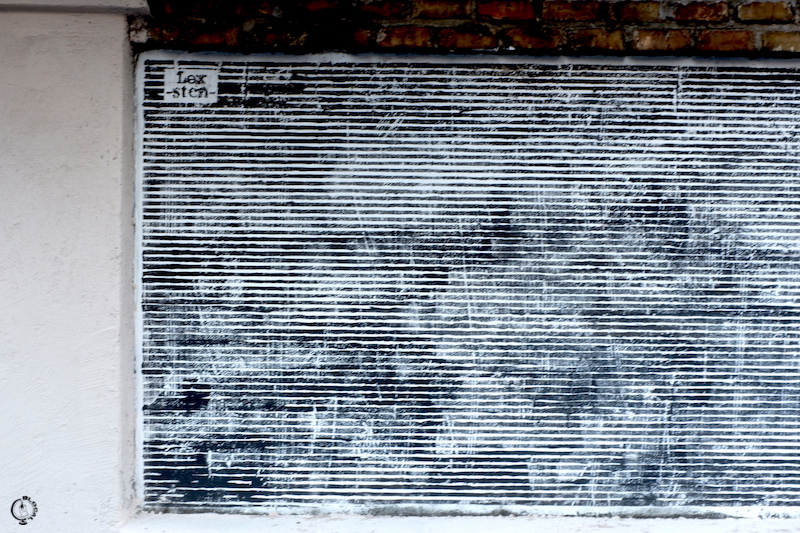 Still painted to launch their solo exhibition at the Wunderkammern Art Gallery ("Matrici Distrutte," 2015), this smaller piece is an example of Sten & Lex's technique of broken moulds, i.e. stencil moulds glued to the wall that will eventually be destroyed, therefore showing the "evolution" of the artwork, which changes through time. Moreover, the wrack of the mould represents the uniqueness of the piece (versus the avowed reproducibility of stencil art).
Street Art Rome: C215, Via Ciro da Urbino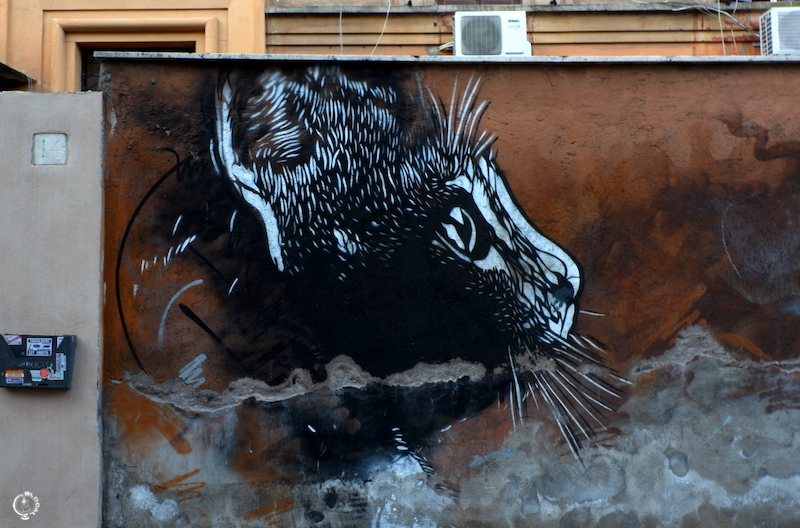 Some of the stencils realized by C215 to promote his solo show at the Wunderkammern Art Gallery ("Mea Culpa," 2013 – which was the first time we met in person) are already gone, but a couple of big pieces by the legendary French artist are still standing in Via Ciro da Urbino (while two more cats are at the end of Via Gabrio Serbelloni).
Street Art Rome: Escif, Via Gabrio Serbelloni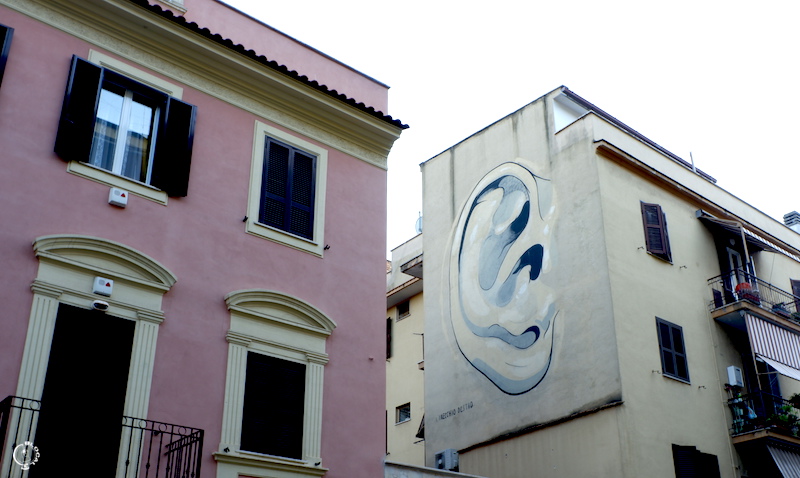 Opposite to the street art gallery Wunderkammern, there is a beautiful mural by the Spanish artist Escif depicting a right ear ("L'Orecchio Destro," in Italian, is the title of the artwork). The mural, which is part of his series "Suspension of Disbelief," aims to explore new paradigms and provoke wonder.
Street Art Rome: Frederico Draw, Via Natale Palli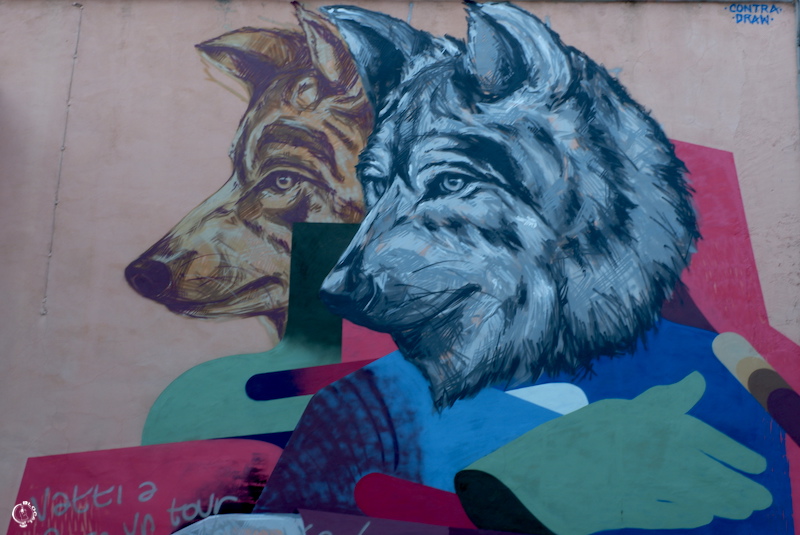 At Forgotten Project, we loved Frederico's company so much when he was painting the large-scale portrait of Pasolini at Teatro India that we couldn't wait for him to come back to visit us in Rome! That's why, when he was coming to Italy to paint at the Memorie Urbane Festival, we found a wall in Rome for him and his friend Contra.
We did it with no pretension: it was just a wall, a box of spray-cans, and our Portuguese friends visiting at last!
Street Art Rome: MP5, Via Amedeo Cencelli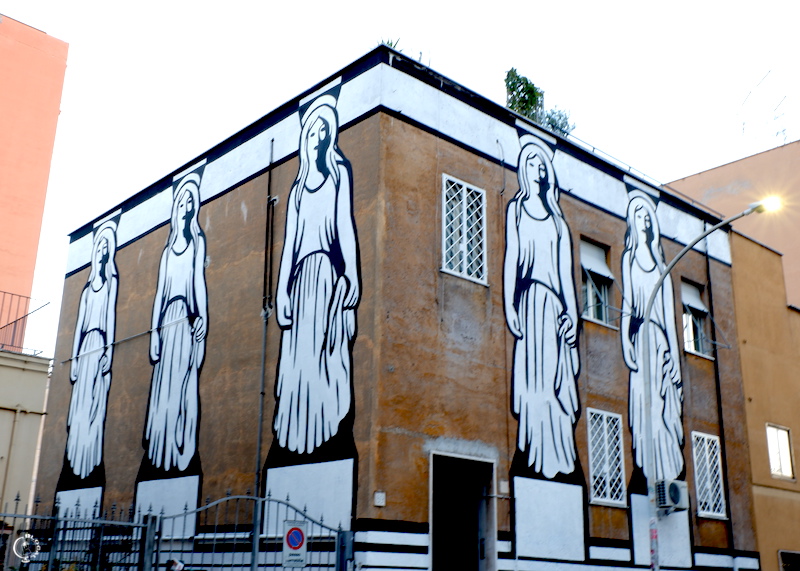 Titled "Millennials," this artwork by the Italian MP5 completely transforms two walls of a small building. The figures depicted recall the kore (ancient Greek sculptures) on Athens' Erechtheion. MP5's works are often inspired by ancient classical art, which she finds sober yet majestic, two traits that she wants to bring into her own public art interventions. This piece was painted to launch her solo show at the Wunderkammern Art Gallery ("Of Changes," 2016 – which, by the way, was the first time we had met in person).
Street Art Rome: Alexey Luka, Viale dell' Acquedotto Alessandrino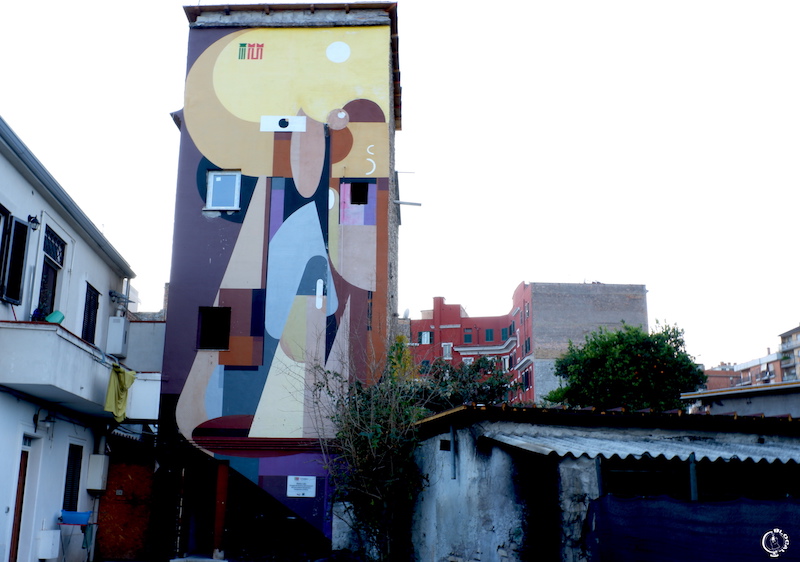 To end this street art tour, let's step under the beautiful Roman aqueduct (Aqua Alexandrina, dating back to the 3rd century AD) and cross the park to the tiny pedestrian square. The compositions by this Russian street artist are made of geometric, abstract shapes that interlock as colourful pieces of a puzzle. Realized to launch his solo exhibition at Wunderkammern Art Gallery ("Being Here," 2015), this artwork is titled "Straniera," and it depicts a woman sipping a coffee.
Rome Street Art Map
Find these (and many more!) murals in my Travel & Street Art Map of Rome:
SalvaSalvaSalvaSalvaSalvaSalva