One week after the comeback of Luiz Inacio "Lula" da Silva to Brazil's presidency, Italian street artist Jorit Agoch pays homage to Brazilian activist Marielle Franco with his latest mural in Rome. Curated by Oriana Rizzuto, the mural was created as part of the art-in-prisons project "L'Arte Non Ha Sbarre".
Marielle Franco Tribute Mural by Jorit in Rome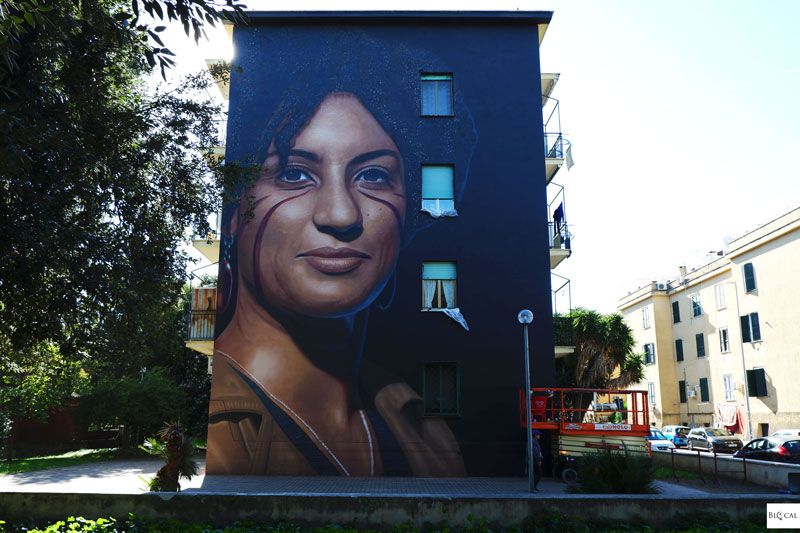 "I've been working on the concept for this wall for over one year, and so way before the re-election of Lula as the president of Brazil. I wanted to paint Marielle Franco because she is an activist who fought for a better life in the favelas of Rio de Janeiro, for women rights, and for Black rights. She is a hero and deserves not to be forgotten."

Jorit
Outspoken critic of police brutality and extrajudicial killings, Marielle Franco was killed by two former police officers in March 2018. She was a determined opponent of Bolsonaro, so Jorit's tribute mural arrived with perfect timing in the eastern outskirts of Rome – now that Bolsonaro has been defeated by Luiz Inacio "Lula" da Silva.
Jorit painted the countenance of the Brazilian activist Marielle Franco in a neighborhood, Quarticciolo, known for its own social fights, and some wins – like the takeover of the neighborhood's abandoned spaces, which are now used as places for socializing and self-managed by the locals.
Quarticciolo has always been a neighborhood actively fighting for social rights. Here, partisans fought the fascist regime, and today's residents are fighting for housing rights. It is a neighborhood ready to embrace and drive forward the message of struggle and resistance painted by Jorit.
"For me, street art is just the medium. I've never painted a mural for the sake of it. The point isn't painting, the point is to share a message that I believe is important to tell."

Jorit
Jorit: Biography of the Famous Italian Street Artist
Jorit began tagging in the early 2000s at the age of 13. He first wrote "DUTCH," since his mother comes from The Netherlands and Jorit is, in fact, his actual name – not a moniker.
Graffiti writing is all about the shape of the letters of your name, and Jorit liked the letter combination 'CH' so much to keep them in his best-known graffiti name, AGOCH, which means "open the eyes."
Eventually, he got tired of graffiti and began painting expressive portraits instantly understandable to anyone walking past them – unlike graffiti, which only speaks to a small niche of insiders.
"A face is for everybody, it's instantly understood. My portraits stand for the values I believe in, like human rights, a welfare state, public health, public school, basically to give the same opportunities to everybody."

Jorit
Jorit's urge to communicate to as many people as possible brought him to portray popular icons, notable people coming from different countries and historical periods, and yet united by a passionate fight for social justice. People that make up the great "Human Tribe" family.
Jorit and His Human Tribe
Around 2013, Jorit started to mark his portraits with two red lines on the cheek that refer to the ancient African ritual of scarification. The idea came from the time Jorit spent volunteering in Africa when he noticed such scars on people's faces, a symbol of belonging to a tribe.
"I liked the idea that a sign would signal their belonging to a community, like a visible mark of brotherhood, directly opposed to individualism. I wanted a similar symbol unifying all the heroes I homage with my murals, something that would make them part of the same family."

Jorit
This pictorial ritual, indeed, makes Jorit's heroes part of the street artist's "human tribe," which now counts hundreds of members painted on gigantic walls all around the world, plus Jorit himself, who got 'marked' with the two iconic red scars in 2020.
Read also: One more weekend in Campania
Hyper-Realistic Murals by Jorit Around The World
I asked which is his favorite character that he has painted, and he replied, "Diego Maradona." Jorit painted a gigantic portrait of Diego Armando Maradona in 2017 at the entrance of Naples' "Bronx," a ghetto everybody was scared of walking into and that, today, attracts dozens of tourists who want to take a photo of Jorit's mural in San Giovanni a Teduccio. A mural that, in 2018, Jorit turned into a diptych by painting, next to Maradona, the portrait of a local autistic boy named Niccolò.
Read also: Street Poetry and Street Art in Rome's Trullo neighbourhood
Still in Naples, Jorit painted what he told me is the biggest challenge he has faced so far: a 100-meter high mural in the business district of Naples (Centro Direzionale), which is the first cluster of skyscrapers to have been built in Italy.
Read also: Street Art in Pigneto, Rome
Another mural Jorit cherishes in his memory is the portrait of the Palestinian activist Ahed Tamini (painted in 2018 on the West Bank Wall), which cost him a day in the Israeli jail and a 10-year ban from the country.
Read also: Street Art in Ponticelli, Naples
One mural at a time, Jorit is pushing his photorealistic style further. He is, in fact, a self-taught street artist, who developed his indisputable technical skills through almost 20 years of street practice.
"My teacher at the Art Academy was a conceptual artist, he wasn't painting at all. Moreover, I barely attended classes. I enrolled because I wanted to study Art History, but they have taught me nothing about how to use a spray can, I've learned everything in the street."

Jorit
His process starts with as many photos as he can get, which he combines into one image that he transposes onto a wall with maniacal attention to the tiniest detail.
"I believe painting the reality is the most interesting thing to do, especially because you discover the reality by painting it, or -at least- you try to understand it."

Jorit
Not only does Jorit understand the reality by painting it, but he also makes it understandable for a wide audience by typifying the social messages he wants to spread into majestic portraits endowed with a solemnity that makes them, and their political statements, impossible to ignore.
Find this and many more murals in my Travel & Street Art Map of Rome: