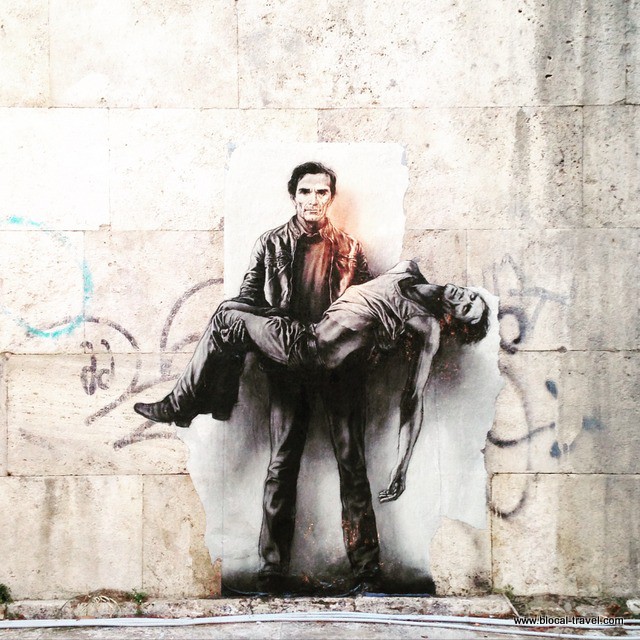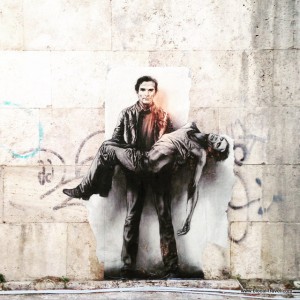 Pier Paolo Pasolini was an Italian film director, poet, writer and intellectual, a visionary thinker who became a controversial figure of the last century; he was murdered in 1975.
Lately my social feeds have been virally invaded by the picture of the new poster-art piece by the French artist Ernest Pignon Ernest, which has been pasted onto walls almost simultaneously in several different areas of Rome, from Testaccio to Trastevere and up to the Tiberina Island.
The image is very powerful: it depicts Pier Paolo Pasolini carrying his own dead body, a secular quote from Michelangelo's Pietà, Caravaggio's chiaroscuro and Mantegna's composition, and it also recalls the kind of photography especially evident in Pasolini's direction.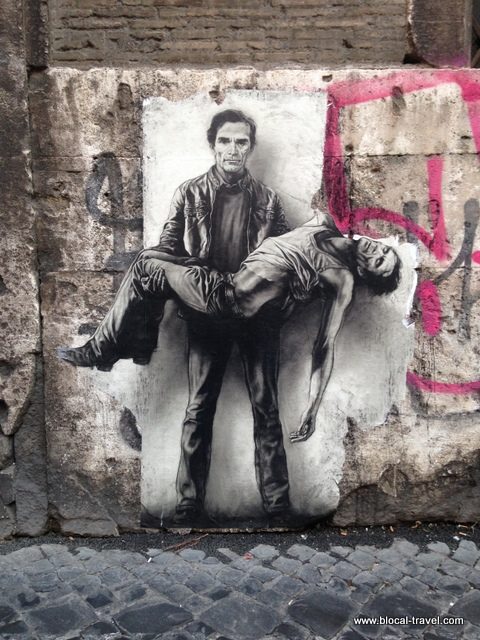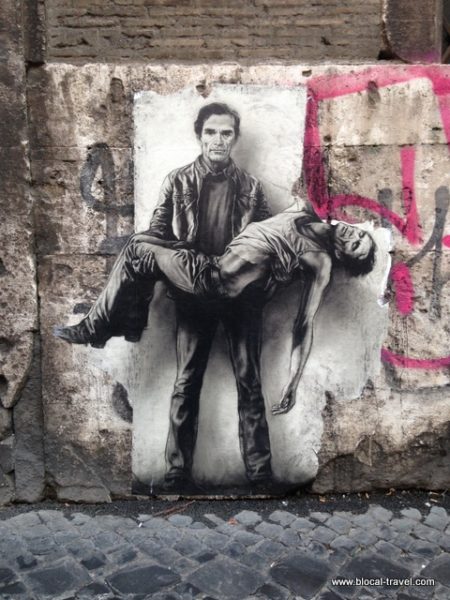 In the Pigneto district, an area that Pasolini loved deeply and that he consecrated in the movie "Accattone", we find three murals dedicated to the artist, all painted in 2014 and located along Via Fanfulla da Lodi.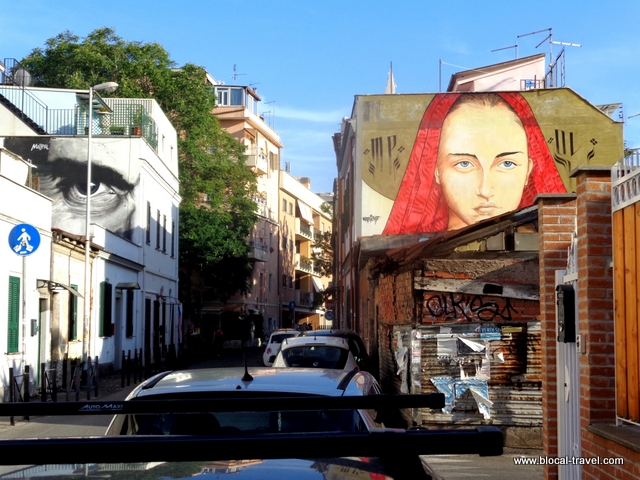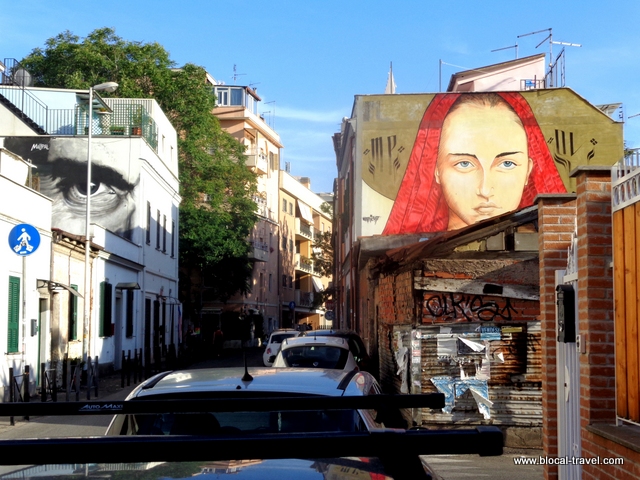 The mural by Omino71 "Io so i nomi" (I know the names) gets its title from the opening phrase of a well-known article by Pasolini for an Italian newspaper in 1974, written during the years of terrorism in Italy. Here, the journalist is represented as a superhero, bravely fighting against the political system.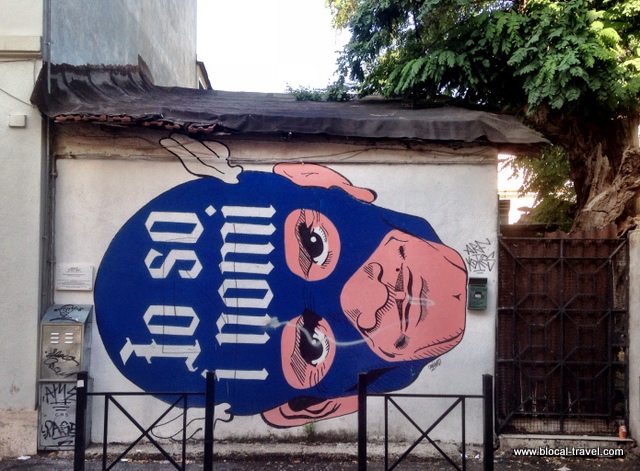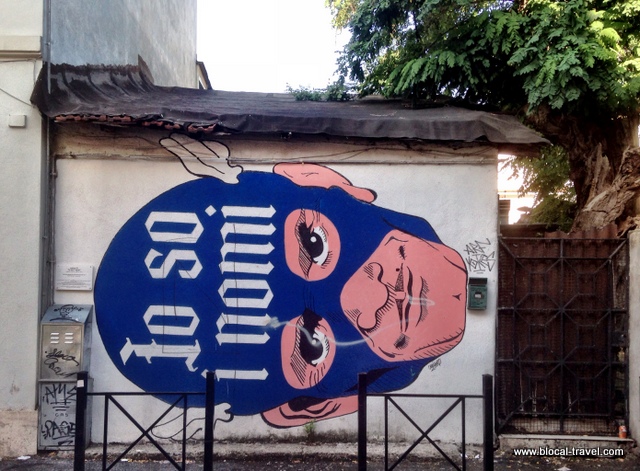 A few meters forward, Pasolini's eye gazes in black and white over Pigneto. It's a work by Mauro Pallotta, aka Maupal, titled "the eye is the only one that can see the beauty" after a poem by Pasolini about the concept of beauty and vision.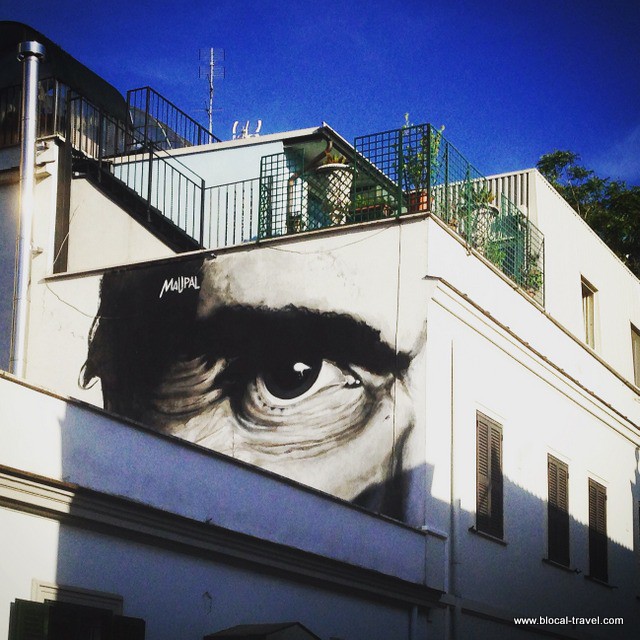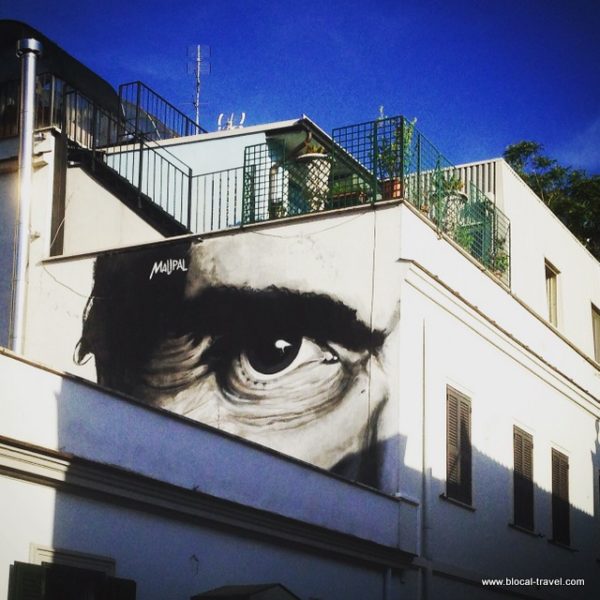 Just in front of it, there is a mural by Mr Klevra inspired by Pasolini's movie "Il vangelo secondo Matteo" ("The gospel according to Matthew", 1964). It's a close up of the actress Margherita Caruso, who played the role of a young Virgin Mary in the movie. Her face recalls a religious painting from the 13th century but, at the same time, it's very realistic, thanks to several little details conveying the observer's attention to her magnetic gaze.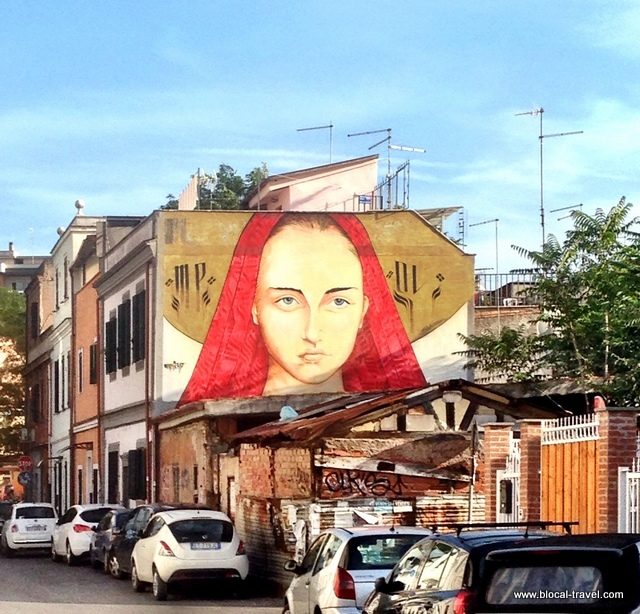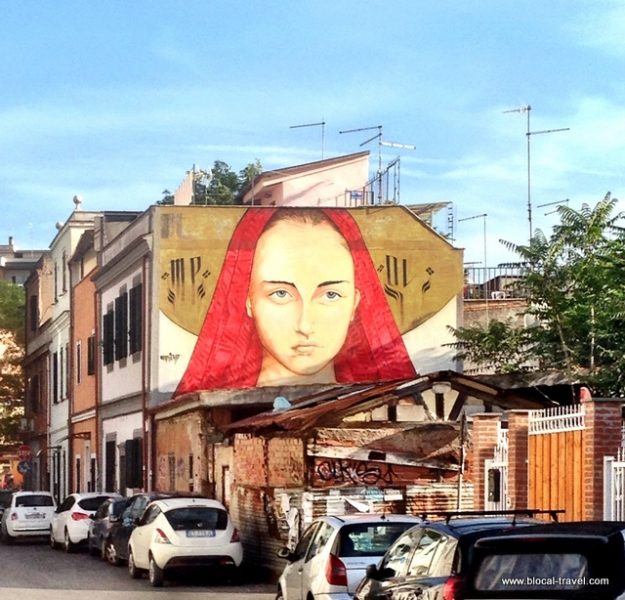 Another area of Rome very much loved by Pasolini is Tor Pignattara, where he used to come in order to find authentic Roman characters to act in his films.
After the portrait painted last year by Diavù at the entrance to the ex-Cinema Impero, a new street art tribute to Pasolini has just shown up. It's a huge mural by Nicola Verlato, an Italian artist living in LA, which depicts the descent of Pasolini's body at the moment of his death in a very monumental and classical style. At the top, we can see his killer Giuseppe Pelosi with two journalists, while at the bottom we find a young Pasolini on his mother's lap, surrounded by the Italian poet Petrarch, who was Pasolini's ideal mentor, and Ezra Pound, who had a totally different political belief to Pasolini but they shared the feeling of being betrayed by the same society they wanted to redeem. The mural, titled "Hostia" by its author, has already been renamed "The Sistine Chapel of Tor Pignattara" by the locals.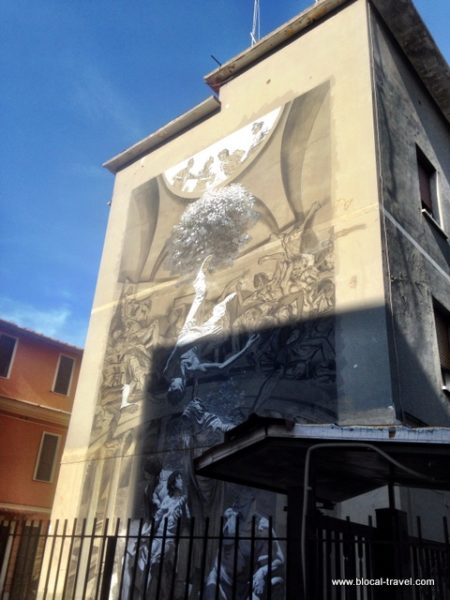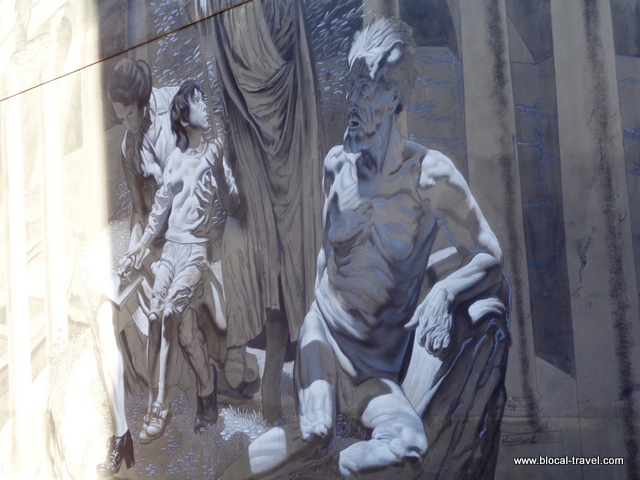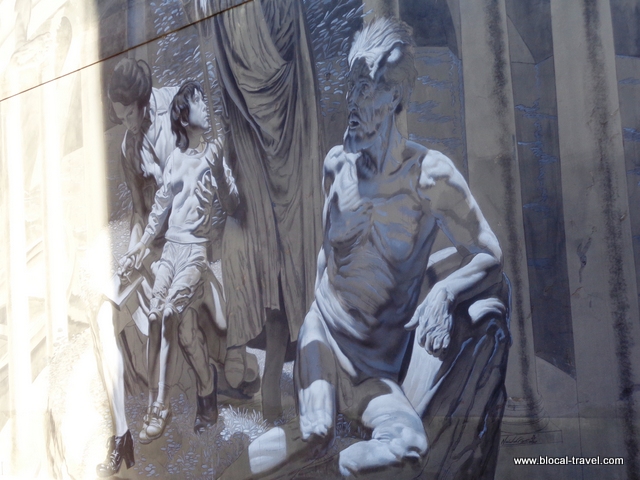 Bonus track > just outside Rome
If you feel like venturing further, go to Ostia, the port of Rome and the place where Pasolini was murdered in 1975. Near the exact spot, there is a school named after Pier Paolo Pasolini; inside the school there is a mural by Maupal (which I didn't get to see as the school was closed, but from what I found on the internet it looks pretty similar to the one in Pigneto). And outside, there is another mural by Omino71 and Mr Klevra; the two street artists not only shared the same wall but also the same work: Omino71 painted an half-faced superhero, while Mr Klevra realized the other half, that is the man underneath it.
On the left side, a quote by Pasolini is written: "Chi si scandalizza è sempre banale" (whoever is scandalized is always banal).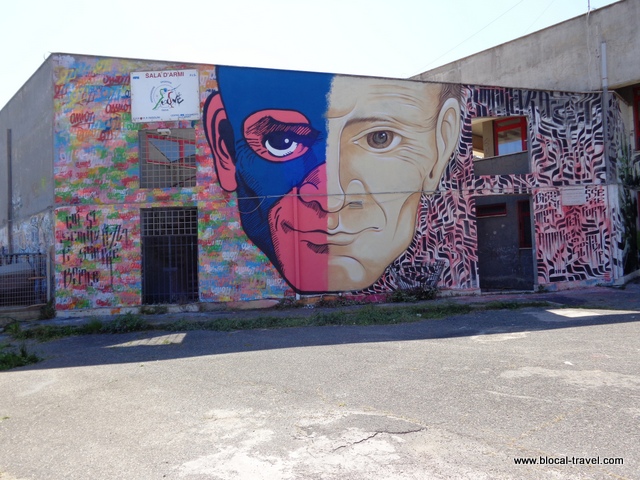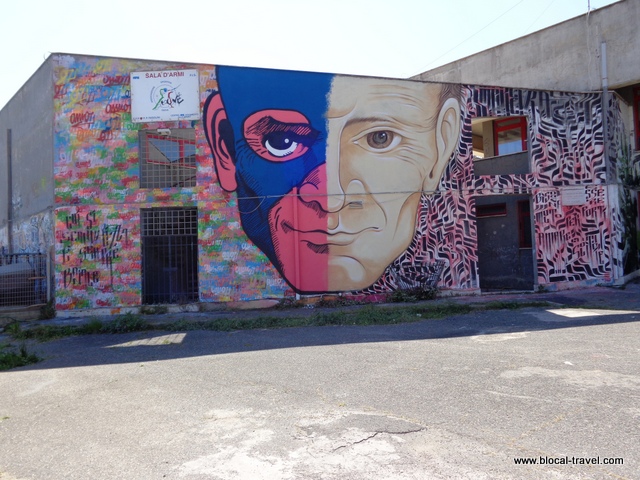 Bonus Track 2: For more Pasolini-themed street art in Rome check out Frederico Draw's stunning mural on the former Mira-Lanza factory!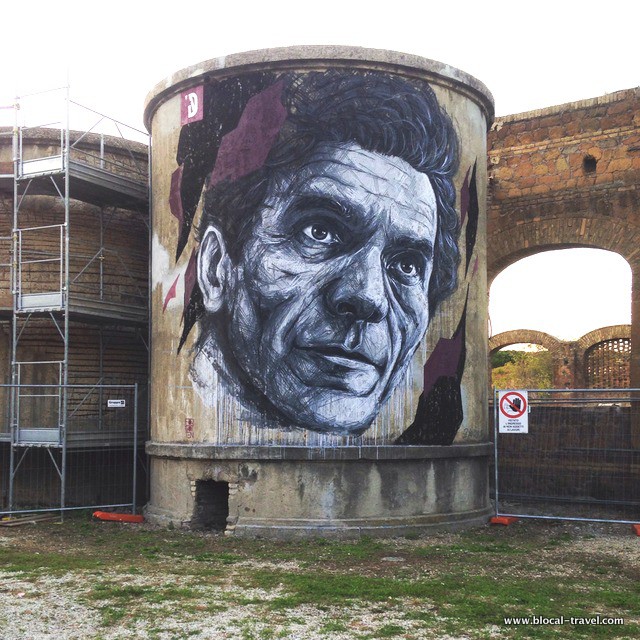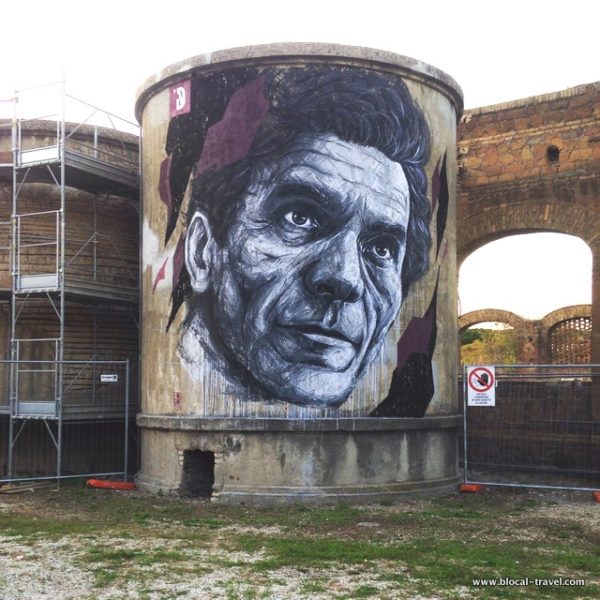 Find these murals (and many more) in my Rome Google Map!
Would you like to explore Rome off the beaten path with me?
Then book one of my alternative walking tours in Rome!
SEE YOU IN ROME!
You can hover over these (or any image) to quickly pin it!