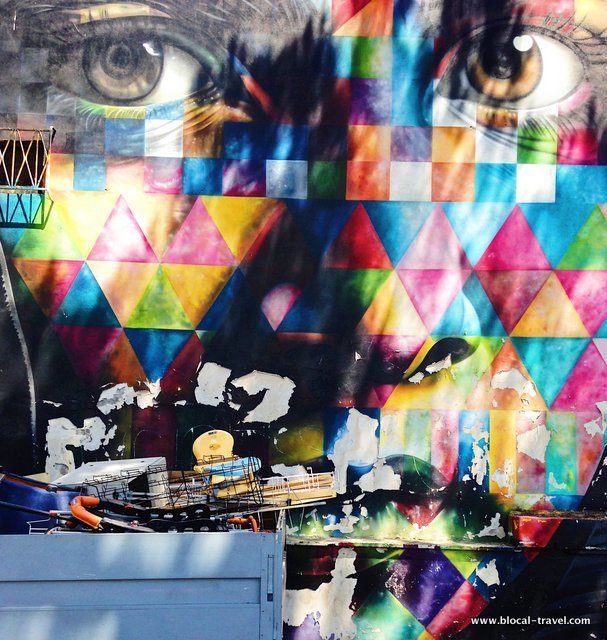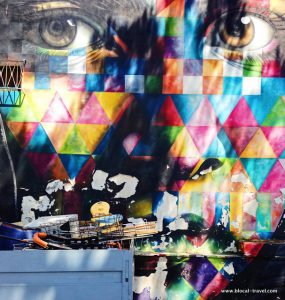 Born out of a fierce need for expression of strong social disadvantage, every year street art is becoming more and more vanilla.
The spreading of urban art festivals has a lot to do with it: curators usually want something aesthetically nice, which will please everybody.
It's gone from a tool to convey radical political messages. Now street art has become a 'tool' to decorate walls – probably the cheapest way for public administrations to show that some action has been taken to redevelop the outskirts, even if they're only putting up a façade (no pun intended).
However, in Rome (where we've had not only dozens of festivals, but also trendy urban art happenings and countless gallery and museum exhibitions) there is still a lot of political street art that's worth the trip.
Political Street Art by BLU in Rome
In Rome, as in so many other cities – from Europe to South America – the most political street artist is BLU: a 30-something Italian guy whose identity is hushed – although his art speaks loudly.
BLU always highlights political and social issues, often painting on squats and forgotten areas of the cities. His works are always over-abundant with metaphors, allegories and symbols, through which he expresses his dissident point of view of our society.
He usually avoids festivals, exhibitions and art galleries, and he even erased his own murals in Berlin and in Bologna to speak against gentrification and the monetization of street art.
Political Street Art by BLU in Rome > CSOA Acrobax, Via della Vasca Navale 6 (2012) || Marconi
My favourite piece by BLU is also one of the first murals he painted in town. It's from the time when he wasn't using as many bright colours as he does now, which brings a remarkable contrast between the minimalism of the style (black and white shades in a very simple line) and the grandeur of the project itself.
This large-scale piece is on the facade of an abandoned dog track. It's been occupied since 2002 and turned into one of the most popular squats in Rome: CSOA Acrobax.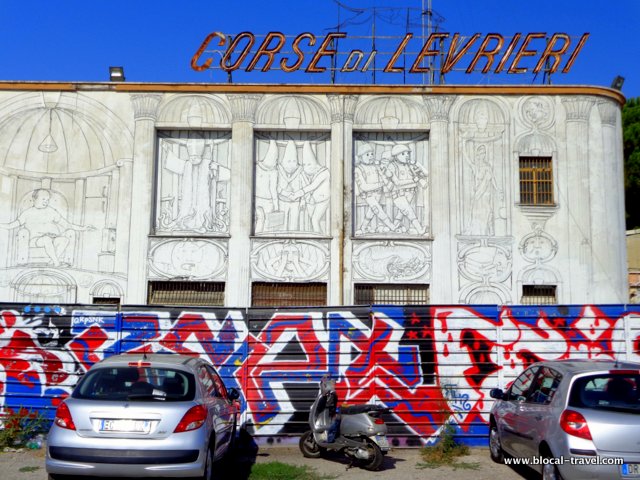 The whole building has been turned into ancient Roman architecture through a trompe-l'oeil that is itself at the core of the artwork. It's similar to politicians' rhetorical speeches, this fake classical architecture looks realistic from afar, but –once you get closer- it shows itself for what it really is: an optical illusion. Reading among the symbolic figures, you can find attacks against religion, consumerism, wars, politicians and more.
The mural spreads around the 'average man', who is buried in front of TV. He's lazy, and made apathetic by mass media treatment – so much so that he doesn't care about the political scandals taking place all around him. The scandals involve secret societies, puppet-soldiers, politicians (wearing masks and taking money behind their backs), clerics, violent policemen and other people in power.
[update 2021: to commemorate the death of Carlo Giuliani, BLU painted a new mural over this one]

Political Street Art by BLU in Rome > Via Recanati (2014) || San Basilio
This is probably the most controversial mural by BLU in Rome. In fact, the authorities have censored it. It depicts Saint Basilio (the Saint after whom the neighbourhood is named) boldly walking towards an area of council houses, holding grass shears to open a big lock and, with the other hand, stopping the riot police, which was depicted while turning into a herd of pigs and sheep.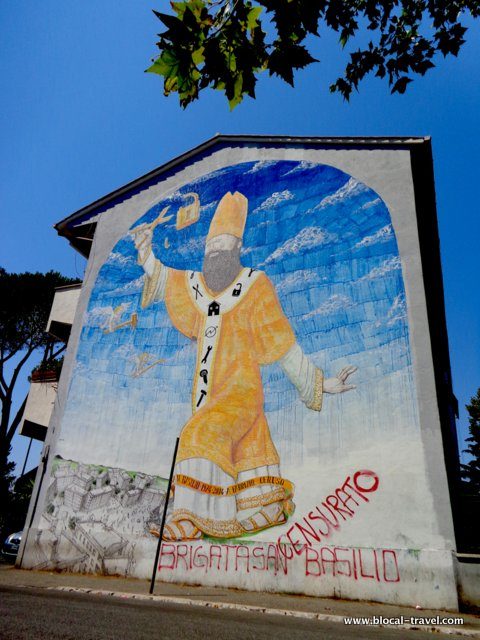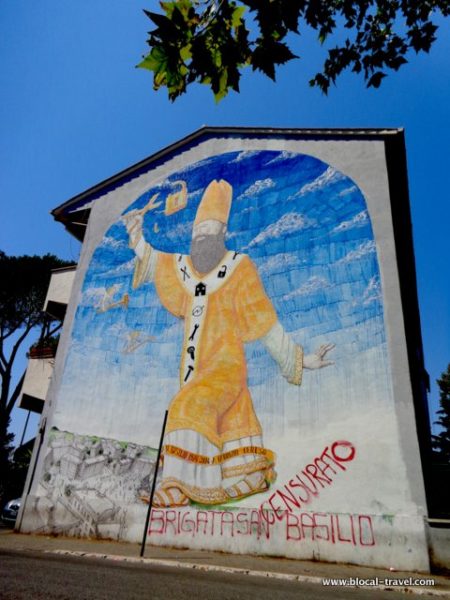 This last detail is the one that started the controversy, which ended with the white-washing of the area. The mural was painted for the anniversary of the death of Fabrizio Ceruso, the 19-year old boy killed by a policeman in 1974 during a protest that took place in San Basilio. That protest is depicted at the foot of the Saint, where dozens of little men are fighting for their houses in the streets and on the roofs.
Political Street Art by BLU in Rome > Via Ostiense (2014) || Ostiense
This large-scale mural depicts a metropolis on a sailing ship, which is sinking under the pressure of the urbanization. The ship is assaulted by pirates (illegal, rebellious and painted in bright red), who are fighting to take it back against little grey men (the building contractors on a boat, whose bow is adorned by a robot with the symbol of the Euro).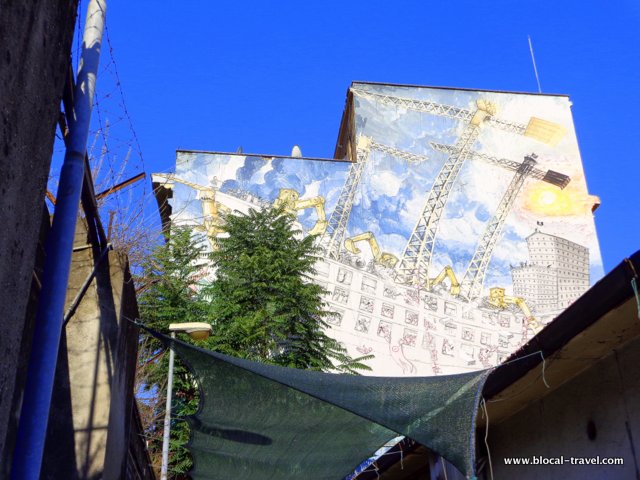 Check out all murals by BLU in Rome
Political Street Art by ALADIN in Rome
Lesser known than BLU, but definitely not less political, Aladin is the militant street artist who represents riots and protests without any filters.
Originally from Yemen, Aladin moved to Italy in 2004 and, although he was already painting in Yemen (where his art has been banished by the government), he began painting 'political' art only after moving to Rome, where he joined the movement for housing rights and lived inside several squats.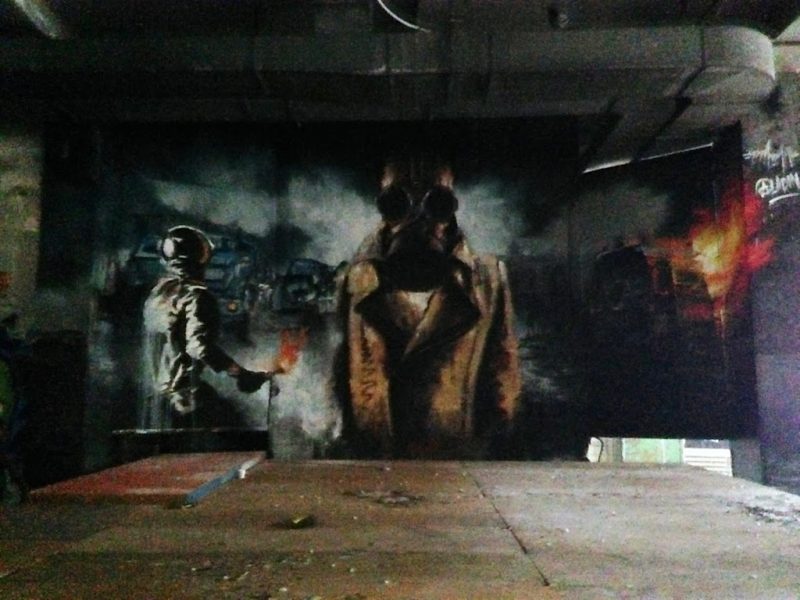 Aladin's iconic characters wear gas masks as a statement against our polluted cities, but also as an exhortation to "push yourself further" during a protest. His representations of conflicts are 'messages of encouragement', which aim at emulation, by remembering the enthusiasm after a protest or the warm feeling of complicity.
Political Street Art by Aladin in Rome > B.A.M., Via dei Castani 42 (2013) || Centocelle
B.A.M., which stands for Biblioteca Abusiva Metropolitana (literally: Metropolitan Abusive Library), is a well-known squat in Centocelle that – with more than 10,000 books – promotes critical knowledge, which is free for everyone.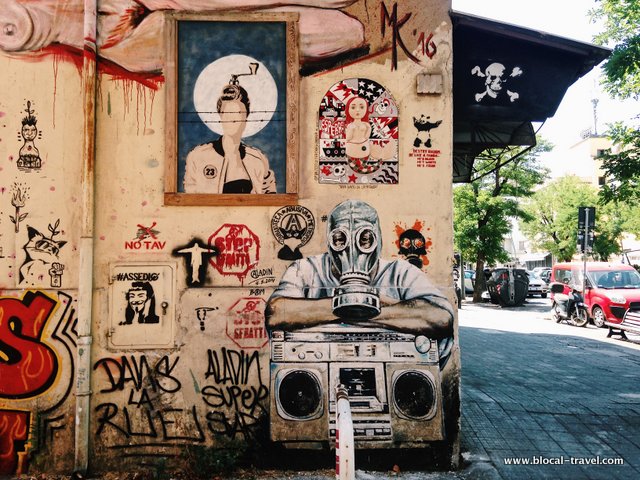 On B.A.M.'s building, along with many posters, stickers and street art, you'll see Aladin's iconic characters wearing the gas masks.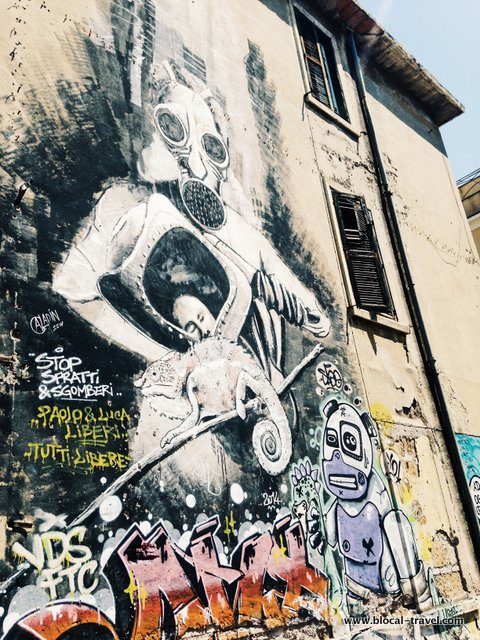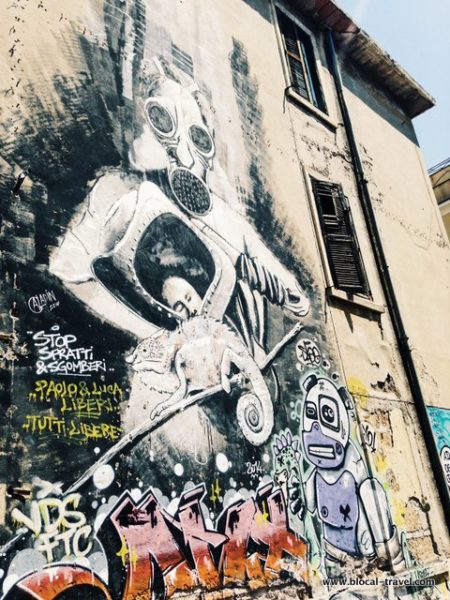 Political Street Art by Aladin in Rome > Via Giovanni Brancaleone (2015) || Pigneto
This mural, which spreads across three different walls, is titled "Resistance: yesterday, today and tomorrow." The first part is about the 70th anniversary of the liberation of Italy (it was on April the 25th, 1945) from the Nazi troops; while the second part is about a more contemporary resistance, and it depicts rioting demonstrators attacking a police jeep.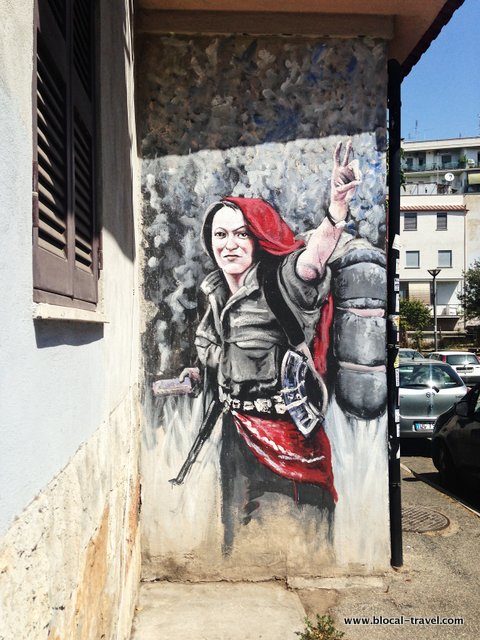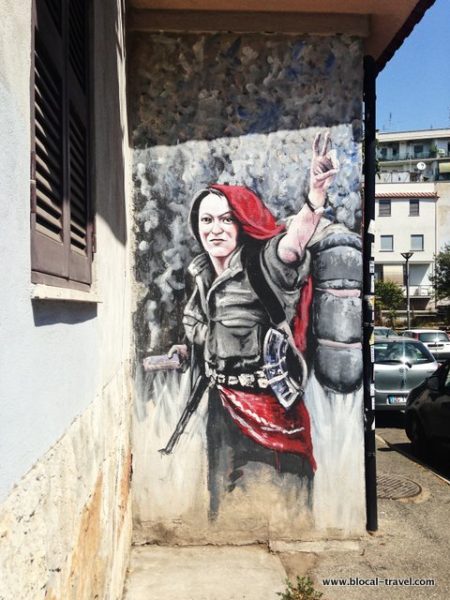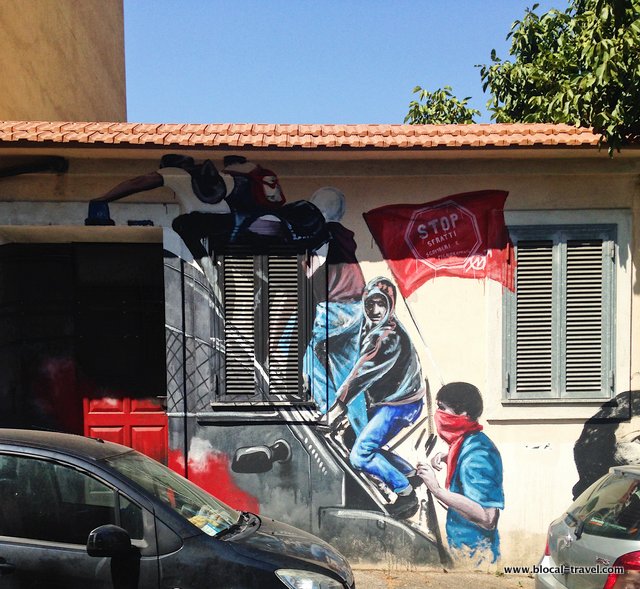 On the third wall, there are two protesters typifying contemporary struggles, such as the 'NO-TAV', the movement established in opposition to high-speed trains. It exemplifies the Italian social movements against globalization.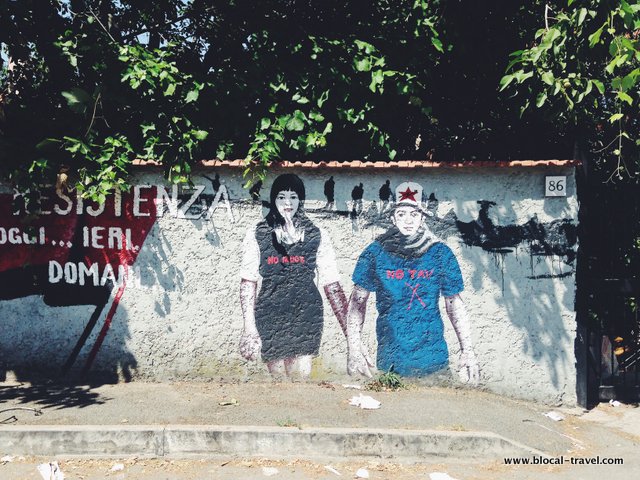 Political Street Art at MAAM (Museo dell'Altro e dell'Altrove), Via Prenestina 913 || Prenestino
Since MAAM is accessible only on Saturdays, I'm just listing the two political pieces that are always visible, because they were painted on the surrounding wall. Read my article on MAAM Museum for more!
Political Street Art by NEMO's at MAAM (2016)
Titled "Mafia Capitale", this work is about the Mafia organization that has ruled the city of Rome for more than 15 years. Through corruption, Mafia Capitale speculated on several illicit operations, including those involving homeless and immigrants.
Nemo's focuses on the profiting that Mafia Capitale had from trafficking immigrants, by depicting one of his iconic characters that, after being shrunken, is sliced off into gold medallions.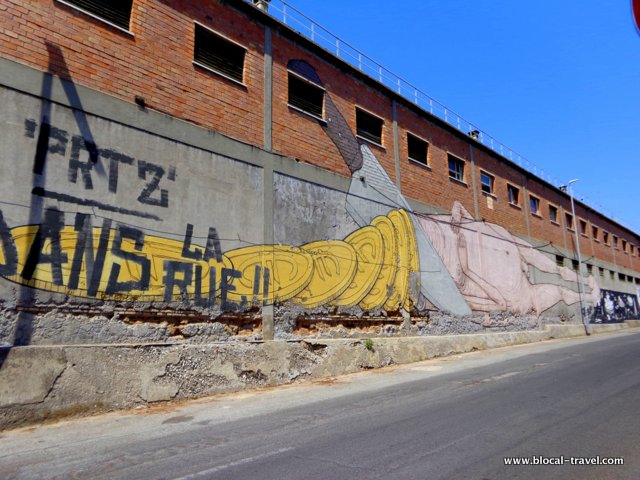 Man is represented as a sausage, to give homage the ex-slaughterhouse. And to highlight the similarity between capitalism and factory production.
Here, the artist plays with the several meanings of the word 'capital': the capital city of Rome, the name of the organization "Mafia Capitale." Then there's capital punishment (hence, the man is sliced from his head), the pecuniary capital (the gold medallions represent it) and human capital as a source of profit, through the traffic of immigrants.
Political Street Art by KOBRA at MAAM (2014)
This kaleidoscopic portrait is inspired by Malala Yousafzai, a Pakistani activist for female education and a Nobel Peace Prize recipient. She is known for human rights advocacy and for having been almost murdered by Talibans.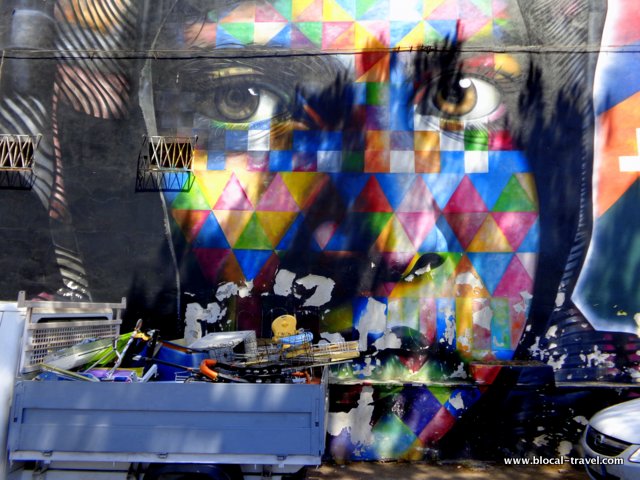 Portrayed in Kobra's iconic style (photorealistic, with the iconic texture recalling a mosaics), Malala looks dreamy and full of hope. I especially love her gaze, which I find full of peace and compassion.
Political Street Art at the Museum of Urban Art of Rome
M.U.Ro. (Museum of Urban Art of Rome) pioneered urban art in Rome by inviting international artists to paint on one of the most emblematic neighbourhoods in the city: Quadraro Vecchio.
Historically, this neighbourhood has always been associated with left-wings parties. During WWII, it was nicknamed "The Wasps' Nest" by the Gestapo, since it was inhabited by communists.
On April 17th 1944, Nazi troops deported almost 1,000 residents to concentration camps. Several political murals painted for M.U.Ro. show this episode.
Political Street Art by LUCAMALEONTE > M.U.Ro., Via Monte del Grano (2014) || Quadraro
Titled "The Wasps' Nest", this piece commemorates the 70th anniversary of the Nazi roundup (that's the why of the 7 wasps), which is the day when 947 inhabitants of Quadraro were deported to concentration camps.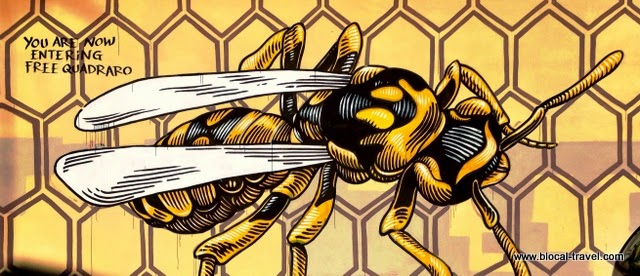 Near the artist's signature, there is a physics formula of the resistance, to tribute to Quadraro's strength during WW2.
Political street art by NICOLA ALESSANDRINI > M.U.Ro., Piazza dei Tribuni (2012) || Quadraro
This mural shows an animal sacrifice: a long, pink, hyper-realistic snake (a depiction of any power: political, economic and religious) about to eat a green mouse.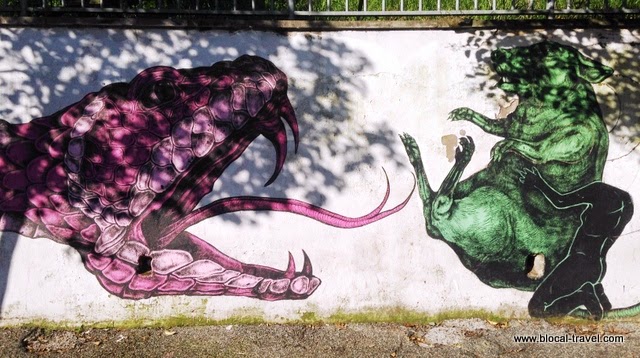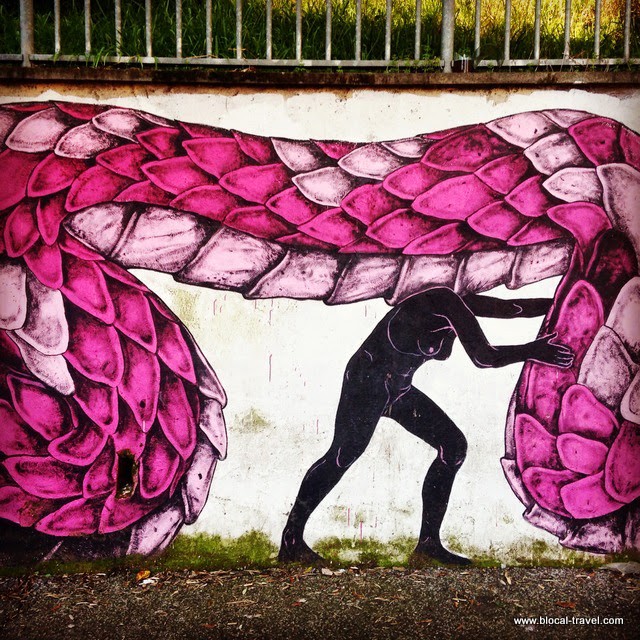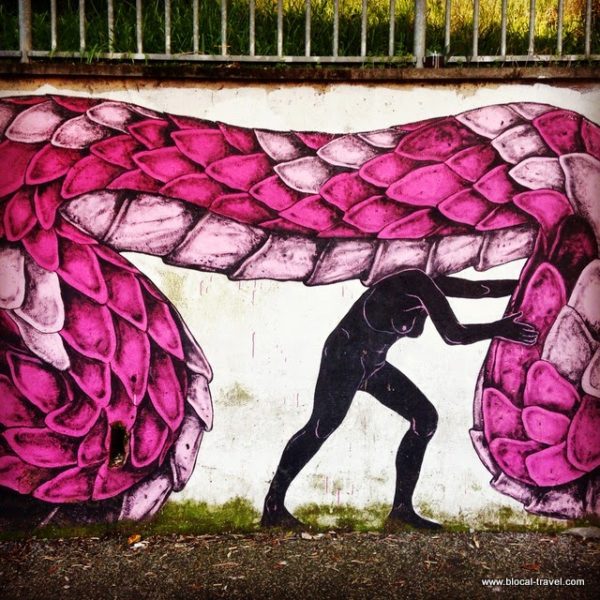 Only a few men, represented as half-monsters by Diavù, can ride the snake, while the majority of us are supporting and feeding it, eventually keeping the Power alive.
Political street art by GARY BASEMAN > M.U.Ro., Largo dei Quintili (2012) || Quadraro
This work connects the history of the neighbourhood. It's represented by the acronym Q44, indicating the Nazi roundup which happened on April 17th 1944. It's for the artist's father, who was a partisan in Poland during the Nazi occupation. The artist's father is represented as a deer-looking creature, armed and ready to combat against the Nazi oppressors (who are shown in the form of flying devils).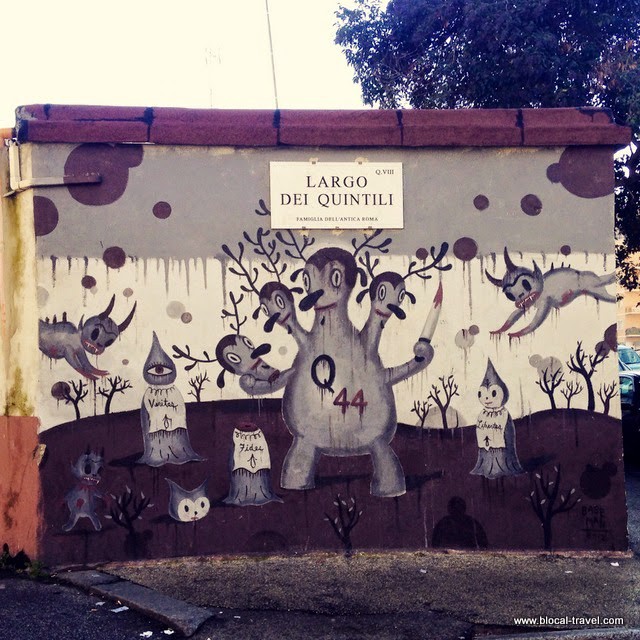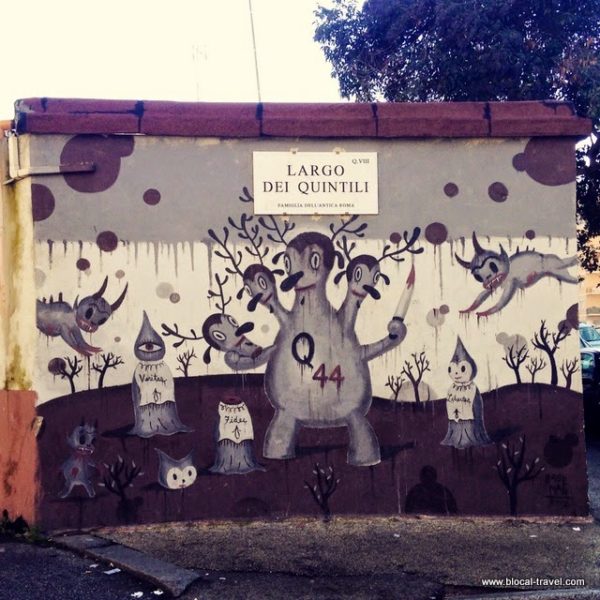 Around him, there are three more figures: Liberty, which is looking up to him; Trust, which is beheaded and betrayed, as it was in the history of the Nazi occupation of Poland; and Truth, which is looking at us with its big, wide eye.
Political street art by RON ENGLISH > M.U.Ro., Via dei Pisoni (2013) || Quadraro
The first time Ron English painted his iconic 'Temper Tot,' he meant it for President Bush. But now, 'Temper Tot' (a Baby Hulk melting a strong structure and showing immaturity), isn't addressed to anyone in particular. It's about all of those countries that have power and an inadequate government to manage it.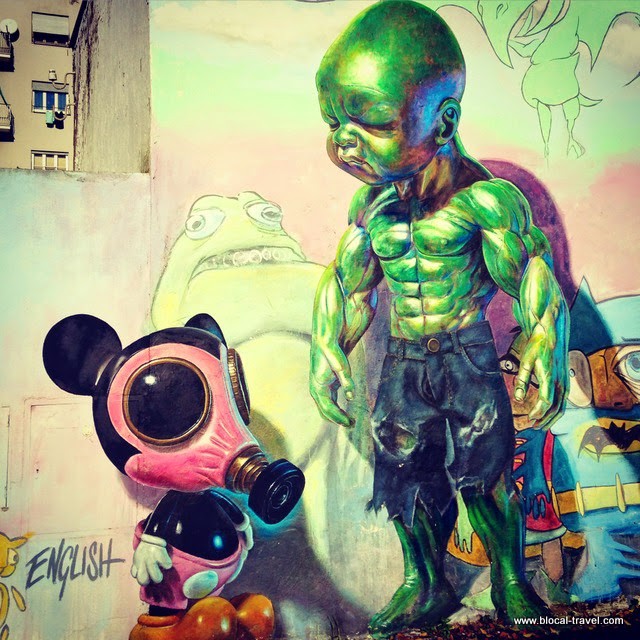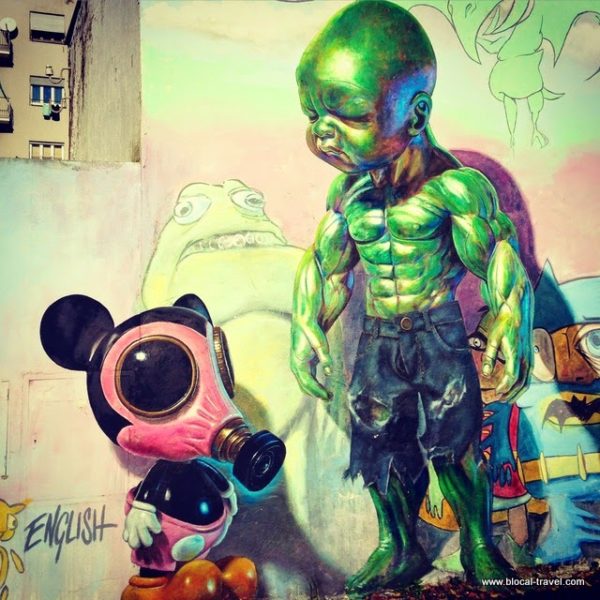 Next to the 'Temper Tot,' there is another one of his iconic characters. Mickey Mouse, painted by Ron English, as a representation of American pop culture and how it pollutes the world with consumerism.
More Political Street Art in Rome
Political street art by MAISMENOS > Via Giacomo de' Conti (2017) || Prenestino
Painted for the occasion of his solo exhibition "State of Minds" at Wunderkamern Art Gallery, this piece is part of his 1-year old series "Vota MaisMenos."
It uses the same propaganda mechanism governments do for conveying social protest, and it does so by starting from the core value of western democracies: voting.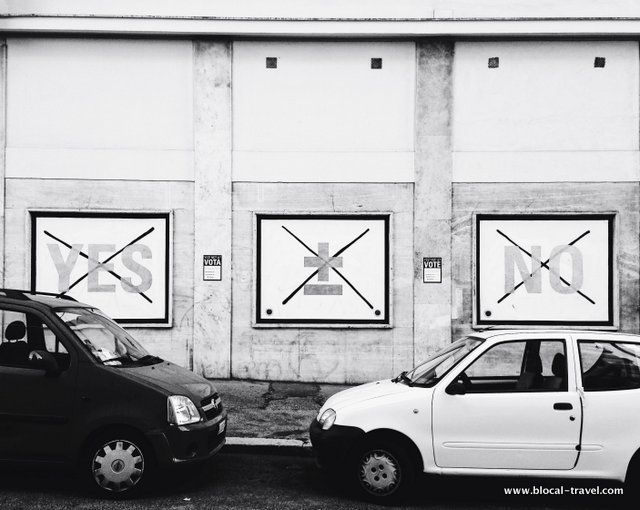 This is an interactive piece: everyone is invited to share what they've voted by using these hashtags: #maismenos_yes #maismenos_no #maismenos
http://www.instagram.com/p/BVSq5zQBXjA/?taken-by=giulia_blocal_blog
Political street art at CSOA LA STRADA, Via Passarino || Garbatella
The thing I like the most about this spot: all struggles for independence and freedom of humanity are painted, one next to the other.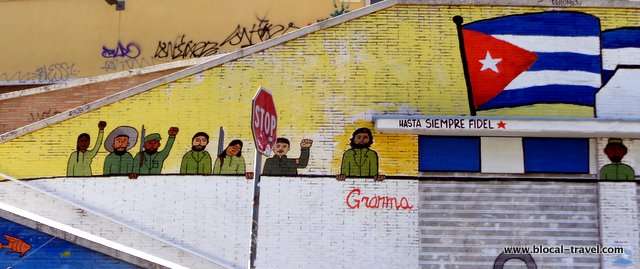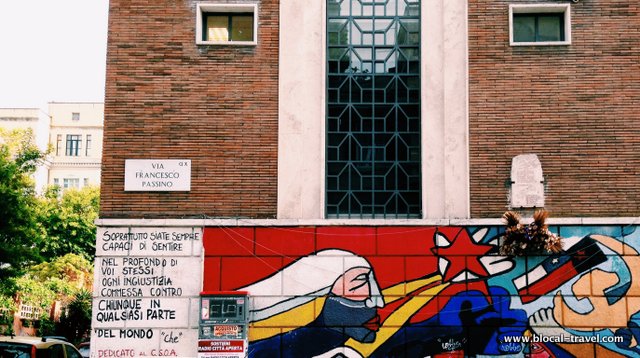 In fact, on the surrounding walls of this well-known squat in Garbatella, there are tributes to many different causes. From Kurdistan to Northern Ireland, Palestine and Cuba.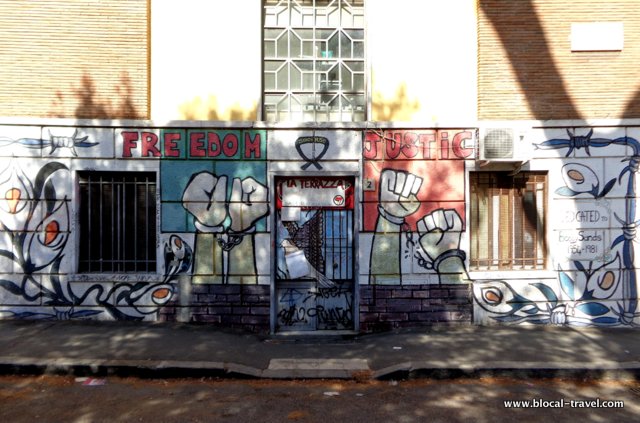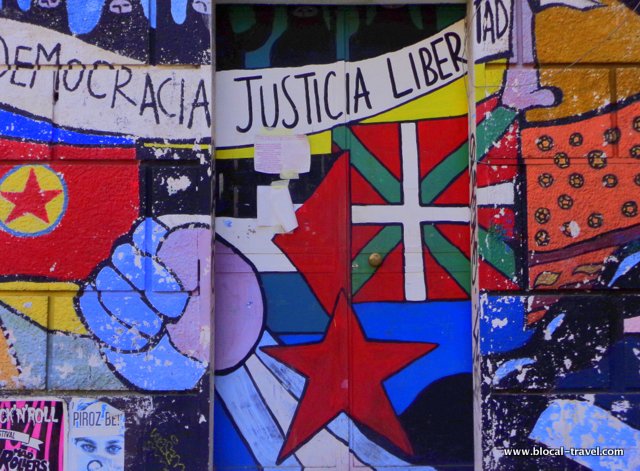 Political street art by HYURO > Sottopasso delle Conce (2016) || Ostiense
Titled "self-management", this mural is located next to Fronte del Porto, the (self-managed) squat covered with BLU's colourful monsters.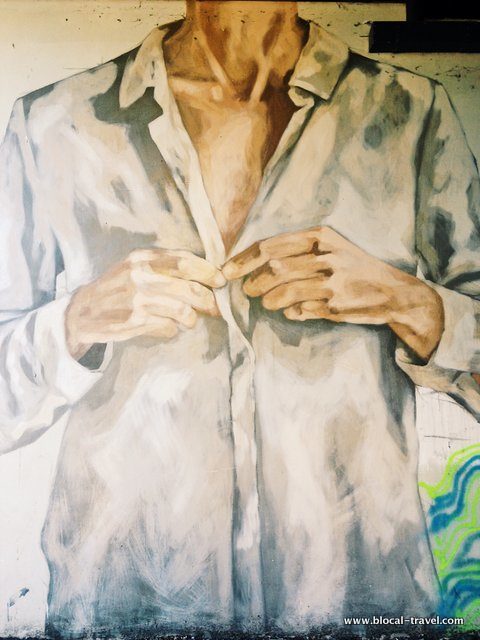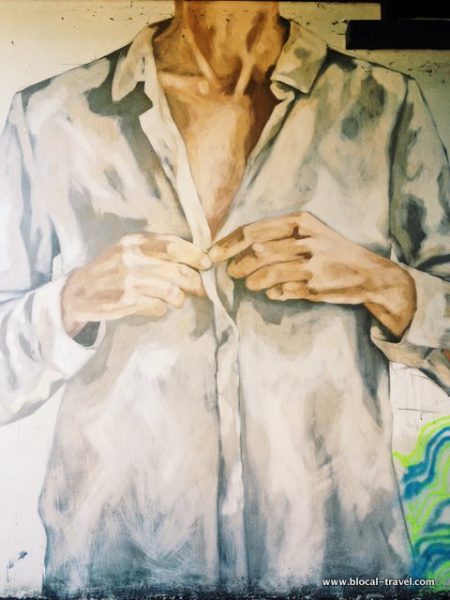 This work was painted to promote Hyuro's solo show called "Convivencia" at the Dorothy Circus Art Gallery. It represents those movements that we do automatically.
Political street art by OZMO > MACRO NIZZA, Via Nizza (2012) || Pinciano
Painted on the rooftop of the Contemporary Art Museum of Rome, this 20-meter tall piece is titled "Voi valete più di molti passeri!" (Translation: "You are worth more than many sparrows!"), which is a reference to the Gospel.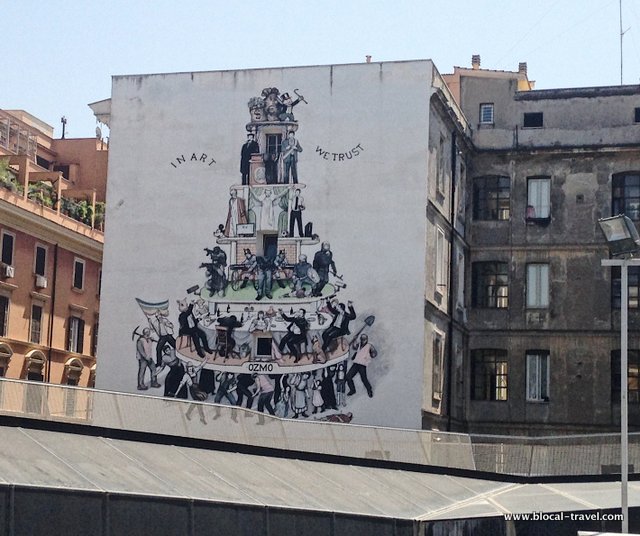 The work is inspired by a satirical print from the '800s that, in turn, was inspired by the social pyramid of ancient Egypt. It depicts the pyramid of power, which is fed by economic power, and topped by the money God.
Rome Street Art Map
Find these murals (and many more!) in my Rome Travel & Street Art Map!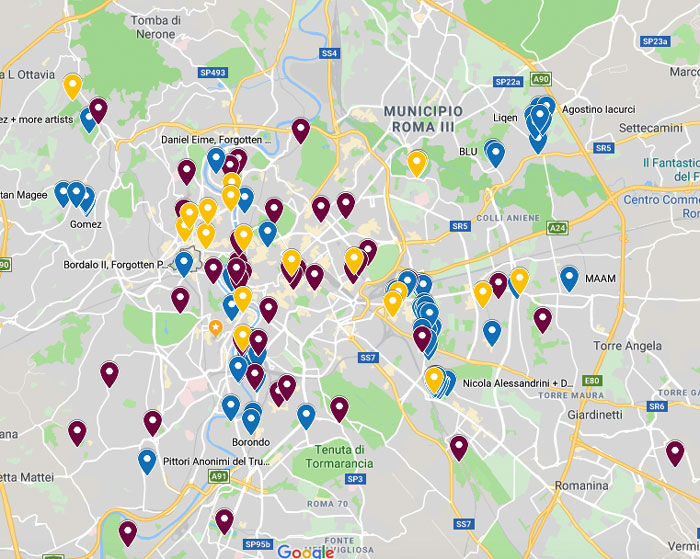 SalvaSalvaSalvaSalva