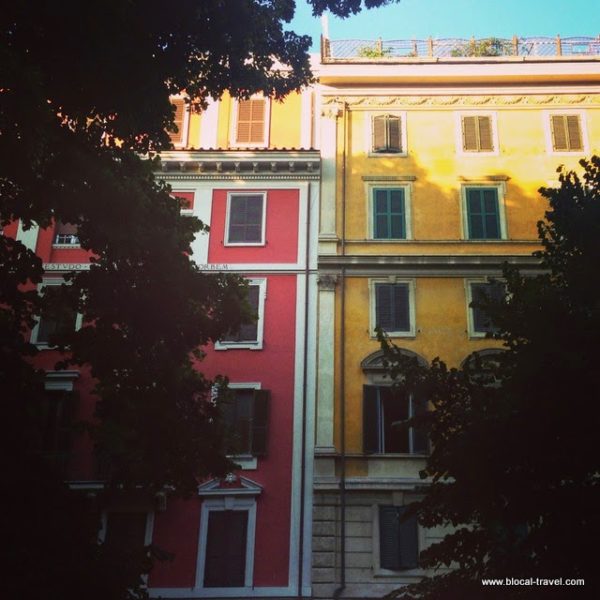 I am a big fan of spending August in Rome: this is the only period when the town slows down, and you can enjoy a more relaxed vibe.
In August, you can enjoy a nearly empty Rome; pretty sultry maybe, but having the town all for yourself is priceless.
My old neighborhood, Prati, is among those districts of Rome where you can better feel this radical transformation 'cause it is basically a white-collar neighborhood made of offices, barracks and courthouses -and a popular shopping destination if you are into fancy brands.
It is also a neighborhood pretty difficult to unveil, except in August when its fancy-wealthy surface clears, allowing visitors for further consideration.
If you visit Prati in August, you can wander among its beautiful buildings, churches, and tree-lines boulevards while the whole hood will look suspended, in a sort of apocalyptic scenario.
But you should hurry up: in a few days residents, employees, retailers, and shopaholics are coming back!
Prati is one of the wealthiest neighborhoods of Rome and a popular shopping destination if you are into fancy brands.
Otherwise, you probably won't end up in Prati. And that's fine, Romans don't come to Prati either and I surely had a hard time trying to gather my friends in Prati during my high school years ('cause until a few years ago there was nothing to do in Prati, not even a cozy place to have a beer!). That's why I consider this neighborhood off-the-beaten-path even though it is located a few steps from St. Peter and the Vatican state.
Neither tourists come to Prati and if they do it's just for a stroll along Via Cola di Rienzo, Prati's main shopping street. As I am not a shopping girl, the only shop on Via Cola di Rienzo I am familiar with is the food boutique Castroni, which is definitely worth to check out and not just because it serves one of the best coffee in town.
My favorite part of the neighborhood is the multi-ethnic area surrounding Viale Giulio Cesare, a perfect spot for people-watching as here you will find people from every corner of the world, Kebab kiosks, internet points and Indian clothes shops. On Viale Giulio Cesare there is also the Touring Club bookshop, a must visit for travelers. I come here very often, just to check its wide-spreading selection of road maps and daydream a bit.
[Update: the Touring Club bookshop moved to Piazza Santi Apostoli]
Sorry to interrupt, but if you are spending you summer holidays in Rome you must check out my article on how to spend a summer in Rome like a local!
Another place in Prati really worth a visit is the church Sacro Cuore del Suffragio, built in a rich Neo-gothic style, which makes it similar to Milan Cathedral (well, to the miniature of it!). Here you can admire a beautiful pipe organ in the counter-facade and visit a creepy museum (Museo del Purgatorio = the museum of the souls of Purgatory) collecting relics, documents and photos about deceased people condemned to Purgatory who are trying to catch the attention of alive people. If you are wondering how did they come up with this creepy idea, you should know it all started after a particular occurrence happened in this church in 1897 during a devastating fire… *shivers*
Another beautiful spot that always moves me when I drive by it, is the Dea Roma statue welcoming those entering Prati from the Risorgimento Bridge. This sad face made by the Polish sculptor Igor Motoraj was even sadder in the past when the fountain was turned on and the Dea Roma was crying; anyway, I still find it especially romantic, suspended into her dejected attitude.
(when I was a child -instead- my favorite building not only in Prati but in the whole eternal city was the Palace of Justice on Piazza Cavour, disparagingly called by locals "Il Palazzaccio"; after all, I have always been against the tide! ;-) ).
Prati neighborhood is characterized by wide, tree-lines boulevards making a pretty regular urban plan that ranges from Castel Sant'Angelo to the river Tevere (actually the official border between 'Prati' and 'Delle Vittorie' runs along Viale delle Milizie, but it is very blurred, and everybody refers to Prati as the whole area as far as the river).
Wandering around Prati, you can admire several Umbertino buildings (a typical Italian style from the end of the 19th century) and Art Nouveau villas,
as well as several Rationalist buildings from the Fascist period and others in Rococò style, such as my elementary school on via Montezebio.
Some modern buildings are playing with glasses, mirrors and reflections such as the RAI (Italian Radio Television) Headquarters and the former District Hall building (Via Borsieri 2), a building from 1973 inspired by brutalist architecture, which recently has been renovated with many colorful window panes: definitely a better look!
The other half of Prati, which is called Delle Vittorie district, was planned in 1919, and it mainly revolves around Piazza Mazzini. It is characterized by several former council houses built during the fascist period, with the typical open courtyards that I love so much!
The most charming features of Prati buildings are the architectural details, which were made by the most famous artists from the beginning of the 20th century.
In Prati, you can find one of the very few proper cycling lanes in Rome. It goes from Viale Angelico as far as Castel Giubileo, a suburban area in northern Rome. It is a nice path running along the river, but quite useless in daily life, as almost no one needs to go in that direction, towards the open fields of the Roman countryside.
(There is also another cycling lane starting at the same point and going on for just a few hundred meters as far as Piazza Cavour, where it magically disappears… Go figure).
Anyway, as Prati doesn't have a proper park, the river's quay and the cycling lane itself are pretty crowded with runners, bikers, and nature lovers. If sport isn't your thing, you can still go to the quay to have a drink or an aperitivo on a boat (but please don't try a restaurant on a boat!).
Last time I was in Prati I discovered a nice bar hidden in the river banks; I fell in love with its weird furnishings, and I couldn't help having a glass of prosecco while admiring a lazy, paunchy river carrying on.
If the appeal of a suddenly deserted, otherwise-bustling, neighborhood doesn't work for you, here is one more reason why you should visit Prati district in August (or anytime between the 1st of July and the 7th of September 2014): entering the museum of Castel Sant'Angelo on a summer night you can visit the Borgo Passetto, a long elevated walkway designed to guarantee to the Pope a safe passage from the Vatican residence to the stronghold of Castel Sant'Angelo. The walk is pretty striking, especially if you manage to calculate the perfect timing to walk through it avoiding the crowded guided tours, which would make this narrow walkway especially claustrophobic. You can either walk through the Passetto or upon it, thus peeking into nearby houses and admiring St. Peter dome from an unusual perspective.
With the same ticket, you can wander around the stronghold, getting lost among its frescoed salons and its many courtyards, while climbing your way to the main panoramic terrace, the one with the iconic statue of Archangel Michael.
After all, the Castel used to be the tallest building in Rome!
And so, that's why you should include Prati into your Rome must-see neighborhoods list. If you do it anytime soon, you might catch Prati's fancy shop windows still closed for holiday and lunch at one of its cafès without the typical lunch-break bustling noise.
…And then you have the rest of the year to come back and compare the two opposite scenarios!
Prati neighborhood: a bit of background
The name originates from Ancient Rome's "Prata Neronis" (Nerone's fields) and, until the end of the 19th century, the area was just a mix of cultivated lands, grazing lands, and swamplands.
The neighborhood was founded in 1921 to host Italian Kingdom's administrative buildings and to be a residential district for state officers. The whole area was planned in a way that the nearby St. Peter dome isn't visible from any of its streets, an evidence of the tense relationship between the new Kingdom of Italy and the Vatican state in the period before the Vatican Treaty (1929).
(but actually you can spot the St Peter dome from Via Monte Santo ;-) )
Here are a few more pics of the area…
Prati neighborhood: eating out
Enoteca la Torre, Lungotevere delle Armi 22/23: the perfect place for a very special occasion. If you happen to have one, check out my review of Enoteca La Torre.
Settembrini, via Settembrini 27: it is made up of two twin restaurants on both sides of Piazza Martiri di Belfiore. The cozier is also a library, while the oldest is a more formal restaurant with a design-ish vibe.
La Zanzara, via Crescenzio 84: a brand new restaurant and cocktail bar that I am looking forward to trying! Stay tuned!
Roof: Trattoria sul tetto, via Crescenzio 86: a lounge bar and restaurant on the rooftop of the young and stylish Orange Hotel, with a view over St. Peter dome.
Dar Papa sandwich bar, Piazza Risorgimento 11: its real name is "Knick Knack Yoda" but everybody calls it "Dar Papa" (= at Pope's, in the local dialect) 'cause it is just in front of the Vatican state. It is unanimously considered the best sandwich bar in Rome.
N/A, via Belli 63: no one knows the name of this little shop where you can buy freshly made croissants all night long (there isn't even a sign on it!).
Prati neighborhood: …in a glass
Bancovino, Via Borsieri 27: this is the kind of cozy place that I missed during my teenage years in Prati: the wine shop downstairs! Now it is a required stop each time I visit my parents…
Enoteca Costantini, Piazza Cavour 16: one of the most prestigious wine shops in Rome, where you can also attend a wine tasting or enjoy an elegant meal at "Il Simposio" restaurant.
Good Bakery, via Marcantonio Colonna 22: the first beer shop (well, kind of) in Prati, a place where you can find a good selection of craft beers and have a slice of traditional Roman pizza.
Check out my Rome Travel Map to find out about more secret spots in Rome!
SalvaSalvaSalvaSalva