My weekends are consecrated to market shopping. From food to flea markets, I re-emerge from the cacophony of new deals only on Sunday evening. I could never buy my food in the cool and perfect indifference of a supermarket, which is why I'm always keen to explore a different farmers' market in town. I like it when the nose-tingling aroma of spices mixes with the smell of baked goods and unique cheeses. I breath in all those aromas while walking in the dense, colourful throng, with my huge 'market bag' swinging into people's legs and getting fuller by the minute.
On Sunday, I like to browse antiques and flea markets, even if –truth be told- I rarely bring anything back home. I just love the bustling atmosphere of shopkeepers screaming out offers at the top of their voices, the hustle and bustle, and the colours of stands overflowing with merchandise.
In 2023, I've updated this very subjective list of best markets in Rome. Scroll down to read about the new entries :)
Markets in Rome: The Flower Market in Trionfale neighbourhood
[Update 2023: This market is permanently closed]
The sweet smell of flowers pervades the huge empty space on the upper floor of Rome's flower market. Given the season, there is an overabundance of poinsettias and cyclamens, and all these bright redish shades somehow compensate the cold atmosphere.
Despite the fact that many stalls are shut down or at least long-forgotten, Rome's flower market is still very poetic: its colourful flower-pots sitting on the shelves, the pristine smell of the soil, the gorgeous blooms, the old ladies looking for something to decorate their (already overladen) tables and all those fragrant scents that are worth immersing yourself in.
This is where florists get their flowers, while the general public can go only on Tuesday morning to find plants at the first floor and, at the second floor, flowers of all colours and shapes for a nice price.
Markets in Rome: Antiques Market at Ponte Milvio
Stretching along the river quay, this antique market is the perfect place to enjoy a Sunday stroll under chestnut and carob trees.
Besides the overabundance of disputable paintings, here you can hunt down retro antiques (including silver, china and glassware), shabby chic furniture and everything you don't need (but want anyway).
The clothes section is a bit disappointing, but still worth a browse.
Markets in Rome: The Flea Market of Via Sannio
This is where I used to buy clothes when I was a teenager. With its second-hand clothes, iconic Tibetan prayer shawls, and a multitude of scented incenses, Via Sannio is a must-visit market for all alternative kids in Rome.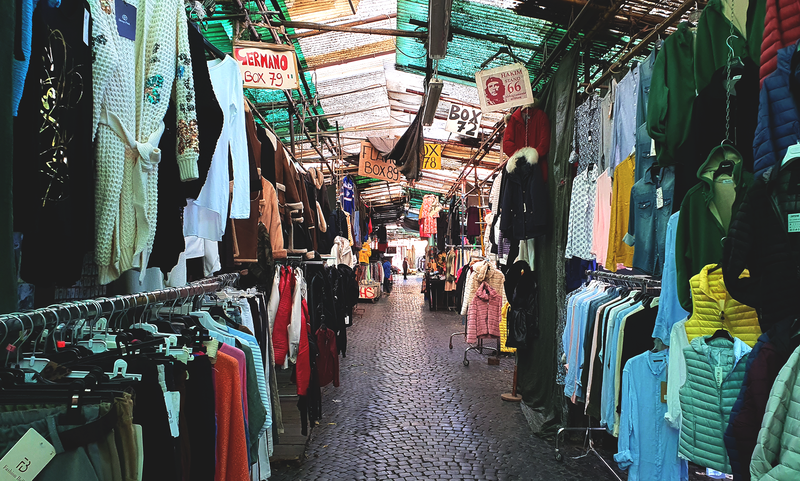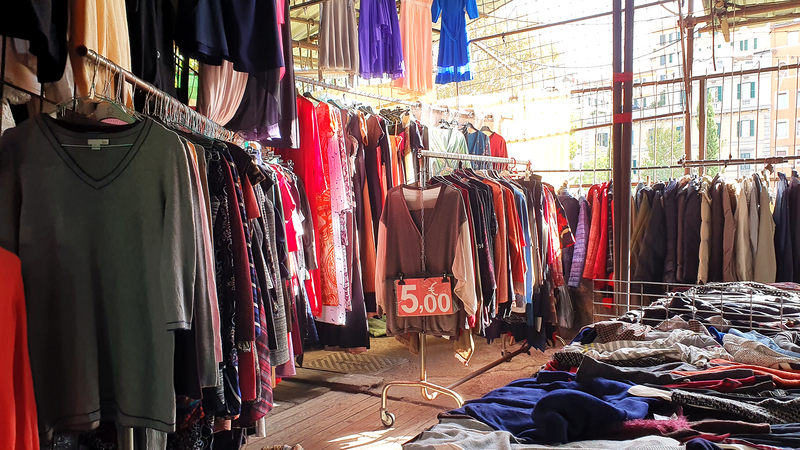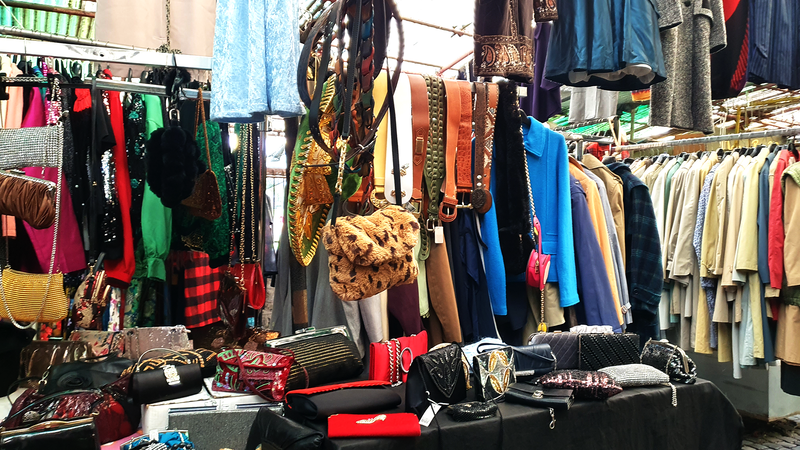 The Via Sannio Market, also known as Mercato di Via Sannio, is a popular street market located in the San Giovanni neighborhood of Rome. It's well-known for its wide variety of clothing, accessories, and other items, including vintage and second-hand goods. This market is a great place to shop for affordable clothing and unique items. It's particularly popular with locals seeking bargains and vintage treasures.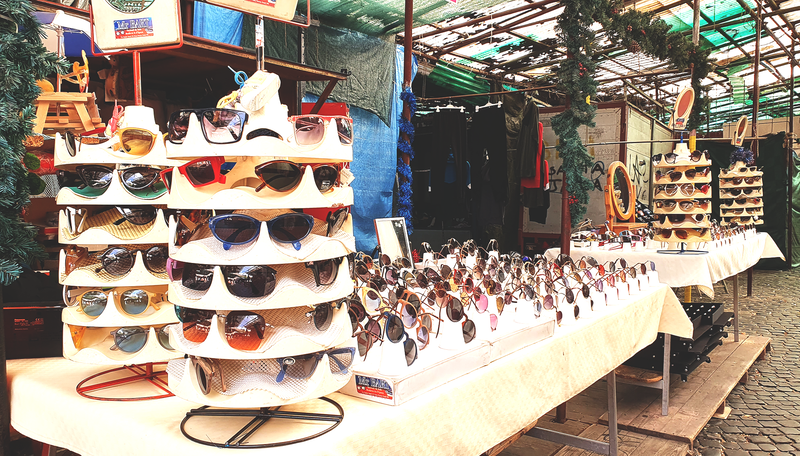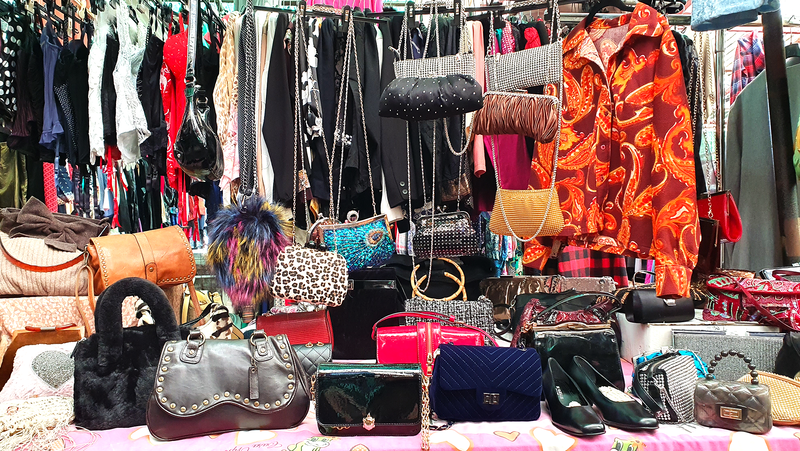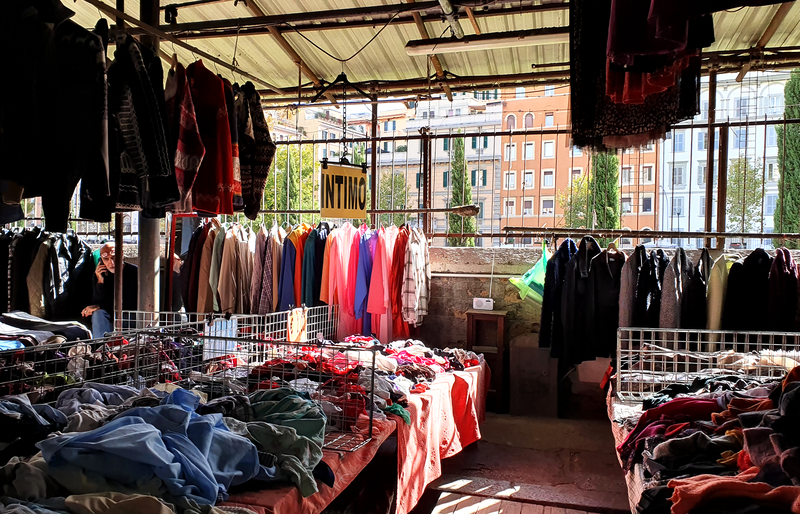 Notably, this is the only clothes market open on weekdays (from 8 AM to 1 PM) and Saturdays, whereas all the other vintage, antiques, or second-hand markets in Rome usually operate on weekends, typically just on Sundays.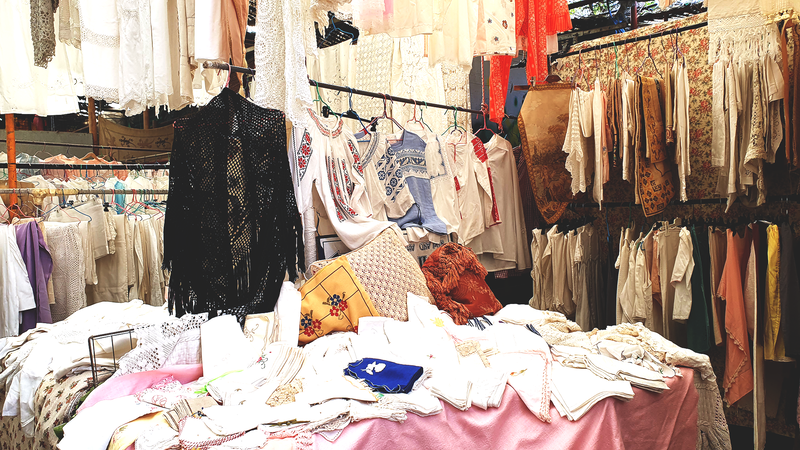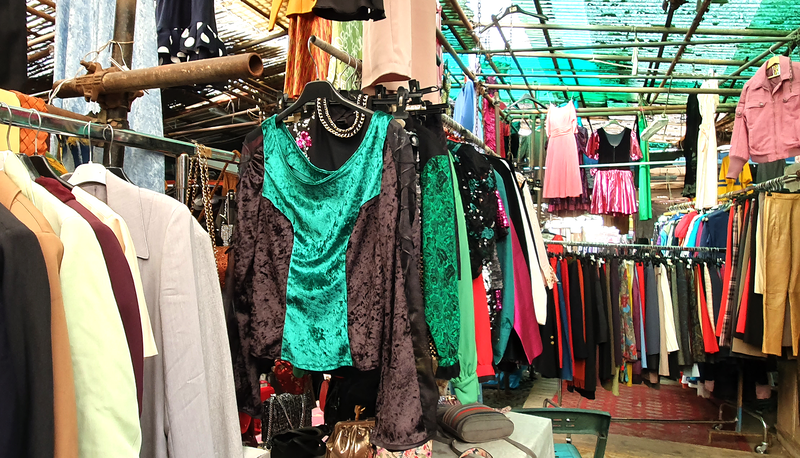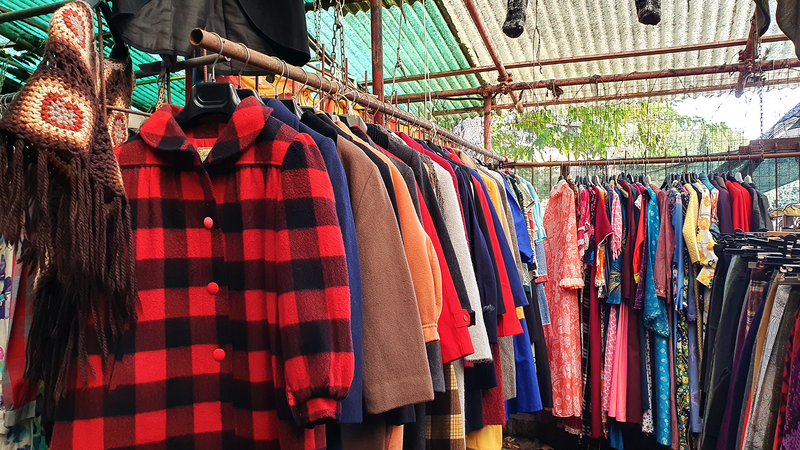 Markets in Rome: Street Food Market "Mercato di Testaccio"
Once home to Rome's general markets and main slaughterhouse, Testaccio neighbourhood was the pivotal point of Rome's foodie scene until the end of the last century.
The local food market was held in the main square until a few years ago, when it was moved to a modern space with beautiful architectural elements recalling waves.
The Testaccio food market houses the original produce stalls that sold their fresh products outdoors, but also several street food kiosks. My favourite is 'Mordi e vai', which serves tasty sandwiches stuffed with traditional Roman recipes, and 'Romeo', which is run by the Michelin starred chef Cristina Bowerman.
Another stand that I like a lot is called 'Il baratto': here you can bring clothes, shoes and costume jewellery that you don't wear anymore and swap them with others of the same value. In the midst of the market, there is also an archaeological gem: the ruins of an ancient Roman market.
Markets in Rome: "Portaportese" Flea Market
Don't go to Portaportese. Just don't. That's one of the most touristy spots in Rome, with most of the stalls now selling postcards and miniature Colosseums. Browse through this article, instead, to discover other flea markets where locals actually go.
Markets in Rome: The Ethnic Market "Mercato Esquilino"
I go to Mercato Esquilino when I need a particular ingredient or spice to try out a foreign recipe. At the heart of Rome's multicultural neighborhood, the Esquilino Market specializes in offering goods, especially food, from different cultural backgrounds and regions.
The market is particularly known for its multicultural atmosphere and the presence of stalls and vendors from various cultural backgrounds, offering a range of international foods and products. It's a popular destination for locals and tourists looking to experience the vibrant and diverse atmosphere of Rome.
Markets in Rome: Antiques Market: "Passato e Presente"
Near the large-scale murals of SANBA (the street art project in San Basilio) there is this flea market selling all kinds of knick-knacks and antiques. I like it because here you can still find authentic objects and some great deals, unlike the flea markets in the city centre, which are expensive and tourist-targeted and whose wares look fake.
By contrast, at San Basilio's antique market, I've always found quirky trinkets and novelties and, most of all, a very genuine atmosphere. The market is not very big, there might be 20 stalls, but it is well worth a visit!
My favourite stalls are those selling maps and globes (to feed my wanderlust!), old toys (to relive my youth), postcards and pictures of a Rome from another time (as I'm very curious about how areas have changed over the decades), vintage clothing (to satisfy my girlish side) and second-hand books (because reading is dreaming with open eyes!)
Markets in Rome: The Food Hall "Mercato Centrale"
Mercato Centrale is a place where you can sit down and dine, making it more similar to a food hall where you can enjoy a wide range of prepared dishes and meals, rather than just street food. But since it has the word "mercato" (market) in its name, I'm including it in this round-up of my favorite markets in Rome.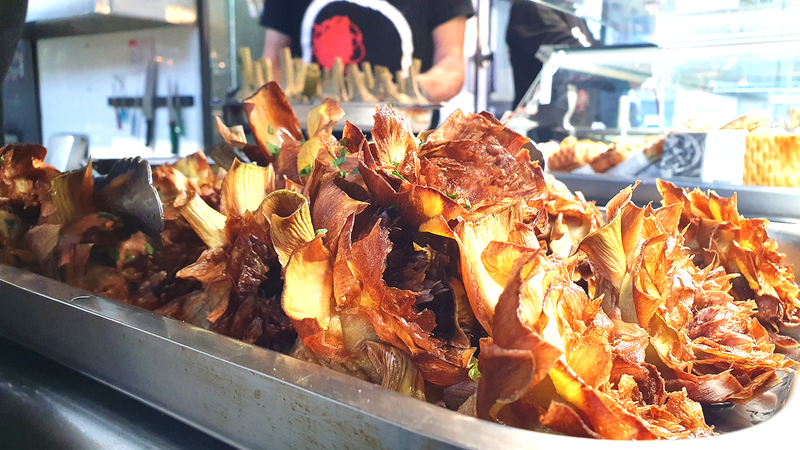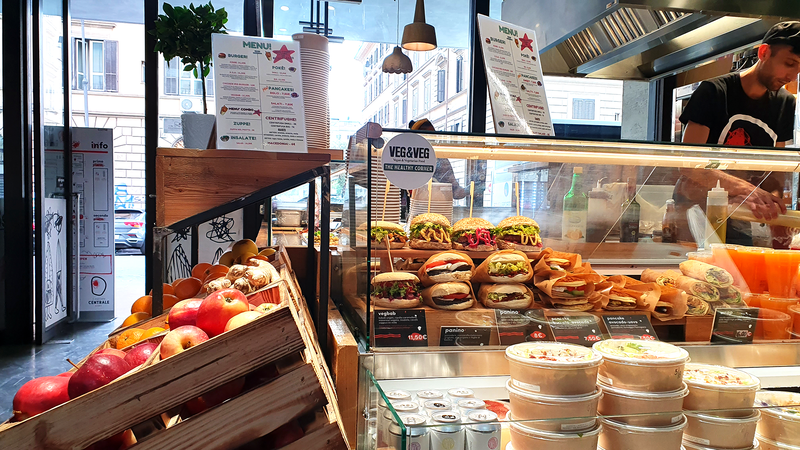 Mercato Centrale is a modern and bustling food market located in the Termini train station in the heart of Rome. It's a popular destination for both locals and tourists, offering a wide array of Italian and international food and culinary delights.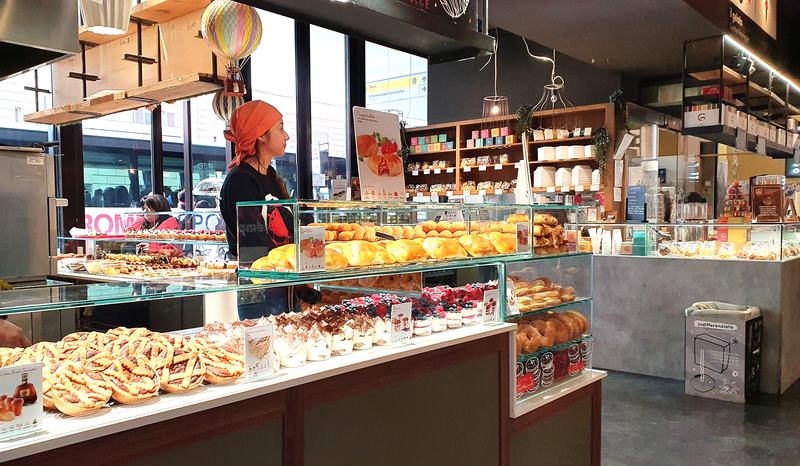 The market features various stalls and restaurants where you can eat and purchase fresh Italian produce, pastries, cured meats, cheeses, pasta dishes, and a wide range of other gourmet items. Mercato Centrale provides a great opportunity to experience the flavors of Italy and offers a convenient stop for travelers arriving or departing from Termini Station.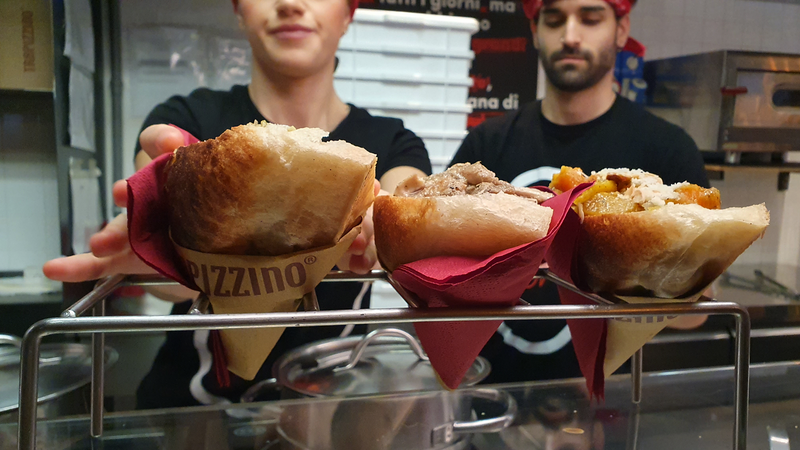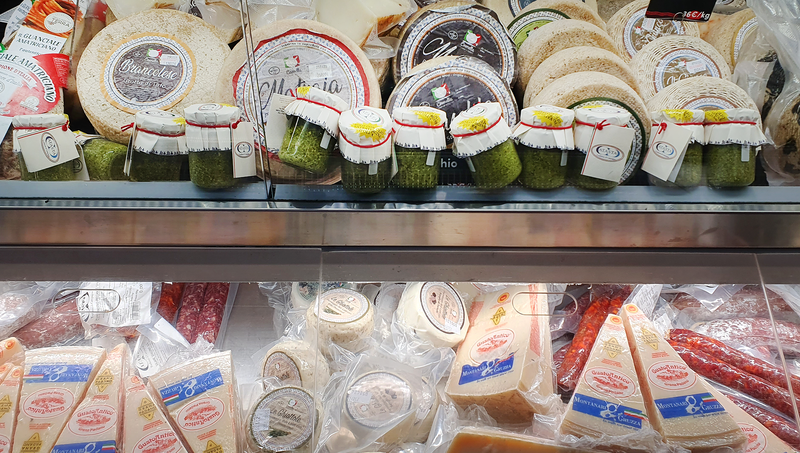 Markets in Rome: My Favorite Food Market: Mercato Trionfale
The New Trionfale Market is a covered market that opened in 2009 to replace the old Via Andrea Doria market on the same street.
It is located inside a modern building and it hosts more than 100 stalls selling vegetables, cheese, meat, spices, baked products, fish and more. The atmosphere is truly authentic: sellers yelling their best prices, a strong smell of spices, fish and cheeses dominating the area and bakeries emanating inviting smells through the stalls.
Unlike the Mercato Testaccio, which underwent a true restyling, this market kept its old features, including some old signs. It just moved indoors, inside a glass-and-concrete modern building whose stairs have been recently decorated with a double portrait of the actress Anna Magnani by the street artist Diavù.
Markets in Rome: Antiques Market: Mercatino Conca d'Oro
Perhaps the best flea market in Rome, it began more than 10 years ago and has grown to 150 stalls.
Here you can find any kind of product –from food to collectables and from second hand books to art- but, according to my collector friends, its real niche is music, and so vinyl, CDs and co.
As for me, I like its quirkiest stands and the big amount of vintage furnishings but, most of all, I like its bustling atmosphere and the fact that this place is less for hipsters and more for people looking to scope out rare finds.
After shopping, don't miss a walk along the Aniene river through the almost unspoilt Parco delle Valli, one of the wildest parks in Rome.
Markets in Rome: The Hipster Fair "Vintage Market Roma"
This itinerant market takes place in various abandoned spaces in the capital. To find out when and where the next Vintage Market Roma event will be, it's best to check their website. The Vintage Market was born in 2008 and, since then, it has brought together creatives, second-hand clothes, jewelry, artisans, and designers, celebrating contemporary made in Italy. More than just a flea market, Vintage Market Roma is a real family event, complete with street food trucks, music, and artists performing live painting.
Markets in Rome: Alcazar Vintage Market
Every Saturday and Sunday inside the former cinema Alcazar in Trastevere you'll find the stalls of yet another Vintage Market. Besides hand made and vintage items, this market is well-known for the tasty brunch and the live music performances. More than a typical flea market with sellers shouting and wrinkled clothes piled up, Alcazar Market is a trendy market, indeed a proper "event," where you can find beautiful -although pricey- items, in a fashionable and trendy location.
Markets in Rome: the Hipster Fashion Market "Mercato Monti"
[Update 2023: this market is permanently closed]
This is the place to mingle with the long-bearded, tattoo covered fauna of Rome's hipsterland. A tireless DJ will mix soft, Sunday-mood tunes to background your browsing of creations from the hippest artists, stylists and designers in the city, among the vintage clothing and hand-made jewellery.
This is a flea market 2.0, or an "Urban Market" as they call themselves, because it isn't the average flea market crowded with junk, but more of an incubator for style innovation, a mix of ateliers of up-and-coming designers selling everything from bags to lamps under the evergreen flagship of "Made in Italy".
The vintage feel and the uniqueness of the products on display make this indoor market a sophisticated and London-ish corner of Rome. Prices are crazy high, but the market is worth a visit, if only to drink in its hip atmosphere.
Rome's knick-knack shops: Il Mercatino
This isn't an actual market, but hear me out. "Il Mercatino" is a popular franchising shop in Rome. It's known for selling a variety of second-hand items and vintage goods, including clothing, accessories, furniture, and more. The store concept is similar to a thrift store or a consignment shop, where you can find pre-owned items in good condition.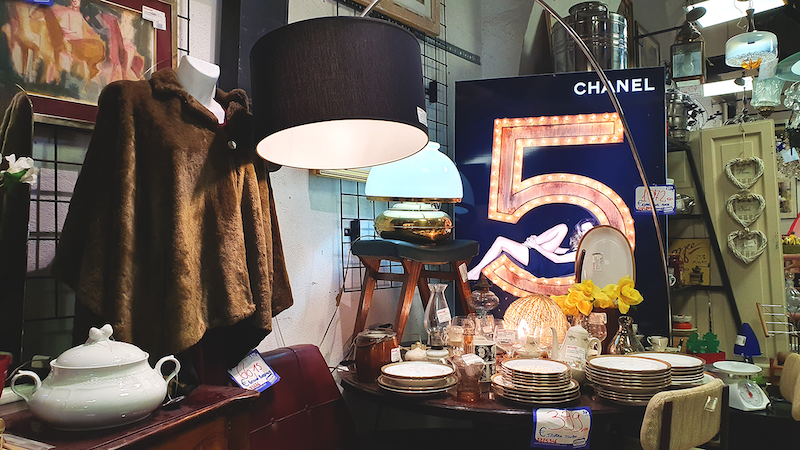 Customers can both buy and sell items at these stores, making them a convenient option for those looking to declutter their homes or find unique items at affordable prices. It's a win-win situation for both buyers and sellers.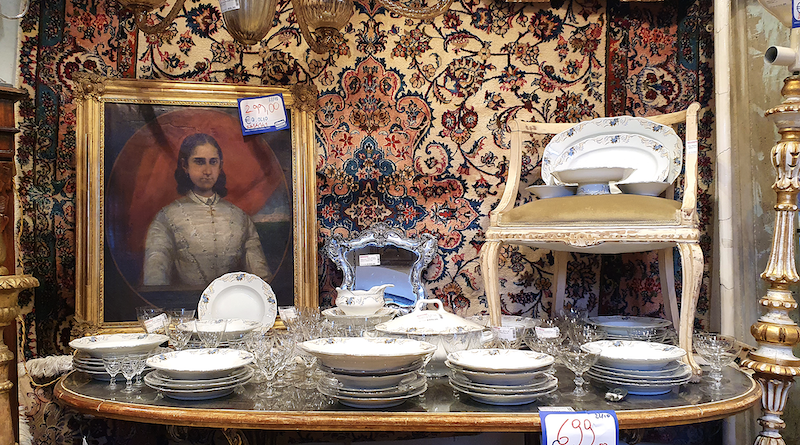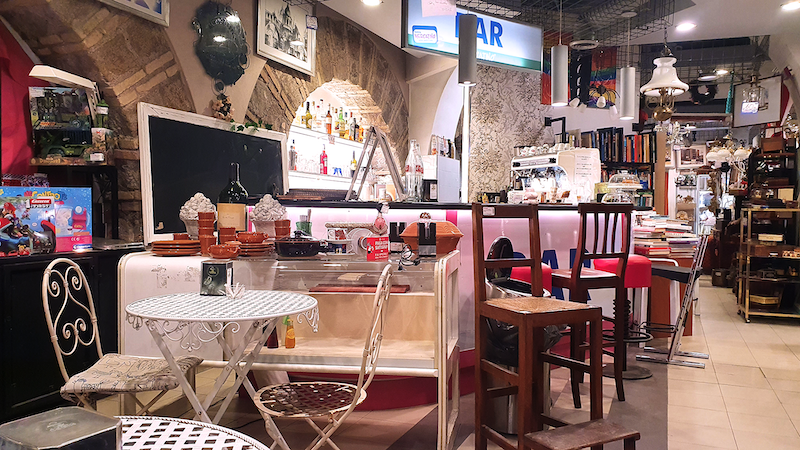 In addition to their physical stores scattered all around Rome, "Il Mercatino" has an e-commerce presence, allowing customers to browse and purchase items online.
While flea markets often offer a charming and picturesque atmosphere, the quality of items can vary. "Il Mercatino" prioritizes curated selections, ensuring higher-quality second-hand and vintage items.
Rome's Not-Touristy Markets and more off-the-beaten-path spots in Rome
Find these markets and more off-the-beaten-path spots in Rome in my Rome free Google Map: