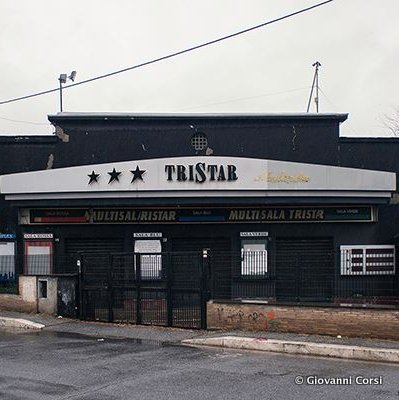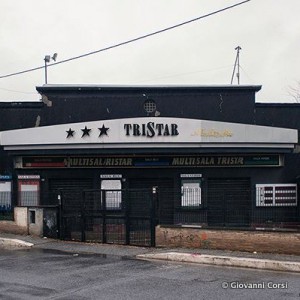 During the last few years more than 40 cinemas have shut down in Rome.
While some of them have –alas!- been turned into supermarkets or bingo halls, several others are still neglectfully abandoned, waiting not only for a reconversion but also for –at the very least- a vision.
While characteristic, small independent cinemas with a soul are shutting down -surrendering to big, multiplex sharks opening up inside shopping malls-, public institutions talk a lot about how to help small cinemas and the overall cinema industry in Italy. But, easier said than done, they keep putting a (bureaucratic) stick in the wheels.
Small cinemas have almost the same costs as multiplexes, but not the same takings. Distribution is an issue, too: distributers simply don't need to get worked up about selling their movies to small cinemas, and end up neglecting them. And, at the beginning of the Netflix Age, it's kind of too late to worry about the drop in demand…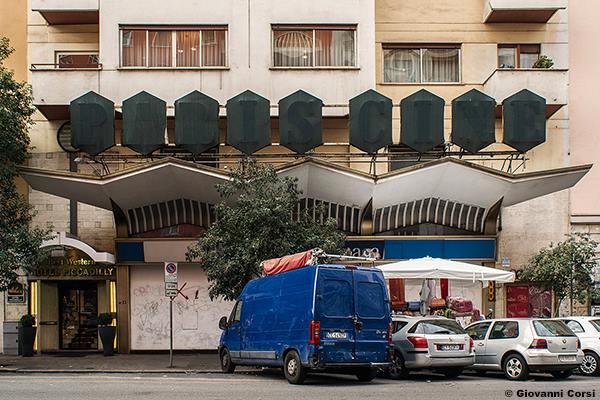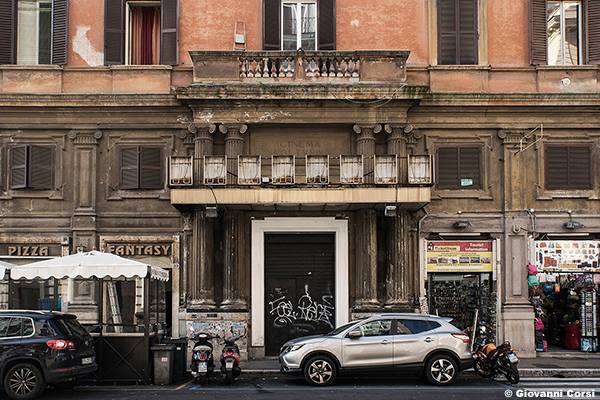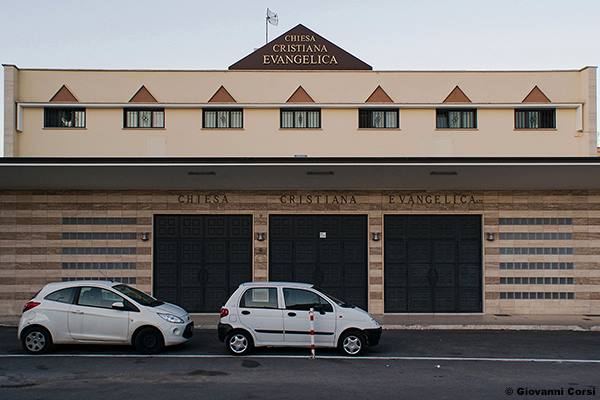 Abandoned cinemas in Rome > MaisMenos' art interventions: 'Lights, Camera, Auction'
After the collaborations with AddFuel, Frederico Draw and Bordalo II, Forgotten Project invited another Portuguese street artist to highlight yet another kind of 'forgotten building' in Rome.
This time, the spotlight was on shut-down cinemas. MaisMenos, whose works I had totally loved last summer while I was graffiti hunting between Lisbon and Lagos, came to Rome to paste his 'streetments' on three historic cinemas in the city centre: the Metropolitan cinema on Via del Corso, the Pasquino cinema in Trastevere and the Sala Troisi near Porta Portese market.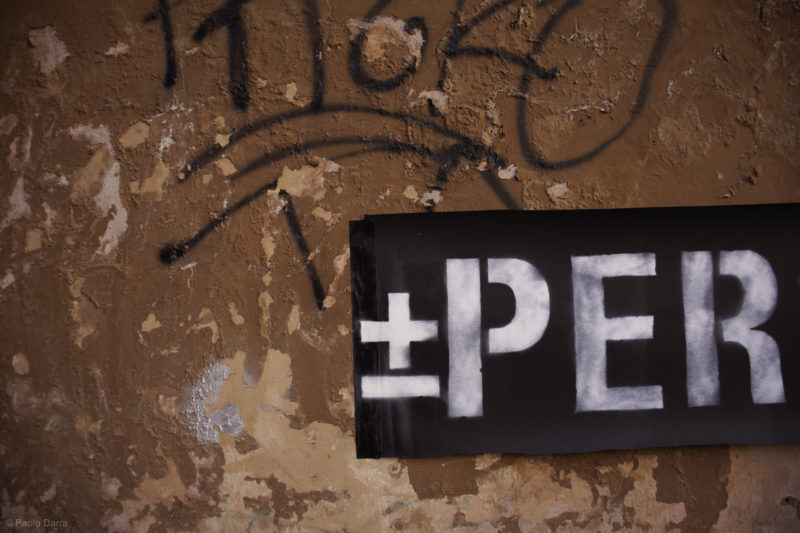 Unlike the previous three large-scale murals realized, this time we didn't have permission to do anything permanent, therefore MaisMenos' work was more of an interactive performance involving passers-by in the creation of sentences about cinema rather than a mural. To be honest, this is the reason why I had thought I wouldn't write about this experience at all, but Miguel is such an amazing artist (and personality) that I truly wanted a trace of his art on this blog.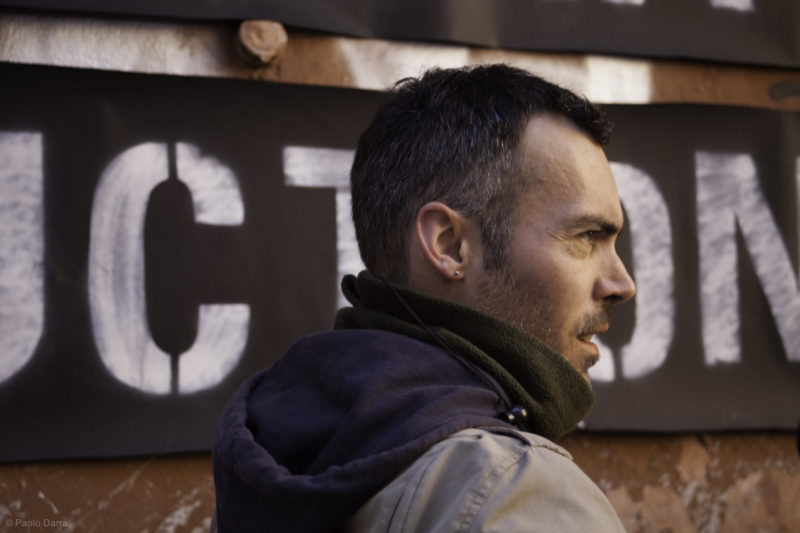 Working with him was amazing. He comes up with his signature, twisted sentences in a spontaneous, just-like-that way and you can't help marvelling at him. We spent the first day at Together Garden (a cool place in Trastevere that hosted the artist during his stay in Rome…to the delight of my neighbours! ;) ) cutting long strips of black paper and stencilling them with our sentences, to get things ready for the first action.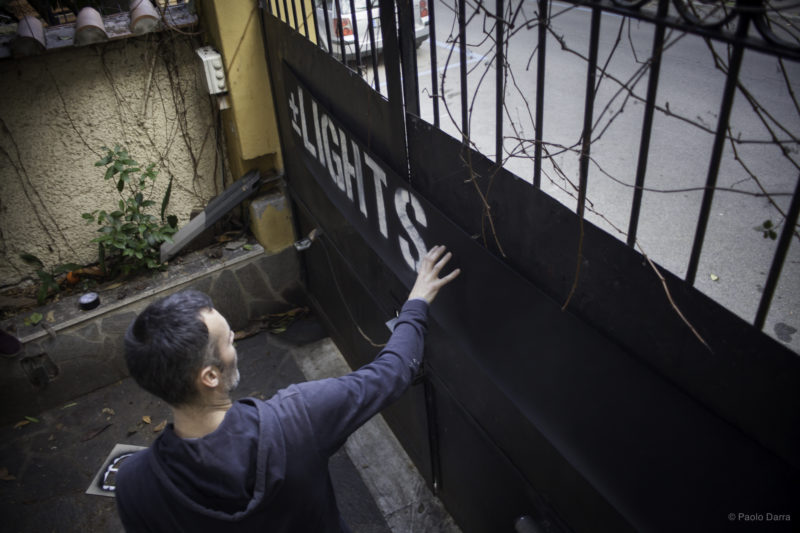 Then, later in the afternoon, we went to the Metropolitan cinema. It was our first day and we all were pretty tense, but the action carried on smoothly and, when the police arrived asking us to take everything off, we already had the job done.
Moreover, an old man approached us:
'Are you here because you want the cinema back?'
'Either that, or to turn it into a different kind of cultural space. Like this, it is just a painful waste'
'Good job, I'm with you.'
During the following days, like this old man, several other people stopped to ask and discuss, which shows that the topic of shut-down cinemas in Rome is heart-felt, albeit not at the very top of everyone's agendas. But this is why it was paramount (no pun intended ;) ) to bring the topic to the table and let people talk about it.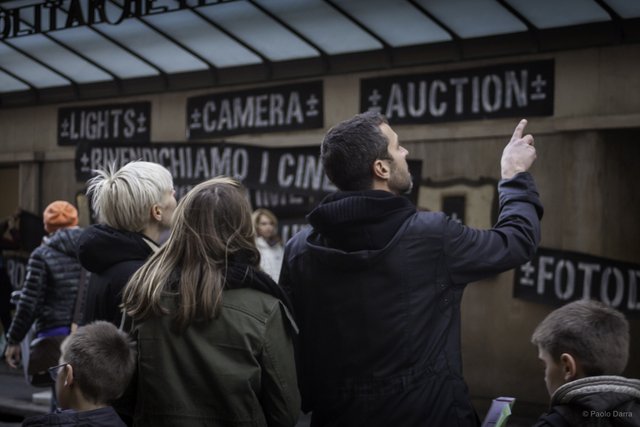 On the second day the intervention went more smoothly. Lots of people stopped by to spray-can their messages. Among whom there were many children, and they always looked pretty impressed by their job –for a good reason, as they were the ones coming up with the coolest sentences.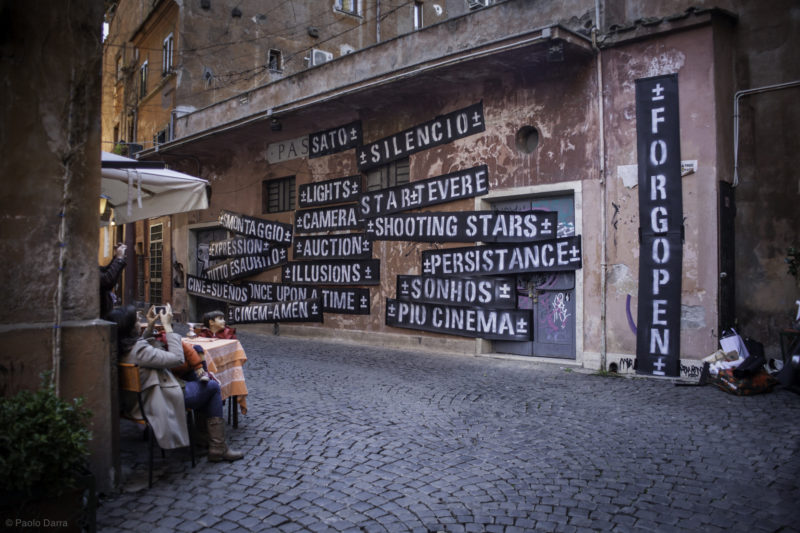 That was also the day of the cinema-themed treasure hunt through Trastevere neighbourhood, which we organized to 'introduce' the artist to the Roman crowd.
No need to say it was super fun!
The last day's intervention was the one I liked most, perhaps due to the peculiar architecture of the former cinema 'Sala Troisi'.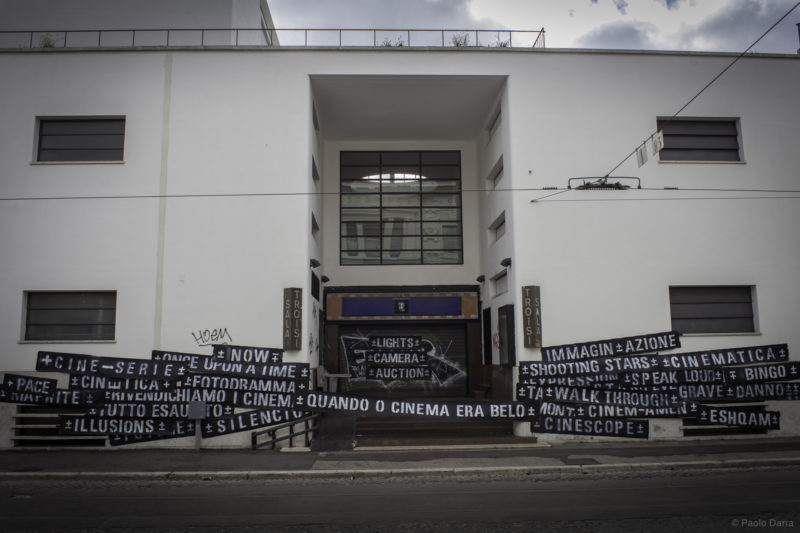 Moreover, by that time the rumour about MaisMenos and his interactive interventions had already spread through the city, and we discovered that a large part of our Sunday crowd had turned out on purpose. This led to yet more interesting discussions about the state of abandoned cinemas and more 'forgotten buildings' in Rome.
In between the interventions, we had the chance to get to know this amazing guy from Porto. We talked about his love for Italy (he is very fluent in Italian, even more so than the Portuguese component of our amazing 'Forgotten' team); the PhD in Design he is currently studying for; the way he is rethinking his artistic project to keep the creative process running and its evolution towards a more interactive act that will turn people from observers into parts of the artwork itself (I love the way he is constantly challenging himself, aiming at a perpetual renewal); an amazing documentary he is working on, featuring that 'cleaning guy' in Porto who has the power to decide whether a piece of street art should stay or not and, if not, he creates his own piece of art through the act of painting over it; about Portugal and its off-the-beaten path corners, which I'm looking forward to exploring soon; about Rome, its cultural heritage and history (it really struck me how curious he was, always marvelling at the statues, the buildings and the squares around him and snapping pictures); several other drunk conversations that, predictably, I have forgotten.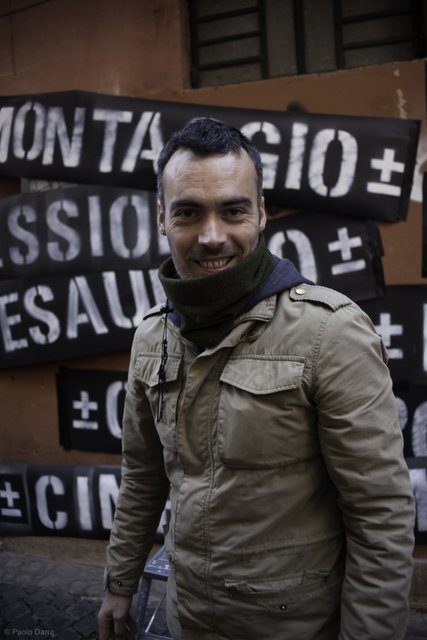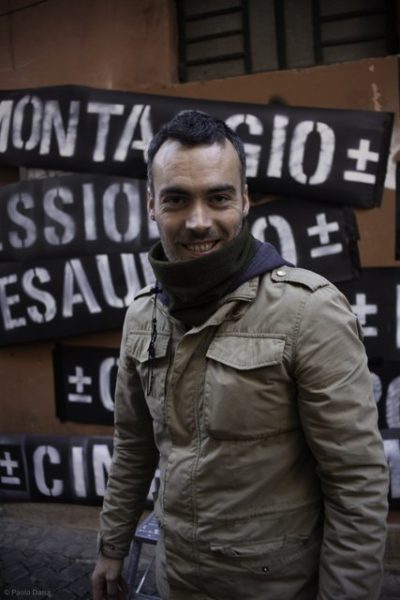 After he left, our variegated Forgotten team for once agreed outright on something: we finally got to know what saudade (the deep emotional state of longing sung in Fado music) felt like.
Enjoy the making-of video and the photo gallery with the most amazing 'behind the scenes' moments:
Check out the limited edition of silkscreen prints by MaisMenos on Forgotten Project website! 
Abandoned cinemas in Rome > Reconverted Cinemas
Like the ex-Cinema Impero in Tor Pignattara and the ex-Cinema Palazzo in San Lorenzo, some other former cinemas have been saved thanks to the energies and enthusiasm of cinema-lovers whose vision and creativity has gone beyond the obstacles raised by public bodies.
Differing completely one from the other, here are three more cinema-rebirth stories that have fascinated me:
CINEMA AMERICA OCCUPATO || Trastevere
 After 14 years of abandonment, in 2012 this cinema was squatted by a bunch of youngsters who –for the following two years- organized several interesting activities there. After being evicted, they continue to organize cultural events in the area, such as the summer, open-air cinema arena in one of the most beautiful squares in Rome, aiming at building a public of cinema-lovers.
KINO || Pigneto
Back in 2010, 54 cinema professionals invested €1000 each to take over an abandoned cinema. There, they created a hybrid space that mixes movies with food, trendy events and meet-ups with directors and screenwriters.
CINEMA CARAVAGGIO || Pinciano
After three years of abandonment, this cinema has been renovated thanks to a private investment and now it has been reopened. It offers an interesting selection of movies far away from the mainstream.
Would you like to explore Rome off the beaten path with me?

Then book one of my alternative walking tours in Rome!

SEE YOU IN ROME!
SalvaSalva