It goes without saying that I picked Lisbon as my summer destination for its street art scene. Lisbon City Council has pioneered an active role for public art in its drive for urban renewal, so it's no wonder that the Portuguese capital is more colorful and artsy than other European towns. As usual, street art hunting allowed me to discover some of the most creative outskirts in Lisbon and get to know the town beyond its touristy city center, confirming that 'street art tourism' might be the best way to explore a destination, or at least it works for me.
Even if I had all the best murals mapped out, it wasn't always easy to pinpoint them, and often I found myself walking up and down the same street inexplicably missing the actual spot. Eventually I managed to see all the pieces I was looking for, and created an accurate street art map of Lisbon for you ;)
Do you want a personalised travel itinerary based on your interests and passions?
Then check out my concierge service ;)
Update 2022: My first post-pandemic trip was to Lisbon :) In April 2022, I explored the city far and wide to document all the murals that had blossomed since I published my Lisbon Street Art Guide back in 2015. The city has changed a lot since my last visit. International street artists have flown to Lisbon's outskirts to beautify the city's alleged ghettos, and the number of new large-scale murals is impressive.
However, the thing that most caught my eye is the massive presence of Brazilian Pixação throughout the city. The Pixação movement gained ground in the 1980s in São Paolo; by painting their names and those of their crews in runic and gothic-style typefaces on high-rise buildings, pixadores are activists who take back the city they were denied from.
Unlike graffiti writers, Pixadores hit any kind of surfaces, including historic buildings and monuments -they simply don't give a f*** and that's part of their expressive power. Their actions are particularly reckless, and they often climb high buildings without safety equipment. Pixadores risk their own life by writing in the most dangerous spots.
Original Pixo is hard to find in Europe but, given the strong bond between Brazil and Portugal, it is now widespread in the streets of Lisbon.
And now, without further ado, let's explore the streets of Lisbon!
Street Art City Walks Around Lisbon
A walking tour of the best street art in Lisbon East (2 hours)
Let's begin our walk from the same spot where urban art began playing a role within the city of Lisbon. Between 2010 and 2011, the Crono Project brought to Lisbon some of the most prominent international names in street art: BLU, Os Gemeos, Sam3, Ericailcane, Lucy Mclauchlan, Brad Downy, Momo, and Arm Collective. The artists painted three abandoned buildings on Av. Fontes Pereira de Melo, which are still sitting there and constitute a magnificent example of street art archaeology.
(to better understand my appreciation of the layers of colors peeling off the wall, you should compare these photos with the ones I took back in 2015, which you'll find in part 3 of this Lisbon Street Art Guide)
We can follow the main road and enter the Arroios neighborhood, which, back in 2015, I already nominated as one of my favorite neighborhoods in Lisbon. The heart of the neighborhood is a food market surrounded by nice cafès and bistros. It sits in a square whose floor was painted by the art collective Boa Hora in 2021 when the city council commissioned these artists to make the space more for people and less for cars, hence the colorful floor art that reduces car traffic and prevents second-row parking.
However, before reaching the market, you should admire two notable murals on your way: a colorful artwork by Portuguese artist Akacorleone and a piece by the Ukrainian duo Interesni Kazki, which signifies their distinctive visual universe of a symbolic, complex and dreamlike nature.
If you have time for a quick detour, you can cross the elegant 'Fonte Luminosa' park (where a light show happens every night, 15 mins after sunset) to find, on the other side, a beautiful mural by Inti. The Chilean artist depicted the Virgin Mary in his unique style, which combines bright Latin colors with South American culture. Painted in 2016, "La Madre Secular 3" is the third mural of a trilogy that started in Marseille and Paris.
Let's now head in the direction of the Tago river; after a 20-minute walk (or a 2-minute bus ride), we are at the entrance of the Graça neighborhood, one of Lisbon's oldest suburbs, located on top of a panoramic hill. Our first stop is in Rua Josefa de Obidos, which opens to a bit of a square from where we can see four murals.
My favorite is the one by Portuguese stencil artist Daniel Eime, who portrayed the writer he loved as a child: the Portuguese Sophia de Mello Breyner Andresen.
Next to it, there is "Tropical Fado in RGB Tones," an explosion of bright colors painted in 2021 by Lisbon-based muralist OzeArv, who specializes in nature and portraits.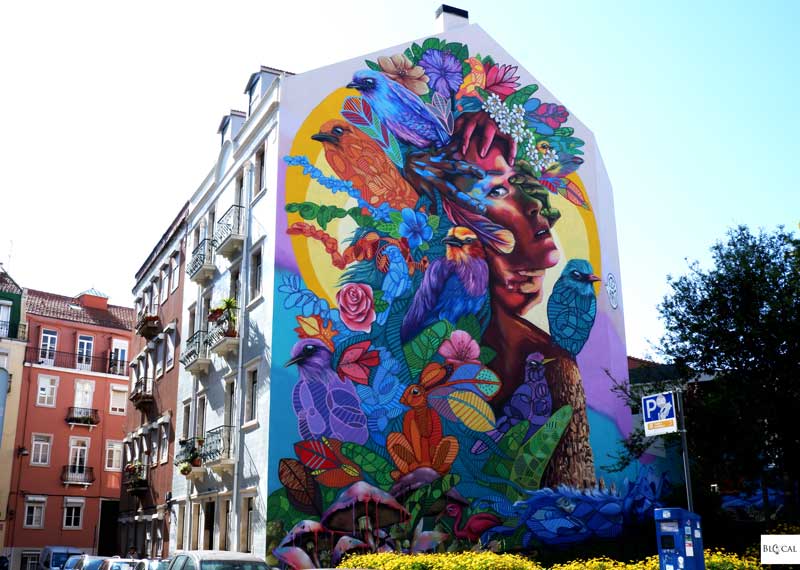 Another local artist represented in this square is Isa Silva, whose mural "Once upon a time" features characters from famous fairy tales.
Lastly, in 2017 American artist Shepard Fairey painted "Peace Guard," featuring a girl holding a gun with a red carnation. This is a symbolic reference to the Carnation Revolution (1974), which is named after the demonstrators who placed carnations in the muzzles of guns.  
Heading towards the heart of Graça, we find a staircase (Caracol da Graça) where many graffiti writers and street artists have left their signs. To break the seal was a festival organized by the 'Yes, you can spray' collective, but nowadays, this steep staircase is an actual hall of fame in the city's center.
From this staircase, you can reach a nice park (Jardim da Cerca da Graça) where locals love to indulge in people-watching. Entering the narrow alleys at the Mouraria-side of the park, you'll reach a long piece by Vhils, a Portuguese street artist well-known for his iconic deconstructive portraits of everyday people, realized either with dynamite or with a hammer drill, as he did here in 2018.
Back to the Graça-side of the park, we find a moving mural by Mario Belem, a local illustrator who lately specialized in urban art, developing a colorful personal style based on the visual narrative of a magical, dreamlike nature. The artist invites us to live in the world instead of looking at our belly buttons longing for the past (the Portuguese word 'Saudade' means precisely that, a feeling of nostalgia). Titled "Better to be lost here somewhere than on my way to nowhere," the mural gained a whole new meaning during the pandemic when we couldn't live in the outside world.
From here, we can walk towards Rua da Senhora da Gloria to find four more stunning artworks. In Beco do Peixinhos, Leonor Brilha painted a monochromatic urban art piece recalling traditional embroidery as the way of escape found by many women in the past. The inscribed phrase reads: "The house was nothing more than a cage, and when embroidering, the Portuguese women wove the webs of silence."
Rua da Senhora da Gloria is where you can find murals by worldwide famous street artists, such as Addfuel. The Portuguese artist reinterprets the language of the traditional tile design of his country through the use of stencils brimming with references derived from skate culture and pop art.
A couple of blocks further, there is a marvelous collaborative piece by two urban art legends: Shepard Fairey and Vhils. As part of Obey's artistic project "Universal Personhood," which aims to promote peace, equality, and humanity worldwide, this collaborative mural realized in 2017 evokes the discrimination against women's rights in Arab countries. 
Read also: Shepard Fairey, the art and story of OBEY
However, in my opinion, the actual street art gem in the Graça area is an extremely rare (if not unique) shutter piece by Bordalo II. The artist is well-known for his gigantic installations made of trash, but in this narrow street of Graça, he left a completely different artwork, which shows his drawing skills.  
Before reaching the riverside, there are a couple of more murals worth stopping by. The first one is by Mario Belem, who created this small piece in 2017 to celebrate the 150 years since the abolition of the death penalty in Portugal.
Last but not least, one of my favorite murals in Lisbon: one of Pichiavo's iconic artworks mixing graffiti and classical art. Painted in 2018 at Santa Apolonia train station, the mural portrays the God of Sea Poseidon as a tribute to Lisbon's connection to water.
Our walking tour of the best street art in Lisbon East ends here. My suggestion is to take a train to my new favorite area in Lisbon, Marvila, which got me with its industrial vibe and sparkling creative energy. In Marvila, you can spot many large-scale murals by internationally renowned street artists (more on that below, I wrote a whole paragraph about street art in Marvila), visit urban art galleries (among which the legendary Underdogs Art Gallery, founded by Vhils) and taste local craft beers at the many taprooms rising inside abandoned warehouses -my dream neighborhood, in a nutshell! Marvila is where things are happening right now, so make sure to visit the area before it's too late!
However, if you have had enough of experiencing Lisbon's best street art or don't have time to go to the Marvila neighborhood, another excellent spot you can visit nearby Santa Apolonia train station is the former pumping station, now part of Lisbon's water museum.
A walking tour of the best street art in Lisbon West (2,5 hours)
Let's begin this street art walking tour from Lisbon's Alcantara neighborhood, which was among my favorite areas in the city. Unfortunately, the grungy houses covered with street art have been replaced with soulless buildings hosting luxury offices and condos, so the area lost most of its urban charm. The worst makeover happened to LX Factory, an urban spot I previously endorsed in this blog, which became very pricey and crowded with tourists. It still has some street art, though, which you might want to check out before starting our walking tour of the best street art in Lisbon West, but expect the art to be just a background for shops and restaurants.
While Alcantara now attracts plenty of tourists, they usually stay around the LX Factory, so the rest of the neighborhood is relatively calm, and the area around the train station Alcantara – Terra is still authentic. Opposite the train station, there is an artwork by one of the most iconic street artists in Lisbon: Bordalo II, well-known for his street installations made of trash and discarded materials. Through his 'Big Trash Animals,' Bordalo II highlights the critical conditions of endangered species threatened by the enormous amount of garbage created by humans.
To put it in Bordalo II's words:
"It's not about turning the trash into something beautiful; it's about creating images of victims with what kills them."

Bordalo II
Read also: My week with Bordalo II in Rome.
Not far from here, there is an exquisite artwork by Addfuel, which is somehow unique both for its scale and because it's made of actual tiles rather than painted with spray cans and stencils. However, the essence of the art practice -transforming the purely ornamental decorative pattern of azulejos into an unexpected and ironic scene filled with iconic characters and elements from pop art- is consistent, and we can literally walk through it, thanks to this large installation on a double staircase.
Let's now head in the direction of the Tago river; after a 25-minute walk (or a 15-minute bus drive), we are at the entrance of the former sleazy haunt frequented by hard-drinking sailors: Cais do Sodré.
The riverside is considered one of the most remarkable areas in the city. Here we can find some great examples of urban art, such as Bordalo II's Fox, built on a derelict building, as well as many graffiti pieces along the urban beach, and some incredible murals by national and international street artists, such as Fuzi, the Boa Hora Collective, and the Anglo-Portuguese artist Jaqueline de Montaigne.
From here, we step into the most touristic area of Lisbon -but I promise that it will be swift and painless ;) Among the many posters and stickers on Pink Street, there's yet another street art piece by Addfuel made of actual tiles.
Let's keep swaying past tourists to reach yet another main tourist attraction in Lisbon, the Neo-Gothic 'Elevador de Santa Justa,' where Bordalo II realized yet another of his iconic 'Big Trash Animals.'
Not too far from here, the street aphorism by Portuguese artist MaisMenos that I already celebrated in 2015 is still activating an elegant facade with a straightforward thought: "I think, but I don't exist."
Undoubtedly, the primary street art hotspot in the city center is GAU, Lisbon's first Urban Art Gallery. The GAU is the first example of a project that gave integrated and consistent support to urban art in Lisbon. Born in 2008 as compensation for the city council's plan to control and erase graffiti from the historical center, the GAU project was established in Calçada da Gloria. Over the years, many street artists and graffiti writers were invited to paint. Nowadays, the GAU also curates large-scale murals in other parts of the city and documents the whole urban art scene through a notable inventory project.
Our last stop in Lisbon's touristy area is to admire a beautiful paste-up by the French artist of Portuguese roots Hopare. Convinced that faces reveal people's souls and weaknesses, Hopare specialized in unconventional portraits, like this thoughtful woman whose unrealistic color palette matches the tiny houses along this picturesque street in the city center of Lisbon.
Not far from here, there is a little square (Largo Hintze Ribeiro) from which we can admire three significant murals: an old-but-good piece by AkaCorleone, based on his majestic use of typography (check out how it aged by confronting this photo with the photo I took in 2015, in Part 3 of this Lisbon Street Art Guide);
a photorealistic piece by Frederico Draw and Ergo Bandits, which was created in 2019 for the cultural center of Cabo Verde;
and a romantic piece by Jaqueline de Montaigne painted in 2022 on the occasion of her solo show "The language of flowers," which took place on the same square (at the number 2B, while at the number 2F, there's yet another contemporary art gallery worth visiting: Galeria 3+1).
Now let's leave the city center behind and walk as far as a parking lot in Campo de Ourique, which serves as a Hall of Fame (a spot where graffiti writers can paint legally). Here I found a piece by one of my favorite graffiti writers ever, VILE. Originally from Vila Franca de Xira (where you'll find most of his works), VILE is well-known for his optical illusions: a lettering style that appears to be carved into the wall. The artist uses the letters of his name either to expose what is behind the wall or to create a portal that transports the viewer to a different reality.
Our tour ends at yet another Hall of Fame, where I already brought you in 2015. At the Amoreiras Hall of Fame, you can still find works of graffiti artists in the likes of Pariz One, Argon22, Rash, Uber, Nomen, Slap, Styler, and Kurtz (check out some photos in Part 3 of this Lisbon Street Art Guide).
From the Amoreiras Hall of Fame, you can carry on your Lisbon street art hunt by exploring one of my favorite areas in Lisbon, the hillside neighborhood of Campolide, where you can find some incredible murals (more about Campolide in Part 3 of this street art guide of Lisbon).
Eventually, you can end your Lisbon street art hunt at the legendary Blue Wall, a 1-kilometer long wall surrounding the psychiatric hospital of Lisbon, where many street artists painted on the occasion of the urban art project "Faces in the Blue Wall" (2012 – 2015). (more on the Blue Wall in Part 3 of this Street Art Guide of Lisbon).
Suppose you have had enough of experiencing Lisbon's best street art or don't have time to go as far as the Blue Wall; in that case, you can stay in Amoreiras and explore the beautiful Prazeres Cemetery or one of the (other) three locations that make up the Lisbon Water Museum.
While if you do go as far as the Blue Wall (excellent!), don't miss a truly hidden gem nearby: the Bordalo Pinheiro Museum and Gardens.
Best Neighbourhoods to Find Street Art in Lisbon
Alongside what we saw until now, be sure to include at least one of the following areas in your travel plan, not only for their outstanding urban art collection, but also for exploring a different side of Lisbon. These are mostly peripheral areas, when not nearby districts / villages that are worth a day trip.
Download my Lisbon Street Art Map, which I've now updated with many new murals and urban spots!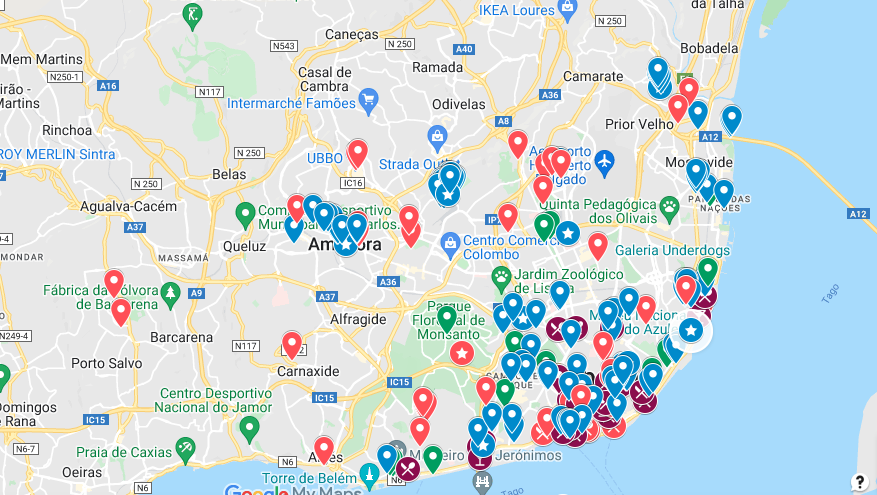 Urban Art in Marvila, the artsy neighbourhood of Lisbon
With its post-industrial vibe and sparkling creative energy, Marvila instantly became my favorite neighborhood in Lisbon. Next to abandoned warehouses, craft beer taprooms, and art galleries (including the legendary Underdogs Gallery, founded by Vhils), in Marvila, you can find many large-scale murals produced by the MURO Urban Art Festival, which took place in 2017. In that year, Lisbon was the Ibero-American Capital of Culture; hence many of the invited artists, originally from South America, painted a tribute to Latin cultures.
My favorite murals in Marvila are:
Street art superstar Kobra (from Brazil) portrayed in his iconic style Raoni Metuktire, the Brazilian indigenous leader of the ethnic group Caiapo.
In the mural "Mi Madre," the Mexican artist Cix Mugre painted his mother to highlight the importance of the mother figure in all Latin cultures. The artist represented the pre-Hispanic Goddess Coatlicue (mother of all gods) and the image of the Virgin of Guadalupe (Mother of God) to typify all mothers.
Sharing a similar drive to paint ancestral rituals, the Ecuadorian artist Steep Aeon represented a magical creature and its connection with nature in an urban environment. Titled "Consejo del Agua," the mural is inspired by the biodiversity of the Amazonia forest.
The colorful mural by Spanish artist Okuda San Miguel was painted a few years earlier on the occasion of his solo show at Underdogs Gallery in 2014.
The Urban Art Collection of Marvila also includes murals by Medianeras, Gleo, Azul Luzah, The Caver, Kruella d'Enfer, Nuno Alecrim, and many more world-renowned urban artists. You can also find elaborate graffiti pieces at the Marvila Train Station and stunning street art in the parking lot of the Fábrica do Braço de Prata (where I already brought you in 2015, so you can find some photos in Part 3 of this Lisbon Street Art Guide).
Street Art in Bairro Padre Cruz, home of "MURO – Festival de Arte Urbana"
The previous year, the festival MURO took place in Bairro Padre Cruz, a suburb just outside Lisbon, the largest social housing district in the Iberian Peninsula and one of the biggest in Europe.
There are over 50 murals in Bairro Padre Cruz, most produced during the MURO_LX2016 Festival of Urban Art. Below is my favorite street art in Bairro Padre Cruz:
The word 'Applauses,' stenciled by MaisMenos throughout the neighborhood, leaves passersby wondering whom they are supposed to applaud.
Mário Belém re-created an old advertising poster (saying: 'Dream Higher') to convey a positive message to the neighborhood.
Felipe Pantone brought to Bairro Padre Cruz his kinetic art of bold graphic design elements and geometrical shapes, creating an ultra-modern aesthetic inspired by the digital age and modern technology.
The peculiarity of this neighborhood is that it's made of both high-rise apartment blocks (built in the 1990s) and shacky old houses (built in the 1970s). Spanish artist Borondo painted on both kinds of surfaces, gifting the neighborhood with two complementary works titled "Rivers."
French artist Mathieu Tremblin brought to the walls of Bairro Padre Cruz an online poll results via bar charts posing an existential question about Street Art.
Urban Art in East Lisbon: from the Expo Area to the Vasco da Gama Bridge, and beyond!
In the 1980s/1990s, new development plans included the radical transformation of east Lisbon since the city would be hosting the World Expo 1998. The area, formerly occupied by many factories and their workers, was transformed to host the big international event. After the expo, it was adapted to a high-priced, residential area, which hosted its own urban art festival in 2020, and then again in 2021.
Next to the Oriente train station (whose stunning architecture was designed by superstar architect Santiago Calatrava), there is a long mural painted by D*Face in 2020. Titled "It's all in the eyes," the mural reflects on how much had to be told in a person's eyes, especially in a time when wearing a face mask was the norm.
At the Parque das Nações, where the World Expo 1998 took place, Bordalo II created a giant installation depicting an Iberian Lynx, one of the many species on the brink of extinction that the Portuguese street artist has portrayed in his career.
In 2021, the urban art festival MURO took place under the Vasco da Gama bridge, the second-longest bridge in Europe.
More urban art in Lisbon's Eastern Outskirts: Murals in Casal dos Machados
Still part of the MURO'21 Urban Art Festival is the series of murals painted in Casal dos Machados, a multicultural neighborhood where different cultures coexist.
My favorite street art in this area of east Lisbon is:
Portuguese artist Pedro Podre represented the essential goods that we must guarantee for everyone: education, food, health, and housing. According to the artist, this is a collective effort, typified by several hands coming together to create a "unity" (the mural's title), resulting in a kind of anthropomorphic guardian of the community.
English artist Rocket01 expressed the festival's themes of internationality and sustainability in the large-scale mural "The world is in your hand," which he painted free-hand. The presence of plants and flowers indicates that we are in nature's hand, while the great circle symbolizes the life cycle and the good practice of recycling and reusing.
Dutch urban artist IamEelco represented the multiculturality of the neighborhood through different animal species sharing the same natural habitat.
Street Art Murals in Quinta do Mocho, home of the urban art festival "Loures Arte Publica."
Loures Arte Publica is the urban art project that all my street artist friends recommended me to visit, and now I'm extending this recommendation to you ;)
Due to multiple existing social problems, this neighborhood was associated with criminality, violence, and drugs for a very long time. Still, street art operated a massive urban regeneration, and now the area is visited daily by street art lovers from all over the world.
There are over 100 murals in Quinta do Mocho, among which are some of the best street art in Lisbon:
A portrait by French artist Hopare, with its characteristic vectorial lines, recalls a futuristic type of surrealism.
Astro's optical illusions distort two-dimensional surfaces' flatness by fusing calligraphy and dynamic shapes. Here in Quinta do Mocho, Astro played with shadows, light, and perspective to create the illusion of a portal that invites the viewer to enter the image to discover what is hidden in its depth.
The mural by Portuguese graffiti artist of Angolan origin Nomen represents a condition shared by many inhabitants of this neighborhood, which hosts families coming from former Portuguese colonies in Africa -mainly from Cape Verde, Guinea, and Angola.
Colectivo Licuado (from Uruguay) painted "Working Together," a stunning mural that recalls the importance of solidarity and cooperation, especially in such multicultural settings.
French artist Maye, who has fears of heights, left small, street-level interventions throughout the neighborhood.
Many street art pieces around Quinta do Mocho have strong social messages, speak about the life and culture of this multicultural community, or represent owls -as 'Quinta do Mocho' literally means 'Owl Farm.'
Street Art in Amadora, home of the urban art festival "Conversas na Rua"
Ten kilometers northwest of central Lisbon (which translates to a 30-minute metro ride), the Amadora district is home to the excellent urban art project "Conversas na Rua." The urban art festival created more than 100 murals in the streets of Amadora, which until a few years ago was still considered an extremely dangerous area.
The walls of Amadora have been in conversation (that's what the festival name means in English) with residents since the birth of Lisbon muralism in the 1980s. This area played an important role in Lisbon's muralist history: here, you could find some of the political murals made by the PCTP/MRPP party, which spread on city walls in the post-revolutionary period of the 1970s (and so way before the emergence of North-American inspired graffiti, which happened in the 1990s).
The festival began in 2015 when local graffiti writer Odeith painted four large-scale murals in his typical photorealistic style. These murals are a tribute to four key figures in Portuguese culture: the songwriter Carlos Paredes, the novelist Fernando Pessoa, the fado singer Amália Rodrigues, and the fado composer Zeca Afonso.
Among my favorite murals around Amadora there are:
Painted in 2020 by Addfuel, "Juntos" calls for unity ("Juntos" means "Together" in Portuguese) in a multicultural city like Amadora.
On the School of Theater and Cinema facade, Pantonio painted his iconic striped characters, which recall the strength of the black rocks and the sea of his homeland: the Azores islands.
Two great stencil artists, Samina (left) and Daniel Eime (right), created this diptych, homaging multiculturalism in Amadora.
Street Art in Cascais city center and the large-scale murals of Bairro da Torre
The coastal city of Cascais is 24 km to the west of Lisbon city, and it's easily reachable by train. Wandering around the picturesque city center of Cascais, you'll find some great urban art by Portuguese street artists in the likes of Bordalo II, Samina, Frederico Draw, and many more.
Cascais city center is also where I spotted some old examples of Addfuel's stencils on electric boxes, which he realized in 2015.
Moreover, on the outskirts of Cascais, there is Bairro da Torre (Torre neighborhood), home of the Muraliza Festival (2016) and the Infinito Festival (2018 onwards).
My favorite urban art murals in the Bairro da Torre area of Cascais are:
'Passeio no parque' (2016) by Portuguese graffiti legend MAR:
'Capitão' (2016) by stencil artist Daniel Eime:
This mural was painted by Brazilian artist Alex Senna in 2018:
This mural by Argentinian duo Medianeras (2020) explores the topic of gender diversity and non-binary people (like the artists themselves):
Do you want a personalised travel itinerary based on your interests and passions?
Then check out my concierge service ;)
Best Street Artists to check out in Lisbon
Street Art in Lisbon > AddFuel (PT)
What I like about his personal street style is that he mixes the two things I loved most about Portugal: street art and azulejos (the traditional Portuguese tiles). I loved the ancient tiles decorating Lisbon's beautiful buildings, and I loved his reinterpretation even more: a modern design connecting the old with the new.
The first AddFuel work that I found in Lisbon is inside the LX Factory (Rua Rodrigues Faria), a former factory turned cultural space. On a 22-metre-long background of stenciled azulejos it's written 'antigua mente nova', a word game between 'antigamente', 'antiga mente' and 'mente nova' ('formerly', 'old mind' and 'new mind').
Diogo Machado (this is the real name of the guy) often works in collaboration with other street artists. This mural was realized together with Draw, Miguel Januario and Mar for the conference "A Revolução de Abril – Portugal 1974-75" and it commemorates the day of the Carnation Revolution (April 25th, 1974), when the Movimento das Forcas Armadas, together with the people, overthrew the regime of Estado Novo.
But, in my opinion, the best combo is a mural with Addfuel's azulejos and Eime's black and white stencilled characters, which really stand out this way. I saw several of these around Portugal, and this one on the 'Blue Wall' (a 1-kilometer-long wall surrounding Lisbon's Psychiatric Hospital) is my favorite. Here again, Addfuel plays with words: Mentalidad means both 'mentality' and 'mental age'.
Street Art in Lisbon > AkaCorleone (PT)
With a background in illustration and graphic design, AkaCorleone shows a colorful pop style that I couldn't help falling in love with. His works are like puzzles, mixing an abundance of figures and objects whose shapes are outlined just by the juxtaposition of colored areas.
AkaCorleone and his fellow street artist I am from Lisboa realized this mural during the Todos Festival in 2013. This work shows one of his obsessions: typography art.
Street Art in Lisbon > Aryz (ES)
[Update 2022: This mural by Aryz doesn't exist anymore]
His style is highly evocative and very detailed. He uses different colors, usually pastel shades, to shape the image and give depth to his characters.
In this case, the horse is broken down into several overlapping layers that play with transparency, light and shadows. A few fish and a top hat intensify the dreamy tone of this work, which constitutes yet another piece of Aryz's imaginary universe.
Street Art in Lisbon > Ayako (PT)
Miguel Ayako painted this mural in Rua das Murtas for the abovementioned project 'Faces on the blue wall'. The blue wall is the 1-kilometer long wall surrounding the psychiatric hospital of Lisbon. The common theme of these murals is mental health and they were realized in 2013.
This is one of the many faces staring at us along the blue wall, a woman painted according in Ayako's peculiar style, which recalls stained glass.
Street Art in Lisbon > Bicicleta Sem Freio (BR)
[Update 2020: This mural has been destroyed]
This mural on the Club Naval de Lisboa is one of the several large-scale pieces around Lisbon curated by Underdogs, an international working platform focused on contemporary and urban art. It was painted by Bicicleta Sem Freio, a Brazilian collective of designers, illustrators and artists which has recently begun to produce impressive large-scale murals around the world.
The collective has developed a unique visual language with strong colors, psychedelic-inspired imagery and exotic traits. Their murals are especially vivacious, full of references to South-American culture and folklore, plunged into pop culture and graphic design.
Street Art in Lisbon > BLU (IT) + Os Gemeos (BR)
This is the first of three abandoned buildings on Av. Fontes Pereira de Melo painted by local and international street artists for the CRONO project, which turned several facades of deteriorating buildings in downtown Lisbon into masterpieces.
This was the first collaboration between the Italian street artist BLU and the Brazilian twins Os Gemeos. You already know how much I admire BLU, so this time I am going to write about my love for the playful and imaginary works by the Brazilian twins. Os Gemeos are internationally known for their vivid and surrealistic painting style and its playful political commentary. Their dreamy characters have big, yellowish faces and usually wear clothes with very detailed and characteristic patterns, which form a mesmerizing painting inside the painting, something they have in common with BLU's extremely detailed motifs, and this common aspect allows their respective murals to complete each other from two different corners of the same building.
Street Art in Lisbon > Bordalo II (PT)
Bordalo II uses old tires, bumpers, cans, computer parts, wood, appliances and other discarded stuff from wastelands and abandoned factories to form three-dimensional murals of animals. His painted found trash is not just for art's sake; the artist aims at raising awareness of the amount of stuff we throw away, demonstrating that one man's trash is another man's art.
I found this big racoon in Belem near the cultural centre. It was the first time that I saw a street art work where the third dimension is not just an optical illusion but an actual combination of painting and sculpture.
Read about my week with Bordalo II in Rome
Street Art in Lisbon > C215 (FR)
[Update 2022: This mural by C215 doesn't exist anymore]
I guess he doesn't need any introduction, so let's go straight to C215's large-scale mural at Travessa Dos Brunos.
While you can find C215's cute cats, as well as different portraits of his daughter Nina, in almost every town around the world, it's still rare to bump into a large-scale mural by C215. Painted in 2012, this monochromatic work depicts a mother holding her baby.
Street Art in Lisbon > Canemorto (IT)
[Update 2019: This artworks by Canemorto have been destroyed]
Earlier this year, the Italian trio Canemorto spent 60 days in Lisbon. They created 30 different works, plus a non-quantifiable number of night bombings, all without any kind of permission. Here are a couple of pics to show you how the artists are carrying on with their representation of the dark side of human nature, which they do without any filter -not even those of canonic representation of human lineaments, which in Canemorto's portraits are always lacerated by inner fears.
The challenge is always the same: to unveil the beauty underneath their rough universe made of rotten characters, broken souls and distressed faces, as well as around the ugliest corners in our towns.
Street Art in Lisbon > Cyrcle (USA)
[Update 2022: this mural doesn't exist anymore]
This duo from Los Angeles, whose murals combine stencil and painting, is becoming very popular all around the world.
Realized in 2013, this work is representative of Cyrcle's early period, in which the duo used a lot of gold paint and just a few more colors to shape their characters, playing a lot with different textures and patterns and it inserting the ubiquitous lettering piece into the final work.
Street Art in Lisbon > Draw (PT)
Let's go back to the blue wall in Rua das Murtas for a triptych by Frederico Draw, the Portuguese street artist renowned for his large, black-and-white portraits, whose iconic intense gazes always manage to suck the observer in.
In this mural we can see three melting faces with crazy eyes looking in despair for something.
Street Art in Lisbon > Eime (PT)
After falling in love with Eime's mural in Gaeta, I was really looking forward to discovering more of his art while in Portugal, Eime's home country.
This mural by Eime on the Blue Wall depicts an angry man showing his teeth and it is titled "Rage against the machine".
Read about my week with Daniel Eime in Rome
Street Art in Lisbon > Ericailcane (IT) + Lucy McLauchlan (UK) + M. Chat (FR)
This is another abandoned building on Av. Fontes Pereira de Melo that was color-washed by international street artists thanks to the CRONO project.
Here we can see a crocodile, which is one of Ericailcane's iconic and anthropomorphic animals aimed at representing the modern man in all his flaws, and a black-and-white, kind-of-creepy bird by Lucy McLauchlan. Between these two large-scale animals there is Thoma Vuille's signature cat.
Read about my week with Lucy McLauchlan in Rome
Street Art in Lisbon > How & Nosm (ES)
While I was wandering around Campolide to take a few pictures of the majestic aqueduct of Lisbon, I bumped into this huge mural by the Spanish twin brothers How & Nosm.
The red, black, and white-based imagery is instantly recognizable and commands attention through the impressive size and the intricate detail. The two distinctive yet complementary souls of the duo are represented in the upper part of the mural by two symmetrical feet and a circle, which recalls the ying and yang symbol. The area below, instead, is way more chaotic, as a metaphor for their inner struggles.
Street Art in Lisbon > M. Chat (FR)
After chasing his signature yellow cat all around Sarajevo and collecting tons of pictures, I wasn't satisfied with the one and only grinning cat I had found on the above mentioned Av. Fontes Pereira de Melo, and so I headed to a parking lot near Av. da Liberdade, the fancy street of Lisbon, looking for one more cat by Thoma Vuille, aka M. Chat. Here it is, in all its glory:
Its location is 'Parque Mayer', which might be misleading: just look for a parking lot, not for an actual park as I did at first.
Street Art in Lisbon > ±MaisMenos± (PT)
Simple yet incisive, Miguel Januario's works, which he likes to call 'streetments', are a criticism of the political, social and economic values of the contemporary urban societies. ±MaisMenos± is an intervention art project conceptually reduced to an equation of simplicity and opposites: more/less, positive/negative, black/white.
Wandering around Lisbon, I found a couple of his thought-provoking and cutting-edge works, one inside LX Factory and one in the city center, written in Portuguese, meaning 'I think but I don't exist'.
Street Art in Lisbon > Nomen (ANG)
Born in Angola and raised in Carcavelos, the legendary birthplace of graffiti in Portugal, Nomen is one of the graffiti pioneers in this country. I found a couple of his political walls along the 'Hall of Fame' in Amoreiras neighborhood, Lisbon's biggest and oldest stretch of mural (some 90s paintings are still there – which is practically prehistoric in graffiti terms!).
His style is plunged into hip-hop culture, which is something I am not that into, but I can appreciate a good 'old style' mural when I see it, and I did appreciate his 'political street art' in Amoreiras, especially the one below:
This second mural was realized together with Slap and Kurtz, and it depicts Angela Merkel manipulating Portuguese politicians as puppets on strings. The mural was made just before her visit to Lisbon in 2012.
Street Art in Lisbon > Odeith (PT)
Odeith's style stands out for his realism and the amazing depth effect. He is renowned for his anamorphic art (compositions created in perspective and painted in different surfaces, such as 90º corners or from the wall to the floor, creating an optical illusion), but -unfortunately- I didn't find any of those in Lisbon. Anyway, these murals are equally enthralling:
Well, maybe not this one…
…but look at this! We are back at the 'blue wall', the 1-kilometer-long wall surrounding Lisbon's psychiatric hospital, whose main entrance is represented in this mural.
Last, but not least, a boat on Tagus river, with the beautiful '25 de Abril' bridge in the distance (can you see the mesmerizing 3D optical illusion now?).
Street Art in Lisbon > Pixelpancho (IT)
[Update 2017: the Pixelpancho + Vhils murals have been destroyed]
His works frequently offer visions of a forgotten, surreal and futuristic world inhabited by humanized robots, which create an ongoing narrative that offers a poignant reflection on the human condition imbued with historical and contemporary references.
While in his earlier works robots always had a negative connotation, this time the machine is portrayed as an equal to the human being, unveiling his emotions and inner world. This time the robot and the human are coexisting, even hugging, while looking in the same direction, showing a peaceful complicity.
In the same area I found a couple of stunning works realized together with Vhils. What I like about this combo is that the very different styles of the two street artists actually meld in a very harmonious way. Vhils' carved faces are perfectly surrounded by PixelPancho's engines, and the final effect is an impeccable mix between painting and actual depth.
Street Art in Lisbon > Ram & Klit (PT)
Realized during the GAU – Galeria de Arte Urbana Festival, these two works show the perfect match between the styles of the two street artists. They are both structured with RAM's iconic eye in the top part and Klit's abstract waves of colors at the bottom, which are leaking from the pupil.
The pupil itself is the epicenter of the rotational motion pervading the mural, a mesmerizing kaleidoscopic rotatory effect, which the artist created by using an overabundance of details and a limitless palette of colors and by mixing different techniques, from spray-can to watercolors.
This second mural is inside a skate-park, where you can find many other graffiti.
Street Art in Lisbon > Sainer (PL)
[Update 2020: this mural has been destroyed]
Sainer, from the Polish duo EtamCru, was recently invited to Lisbon by the Underdogs Gallery to paint this large-scale mural in Olaias neighborhood.
Here the artist brings his dreamlike vision of people to the fore. The subject of the work is an old lady with a dog and a duck. What I like about his style is that he uses realism to push the viewer beyond it, suggesting a surreal scenario behind the reality.
Street Art in Lisbon > Sam3 (ES)
This is the third abandoned building on Av. Fontes Pereira de Melo. It was color-washed in the CRONO project in order to establish an itinerary of urban art in Lisbon and turn derelict buildings into masterpieces.
On a starry night, a burglar-like giant man is sticking out his head and arms through where the windows should be, making his escape from the abandoned building. Sam3's style is especially evident in the choice of the palette, with the ubiquitous black shaping his characters, who often resemble shadows.
Street Art in Lisbon > Smile (PT)
We are again on the blue wall (I told you it is a very long wall!), where I spotted a couple of works by Smile depicting two different faces equally marked by life.
The first one is an old lady with penetrating eyes, painted in a very realistic style, although using shades of blue. I love the detail of the artist's signature as a logo on the burning cigarette!
The second one is funnier: you can't help but 'smile' at this grimacing face! Here I love the detail of the hair, painted on an extension and then falling on the character's forehead in a three-dimensional way.
Street Art in Lisbon > Tinta Crua (PT)
Carrying on along the blue wall, I spotted a mural by Tinta Crua, which I found one of the most powerful within the all 'Faces on the blue wall' project.
The sentence written above the man bent over in despair means 'there is no hatchet able to cut the roots of your thoughts'.
Street Art in Lisbon > Vanessa Rosa (BR)
As we have seen above, Addfuel is recreating on the walls the amazing patterns of azulejos, the traditional Portuguese tiles. And Vanessa Rosa is doing something very similar, through a technique that she calls 'laser tiles' to create optical illusions by using digital layouts and laser cutting. The outcome is softer than AddFuel's art, and it recalls a mosaic from which human figures stand out.
In this case, the woman represented is Nise da Silveira, who was a great doctor and art therapy researcher in Brazil.
Street Art in Lisbon > Vhils (PT)
Last, but not least, the one and only Vhils: one of my favorite street artists ever, whose works I had the chance to admire in Lisbon for the very first time.
Among the most important exponents of the current street art scene, Alexandre Farto, aka Vhils, has expanded street art in spectacular fashion: instead of using a spray can, Vhils creates large-scale relief works with a hammer drill.
Read also: PRISMA, Vhils' solo show at MAAT Museum in Lisbon
By carving a surface, Vhils creates surprisingly realistic portraits that incorporate some of the exposed brick and materials of the building, creating a pretty mesmerizing, detailed and realistic effect.
These last four works are located inside the former factory 'Fabrica do Braco de Prata' in Marvila neighborhood, one of the coolest venues in town .
Lisbon Street Art Map
Find these murals (and many more!) in my Lisbon Street Art Map, along with more off-the-beaten-path spots to see in Lisbon.
SalvaSalvaSalvaSalva