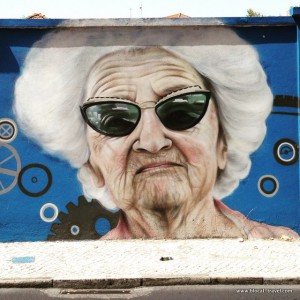 It goes without saying that I picked Lisbon as my summer destination for its street art scene. Lisbon City Council has pioneered an active role for public art in its drive for urban renewal, so it's no wonder that the Portuguese capital is more colorful and artsy than other European towns. As usual, graffiti hunting allowed me to discover some of the most creative outskirts in Lisbon and get to know the town beyond its touristy city center, confirming that 'street art tourism' might be the best way to explore a destination, or at least it works for me.
Even if I had all the best murals mapped out, it wasn't always easy to pinpoint them, and often I found myself walking up and down the same street inexplicably missing the actual spot. Luckily, while I was in Lisbon, I received an email from a local reader and street art expert and fellow "spotter" Nuno Lopes de Paula, who kindly explained to me how to find the trickiest spots. (Thank you again, Nuno!). Eventually I managed to see all the pieces I was looking for, including works by some internationally renowned street artists and murals by the local vanguard, which I found very promising.
Anyway, enough of my rambling: let's hit the streets of Lisbon!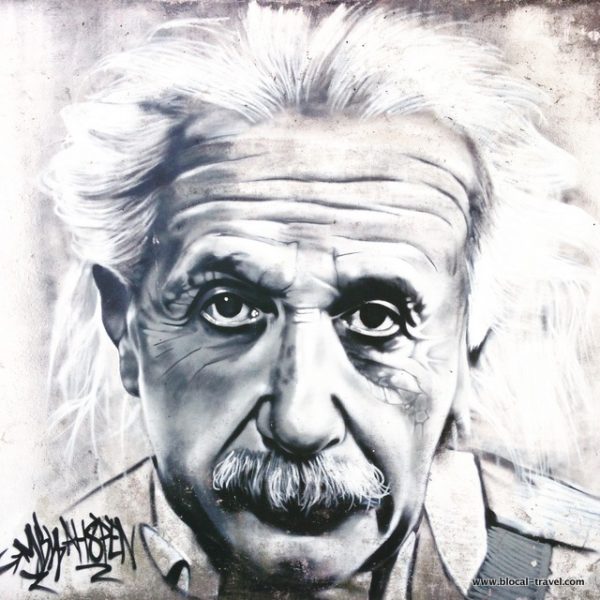 ps. this time I've organized my 'graffiti booty' in a different way: I am presenting the artists and their works in alphabetical order, rather than classifying murals by neighborhoods as I usually do. Let me know which format you prefer in the comment area below!
AddFuel (PT)
What I like about his personal street style is that he mixes the two things I loved most about Portugal: street art and azulejos (the traditional Portuguese tiles). I loved the ancient tiles decorating Lisbon's beautiful buildings, and I loved his reinterpretation even more: a modern design connecting the old with the new.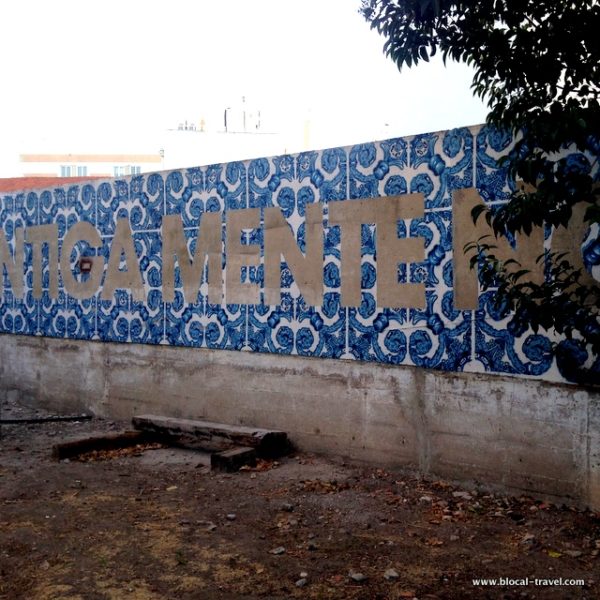 The first AddFuel work that I found in Lisbon is inside the LX Factory (Rua Rodrigues Faria), a former factory turned cultural space (more about this amazing venue soon!). On a 22-metre-long background of stenciled azulejos it's written 'antigua mente nova', a word game between 'antigamente', 'antiga mente' and 'mente nova' ('formerly', 'old mind' and 'new mind').
Diogo Machado (this is the real name of the guy) often works in collaboration with other street artists. This mural was realized together with Draw, Miguel Januario and Mar for the conference "A Revolução de Abril – Portugal 1974-75" and it commemorates the day of the Carnation Revolution (April 25th, 1974), when the Movimento das Forcas Armadas, together with the people, overthrew the regime of Estado Novo.
But, in my opinion, the best combo is a mural with Addfuel's azulejos and Eime's black and white characters, which really stand out this way. I saw several of these around Portugal, and this one on the 'blue wall' (a 1-kilometer-long wall surrounding Lisbon's Psychiatric Hospital) is my favorite. Here again, Addfuel plays with words: Mentalidad means both 'mentality' and 'mental age'. I found a beautiful making-of video where you can see both Addfuel and Eime working on this project:
AkaCorleone (PT)
With a background in illustration and graphic design, AkaCorleone shows a colorful pop style that I couldn't help falling in love with. His works are like puzzles, mixing an abundance of figures and objects whose shapes are outlined just by the juxtaposition of colored areas.
AkaCorleone and his fellow street artist I am from Lisboa realized this mural during the Todos Festival in 2013. This work shows one of his obsessions: typography art.
This mural was commissioned by KLM in order to mark the 75 years of regular air services between Amsterdam and Lisbon. Here AkaCorleone worked together with the Dutch artist Hedof to illustrate the connection between the two cities.
Aryz (ES)
His style is highly evocative and very detailed. He uses different colors, usually pastel shades, to shape the image and give depth to his characters.
In this case, the horse is broken down into several overlapping layers that play with transparency, light and shadows. A few fish and a top hat intensify the dreamy tone of this work, which constitutes yet another piece of Aryz's imaginary universe.
Ayako (PT)
Miguel Ayako painted this mural in Rua das Murtas for the abovementioned project 'Faces on the blue wall'. The blue wall is the 1-kilometer long wall surrounding the psychiatric hospital of Lisbon. The common theme of these murals is mental health and they were realized in 2013.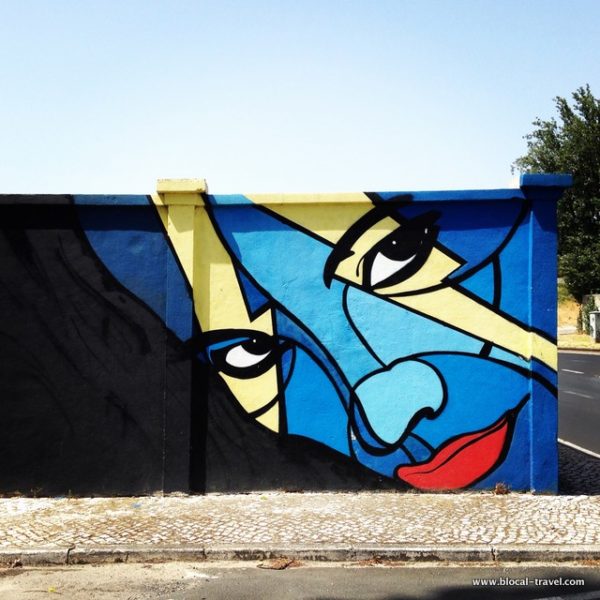 This is one of the many faces staring at us along the blue wall, a woman painted according in Ayako's peculiar style, which recalls stained glass.
Bicicleta Sem Freio (BR)
This mural on the Club Naval de Lisboa is one of the several large-scale pieces around Lisbon curated by Underdogs, an international working platform focused on contemporary and urban art. It was painted by Bicicleta Sem Freio, a Brazilian collective of designers, illustrators and artists which has recently begun to produce impressive large-scale murals around the world.
The collective has developed a unique visual language with strong colors, psychedelic-inspired imagery and exotic traits. Their murals are especially vivacious, full of references to South-American culture and folklore, plunged into pop culture and graphic design.
Here you can enjoy a beautiful making-of video:
BLU (IT) + Os Gemeos (BR)
This is the first of three abandoned buildings on Av. Fontes Pereira de Melo painted by local and international street artists for the CRONO project, which turned several facades of deteriorating buildings in downtown Lisbon into masterpieces.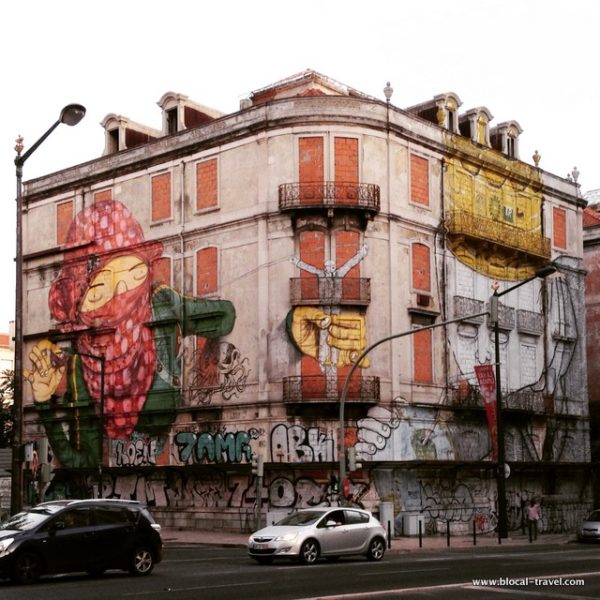 This was the first collaboration between the Italian street artist BLU and the Brazilian twins Os Gemeos. You already know how much I admire BLU, so this time I am going to write about my love for the playful and imaginary works by the Brazilian twins. Os Gemeos are internationally known for their vivid and surrealistic painting style and its playful political commentary. Their dreamy characters have big, yellowish faces and usually wear clothes with very detailed and characteristic patterns, which form a mesmerizing painting inside the painting, something they have in common with BLU's extremely detailed motifs, and this common aspect allows their respective murals to complete each other from two different corners of the same building.
I found the making-of video, enjoy it:
Bordalo II (PT)
Bordalo II uses old tires, bumpers, cans, computer parts, wood, appliances and other discarded stuff from wastelands and abandoned factories to form three-dimensional murals of animals. His painted found trash is not just for art's sake; the artist aims at raising awareness of the amount of stuff we throw away, demonstrating that one man's trash is another man's art.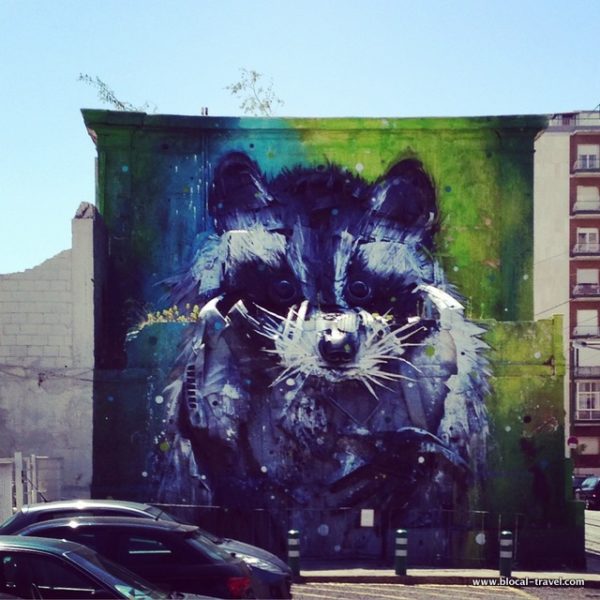 I found this big racoon in Belem near the cultural centre. It was the first time that I saw a street art work where the third dimension is not just an optical illusion but an actual combination of painting and sculpture.
Read about my week with Bordalo II in Rome
C215 (FR)
I guess he doesn't need any introduction, so let's go straight to C215's large-scale mural at Travessa Dos Brunos.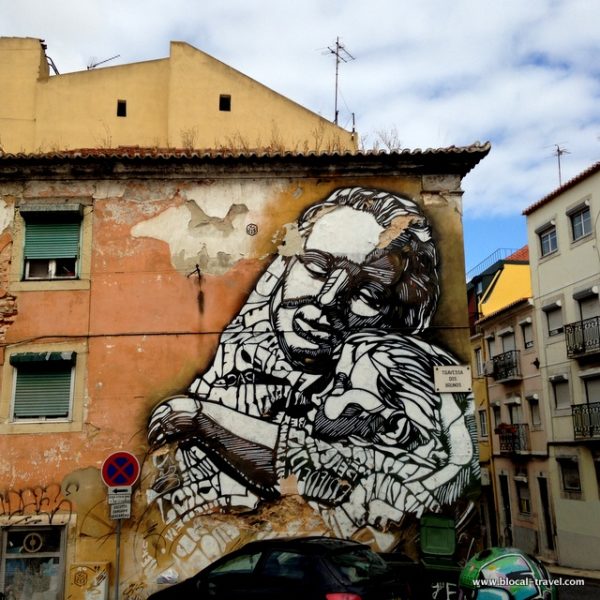 While you can find C215's cute cats, as well as different portraits of his daughter Nina, in almost every town around the world, it's still rare to bump into a large-scale mural by C215. Painted in 2012, this monochromatic work depicts a mother holding her baby.
Canemorto (IT)
Earlier this year, the Italian trio Canemorto spent 60 days in Lisbon. They created 30 different works, plus a non-quantifiable number of night bombings, all without any kind of permission. Here are a couple of pics to show you how the artists are carrying on with their representation of the dark side of human nature, which they do without any filter -not even those of canonic representation of human lineaments, which in Canemorto's portraits are always lacerated by inner fears.
The challenge is always the same: to unveil the beauty underneath their rough universe made of rotten characters, broken souls and distressed faces, as well as around the ugliest corners in our towns.
Cyrcle (USA)
This duo from Los Angeles, whose murals combine stencil and painting, is becoming very popular all around the world.
Realized in 2013, this work is representative of Cyrcle's early period, in which the duo used a lot of gold paint and just a few more colors to shape their characters, playing a lot with different textures and patterns and it inserting the ubiquitous lettering piece into the final work.
Draw (PT)
Let's go back to the blue wall in Rua das Murtas for a triptych by Frederico Draw, the Portuguese street artist renowned for his large, black-and-white portraits, whose iconic intense gazes always manage to suck the observer in.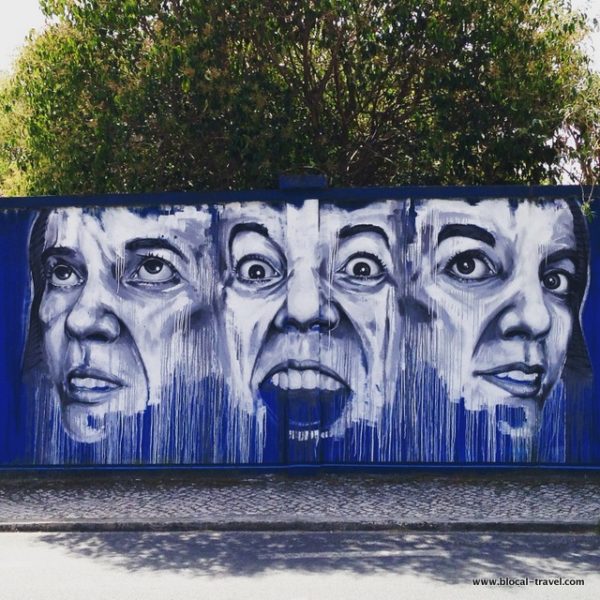 In this mural we can see three melting faces with crazy eyes looking in despair for something.
Eime (PT)
After falling in love with Eime's mural in Gaeta, I was really looking forward to discovering more of his art while in Portugal, Eime's home country.
Unfortunately, besides the abovementioned collaboration with Addfuel on the blue wall, while in Lisbon I found only this mural by Eime. It depicts an angry man showing his teeth and it is titled "Rage against the machine".
Ericailcane (IT) + Lucy McLauchlan (UK) + M. Chat (FR)
This is another abandoned building on Av. Fontes Pereira de Melo that was color-washed by international street artists thanks to the CRONO project.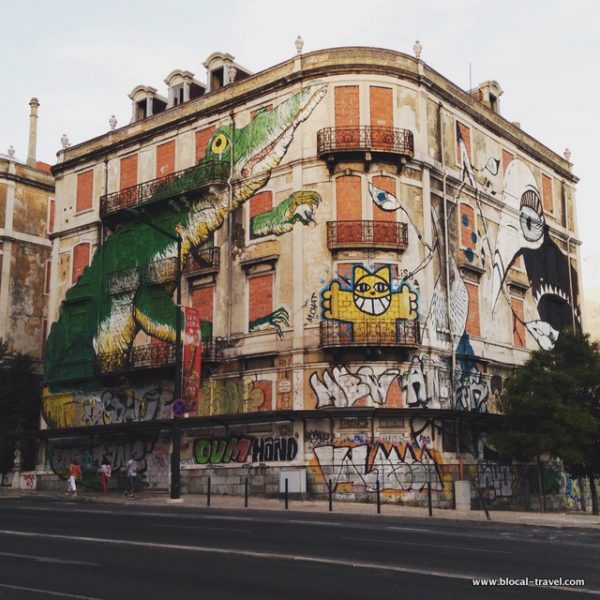 Here we can see a crocodile, which is one of Ericailcane's iconic and anthropomorphic animals aimed at representing the modern man in all his flaws, and a black-and-white, kind-of-creepy bird by Lucy McLauchlan. Between these two large-scale animals there is Thoma Vuille's signature cat.
How & Nosm (ES)
While I was wandering around Campolide to take a few pictures of the majestic aqueduct of Lisbon, I bumped into this huge mural by the Spanish twin brothers How & Nosm.
The red, black, and white-based imagery is instantly recognizable and commands attention through the impressive size and the intricate detail. The two distinctive yet complementary souls of the duo are represented in the upper part of the mural by two symmetrical feet and a circle, which recalls the ying and yang symbol. The area below, instead, is way more chaotic, as a metaphor for their inner struggles.
I found this making-of video featuring both murals painted by the Spanish twins in Lisbon for the Underdogs Gallery; in the first part of it, shot in Campolide, you  get a glimpse of how beautiful this village-ish hood is!
M. Chat (FR)
After chasing his signature yellow cat all around Sarajevo and collecting tons of pictures, I wasn't satisfied with the one and only grinning cat I had found on the above mentioned Av. Fontes Pereira de Melo, and so I headed to a parking lot near Av. da Liberdade, the fancy street of Lisbon, looking for one more cat by Thoma Vuille, aka M. Chat.  Here it is, in all its glory:
Its location is 'Parque Mayer', which might be misleading: just look for a parking lot, not for an actual park as I did at first.
±MaisMenos± (PT)
Simple yet incisive, Miguel Januario's works, which he likes to call 'streetments', are a criticism of the political, social and economic values of the contemporary urban societies. ±MaisMenos± is an intervention art project conceptually reduced to an equation of simplicity and opposites: more/less, positive/negative, black/white.
Wandering around Lisbon, I found a couple of his thought-provoking and cutting-edge works, one inside that amazing place called LX Factory (seriously guys, I can't wait to tell you more about this place!) and one in the city center, written in Portuguese, meaning 'I think but I don't exist'.
Nomen (ANG)
Born in Angola and raised in Carcavelos, the legendary birthplace of graffiti in Portugal, Nomen is one of the graffiti pioneers in this country. I found a couple of his political walls along the 'Hall of Fame' (Amoreiras neighborhood), Lisbon's biggest and oldest stretch of mural (some 90s paintings are still there – which is practically prehistoric in graffiti terms!).
His style is plunged into hip-hop culture, which is something I am not that into, but I can appreciate a good 'old style' mural when I see it, and I did appreciate his 'political street art' in Amoreiras, especially the one below:
This second mural was realized together with Slap and Kurtz, and it depicts Angela Merkel manipulating Portuguese politicians as puppets on strings. The mural was made just before her visit to Lisbon in 2012.
Odeith (PT)
This guy must have a pretty big ego to turn each mural into a huge tag! (Just joking, I love his art!). Odeith's style stands out for his realism and the amazing depth effect. He is renowned for his anamorphic art (compositions created in perspective and painted in different surfaces, such as 90º corners or from the wall to the floor, creating an optical illusion), but -unfortunately- I didn't find any of those in Lisbon. Anyway, the four murals by Odeith I did find are equally enthralling.
Well, maybe not this one…
…but look at this! We are back at the 'blue wall', the 1-kilometer-long wall surrounding Lisbon's psychiatric hospital, whose main entrance is represented in this mural.
Last, but not least, a boat on Tagus river, with the beautiful '25 de Abril' bridge in the distance (can you see the mesmerizing 3D optical illusion now?).
Pixelpancho (IT)
[Update 2017: the Pixelpancho + Vhils murals have been destroyed] 
His works frequently offer visions of a forgotten, surreal and futuristic world inhabited by humanized robots, which create an ongoing narrative that offers a poignant reflection on the human condition imbued with historical and contemporary references.
While in his earlier works robots always had a negative connotation, this time the machine is portrayed as an equal to the human being, unveiling his emotions and inner world. This time the robot and the human are coexisting, even hugging, while looking in the same direction, showing a peaceful complicity.
In the same area I found a couple of stunning works realized together with Vhils. What I like about this combo is that the very different styles of the two street artists actually meld in a very harmonious way. Vhils' carved faces are perfectly surrounded by PixelPancho's engines, and the final effect is an impeccable mix between painting and actual depth.
I found an amazing making-of video by the Underdogs Gallery, which commissioned the mural.
Ram & Klit (PT)
Realized during the GAU – Galeria de Arte Urbana Festival, these two works show the perfect match between the styles of the two street artists. They are both structured with RAM's iconic eye in the top part and Klit's abstract waves of colors at the bottom, which are leaking from the pupil.
The pupil itself is the epicenter of the rotational motion pervading the mural, a mesmerizing kaleidoscopic rotatory effect, which the artist created by using an overabundance of details and a limitless palette of colors and by mixing different techniques, from spray-can to watercolors.
This second mural is inside a skate-park, where you can find many other graffiti.
Sainer (PL)
Sainer, from the Polish duo EtamCru, was recently invited to Lisbon by the Underdogs Gallery to paint this large-scale mural in Olaias neighborhood.
Here the artist brings his dreamlike vision of people to the fore. The subject of the work is an old lady with a dog and a duck. What I like about his style is that he uses realism to push the viewer beyond it, suggesting a surreal scenario behind the reality.
Enjoy the making-of video:
Sam3 (ES)
This is the third abandoned building on Av. Fontes Pereira de Melo. It was color-washed in the CRONO project in order to establish an itinerary of urban art in Lisbon and turn derelict buildings into masterpieces.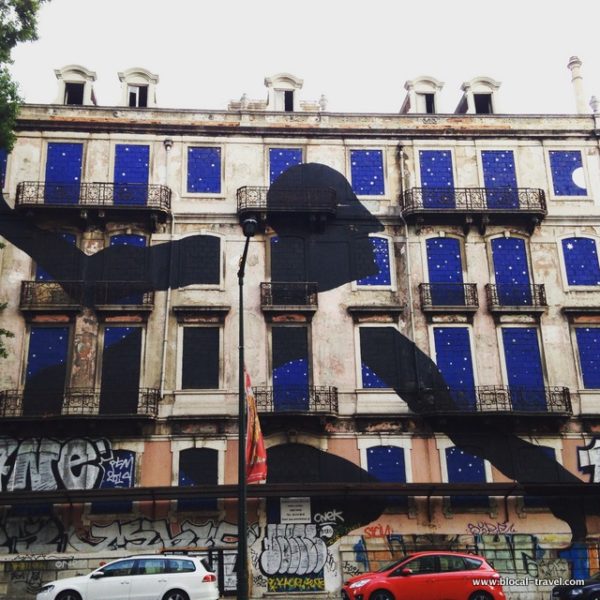 On a starry night, a burglar-like giant man is sticking out his head and arms through where the windows should be, making his escape from the abandoned building. Sam3's style is especially evident in the choice of the palette, with the  ubiquitous black shaping his characters, who often resemble shadows.
Smile (PT)
We are again on the blue wall (I told you it is a very long wall!), where I spotted a couple of works by Smile depicting two different faces equally marked by life.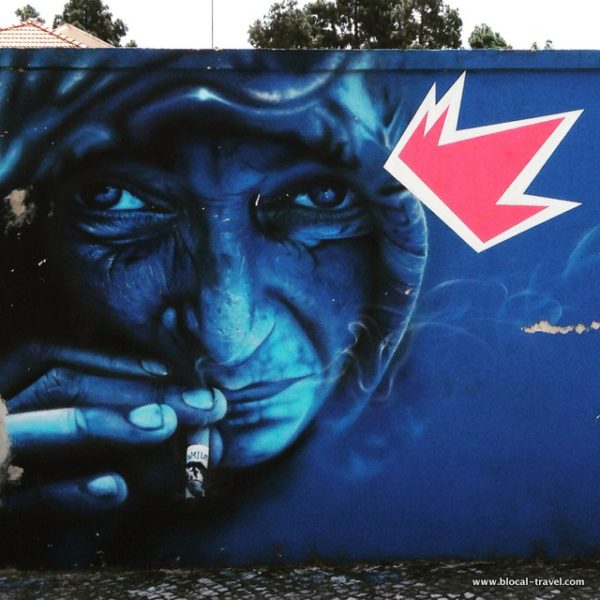 The first one is an old lady with penetrating eyes, painted in a very realistic style, although using shades of blue. I love the detail of the artist's signature as a logo on the burning cigarette!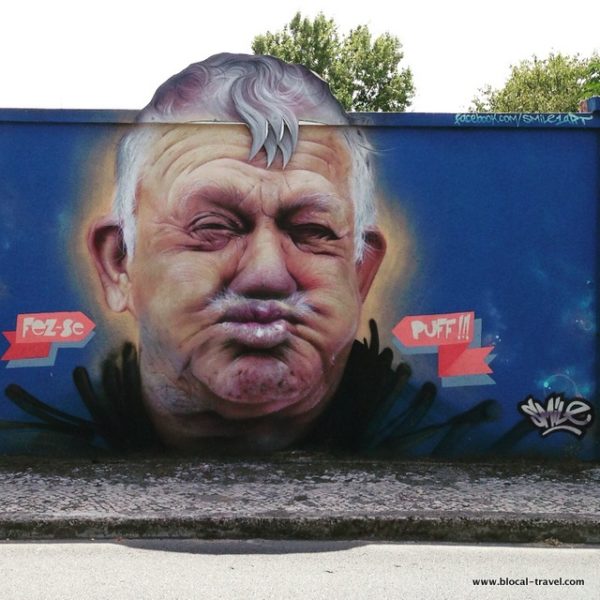 The second one is funnier: you can't help but 'smile' at this grimacing face! Here I love the detail of the hair, painted on an extension and then falling on the character's forehead in a three-dimensional way.
Tinta Crua (PT)
Carrying on along the blue wall, I spotted a mural by Tinta Crua, which I found one of the most powerful within the all 'Faces on the blue wall' project.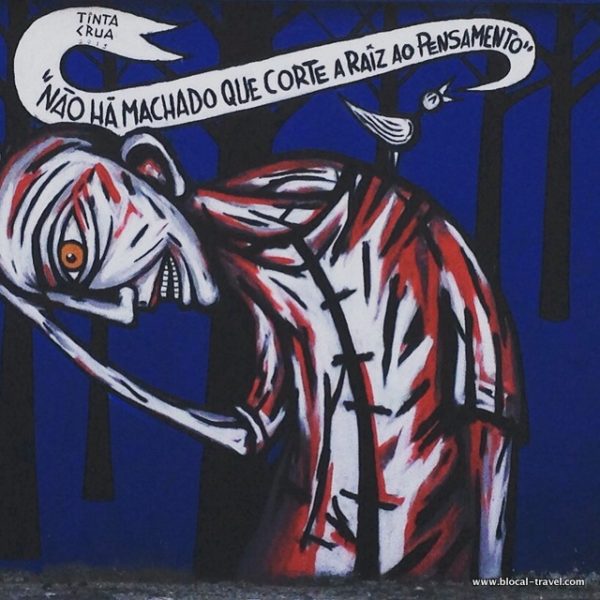 The sentence written above the man bent over in despair means 'there is no hatchet able to cut the roots of your thoughts'.
Vanessa Rosa (BR)
As we have seen above, Addfuel is recreating on the walls the amazing patterns of azulejos, the traditional Portuguese tiles. And Vanessa Rosa is doing something very similar, through a technique that she calls 'laser tiles' to create optical illusions by using digital layouts and laser cutting. The outcome is softer than AddFuel's art, and it recalls a mosaic from which human figures stand out.
In this case, the woman represented is Nise da Silveira, who was a great doctor and art therapy researcher in Brazil.
Vhils (PT)
Last, but not least, the one and only Vhils: one of my favorite street artists ever, whose works I had the chance to admire in Lisbon for the very first time. (and yes, I know there is a work by Vhils in Tor Marancia, Rome, but for some inexplicably reasons I haven't seen it yet…).
Among the most important exponents of the current street art scene, Alexandre Farto, aka Vhils, has expanded street art in spectacular fashion: instead of using a spray can, Vhils creates large-scale relief works with a hammer drill.
By carving a surface, Vhils creates surprisingly realistic portraits that incorporate some of the exposed brick and materials of the building, creating a pretty mesmerizing, detailed and realistic effect.
These last four works are located inside the former factory 'Fabrica do Braco de Prata', which now is one of the coolest venues in town and is covered with amazing street art. I am going to tell you more about this place soon!
Find these murals and more cool spots to visit in Lisbon in my Lisbon Google Map!
You can hover over these (or any image) to quickly pin it!
Enjoy the video of my holiday in Portugal:
SalvaSalva
SalvaSalva