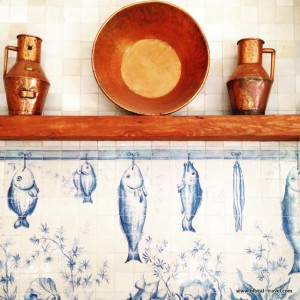 Now I can confess that I was initially a bit concerned about Portuguese cuisine. Truth is I'm not that into fish, especially codfish, and I thought this would  sentenced me to starvation. Portuguese cuisine isn't Mediterranean at all; I couldn't find all those fresh, seasonal vegetables that are always present on Mediterranean tables in summer. Instead, Portuguese dishes come with either potatoes or salad and the menu is relatively restricted to an Atlantic sustenance, hence the ubiquitous fish (Portugal has Europe's highest fish consumption per capita, and it is ranked among the top four countries worldwide for this indicator). I did love Portuguese food, though… especially the wide variety of cheeses, made from sheep's, goats' or cows' milk.
And a special mention goes to Portuguese wines: I drank several, all at a very reasonable prices.
Avenida 24 de Julho 
Stepping out from the Cais do Sodre train station, I couldn't help noticing the large oriental dome topping the Mercado da Ribeira (market on the river), Lisbon's main food market since 1892.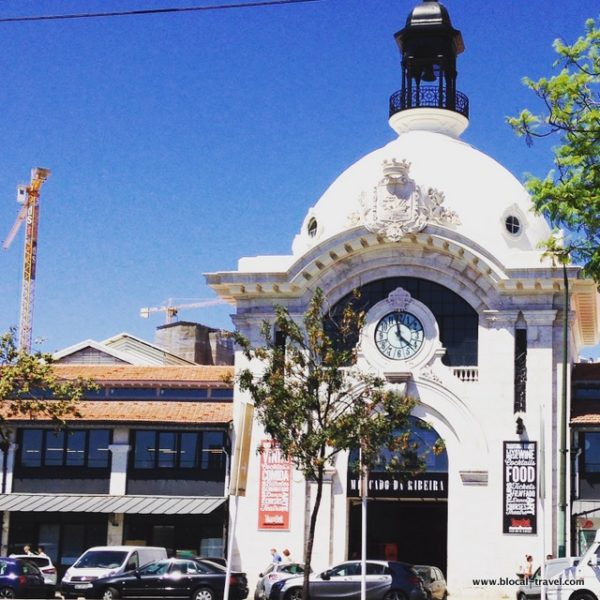 Inside its two beautiful iron halls all kinds of products have been sold for decades, but nowadays this place isn't what it used to be.
Thanks to Time Out Magazine, in 2014 the market received a massive makeover, turning it into the hippest place in town to enjoy a high quality meal. Five top chefs have their own stalls here, offering their signature dishes at very reasonable rates. I had a cheviche by Alexandre Silva (a popular chef from the restaurant 'Bica do Sapato') and a sardine burger at Honorato, washing 'em down with a couple of glasses of rosé from Alentejo (which, btw, turned out to be my signature drink of summer 2015).
And if all this awesomeness wasn't enough, at the second floor of the complex you can find an art shop by the Underdogs Gallery, one of the main promoters of street art in Lisbon.
Sorry to interrupt but would you like to be the first one to read my posts on off-the-beaten-path places around Europe? Then sign up to my newsletter! (No spam. Never.)
Read the latest posts, stay in touch and get tailor-made travel suggestions


Lisbon food guide > RESTAURANTS IN LISBON
Rua Costa do Castelo 7 
On our first night in Lisbon, we wanted to stay close to the hostel and get lost in that charming, old and labyrinthine neighborhood called Mouraria. Here we found 'Chapito a Mesa', a traditional restaurant with a stunning view over Lisbon's red roofs.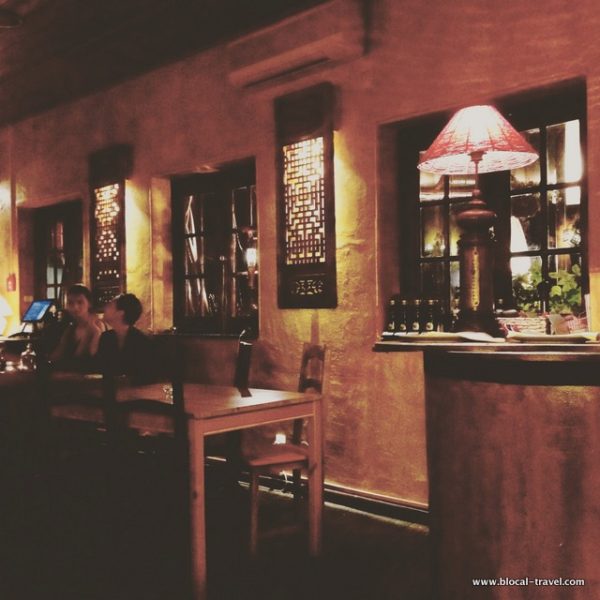 The restaurant is part of the Chapito Project, an artistic movement which organizes social activities using animation, circus and performing arts. Part of this ambitious project are the culinary offerings, which include three different restaurants: the easy-going terrace where your meal will come straight from the coal and wood ovens, the place where you can nibble 'petiscos' (snacks served inside a traditional dish called 'petisqueira') and the elegant restaurant on the top floor; the one with the breathtaking view over the Tagus river.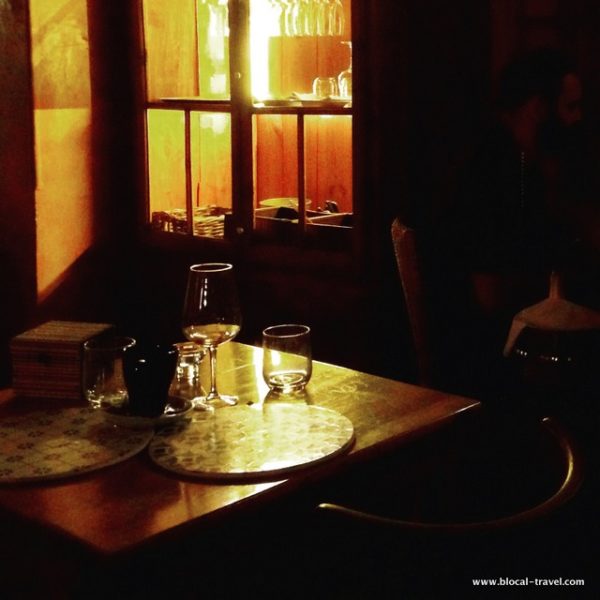 And that's exactly where we ate, although unfortunately we didn't manage to grab a panoramic table. ☹
Cantinho do Aziz
Rua das Fontainhas a São Lourenço 5
Still in Mouraria, we found this amazing Mozambican restaurant. To be honest, at first we didn't know it wasn't about Portuguese food, although the African music playing in the background was more than just a hint. We picked this place because we fancied the huge outdoor seating area on a charming narrow street of Mouraria, and I'm glad we did as it was our chance to taste Africa's lasting influence on Lisbon, digging into the heritage of Portugal's long and turbulent colonial past.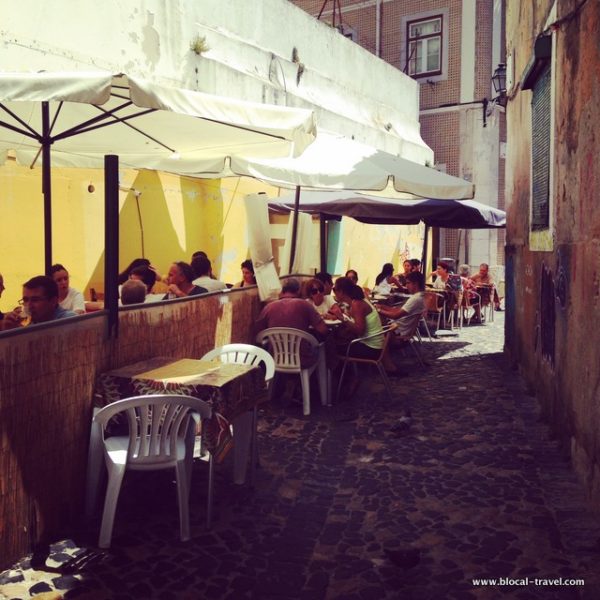 Moreover, this place is very cheap and the food is fresh and intriguing. I didn't know that Mozambican cuisine had such a strong Indian influence: we ate different kinds of samosa (the Indian deep-fried patties stuffed with vegetables or meat) and a seafood soup with coconut milk.
Rua Rodrigues de Faria 103 
As I mentioned in my previous post, the former manufacturing complex in Alcantara neighborhood is now covered with some of the greatest street art pieces in Lisbon. But graffiti hunting isn't everything you can do over there!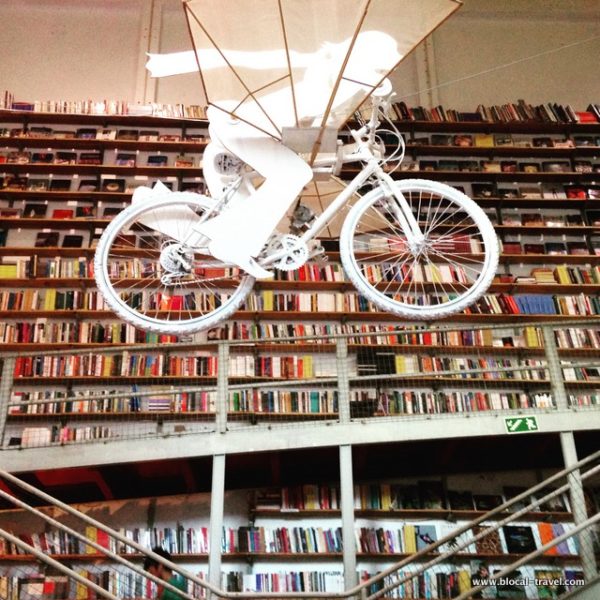 Inside an area of 23,000 sqm, right under the massive pillars of the '25 de Abril Bridge', there are design shops, bookstores, clubs, a tattoo parlor and several restaurants too!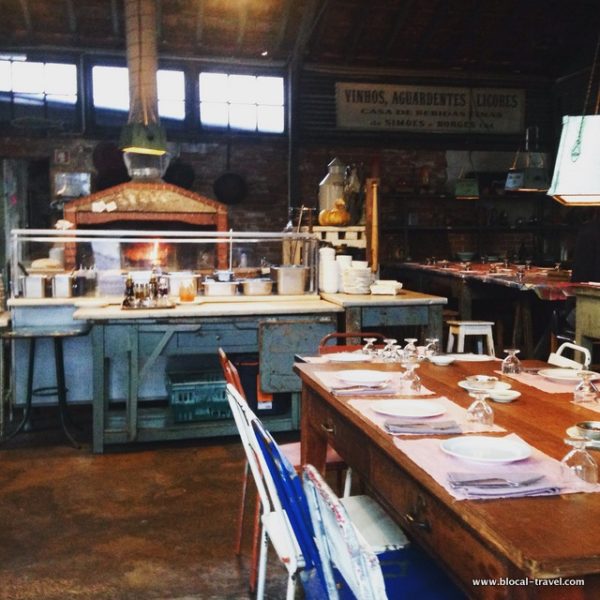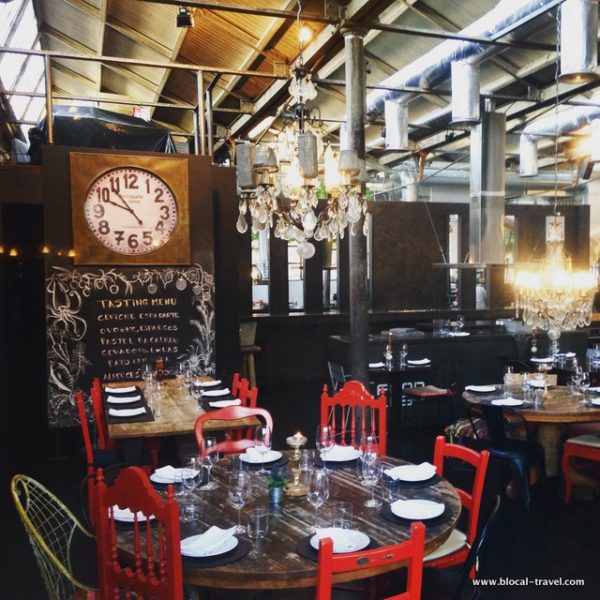 This place is amazing: if you just have one day to spend in Lisbon, don't miss LX Factory's industrial atmosphere!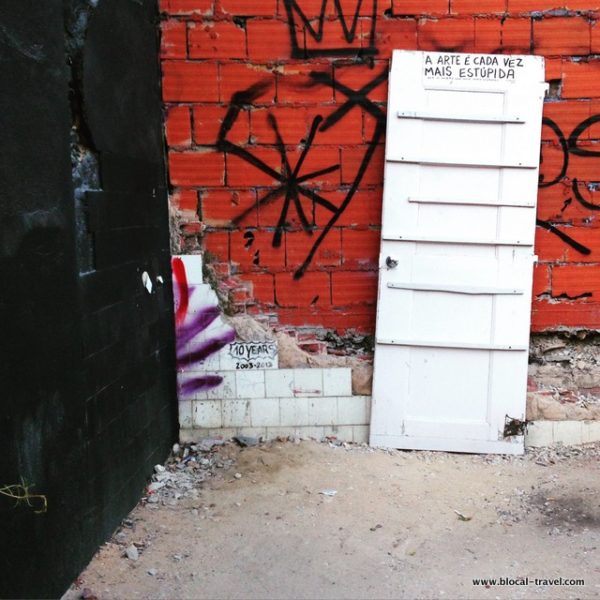 As I went there in the early afternoon looking for enough light for some decent pictures, I only had a coffee at the Café na Fabrica, a nice café right in front of the entrance to the factory.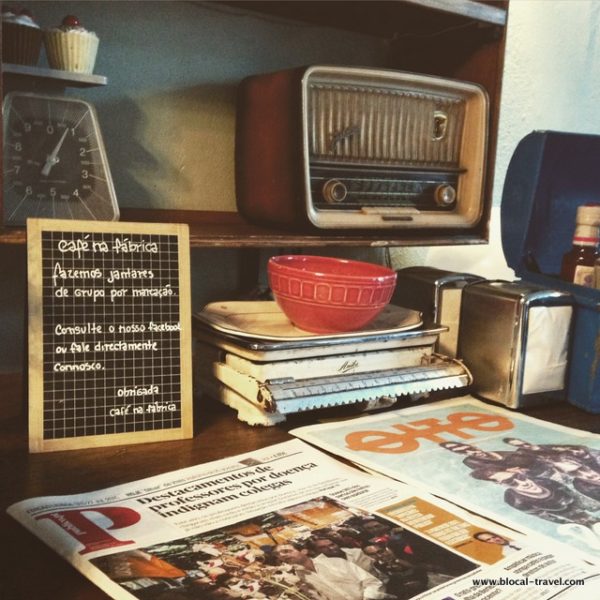 Rua da Fabrica de Material de Guerra 1
From the same industrial past rises the other factory-turned-cultural-venue in Lisbon, the Fabrica do Braco de Prata, a former war materials factory, which shut down in the 1990s. This place is more easy-going than LX Factory, everything looks more spontaneous and kind of rougher, even the street art that covers the inner part of the surrounding wall, the exception being a long piece by Vhils which is totally worth the trip on its own.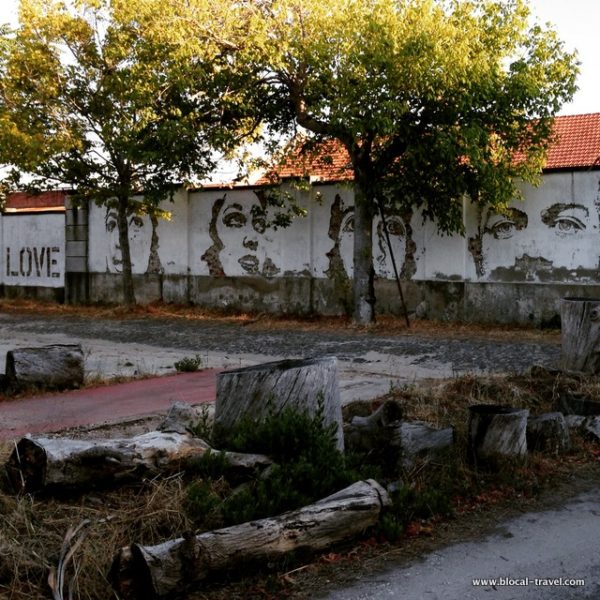 The yard is big and, during the summer, it is partially occupied by a concert stage, while inside the former factory there are a coffee shop and a restaurant, an art gallery, two bookshops, a theatre and a cinema.
Largo do Intendente Pina Manique 25 
This place is a lot more than just a restaurant but, unfortunately, when I visited it in August all the events were paused for the summer and I could only enjoy their lovely inner garden and taste a couple of simple dishes.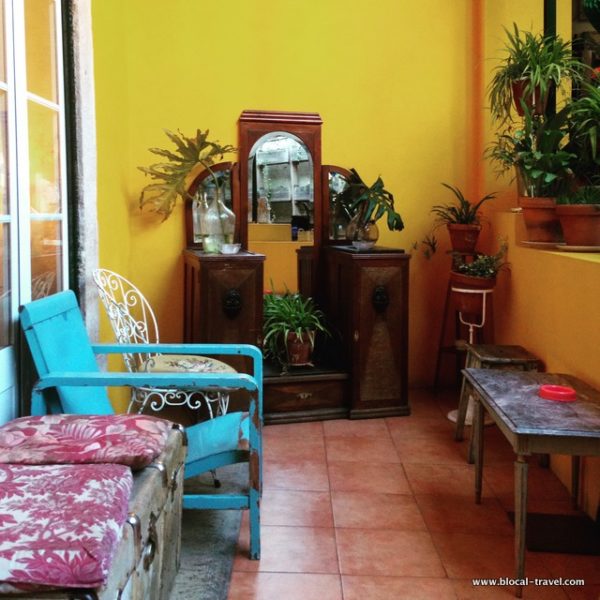 Casa Independente is an artistic project based inside an ancient building overlooking my favourite square in Lisbon, decorated with amazing vintage furniture and a stunning mural painting at the entrance that goes up the stairwell.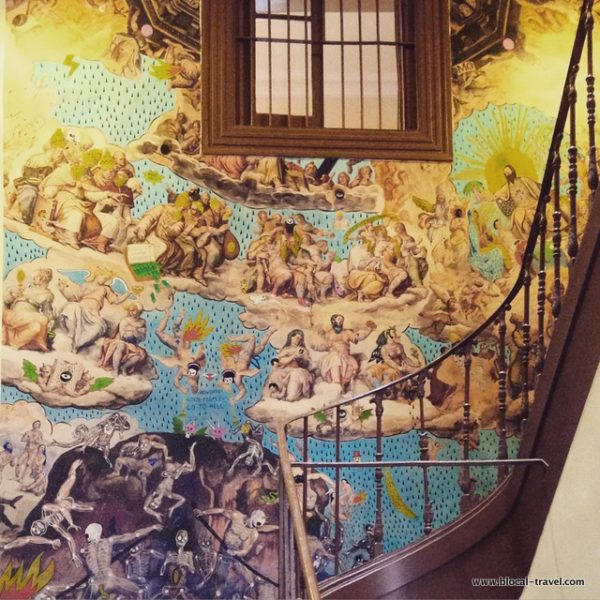 There is a beautiful inner garden immersed in a very nice atmosphere where simple meals are served: I had a gazpacho, the cold tomato soup, and a bruschetta with cod, hummus and red onions.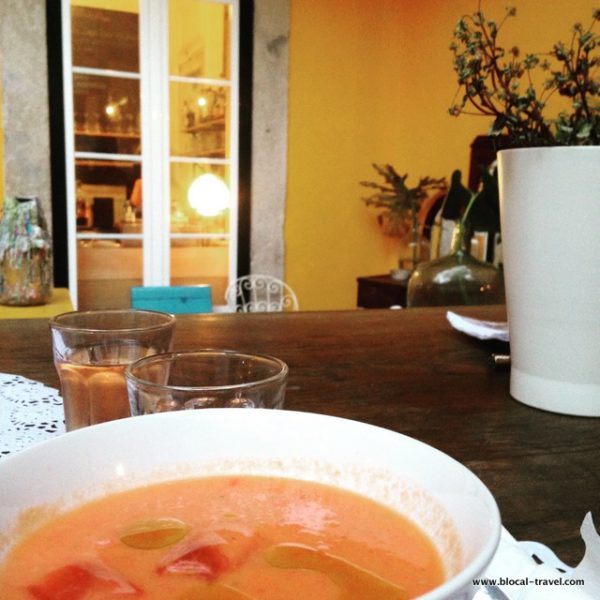 Casa do Alentejo
Rua das Portas de Santo Antao 58
As I wrote a couple of posts ago, Alentejo is Portugal's big nothing. For centuries people from Alentejo moved to Lisbon looking for a better life; the community grew so fast that, eventually, Alentejans (if that is even a name) founded their own place in Lisbon, the Casa do Alentejo. As we couldn't wait any longer to try their renowned cuisine, we decided to get a preview of the second part of our Portuguese trip and headed towards the Casa do Alentejo. Inside this historic building in the centre of Lisbon, there is an elegant, frescoed room with a wooden floor used for ceremonies and another room covered with beautiful azulejos, the traditional Portuguese tiles. The upper floor looks very formal and somehow immersed in the past. Here a pic of the wedding we almost crashed, followed by one of the azulejos room:
As for us, we opted for the informal tavern downstairs, which is inside a lovely  courtyard; here I tried a sausage made of breadcrumbs and some delicious cheeses.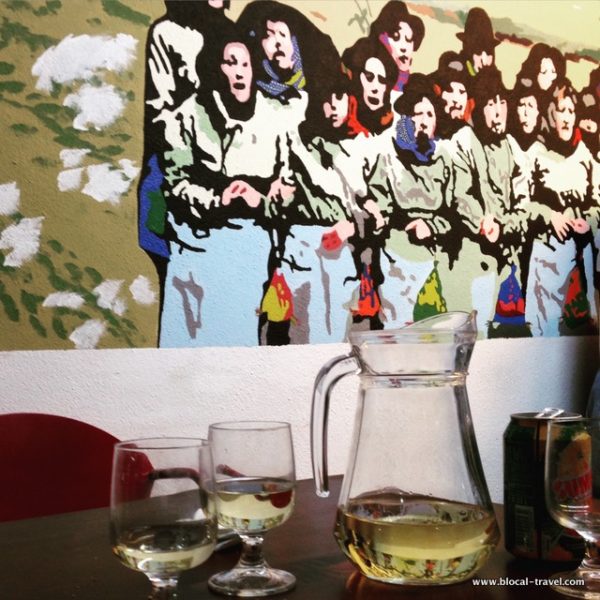 Tasca do Chico (the not so touristy place with Fado music)
Rua do Diario de Noticias 39 
By the time we went to a Fado singing session, the traditional Portuguese music about melancholy, sadness, despair and especially about the saudade (longing), I had already come to terms with the idea of having to enter a touristy place. We opted for this cozy wooden restaurant in Bairro Alto, whose ceiling is covered with football scarves and whose walls are papered with vintage pictures of popular fado singers.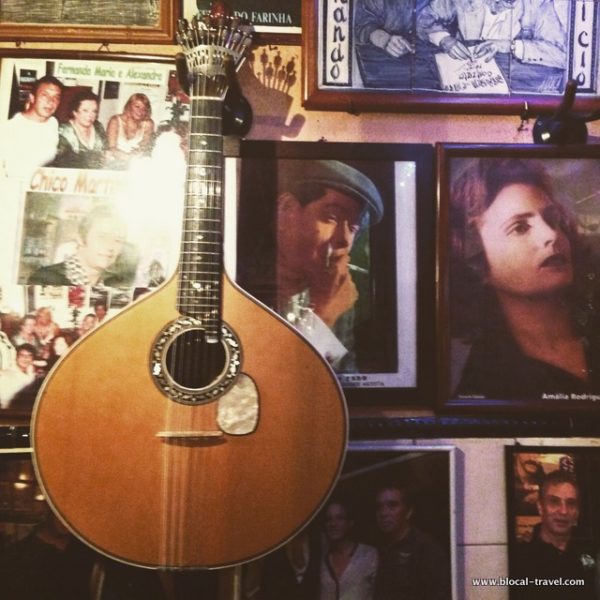 I wouldn't call it an actual 'restaurant', though… It has a very small selection of dishes and they all come in small portions. Despite ordering everything on the menu in a vain attempt at composing a whole meal (codfish croquettes, soups, roasted sausages, cheeses and cold cuts, olives and more snacks), we left the place still hungry and had to grab some food on the go afterwards.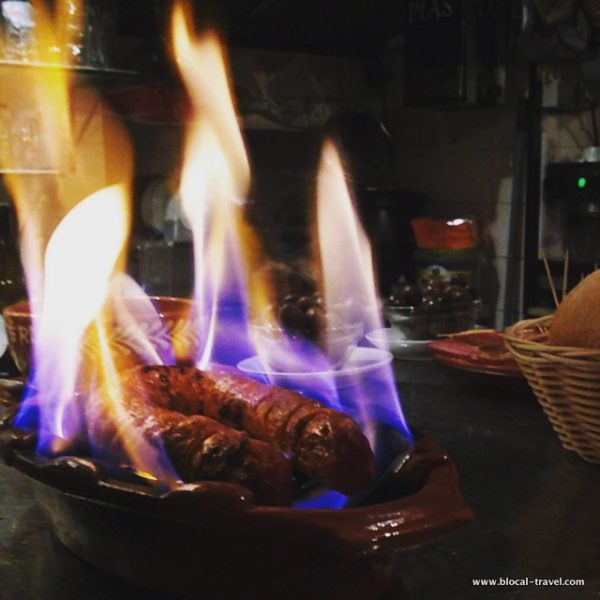 Not even the 'home special' sangria was satisfactory but, anyway, we went there for the music…and the concert was great, indeed!
Alameda Santo Antonio dos Capuchos 
There is nothing better than a vegetarian dinner after several days spent eating rich meals out! Googling directions for a vegetarian restaurant has become my last-day-of-the-trip habit and, as I wanted to spend our last night wandering around what had became my favorite area in Lisbon (Arroios neighborhood), I opted for PSI Vegetarian Restaurant.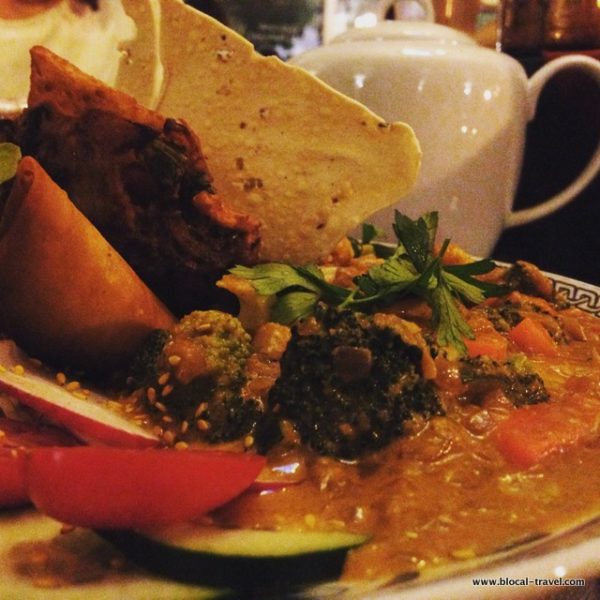 We ate in a gazebo on an island in an artificial lake complete with ducks and waterfalls, not too far (read: far enough) from an unlikely musician playing new age tunes on a keyboard. But the food was great, very tasty and at the same time very light: a relief for my stomach!
Rua Sao Pedro de Alcantara 81 
I wanted to go to this restaurant so badly! As soon as I left my backpack at the hostel, I went to the Decadente wishing to celebrate there the beginning of yet another amazing trip but, unfortunately, the restaurant was all booked up. We reserved a table for the next day, but we couldn't make it there on time (you know, the spontaneity of travelling…), and it wasn't until my last few hours in Lisbon that I finally managed to eat at the Decadente. The place is beautiful -no need to add anything to these pictures: that's exactly the kind of design I love, half vintage and half industrial.
The food wasn't exceptional but, to be honest, I just had brunch there, and I would never judge a chef for his brunch!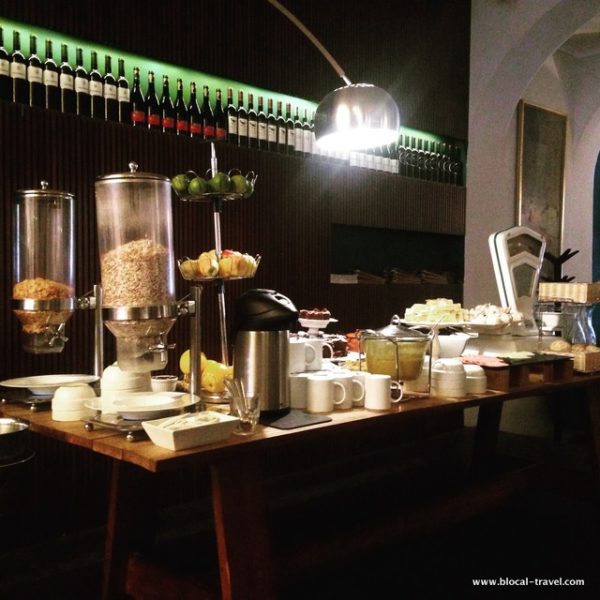 Note: inside the same building there is also the most stylish hostel in Lisbon (The Independente hostel and suites), of which the Decadente is the in-house restaurant. Also part of this happy hipster family is the impressive rooftop bar, the Insolito, where I am going to bring you in a few paragraphs.
Tascardoso
Rua de 0 seculo 242
Still on Rua Sao Pedro de Alcantara, but closer to the Patriarcal Reservoir, there is this unpretentious traditional restaurant.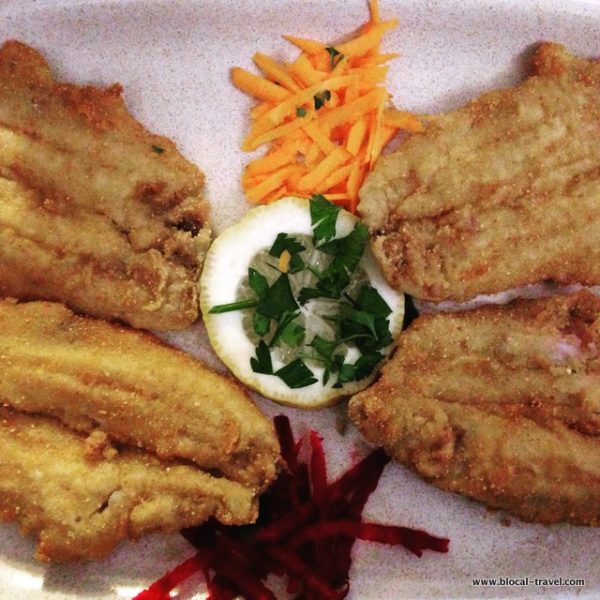 The menu is written in Portuguese and the waiters don't speak English, so I ordered the only dish I could say in Portuguese: sardinas asadas (grilled sardines), the most popular dish in Lisbon, which comes with a few more 'variations on the sardine theme' and some rice with beans. Delicious!
Lisbon food guide > COFFEE BARS & PASTRY SHOPS IN LISBON
Rua Belem 84 
However touristy it is, this place is a must and their signature Pasteis de Belem (sweet and luscious custard cream tarts, brulée on top) is pure heaven. The cream is delicious, the golden crust is perfectly crispy and, given the huge amount of people going there everyday, you will always get a pasteis straight from the oven.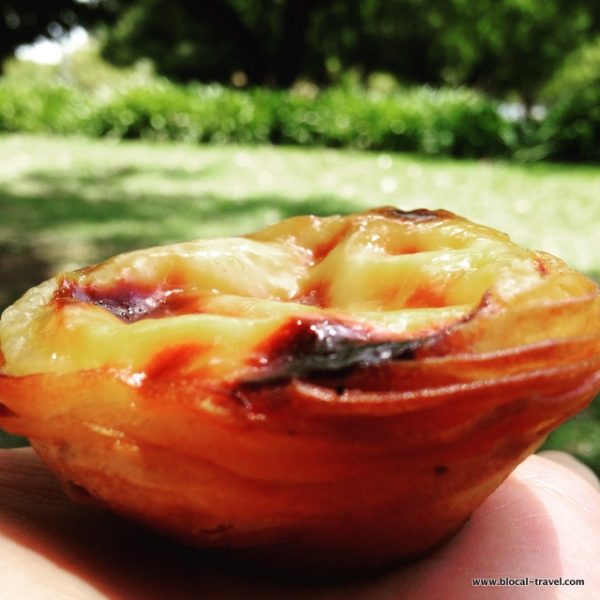 The place itself is fascinating. It opened in 1837 and its walls are still covered with azulejos and ancient cupboards enshrining precious bottles of wine and liquer.
Av. Duque de Avila 120a 
This is the perfect place for bike lovers! It comprises a coffee bar / restaurant and a bycicle repair shop, and here you can also buy or rent a bike to explore the town (although I wouldn't recommend it, as Lisbon has the steepest slopes anywhere!).
Pastelaria Versailles
Av. Da Republica 15a
Founded in 1922, this is one of the most ancient pastry shops in Lisbon. The decor is inspired by art nouveau, with several mirrors and panes of glass making the place look even older. Here I had a pasteis de nata (which I figured out was a 'pasteis de Belem' served outside Belem) and a cappuccino.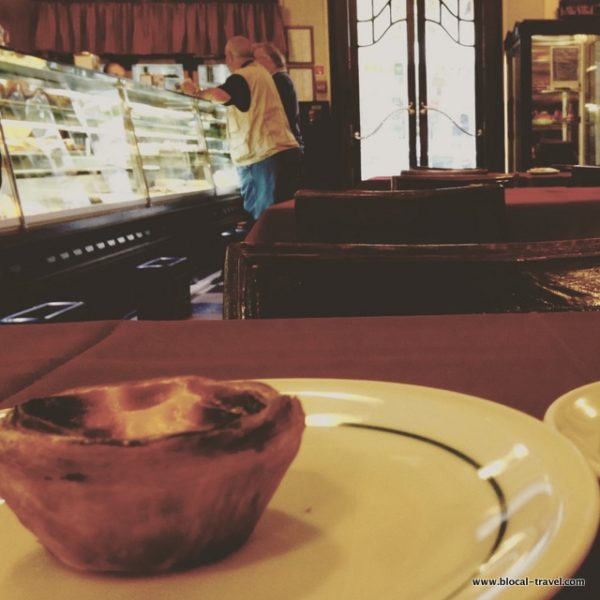 Lisbon food guide > DRINKING OUT IN LISBON
Castro Beer
Rua de S. Paulo 121
Can you believe that this is the only beer shop I've tried in Lisbon? (me neither, btw). Castro Beer serves craft beers in downtown Lisbon.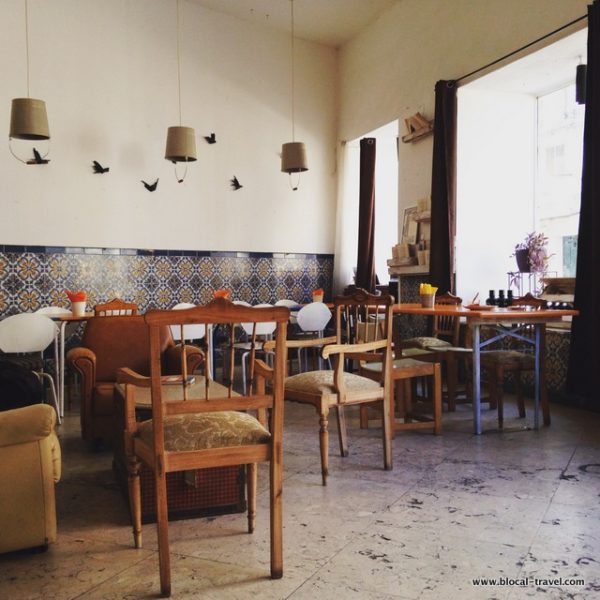 The venue is quite quirky: wooden pallets filled with plants cover up a whole wall, while the rest of the place is full of azulejos (and, as you know, I couldn't get enough of azulejos!).
Rua da Barroca 59 
After the fado concert, we kept walking around Bairro Alto: the area is crowded with tourists and low quality restaurants, but as it was the only evening we were going to spend there we thought we would give it a try and just enjoy the night. Luckily we found a great place to party, an art gallery which was hosting a music event on that night to support political prisoners in Angola. The Galeria Zé dos Bois was set up in 1994 inside a 18th century elegant building: it develops on several floors, each one structured as an apartment, so the atmosphere is very homey and warm.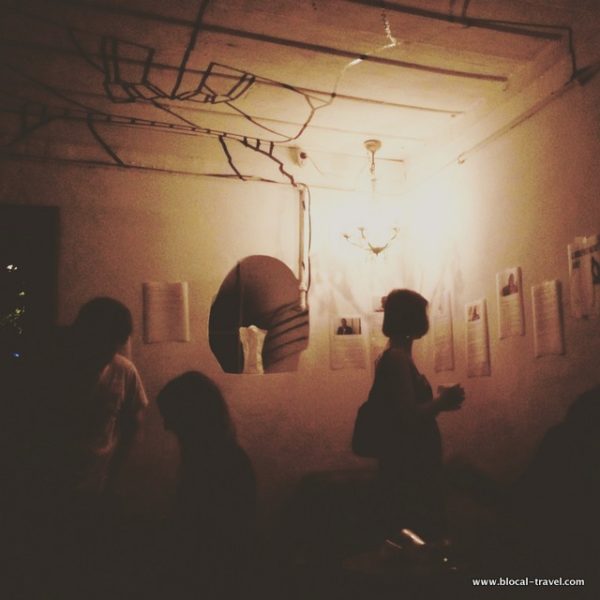 First we went to the music event at the mezzanine floor, where some indie bands and DJs were making the crowd dance. Our favorite performer was B Fachada: his style is hilarious, especially the way his eyes pop out while he plays, like the craziest, in-a-trance DJ out there.
Check out the video of B Fachada playing here. 
After the concert, we got a glass of Porto at the bar in the cozy inner yard and headed to the amazing rooftop overlooking the lovely sloping roofs of Bairro Alto.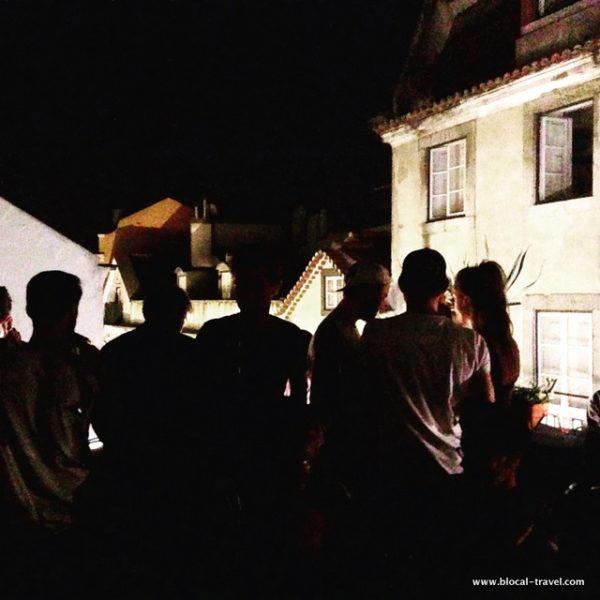 On the top floor there is the actual gallery, which focuses on contemporary art. The space is designed like a dark maze: after a few initial steps, you are already disoriented, and your only handholds are the paintings, which are lit by a fleeble light.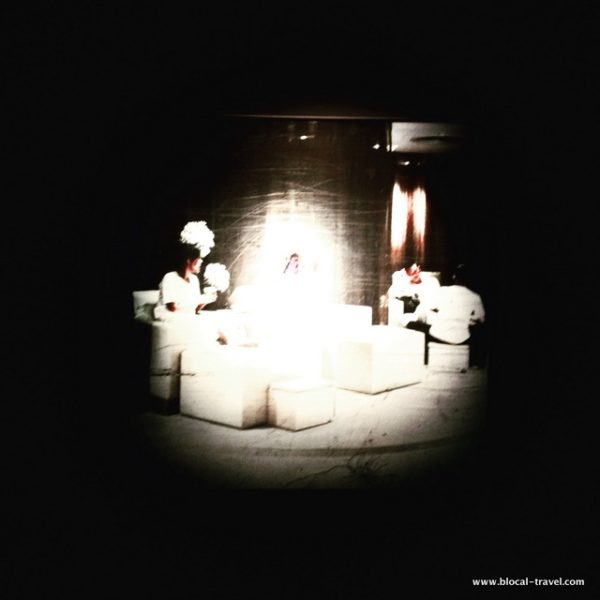 Casa Comunitaria da Mouraria
Beco do Rosendo
Still in the series 'tonight let's stay nearby', we discovered another nice spot in Mouraria: the Casa Comunitaria (community house), an association involved in social projects for the neighborhood. Blue shutters and African fabrics give colour to an otherwise simple and cozy space. During the summer the party is outside in the small square opening between Mouraria's characteristic staircases, but on that night we took a seat inside as there was a guy playing the piano (just a regular guy who, until a few minutes before, was sitting next to us and sipping a ginjinha, the traditional Portuguese liquer made from sour cherries).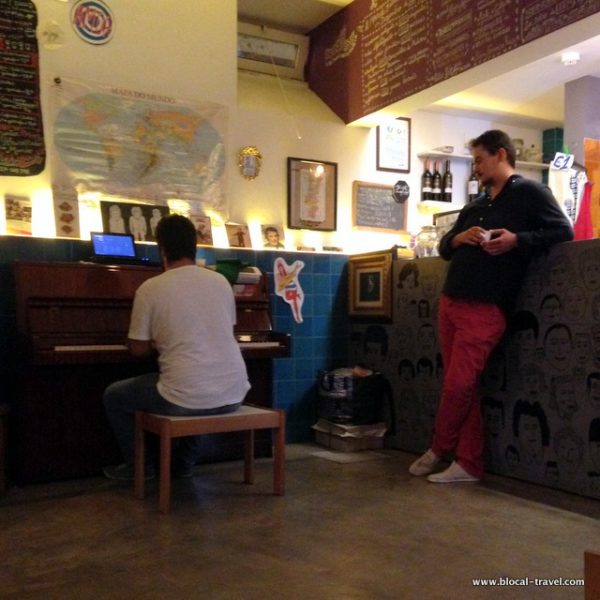 Check out the video of the random piano player here.
Rua Sao Pedro de Alcantara 81
In the same amazingly designed building as the Independente hostel and the Decadente restaurant there is also a rooftop bar.
The view is breath-taking: it is similar to the view that you can admire from the Miradouro de Sao Pedro de Alcantara, one of the most popular panoramic terraces in Lisbon, but here it is several floors higher (and, therefore, even more striking!).
Find these spots and more cool places to see in Lisbon in my Lisbon Google map!
You can hover over these (or any image) to quickly pin it!
Enjoy the video of my holiday in Portugal:
SalvaSalva