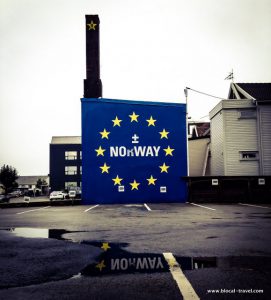 As one more year passed by, I found myself thinking about my happiest moments from 2016 and –undoubtedly- attending the legendary Nuart street art festival in Stavanger (Norway) was one of them.
Apart from a couple of interviews (with Axel Void and Henrik Uldalen), I still haven't told you anything about that amazing experience, although you might have seen my round-up of outdoor and indoor murals and my recap of Nuart Plus academic conferences on I Support Street Art, the website I was representing at the festival.
[Updated Nuart 2017]
So I guess it's about time I shared what my favourite walls in Stavanger are, not just from last year's edition of this independent festival, but since its very beginning back in 2001, when the English expat Martyn Reed founded one of the pioneering events dedicated to everything urban and public art, which –since then- has been breaking new ground in the street art scene worldwide.
NuArt 2016 > ADDFUEL (PT)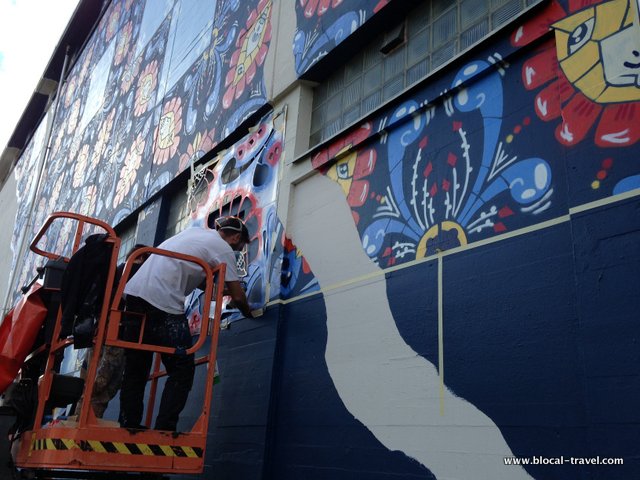 His art comes from the encounter between the Portuguese tradition of ceramic decoration and street art. With stencils and spray cans, he reinterprets the typical facades of Portuguese buildings covered with azulejos, transforming the purely ornamental decorative pattern into an unexpected and ironic scene filled with characters and pop elements.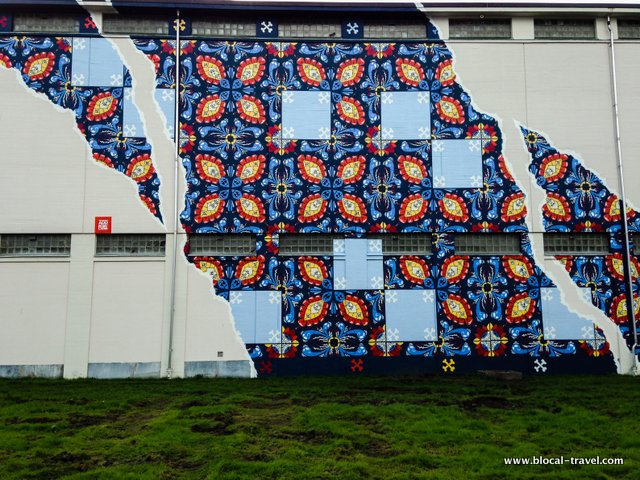 This duality between past and present gives movement to his artworks, in the jump from overview to detail, that is from the initial illusion of being in front of a traditional work of art to a contemporary one. To contextualise his piece in Stavanger, Diogo worked with traditional 'Rosemaling' patterns from the Rogaland region.
UPDATE 2017: 
Addfuel wasn't part of the line-up of Nuart 2017, yet he was in Stavanger during the festival and -as an outsider- he painted a stunning piece at the Stavanger airport.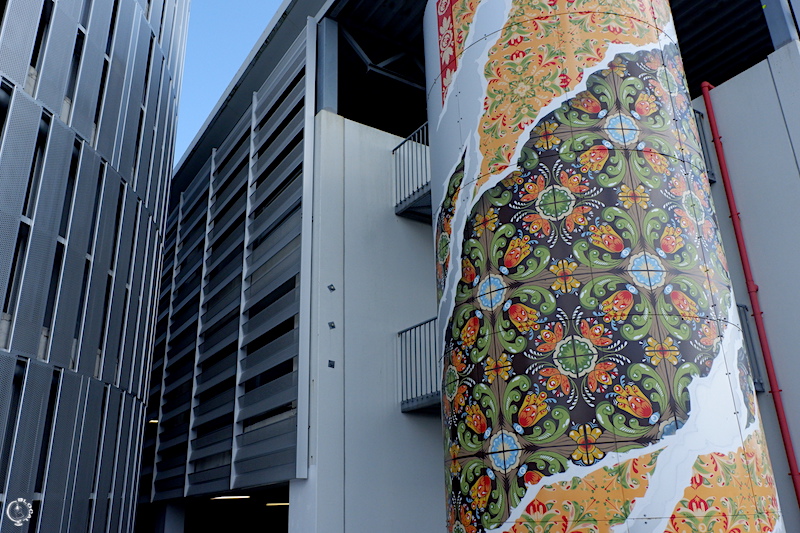 Nuart 2017 > AMPPARITO (ES) 
The young Spanish artist Ampparito took part in the 17th edition of Nuart Festival, which addressed the theme of Power in the Public Sphere. Both his outdoor and indoor works were inspired by the saying "Your right to swing your arms ends just where the other man's nose begins."
On the facade of the Clarion Collection Hotel in downtown Stavanger, Ampparito painted his anatomy study of a Playmobil's elbow as a metaphor of both our limited freedom and conformity.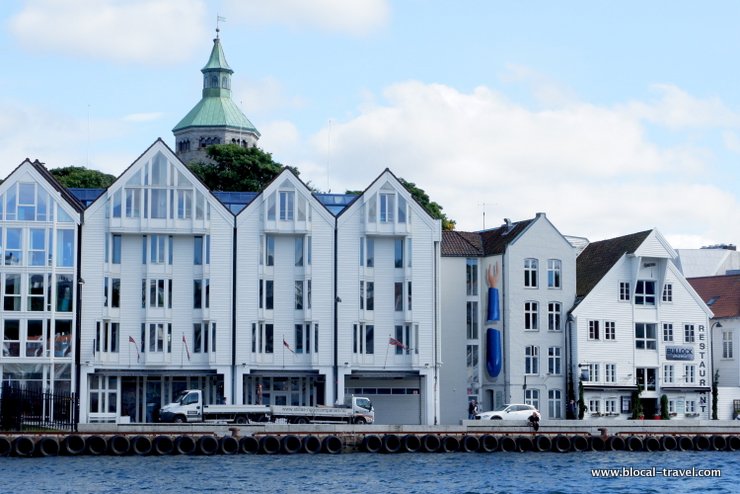 This image shows the final result of his investigation on Playmobil's anatomy, which was aimed at improving their freedom of movement in order to let them reach each other's noses, and –therefore- more freedom.
As Ampparito has tested during his investigations, this movement proved to be particularly hard without the articulation of an elbow –hence the broken piece depicted. In fact, the only way to set these held back toys free was by breaking their stability, which -in turn- was guaranteed by their lack of freedom of movement.
NuArt 2016 > AXEL VOID (ES*)
*While we were walking back to the hotel after the interview, I remembered I'd always wondered about his nationality. And so I asked. "I'm the American guy when I'm in Spain and the Spanish dude when in Miami. I don't feel I fully belong to any of these places, but I guess I'm closer to Andalusian culture".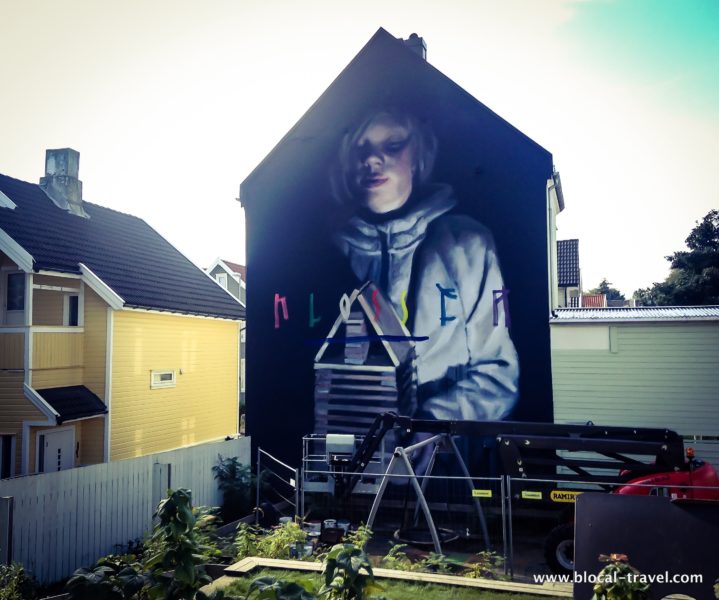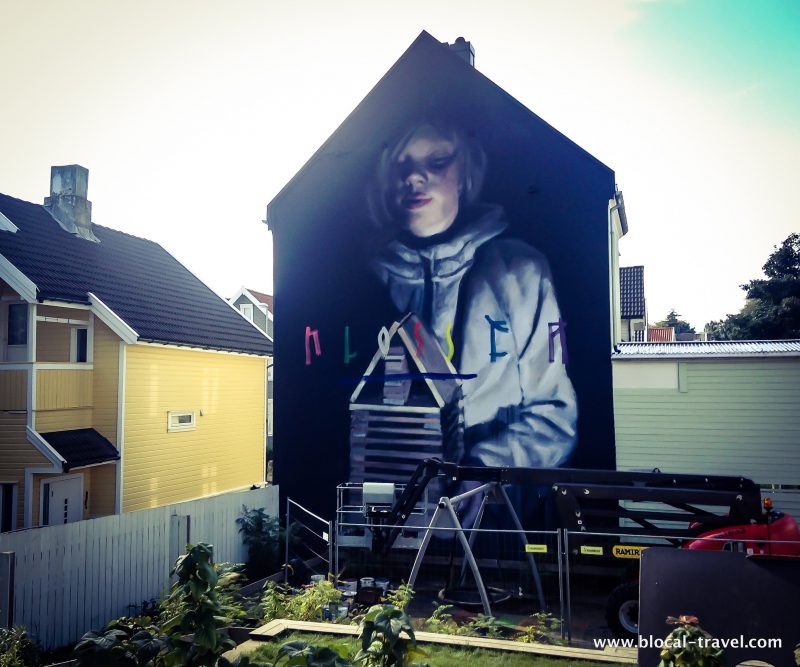 His work at Nuart 2016 is a bit hidden: it is located inside the courtyard of a kindergarten, and it is designed for the kids playing in front of it, rather than for the "art world". Even the word written on it ('klosser', which means 'toy building blocks', like the ones held by the child portrayed) was chosen by the kids. This piece is a reflection on the meaning of playing at different ages of our lives, on how we progress from building houses with toy blocks to living inside actual houses we have built.
> Read my interview with Axel Void
Nuart 2017 > BAHIA SHEHAB (EG)
Overlooking the quiet water of Stavanger's bay there is a quote (How big is the idea, How small is the state), which has just appeared at the docks. It's from a poem by the Palestinian poet Mahmoud Darwish:
"How wide is the revolution
How narrow is the journey
How big is the idea
How small is the state"
and it was painted during Nuart 2017 by the Egyptian activist and artist Bahia Shehab. Brightly standing out from a black background, this mural is both a political consideration and an invitation to interact with the local community of Arabic people by asking the meaning of the words depicted.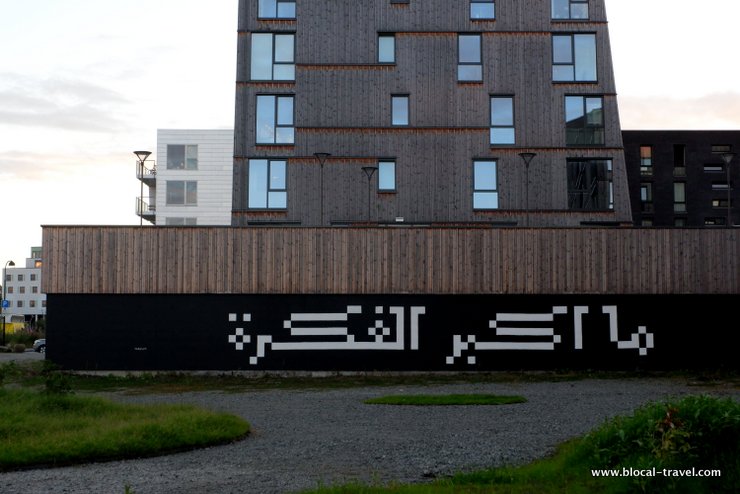 An art historian by day, Bahia Shehab began painting on the streets in 2011, when the revolution swept through Egypt. Back then, she felt the urge to communicate to the thousands of people who were demonstrating in the streets and to further spread the voice of the revolution through her art. Today, she is painting her messages of resistance and Mahmoud Darwish' evocative poems all around the world.
BORDALO II (PT)
I was wandering around the former brewery Tou Scene, the HQ of the festival, taking pictures of the amazing street art scattered all around, when I stumbled upon Bordalo II's deer. And it felt like bumping into a friend in the street.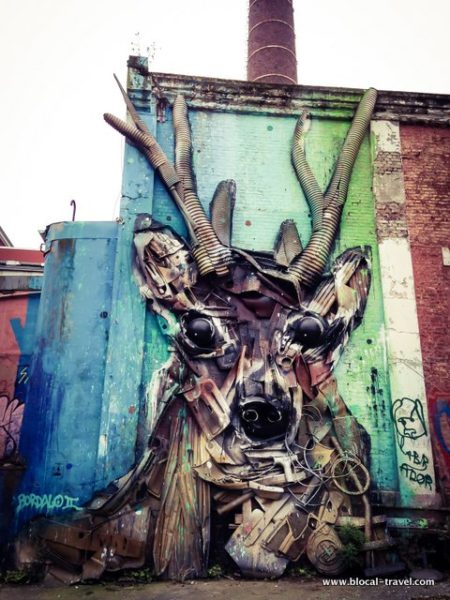 In Stavanger Bordalo II realized one of his iconic big trash animals, mixing sculpture, trash-art and painting to shape an animal out of car parts, old bicycles, pipes, screens and other rubbish, speaking against environmental degradation.
>> Read about my week with Bordalo II in Rome
BORONDO (ES)
Another pleasant surprise was stumbling upon Borondo's piece, which he painted in 2014 and titled "Memories".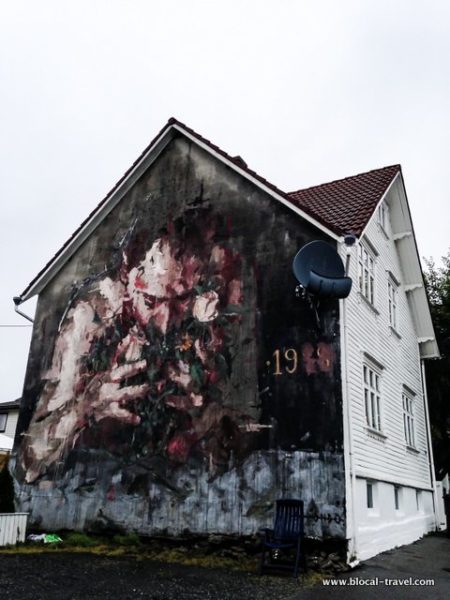 I love his instinctive and strong trait, the way he shapes bodies and countenances with wide strokes, which are thick like the scenes he depicts. Here, the atmosphere giving off the man holding and smelling a heap of flowers is classic yet highly expressive, direct and gloomy, affecting and thought-provoking.
BORTUSK LEER (UK)
Scattered throughout Stavanger are the happy, brightly coloured monsters by Bortusk Leer.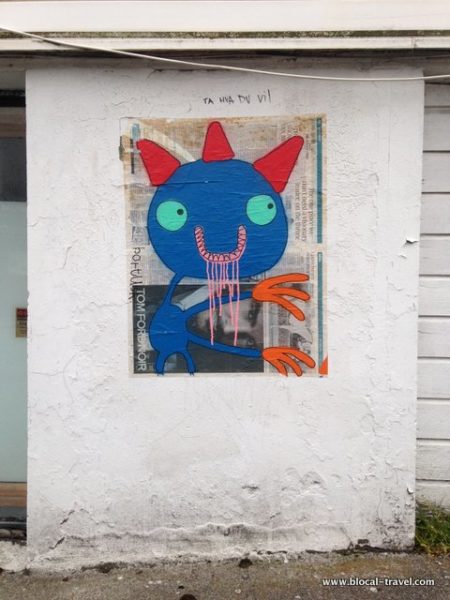 They are painted in a childish style, often on newspaper pasted on the walls, in neon, psychedelic colours to properly brighten up the passer-by's day and put a smile on her face.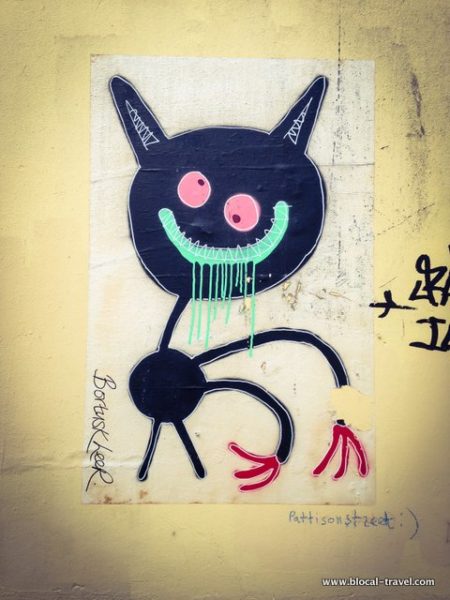 The monster invasion of the streets of Stavanger happened in 2015 and, besides the copious paste-ups of smiling and slightly deranged looking monsters, the artist also painted a wall. He has said that he likes to paint like a 5-year-old because he likes children's spontaneity, and his philosophy is epitomised by his slogan: "Cheer Up You Bastards".
C215 (FR)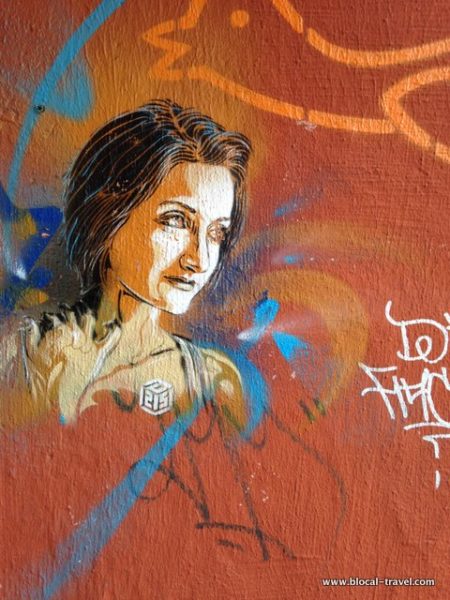 I haven't seen the big wall he painted in 2013, when this French stencil artist took part in Nuart festival (actually I'm afraid it has been painted over), but I did stumble upon a series of small pieces scattered around the town, part of his series of colourful signature portraits popping up all around the world.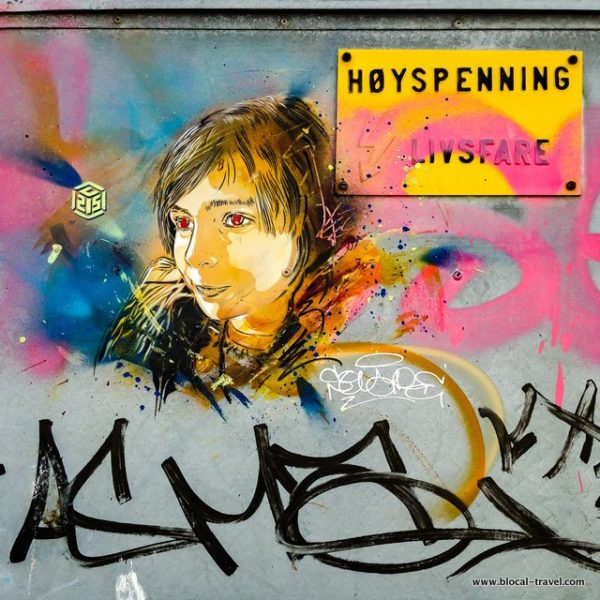 Nuart 2017 > CARRIE REICHARDT (UK)
Carrie Reichardt creates witty, extreme and highly politicised works of art by making a "radical use of traditional things". That's what she calls 'craftivism': an anti-industrial art movement born in the 1960s, when women turned their 'hobbies' (ceramics, glass painting, embroidery and other traditional crafts) into protest artworks by dipping them into feminist theories and subversive political messages.
Her main outdoor work consists of a quote by Howard Zinn unfurling along a staircase in downtown Stavanger.
CHRIS STAIN (US)
Chris Stain is best known for his huge stencil images that reflect his concern with social inequality. He paints other people's struggles for a better life, aiming at inspiring compassion for the less fortunate individuals in society and making people more aware of each other.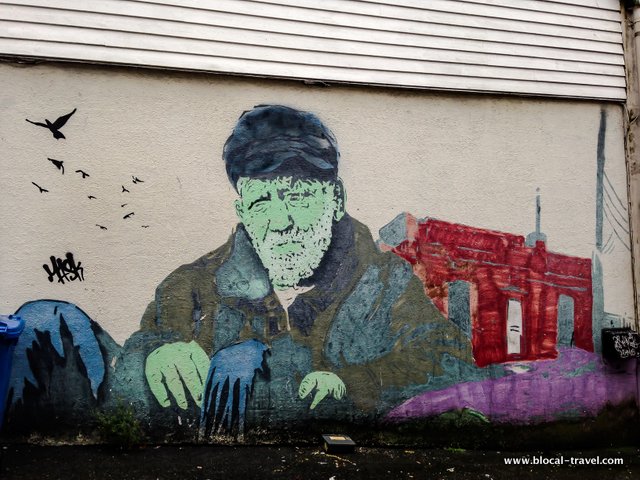 Painted in 2009, his mural in Stavanger depicting a homeless man is now quite faded, but it still has a strong effect on the passer-by for the story it tells us.
DALEAST (CN)
This street artist from China is well known for sketching animals and other figures in the form of metal tangles. His works are 3D, emerging from the wall as if they were made of metal shards, but are actually spray-painted onto a flat surface. The idea of movement is also suggested by a trail of fragments from which the subject emerges, infusing the scene with energy.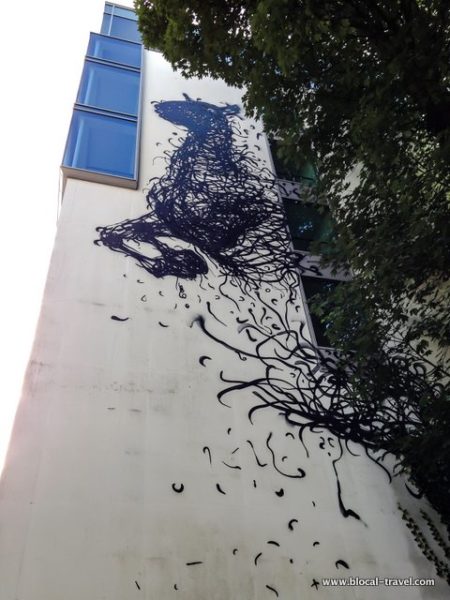 Much of his work consists in black-and-white portraits of wild animals, often in motion, like the horse he painted in 2013 in Stavanger near the harbour.
DOLK (NO)
This acclaimed stencil artist is a regular guest of Nuart festival but, in 2015, he did something quite different from what he has done before on the streets of Stavanger.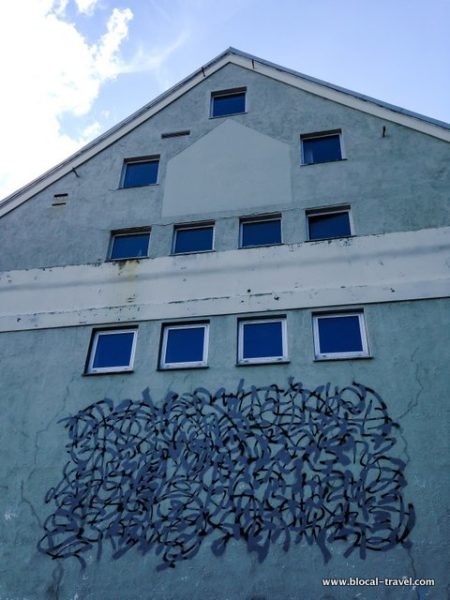 Dolk surprised the public by creating a series of abstract pieces on 100 walls in 50 cities worldwide, highlighting the relationship between street art and censorship.
DOT DOT DOT (NO)
He has operated under several pseudonyms (as he prefers to remain anonymous), but when he successfully shifted to a more conceptual and figurative style he settled on Dot Dot Dot.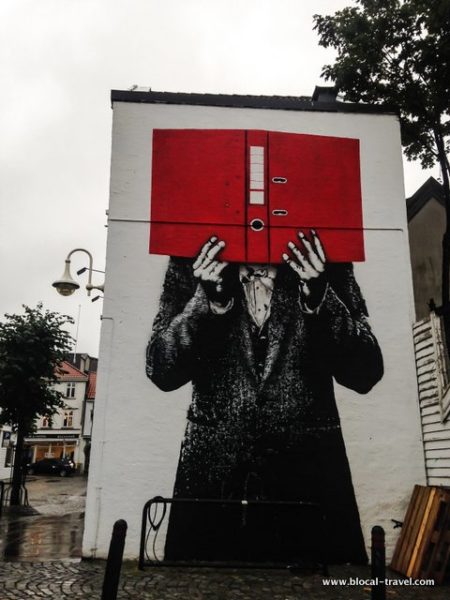 He is a recurrent guest of Nuart festival, and often the pieces he paints around the streets of Stavanger have pop art references. I especially like the girl with the puppets, whose bright red background stands out from the white of the buildings surrounding her. With the face covered, DotDotDot's activist seems to suggest that life is just a farce.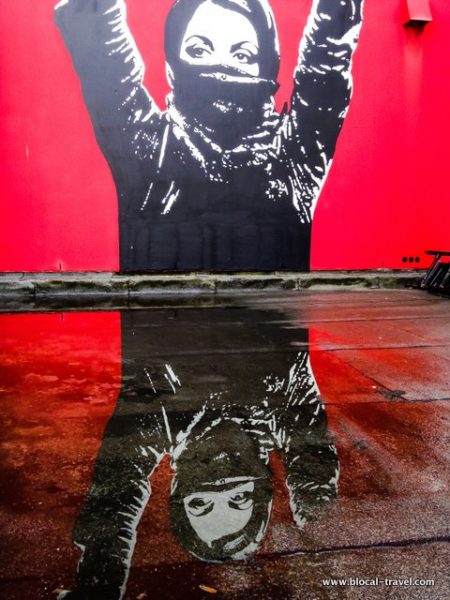 DOTMASTERS (UK)
The Dotmasters (Leon Seesix) took part in the production side of the festival as well. It's the offspring of C6.org, a new-media based collective that bridged the gap between art and activism, such as with their most popular intervention ("Man in a box", 1997) when they incarcerated and starved one of their members in a surveillance cube in a gallery in Brighton.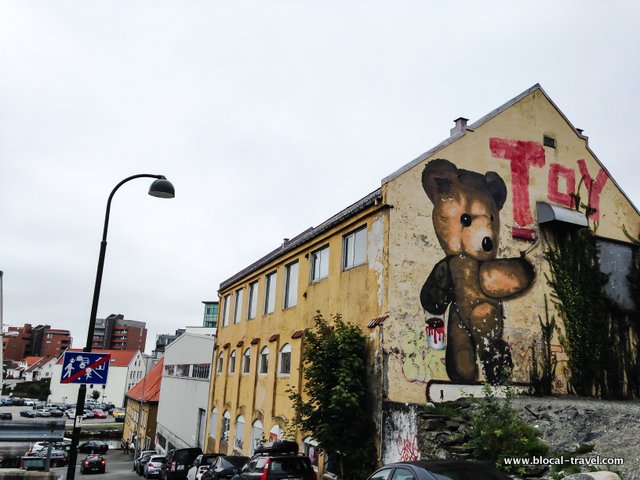 This mural in Stavanger is a transatlantic collaboration between C6.org and GRL, which was made possible thanks to Nuart.
ELLA & PITR (FR)
In Stavanger the French duo Ella and Pitr realized the biggest mural in the world, which unfortunately is visible only from a helicopter, as it is painted on a rooftop. Still in 2015, they painted more pieces in town, such as two lonely old men and an elderly woman all cramped inside three different houses.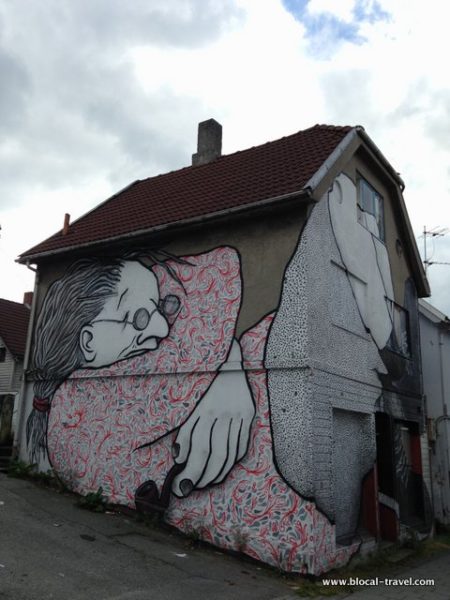 Their gigantic characters are defined by an innate playfulness and a unique style appropriated from influences as diverse as comics and children's books to graffiti. They use as much surface as possible, often sprawling across two sides of the same building, to create a sense of depth and dimension.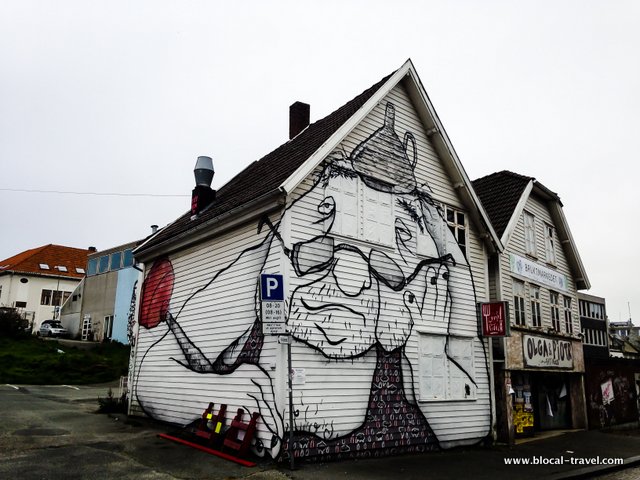 Their minimal colour palette always matches the neighbouring houses, and the clothes of their characters are often embellished with lovely patterns and polka dots.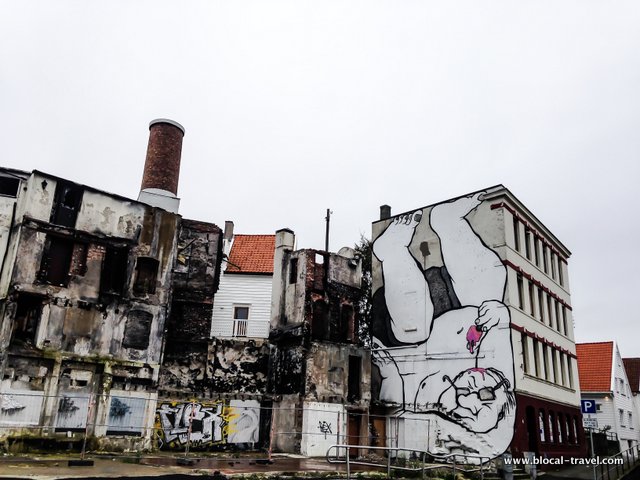 ERNEST ZACHAREVIC (LT)
Internationally known for his series of interactive murals on the streets of Penang (Malaysia), this Lithuanian artist focuses on the spontaneity of children's play tapping into the original instincts of adult viewers who may have lost their ability to access their playful nature.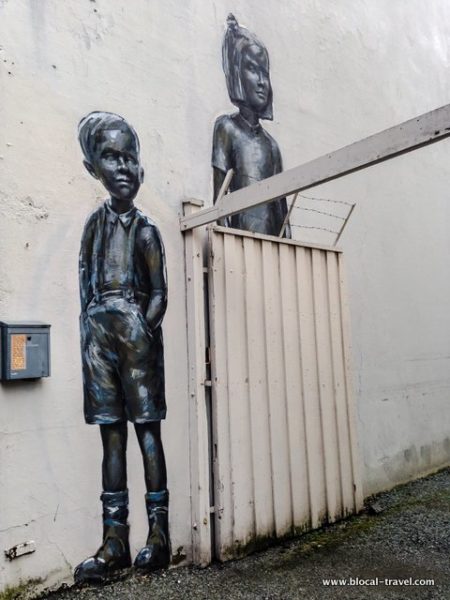 As usual, the environment surrounding the mural inspired the artist: a classical bronze statue of two kids holding hands -Johanna and Broremann, from a popular children's book. Right next to the statue, Ernest twisted this idyllic image by portraying the two kids separated, with a (real) tall barbed-wire door between them.
NuArt 2016 > ERON (IT)
I'm sorry to say that Eron's work at Nuart was a big disappointment. I love his iconic 'trompe l'oeil' works based on the perceptive phenomenon of pareidolia, the visual form of apophenia, which is the perception of patterns within random data. He calls this series "Soul of the wall", as the resulting pieces are ephemeral forms, images only just perceptible, like ghosts or contrails. And, usually, the outcome is stunning, but both pieces he did at Nuart 2016 –the wall and the indoors piece- were a bit so-so.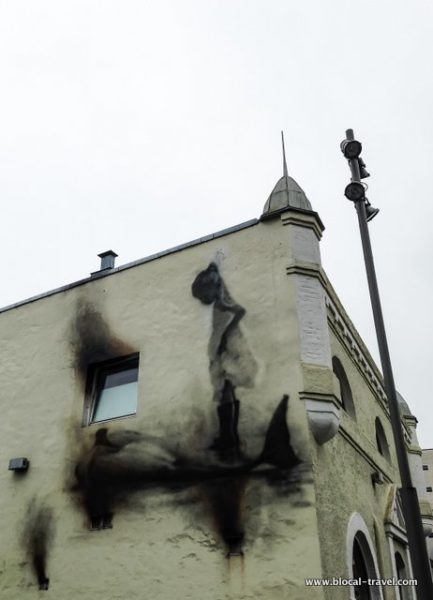 The mural depicts a young girl with a dolphin (or –perhaps- a whale?) at her feet and aims at highlighting the dangerous effects of oil spills, as Stavanger is an important town in the oil trade.
ESCIF (ES)
Ironically titled "hang-over" the mural depicts several images of a girl doing a cartwheel, like a series of motion stills. His usual style is simple yet beautiful, and smart: Escif always manages to make me smile, but in a bittersweet way.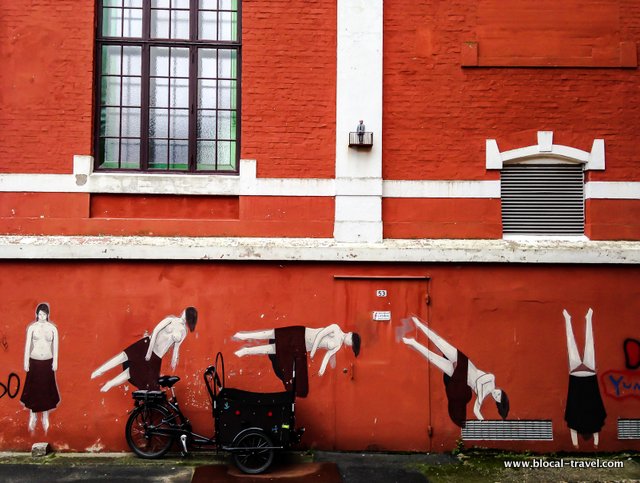 ETAM CRU (PL)
In this piece painted in 2014 and titled "First day of school" we find the iconic style of the Polish duo: a figurative approach with a strong element of fantasy oozing with colour.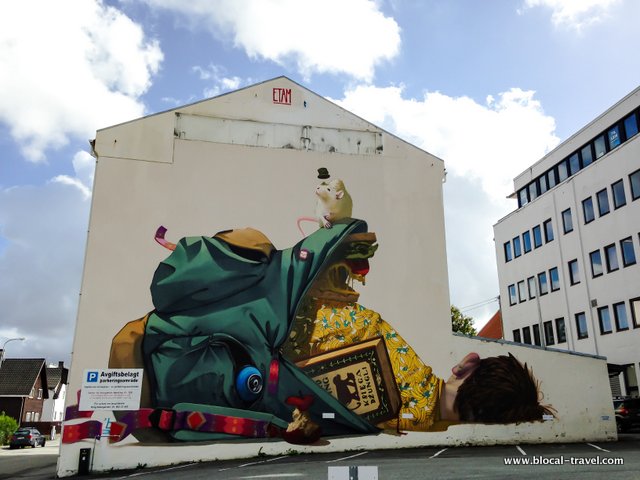 As usual, this mural melds elements belonging to the fantastic and the surreal to a lifelike scenario and hyper-realistic objects, which help the viewer to frame the fantasy in a realistic scheme and believe it.
NuArt 2016 > EVOL (D)
Back in Stavanger, the German artist Evol kept up with his series of stencilled buildings on electricity boxes.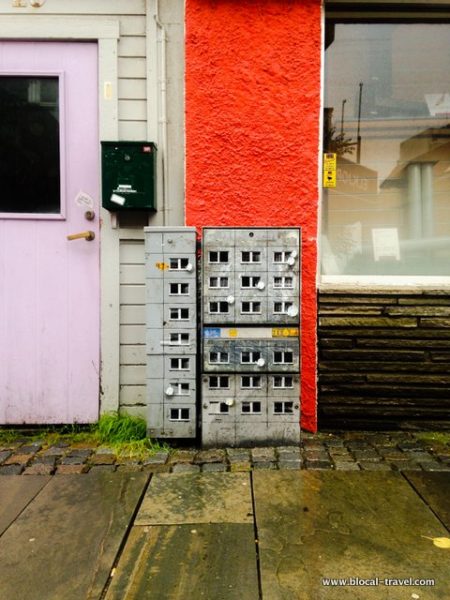 Using a multi-layered stencil technique to transform electrical boxes into miniature architectural models, he comes up with "cities within cities" that are rendered so precisely as to look like real buildings when you see a close-up picture of them.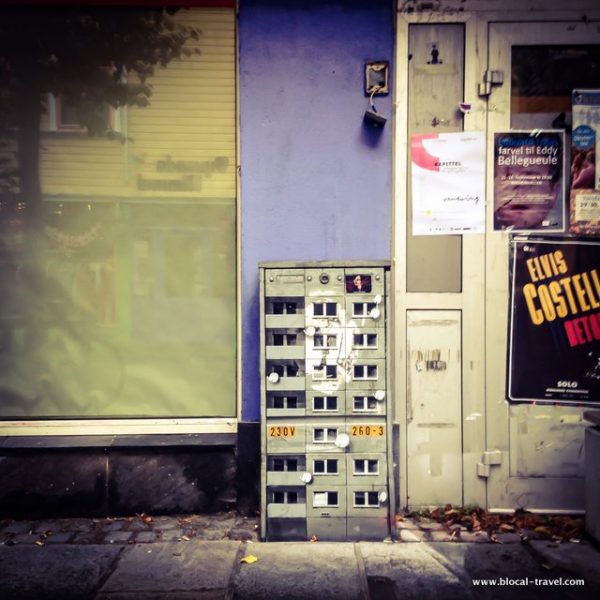 This year, Evol fixed some of his previous buildings and also made some new constructions, including a stunning collaboration with Addfuel for the indoor exhibition.
NuArt 2016 > FINTAN MAGEE (AUS)
This colossal diptych is my favourite mural in Stavanger. Titled "Monument to a disappearing monument", this epic work on two 32-meter silos is about the fall of the price of oil that brought unemployment and economic crisis to the oil-driven city of Stavanger.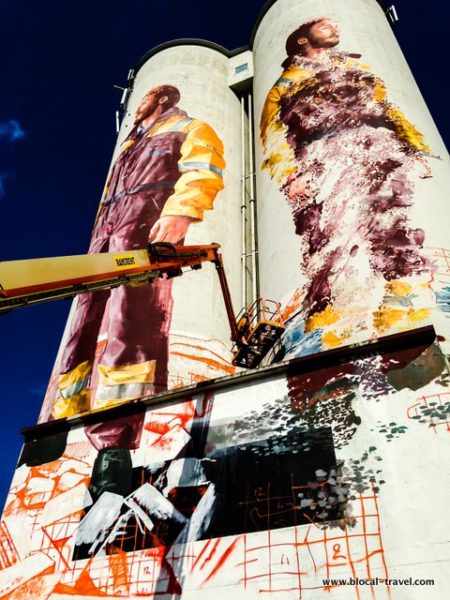 It was painted in the former industrial area of the city, which will be demolished soon (yet another consequence of the crisis). It depicts a man working in the oil industry and his reflection, which is faded and blurred, as the economic future of the working class and –therefore- of the city.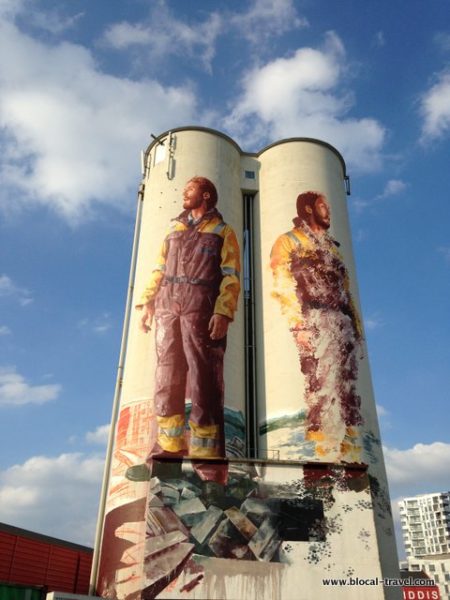 Fintan Magee often highlights social issues like climate change or class struggle and in this case the message is not only about job losses in Norway but highlights the global crisis and the collapse of western industries as a whole.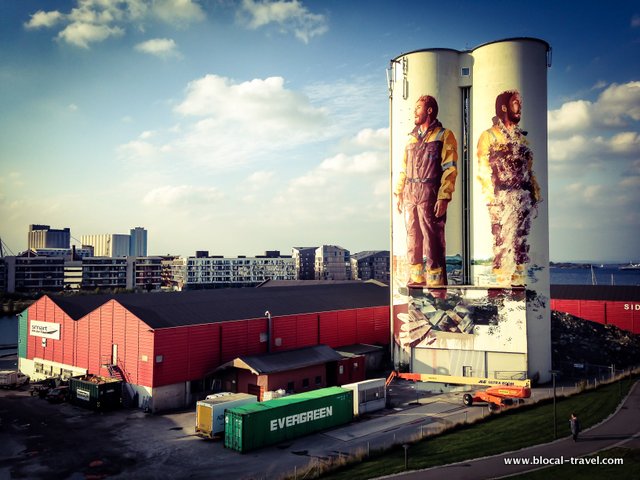 NuArt 2016 > HAMA WOODS (NO)
Hama Woods is a Norwegian stencil artist known for her sociological approach to consumerism and the effect it has on the natural environment.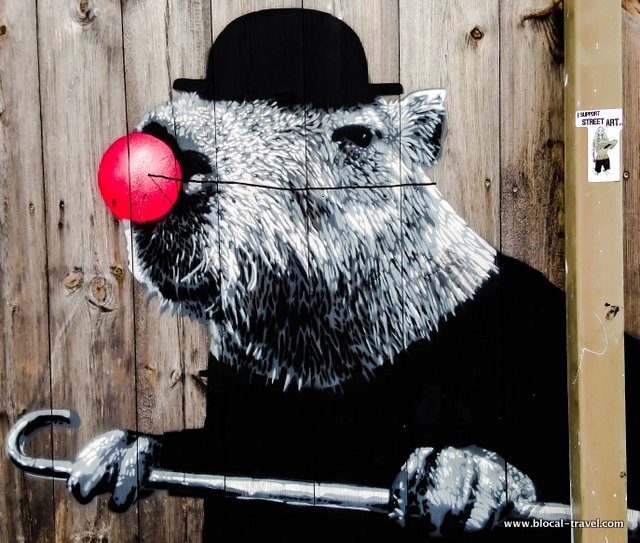 Inspired by mainstream culture, her work demonstrates a reverence for nature and its immediate connection to humanity.
NuArt 2016 > HENRIK ULDALEN (NO)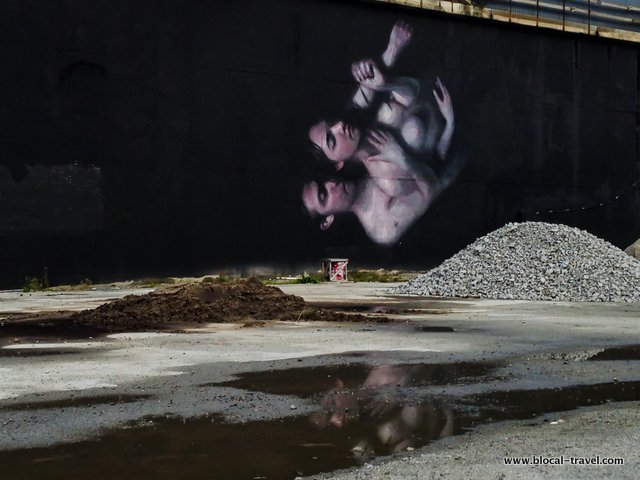 Henrik is a young and very talented artist originally from South Korea but raised and based in Norway. This wall is just his second outdoor mural ever, and it depicts a couple floating in a dark void, cuddling. With this image of love, Henrik wants to bring some warmth to that 'shitty world' he is so afflicted by. It's a tender message, albeit still wrapped in his usual dark colours and nihilistic concepts.
>> Read my interview with Henrik Uldalen
HERAKUT (D)
To be honest, I don't understand why everybody is so enthusiastic about the German artists Hera and Akut.
The only charm I find in their work is the schizophrenic message by two different artistic approaches seeking to express themselves within only one picture. But it doesn't always turn out right, as with this work, titled "I had to cage you because I envied you" depicting a boy and two -caged- monkeys.
HOW & NOSM (ES)
Born in Spain and now based in New York (where they became members of the legendary TATS CRU) these twin brothers took an original approach restricting themselves to a sparse pallet of red, black and white. This limitation of colour accentuates every line, creating a framework that jumps to the foreground. The drawings maintain the aesthetic of Jacks, Queens and Kings pulled from a pack of playing cards: meticulous lines, intricate patterns and minimalist fashion.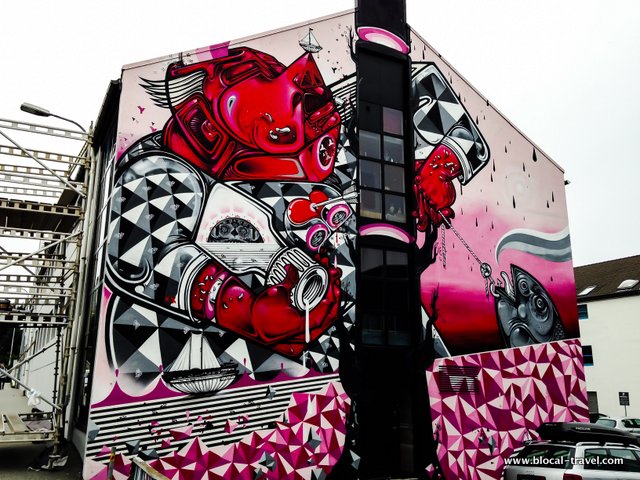 HUSH (UK)
Trained as a graphic designer and illustrator, fascinated by Asian graphic novels and inspired by Mimmo Rotella and Roy Lichenstein, Hush mixes Eastern art with Western traditions of action painting and graffiti, a method that he calls "pure expressionism".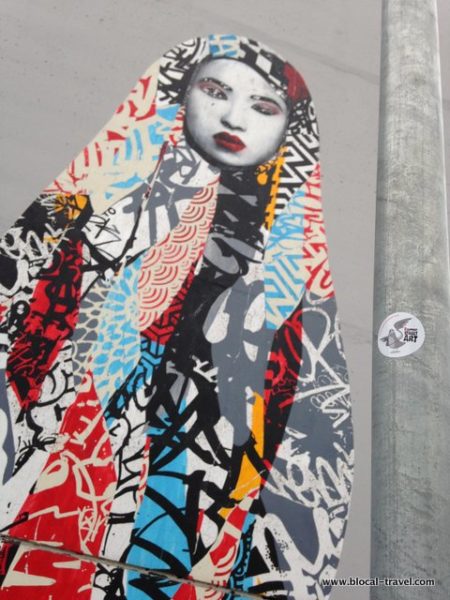 His colourful patterns range from geometric repetition to pop-graphics and graffiti. In 2013 he came to Stavanger to layer complex textures and colours in matrioska shapes, keeping up with his work on female figures in art.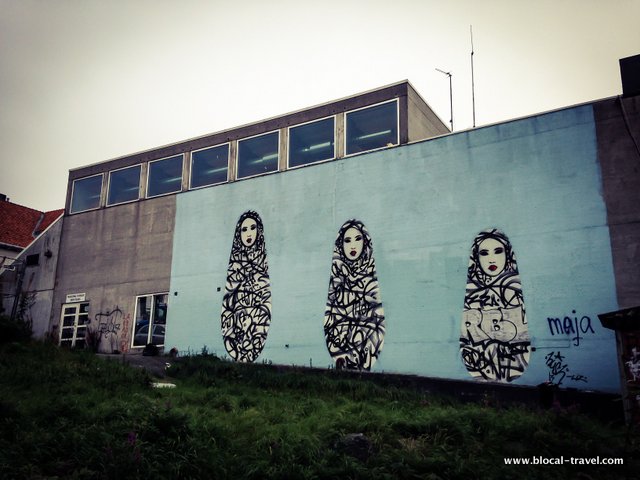 NuArt 2016 > HYURO (AR)
"Let's go take a final shot of Hyuro's work. Last time I saw it, it wasn't complete"
"…"
"What?"
"I'm afraid that was complete. After you took the picture, they pulled away the lift"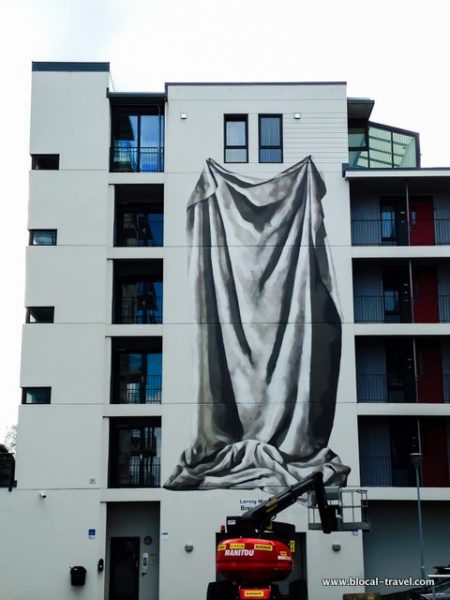 This conversation I had at Tou Scene perfectly summarizes everyone's reaction to Hyuro's piece. We all expected a character to stand out against the drape, and there is nothing worse than unfulfilled expectations. Titled "The action of occupying a space", Hyuro's mural is about the meaning of working on the streets using the spaces of the city in a meaningful way, being aware of your own impact on the urban landscape. Which, obviously, isn't her case –at least not this time.
ICY & SOT (IR)
Brothers and stencil artists from Tabriz (Iran) currently based in New York. They stencil images of war, peace, hope, despair, society issues and human rights. Invited to Stavanger in 2014, they realized a monochrome three-dimensional mural composed with hand-cut boards shaped as homeless people.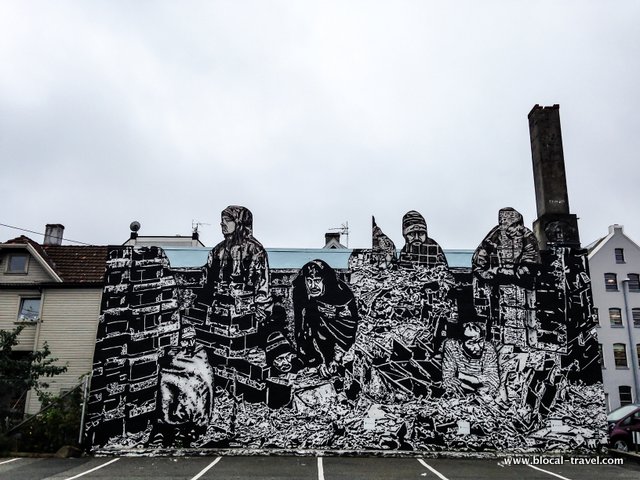 Nuart 2017 > IGOR PONOSOV (RU)
Besides the performance-installation "Too far, Too close", during Nuart 2017 Igor Ponosov also realized an actual mural that will stay in the city. Titled "No Signal", the work depicts the blue screen of a projector that has no signal, as a symbol of the current situation of mural art.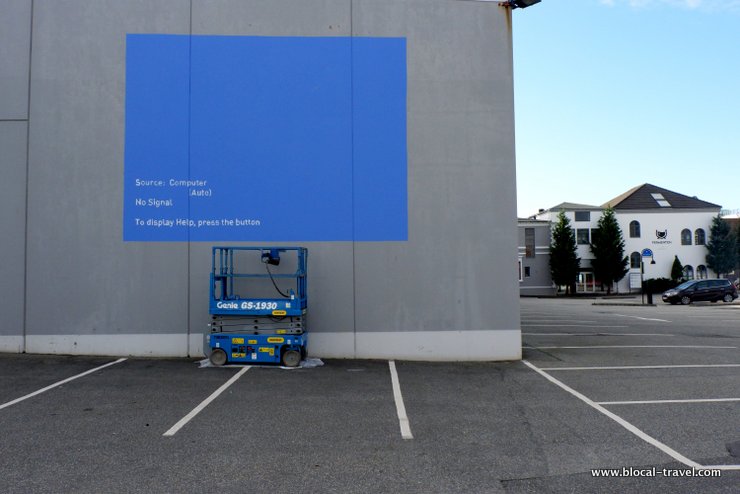 Public art –in fact- not only fails to address to the everyday world but, again and again, it is conceived merely as 'urban decoration', which brings to the overabundance of aesthetically pleasant murals with no powerful message behind them. Moreover, too often such murals are realized by using a projector, which is considered as 'cheating' by the street art movement.
NuArt 2016 > JAUNE (B)
Jaune is a stencil artist and urban interventionist from Brussels. His work is based on the paradox between the visible and the invisible, and sanitation workers (his "working class heroes") are the main protagonists of his humorous installations because they exist in the background of our urban environment, becoming almost invisible.
But Jaune, who was a sanitation worker himself, frees them from their jobs by symbolically placing them in absurd scenarios, making them do anything but work and ironically playing with the surface he is painting on.
NuArt 2016 > JEFF GILLETTE (US)
During the festival, Nuart Gallery and Project Space presented "Dismayland Nord", a solo show of Jeff Gillette's works made up of canvases, sculptures and installations of slums. While in Stavanger, Jeff also had some fun around the city stencilling his iconic "Minsky" (a portmanteau word combining "Mickey" and "Banksy", as it was created on the occasion of Jeff Gillette's participation in Banksy's Dismaland).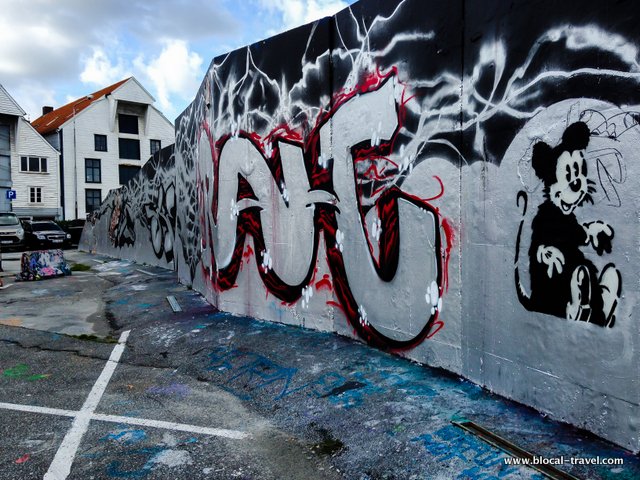 A well-known and proficient studio artist based in LA, he actually confessed that he had done more stencils on the streets of Stavanger than in the rest of his life.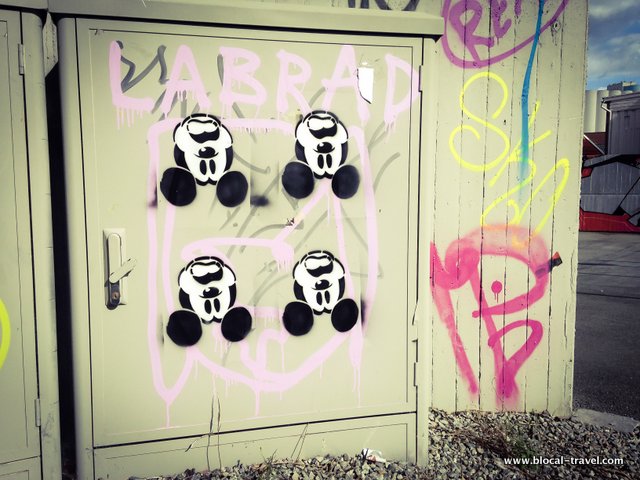 JOHN FEKNER (US)
John Fekner is a street artist who creates conceptual works consisting of words, symbols and messages aiming at bringing awareness. In the summer of 1980 he stencilled "Broken Promises" on a decaying building on Charlotte Street in the South Bronx to highlight the inadequate housing and poor services afflicting the neighbourhood. Thirty-four years later, he did the same stencil in Stavanger.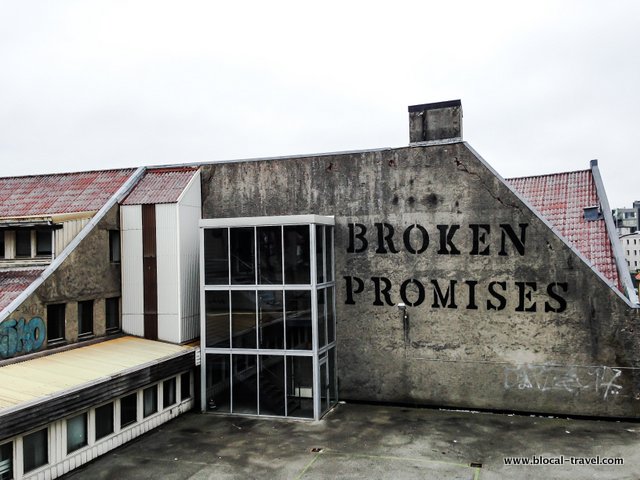 UPDATE Nuart 2017: 
Street art pioneer John Fekner was back in Stavanger for the 2017 edition of Nuart Festival, which focused on "Power in the Public Sphere". The festival simply wouldn't be complete without his messages concerned with environmental and social issues!
For Nuart 2017 John Fekner realized two conceptual outdoor works, both containing urgent and dramatic messages on the contemporary society. The mural painted in downtown Stavanger spells "A clear view + A clear mind = A green world", underling how often there is a lack of vision on environment.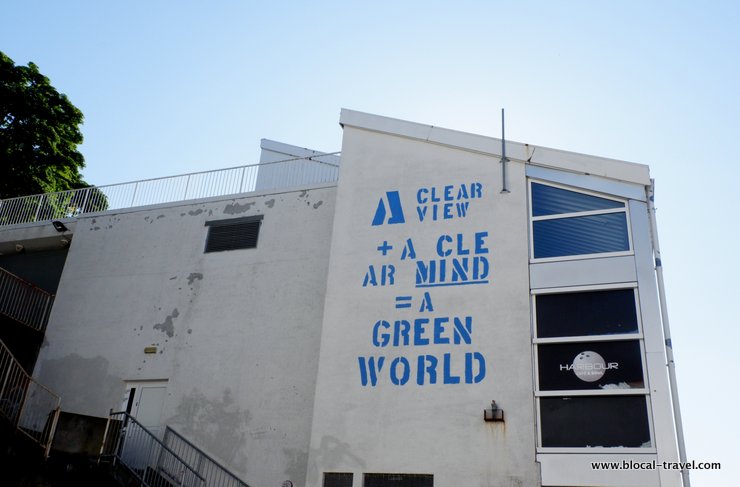 His second work is on a neglected wall near the bay. The decaying building itself recalls his earliest works in Brooklyn and Bronx, contributing to the intensity of the piece and providing a proper setting for the political message.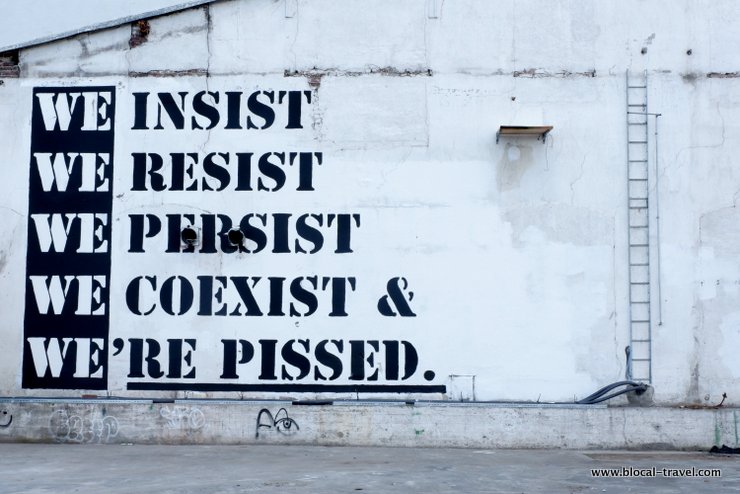 JPS (UK)
I flew to Stavanger directly from Bristol and it felt weird to find JPS's stencils here, as if they were welcoming me. Not all the walls he stencilled were legal but, hey, that's part of the fun. He brought his iconic characters that I used to spot around Bristol, such as his ex-girlfriend on the swing, Wednesday Addams, and the cute kids bargaining with money titled "Big Deal".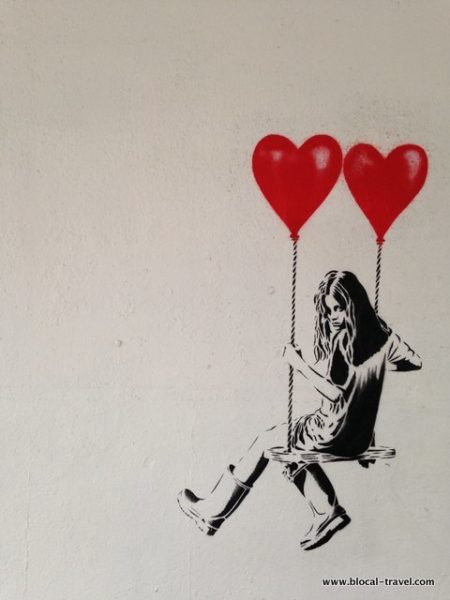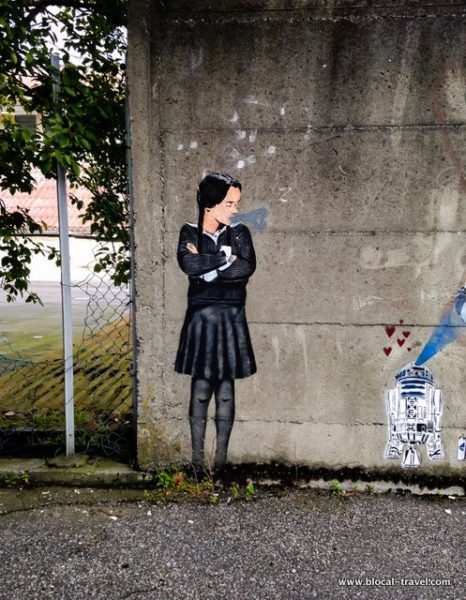 Nuart 2017 > KNOW HOPE (IL)
The contribution of Addam Yekutieli, aka Know Hope, to the 2017's theme of Nuart Festival (Power in the Public Sphere) consisted in bringing us directly to the emotional core of the matter by addressing complex, current issues through the familiar emotions that we all recognize –specifically: heartbreaks.
In Stavanger, Know Hope carried on his on-going project of humanizing political and social issues to allow understanding and participation. By creating a dialectic exchange between private and collective, intimate and public, once again Know Hope cancelled the border between politics and the emotions we all feel in our personal experiences, which are what we all have in common.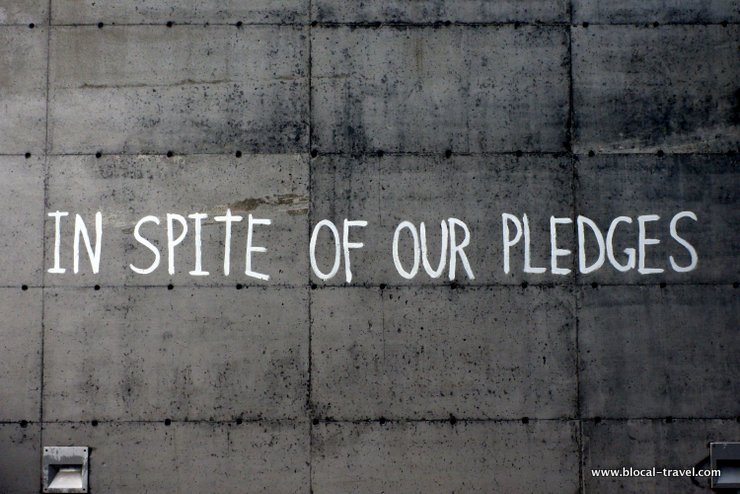 As always, the site-specific interventions realized around the city of Stavanger originated from the deep, emotional connection he has established with the local people who have replied to his open call. Know Hope asked them to share with him their stories of heartbreaks, from which he then picked some aphorism-sounding fragments and painted them on different walls around the city.
The individual struggle became universal.
Every heartbreak opened to new, different interpretations, including a parallel with the oil industry crisis that is afflicting the oil capital that is Stavanger –as suggested by the author.
Out of their original context, each sentence gained a broader meaning that will eventually have its own echo through the local community. A community that is made up of people who are demanded to take an active part in the piece by elaborating themselves an image associated with the words that are written on the wall.
LOGAN HICKS (US)
His stencils explore the dynamics of the urban environment. With his photorealistic style, he draws a parallel between the cold, harsh city and a warm, vibrant organism, and it is this symbiotic relationship with the city that fuels his work.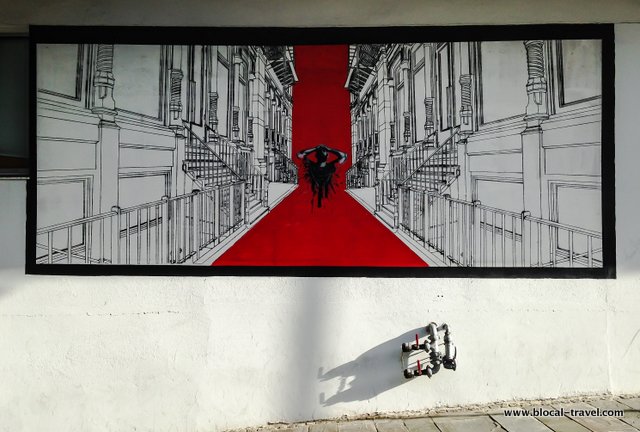 He attended Nuart 2009, when he created this stunning piece of a sketched street with a bright red trail of life and hope within it.
M-CITY (PL)
The Polish stencil artist was invited to Nuart 2013 to paint Stavanger airport's control tower. Using the shades of blue, he painted huge semicircles that mirror each other vertically and, in the lower part of the tower, are decorated with intricate and highly detailed patterns recalling mechanical objects and urban landscapes.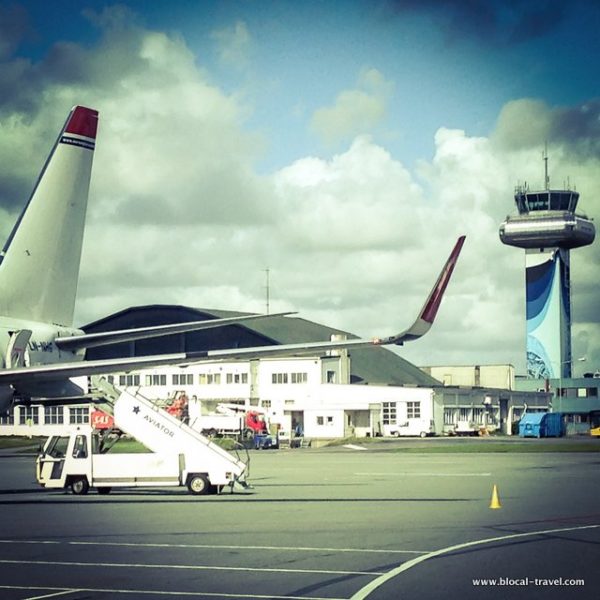 MAISMENOS (PT)
MaisMenos is an intervention project by Portuguese street artist Miguel Januario based on his critical reflection on political, social and economic bureaucracies managing modern urban societies.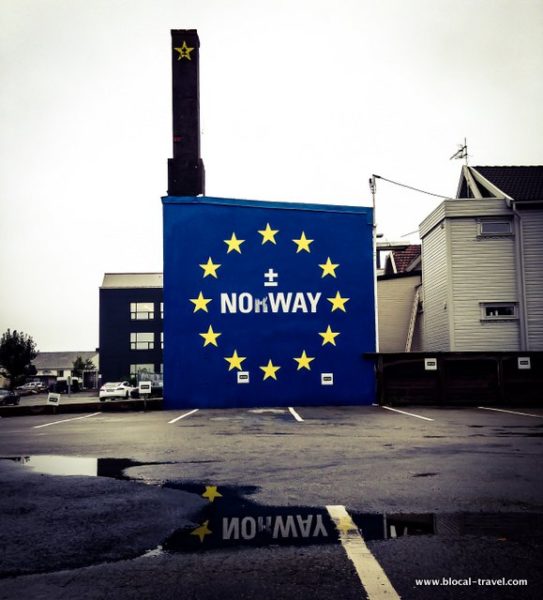 The site-specific work he realized in Stavanger refers to the referendum with which the Norwegian people declined European membership. Twice (in 1972 and 1994).
> Read about my week with MaisMenos in Rome
UPDATE 2017:
The first piece ("More Power" / "PowerLess") is on the staircase of the city parking, whose shape looks like a battery. It's a wordplay with the topic of the 2017 edition of the urban art festival: "Power in the Public Sphere".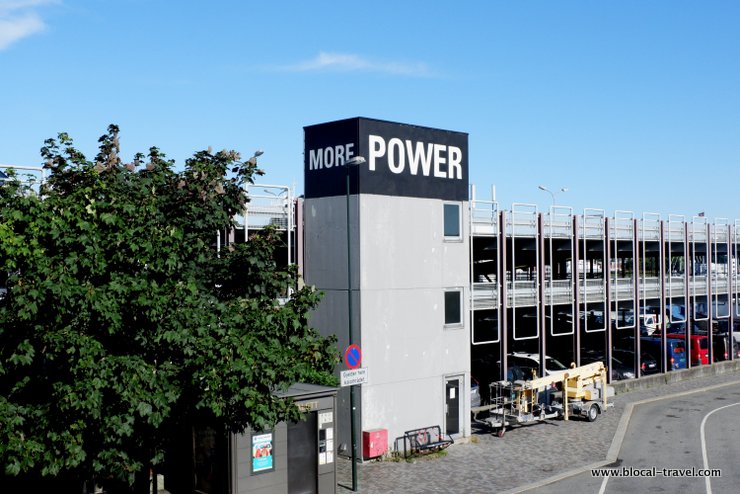 The second piece –which is among the largest artworks ±MaisMenos± has ever done- is on the old docks and it spells "Oilygarchy", that is where the power ends up in a city built and expanded on the wealth of oil.
MARTIN WHATSON (N)
Martin is the most popular Norwegian street artist abroad. His stencilled, black-and-white characters are always juxtaposed with a playful mix of graffiti and tags, often in the form of garments and always in vibrant colours.
MOBSTR (UK)
Following a long tradition of subvertisers, ad-takeovers and brandalists, he employs his unique brand of biting social commentary and astute witticism to walls, streets and billboards, utilising methods designed and employed by the advertising industry itself, aiming at showing that there are alternatives to corporate dominance of our public spaces. Funnily enough, this particular piece had its own evolution through a dialogue with another writer who twisted the original message even further into a new meaning.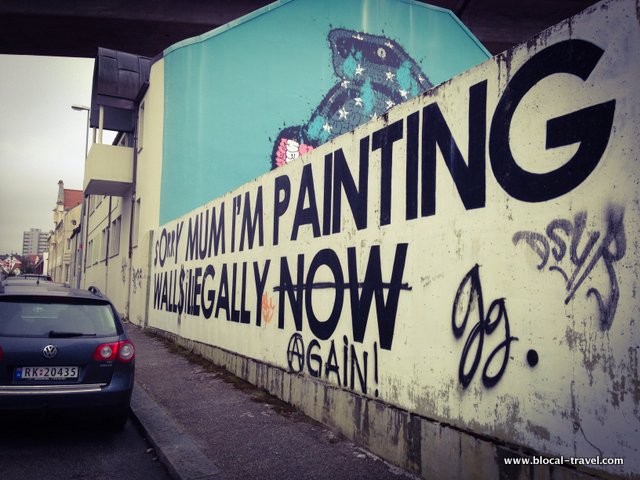 NuArt 2016 > MTO (FR)
"So… is this what he is doing now?" a fellow street art blogger asked in puzzlement, as we were staring at a chair and a table both cut in half and glued to the façade of a traditional Norwegian house. It was our first day on Stavanger's streets and obviously it was the dawn of MTO's piece; the "Google Internal Server Error" message wasn't painted yet and all we could see were interior scenes brought to the exterior. Which was already promising.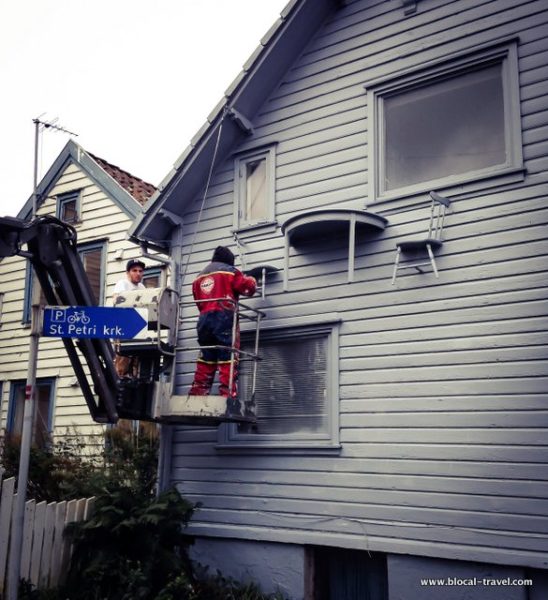 Actually, this is not the first time that the French street artist has explored the intersection between street art, public space and augmented reality. His recent work includes a series of large-scale murals that, when documented, create a "bug" or "hack" in Google Earth or Google Street View and are therefore designed to be completed only when captured by a Google car (the first one was painted in Gaeta and –to date- it is also the only one that has been photographed by Google: you can check it out here).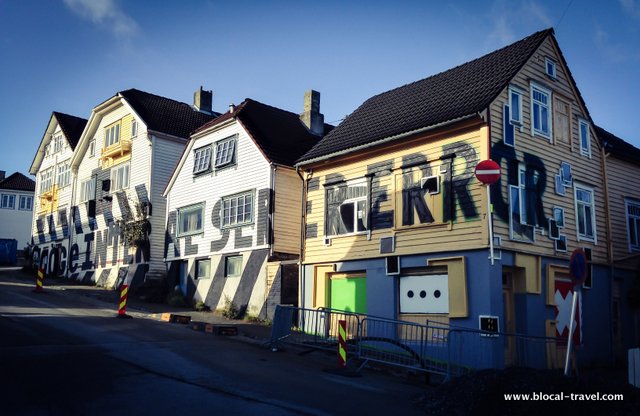 NICK WALKER (UK)
Again, here it felt quite weird to spot some street art by Nick Walker, the father of Bristol's graffiti scene.
I haven't found the Mona Lisa stencil, but I did discover one piece from the "Vandalism" series. And not just any piece: I stumbled upon the guy climbing down from a window while spray-painting the word "Vandalism" with a heart in the place of the V, which is the same stencil he used on the block next to the one where I was living in Bristol.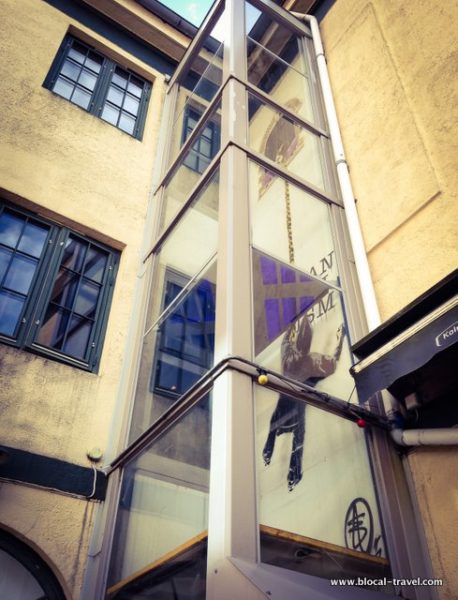 NIELS SHOE MEULMAN (NL)
Internationally known artist and designer from Amsterdam, he revolutionized the art of writing with his signature style called "Calligraffiti", a movement he launched back in 2007 with a massive exhibition in Amsterdam, which can be described as abstract expressionism with a calligraphic origin.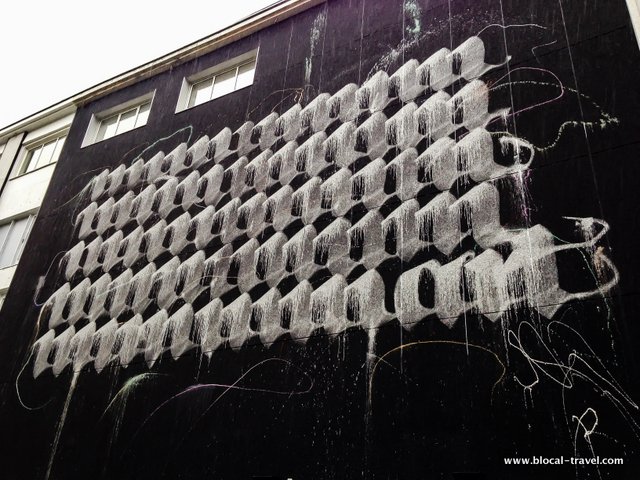 NuArt 2016 > NIMI (NO)
Titled "Sofia and the mountain", this mural depicts Nimi's daughter carrying the Pulpit Rock on her back. This is the popular Rogaland landmark: a deep crack in the rock that the artist prevents from opening by painting a huge lock around it.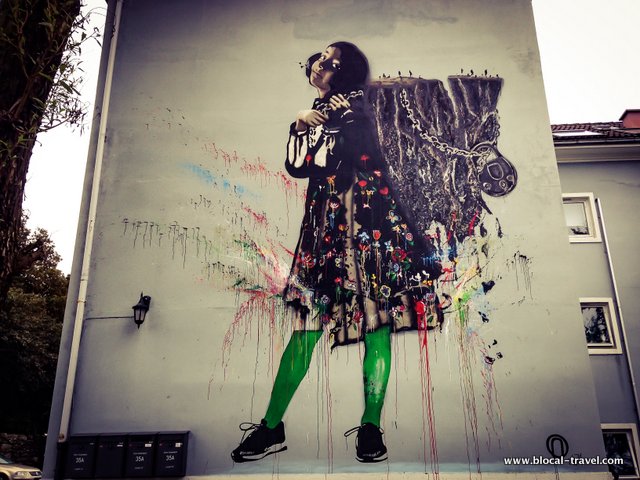 OUTINGS PROJECT (FR)
Through this process of "democratization of art", classical art characters appear as if liberated from their institutional home, questioning the authority of the museums.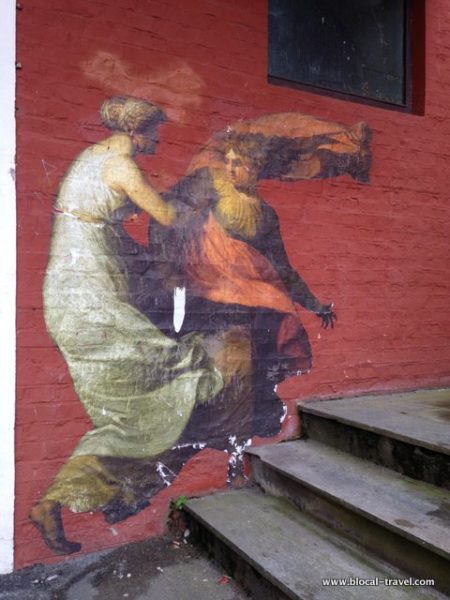 The outings project was initiated by Julien de Casabianca, who pasted-up portraits of characters plucked from classical paintings to merge the perceptions of canonical and street art and to punctuate neglected spaces with beauty.
PHELGM (UK)
Painted in 2011, Phelgm's work in Stavanger is partially erased but, as he is one of my favourite artists ever, I'm still including it in this post. Cartoonist and illustrator, Phelgm takes his characters from his comics. His unique style is based on a narrative and plays with a sort of matrioska principle in which each figure reveals its own inner mechanism, narrative and allegorical world, which results in a series of intricate paintings within the painting.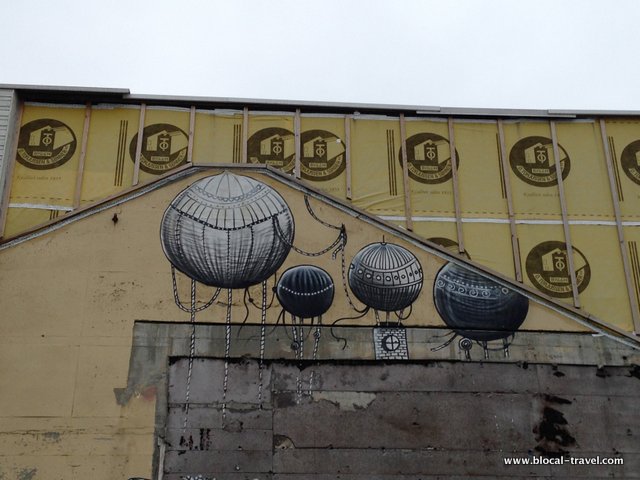 PØBEL (NO)
Local street artist Pøbel (a tag coming from the Norwegian word for "vandal") is best known for his series of stencilled superheroes, such as Superman and Batman, in decrepit old age. This piece was realized in 2010 together with Østrem (who painted the bubble letters), and it has a clear reference to climate change.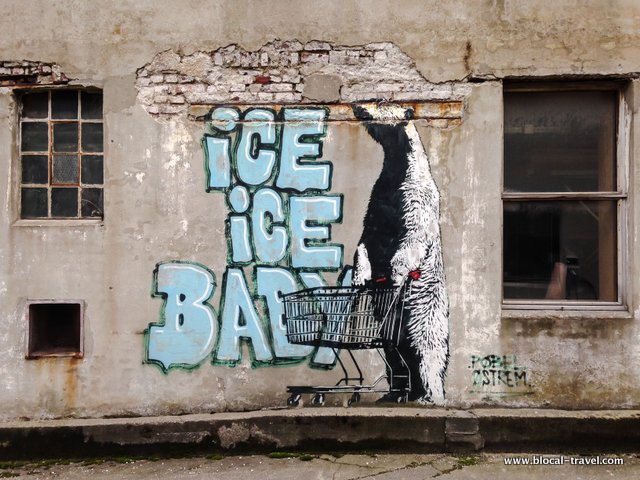 Nuart 2017 > RICKY LEE GORDON (ZA)
Framed by the evocative sentence "A truth that is beauty. A beauty that is truth", Ricky Lee Gordon's mural for Nuart Festival 2017 celebrates the bravery of activists around the world, who are always more frequently harassed and intimidated for defending human rights. This large-scale mural on Stavanger's Paradis train station celebrates Sakris Kupila, a transgender rights defender from Finland.
It's a grand, majestic portrait, which conveys both the determination and bravery of someone standing up for what is right -no matter what- and the feelings and emotions of the person behind the activist, to which passers-by are already responding empathetically.
A four-story homage, yet humbly poetic.
A mural that speaks out loud and clear against discriminations, and then quietly unleashes messages of freedom, life, connection and introspection, which are conveyed through the typical imagery of this South African artist: doves and water, with a consequent strong sense of movement and depth.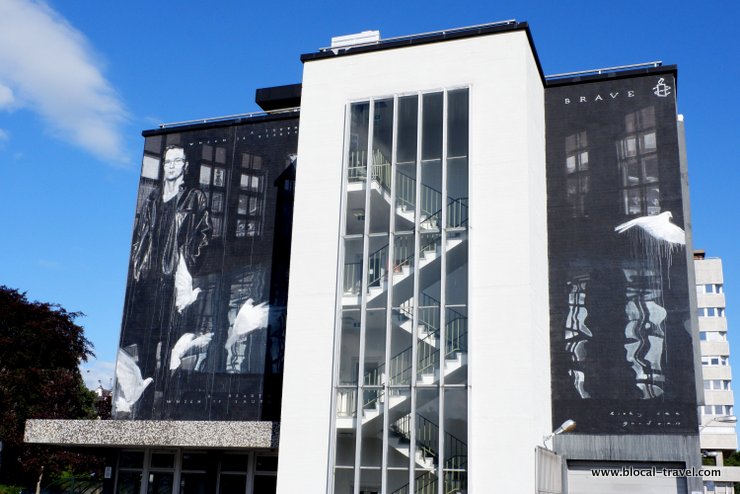 This mural is born from the partnership between Nuart Festival and Amnesty International to spread the awareness of the 'Brave' Campaign, which aims at fighting injustice alongside human rights defenders.
This isn't the first time that Ricky Lee Gordon highlights relevant social issues through his strong painterly style. Even before beginning his full-time international career as a muralist, he has been actively involved in art-driven social projects in South Africa, such as workshops, artist residencies, exhibitions, a street art festival and basically all kinds of projects that use art to change perceptions and –ultimately- society. He has always wanted to prove that art can make a difference, and this large-scale portrait of Sakris Kupila in Stavanger is yet another evidence of the power of street art to spread positive message throughout the world.
ROA (B)
Well-known for his large-scale animals placed in an urban context, the Belgian street artist Roa likes to play with the contrast between wild nature and the city. His spray-painted monochromatic realism has spread onto the walls of numerous cities, including Stavanger –where he has been invited twice. The first time, in 2010, he painted a 35-meter-long complex piece depicting sleeping squirrels and hanging swans.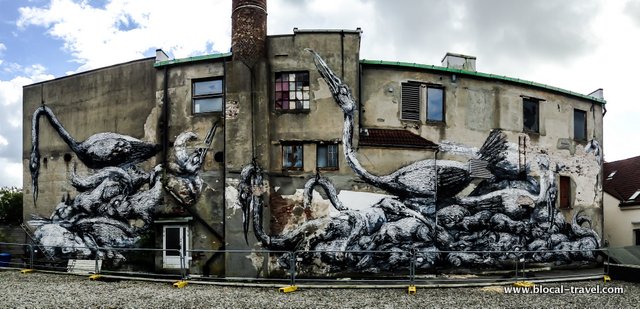 Back in 2013, he addressed himself to the Norwegian hunting tradition and painted the head of a whale, whose bright red blood contrasts with Roa's iconic black-and-white palette. I especially like the way he rendered the whale's wrinkled skin.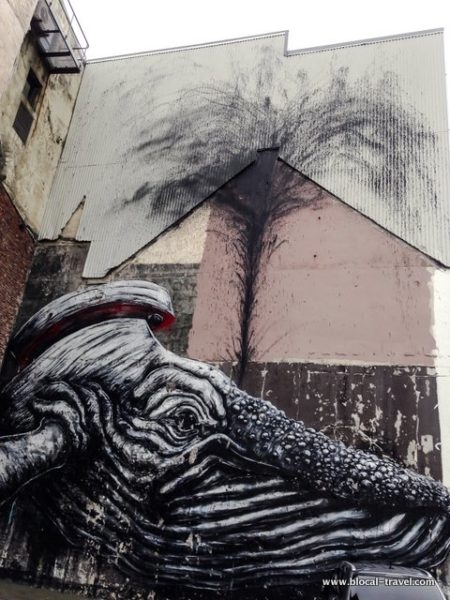 NuArt 2016 > ROBERT MONTGOMERY (UK)
This London-based street poet was one of my favourite artists from Nuart latest edition. I appreciated his political activism, which is evident in his work but also in the passionate way he spoke during Nuart's legendary fight club, when he kept stressing the importance of politics in art.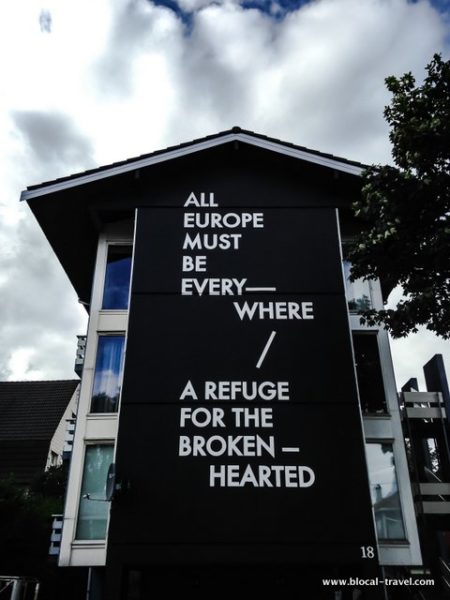 He is an acclaimed conceptual artist who brings a poetic voice to the discourse of text art. Poetic text form is at the core of his billboard pieces, posters and murals, as well as at the basis of the beautiful lighting piece he made for the indoors exhibition.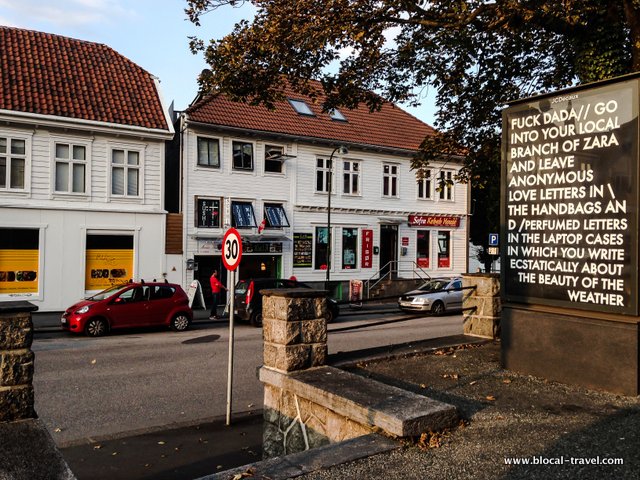 Nuart 2017 > SLAVA PTRK (RU)
Moscow-based Slava Ptrk has taken part in the 17th edition of Nuart Festival with two outdoor murals, both stencilled and yet completely different from each other.
At first, Slava Ptrk painted "Poppies" on the side of the hotel Havly in downtown Stavanger. It depics a girl picking poppies, standing out from a bright red background.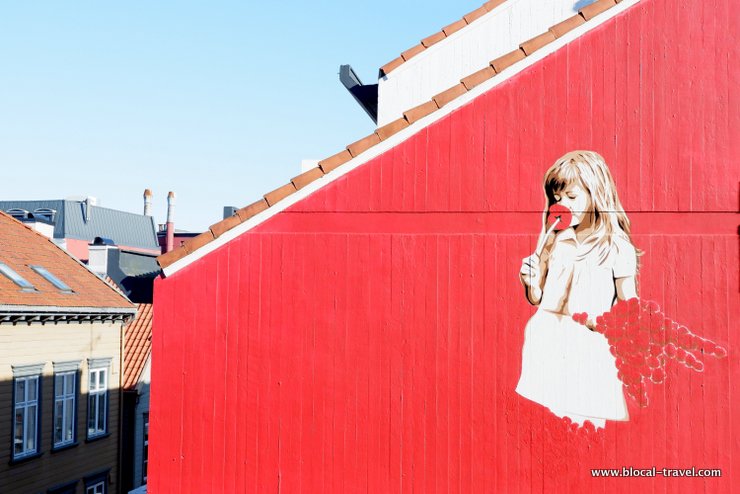 His second piece is near Nuart's Head Quarters "Tou Scene" and it's an ironic text by the artist himself. Written in the provocative style that has made him (in)famous on the streets of Moscow and Yekaterinburg, this text is titled "To be honest" and focuses on how often we fall back upon lies, which are so widespread in our culture that we are not even that mindful of us lying. The mural is made with glue and sand reflecting the ephemeral nature of lies (which will always come out, eventually!).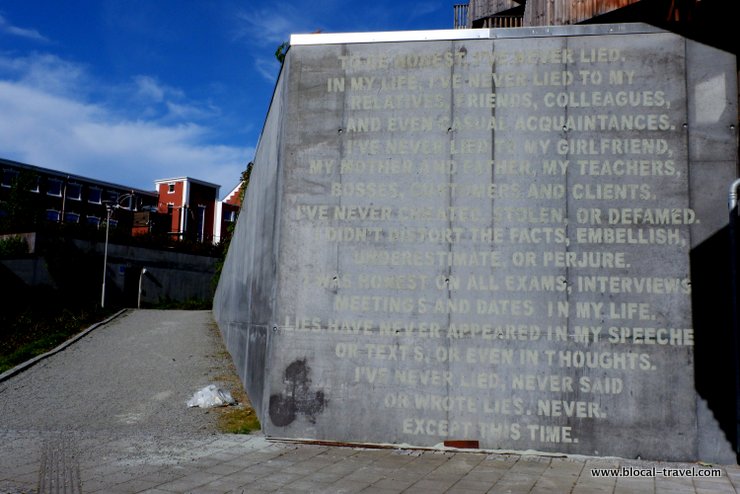 NuArt 2016 > SPY (ES)
From a certain point of my week in Stavanger on, just looking at him could make me laugh. The guy is as ironic and humorous as his thought-provoking works, through which he carries on his considerations on modern society and its contradictions. He attended a previous edition of Nuart, back in 2014, when he painted a massive red-lettered "ERROR" on two sides of a brutal block-long building in decay down by the waterside, an ironic judgment on the eyesores of unfortunate urban decay.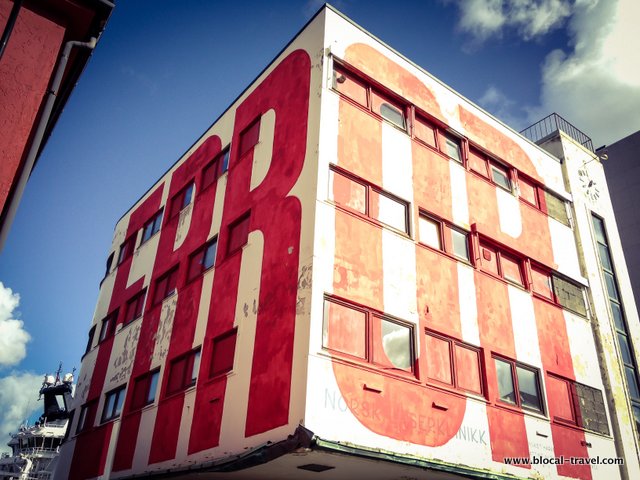 Last year, he painted a huge, neglected warehouse by the industrial port, whose structure and water got an active role in the artwork itself, as the artist's message is readable in its reflection in the water. Here, Sp wrote the word "ALIVE", as to give a new life to the building –which was abandoned during the recent crisis, and it is part of a soon-to-be-demolished area of the city.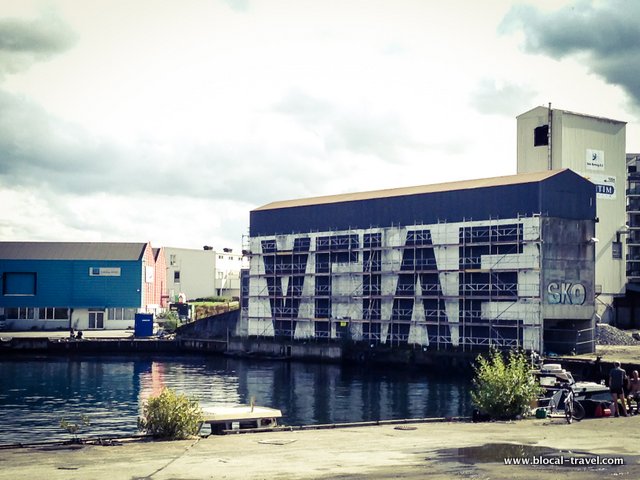 STROK (NO)
This Norwegian street artist is well known for his figures striding along the walls of buildings, casting long shadows that give depth and three-dimensionality to his subjects.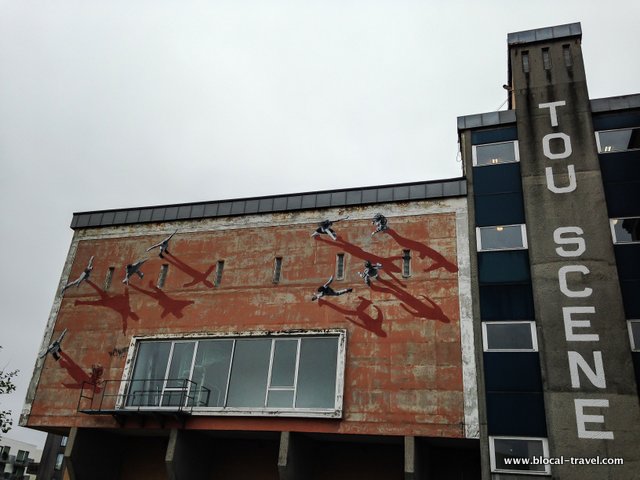 Through stencils (which are in turn from Strok's own photos), Anders Gjennestad (that's the real name of the guy) creates an alternative universe where gravity seemingly doesn't exist and time is frozen, a surreal poetry designed to upset our lazy gaze, accustomed to the empty and predictable.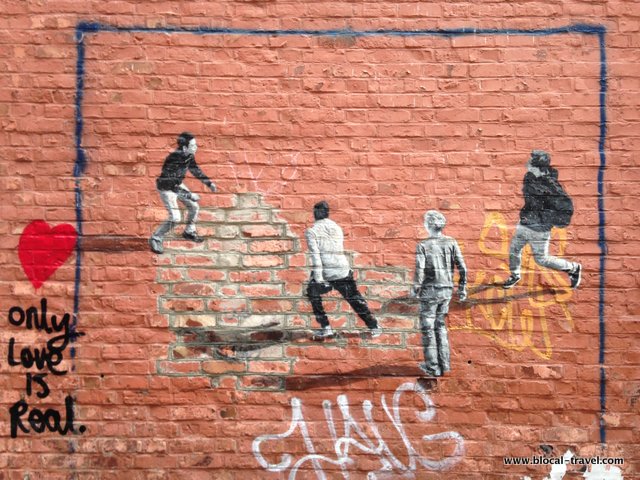 TELLAS (IT)
The style of this Cagliari-based street artist is simple yet poetic, detailed yet minimalistic. The mural is old (it was painted in 2011) and it's quite impossible to spot all the details, such as the constantly repeated iconic geometric shapes. Despite that, the wall is still impressive.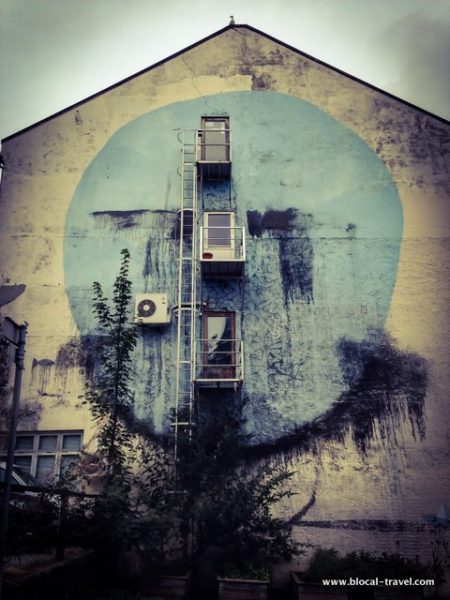 TILT (FR)
This street artist from Toulouse demonstrates that basic, primitive graffiti can be just as strong as complicated 3D lettering, wild styles or characters. He focuses on letters (a bubble letter "throw-up" in this case, shaped as a hand grenade), high impact shapes and strong colours. Resonating the power of traditional graffiti lettering, this piece throbs the expression of a true graffiti writer.
VHILS (PT)
After bombing trains for several years, Alexandre Farto began creating large-scale relief works with a hammer drill, experimenting with the style that has since made him famous. This piece, which was realized in 2013, depicts the upper part of an old lady's face.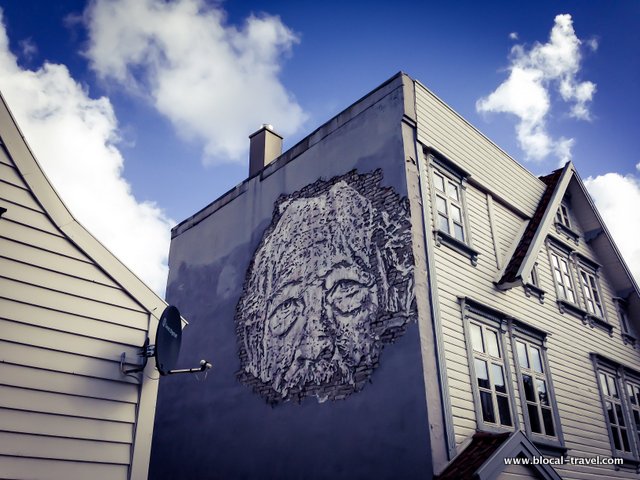 Find out the exact locations on the Official Nuart App!
PEEK THROUGH || You can see these murals (and some making-ofd) in my video "1 week in Stavanger… in 1 minute"
You can hover over these (or any image) to quickly pin it!
////////// MORE ABOUT //////////
SalvaSalva
SalvaSalvaSalvaSalva
SalvaSalva
SalvaSalva
SalvaSalva
SalvaSalva