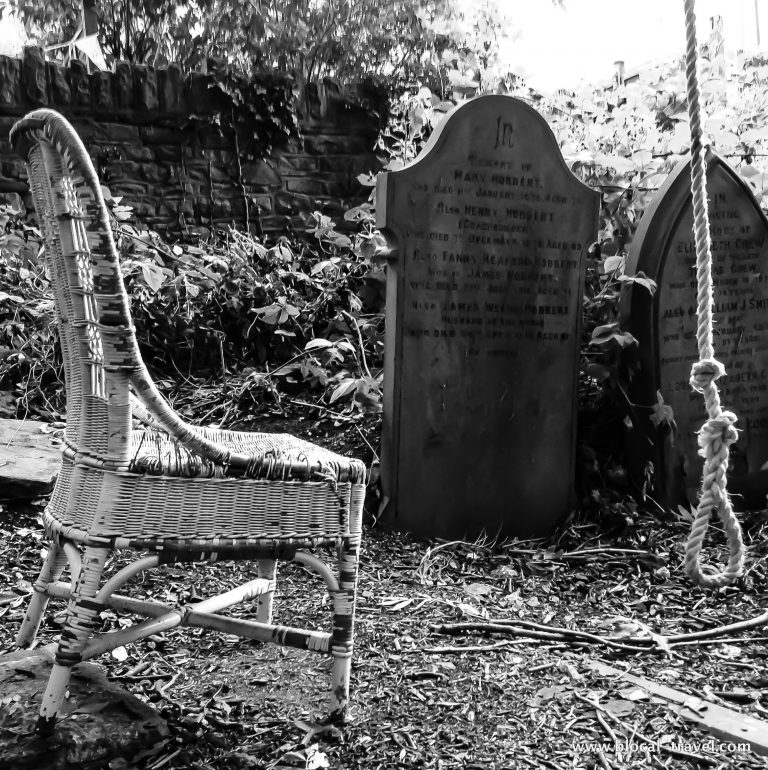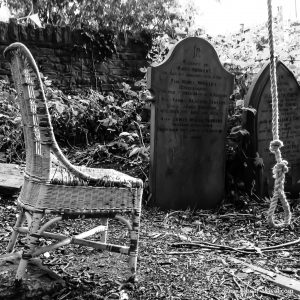 Happy Halloween!
For my fellow graveyard enthusiasts, I'm keeping the tradition alive (no pun intended) by posting a 'cemetery special' on Halloween.
This year's special is on cemeteries in Bristol, the town where I learnt the very English distinction between 'cemetery' and 'graveyard' (which can be 'churchyard' in some -obvious- cases).
English burial grounds are designed like gardens; to my English friends, our habit of pigeonholing the dead looks quite bizarre, if not inadequate spiritually. It follows that they experience such places in a totally different way, more like as if they were parks: they go there for a stroll, to walk the dog or even jogging, living them as public places in many ways.
Which is exactly what I did, when in Bristol…
Totterdown, BS4 3EW
Arnos Vale is a Victorian garden cemetery and the final resting place of some of Bristol's most notable citizens since 1837.
It's the main cemetery in Bristol and, like any other monumental cemetery, offers beautiful examples of the evolution of the decorative and applied arts that beautify the graves, stretching from 19th-century masters to the internationally renowned street artist Inkie, who covered the walls of the Top Lodge with spray-painted angels in 2010.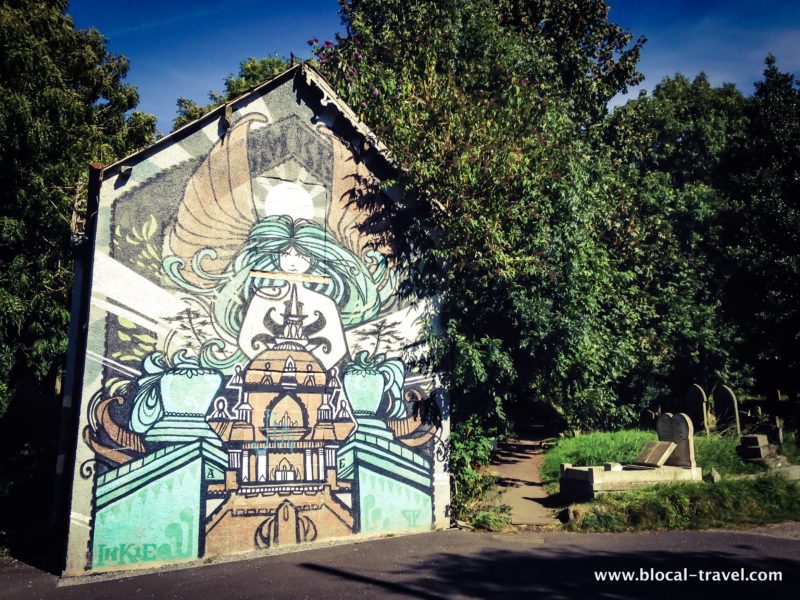 Its area of 45 acres is divided into a monumental part, which includes many listed buildings and monuments, and a wilder part, where graves are scattered throughout the straggly woodlands and covered with ivy and writhing roots. This cemetery is so beautiful that it is chosen for the site of many weddings.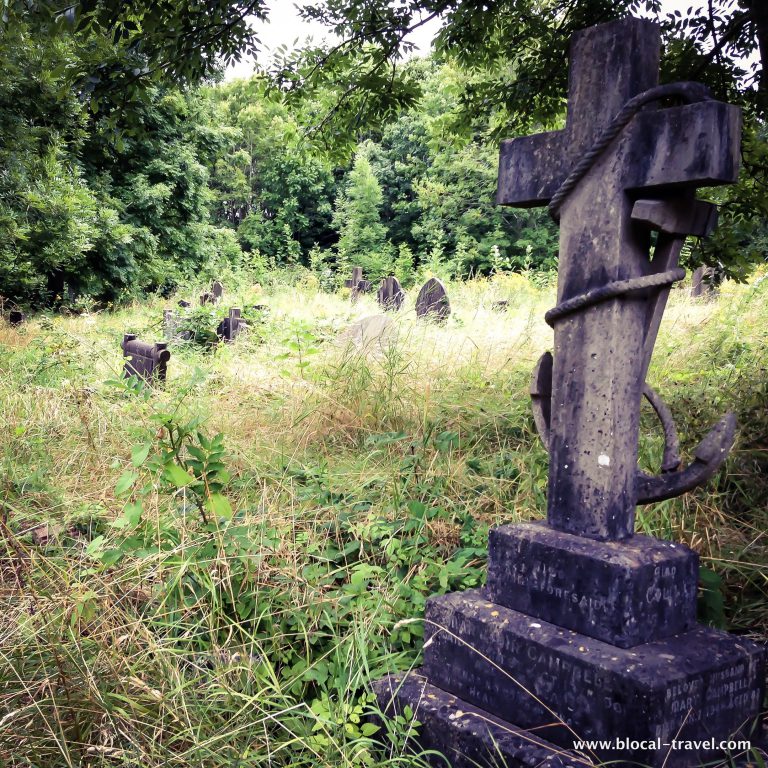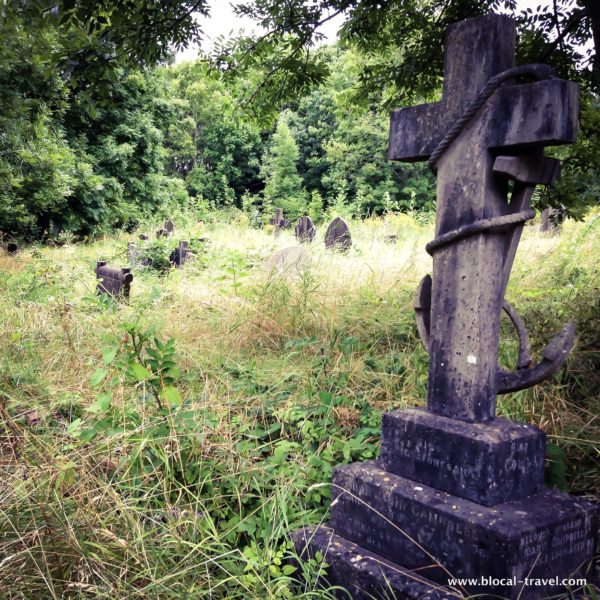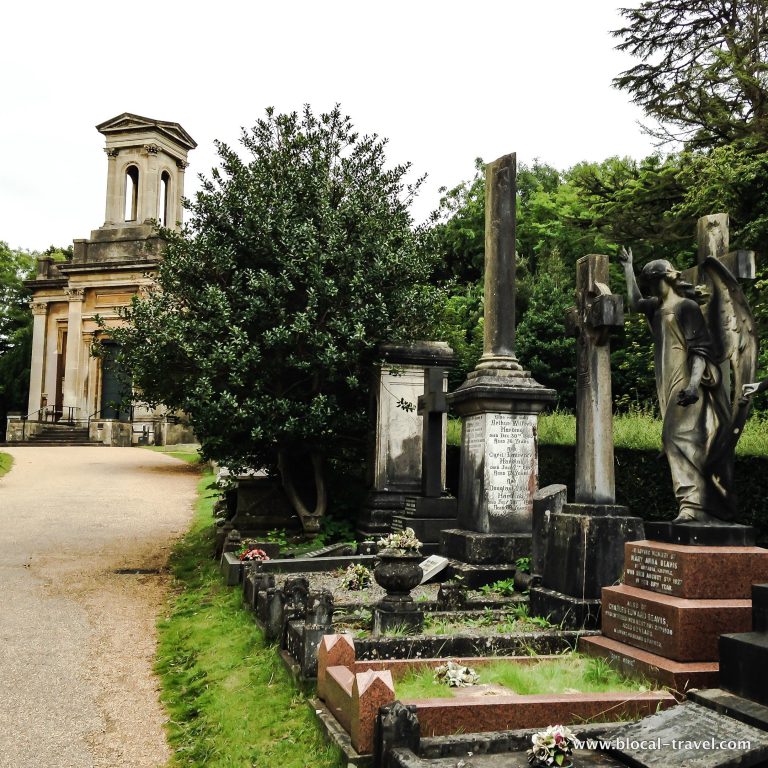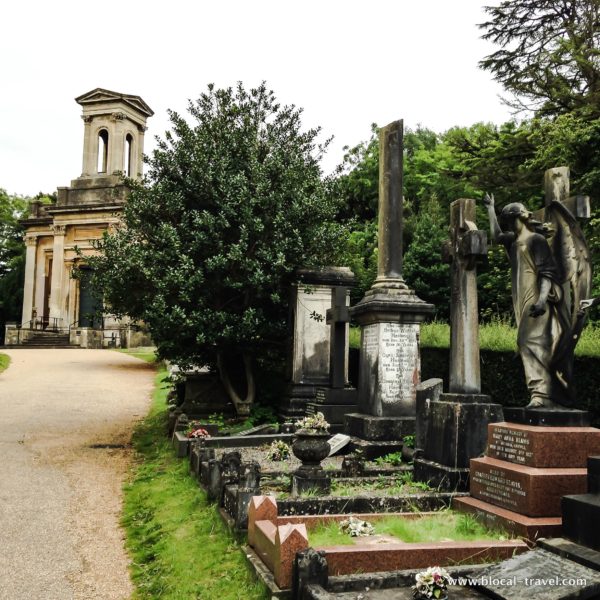 Cemeteries in Bristol > Avonview Cemetery
St. George, BS5 8EN
This cemetery was founded in 1883 on a sloping hillside overlooking the city. Being quite elevated, it has a beautiful view over the Avon Valley and to the hills beyond.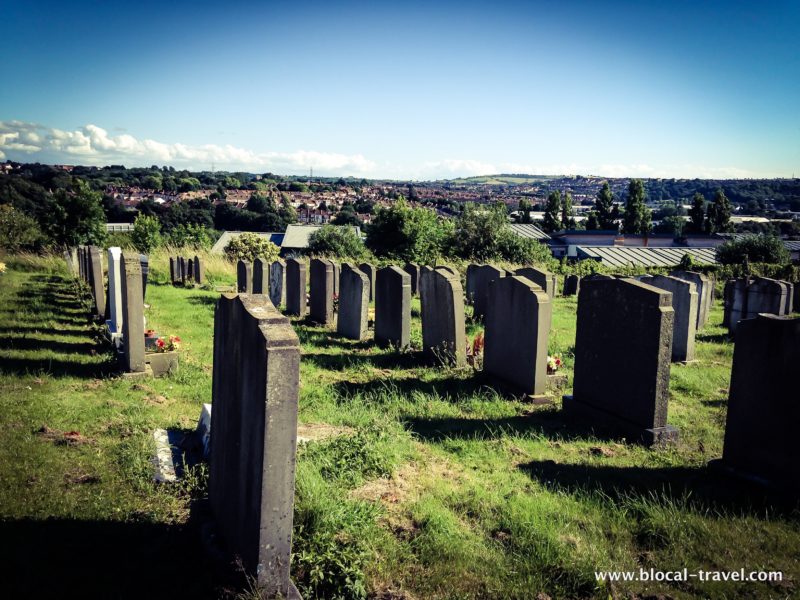 It is a very modern cemetery, where graves have fresh flowers and the grass is mown and bright green, as in many other English gardens.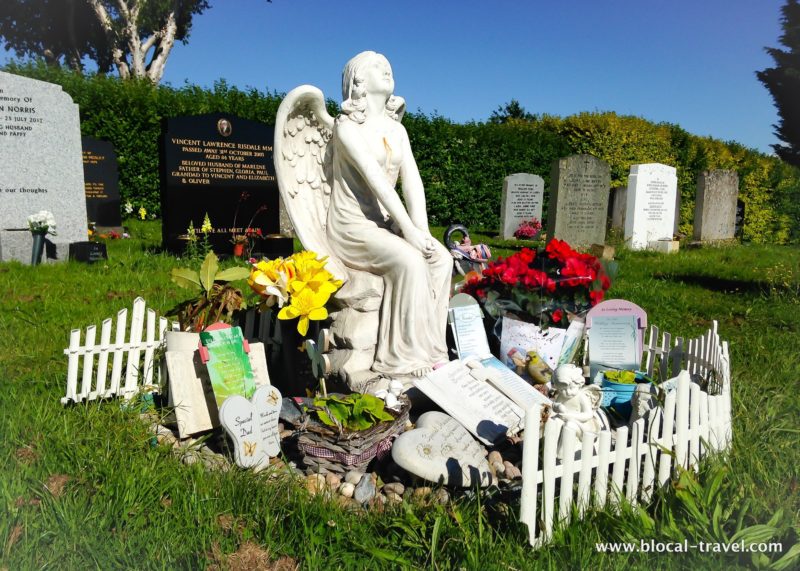 It contains many graves from the First and Second World Wars, as well as an unbearably moving secluded children's graveyard, which is full of small graves topped by toys and colourful windmills.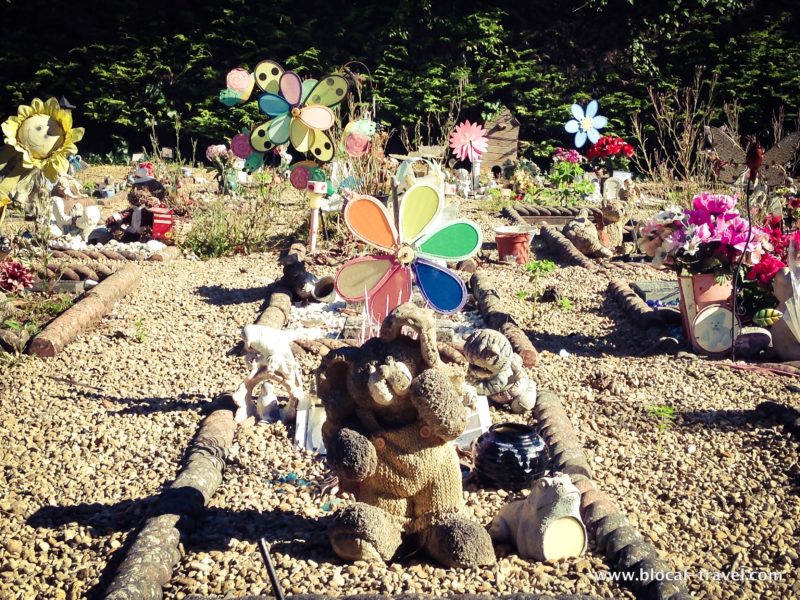 Cemeteries in Bristol > Birdcage Walk
Clifton, BS8 1BN
This gated cemetery is a lovely hidden gem on Clifton Hill and I'm so glad someone mentioned this spot during my Visit Bristol Instagram Takeover, otherwise I would never have noticed it!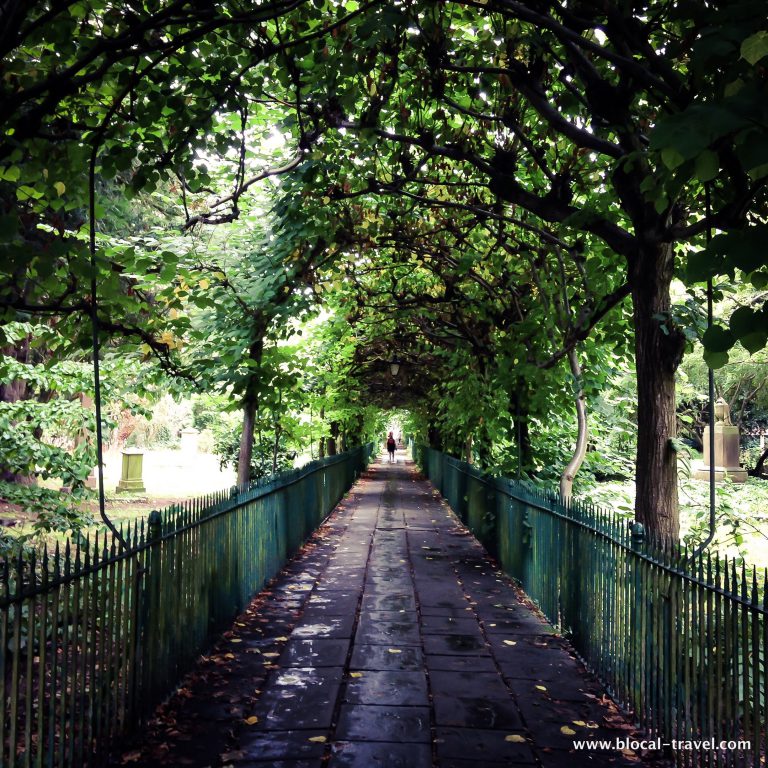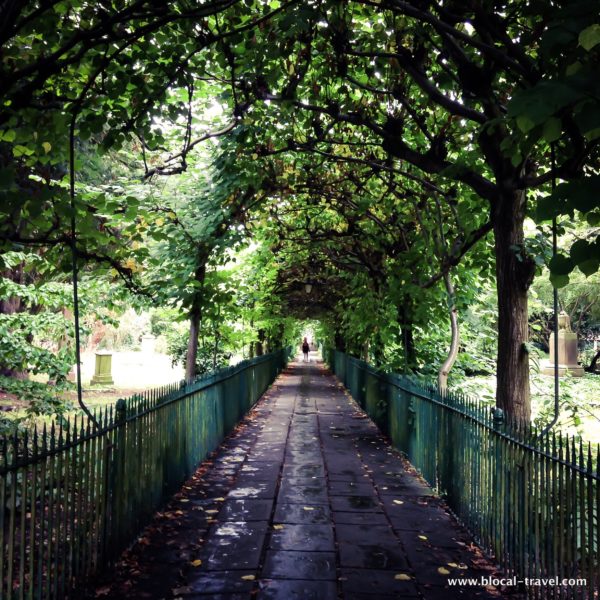 This is the graveyard of the former St. Andrew's church, which was destroyed during the Bristol Blitz in WW2.
Its ornate tombstones date as far back as the 1830s, and spread over both sides of the leafy walkway that crosses this graveyard.
Cemeteries in Bristol > Brunswick Cemetery Gardens
Stokes Croft, BS2 8QS
This cemetery garden was established around 1770 and served as a Unitarian burial ground until 1963, when it was turned into a public park.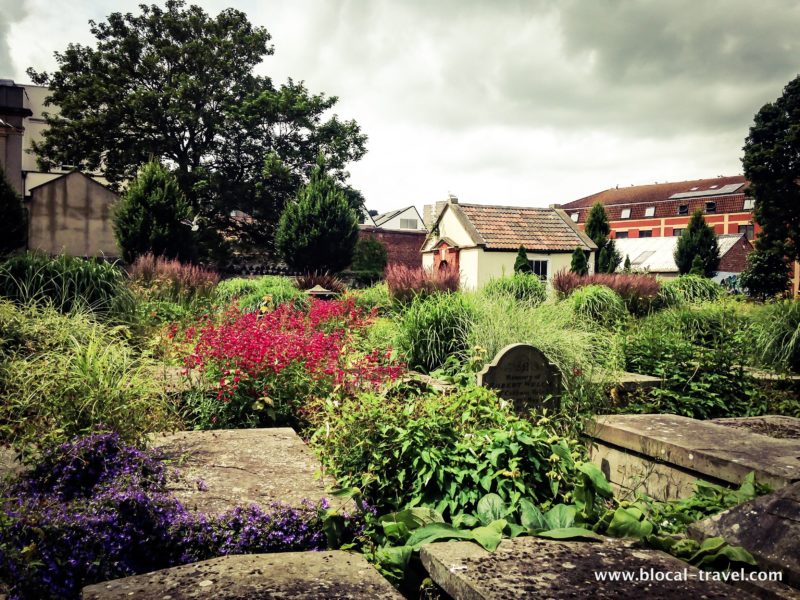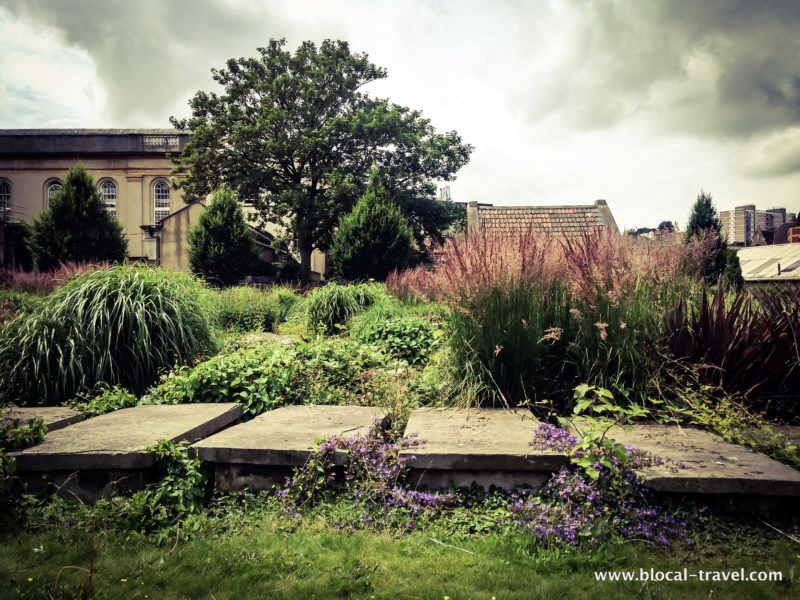 After recent landscaping works, the graveyard turned from a neglected and potentially dangerous area to a charming garden with many colourful plants and several paved paths leading to the small Georgian mortuary chapel in the centre of the grounds.
There is also a permanent public artwork by Hew Locke, named 'Ruined' and installed in 2010. It consists of a series of cast iron grave markers, which relate to commercial companies that either no longer exist or have been transformed through takeovers, bankruptcy, nationalization or other economic or political changes.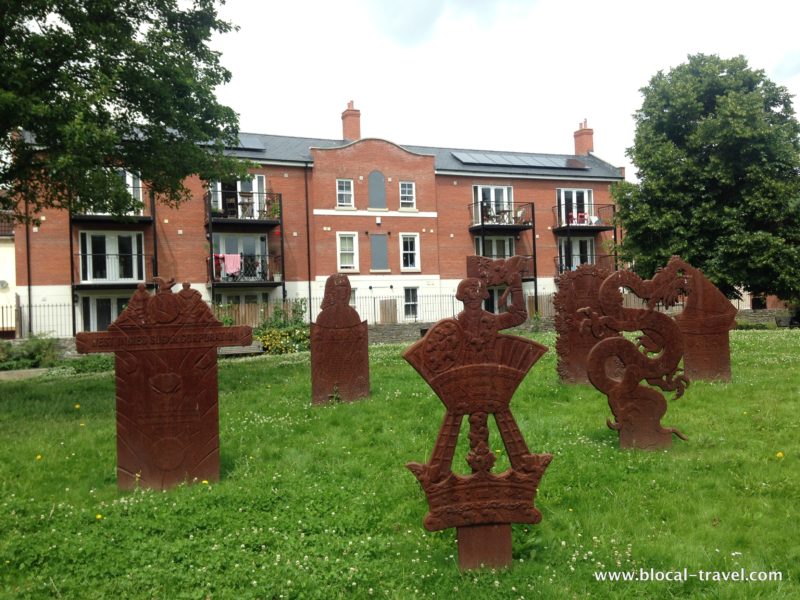 Cemeteries in Bristol > Bristol Cathedral burial ground
College Green, BS1 5TJ  
Attached to the very Gothic Cathedral of Bristol, there is this tiny graveyard where several bishops are buried. The gardens are well taken care of, with a huge variety of colourful flowers and a coffee shop where you can rest after visiting the Cathedral.
I like the contrast between the opulence of the Cathedral, with its stained glass, vaults, marbles, the finely carved choir and wide windows, and a place that is bare-bones by definition, although very pretty.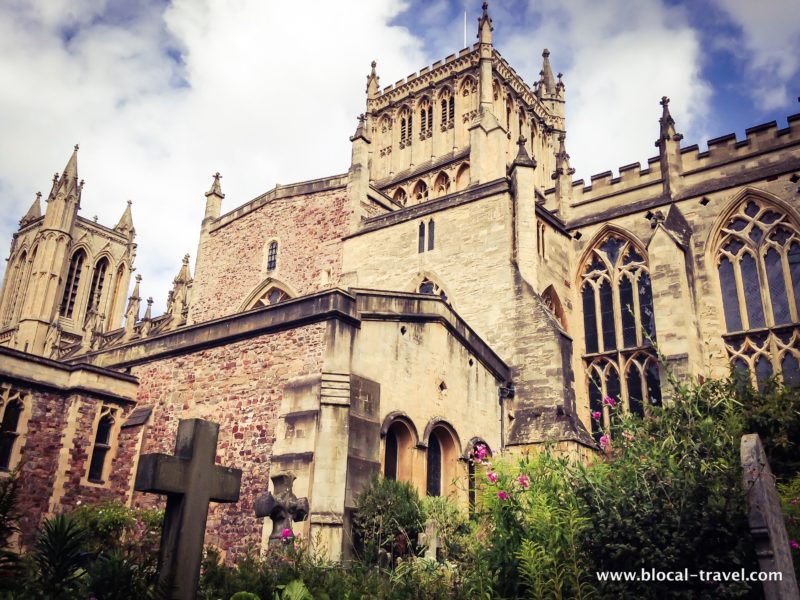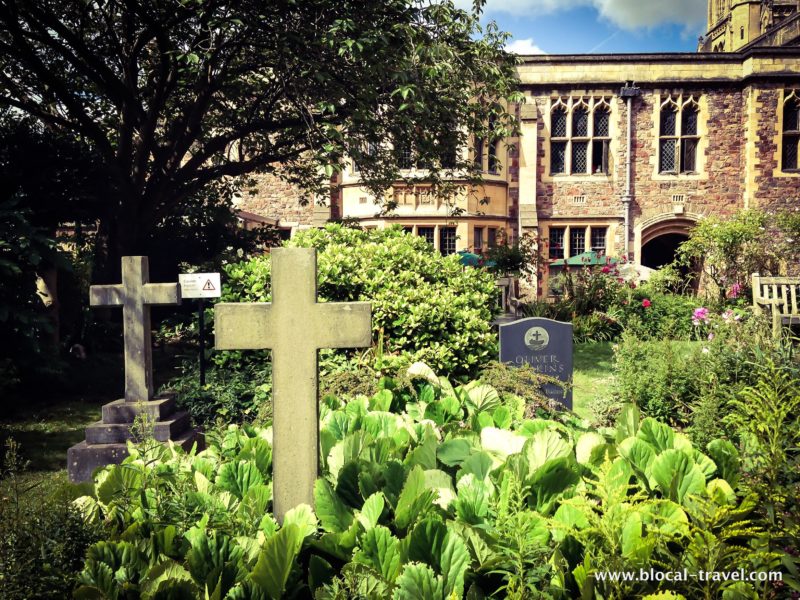 All this beauty looking over the dead makes me think that no matter how rich and influential those buried here were, now they share the same status as any other corpses.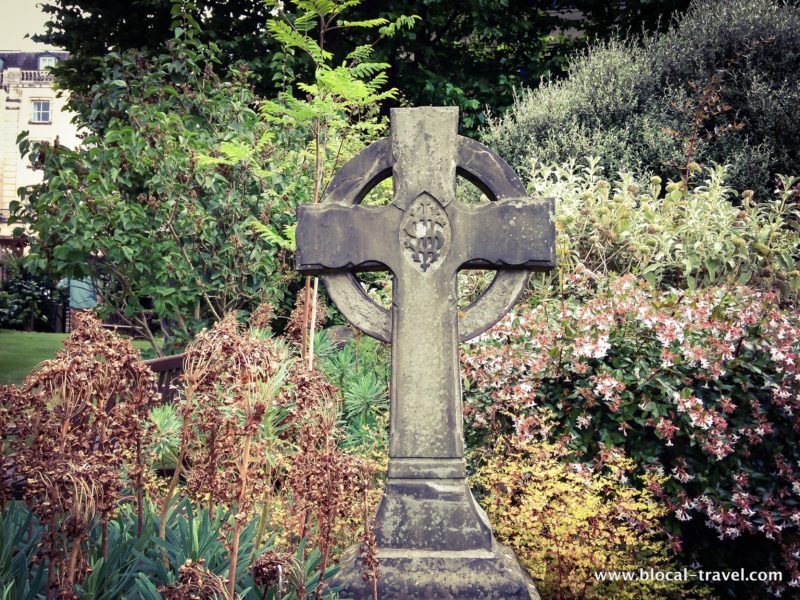 Cemeteries in Bristol > Filton Cemetery
Filton, BS16 1QD
Located opposite the University of the West of England, this modern cemetery was established in 1947. Its headstones are new and shining, the grass is mown and the whole area is very tidy.
This cemetery is still in use and mourners come and go, which somehow makes me feel more uncomfortable than I would in a spooky, abandoned cemetery, as if I were invading other people's suffering.
Cemeteries in Bristol > Greenbank Cemetery
Easton, BS5 6HL
This is my favourite cemetery in Bristol. Founded in 1871, it is one of the oldest cemeteries here, and the second largest after Arnos Vale.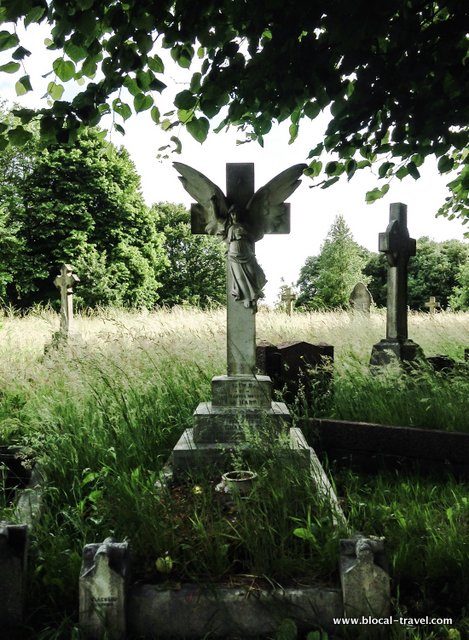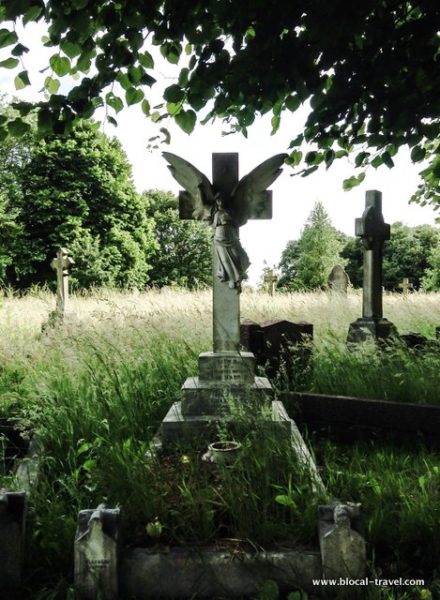 It contains graves from both wars, as well as memorials to the civilian dead of Bristol Blitz in WW2. Its Victorian style is majestic, characterized by ornate tombs, sculptures of angels and listed monuments.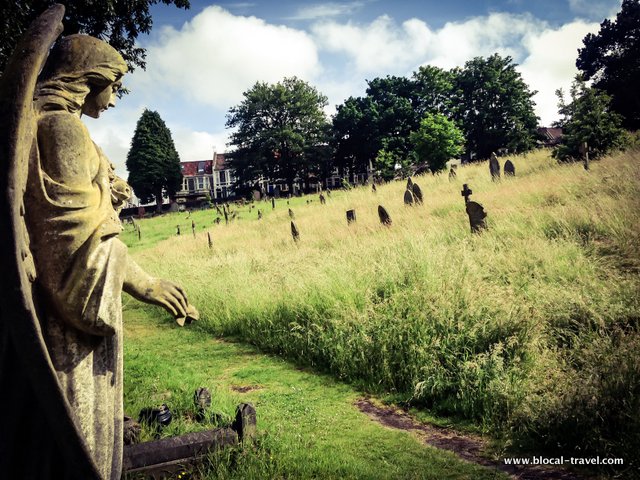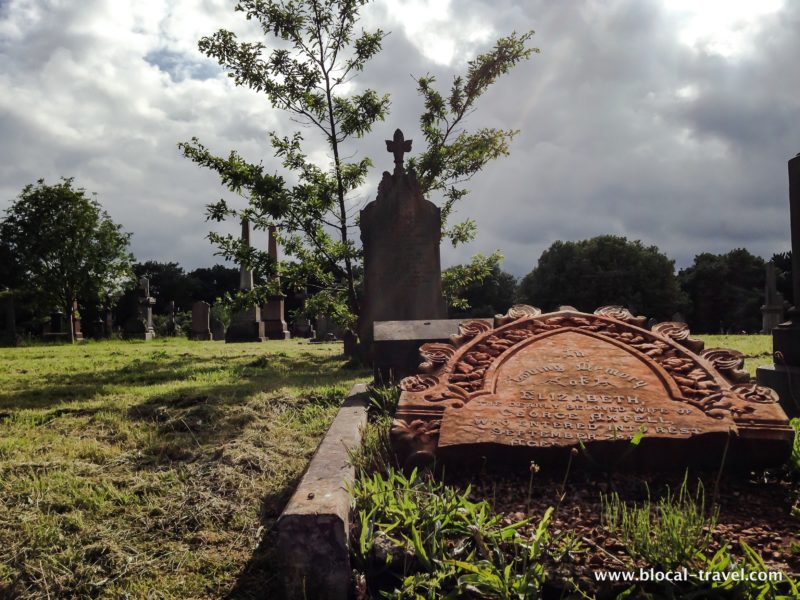 It represents a fixed point to the ever-changing community of Easton, whose most lively area is named after this cemetery. The once-derelict chapel is now undergoing renovation works and it will soon be an exhibition venue for the history of the neighbourhood.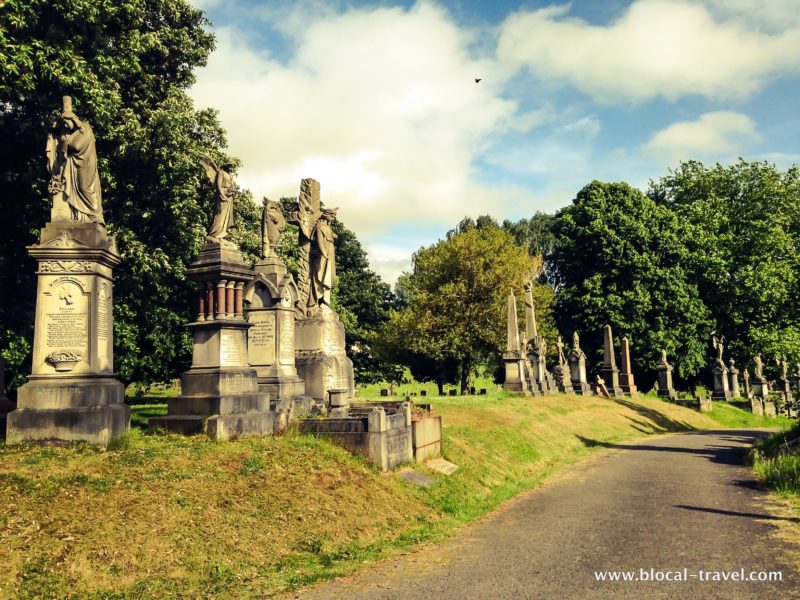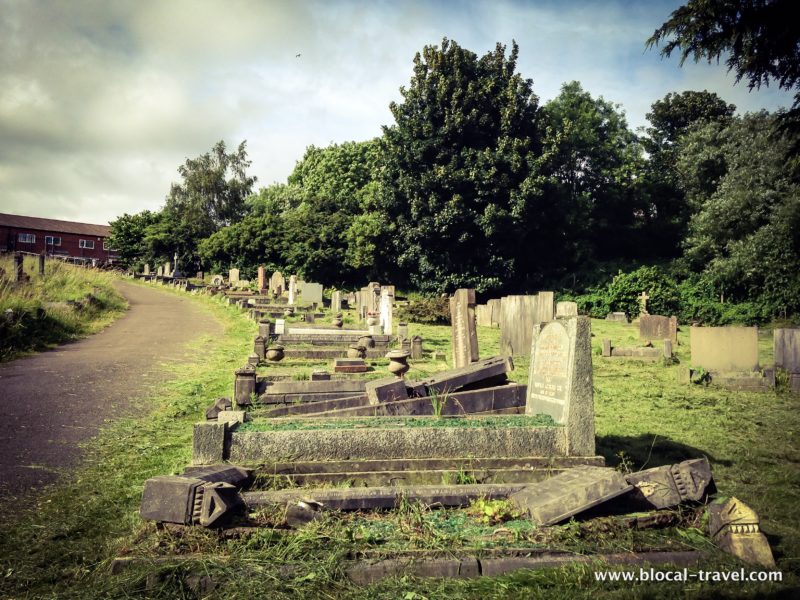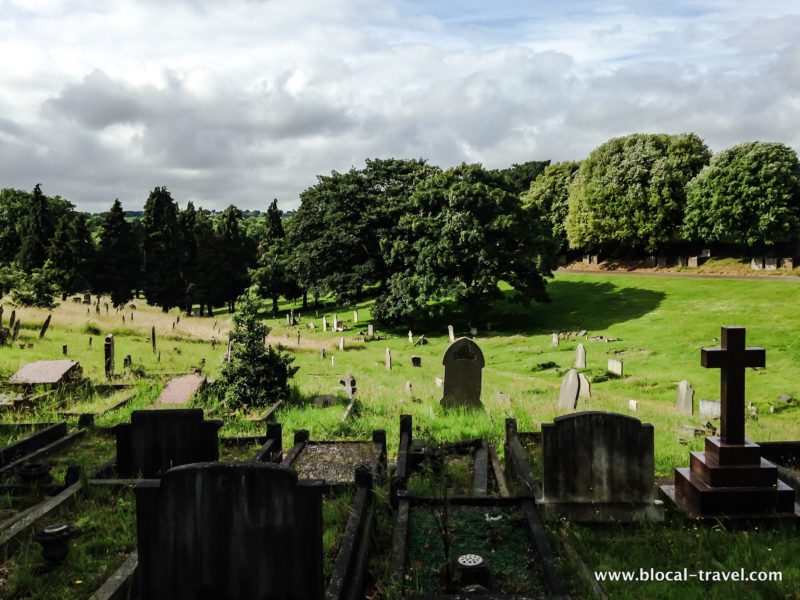 Cemeteries in Bristol > Holy Souls Cemetery
Totterdown, BS4 3LA
Attached to the east side of the Arnos Vale, there is this tiny cemetery also known as the Roman Catholic Church burial ground. It was established in 1856 when the Catholic Church acquired it and it contains First and Second War graves.
Rows of graves are aligned like the iconic houses of this area, topped by many crosses and several sculptures of angels; some have crumbled with the years and are covered with twisted boughs, while others are smooth marble and laid with fresh flowers.
Cemeteries in Bristol > Ridgeway Park Cemetery
Fishponds, BS5 6QH
This is my second favourite cemetery in Bristol. It is next to Eastville Park, and the outline of its tombstones is lost in the wild forest.
The burial wood is crossed by overgrown, often dead-end paths on whose two sides are unloved headstones, neglected and covered with ivy, mould, moss and writhing boughs, which contributes to the especially spooky atmosphere of this suburban cemetery.
Cemeteries in Bristol > St Mary's Parish churchyard
Fishponds, BS16 2JB
A pretty churchyard surrounding the 19th century St Mary's Parish Anglican Church.
This garden is so neat, with polished tombstones rising from the manicured grass and spaced out by different kinds of bushes, each one with its peculiar colour and smell.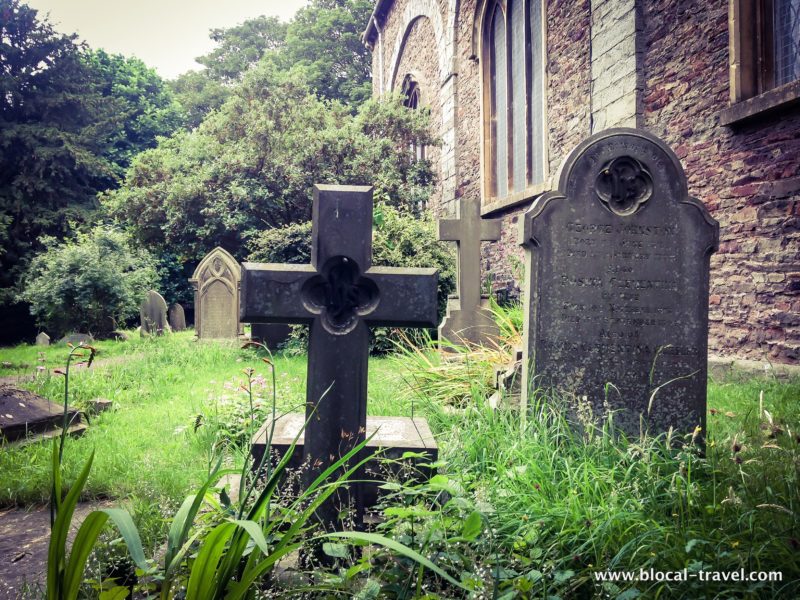 Cemeteries in Bristol > St Paul's Church burial ground
Bedminster, BS3 1DG 
St. Paul's was the first of several chapels to be built in Bedminster during the 19th Century and burials in its annexed churchyard took place from 1878 to 2001.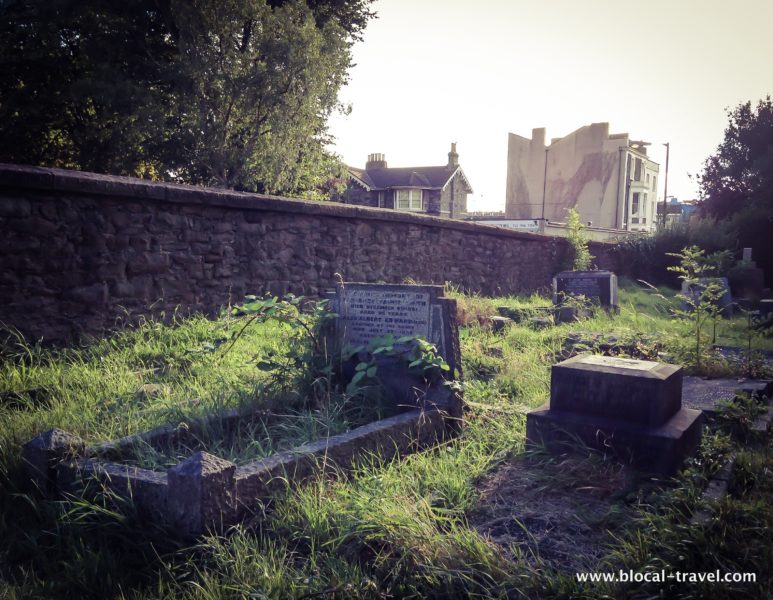 This cemetery was my shortest way to Bedminster, although more often than not I used to pause to read the inscriptions, or just contemplate both the meaning of life and the permanence of death. It is particularly striking at night, when the full moon peeks through the high trees.
Cemeteries in Bristol > Barton Road Cemetery
St. Philips, BS2 0LF
I never found it open, so I only saw it through the gate. This cemetery is tiny: there are a few graves in the middle and several stones lying against the boundary wall. Established in the 1740s, it was in use until 1944.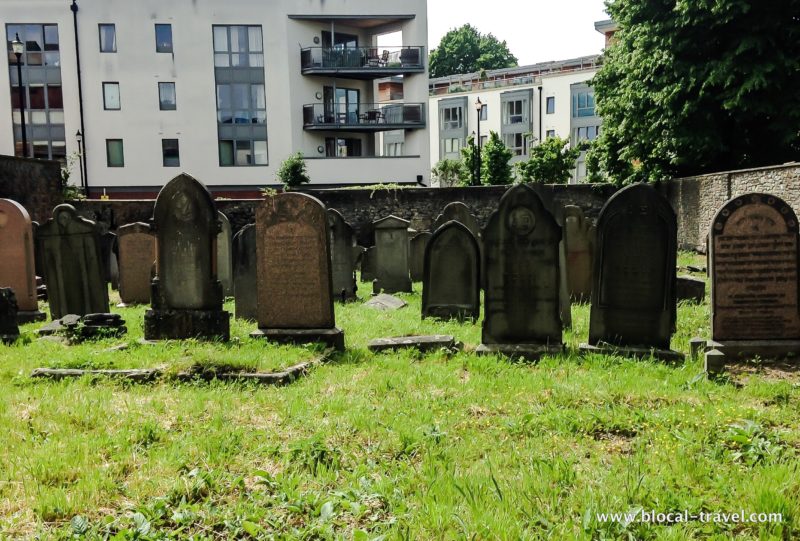 The area was leased until 1859, because of the restrictions on Jews owning land. This is the first cemetery in Bristol following the return of Jews to England after the expulsion: the oldest gravestone is Grade II listed and dates from 1762.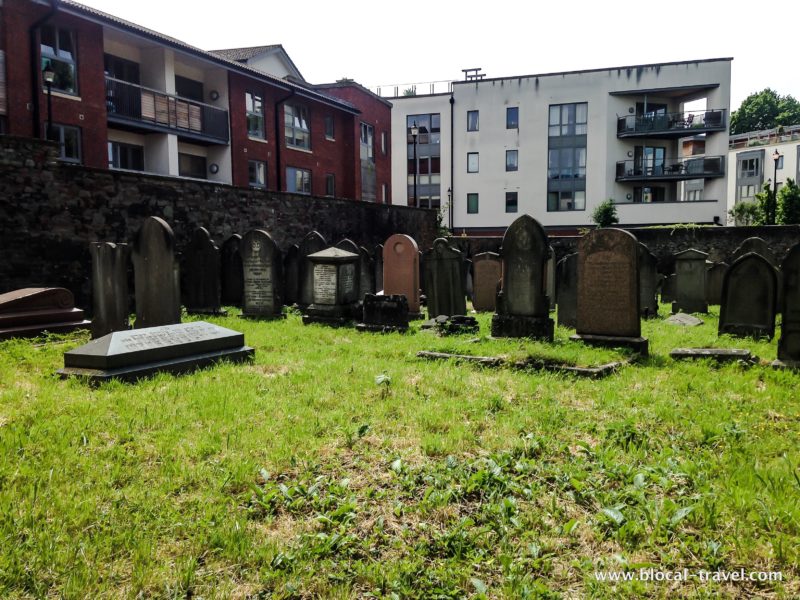 Plan your trip to Bristol with my Bristol Google Map!
You can hover over these (or any image) to quickly pin it!
Check out my playlist "The Bristol diaries"