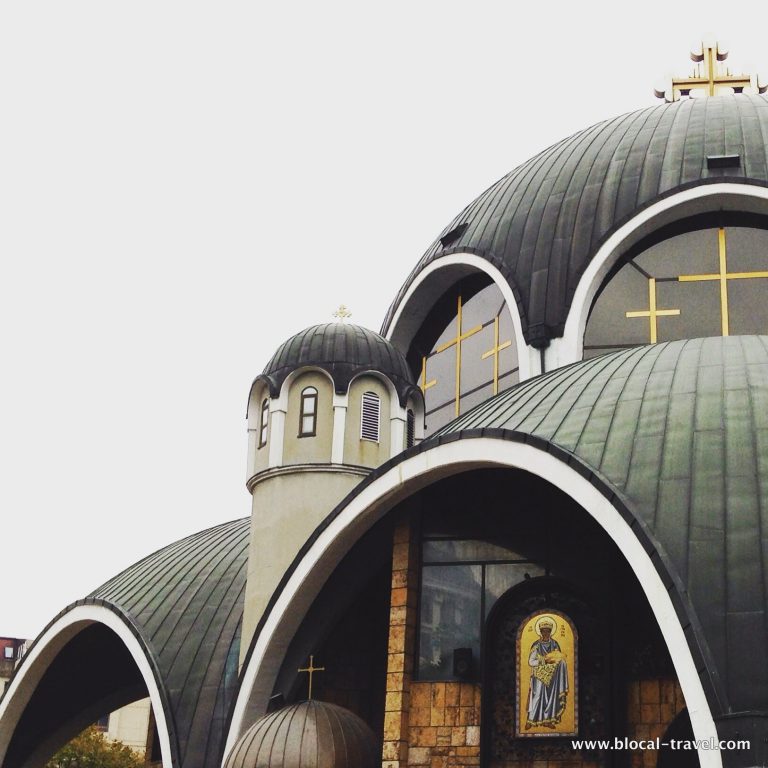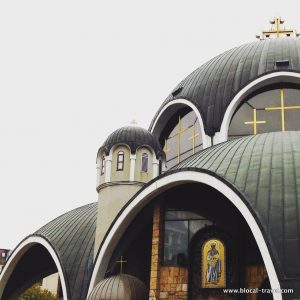 It was a warm, starry mid-October night and I was walking along the narrow, cobbled alleys of Skopje's old bazaar, which is the largest bazaar in the Balkans outside Istanbul.
I had just waved goodbye to my best friend and her husband and I was planning to walk all my way back to the hostel to enjoy the architectural charm of this town, which is made up of minarets, hammams (Turkish Baths), Byzantine churches and Ottoman houses juxtaposed with the geometric themes and raw concrete that constitutes Skopje's Brutalist architecture.
Suddenly, as I was walking past the Stone Bridge, loud, haunting music interrupted my stream of thoughts and a series of light effects made me wonder if I was really in the capital town of Macedonia, at the very heart of the Balkans.
Right in front of my eyes, the statue of Alexander the Great seemed possessed by the soul of whoever had designed the Las Vegas Strip. In addition to Wagner's 'Ride of the Valkyries' and the psychedelic lighting effects, the water was squirting from the fountain to the beat of the music.
Brutalist architecture in Skopje> 'Skopje 2014': 130 new celebratory sculptures and still counting
This kind of special effect isn't unusual in downtown Skopje anymore. The city is currently undergoing a massive, very costly and hugely controversial makeover. Launched in 2010, the 'Skopje 2014' redevelopment project is still changing the face of the Macedonian capital: new buildings are popping up everywhere, old buildings are being 'updated' in order to adhere to the new neo-classical trend and hundreds of bronze statues are being erected all over the city centre.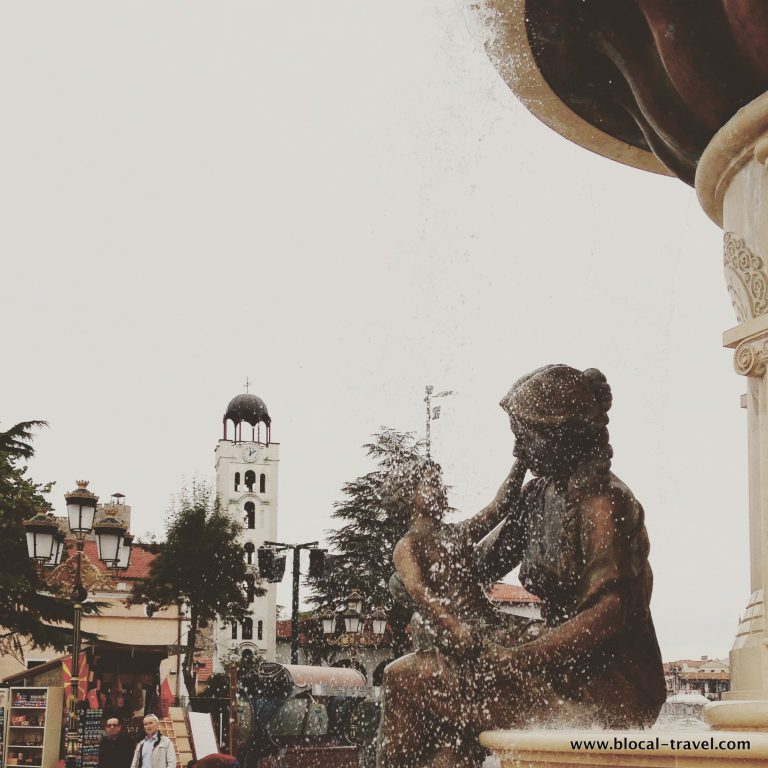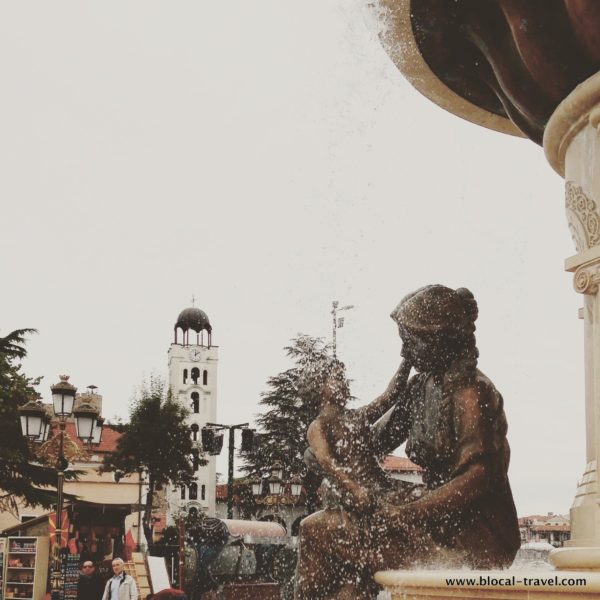 Every Disneyland-esque addition and all the fake-old architecture serves the purpose of repossessing the Macedonian national identity, through a government-funded display of nationalism especially aimed at Greece and the Albanians living in Macedonia. The heart is Skopje's central square, where a 22-meter-high statue bewilderingly resembling Alexander the Great has been erected. For politically sensitive reasons, the monument was named just "Warrior on a horse", as Greece doesn't want Macedonia to use Alexander the Great as a part of its history (well, as a matter of fact, Greece doesn't want Macedonia to use the name 'Macedonia' either… that's why the country is officially named F.Y.R.O.M., which stands for Former Yugoslav Republic of Macedonia). Opposite the statue of the warrior, whose resemblance to Alexander the Great is purely coincidental, there is the 15-meter-high monument "Warrior", which was modelled on Alexander the Great's father: King Philip II.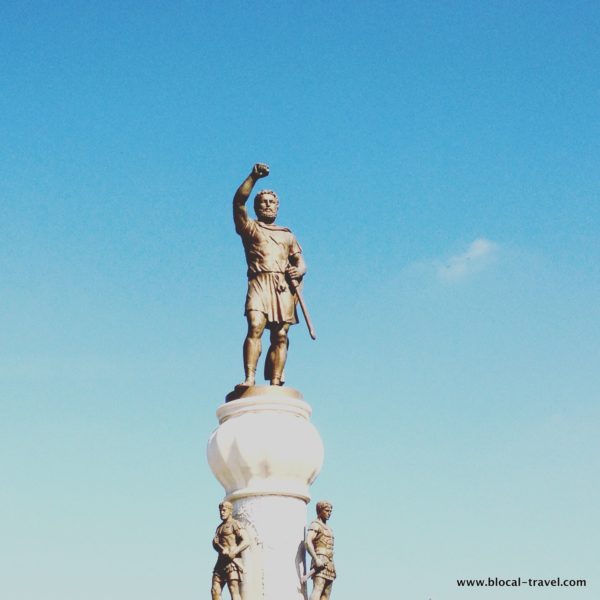 But the statue-erecting fever that has taken hold of Skopje doesn't stop here: all the conceivable historical figures somehow related to the history of the country have been dredged up, turned into tacky statues and lined up on the edges of just-as-new bridges and on the Vardar embankment.
Eventually, when the government had run out of historical figures, statues of common people –such as Macedonian girls walking their Macedonian dogs- starting popping up as well. Walking through Skopje city centre became quite a challenging experience for agoraphobic personalities.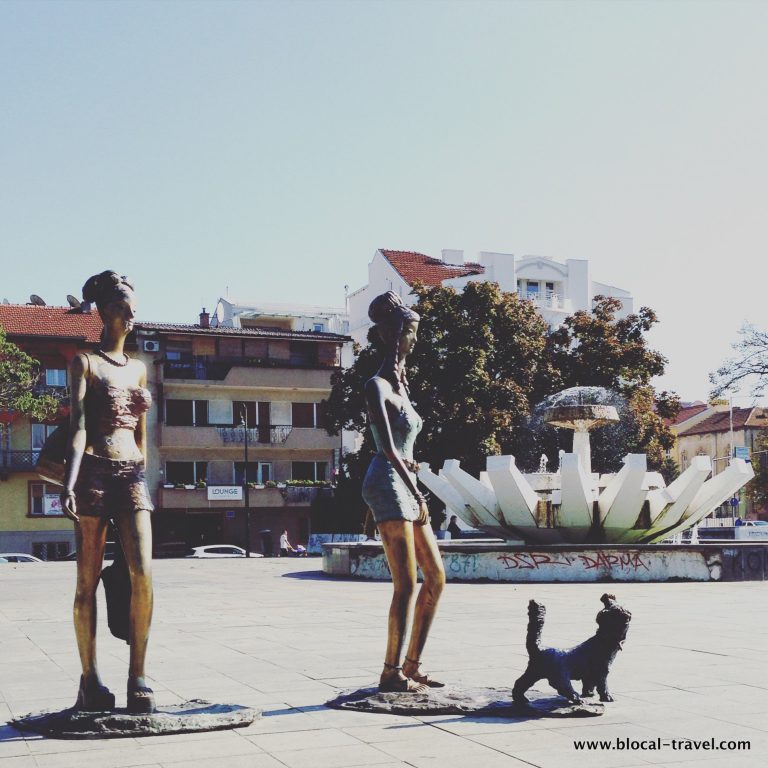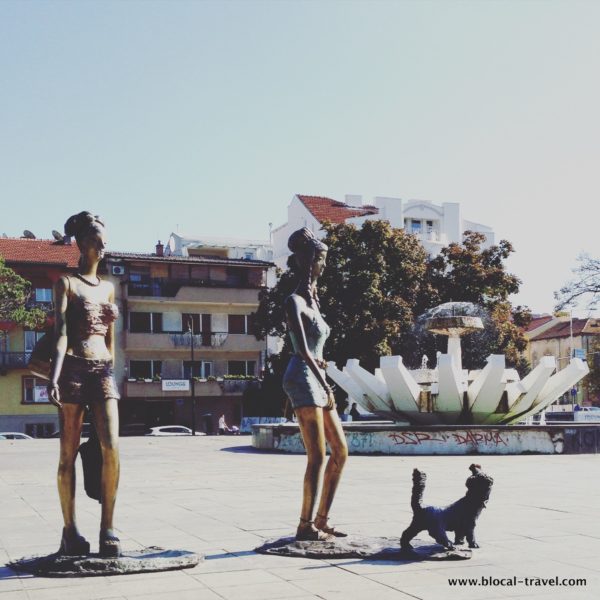 Apart from more than 130 new sculptures, Skopje's controversial revamp has brought to the city fake-baroque buildings, museums shaped as Greek palaces, pseudo-classical fountains and monuments, a reconstructed National Theatre, a triumphal arch and more gaudy additions, which have reshaped the skyline of Skopje to the point that even its own inhabitants can't recognize their own city.
Brutalist Architecture in Skopje > what will happen to Skopje's unique heritage?
Skopje's revamped buildings in pseudo-Greek style are not only taking over the ancient constructions that survived the dramatic earthquake in 1963, but also dozens of drab-Communist era buildings, which actually constituted the unique heritage that has made Skopje special.
Designed by Kenzo Tange -the award-winning Japanese architect and urban planner who outlined post-war Hiroshima and Tokyo Olympic Arenas- the redevelopment of Skopje's city centre after the earthquake of 1963 endowed the town with some of the oddest examples of Brutalist architecture anywhere. If the government wanted to leverage Skopje's architectural heritage and urban design to attract tourism, it didn't need to look any further.
But, as the Macedonian Prime Minister prefers tacky statues and gaudy buildings over geometric lines and raw concrete, Modernist architecture lovers from all over the world are now beginning to worry about Skopje losing its reputation as one of the best Brutalist architecture capitals in the world and, as a fan myself of grey, Communist-era buildings, it hurts my soul to see Kenzo Tange's legacy being so neglected.
All those unfinished, unpainted concrete slabs that made the design of this town truly unique are now decaying, while the government is financing an urban plan that, besides being just horrible, will cost way more than restoring what was already there. Obviously, the government has no interest in preserving those buildings -as it has no interest in keeping up any other buildings in the suburbs.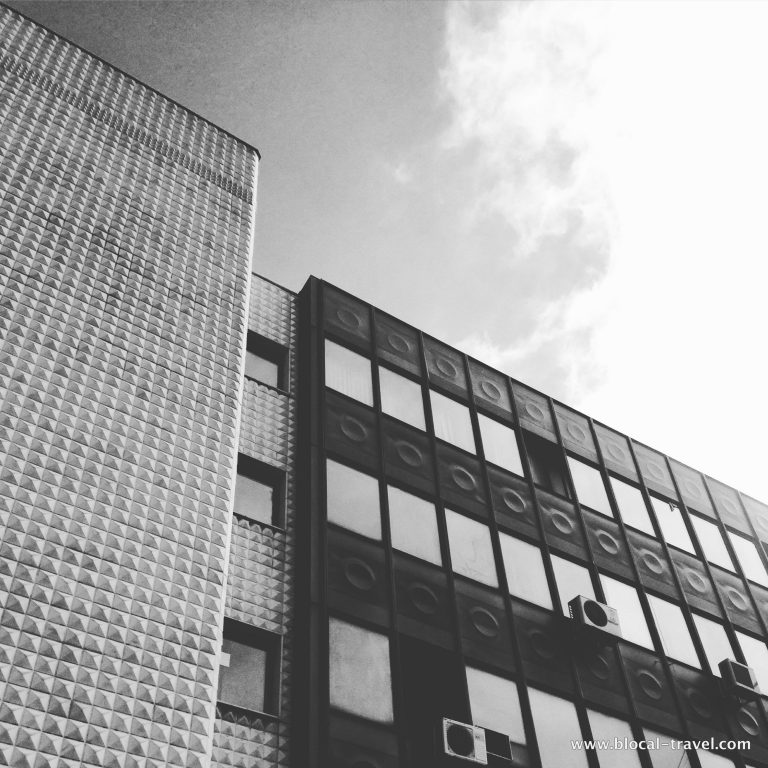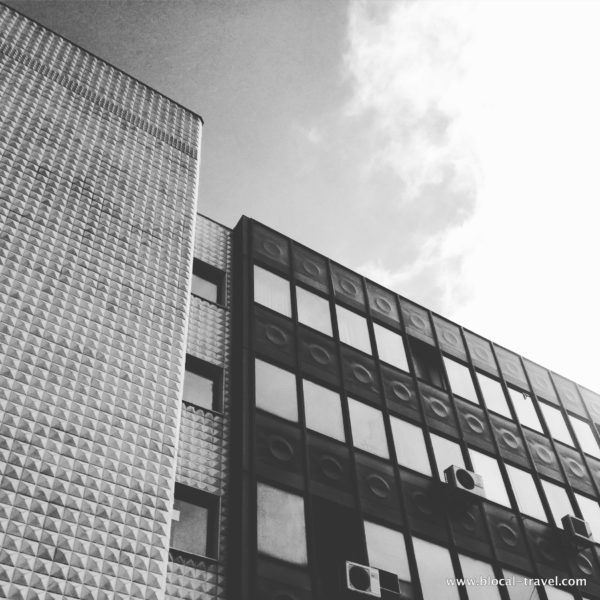 This was evident when I walked past the former central post office by the Macedonian architect Janko Konstantinov, which was one of the most astonishing examples of modernist architecture in Skopje. Empty rooms, destroyed windows with broken panes, rusty frames and all kinds of trash on the floor… the building is left to its fate, while the colourful, Communist-style interior murals by Borko Lazeski are now bleached out and long forgotten.
Brutalist architecture in Skopje > A very controversial makeover
If 'Skopje 2014' wasn't already over the top architecture-wise, it surely is cost-wise. With an initial price tag of €80 million, Skopje's 'facelift' has now exceeded the cost of €560 million. In a country where one-quarter of the population is unemployed, while one-third still lives below the poverty line, this lavish expenditure of millions from public funds is simply disconcerting.
Disconcerting as all these mushrooming, brand-new buildings are during the day, they look even more kitsch at night when the psychedelic lights are on. And so, while I was walking around the city centre in astonishment, I couldn't help feeling as if I were in Las Vegas. Except that I couldn't find any casino to help me forget my disappointment.
PEEK THROUGH: You can see what's left of Skopje's Brutalist architecture in my travel video "10 days in Macedonia… in 100 seconds!"
You can hover over these (or any image) to quickly pin it!