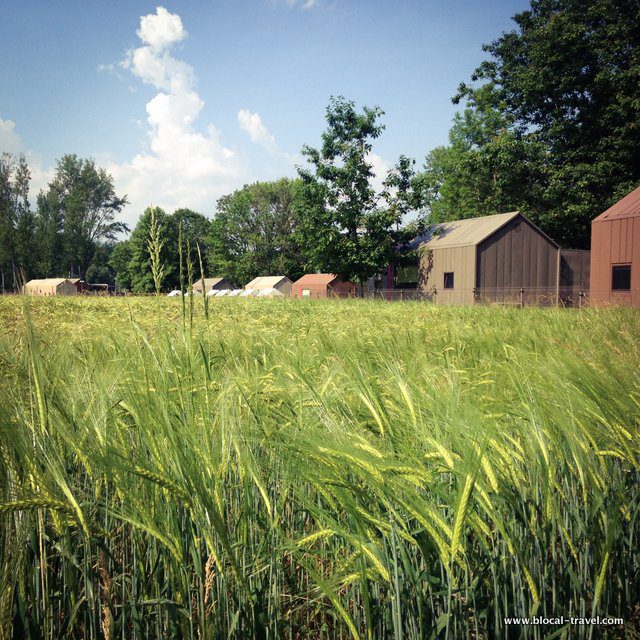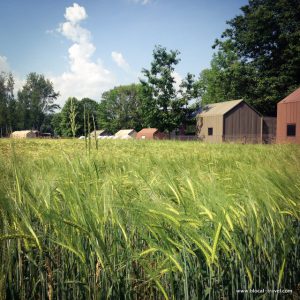 Slovenia has no more secrets for me. Ha. However, I knew the rural area of Bela Krajina lesser than other regions. Except for a few times when I drove across it heading to Zagreb, I hadn't been in Novo Mesto and its surroundings since Rock Otočec 2008. And even if I still hang on truly, madly, dearly to the memories of that crazy weekend, nine years later I'm trading mud wrestling for the charm of a landscape resort –Big Berry– nestled into this unspoilt corner of Slovenia.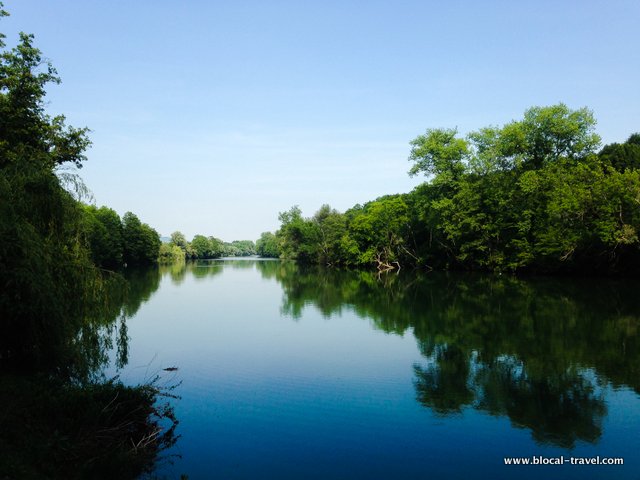 Although the resort is wonderful, there is a lot more to see and experience. Vacations at Big Berry aren't just made up of clean air and unspoilt views.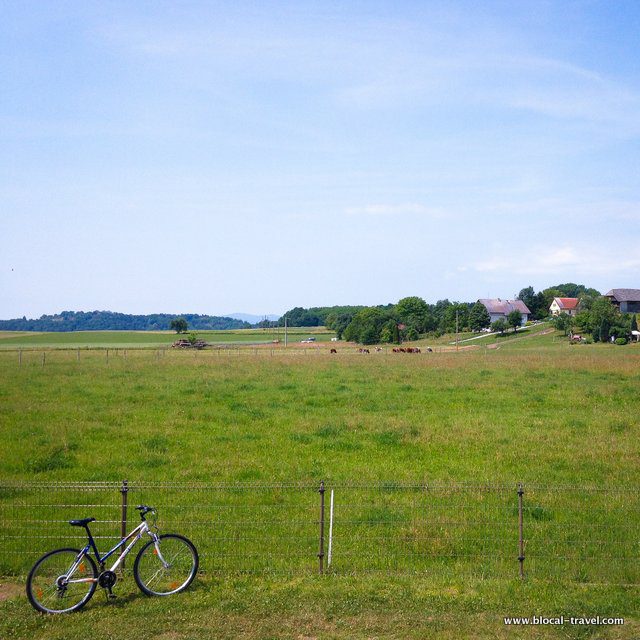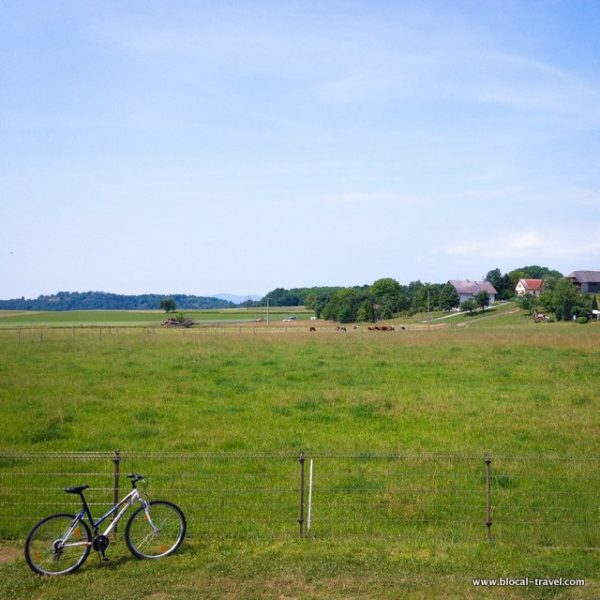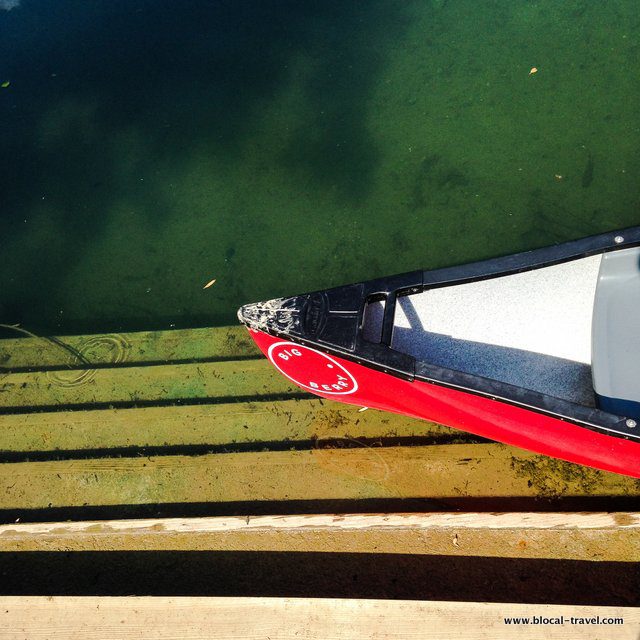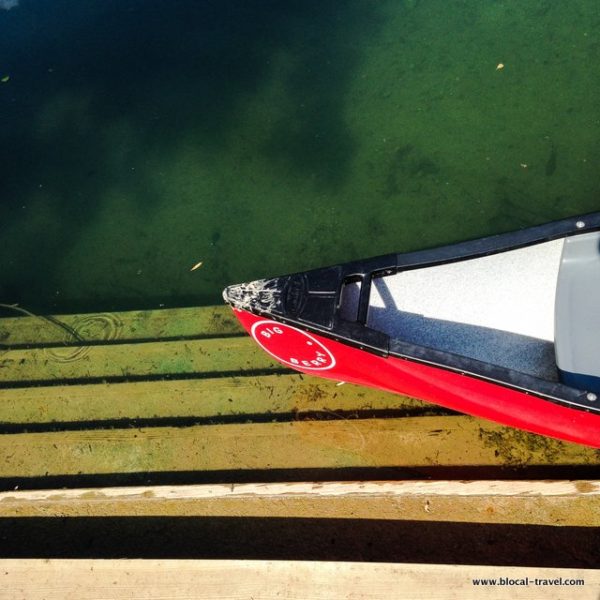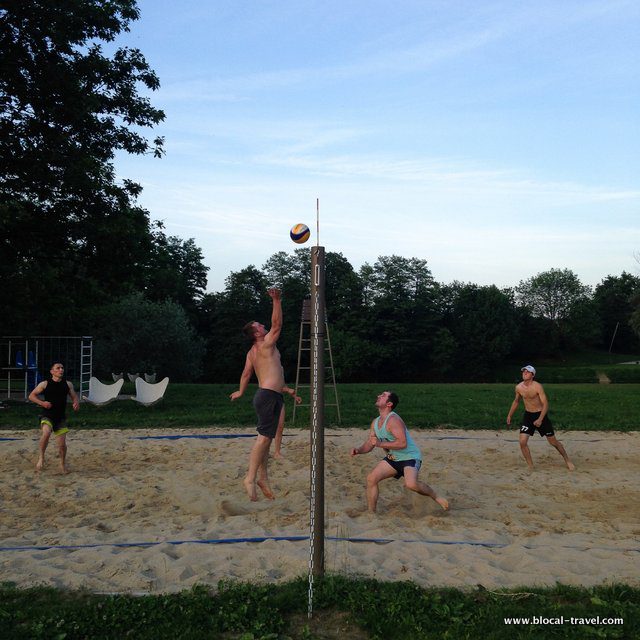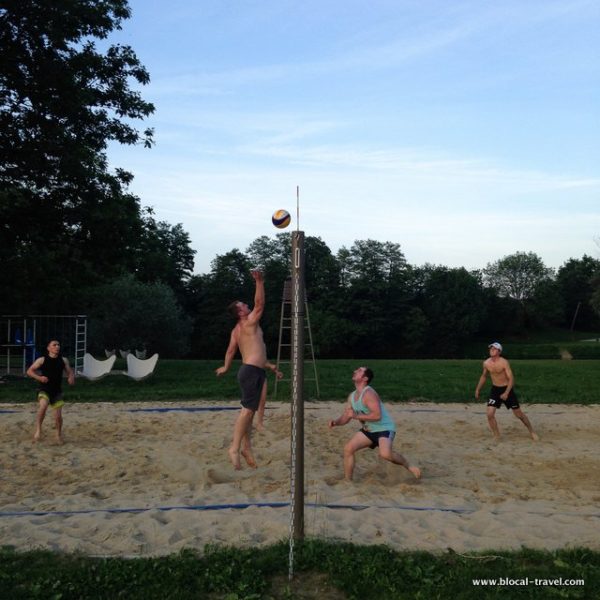 The network of local partners is itself part of the holiday experience. Therefore, not only the experience is 100% local, but also unique, since it's both customisable and impossible to duplicate anywhere else.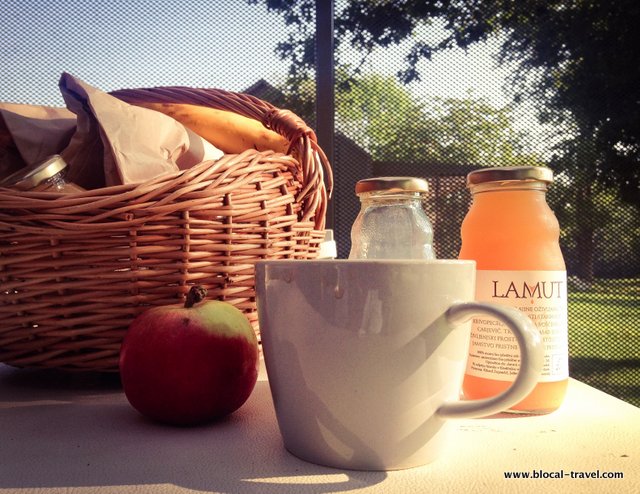 Moreover, the Big Berry 'model' shows that tourism doesn't always have a negative impact on local communities –quite the opposite!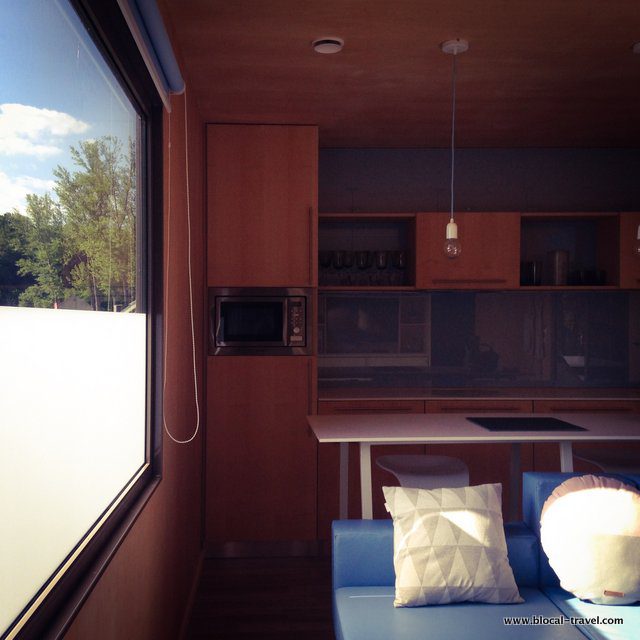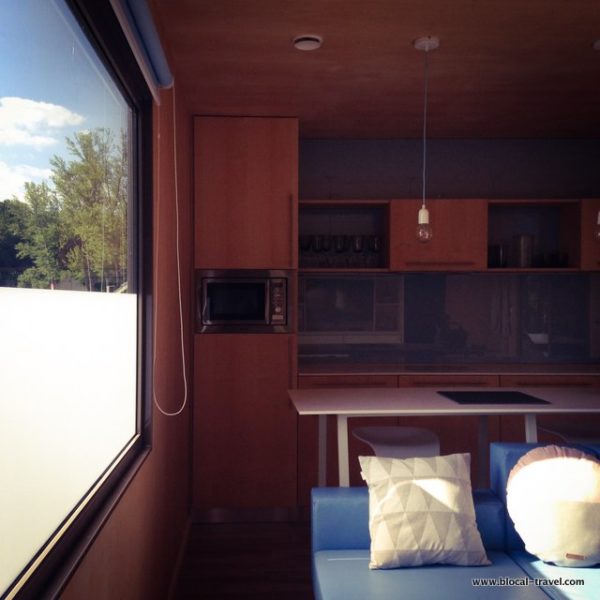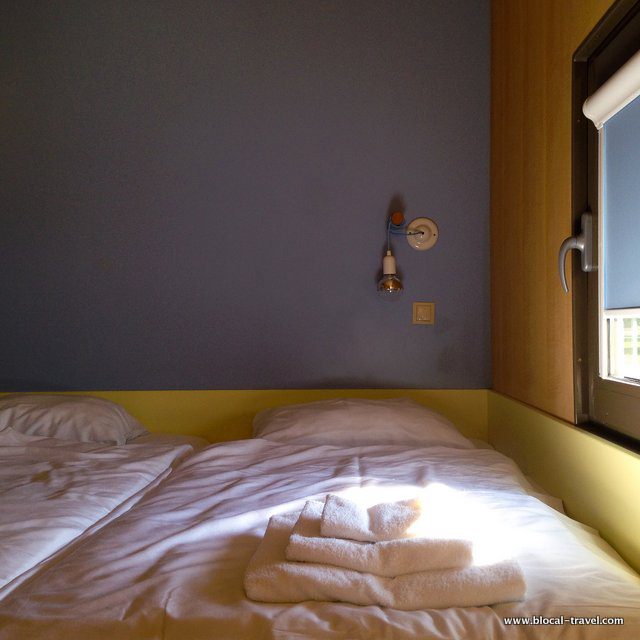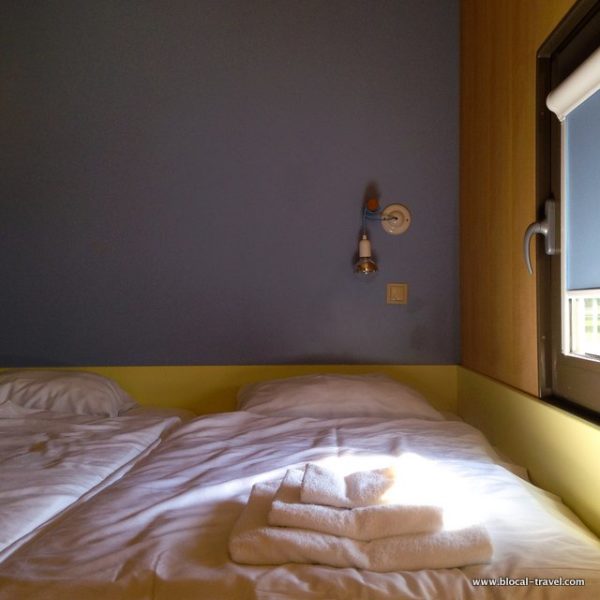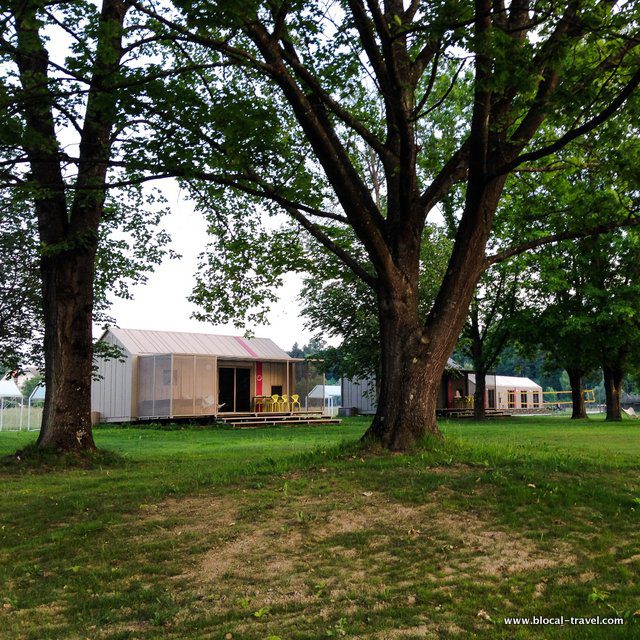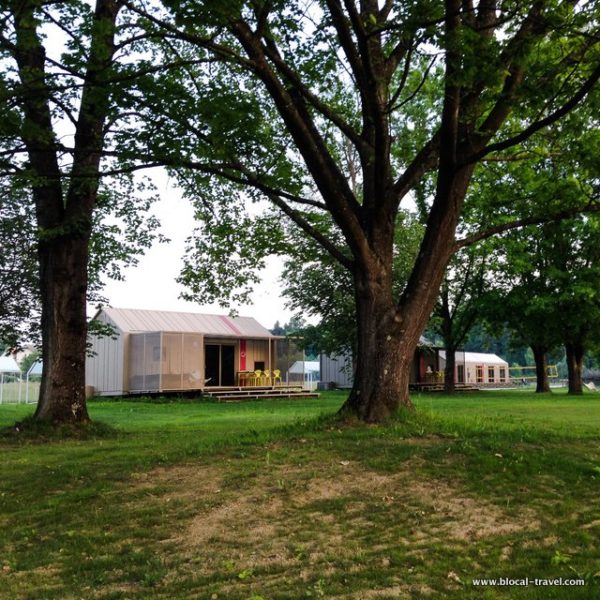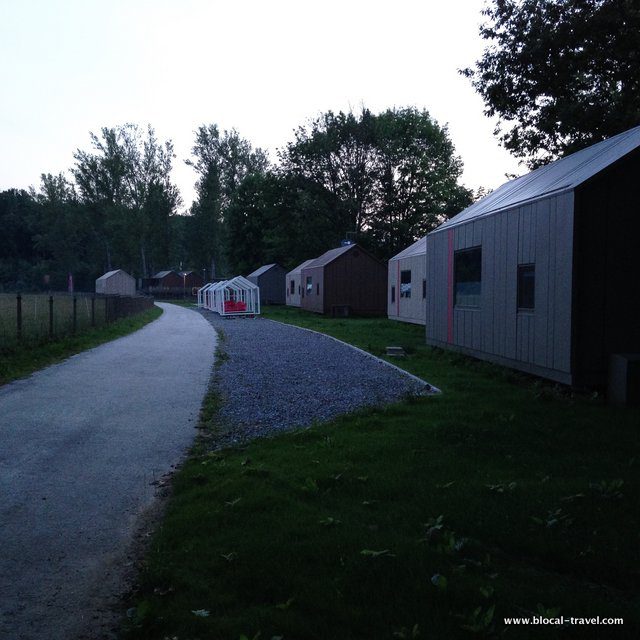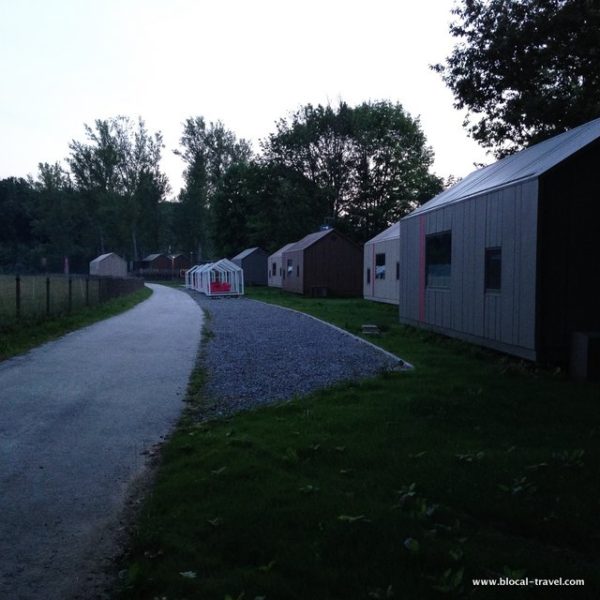 Big Berry Slovenia > Meeting the 'bovely' staff
I met the Big Berry people in Novo Mesto. Outrightly, this international team's enthusiasm for being in Slovenia reminded me of my EVS year in Slovenske Konjice, which kind of made me love those guys straight from day one.
So, before writing any further, a huge THANK YOU goes to the Big Berry staff. They made my stay truly special, starting from the way they customised my local experiences…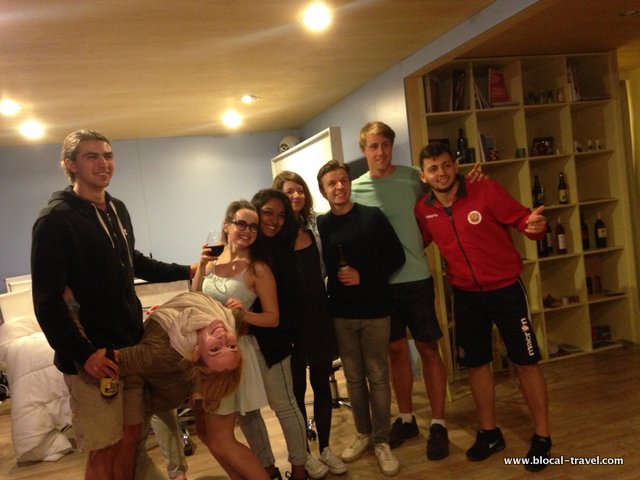 A pungent smell welcomed us as we entered the area where berries become liquers. I breathed it in, nostrils wide open with curiosity.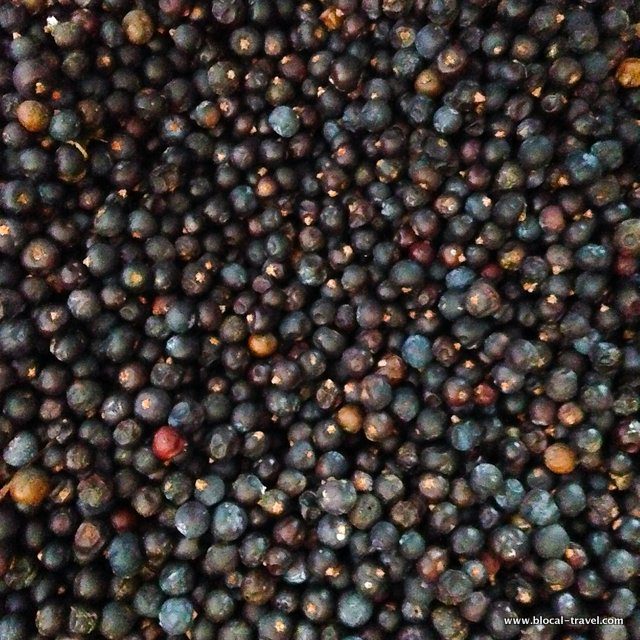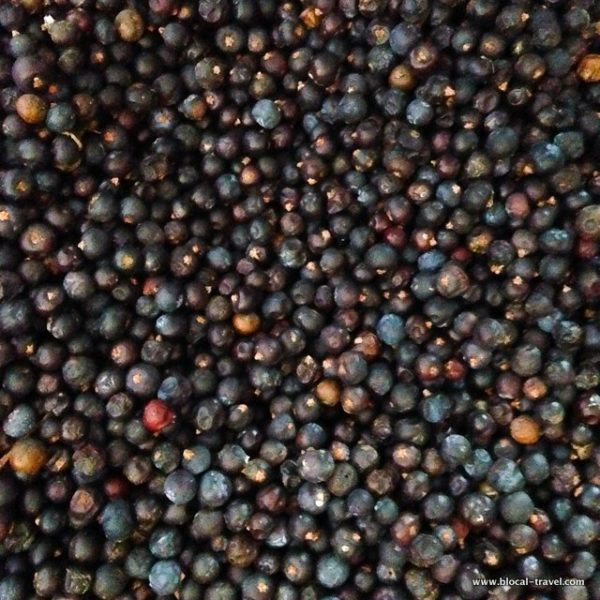 I walked between two lines of copper kettles, listening to how juniper berries are dried and further processed into Berryshka's award-winning brandy. I learned that what's left at the end of the process doesn't get wasted. Rather it either becomes compost or is turned into essential oils, –which can be used on the skin or to deodorize the air. Actually, essential oils were the inital core business of this family company, which now produces also liqueurs, spirits and chocolate.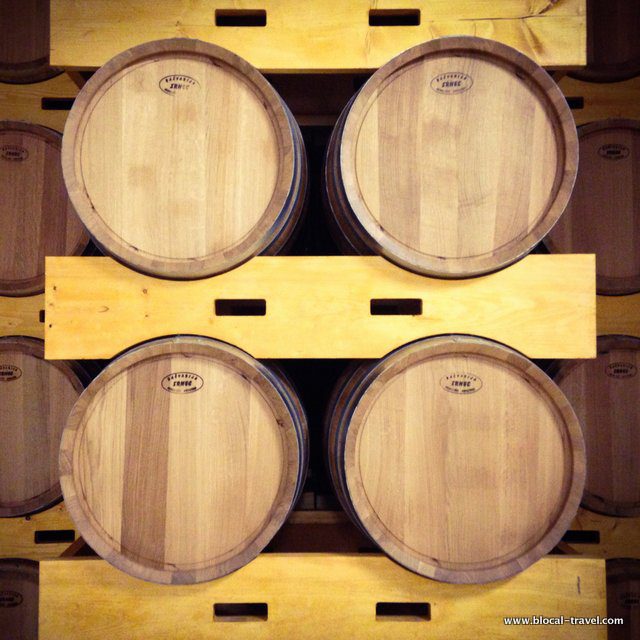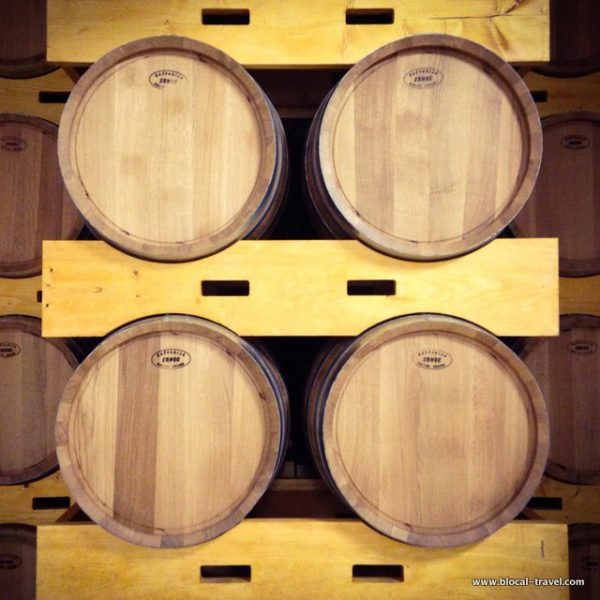 We visited the cellar where the first Slovenian whisky ages in wooden barrels and the laboratory where the master chocolatier fills different molds under a liquid chocolate fountain. Although the whole process was happening on the other side of the window, I could still smell the intense aroma.
While the sun hid behind a mountain covered with a mixture of trees, we walked back to the bar for a tasting.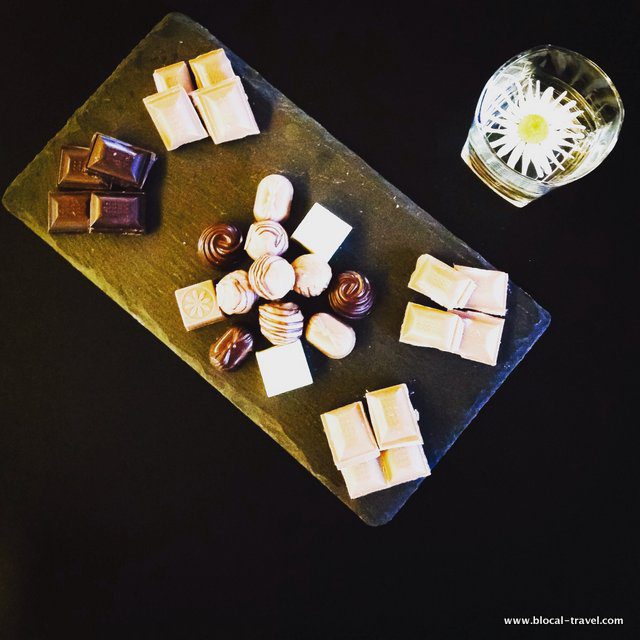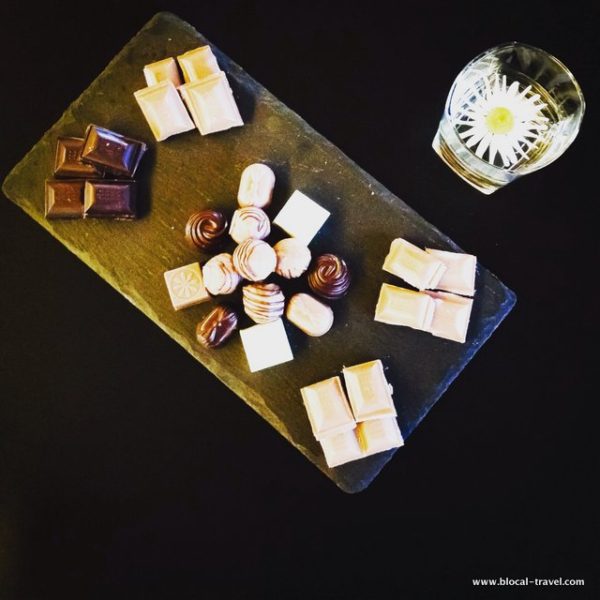 In between multiple bites of flavoured chocolate and pralines with either a creamy or a liquorice filling, we tried their special juniper brandy, which was sweet and smooth. After that, I had a boroničev -a liquor made with blueberries- the fresh taste of which will always bring me back to the time I lived in Slovenia.
Raising the chocolate glass with my new friends, I couldn't help thinking what an amazingly warm welcome I'd just had.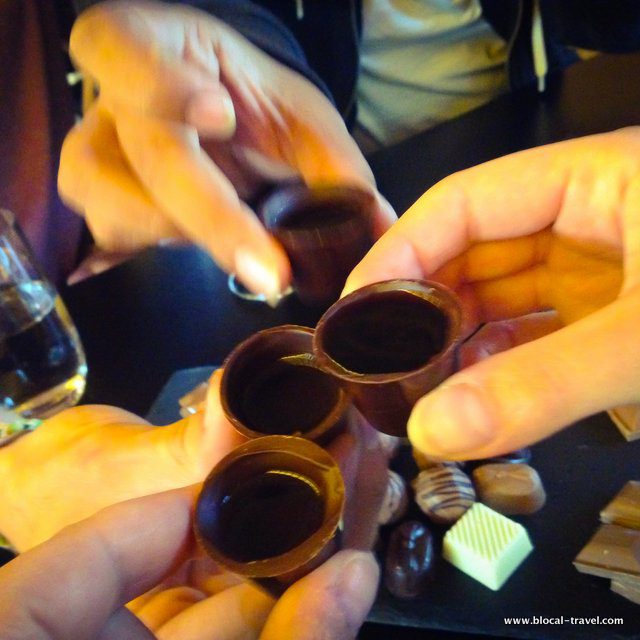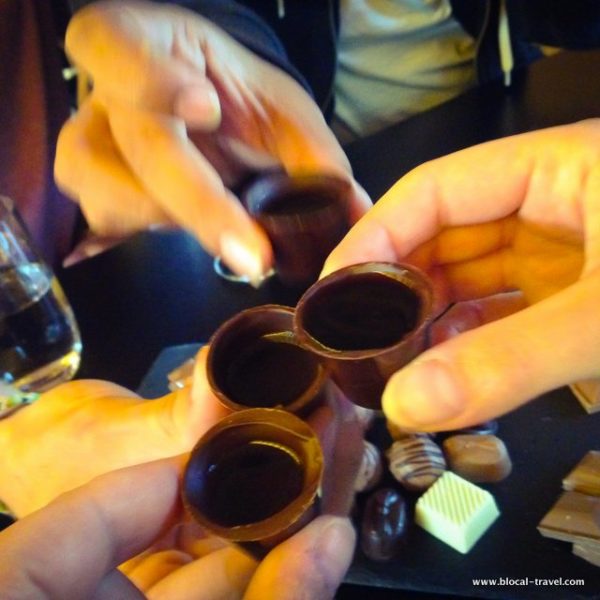 Big Berry Slovenia > Urbex, Love Letters & Craft Beers
The next day, I discovered that the Big Berry resort isn't just perfect for relaxing, but also a peaceful place to focus on work.
After I had finished the most important stuff and decided to postpone the rest, we set out for an exploration.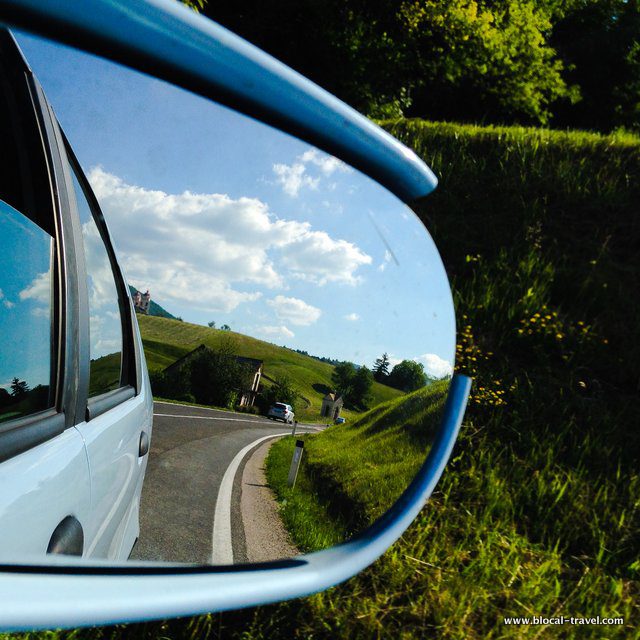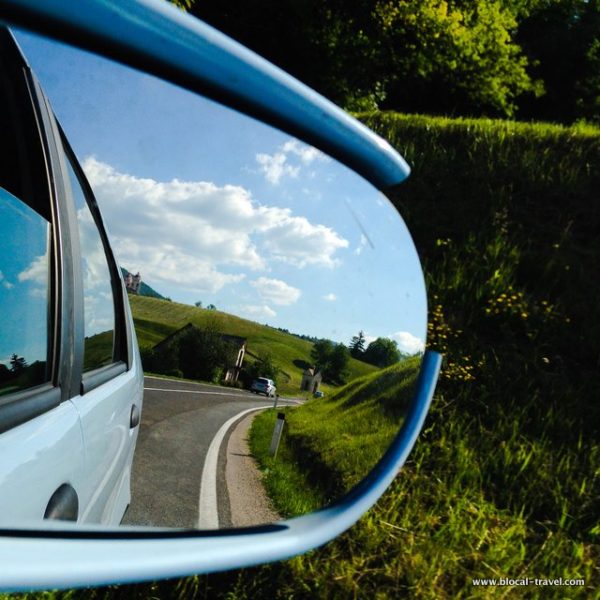 After I mentioned I was into urbex, the Big Berry people brought me to an abandoned castle nearby.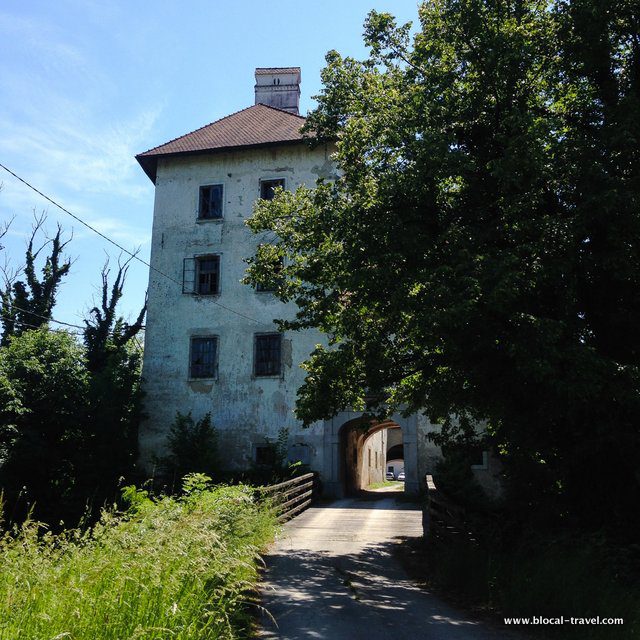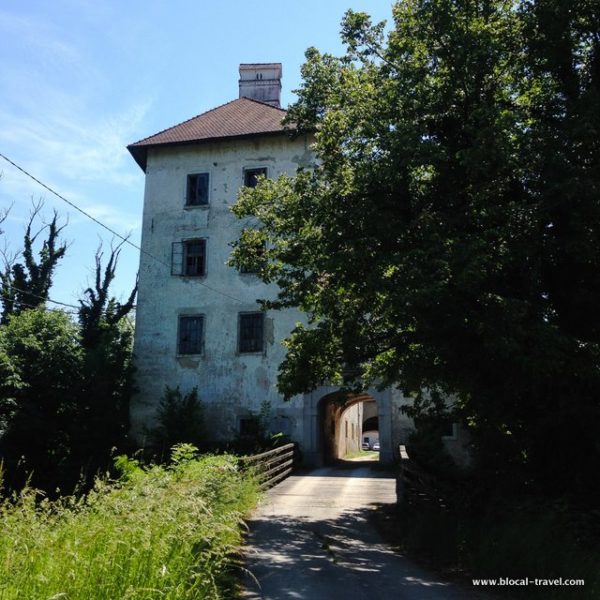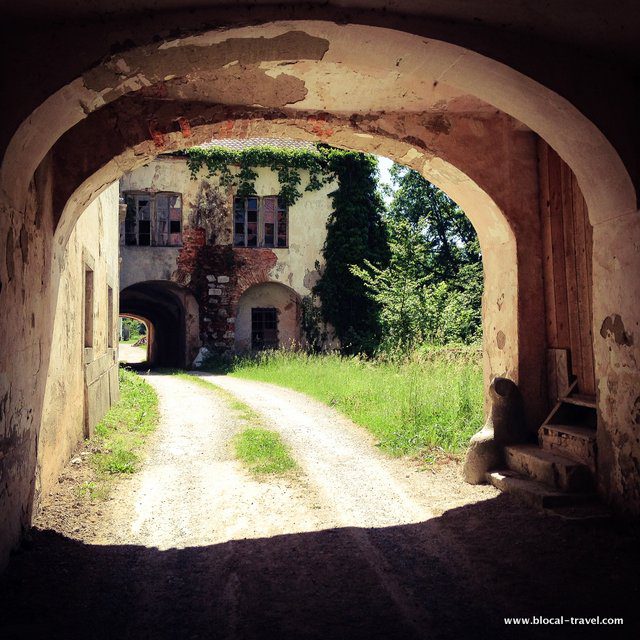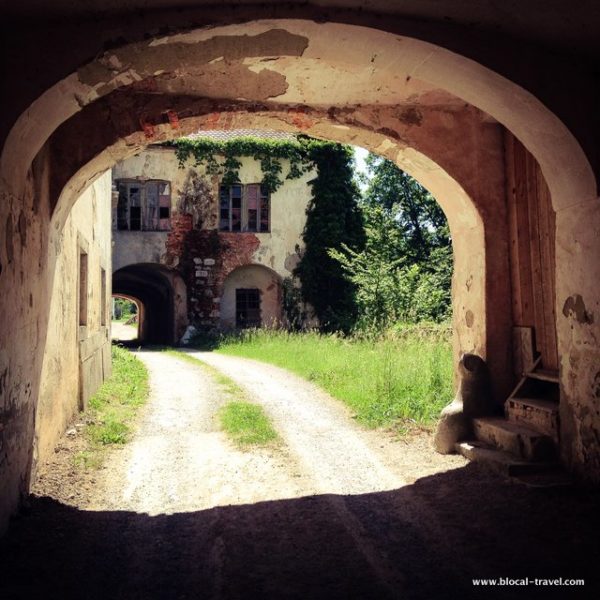 What we found there was more than a charmingly abandoned location.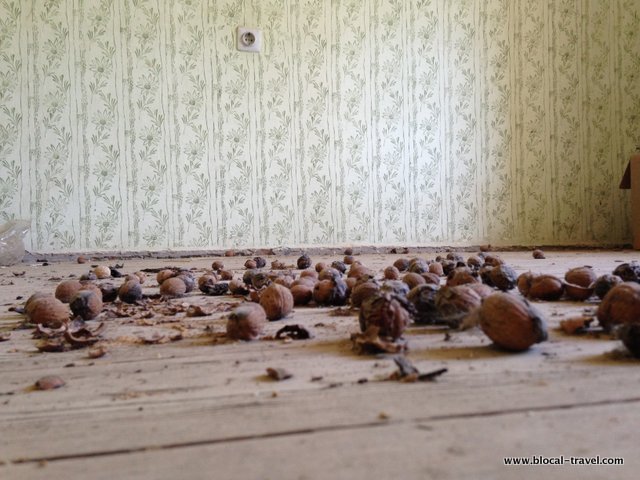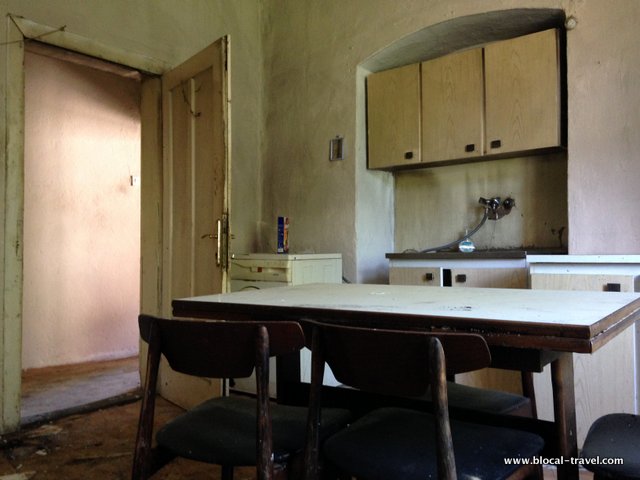 In all these years of urbex I have found many things, but never a personal journal and a collection of love letters!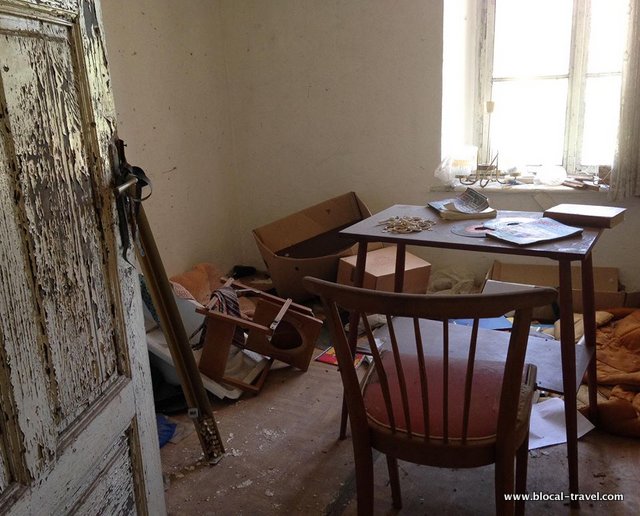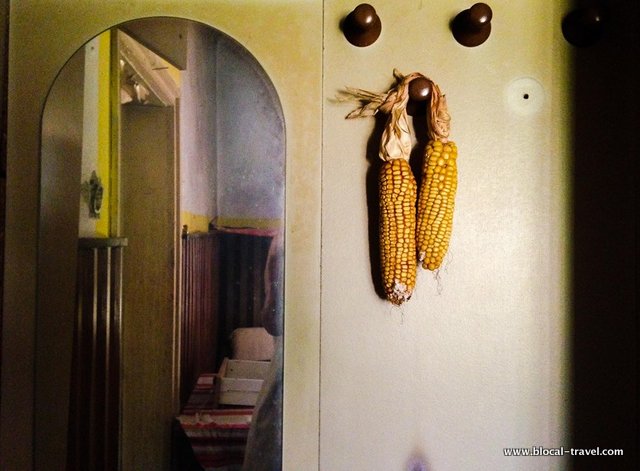 And so, among dust, flakes of plaster, putrefied food and broken furniture, we unveiled a love story between Danilo –supposedly a Serbian soldier- and a Bosnian girl whose name wasn't disclosed, since she had never replied to Danilo's letters.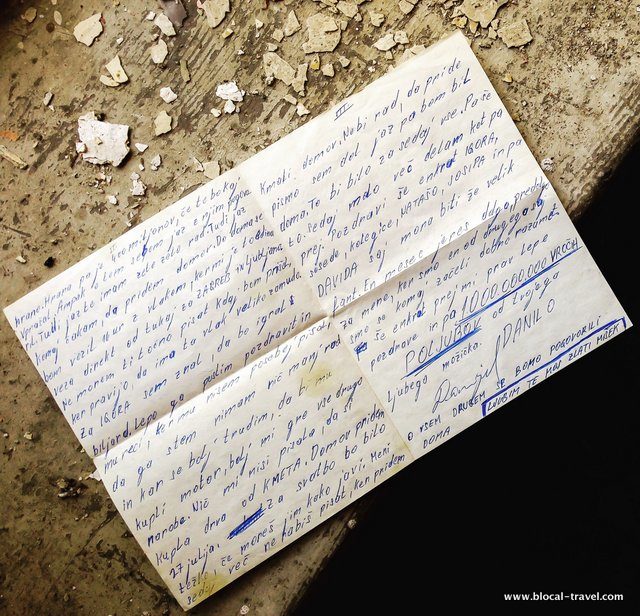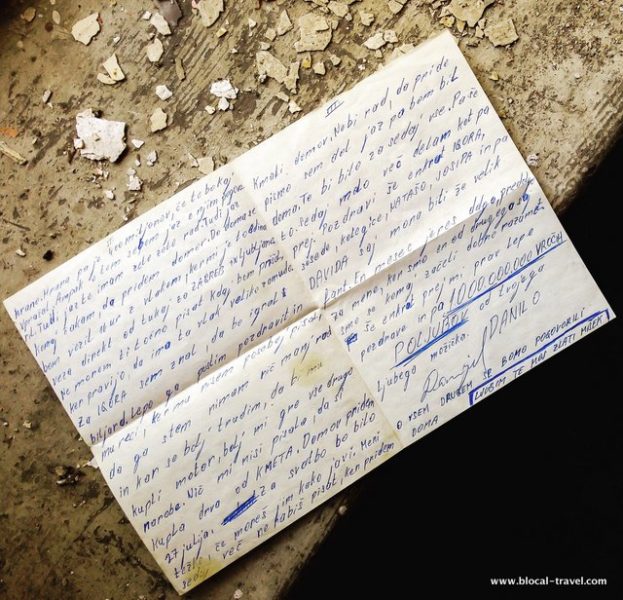 As you might know by now, it wouldn't be a trip to Slovenia if I didn't peek into a craft brewery. The people at Big Berry knew this as well, so they arranged a tour of Vizir craft brewery.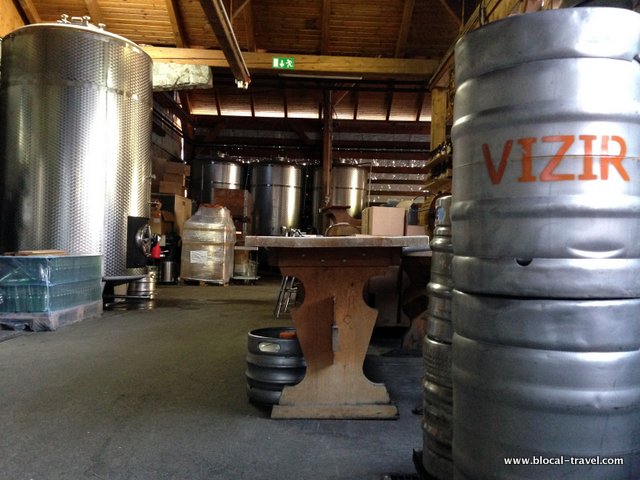 Named after Napoleon's horse, Vizir started out as a wine production company. Actually, it's still producing excellent wine, as we learned when we visited the cellar. Here, under the supervising gaze of a low relief of Bacchus, ham hung ageing on a tank.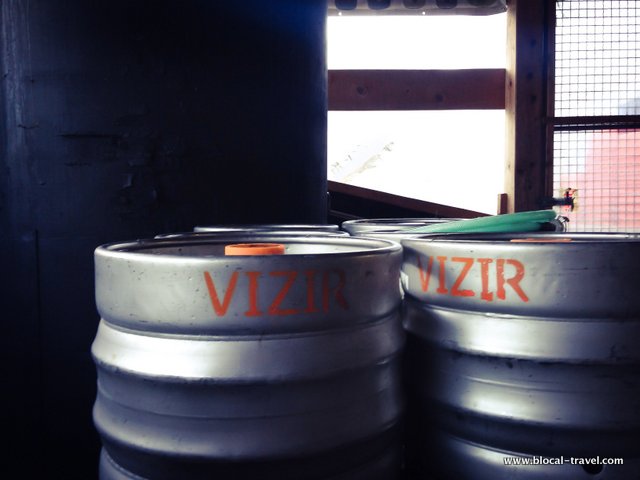 Beer-wise, they started out selling home-brewing equipment and organising workshops. Then, six years ago, they began brewing their own beers. I asked about the provenance of their hops and yes, they are from Slovenia. I've always been impressed by the fact that, despite its modest size, Slovenia is the world's sixth-largest producer of hops!
https://www.instagram.com/p/BUtSkxdBGO3/?taken-by=giulia_blocal_blog
Here are the seven beers we tasted at Pivovarna Vizir:
'Magic Chestnuts' is the only beer made with chestnuts in Slovenia. Said chestnuts are cultivated in-house, picked, selected and peeled one by one. As you can imagine, this is not an easy job, especially since the volume of chestnuts required per beer is relatively high (30%).
'Yellow Submarine' is a German-style weiss that tastes of almond, banana and ananas. It has a golden colour, almost orange, and a wheaty, moderately sweet flavour.
'Mr. Pride' is a Pale Ale made with just one hop, which is called 'Aurora' and is among the most ancient hops in Slovenia. Since Slovene hops are similar to English hops, its crispy and malty taste is commonly known as English-style. This beer is very refreshing and not so hoppy, which makes it especially drinkable.
'Gringo' is an Indian Pale Ale made with four different kinds of American hops. It's quite bitter and fruity, tasting of melon and agrumes.
'Superstar' is a Wheat IPA. This means that it has more structure than a regular IPA due to its 20% wheat volume. It has a strong, bitter taste with notes of lemon, melon and grapefruit.
'Maximus' is a very strong Imperial IPA (9% alcohol) that Vizir has been brewing from the beginning. Produced in the English style but with the Slovene 'Styrian Golding' hop, this beer uses double the quantity of barley malt than any other Vizir's beer. It also takes longer to age in their tanks, hence, its taste is especially intense.
'Black Jack' is a dark, creamy stout with a strong taste of coffee and chocolate. The body of this beer is rich and smooth and the aroma is gentle.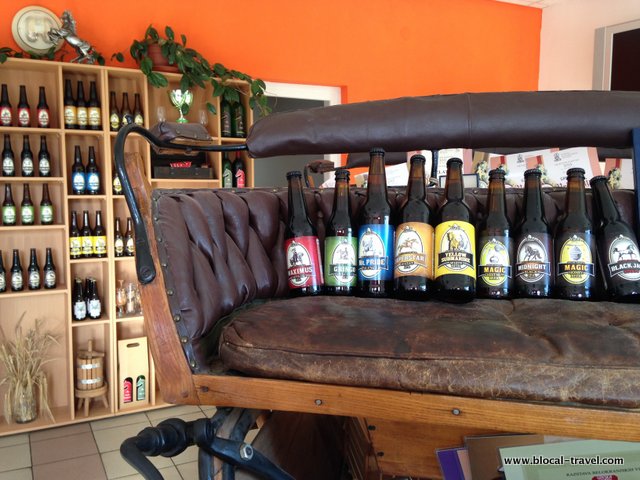 Big Berry Slovenia > Pogača, Sparkling Wine & Burek On The Go
The next morning, we did another of my favourite things while travelling: visited a cemetery.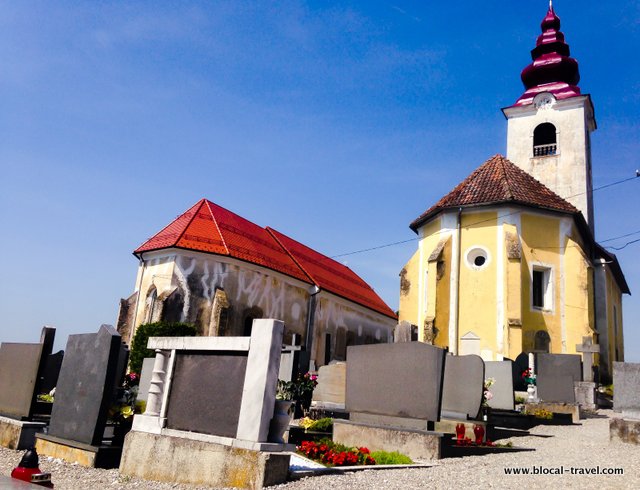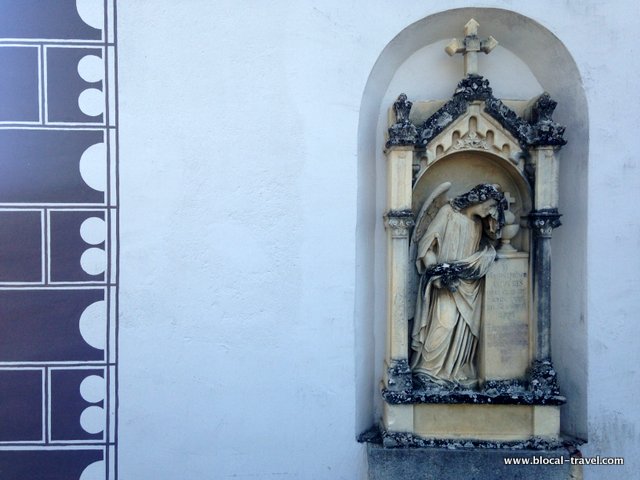 The Rosalnice Cemetery is enclosed within a high wall together with three gothic churches built between the 14th and 16th centuries.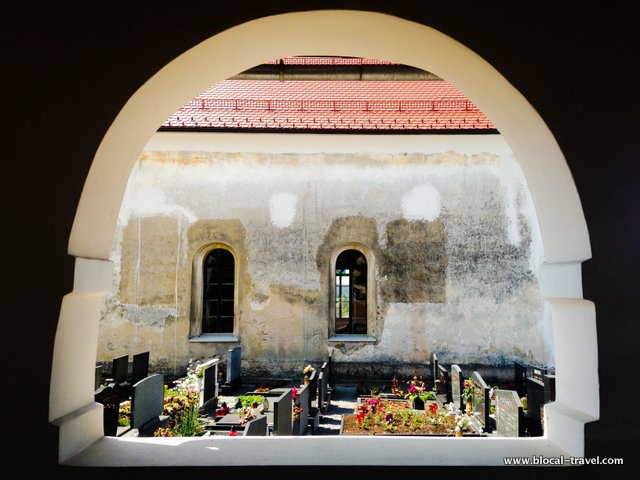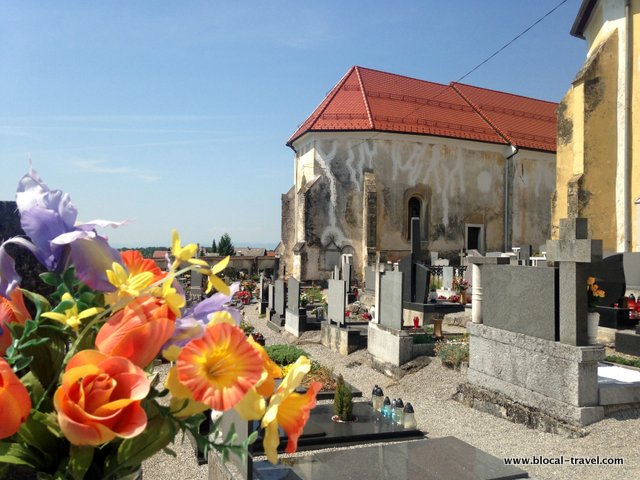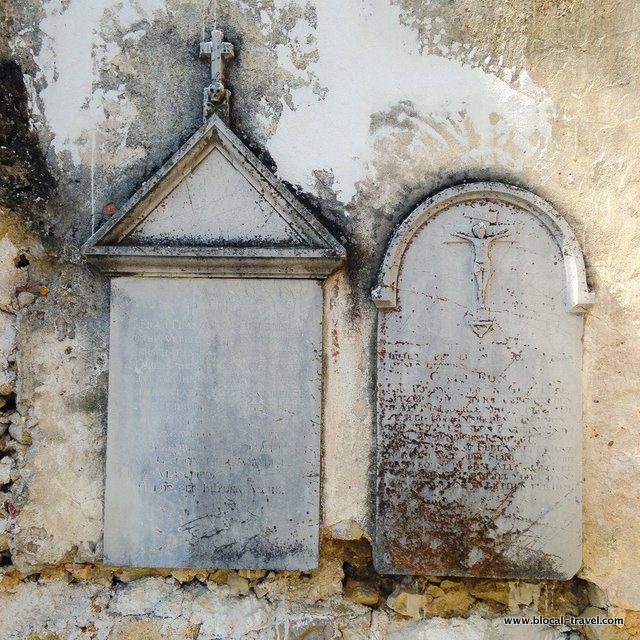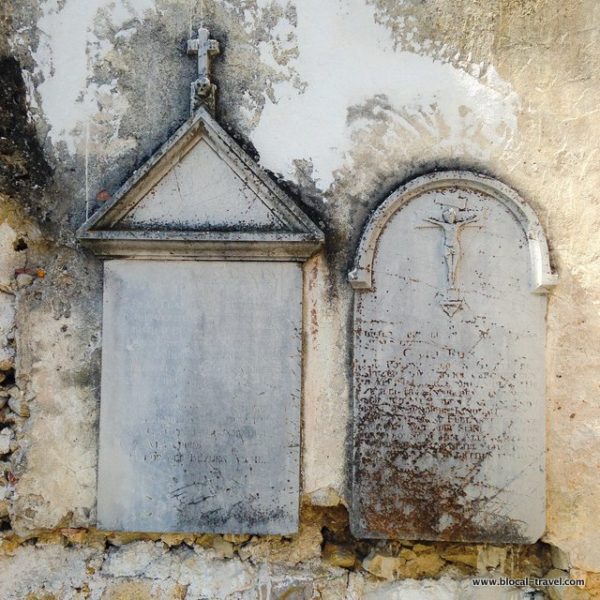 This religious complex is known as 'Tri Fare', which means 'three parish churches'. It's famous in the area as a popular destination for pilgrims from other Balkan countries.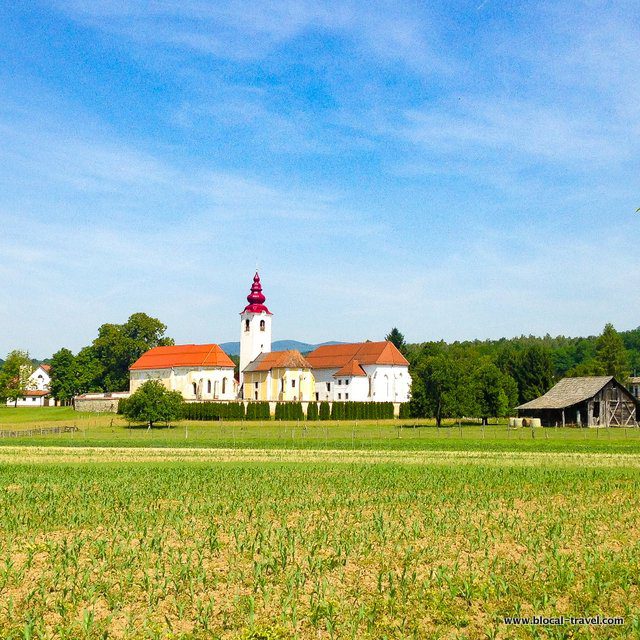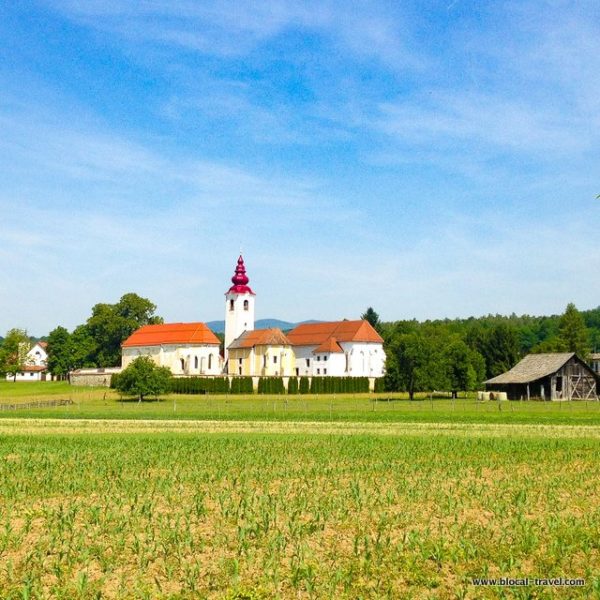 Near Tri Fare, there is a curious place which doubles up as a glass workshop and bakery. As we parked the car, we were welcomed by the fragrant smell of bread. Mojca, the owner of this family-run bakery, was out delivering, so we waited for her under its wooden patio, sipping a coffee and tasting her award-winning Pogača.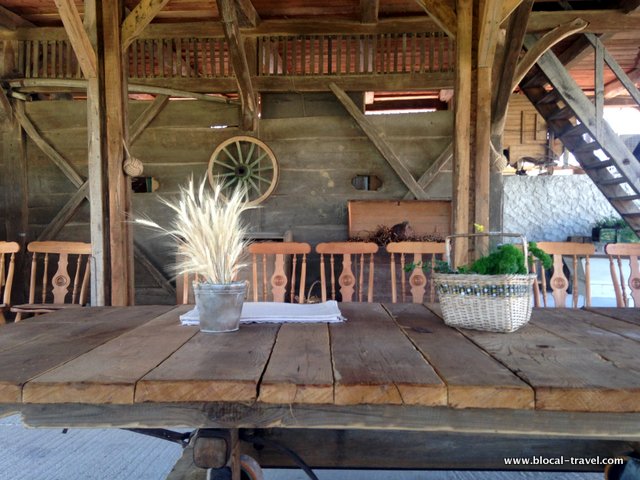 Pogača is the typical flatbread of the Bela Krajina region. It is round and traditionally covered with sesame seeds, although I've tried many variants. These include pogaca topped with generous quantities of cheese or bacon. This Pogača, though, was different from those I had tried before, since inside it was still warm, soft and delicate.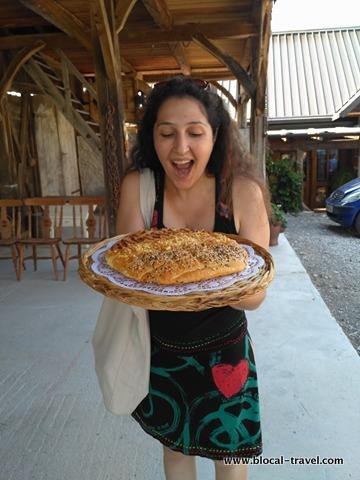 Pogača is meant to be split by hand, which is what we did -piece by piece- until we ate the whole thing and moved on to the cookies that had just come out of the oven. Their aroma alone should have been enough to gain a couple of pounds, but at that point of the holiday I had already given up on my ayurvedic diet.
As soon as Mojca arrived, I noticed that her smile was as warm as her pogača. She showed us a photo album full of solid evidence that she has brought cake design to the next level. Her cakes aren't 'pretty' in the sense of 'instagrammable' but original, humorous and quirky. Most of all, they're very elaborate. My favourite was one I've named 'Balkan Mafia', although I must admit that another shaped like a vacuum cleaner was even more original.
https://www.instagram.com/p/BUtiBT3B97n/?taken-by=giulia_blocal_blog
In the evening, we visited the 'sparkling guy'. Together with his father, Gregor manages the sparkling wine company Semiška Penina, which produces champagne according to traditional methods. However, it goes under the Slovene name 'penina', since the word 'champagne' can be used only for drinks produced in France's Champagne region. Still their grapes, including Chardonnay, Sauvignon, Laški Rizling and Kerner, proudly grow on the sunny hills of Bela Krajina.
We met at Gregor's summer house, which happens to be just a few canoeing minutes away from Big Berry.
Sat in the shadow of the back patio, which overlooks the river from above a terraced garden, we uncorked a bottle of 'Semiška Penina Gold', a sparkling wine enriched with pure gold leaves.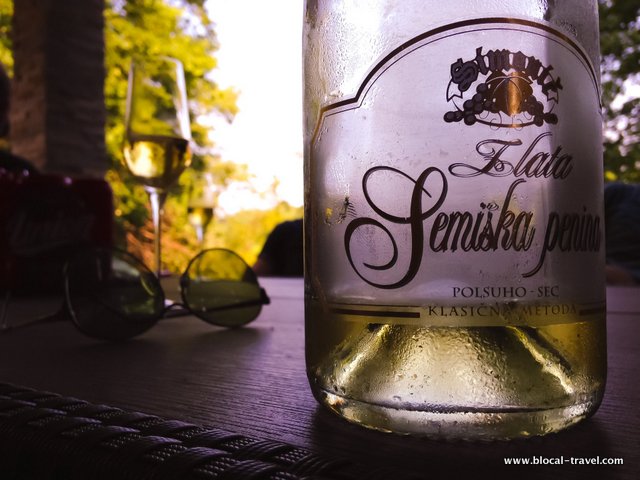 The small pieces of gold weren't the only ingredient making this fresh and harmonious wine especially charming. There was also the quiet of the garden, the soft wind cooling the air, the tweeting of the birds and, obviously, the subversive charm of day drinking. After a while, we couldn't stop smiling goofily – although we all did wonder if we had gold leaves stuck between our teeth. ;-)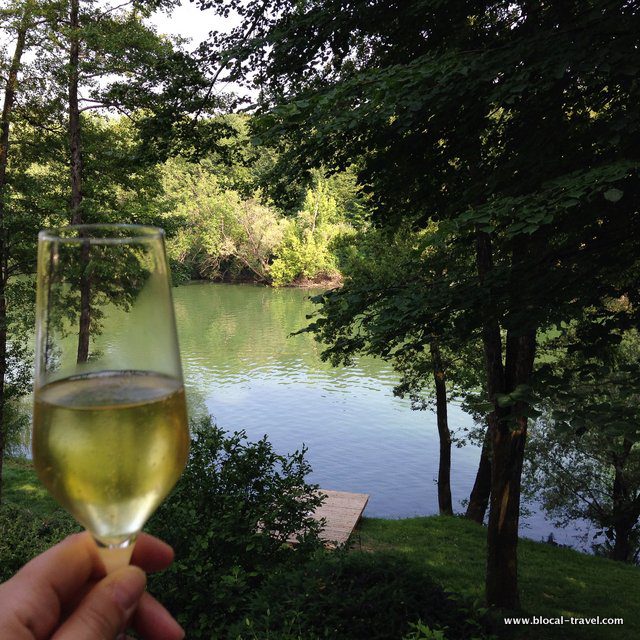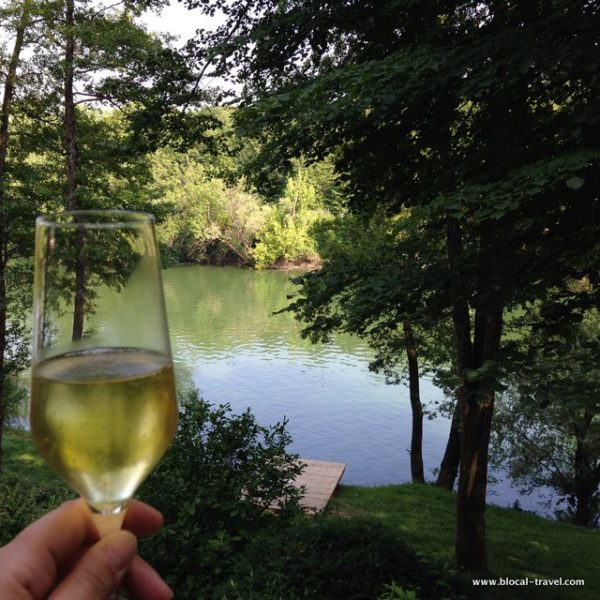 We soon realised that we sould need some food to soak up the wine. I had already been in the Balkans for two days and still hadn't had a burek, so we went to a bakery in Metlika to make up for lost time.
After such a glamourous start to the afternoon sipping golden champagne, we wanted to keep up with the Instagram lifestyle. So we took our bureks to a scenic location at the head of the Krupa River.
https://www.instagram.com/p/BUuf5WoB_Wc/?taken-by=giulia_blocal_blog
I washed my hands of greasy burek in the spring. The water was cold and incredibly smooth. Under this karst rock wall, the Krupa River begins its 2.5-km journey through Bela Krajina, eventually joining the Lahinja River.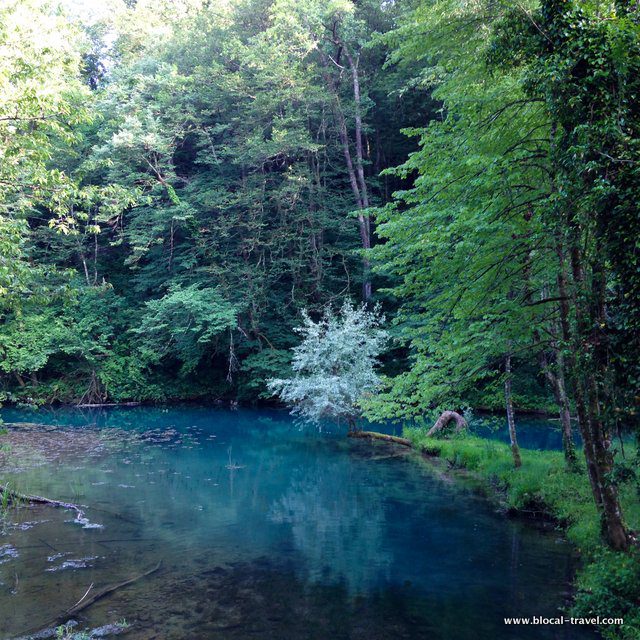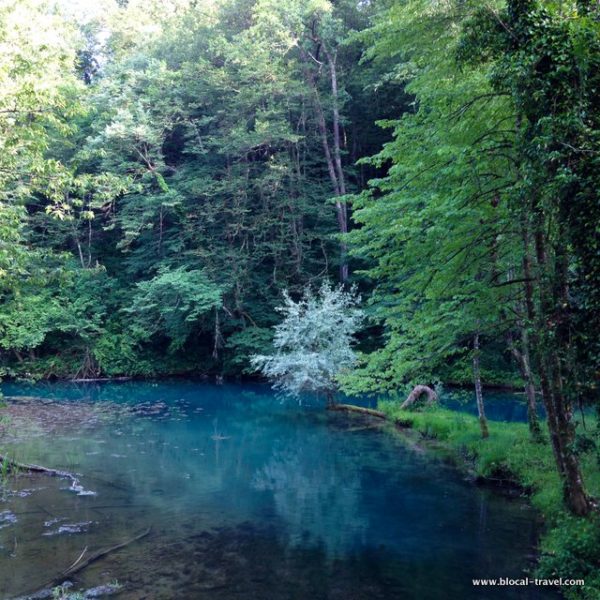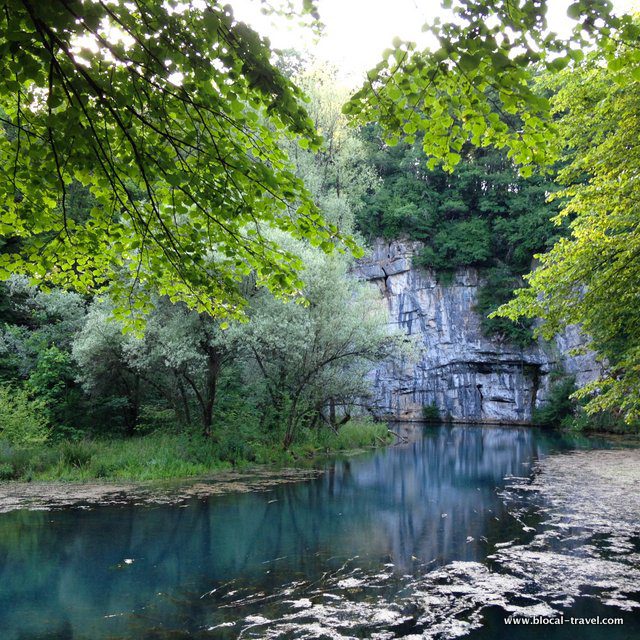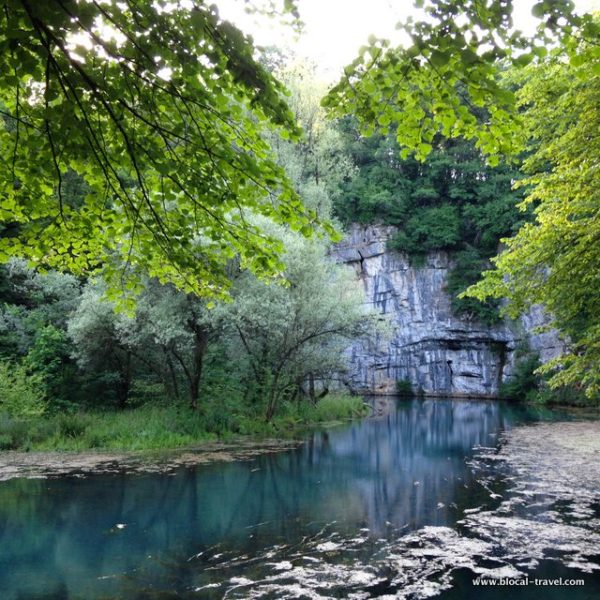 Back at the resort, we still had some work to do, although an extremely fun work. Since our visit of the Vizir Brewery, we were brainstorming about photographing a beer-yoga class featuring their bottles.
https://www.instagram.com/p/BUuor3ohJL0/?taken-by=giulia_blocal_blog
Since it was already quite dark, the photos didn't turn out as we expected, but we did have a lot of fun, along with a couple of reward beers!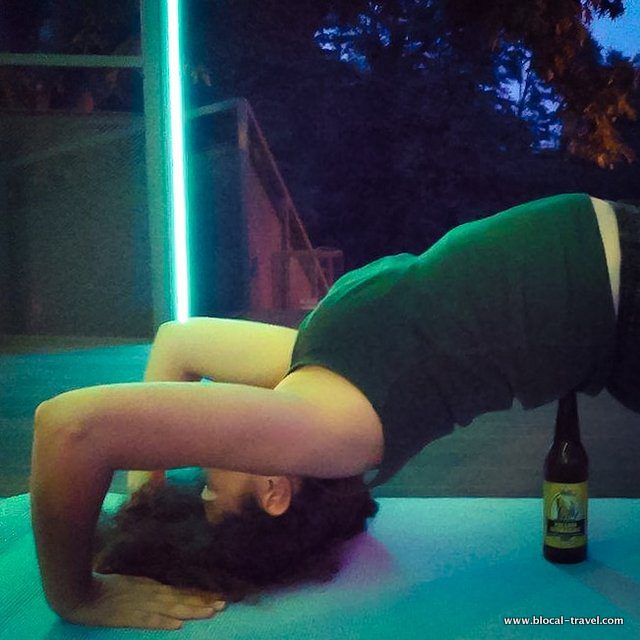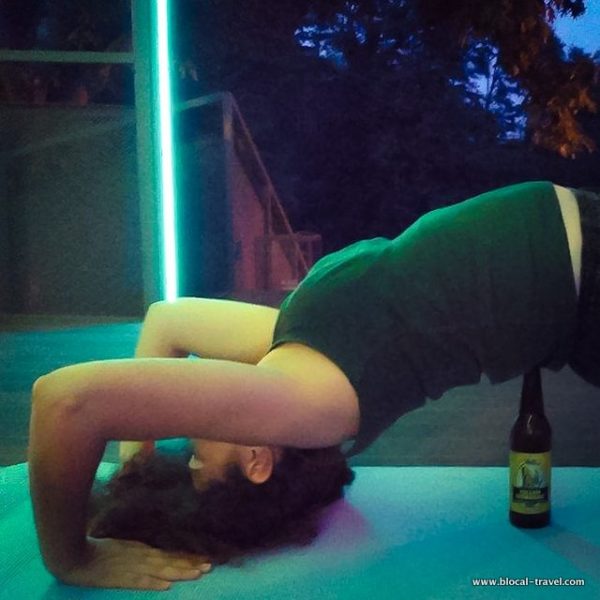 Big Berry Slovenia > Goodbye Bela Krajina
On my last day I woke up very early. When I sat on the swing, the river was still wrapped in darkness. I could just hear it flowing, its constant noise punctuated by the tweeting of the birds.
I swung 'til the sun rose, doing my best to enjoy a peaceful moment that I knew wouldn't be repeated any time soon.
In a few hours, I would be heading to Ljubljana, then back in Rome for a couple of weeks to get ready to the rest of the summer (Malta, Germany, Norway, Sicily and whoknowswherelse).
But that morning, I just gazed upon the dawn, soaking in the last dewdrops of Big Berry's peaceful atmosphere.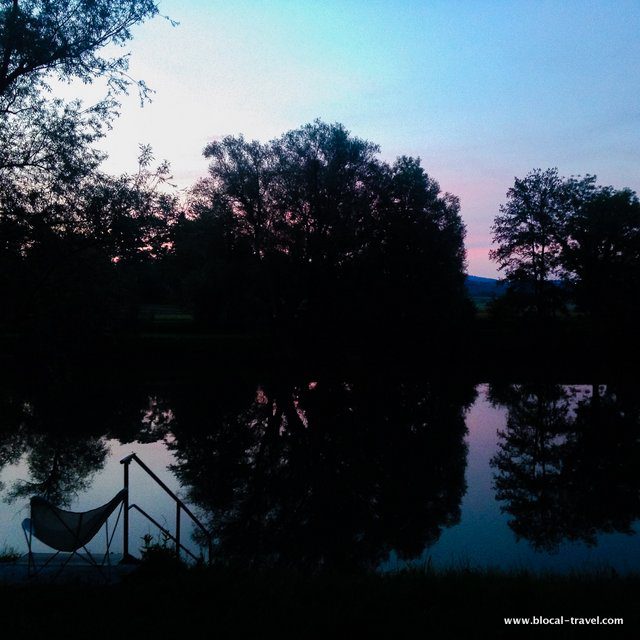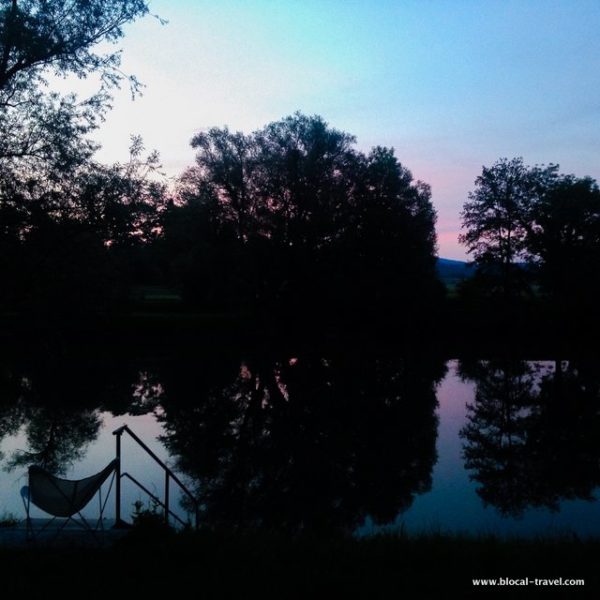 Many thanks to Big Berry for hosting me during my holiday in Slovenia. I was their guest, althought all opinions are my own – as always!
You can hover over these (or any image) to quickly pin it!