After the great Balkan trip I just had, unpacking and
coming back to real life
 was really depressing, so the other day I decided to cheer me up with a bite of a Balkan specialty: a home-made cheese
burek
, the ultimate street food into the Balkans.
Originating in Turkey, the burek was brought into the Balkans by the Ottomans and it is still one of the most popular meals in all former Yugoslavia countries, where it can be eaten at any time of the day, from breakfast to late night.
Usually a burek is filled with minced meat, or cheese, or vegetables, or potatoes, but there are also some creative versions such as "pizza burek" (with tomato sauce and mozzarella) and "sweet burek" (with apple and cinnamon).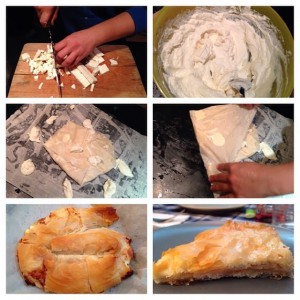 burek recipe
The dough is made with water, salt and flour and it must be very thin and especially flaky. There are amazing youtube tutorials about how to knead the dough: we spent one hour enchanted by an old man's expert hands, contemplating the art of stretching the dough out, even if we had already bought a ready-made phyllo at the supermarket…
We wanted to make a "sirom burek" (burek filled with cheese), so first we tried to create a filling reasonably similar to the Balkan sheep cheese usually used, and we did it mixing 2/3 of ricotta cheese and 1/3 of feta cheese; then we put a layer of phyllo on an oiled surface and we added the filling in the middle of it, covering it with more phyllo and more cheese. A burek must be "packed", so actually there aren't different layers, but it's the same layer folded on itself several times, or rolled (as the final shape can be different according to different national traditions, for example rounded burek is popular in Serbia, while rolled burek is more frequent in Bosnia…and we did both, as you can see from the pictures).
Lastly the burek is baked in the oven (at 200° for 30 minutes).
And even if our attempt wasn't up to a Balkan bakery's standards, it was still very tasty, especially if washed down with a cold beer!
You can hover over this image to quickly pin it!
////////// MORE ABOUT //////////