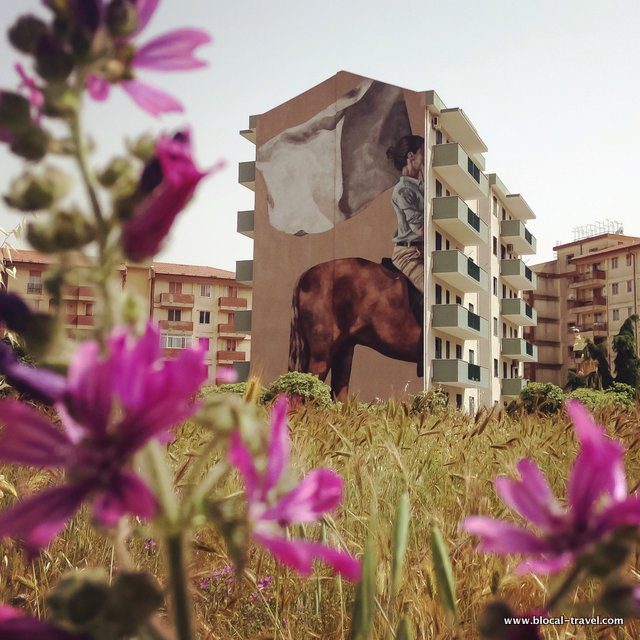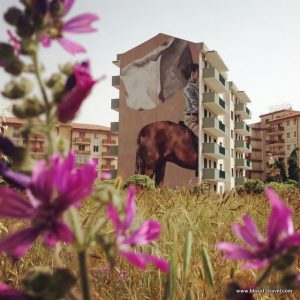 If you follow me on Instagram, you'll know I've recently spent some snout-in-the-air time among Ragusa's sinuous iron gratings, which garnish balconies as gargoyles stick out their tongues at each other from opposite sides of the street.
(That's what I call a Baroque description. Ha).
However, Ragusa isn't just a Baroque, UNESCO-listed city. It's also the hometown of Festiwall, the public art festival that has entered the top 10 street art events in Italy since its very first year.
Street Art in Ragusa > Ragusa Superiore > Festiwall 2015
Festiwall's formula is simple: five internationally well-known artists, each one with their own particular style, on five large walls in the same neighbourhood. The first neighbourhood to be colourwashed was 'Ragusa Superiore', the modern part of the city where several projects – such as OVO Urban Development– were already taking place.
From the graffiti scene of the '90s, Teo moved towards pure geometric shapes that intertwine with each other. The resulting pattern is made up of pieces of a circle combining as if they were letters and swarming into a bright-coloured chaos that gives a boost to any kind of surface.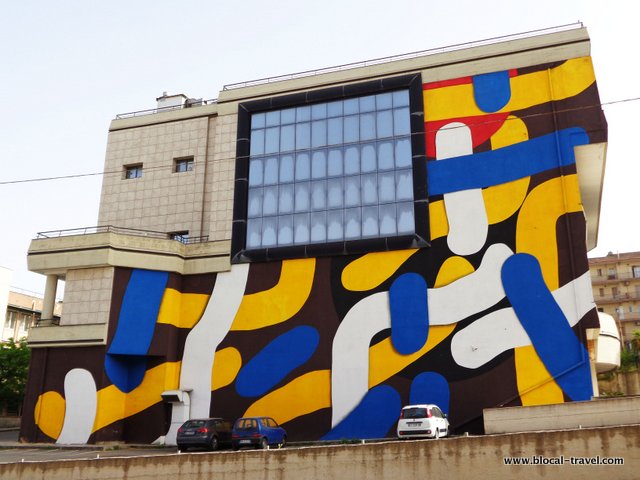 "Fvrioso" | Daniel Eime | Via Ariosto
Even after the artist himself told me that no, this isn't a stencilled portrait of Pablo Picasso I still see the resemblance. Do you? Anyway, this photo-realistic piece is one of my favourite murals in Ragusa and not just because I believe Daniel Eime is The Master of stencil art. I also like the enigmatic gaze of the Picasso-looking fella and the fact that that gaze looks slightly different when seen from the other side of the railway.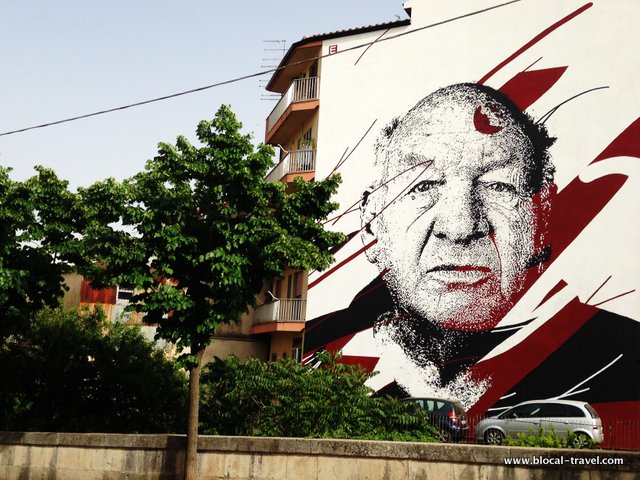 Read more about Daniel Eime's technique -and what he taught me about life.
"Fishing Dreams" | Natalia Rak | Via Archimede
In Ragusa, the Polish street artist Natalia Rak painted one of her dreamlike pieces. It depicts a boy over a pink moon fishing a goldfish with a heart. This magic, colourful, everything-can-happen kind of scene is suspended in a night sky. It is surreal, yet painted realistically and typical of this artist. She often gleans from the romantic world of fairy tales and childhood – the time when our feelings are the most genuine and positive.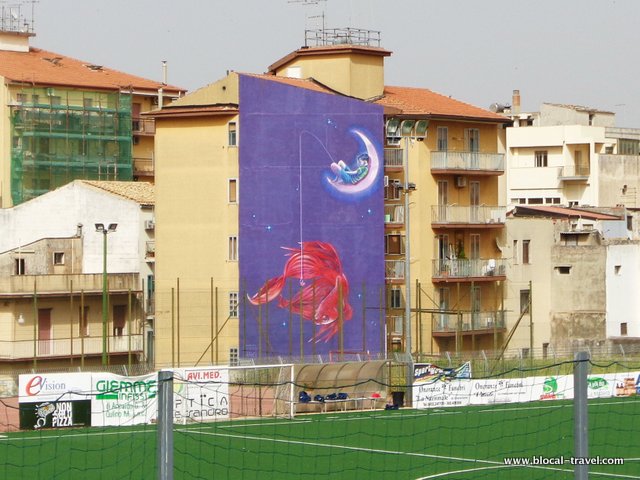 "Looking Forward to Hearing From You" | Millo | Via Alfieri
Yet another of his black-and-white murals inspired by comics, this piece in Ragusa depicts one of his iconic characters that, equipped with chisel and hammer, is carving a woman out of a skyscraper. These two figures are absorbed into a hyper-detailed urban landscape, which is a living organism itself. It connects them with a broader, bustling universe made up of emotions that are surreal in their candour. I've always loved how Millo's whiteness is more than a colour: it's a state of being.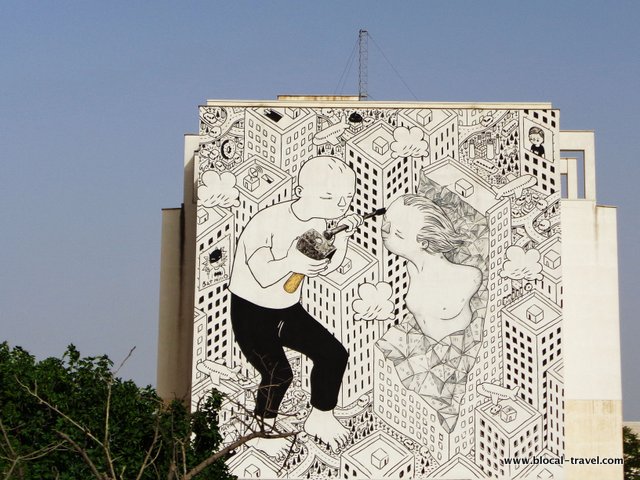 Read also: One week with Millo in Pescara, Italy
PixelPancho | Via Ercolano
Transplanted in Sicily, PixelPancho's iconic humanoids have picked up rural traits. In this double portrait, they look like farmers surrounded by an ancient aura, exuded by an earthy colour scheme. When in Sicily, his art has also picked up the ubiquitous oranges. Lined up on the background, they compose a nice pattern – which is something pretty unusual in his art.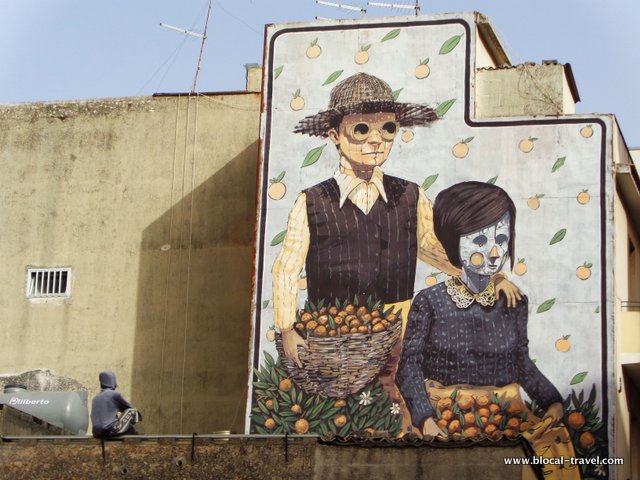 Without detracting at all from PixelPancho's artistic imaginary (which I truly love!), my favourite detail of this piece is the statue staring at it from the other side of the rooftop, which was honoured by a local tattoo artist.
Street Art in Ragusa > Selvaggio 'Hood > Festiwall 2016
One year later, Festiwall was ready for a harder challenge: enhance a neighbourhood of council houses in Ragusa's outskirts, which during the years had become a synonym of urban decay.
"The Gardener" | Fintan Magee | Via Berlinguer
Fintan Magee's characters are, at the same time, realistic and dreamlike. The long-bearded protagonist of this piece is inspired by a local inhabitant. He is made even more indigenous by the addition of the ubiquitous oranges of Sicily. As usual, his maxi-portraits are embedded into the landscape, stealing the colour palette from the sky, the trees and the nature in the surroundings and taking the cue from the architectural details of the area.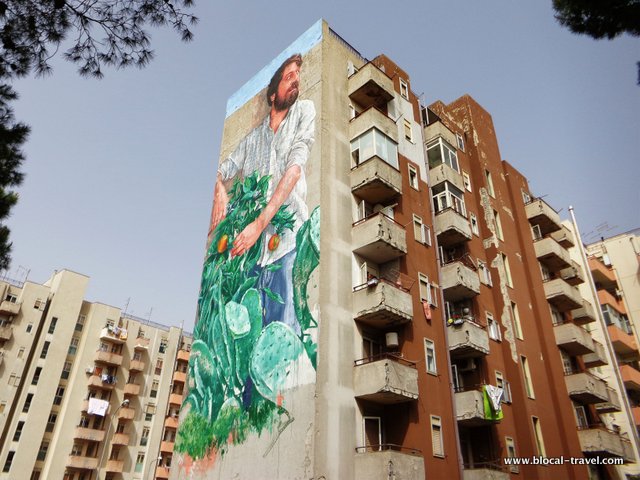 Read also: The art of Fintan Magee, a leading figure in Australian street art
"Neighbours Envy" | SatOne | Via Berlinguer
The father of European Graffuturism has imagined the two walls of this building as neighbours in conflict. The diptych resulting from the peculiar architecture is about our inability to be satisfied with what we have, which causes us to constantly compete with each other. In this case, it's constructive competition, from which a masterpiece of colourful abstract shapes has been born. I like how the brightness of the colours makes the mural bustle like a dance.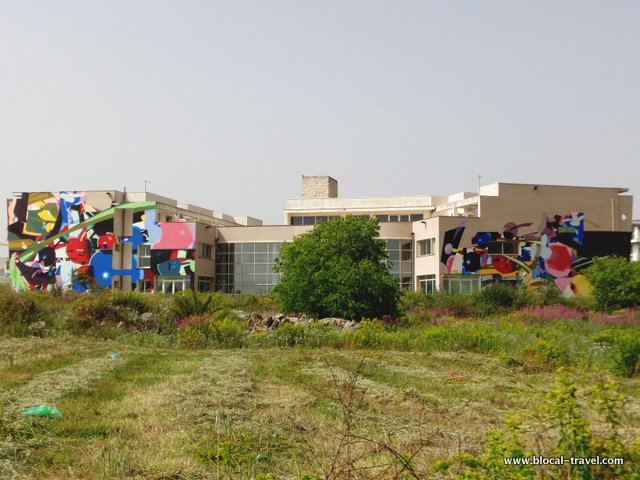 "Ogni Bene è Mobile" (Every Object is Movable) | Agostino Iacurci | Via Anfuso
Agostino Iacurci painted this precarious equilibrium just one month after the catastrophic earthquake in Amatrice. Ragusa itself has a sad history of earthquakes. The harshest one completely destroyed the city back in 1693 and left over people 5,000 dead. This mural depicts a pile of fragile vases topped by an egg, which is a symbol of fragility but also of fecundity. His tribute to the precariousness of beauty is an invitation to protect what we love. Next to his typical birds and twigs representing nature, we don't find his iconic characters, but diverse patterns and textures sprucing up the still life that is the unusual protagonist of this piece.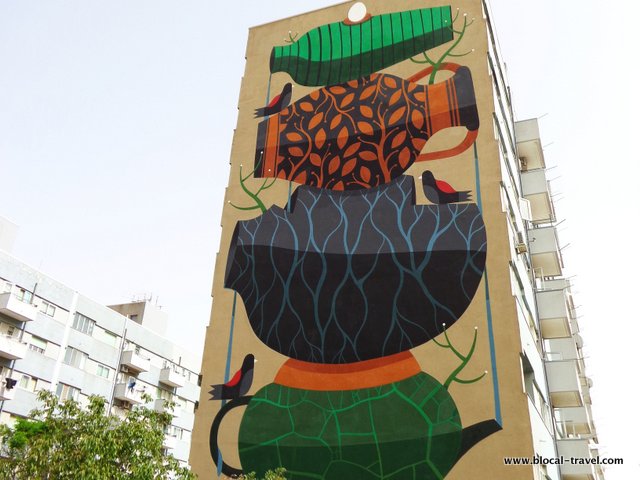 "Resistenza di Incertezza" (Resistance of Uncertainty) | Evoca1 | Via Caronia
Evoca1's first mural in Italy is a masterful chiaroscuro praising the dangers we risk when we love. It is a realistic portrait of a girl confidently waiting for the arrow to hit the target on her head. She is so calm, she seems almost melancholic. This is the final mural of Evoca1's series "Through the perils of our youth", which is based on the experiences we endure through our lives that help shape who we are.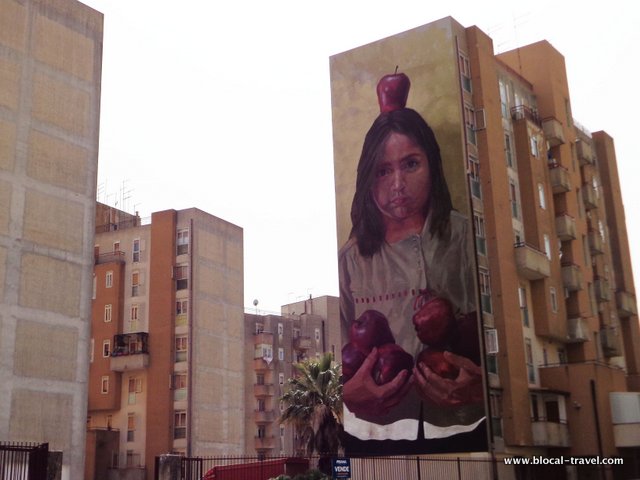 "A Free Woman" | Hyuro | Via Don Mattia Nobile
Made when Hyuro was still painting in favour of women and minorities of the world, this mural is a tribute to local anarchist Maria Occhipinti. Now a heroine in Ragusa, this young woman was on the run for lying down on the street to stop the army tanks to sweeping local youngsters up during WW2. The piece is painted in Hyuro's typical style, which recalls watercolours to establish an intimate connection with the passer-by, tossing them directly into the piece.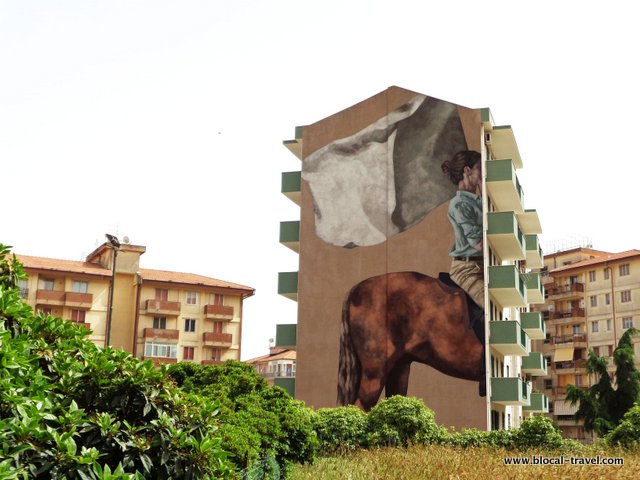 "You couldn't wait, could you? ☺ " the organizer of Festiwall texted me after I had posted a few photos from my hunt of the day.
Vincenzo had kindly offered to show me the walls, but I was so eager to discover the not-Baroque side of Ragusa that I had already explored everything by myself before our meeting.
"Luckily, I know a few more places I can show you tomorrow" he winked, confirming the appointment for the next morning.
Little did I know that the most exciting part of my explorations in Ragusa was yet to begin!
Street Art in Ragusa > The Abandoned 'Hood of San Paolo
First we went to San Paolo, one of the most ancient areas in Ragusa and now completely abandoned. Because yes, even in the UNESCO-listed city centre, there are neglected houses that would cost more to restore than building modern, bland homes and apartments in the newer areas of the city.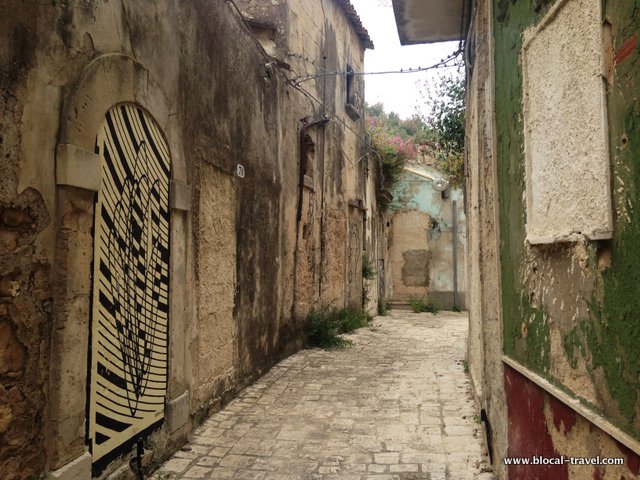 In this maze of narrow alleys that spreads in the shadow of a limestone cave, Martina Merlini, Sten & Lex and Collettivo FX left their illegal pieces.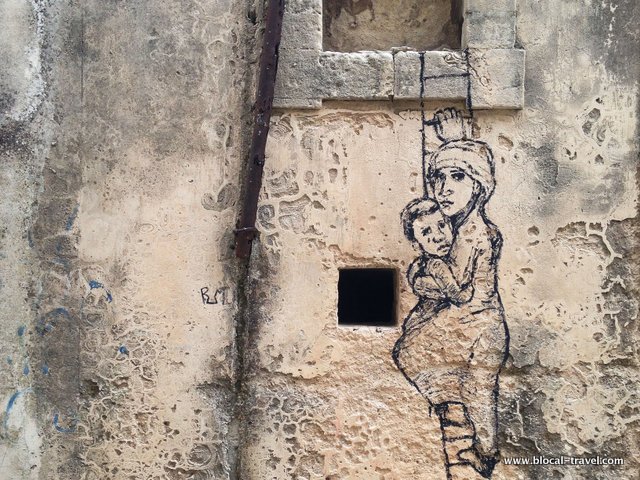 These aim connect a past when the 'hood was still inhabited with the contemporary nature of their art.
Here, I found some spontaneous pieces whose lines interlace with the twigs and bushes growing from the crumbling walls of Via Velardo.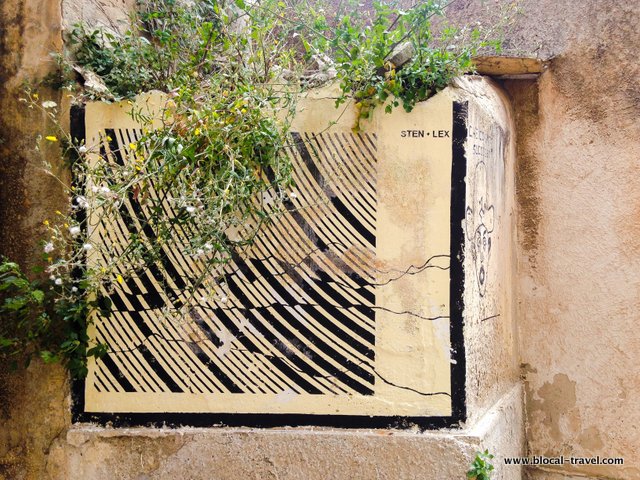 Martina Merlini's abstract patterns give a sense of constant movement to a space that is condemned to be forever still. Her concentric shapes intertwine while spreading across the decadent walls, while chips of silver and white mess with the black background.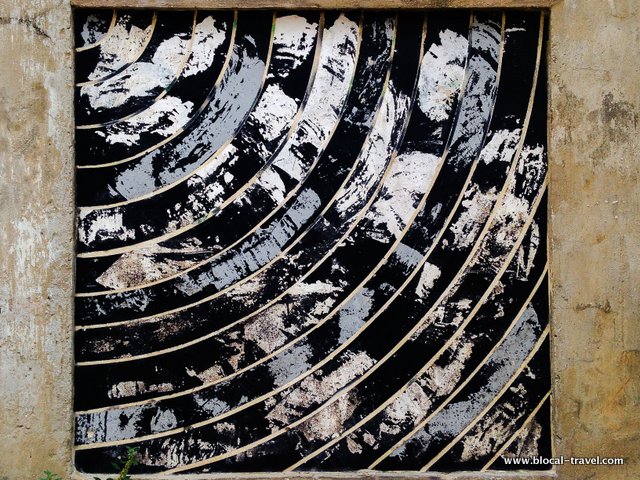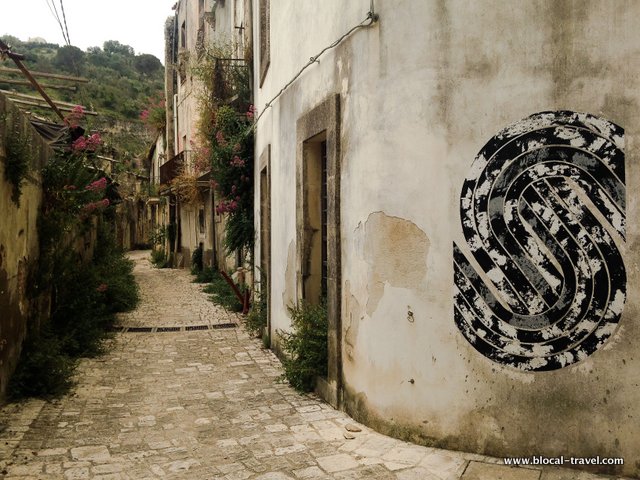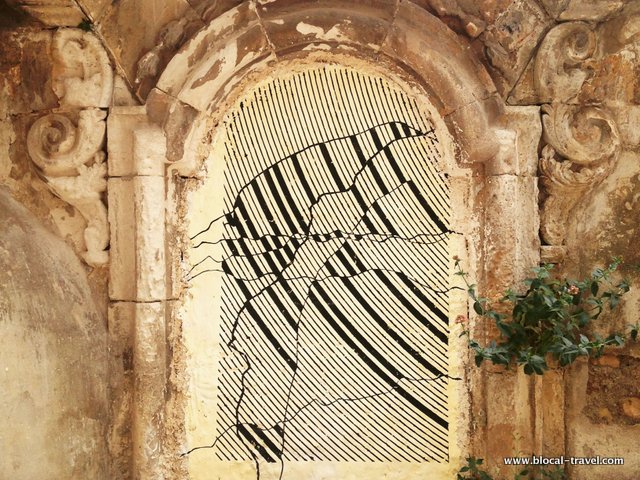 Next to her works, the Sten & Lex duo carried on its current experimentation towards abstract art. Textures and patterns are becoming predominant in their works – more important than colours. The palette is so delicate it perfectly matches the limestone of the area.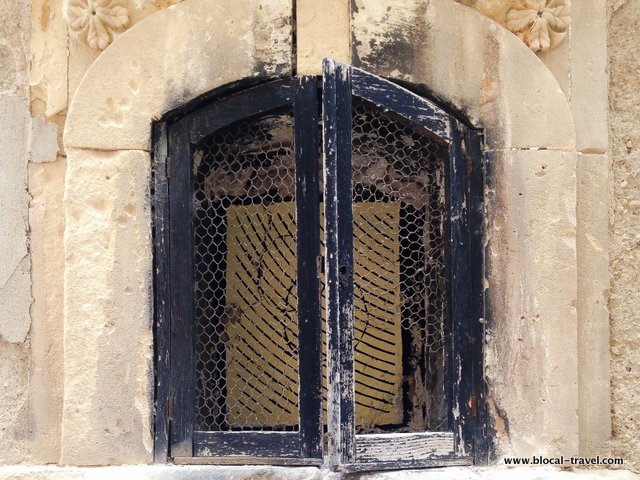 At that time, these artists were travelling through Sicily together (and with Moneyless as well) to paint on abandoned walls. This collaborative project is called 'Triscele', which is the name of the mythological, three-legged figure in the Sicilian flag. Similarly, their three different styles have spread across the most neglected walls in Sicily. Sometimes they melt together in one collaborative piece, sometimes they have glanced at each other from neighbouring walls – as is the case of their works in this abandoned area of Ragusa.
Street Art in Ragusa > BITUME, art inside an abandoned factory
The Triscele golden team performed also inside the location we visited next: a secret spot 'somewhere in Ragusa'.
[Update 2020: this art project inside an abandoned factory has finally been revealed to the public: it's official name is BITUME]
This is a huge abandoned factory that is going to be demolished soon. By that time, the Festiwall gang would have let so many talented street artists sneak into this place to collect enough pieces for a kick-ass show. The exhibition will connect the past of the factory –represented through old photos – with the street artists' contemporary take on this space.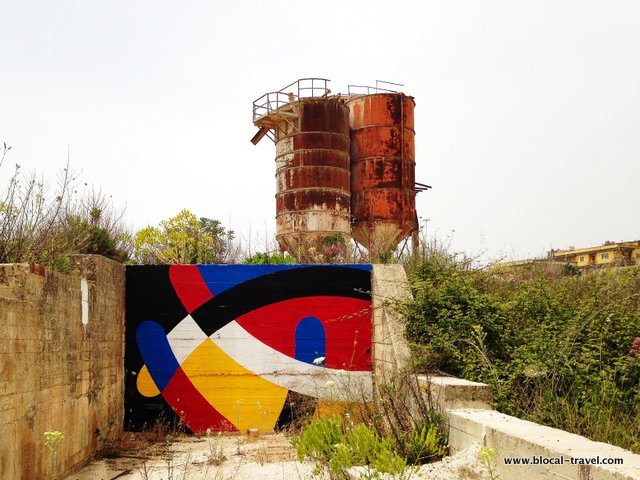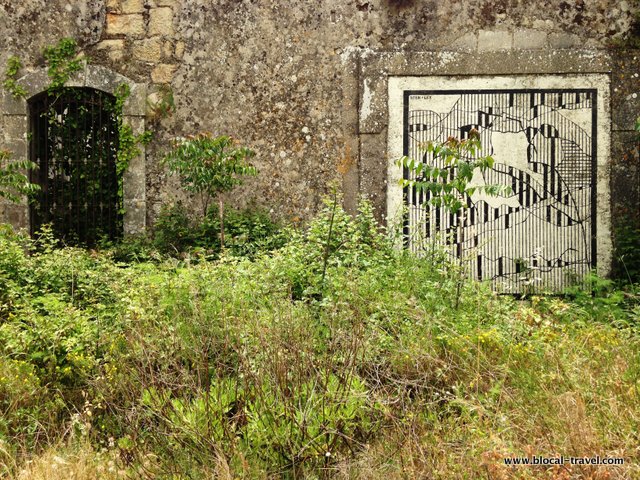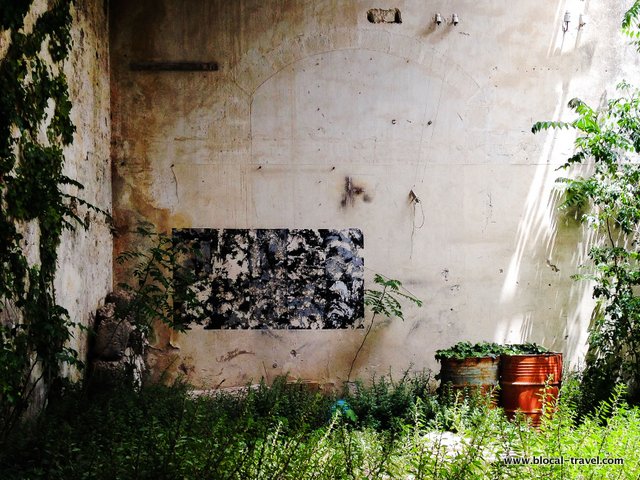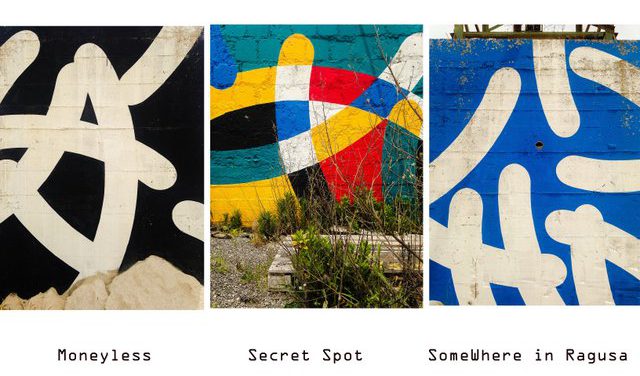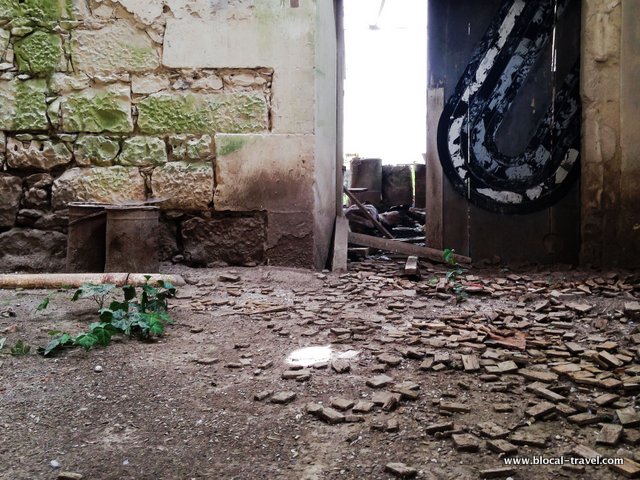 Inside this abandoned factory I found one of the most intriguing collaborative pieces by the Triscele artists. In this mural, their three different styles melt through the overlapping of different layers, complementing each other and yet managing to preserve their unique identities.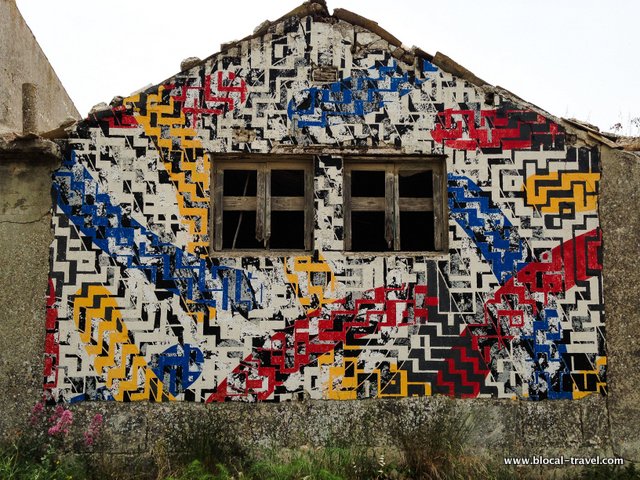 However, the pieces I liked the most inside this abandoned factory are Moneyless' geometrical rope art. With these illusory 3D abstract shapes, Moneyless populates and subverts the space. This is something Teo used to do many years ago. Inside this abandoned factory, he brought back up his iconic suspended rope art to let it interact in a completely different context.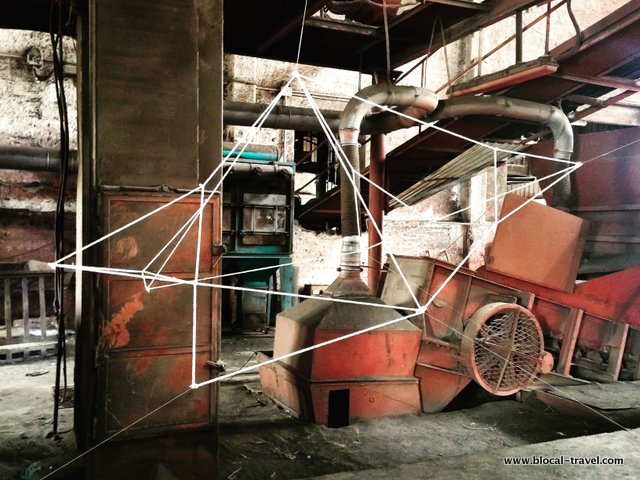 Industrial Archaeology in Ragusa > The Abandoned Furnace on Sampieri Beach
Since I promised that I will not reveal the location of that abandoned factory, I feel I owe something to the industrial archaeology lovers travelling to Ragusa. So, here is another beautiful ruin from Ragusa's industrial past, located just before the blue Mediterranean Sea.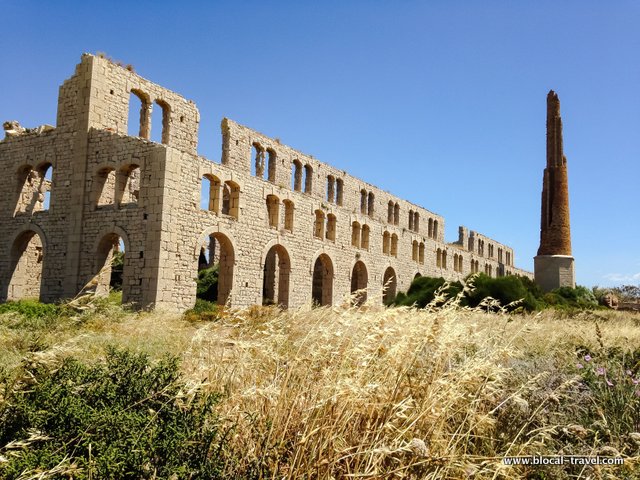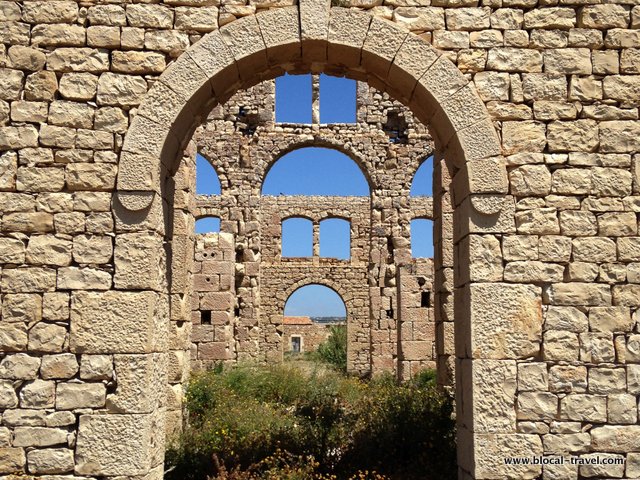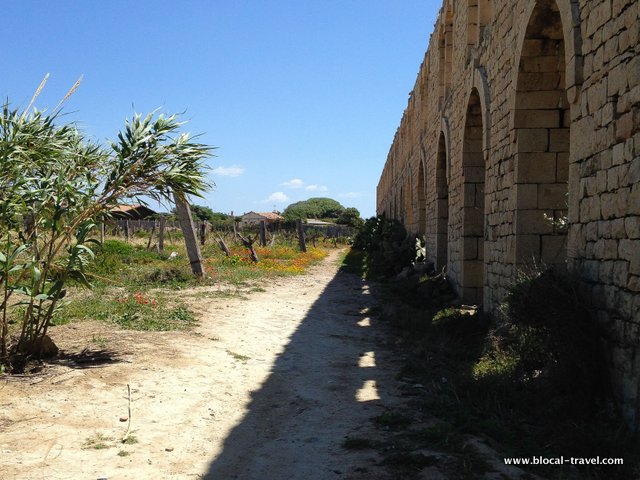 Built between 1909 and 1912, the Penna Furnace produced clay bricks that were sold to other Mediterranean countries. It worked from May to September, as during the rainy season it was difficult to extract the clay from the nearby cave.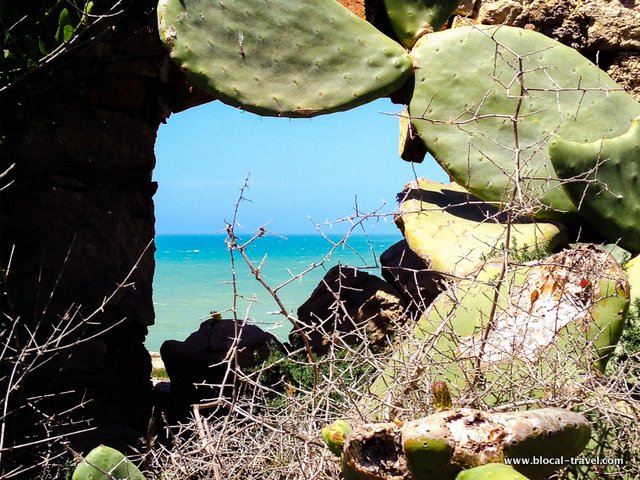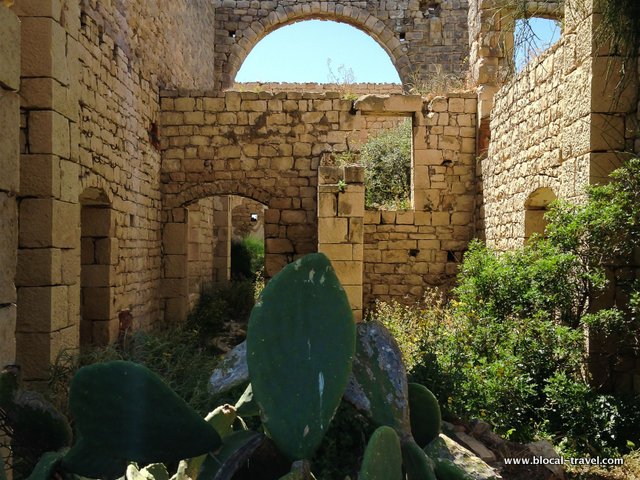 The furnace shut down for good in 1924, after a fire had burnt down all the wooden structures, making the complex collapse. Today, all you can see is the skeleton made of stones that survived the arson.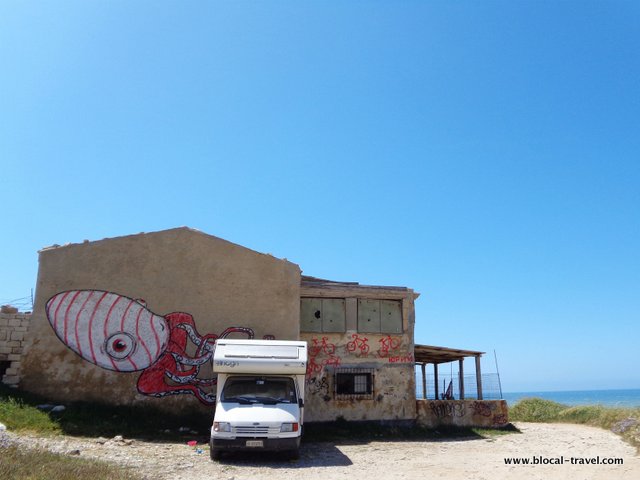 Eating Out in Ragusa > Prima Classe and Delicatessen
These explorations would not have been possible without the kind intercession of Peppe, the owner of Prima Classe – a café, but also a restaurant, but also a club – and my guardian angel in Ragusa.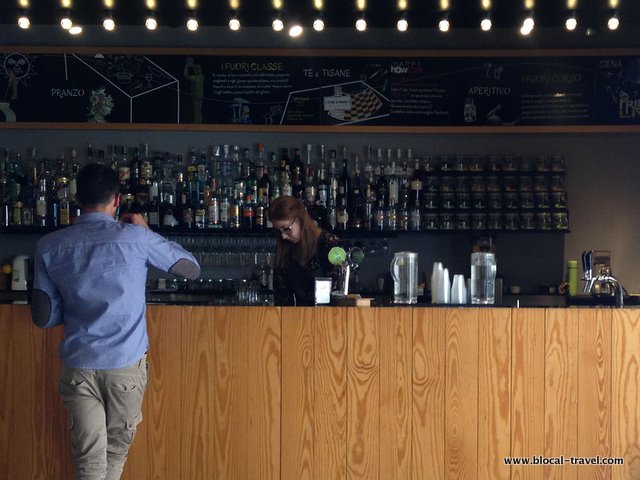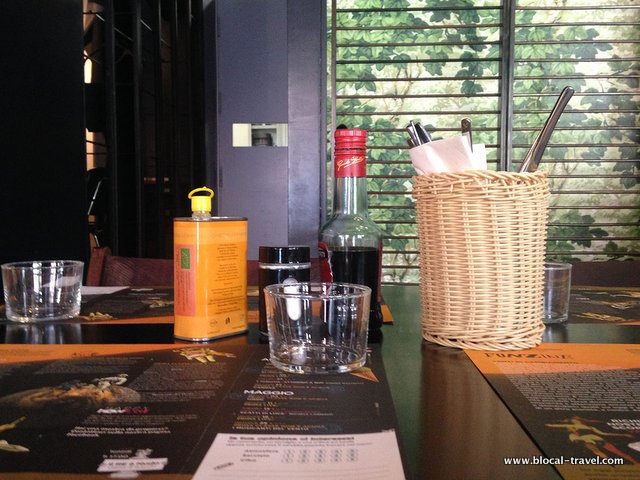 Introducing me to Vincenzo was just one of his many welcoming gestures, which included bringing me and my fellow digital nomads fresh products and organic vegetables from his synergistic garden every single day.
More tasty products we ate at the house came from Delicatessen in Drogheria, another spot in Ragusa Superiore that you really shouldn't miss!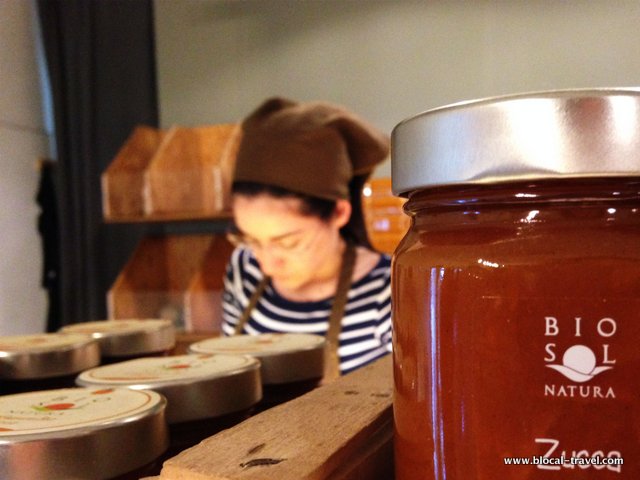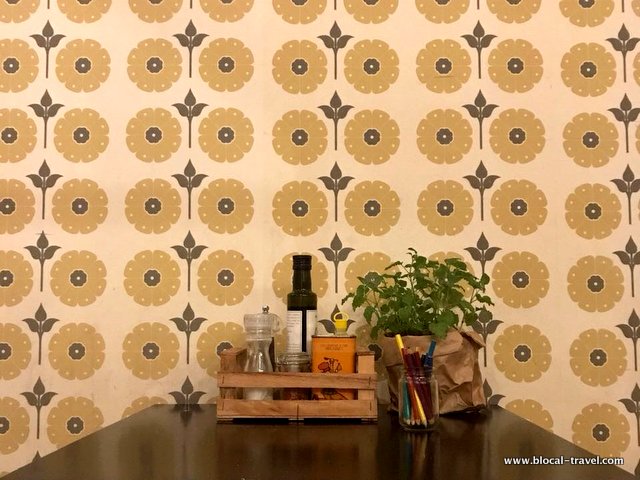 The wallpaper of Delicatessen is inspired by a suitcase. This is because when Marco decided to start a business in Ragusa, his peers were moving away to find jobs.
At that time, Ragusa was nearly a ghost town. Today, it's a dynamic city that attracts young people wishing to start a business. A city that not only boasts centuries of art and UNESCO-listed Baroque architecture, but also a renowned urban art festival that has tossed the town directly into the international circuit of contemporary art.
And if all of that has happened, it's thanks to the daily efforts of Peppe, Marco, Vincenzo and the other citizens of Ragusa who have kicked off a grassroots urban development that has brought a new, colourful life to the city.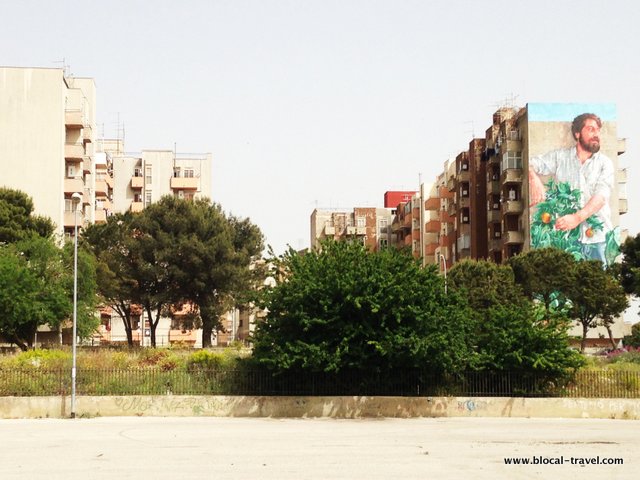 Ragusa Travel & Street Art Map
Find these (and many more!) murals on my street art map of Ragusa