What to see in Belgrade in 5 days?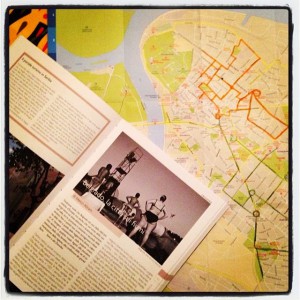 Belgrade in 5 days, Serbia
After being so devoted to my "Sarajevo in 5 days" plan, I did also my homework and researches about Belgrade, the former epicentre of Tito's Yugoslavia which nowadays is defined by many "the Berlin of the Future". So far I understood that this town is well known for a variegated and dynamic nightlife, while the day is characterized by a Serbian relaxed mood. Belgrade is full of underground cultural centres and graffiti spots I can't wait to discover, together with precious cultural heritage and Middle-Europe architectures. I'm looking forward to do many interesting things and attend to thrilling events but, above all, I want to be part of Belgrade laid-back atmosphere. 
December 26th:
I booked a Bed & Breakfast in the Dorcol neighbourhood, as during my research I read many blog-posts written by locals claiming that Dorcol is the best neighbourhood of Belgrade (and, according to what I'm reading so far, I trust them! well, I'm actually discovering that I'm more a Savamala kind of person, but anyway…).
As soon as I'd check in, I am going to start my urban safari from Lower Dorcol: after a coffee at Pržionica I will wander around this industrial area on its way to gentrification, and then wander more within the
Bajloni Market,
where I will grab something for lunch.
Back on Cara Dušana, at number 10 I will admire the oldest surviving private house in downtown Belgrade and, from there, I will have a tour of the Dorcol neighbourhood visiting the Bajrakli Mosque, as well as enjoying some shopping on Višnjićeva and on Kralja Petra (as I've been told that there are some graffiti inside the Leila books and records shop!). Then I will have a tour of the University area (around Studentski Trg) and take some pictures of graffiti on PMF
(the building of the mathematical faculty); from there I will go to Trg Republike to take some maps and brochures at the Touristic Information Point and, after a coffee at the Federal Association of Globe-Trotters, I will go check what's going on at
the BITEF Theatre, the venue of an amazing avant-guarde festival (which, unfortunately, takes place during the autumn).
After a traditional dinner at Skadarlija I will get a rakia in the Rakia Bar and go back to the B&B to write and rest.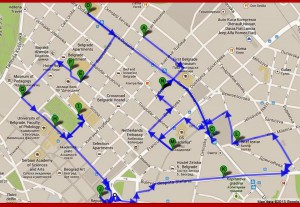 Belgrade in 5 days, Serbia
December 27th:
On the second day I am going to visit the San Sava Temple and the area nearby, starting from the cultural center CKZD and Trg Slavija, and then walking along Nebojšina until the Mala Fabrika Ukusa. After visiting the temple, I will wander around the Neimar neighbourhood, shopping on Mačvanska and heading to the Kalenic Market, from which I will take Njegoševa heading towards the Vračar neighbourhood, which seems to be the real treasure of my graffiti hunting! Then, still looking for some street art, I will take Beogradksa as far as the Pravni Fakultet (Law Faculty) and enter to the Tašmajdan Park to enjoy a relaxing walk. After crossing the park heading towards the modern ruins of the Serbian Radio Building on Takovska (another lucky road if you are into street art!) I will have a coffee at the Bivši Bar and then stop to admire the Parliament and Trg Nikole Pašica. At this point, I definitely plan to enjoy an amazing view from Terazijska Terasa! Then I will take Kralja Milana until Cvetni Trg to enjoy the monumental walk between the ancient and the new Royal Palace. Later I will stop at the Studentski Kulturni Centar and at the Akademia 28 for some young and artistic atmosphere.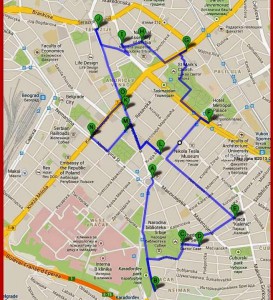 Belgrade in 5 days, Serbia
December 28th:
I am going to begin with a graffiti hunting on Brankova street, as my plan for the day is to cross the Brankov bridge to head towards Zemun. I will visit the Contemporary Art Museum and wander around Novi Beograd. Following Bulevar Nikole Tesle and Kej Oslobodenja I will arrive in Zemun. After a walk along Kej Oslobodenia, a lunch at kafana Sač and a stop at the Christmas market, I will admire the view from the top of the hill (or from theMillennium Tower).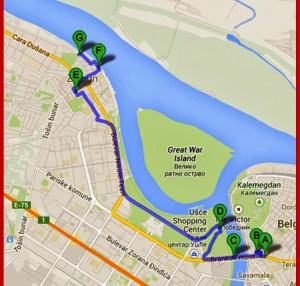 Belgrade in 5 days, Serbia
Later I'm coming back downtown 'cause my friend Elena is arriving from Makedonia to Belgrade Main Station to join me for a couple of days. And When She Arrives the (foodie) game becomes serious: for dinner we will go to Srpska Kafana to enjoy traditional food and then, with a friend on my side, I can finally start enjoying all that Belgrade underground nightlife I've been reading so much about, starting from the very best: the BIGZ building (with an amazing view of the town from the Jazz club on the last floor!). In between, the whole beauty of Kneza Miloša by night.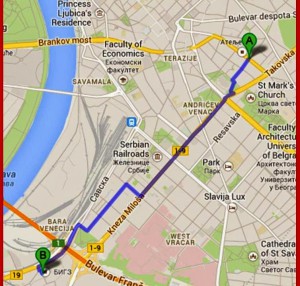 Belgrade in 5 days, Serbia
December 29th:
After an elegant breakfast at Snežana, we will walk along Knez Mihailova stopping at the Kulturni Centar Beograda and at the Zepter Museum. Then, passing by the French Embassy on Pariska, we will have a walk through the Kalemegdan Park, a visit at the Paviljon Cvijeta Zuzoric and take some pictures at the panoramic view. After a lunch at the Kafana ?, we will wander across the Old Town, stopping to drink a tea at Apropo or Amélie (or both, why not?), waiting for the sunset on Beton Hala. And after dinner, maybe at Iguana, we will head to another pivotal point of underground Belgrade: KC Drugstore.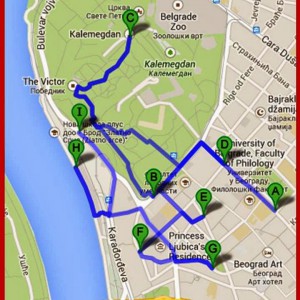 Belgrade in 5 days, Serbia
No need to say, I left the best part for last: the artistic district of Savamala, full of street art, architectural masterpieces and the vibrant transformation of abandoned industrial warehouses into artistic and social spaces. On Karadordeva we won't miss the Misker House, the G12 Hub and the KC Grad, then we will go to the Zeleni Venac Market and finally arrive to the Street Gallery and the amazing čavketov pasaž, full of graffiti! After a walk through the Terazije neighbourhood, we are going to take Svetogorska (again, a road with a lot of street art!) and stop at the Atelje 212 Theatre, discovering the area nearby. On the same street there is the original Black Turtle Pub where we can enjoy some Serbian craft beers. 

Belgrade in 5 days, Serbia
As usual, the rest of the day is open to further suggestions, so… locals don't be shy and write me more advices!
SalvaSalva