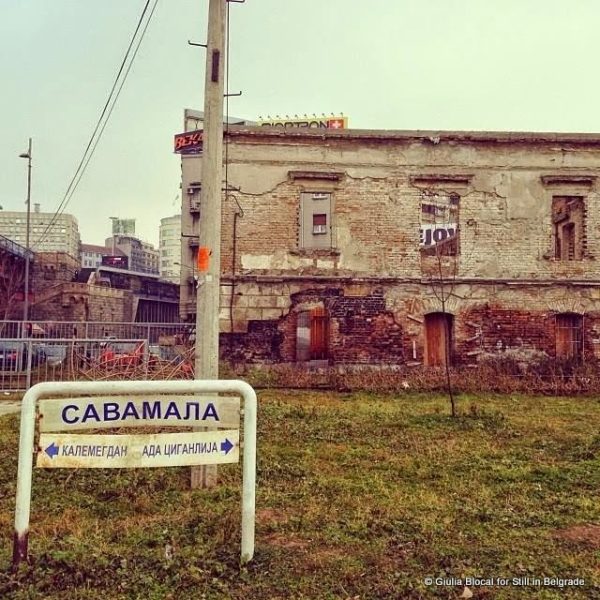 And so, let's discover the creative district of Belgrade!
Savamala neighborhood
It has been love at first sight.
Savamala got me since when I saw Aleksandar Maćašev's mural from Brankov bridge when I was approaching the city for the very first time. And even if I planned to visit Savamala on my last day in town, I couldn't help but getting a preview on my very first Serbian afternoon, obviously ending up by coming back to this ground-breaking hood every day. 
Thanks to the proximity to the river Sava, Savamala was an extremely important harbor, a borough of traders and dock workers -with the resulting reputation.
Now Savamala is the most dynamic, creative and artistic district of Belgrade,  the kingdom of hipsters and alternative crowds.
Resindustrial, young, with a strong social dimension and identity, very central and well connected to every area of the town (and beyond, thanks to the international bus station and the train station, both located here), Savamala is a creative jewel risen from a poor, neglected hood. You will still find a couple of abandoned buildings charmingly waiting to be reconverted into some new place-to-be, but the majority of caterpillar-warehouses on Sava docks already turned into butterflies, reshaping the area into the hip district that you shouldn't miss when visiting Belgrade.
KC Grad, Savamala, Belgrade
Mikser House, Savamala, Belgrade
They both are two landmarks of Belgrade's alternative clubbing scene, so don't forget to check their calendars while planning a trip. (and if you want more of Savamala amazing interiors, you can check Mladost Ludost Club and Bar Bašta -from where you can also enjoy a beautiful view on Brankov bridge!).