This time I'm interviewing three street artists who repainted the Savamala neighborhood, contributing to the transformation process of this area into the most interesting neighborhood in Belgrade.
This time I want to take a deeper look into Savamala street art scene by asking a few questions to the protagonists of this colorful revolution, those street artists who painted Savamala walls and turned an infamous harbour slum into the hippest neighborhood in downtown Belgrade.
And so, let me introduce you to  INK, Aleksandar Maćašev and Sqon.
street art Savamala > INK
When I was graffiti hunting in Belgrade, the street artist I liked the most was INK,  especially for his works in Savamala and inside the BIGZ building. Besides doing some amazing street art, he is also a professor and he plays in two bands: "Incomplete" and "Technicolor Lies".
Website: https://www.flickr.com/photos/ink_stencil/
– When did you start painting on walls and why?
I actually created my first stencil on a t-shirt for my band, and soon I tried it on a wall. So that's how everything started, about 7 years ago. At first I wasn't much aware of the stencil scene in Serbia (I grew up in Belgrade but I moved to Obrenovac, and later to Kragujevac where I did a lot of my early work; I say this because stencil art is mostly in Belgrade, which is the only place where the stencil art scene lives and hopefully grows), so I just started creating what came into my mind and sprayed it on a wall. After that, when I came back to Belgrade, I continued my work in a much different atmosphere, but with my own original approach.
– Which is your personal link to Savamala?
I used to pass through it every day for almost a decade when I was going to the high school and later to the college, so I'm pretty familiar with all of its corners.
– And which is the link between Savamala and the art you realized there?
I always loved rough and undesired surfaces to work on. There is no "real street art" on clean, polished, white walls. If you've been to Savamala you know what I'm talking about.
– What do you like about Savamala?
Beside what I said above, it's still a place with common people and a sense of reality, which is not as bright, but still much more real than futuristic "Belgrade on water" that is being imposed.

– How do you imagine this neighborhood will grow in 5 years from now?
I hope it will go in the direction of a balance between the city and its people, learning more from the artistic and the humane side of Savamala, 'cause that's what we need more than an economic makeover. We will see… High hopes!
– What do you think of Belgrade street art scene and where do you think we can find the best street art works?
I think it's really good, not constrained with some standards and expectations, but very open and going in the right direction. No matter who is creating it, professionals, street art lovers, or just some random kid, the important thing is that Belgrade's street art is growing, being accepted and much more appreciated than before.
As for the best street art I think whether you find it on a big building's mural or just in some small corner of a wall, if it makes you look, think or just smile, that's where it is.
street art Savamala > ALEKSANDAR MAĆAŠEV
Aleksandar Maćašev is a Serbian artist and designer born in Bečej; he moved to Belgrade to study architecture and from 2008 he lives and works in New York.
Maćašev is best known for blurring the boundaries between various virtual art disciplines.
Website: http://www.macasev.com/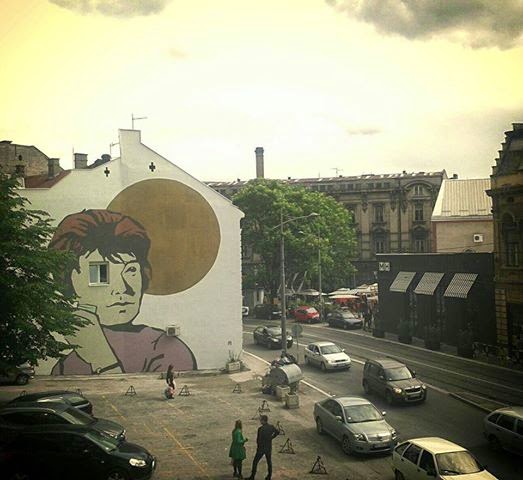 picture from www.stillinbelgrade.com
– When did you start painting on walls?
I'm not a mural artist nor a street artist in any strict sense of these labels. I'm an artist who works in the fields of web-based art and graphic arts/design. Occasionally I make excursions into the field of outdoor installations and graphics.
– Which is the story of your mural in Savamala?
Two years ago the founder of Mikser, Maja Lalic, asked me if I would like to contribute with a mural for Savamala neighborhood. Mikser would be in charge of the location and execution and I just need to provide an artwork. Mikser team produced the mural in collaboration with Ceresit Paints and it was painted by the street artist and painter Stevan Šoln. Ceresit Paints offered us the paintings, so the palette was quite limited, but that opened possibilities of adding metallic and fluo paints.
– Is it a site-specific installation or a sketch from your past?
Maja was rummaging through my work and she found a T-shirt design I made in 2011. It's called Waiting for the Sun, with The Doors' song in mind. The design is based on a matchbox label I found in a book about vintage Hungarian matchboxes form the post-war Socialist times. One of these labels attracted my attention. It was a movie poster for 'The Promised Land' (Az ígéret földje, 1961) by Gyula Mészáros and it showed a young woman with a glass in her hand looking back at what appeared to be a town in a distance. I redrew the woman, removed the town and added the sun instead. Finally I did a silk-screen print of it on a T-shirt. Maja thought this would be great for a mural. She sent me a photo and a layout of the wall and the design fitted perfectly. We even got an extra twist as the bathroom window was in the place of the woman's right eye. We might even get the effect of her giving us a wink as people turn the light on and off. The melodramatic social realist story of the movie behind the original poster could also suit Savamala. It's about Ica Krizs, the girl from the poster, who works in a mine. She's not responding to the guy who is in love with her, because she's in love with another one. As such stories usually go she finds out where her true love lies when it's too late. A promised land that we never reach. So there's this transition of the poster from 1961 that ended up on a matchbox, 50 years later I used it for a T-shirt and then a mural. I find it an interesting exercise in scale (poster, matchbox, T-shirt, mural), the transformation of the image and cross-cultural values.
street art Savamala > SQON
SQON is an Italian street artist popular all around the world for his cats, which arrived as far as the Belgrade's street art district of Savamala.
Website: http://www.ekosystem.org/tag/sqon
– When did you start painting on walls and why?
I started in 1998, 'cause it was the only right thing to do.
– Which is your personal link to Savamala? And which is the link between Savamala and the art work you realized there?
Sasa Charlie Popovic found a legal wall in Brace Krsmanovic. I used colors recalling those of Savamala walls to realize a painting which would be in harmony with the town. And there is a reference to cats, which are quite popular in Belgrade.
– What do you like about Savamala? How do you imagine this neighborhood will grow in 5 years from now?
I really liked Savamala people, their houses, the fact that street art is almost everywhere in Savamala. In 5 years, surely it will be full of my cats ;)
– What do you think of Belgrade street art scene and where do you think we can find the best street art?
I don't really know Belgrade's street art scene, I am from Montereale Valcellina, a small village in the North of Italy, but for what I saw it is very dynamic! Unfortunately I spent in Belgrade less than 24 hours, so I really need to come back! Again, street art in Belgrade is almost everywhere, even in the town centre, which has many wide, suitable walls.