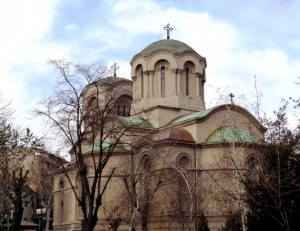 Dorcol, Belgrade
Today I explored some residential areas not so far from the city center, 'cause I'm saving the more popular attractions to visit them with Elena, who is arriving tomorrow.
I started with a walk through Lower Dorcol, an industrial area on its way to gentrification, as far as the Bajloni market: I wandered around its colourful stands of fruits, vegetables, meat and fish and sipped a coffee I grabbed in a nice cafeteria nearby.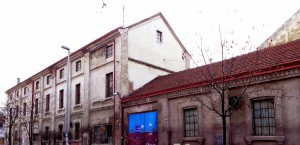 Lower Dorcol, Belgrade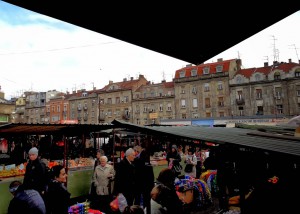 Bajloni Market, Belgrade
Them I went to the majestic Saint Sava Temple, which is still under construction since 1935 (works actually started in 1941 and since then they have been funded by offerings).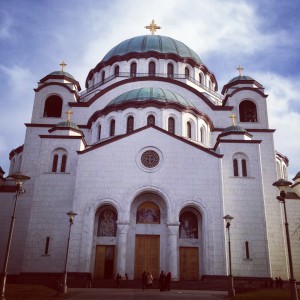 Sv. Sava, Belgrade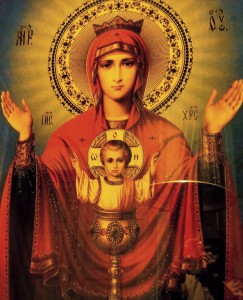 Sv. Sava, Belgrade
After a delicious Serbian brunch at
Mala Fabrika Ukusa
(another place with fabulous furniture and amazing design), I wandered around the 
Neimar
neighbourhood admiring its small, poetic buildings and its peaceful streets.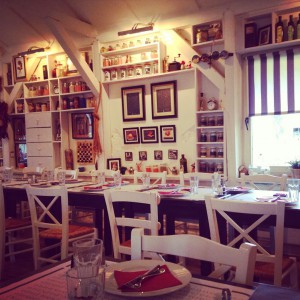 Mala Fabrika Ukusa, Belgrade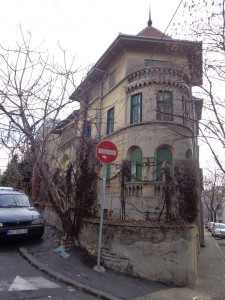 Neimar, Belgrade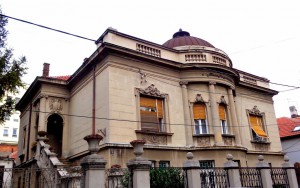 Neimar, Belgrade
Then I took Makenzijeva until Trg Slavija walking through the Vraćar neighbourhood, where I hope to come back during my stay because people told me that there is a lot of street art around. Today I spotted only this mural: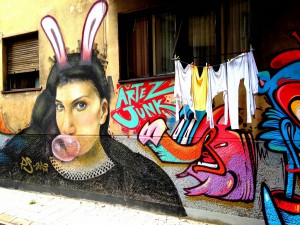 Vracar, Belgrade ¬ Graffiti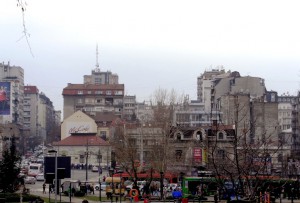 Slavija Trg, Belgrade
From Trg Slavija I went for a walk through Savski Venac neighbourhood, where there is the CKDZ (Center for Decontaminate Culture), which unfortunately at that time of the day it was closed, so I went back to Cvetni Trg and visited the SKC (Student Cultural Center), a huge space for concerts, exhibitions, parties and shows.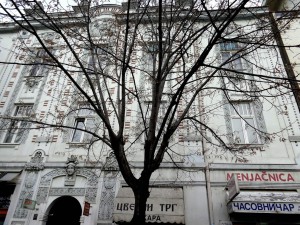 Cvetni Trg, Belgrade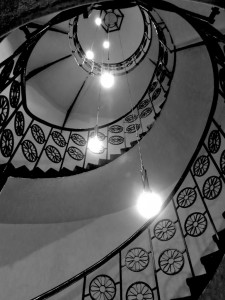 SKC, Belgrade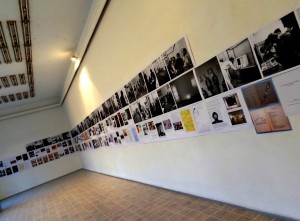 SKC, Belgrade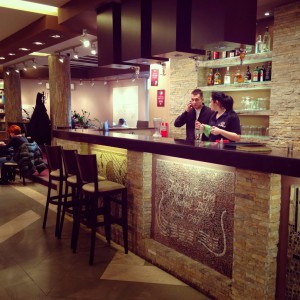 SKC, Belgrade
Back on the road, I arrived until the Tašmajdan Park, where I visited the Saint Mark's Church but also the modern ruins of the Serbian radio and TV building, destroyed in 1999 by NATO's bombs attack.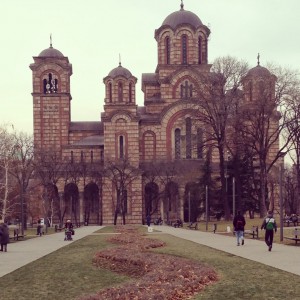 Tašmajdan Park, Belgrade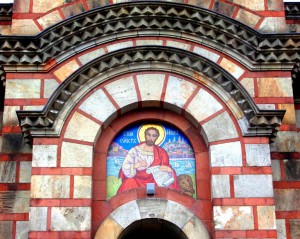 Tašmajdan Park, Belgrade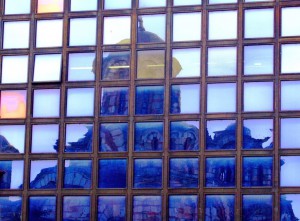 Tašmajdan Park, Belgrade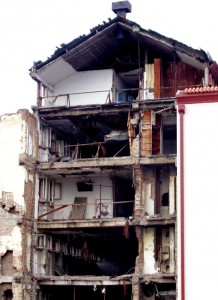 Tašmajdan Park, Belgrade
Wandering around the neighbourhood, I found the Parliament and the Royal Palaces (there is a new one and an old one on the same square).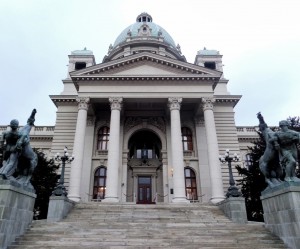 Parliament, Belgrade
Then I took Kneza Miloša and came back to the other side of the town. I was realizing that it would have been the longest walk ever, my feet were hurting, I was tired, but I want to see many more places before the darkness, starting from the modern ruins of the governmental buildings destroyed by NATO's bombs attack in 1999.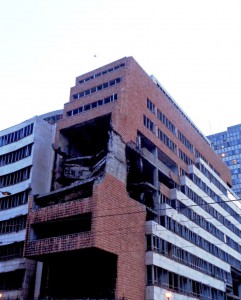 NATO bomb attack 1999 / Kneza Miloša, Belgrade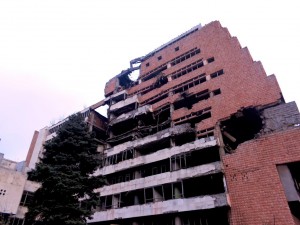 NATO bomb attack 1999 / Kneza Miloša, Belgrade
At this point the temptation was too big and I turned towards
Savamala
–even if I planned to visit it on the next day. Actually I didn't want to spoil my Savamala plan, so I just had a break at the wonderful and very hipster
Mikser House
, another amazing concept store in Belgrade.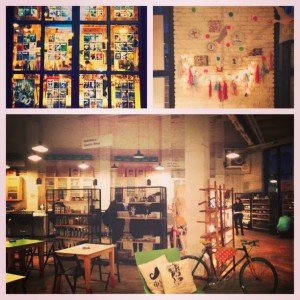 Mikser House, Belgrade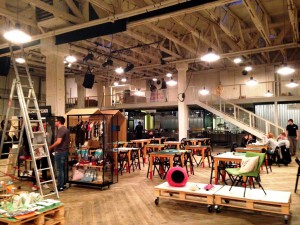 Mikser House, Belgrade
Even if it was just a preview, by mixing concept stores, industrial landscape, charming interiors and street art Savamala already got me!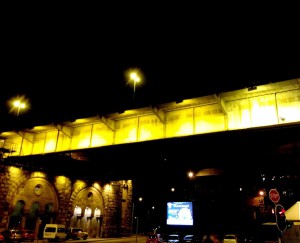 Brankov most, Belgrade
Savamala, Belgrade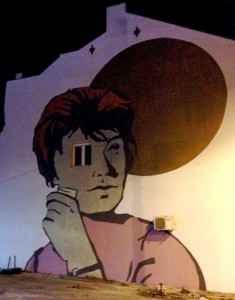 Savamala, Belgrade ¬ Graffiti
Back to the town center, I visited the concert venue and exhibition place
Dom Omladine
(but there was nothing going on at that time) and then the
Belgrade Design District
, a place where Serbian designers (especially fashion designers!) run their shops. I saw many beautiful items around there, but I was pretty concerned on finding myself a new pair of shoes (the one –and only- I brought with me were killing my feet) so I didn't take my time to try on the colourful handmade dresses, even if they did look beautiful!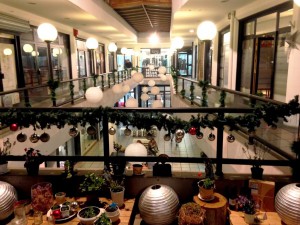 Belgrade Design District
Later I started being hungry (and –let's admit it- tired!), so I headed to a restaurant in Dorcol which I saw yesterday night on my way back from Loki. The place, as the majority of Belgrade interiors, was amazing, but I couldn't  stand that hellish smell of dirty toaster so I ordered just a coffee and went away.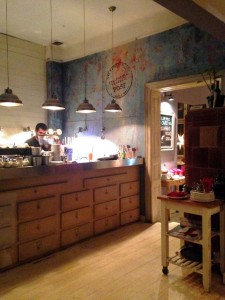 Dorcol, Belgrade
Btw, I realize that I'm taking one coffee after another because I can't resist to the temptation to enter into Belgrade's hip bars and spend some time inside, mingling with locals. What I like the most is that all these places aren't standard, but throughout their design and unique furnishings they can really express their own personality.
And so I had dinner just behind the corner, in a kafana (traditional Serbian tavern) that not only is difficult to find (it is hidden behind the Vuk and Dositej Museum) but also at a first glimpse it didn't match the description they gave me when they suggested me to try it, which implied live Serbian music, while this place, with its 4 tables, looked so small I really couldn't picture how can it host a live music performance. Anyway as soon as I got my cevapcici on the table, Serbian musicians barged into the small restaurant and cornered me, placing themselves all around my table: I literally ate behind a double bass! (but actually I didn't care, 'cause the food was very good, and the music too!).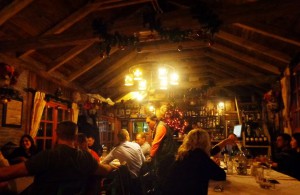 Teatroteka, Dorcol, Belgrade
BELGRADE AND THE POETRY OF DECANDENCE
CKDZ, Belgrade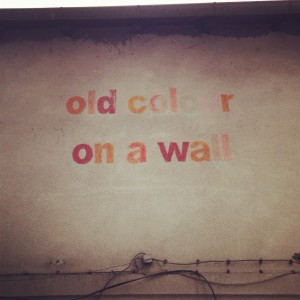 CKDZ, Belgrade ¬ Graffiti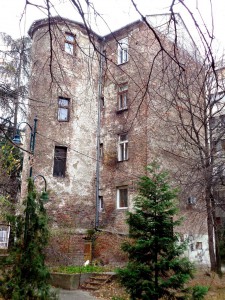 Nemanjina, Belgrade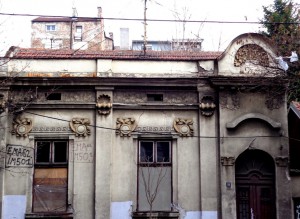 Beogradska, Belgrade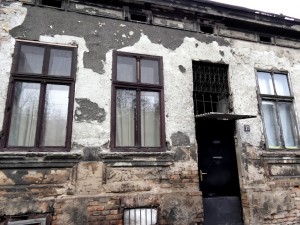 Beogradska, Belgrade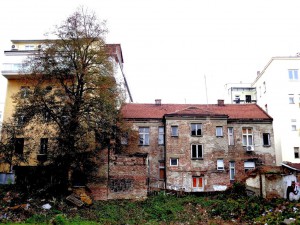 Beogradska, Belgrade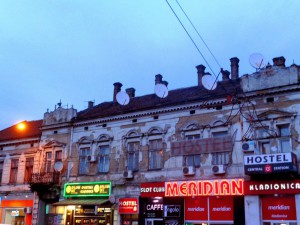 Karadordeva, Belgrade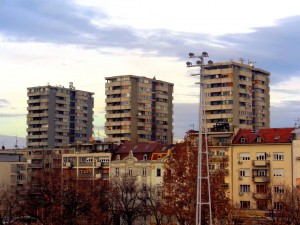 view from Tašmajdan Park, Belgrade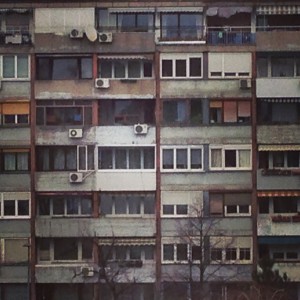 view from Tašmajdan Park, Belgrade
SalvaSalva