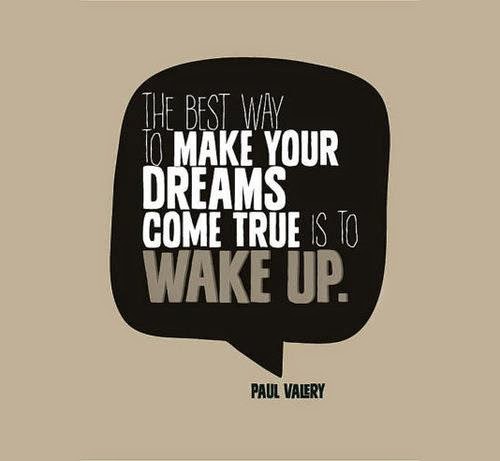 This is not a trip.
This is a life-long dream.
I was torn up 'till now as to whether I should visit New York City on vacation or not. I always felt a holiday would not be enough; I should move there, or nothing.
More than Manhattan island, to me it was Utopia island.

Then, suddenly, I decided.
I will do it.
I will go to New York City, even if only for 1 week.
After all, once there aNYthing can happen.
And so here I am, planning my week in the City; it feels amazing, but also kind of overwhelming.
I selected 25 neighborhoods (only!), short-listing New York's coolness to a reasonable number of steps, in order to appreciate each one of them.
My selection of the coolest New York City neighborhoods also happens to be an extremely tailor-made list, 'cause that's what I have always found so exciting about New York: it gives to anyone all he needs to custom its own New York experience, whatever you are into.
Anyway… here the top 25 coolest New York City neighborhoods I will visit in one week, in alphabetical order:
ABC City: shabby-chic and artistic
Must see: St. Mark's Place
Bedford-Stuyvesant: creative people and brownstone
Must see: Keith Haring's mural al Woodhull Hospital (760 Broadway)
Boerum Hill: relaxing and positive
Must try: restaurants on Smith St.
Brooklyn Heights: elegance and skyline
Must see: Hicks St, Clark St, Promenade, Montague St
Must try: bistros and boutiques on Court St. and Atlantic Ave
Bushwick: grunge and industrial
Must see: street art, the Bushwick Collective
Carroll Gardens: cool and trendy
Must see: Smith St, Hoyt St.
Chelsea: art galleries and architecture
Must see: David Zwirner, Cheim & Reid, la Pace Gallery, High Lane Park, Artists & Fleas at Chelsea Market (75 9th Ave), Wooster Project (418 W 15th St), Milk (450 W 15th St), Arts building (529 W 20th St), Metro Pictures (519 24th St.), Mary Boone (541 24th St.), Gagosian (555 24th St.), West 22nd St
DUMBO: creative atmosphere and beautiful lofts
Must see: Arts at St. Ann's
East Village: bohemien and original
Must try: Sigmund Prezelshop
Must see: Keith Haring's mural at the Palladium, John Varvatos concept store, St. Marks Bookshop (31 3rd Ave)
Fort Greene: trendy and relaxed
Must see: vintage market on Saturday morning, Oxford St, South Portland St, Brooklyn Academy of Music (30 Lafayette Ave)
Gowanus: industrial and creative
Must try: restaurants on 5th Ave
Greenpoint: industrial and trendy
Must see: Succulent Studios art show, Manhattan Ave, Russian Orthodox Church
Greenwich village: charm and jazz
Must see: Macdougal Street, The Stonewall Inn, Carrie Bradshaw's (66 Perry Street), Groove St, St Luke Church
Must try: The Garage restaurant (99 7th Ave)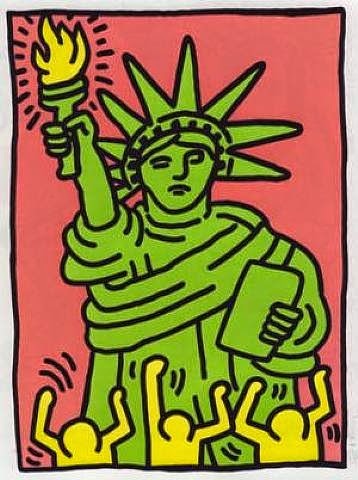 New York – Keith Haring
Long Island City (Queens): industrial and artsy
Must see: PS1, Knishnosh (street food)
Lower East Side: cool and gentrified
Must see: Bowery Graffiti Wall, Patricia Field Store (302 Bowery), Houston Mural (featuring Keith Haring), Partecipant Gallery (253 E Houston St), Onetwentyeight (128 Rivington St.), ABC NoRio (156 Rivington St), Ludlow St
Must try: beer at The Local, coffee at Lounge Rivertown, pastrami at Katz's Deli
Meatpacking district: trendy and dancing
Must see: Gansevoort St.
Must try: restaurant (SpiceMarket?)
Midtown: classical
Must see: Moma, Keith Haring's (676 Broadway), Rockfeller Centre (I am a huge fan of 30Rock tv show!), Fifth Avenue, New York Public library
Must try: Koreatown restaurants
Noho: bohemien-chic and cool
Nolita: trendy and design
Must try: Eileen's cheesecake
Park Slope: eco and liberal
Must try: beers at Double Windsor
Must see: Prospect park, vintage market on Sunday, Union St
Red Hook: industrial and artsy
Must see: Brooklyn Waterfront Artist Coalition (499 Van Brunt St), Pier 31, nightlife
Soho: trendy and chic
Must see: Keith Haring's mural at the Art School (260 West Broadway), Nancy Offman Gallery (429 West Broadway), Wooster St., Greene St.
Upper West Side: architecture and elegance
Must see: Central Park, Juilliard School, Lincoln Center, The Henry Luce III Center for the Study of American Culture (with a Keith Haring's mural above the admission desk), Columbus Ave., Pomander Walk, Columbus Circle
Must try: Sunday brunch on Amsterdam Ave.
West Village: trendy and dynamic
Must try: Magnolia Bakery
Must see: Jefferson Market Garden, Keith Haring's mural (Carmine Street swimming pool, 1 Clarkson St), Christopher St
Williamsburg: hipster and alternative
Must see: street art, Pierogi Art Gallery (177 N9th St.), The Boiler Art Gallery (191 N 14th St), Artists and Fleas on Saturday and Sunday, Grand Ferry Park
Must try: restaurants, Brooklyn Brewery
And now, I need your help: if you have anything to add to my "must see" / "must try" lists, let me know your tips in the comment area below!
Thank you! :-)