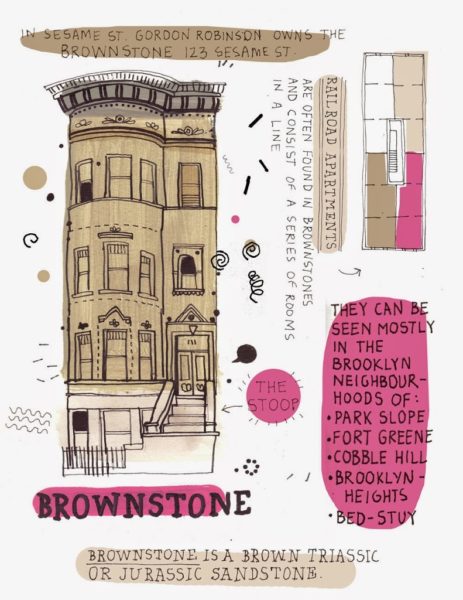 picture from allthebuildingsofnewyork.com
What I loved about historic Brooklyn brownstones is that they define the style and the atmosphere of the neighborhood by setting a standard of charm and elegance for the whole street.
Named after the once popular building material, by the 1980s this kind of townhouses started to be renovated by artists, academics and other well-educated professionals moving from Manhattan to Brooklyn Heights first, and then to the rest of South Brooklyn.
Of course this process of gentrification in one of the city's most infamous industrial slums lowered the criminality rate, but it raised the rent (and -in general- the cost of living in such neighborhoods), which is wildly high nowadays especially for this kind of terraced historic houses, while there are also some developers building townhouses anew, as they are really sought after.
But I won't write about this polemic issue (gentrification is a really hot topic in Brooklyn right now, not only related to "brownstone Brooklyn" but also to other areas such as Williamsburg and Bushwick) as I don't feel I am enough "qualified" to write about it… I just want to show you a few pictures of these extremely fascinating townhouses, adding some random rambling about the neighborhoods where you can find them.
Brownstone houses in Brooklyn > Brooklyn Heights
Let's begin with Brooklyn Heights, the neighborhood where this phenomenon began.  Here you can find over-the-top brownstone houses inhabited by "Brooklyn aristocrats" and other extremely wealthy people.
Brooklyn Heights is to Brooklyn what Upper East Side is to Manhattan.
Wandering around this extremely peaceful neighborhood, I was fascinated by the elegance of the facades.
There are no touristic attractions in this area of Brooklyn (actually, there are no attractions at all, besides a few restaurants and boutiques), but a walk along its elegant streets is something you should not miss!
Moreover, from this neighborhood you can enjoy a superb view on the most popular skyline in the world!
Brownstone houses in Brooklyn > Park Slope
I can definitely picture myself living in Park Slope! I loved the park, the bistros, the boutiques, the long tree-lined avenues… and all the beautiful brownstone houses, of course!
This neighborhood is very trendy-chic (but not pretentious at all) with wonderful rowhouses you can't help dreaming about.
At least, until the big storm suddenly arrived…
Brownstone houses in Brooklyn > Clinton Hill
Besides brownstone houses, every building in Clinton Hill is extremely elegant and romantic! Actually my favorite brownstones are in this area… one more very pleasant neighborhood to be living in!
Brownstone houses in Brooklyn > Fort Greene
Brownstone houses in Brooklyn > BoCoCa
Unfortunately I happened to wander around here always at night, and so I don't have any decent picture of brownstones to show you. You just have to trust me when I say that brownstones in BoCoCa are simply lovely! ;)
(and guess what? I can totally picture myself living there too! ;-) )