Unlike many other cities, Ghent's street art legacy developed from the bottom-up, rooted in the passion of local artists and their connections to international artists whom they invited to paint. A crucial figure in the rise of the authentic street art scene in Ghent was Bué The Warrior. Inspired by comic books and pop art, Bué embodies the essence of street art by relentlessly painting walls all over the world as a way to interact with people in the streets, gifting them with something simple yet full of joy.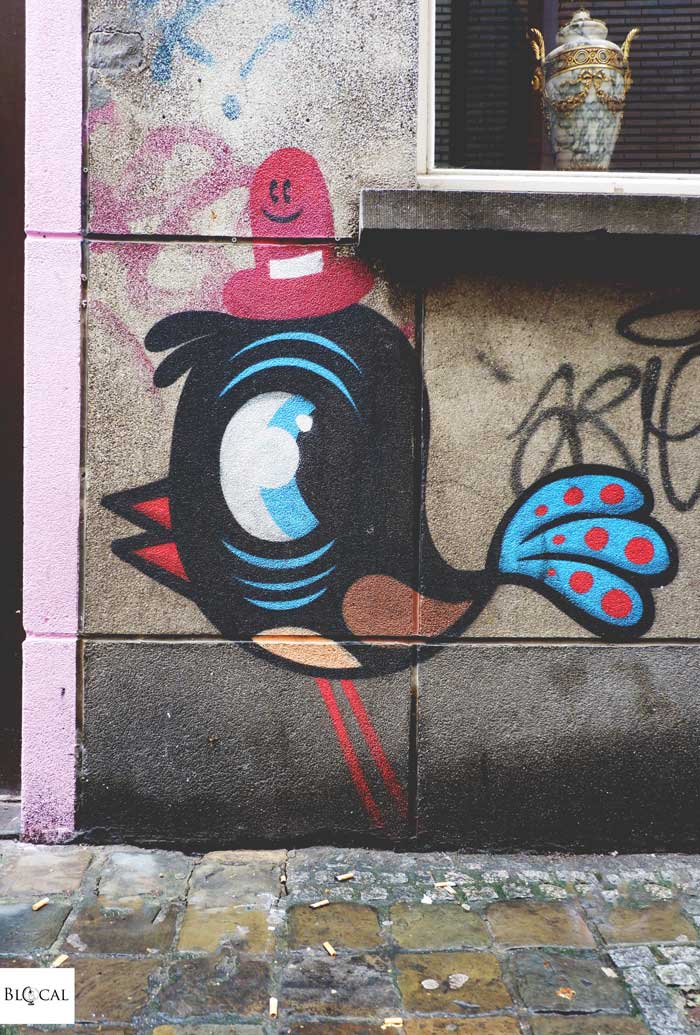 Bué's spontaneous and genuine approach to street art is shared by many local artists; thanks to their creative enthusiasm and Ghent's lively community of students, the city quickly became an artsy hotspot with a dynamic street art scene.
Bisser: I like Ghent because it has many museums and a lot of art institutes. I see Ghent as a city where many creative people live. I studied Animation in Ghent. This got a big influence on me. Actually it totally changed the way I drew and thought. I'm very grateful for that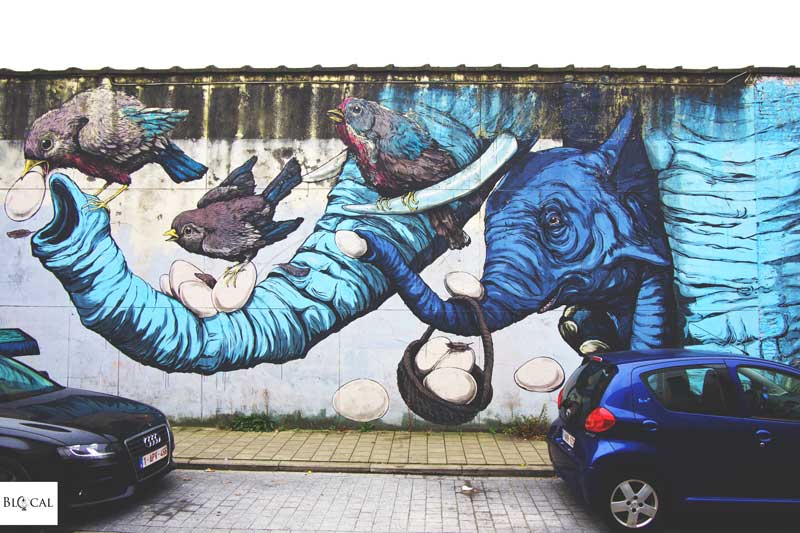 When the international public fell in love with ROA's black-and-white animals, which are scattered all around his hometown, Ghent became a street art destination.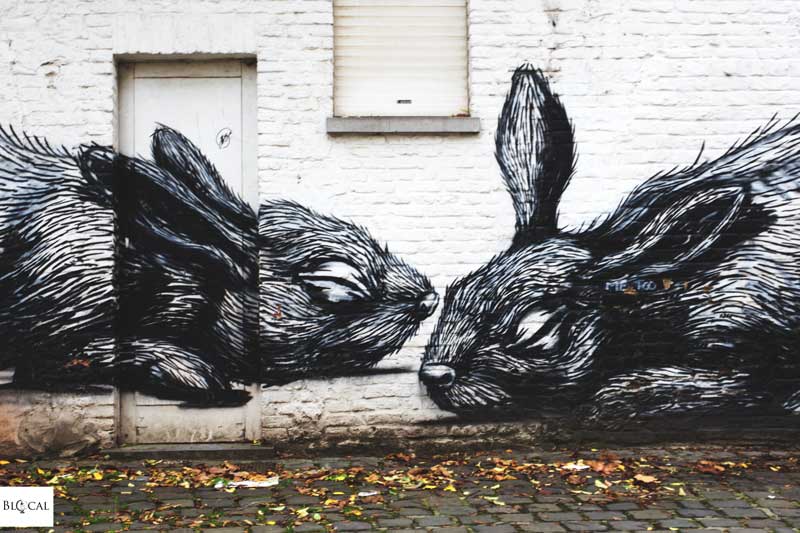 Resto: I try to take inspiration in every day life for my characters so in that way the people of the city inspire me a lot. Ghentians are stubborn, but there is a sense of concern that strikes me and lots of other inhabitants. Although we are very proud of our city, it shouldn't become just another city. There is still a lot happening, and a lot to be proud of, there's a lot that needs to be done to guarantee a beautiful future for the city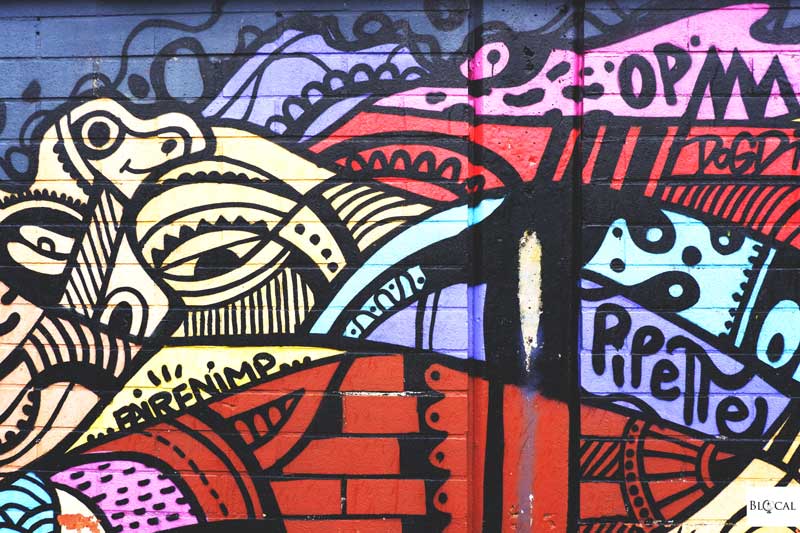 In Ghent there isn't a festival with street art superstars from the outside world, but rather projects like Sorry Not Sorry that curates murals around the city, taking into account those who will be seeying them everyday. In some cases, such as for the dynamic mural painted by the design studio Toykyo on the city service building "De Stroom," a poll was held among the people working inside the building to elect the artist.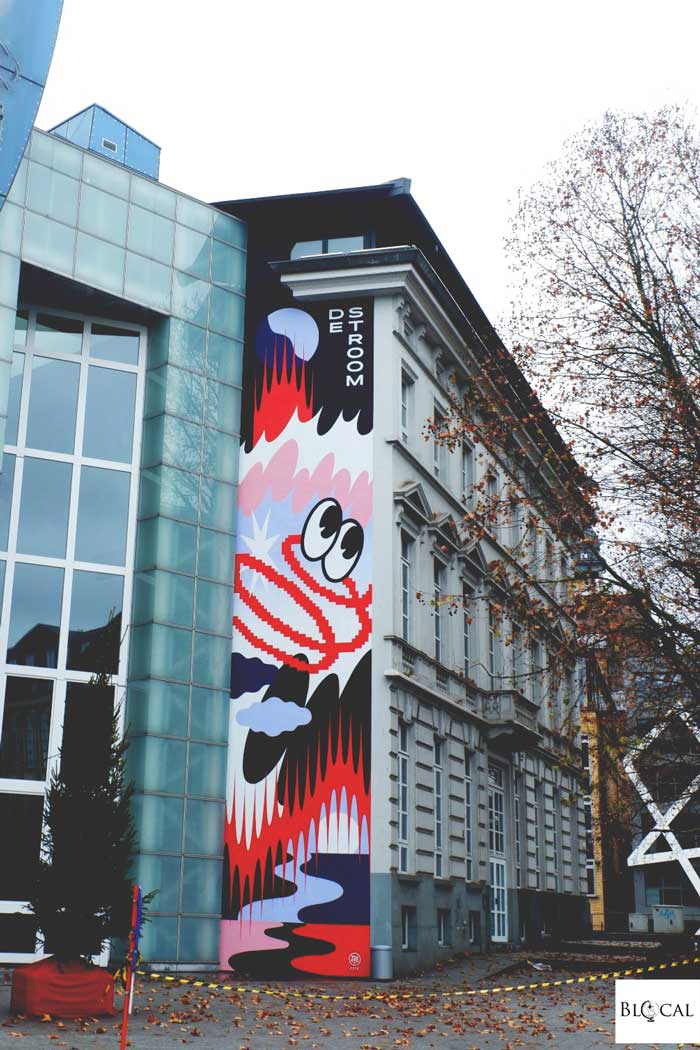 The building previously hosted an electric company, hence the high-powered character in the middle of the mural, which also references to the two rivers in Ghent: the Leie and the Schelde.
[This article and the related Ghent street art map have been updated after Sorry Not Sorry festival 2019]
Where to Find Street Art in the City Center of Ghent
Although at first you will simply be astonished by Ghent's historic buildings and its charming cobbled streets, it won't take too long to spot some street art in Ghent's city center. I bet it's going to be a piece by Bué The Warrior!
Bué painted a lot in his hometown, and still does so whenever he comes back to visit. He gifted the city with many cartoonish, cheerful characters that aim to simply bring joy into the streets and make people smile.
Bué: I paint a lot of cats and birds. In a way they are domestic animals living amongst humans, but they always maintain a certain amount of freedom. And they can survive on their own. I feel connected to them. If I could come back as an animal, I'd choose a bird
Bué also started off many collaborations, connecting local artists with artist friends he invited from outside Ghent. Here are some collaborative murals painted by Bué The Warrior in Ghent's city center:
– this wall painted with Merny Merz and Billy Colors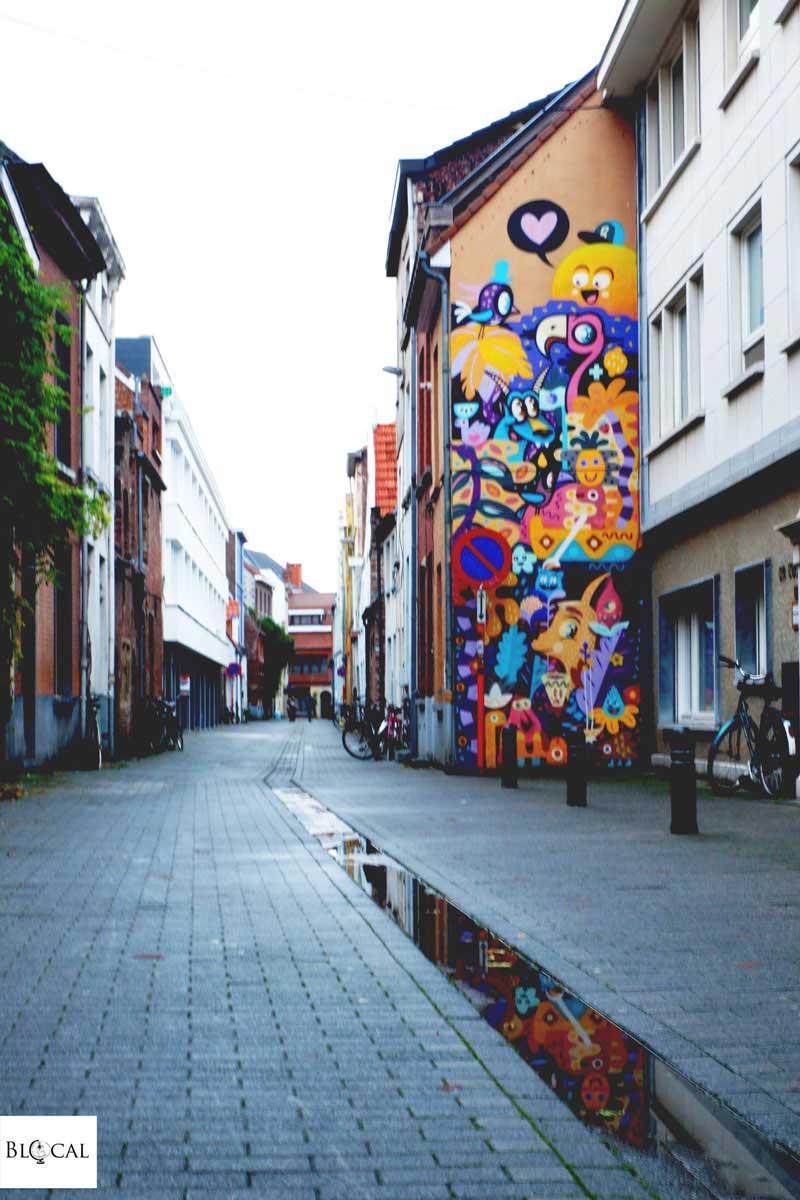 – this graffiti jam in a park, which also featured Resto, Kenor, Dhear and Smithe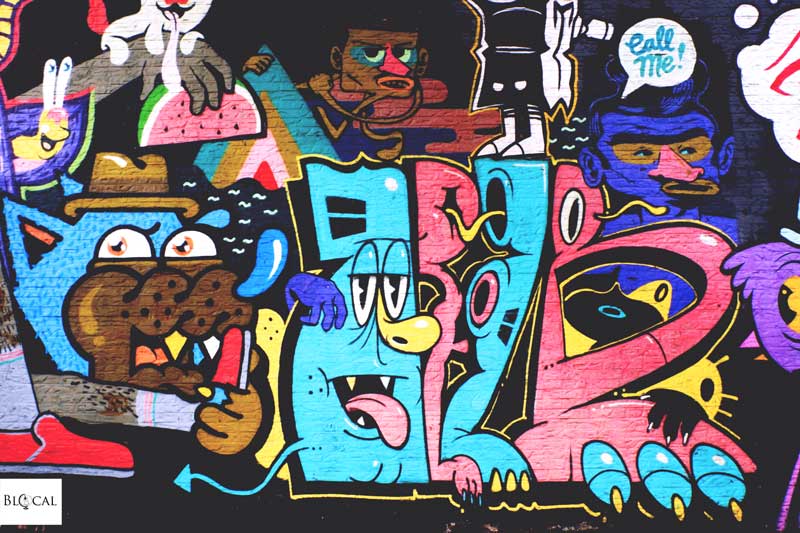 – this mural painted together with a Japanese artist (Taishi) who happened to walk along the street when Bué was beginning to work on this wall… this is how spontaneous Ghent's street art scene is! ☺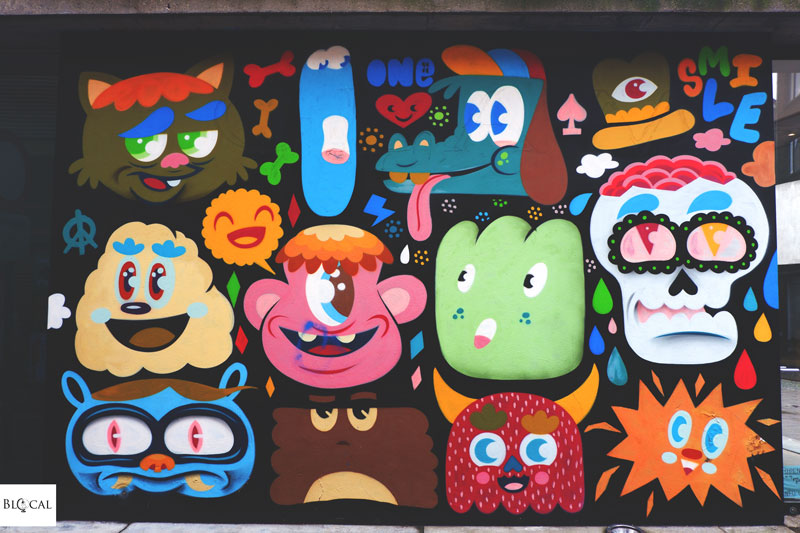 Another Ghent artist that embodies the idea of street art as art accessible to everyone in the streets is Pol Cosmo. In the area known as Ghent's Red Light District, he painted his iconic patterned insects, which are usually pasted-up next to Ghent's front doors. But here they are actually painted, and on a larger scale to boot!
Pol Cosmo: I like that in Ghent there is a lot of street art and contemporary art all over the city. Sometimes well hidden (like my little, pasted-up insects ;-) ), sometimes very prominent on public squares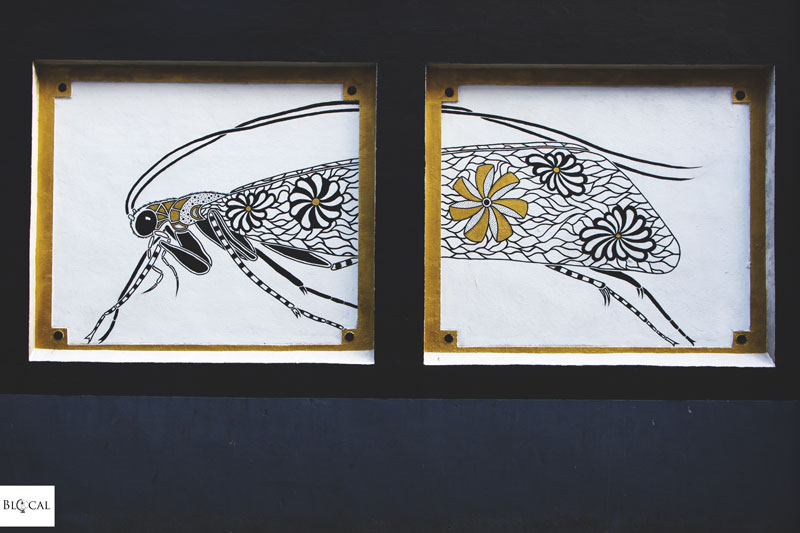 While travelling all around Europe in 2017, the Austrian artist HNRX stopped in Ghent to paint his typical, out-of-context "sausages."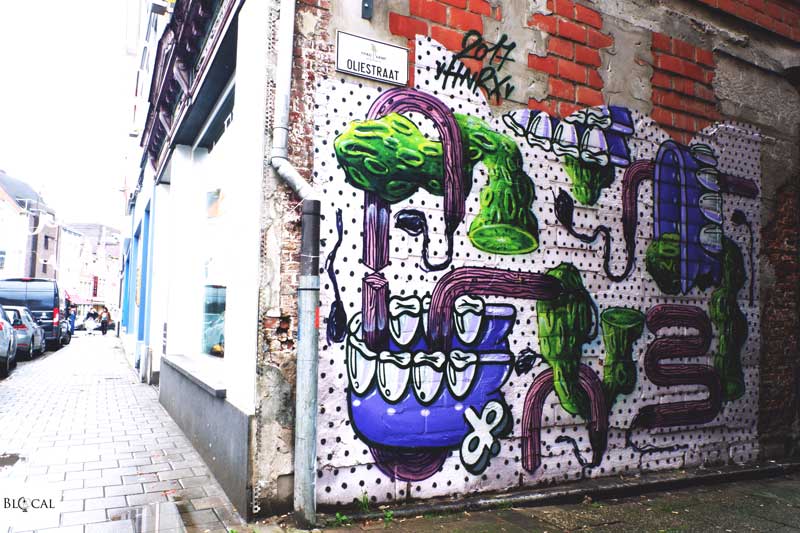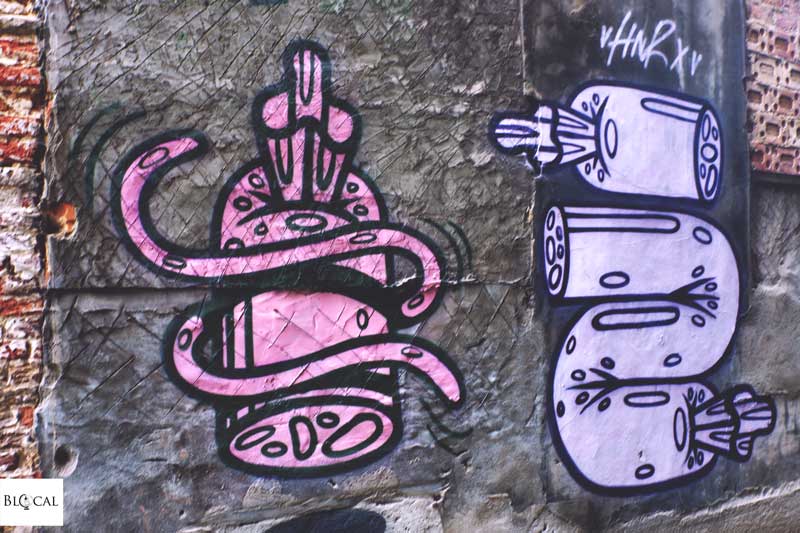 This is a self-portrait by Klaas Van der Linden, where he paints himself as a fisherman "Lost at Sea". It was curated by Sorry Not Sorry in 2016.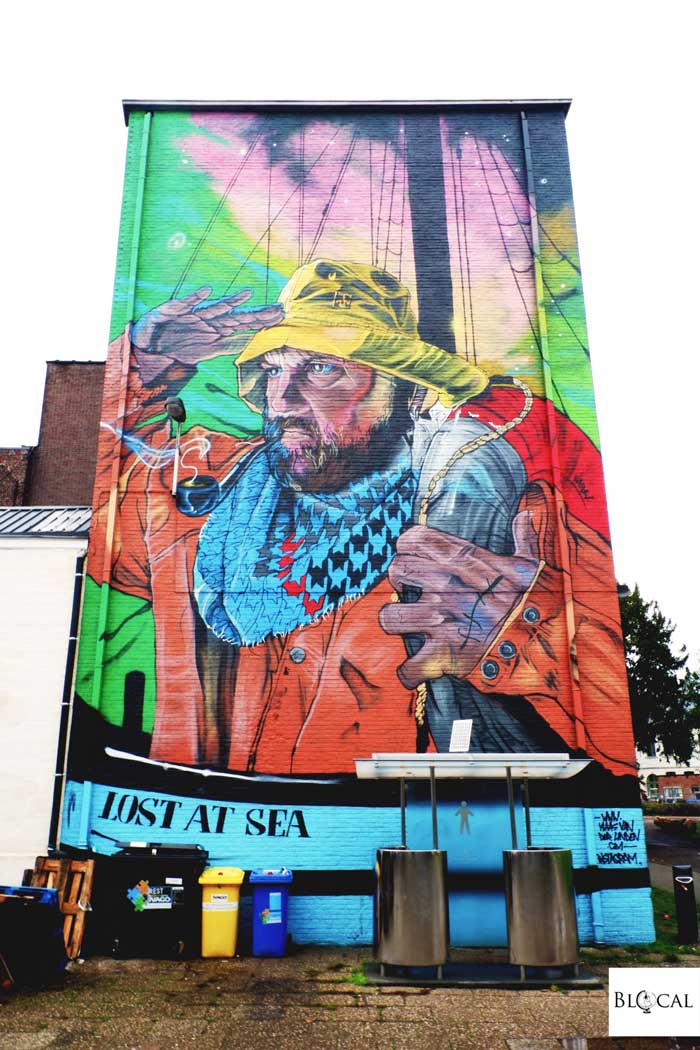 Klaas Van Der Linden: Ghent is a really cool city, not too big, not too small. The perfect hangout for an artist, a lot of cultural things to do. I like Ghent a lot!
On the canal, the Belgian calligraffiti artist Solo Cink painted a wall for PoetryTour Ghent.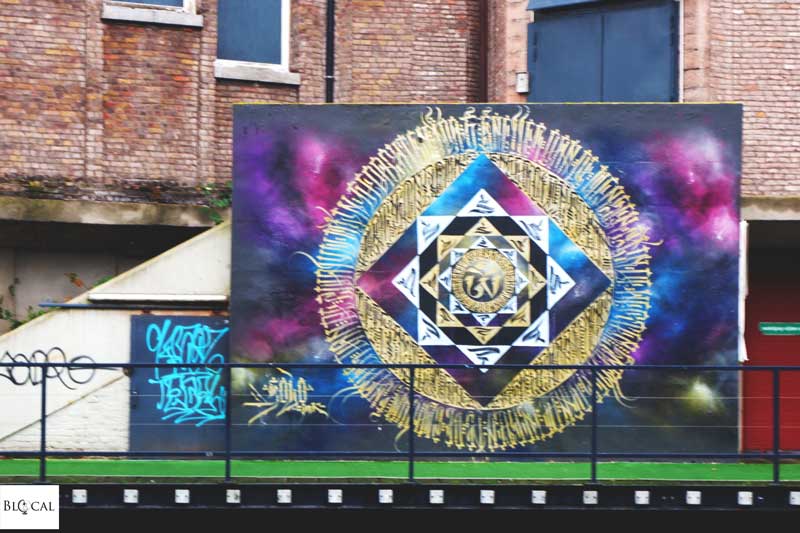 Another well loved local artist is Resto, whose characters are inspired by comics and cartoons.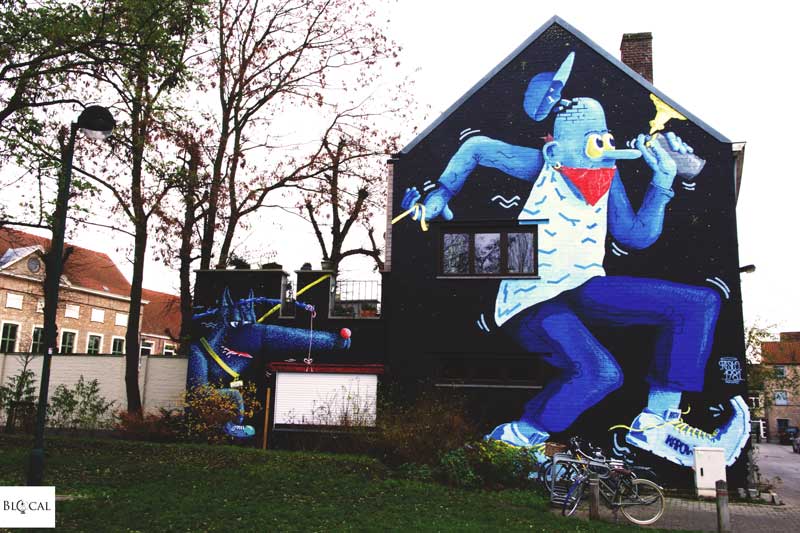 Resto: What I love to do in Ghent is to go and walk in the Bourgoyen and Gentbrugse Meersen. It gives me energy and I am a fervent forager for brewing up all kinds of liquid potions with wild herbs and fruits. Food and drink wise there is sooo much going on! Roots, Golden Gai, Aroy Aroy, Ganzerik, Dok beerhal, Røk, Ways, Wald, Superette, Simon Says, Uncle Babes, Palenque, I can go on all day. Too much great places!
(He is too humble to mention it, so I'll do it for him: Resto owns an amazing bar in the city center –called Jigger's – that won several mixology awards and even made it onto the 50 best cocktail bars of Europe list. More on this bar here)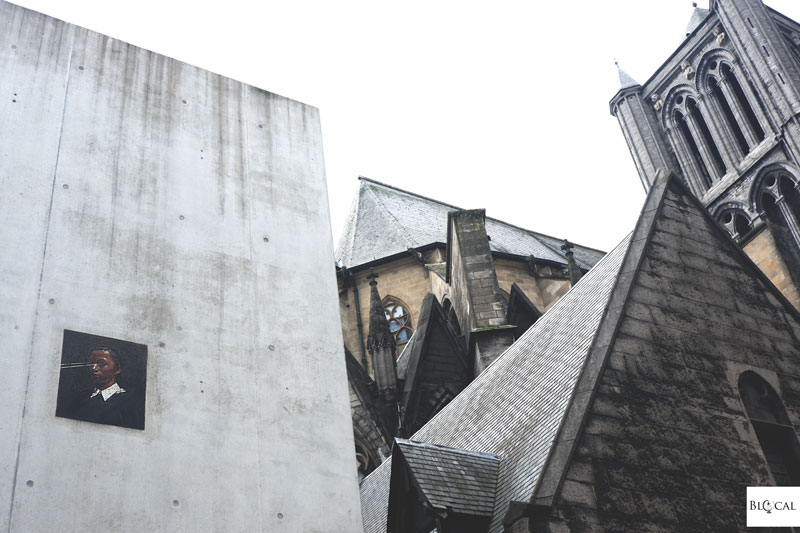 Even one of the most notorious contemporary artists in Belgium, whose artworks are shown in museums all around the world, challenged himself to leave his mark on Ghent's walls. Titled "The Virgin", this little fresco by Michael Borremans was painted in 2014 as a gift for the city. To me, it perfectly shows how Ghent's walls truly welcome anyone, without the battle between outsiders and insiders that goes on elsewhere within this subculture.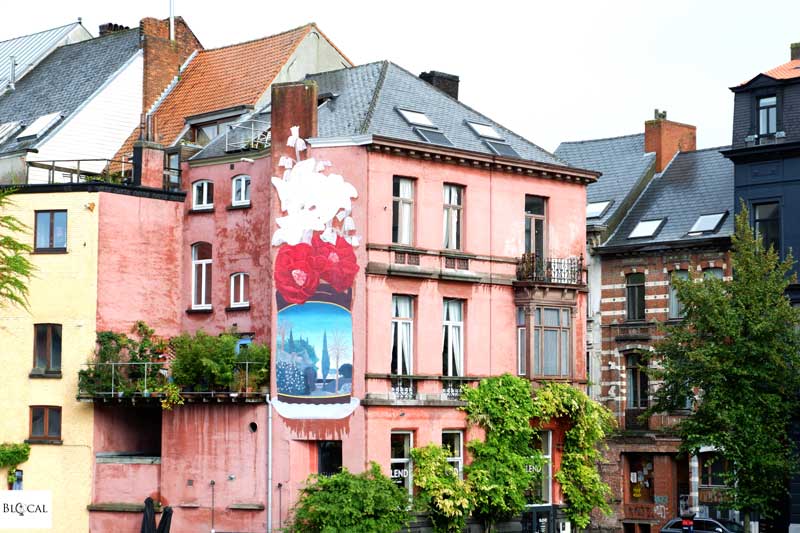 Update 2019: Argentinian artist Pastel was invited to paint a piece to build up to the Jan Van Eyck thematic year (2020). The mural references to the landscapes of the Ghent Altarpiece.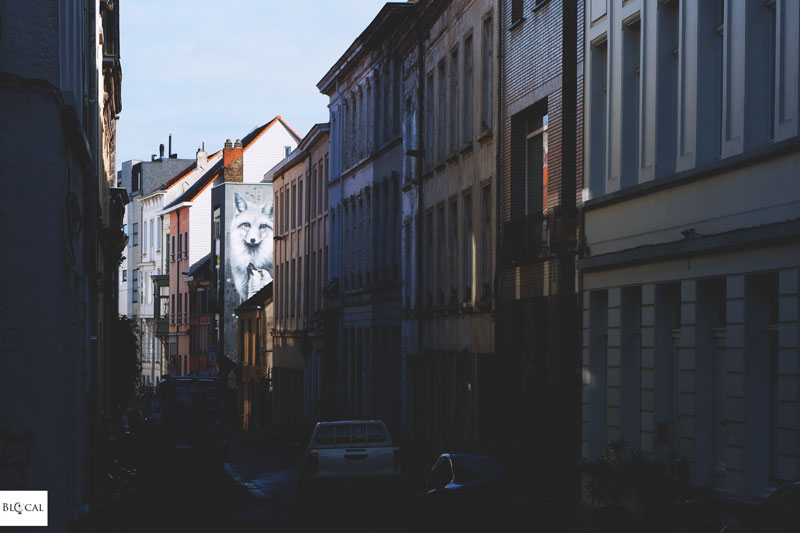 Update 2019: local artist Kitsune painted a fox, her totem animal ("Kitsune" is the Japanese word for fox), with her baby. The mural is dedicated to the artist's mother, who has always encouraged her painting.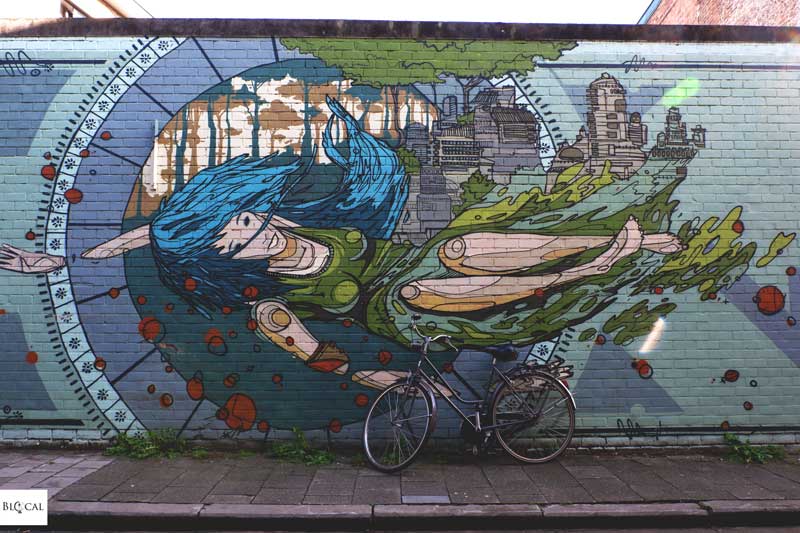 This mural was painted in 2015 by Belgian artist Pso Man, who was invited by Miramiro to create the posters for their annual festival.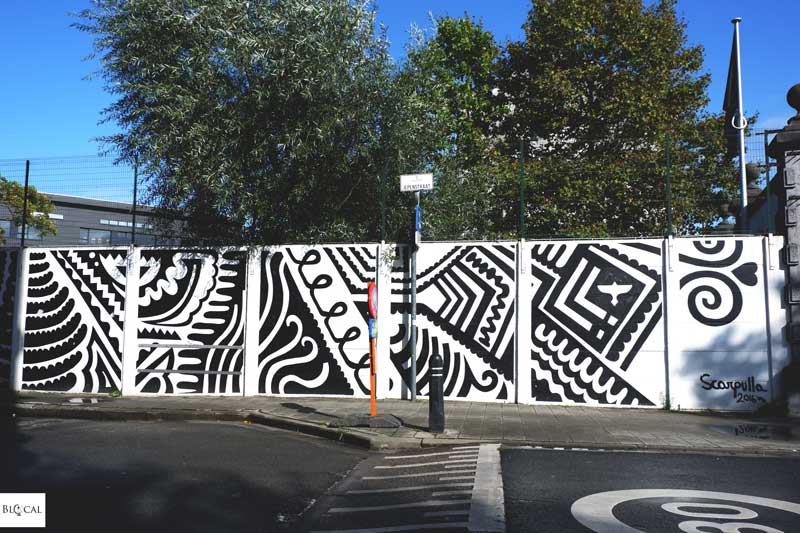 A classic black and white piece by Sam Scarpulla. It was painted in 2016.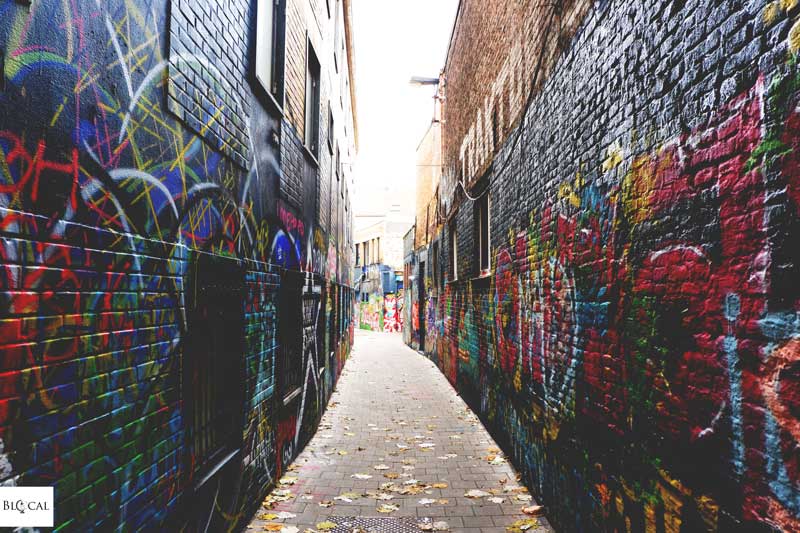 The graffiti hotspot in the city center of Ghent is the "Graffiti Street" (or Werregarenstraatje), which was the first Hall of Fame in Ghent. This means that everybody can paint legally there.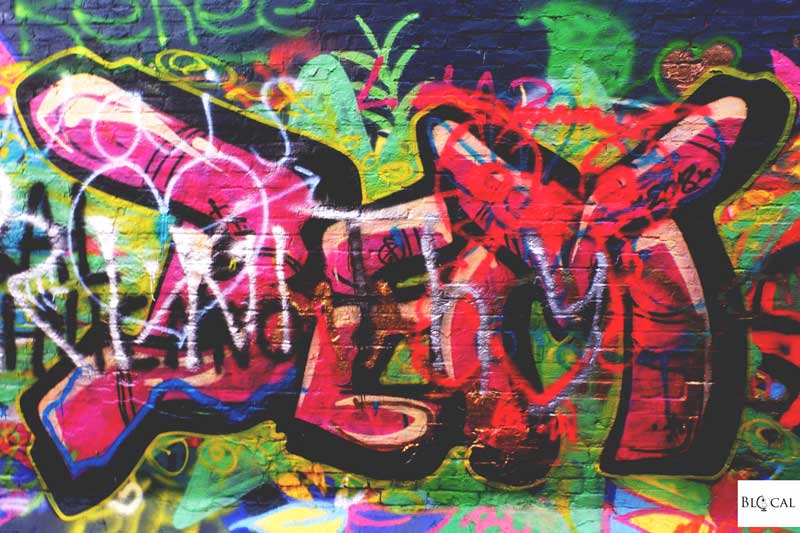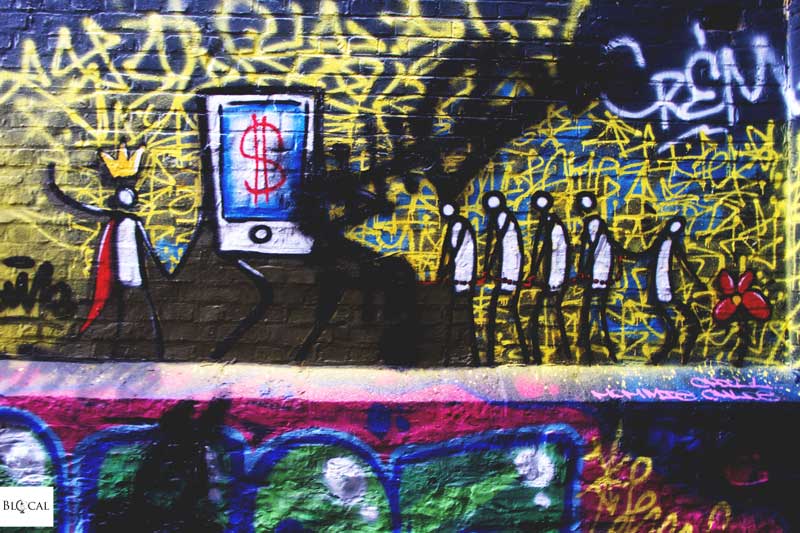 Matthew Dawn: Ghent gave me my first chances to paint walls. If it wasn't for the designated graffiti areas, one of which is smack dab in the middle of the historic centre, I wouldn't have this career right now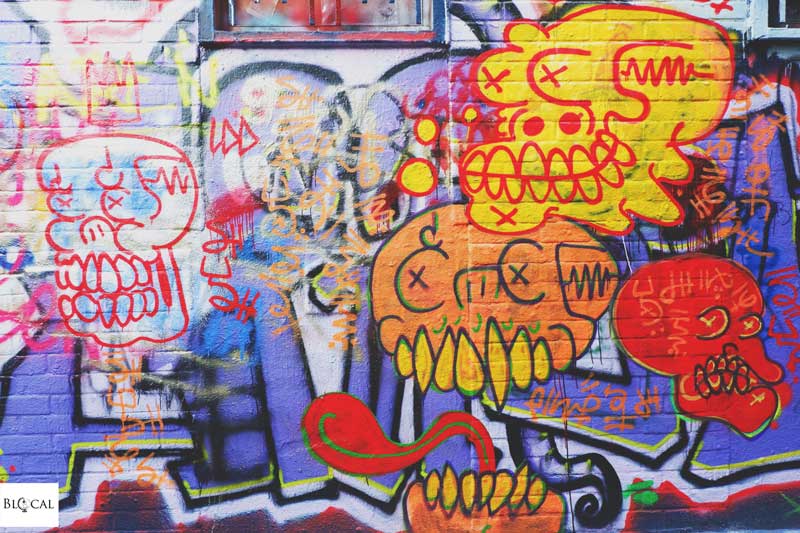 Update 2019: Building up to 2020's tribute show of Jan Van Eyck, the city of Ghent is inviting international street artists to paint a tribute mural to the Flemish artist. "Covering the Uncovered" is the delicate mural painted by Argentinian artist Hyuro. The cloth painted here links to the rich fabrics in Ghent's altarpiece and, at the same time, refers at politicians who turn a blind eye on the refugee crisis. As a consequence, people look away from difficult situations.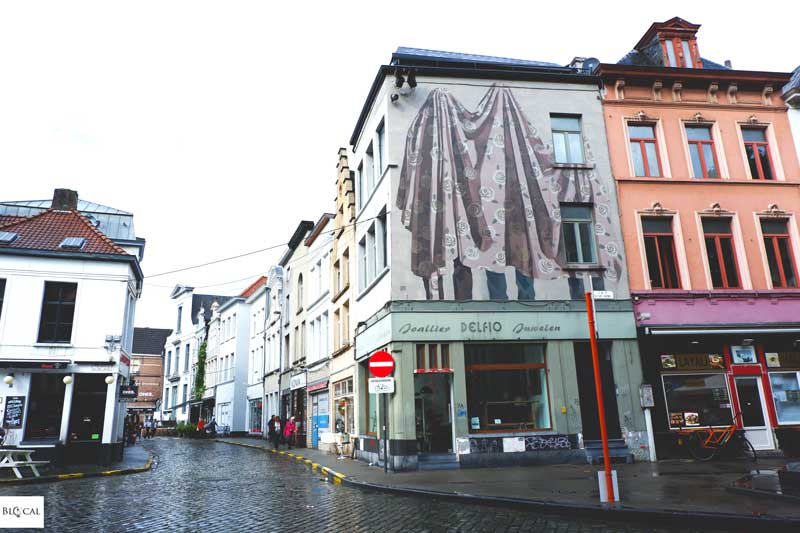 Bonus Track: when the sun has set, you can still shoot some street art photos at Charlatan, which hosts ROA's pieces in the toilets and a mural by A Squid Called Sebastian in the dancing room.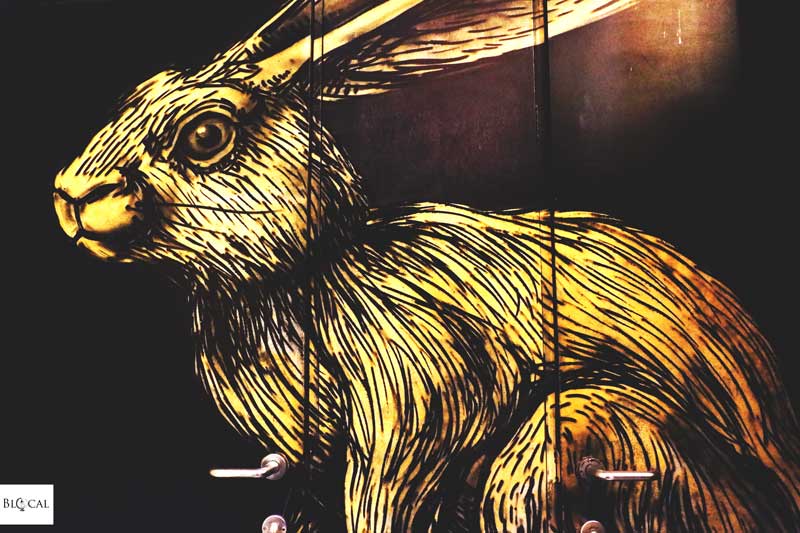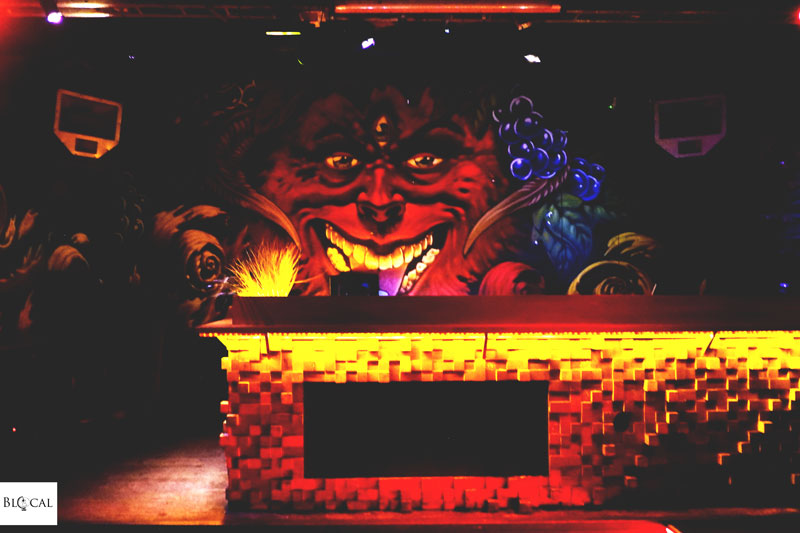 Where to Find Street Art in Ghent: from the City Center to De Brugse Poort (and beyond!)
Despite not being originally from Ghent, Cee Pil is one of its most beloved artists. Scattered all around the city, his murals surprise passers-by with optical effects based on the digital glitch.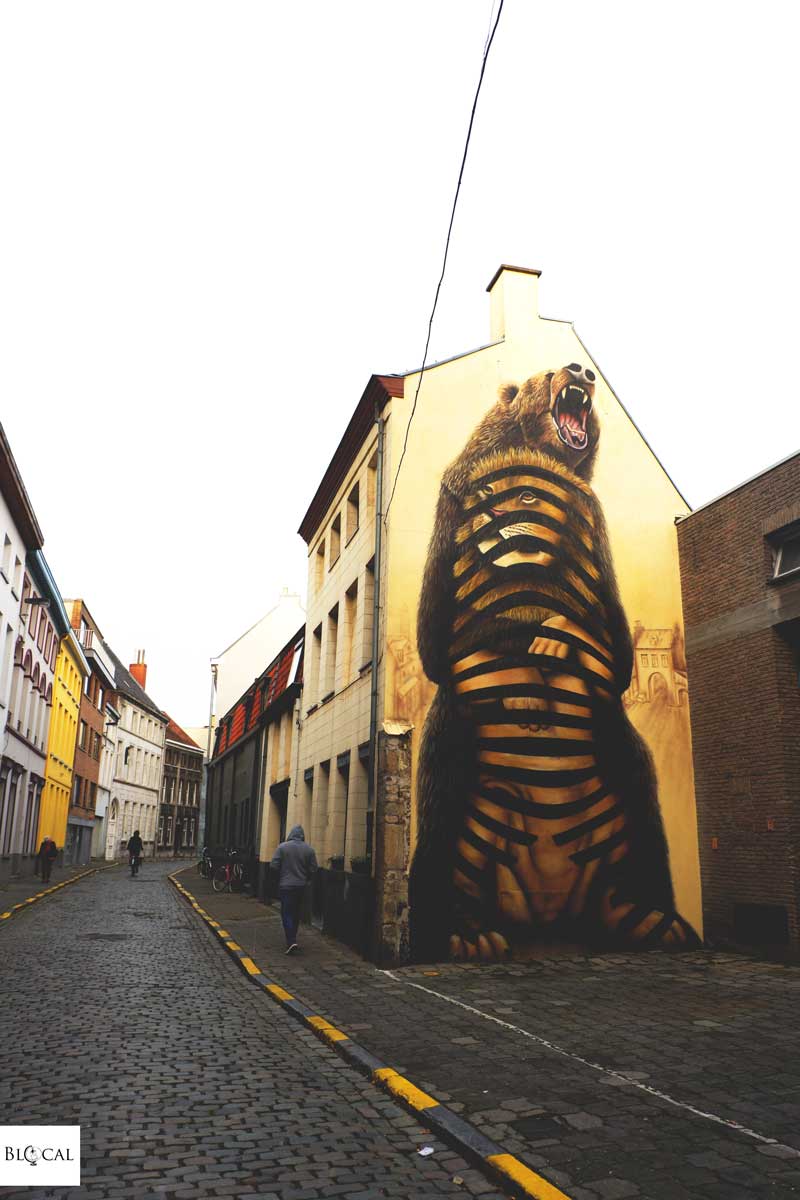 Cee Pil: I moved to Ghent 16 years ago. I like that it's quiet, an easy place to live in, with many legal walls: I can paint in peace. When I have friends visiting from outside the city I show them "The Ghent Altarpiece" by the Van Eyck brothers: it's a medieval painting exposed in the Cathedral
While I was taking photos of Cee Pil's wall, an old lady approached me. She told me that the artist was inspired by the small private zoo that the medieval emperor Charles V had in the area, which housed three lions among other animals. Besides the intriguing anecdote, I was impressed with the pride shown by the old lady in sharing her impressions of the artwork with a 'tourist;' it says a lot on the way street art is perceived by the inhabitants of this colorful city.
Moreover, while biking around Prinsenhof to get to the mural, I fell in love with the neighborhood itself, whose cobbled streets and charming medieval buildings I surely woudn't have discovered if it weren't for Cee Pil's mural.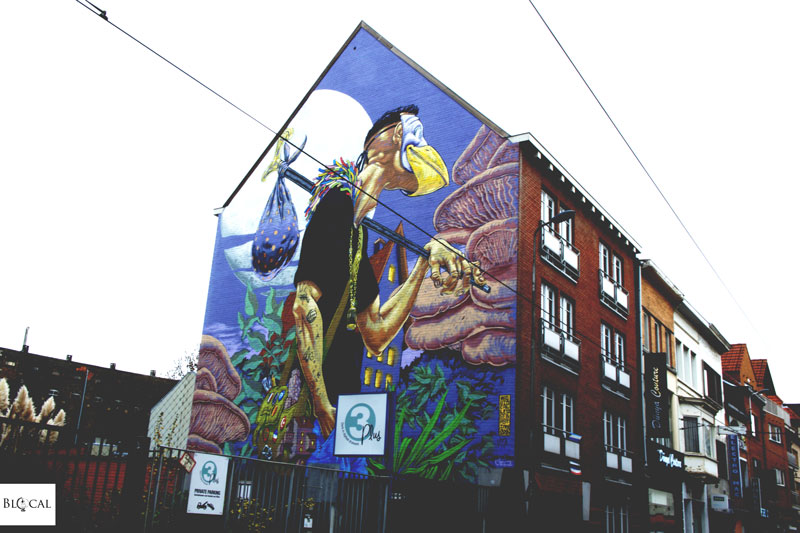 Another big mural that has become a landmark on this side of Ghent is A Squid Called Sebastian's "The Traveller Always Shines Brigther in The Sun". Curated by Kapow, this large-scale mural was painted during Sorry Not Sorry in 2016, while Sebastian was itching for a wall at Wynwood Art District in Miami.
A Squid Called Sebastian: I initially moved to Ghent to study, like many other people, and then… I just stuck around. The atmosphere in Ghent is very mellow, and that appealed to me. Time just slipped by, it was never really a question for me; when I finished my studies I just stayed here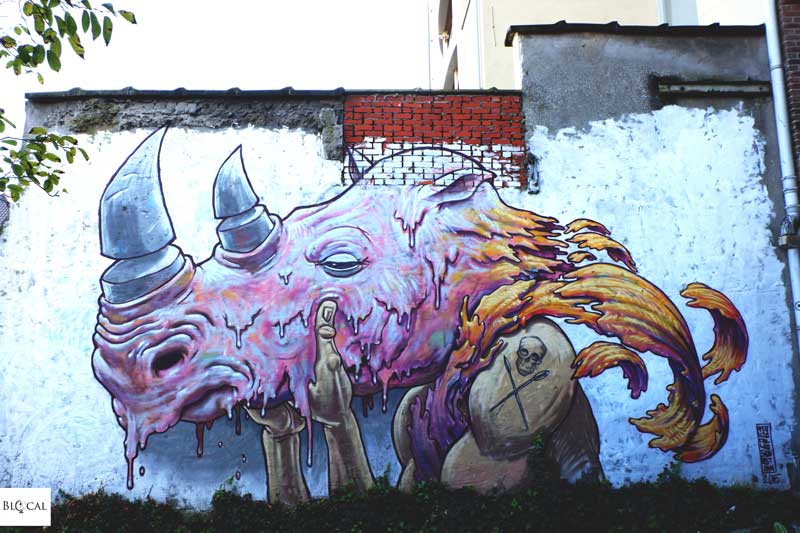 Still by A Squid Called Sebastian is this surreal character, half man half rhino. You can find it in a small park in the area.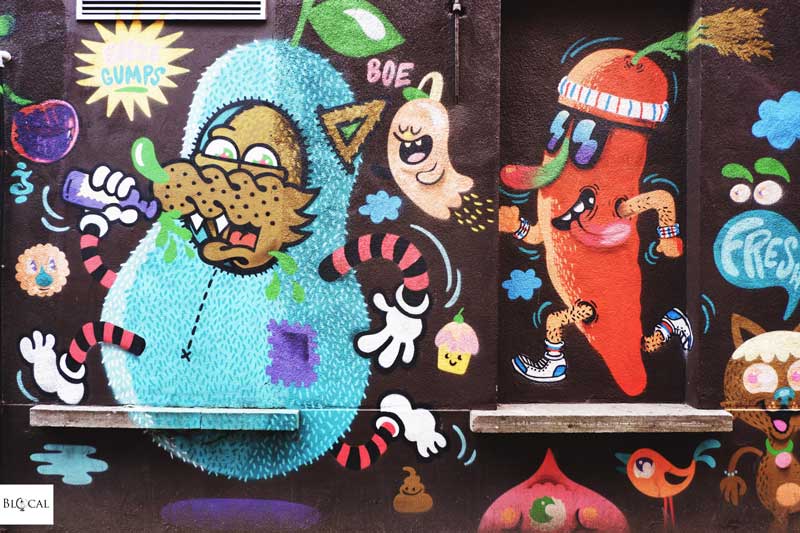 At the other side of the street there is yet another colorful mural by Bué The Warrior, this time inspired by food.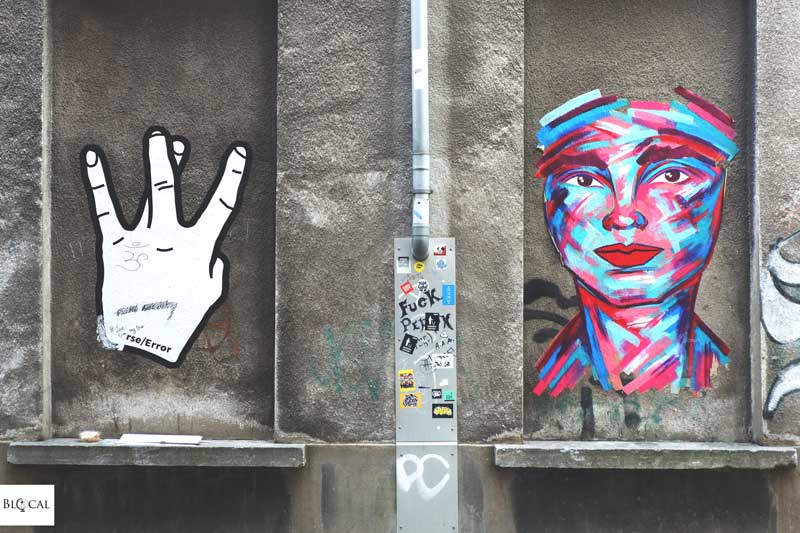 A bit further on the same street, there is a poster by Manyoly and one by Parse/Error. Both artists came to Ghent from their hometown of Marseille during Sorry Not Sorry 2017.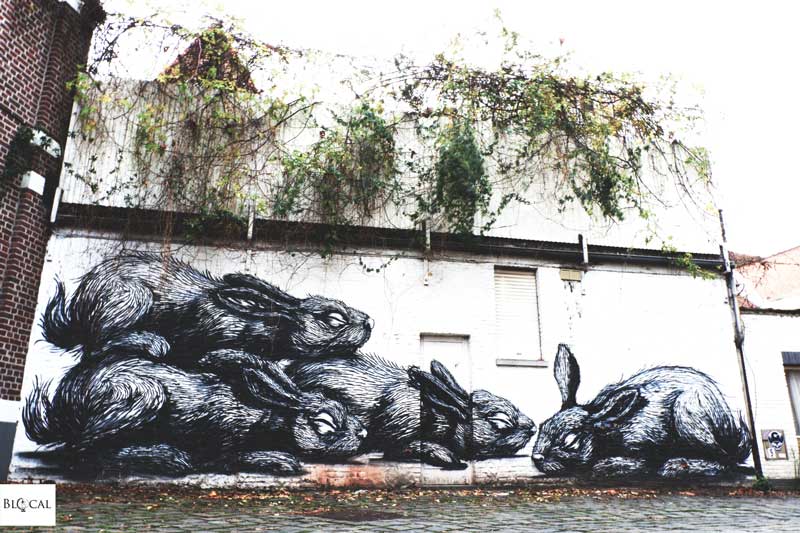 In the same area I found the much-photographed rabbits by ROA. Rumors has it that when ROA arrived at the wall, he didn't know what animals he was going to paint. The idea of the rabbits came from the owner's children. It was painted in 2009 and it's the last mural that ROA painted in his hometown.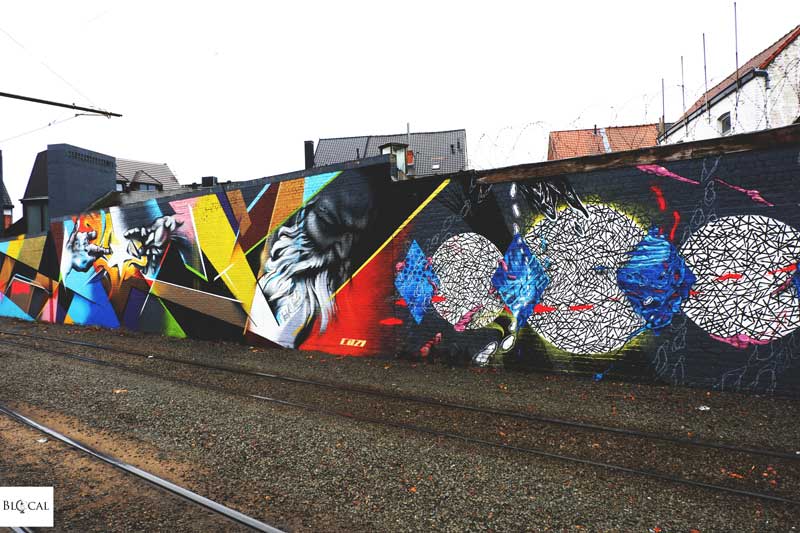 It wasn't easy to get permission to paint this long wall, since trams are driving past it all the time. Eventually, in 2014 the street was closed for renovation works, so the long-waited graffiti jam could finally take place. It brought more than twenty artists, who painted on both sides of the road. For the same reason, it was impossible for me to walk along the tramway road to take pictures, although I did enjoy a colorful drive (and return).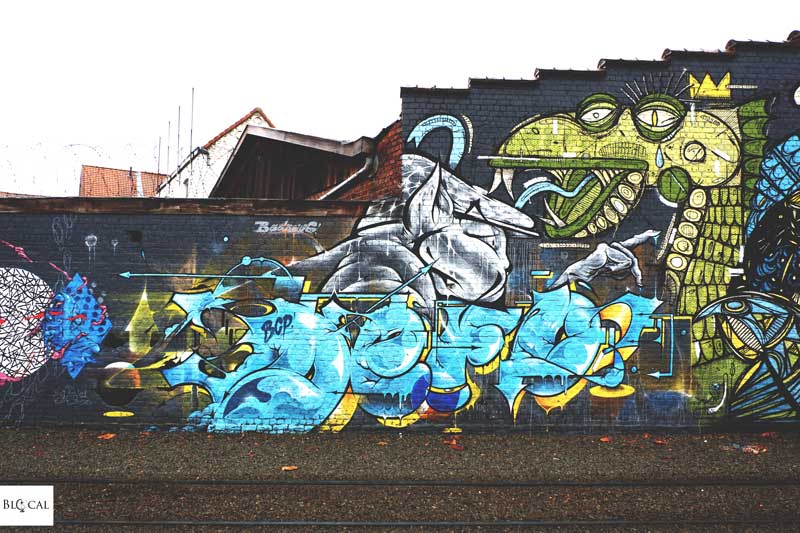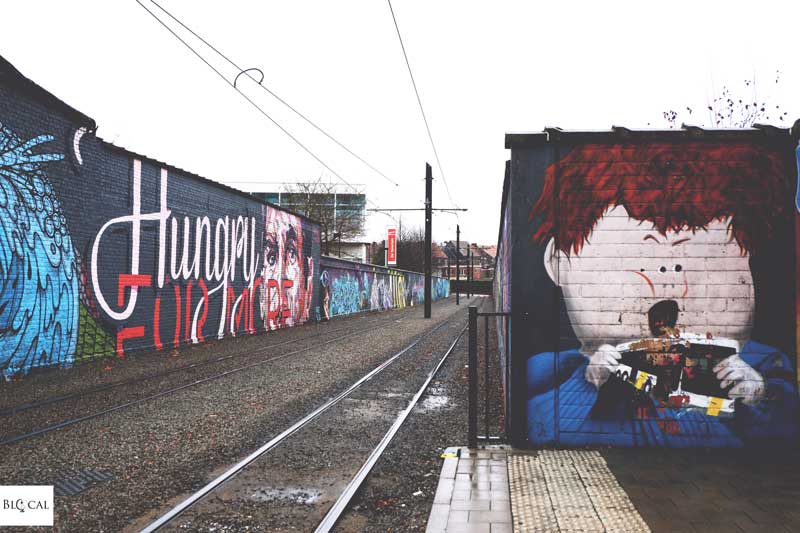 Some of the artists who painted here include: Cazn, whose piece is inspired by classical art; Eyes B, who realized a dynamic abstract piece; Farm Prod, who did a race-car spreading colors rather than pollution; Joachim, Dzia and Gijs Vanhee, who painted a collaborative piece featuring intertwined snakes painted in the typical style of each artist; and much more!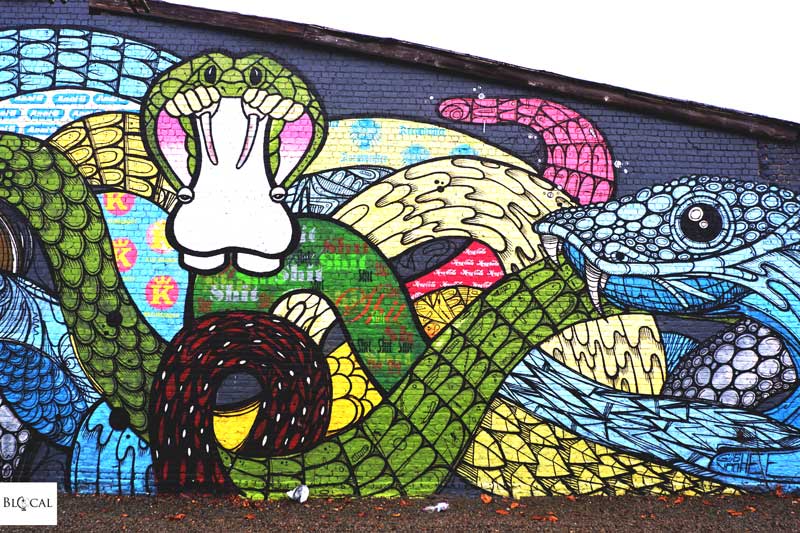 However, the street art hotspot in the area is undoubtely The Skeleton Factory. This is the nickname urbex gave a former printing factory in Ghent, where the government printed all kinds of documents. It opened in the 1930s and went bankrupt in 2004.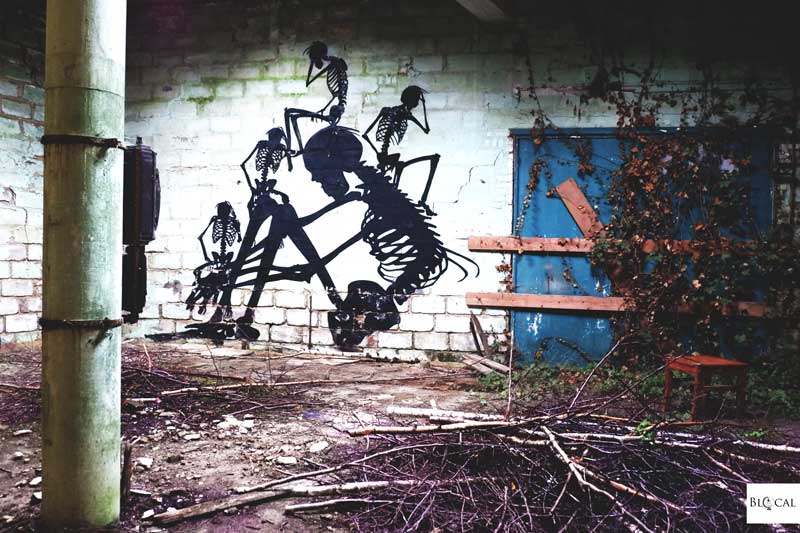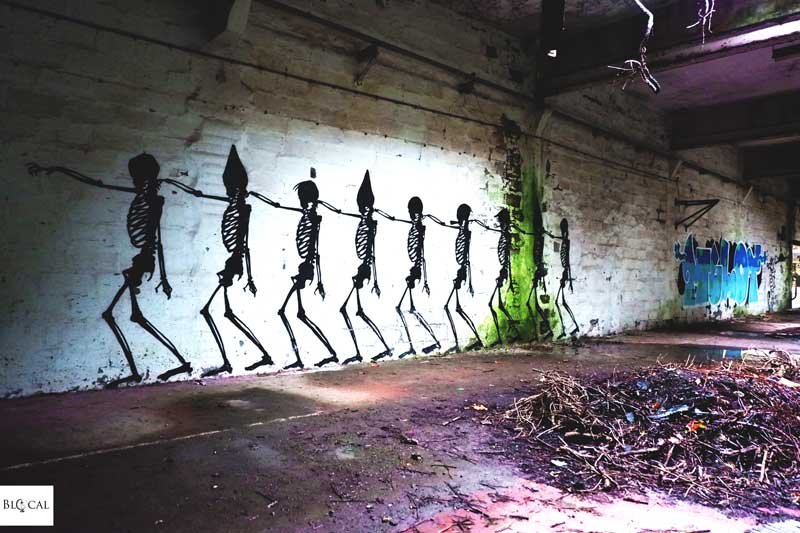 In May 2017 a 'secret show' organized by street artist Klaas Van Der Linden was held inside the abandoned factory, and those artworks are still visible today – although the complex is set to be demolished soon. The decadent walls of this abandoned factory are dotted with Klaas Van Der Linden's iconic skeletons, which interact with various lost items he found in the otherwise empty rooms of the former printing company.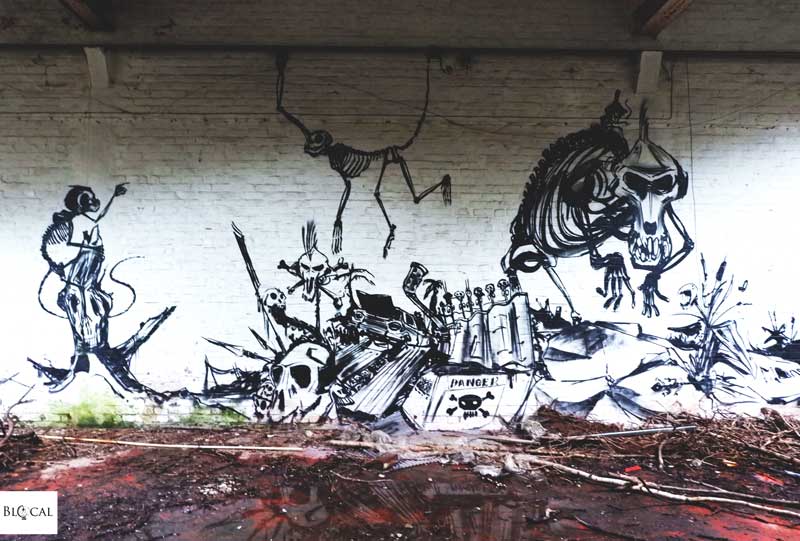 Klaas Van Der Linden: I was amazed to find a place untouched! It was the perfect place to make my work, I worked there a lot, I had a great time, just amazing, and then with some friends we came up with the idea to do a group expo. It was a great event, I loved it…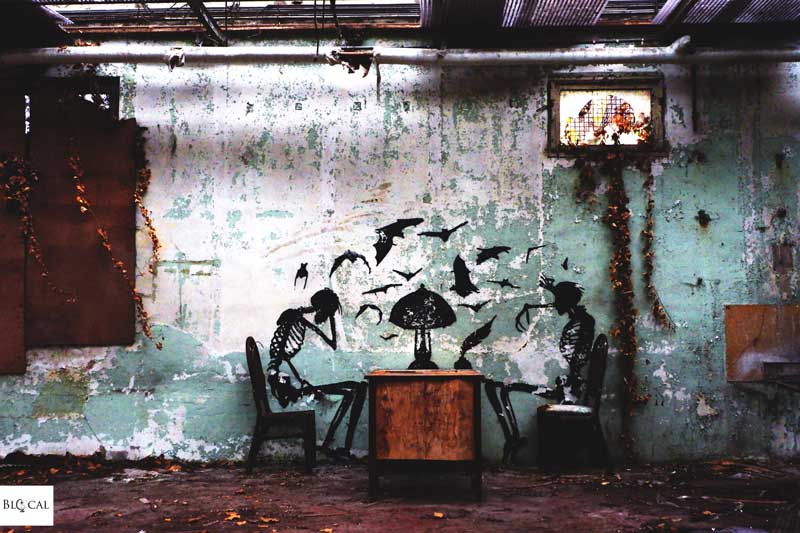 Assembled together, they give life to symbolic scenes that reflect the essence of our existence. They are painted using only black spray-cans, sometimes without pulling the spray-can away from the wall during the whole execution of the single line that outlines the macabre figures.
Klaas Van Der Linden: I like to work in abandoned factories where I can find things to work with like furniture or settings. I also like to play with light to create an atmosphere.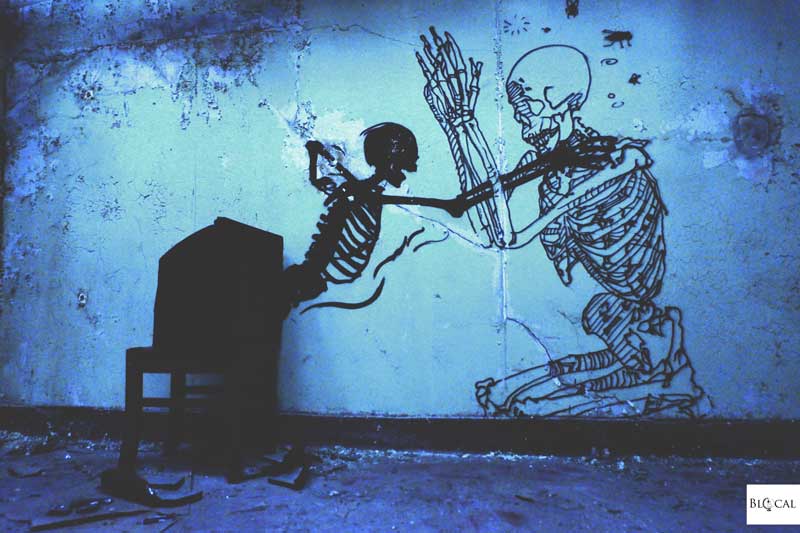 Sam Scarpulla painted a majestic piece whose title, "Work in Progress," refers to the cycle of life. It depicts buried skeletons that nurture plants and other life forms above the ground.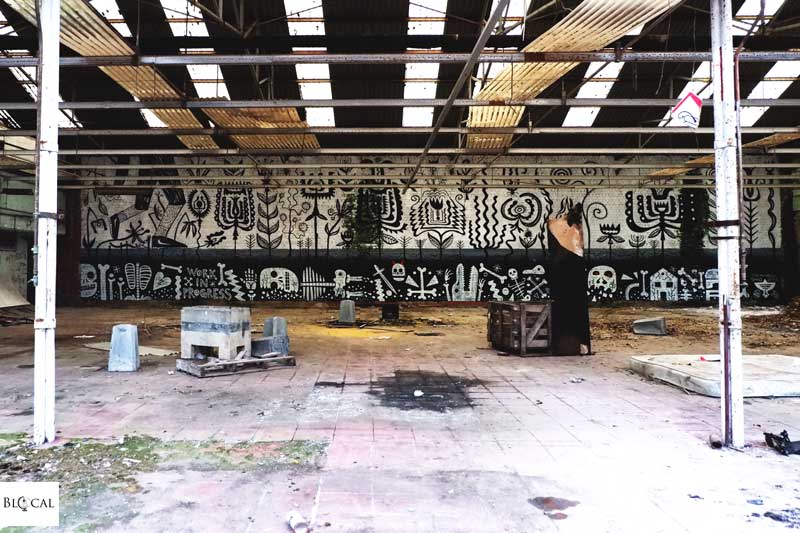 Perhaps the two most photographed pieces by all the urbex who have entered this abandoned factory are those painted by ROA depicting a skeleton of a beast and a caterpillar.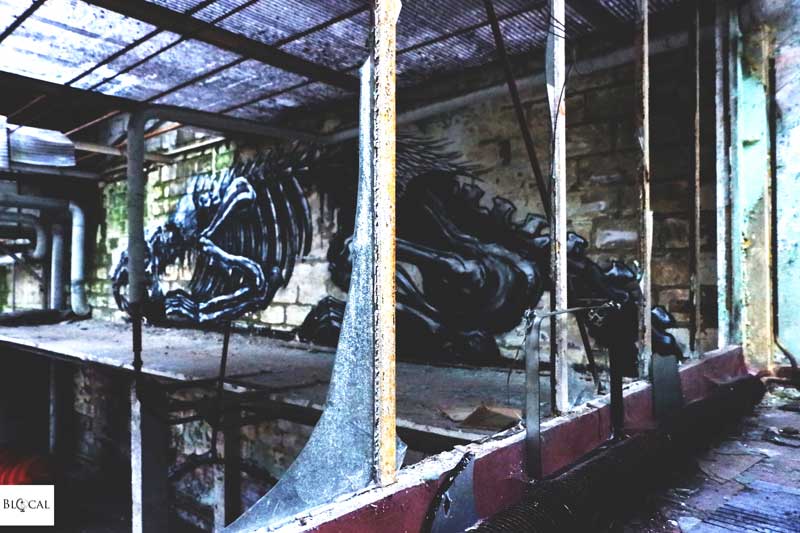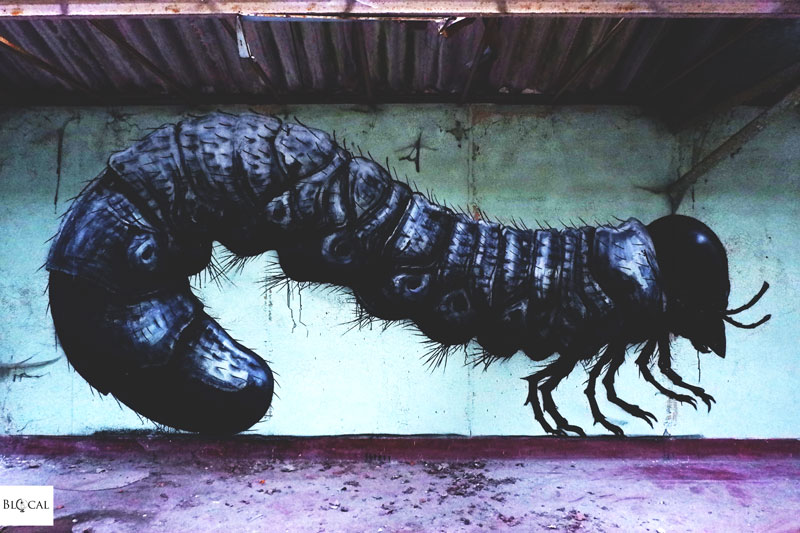 Resto's piece inside Ghent's abandoned factory shows a crashed car and is titled "No Life Before Death". It's quite different from his usual style, which is very colorful and inspired by comics and cartoons.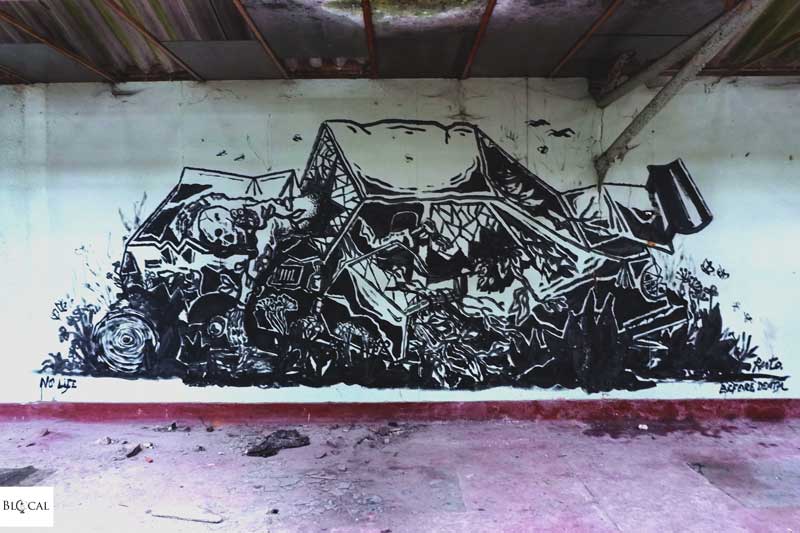 Resto: My favorite places for painting in Ghent are deserted or abandoned spaces. They always tell a story and the walls already have a history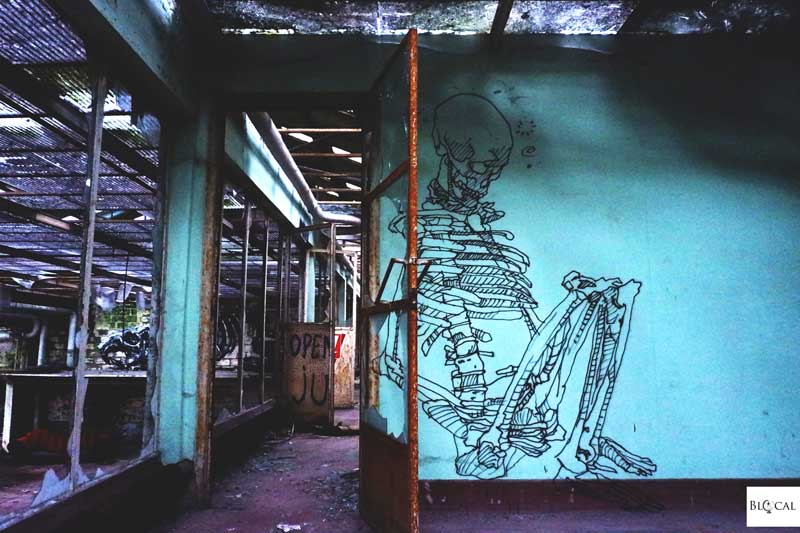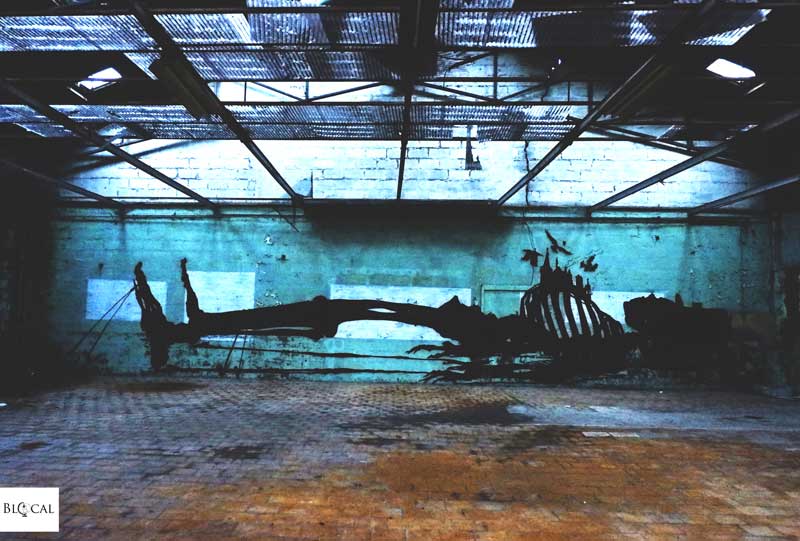 Bonus Track: after the urban exploration, we went for a beer at a nice hostel near the abandoned factory. The particularity of Treck Hostel is that you can sleep inside caravans and mobile houses. The common room, which is a bar open to the public as well, is super cozy, and they have a nice piece painted by the Spanish artist DYOZ that pays homage to graffiti legend Treze, who passed away earlier this year.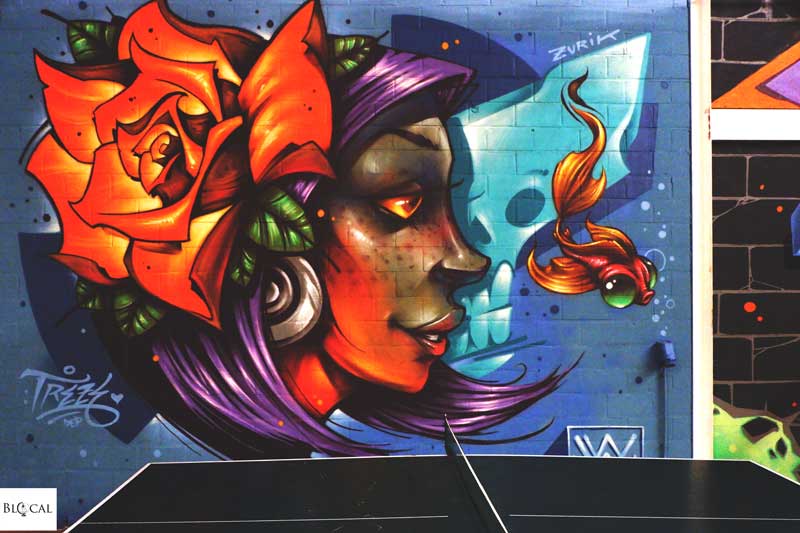 Where to Find Street Art in Ghent: from the City Center to the Dokken
This is where you'll find the most iconic mural in Ghent: a piece painted in 2009 by ROA featuring one of his intricate, black-and-white animals.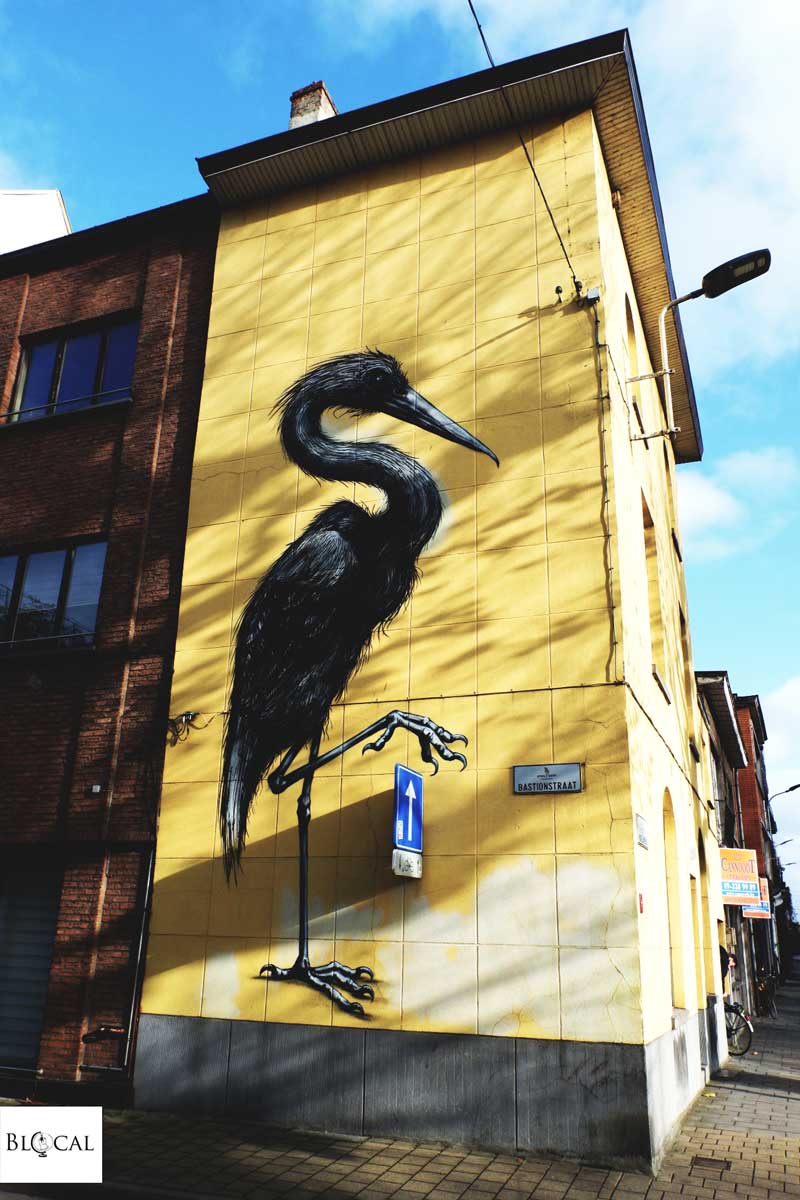 Not too far away, there is a large-scale mural by Klaas Van der Linden curated by the organization for younger street artists, Wallin'. The Island is quite an unusual piece for him (where are the skeletons?) although Klaas' typical "spirit of the night" is still there.
Klaas Van Der Linden: Belgium is kind of dark because we don't have a lot of good weather, most of the time it is grey and raining. The industrial setting of the city and old factories provide me the correct dark input I need. It is just perfect!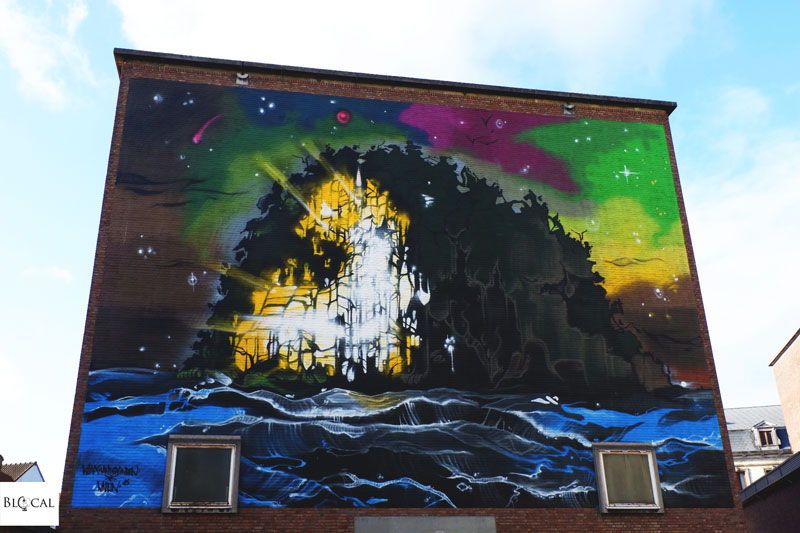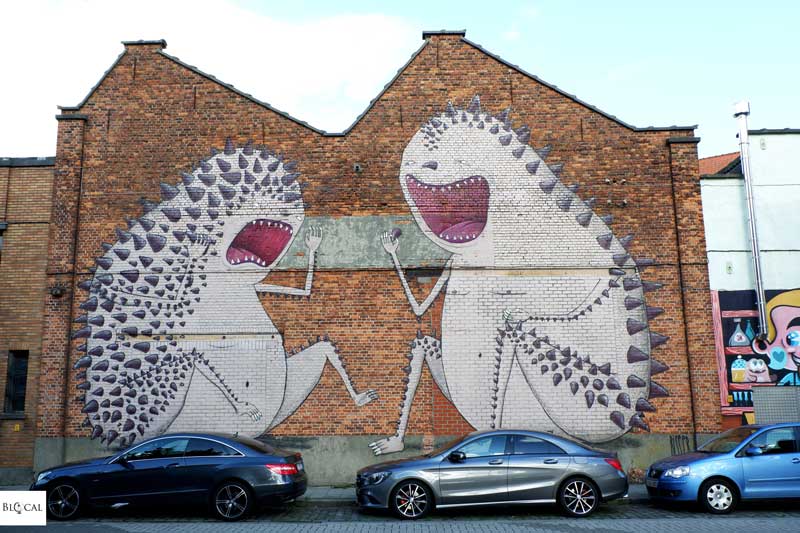 Still in this area you can find two stunning artworks by two local artists, Bisser and Resto. Bisser's mural references to Ghent's popular "war of the little noses". The nickname "nose" refers to the traditional cone-shaped candy ("cuberdons" in Flemish). The artwork is about the never-ending war among two well-known cuberdon sellers at Ghent's farmer market.
Right next to it, a beautiful, cartoonish piece by Resto. (did I mention that I love Resto's cocktail bar in the city center of Ghent? and I'm not the only one: the place has been listed among the top-50 cocktail bars in Europe!)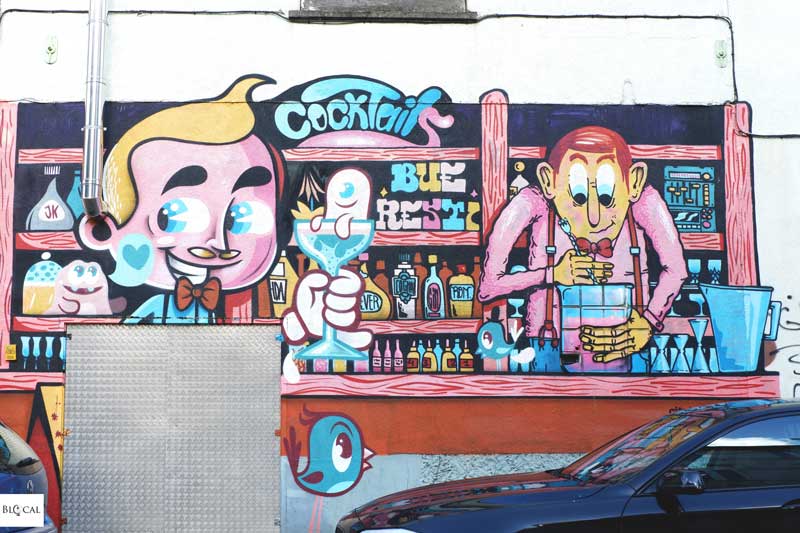 The urban hotspot of this area is Kapow, a hub for different creative projects – from art to music, and much more – that opened in 2010. It's managed by a collective of local artists, but always open to cross-cultural collaborations and new ideas. Among its founders is Sam Scarpulla, an Italian artist that moved to Ghent with his family a long time ago – enough to consider himself an adopted member of Ghent.
In the back yard of Kapow, and in the parking lot next to it, you can find lots of street art: some pieces are spontaneous, while others were painted during Sorry Not Sorry in 2016.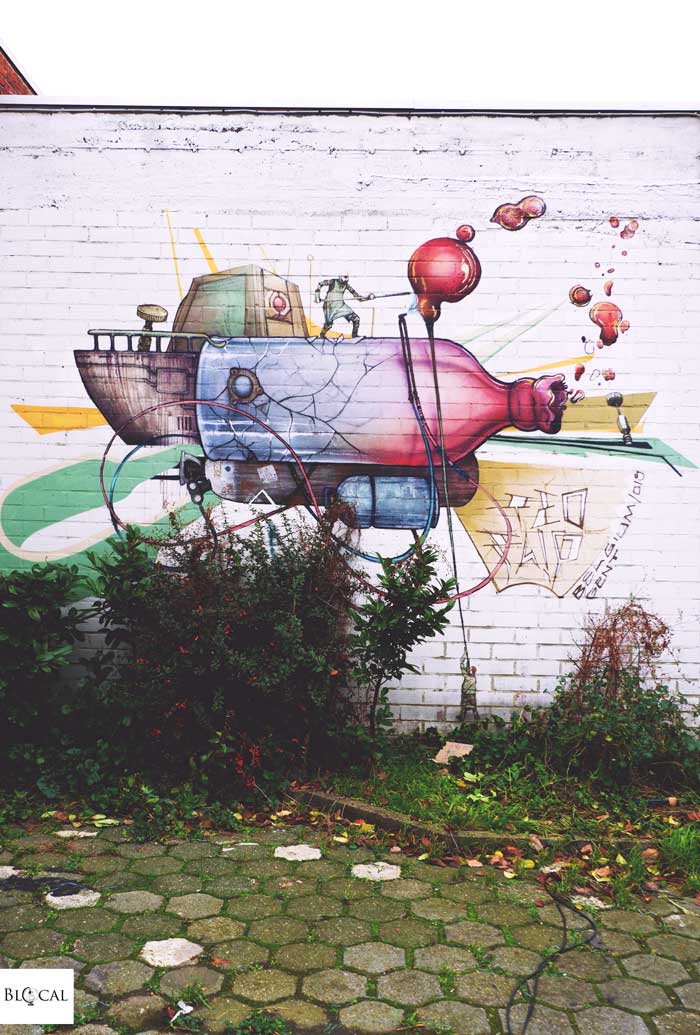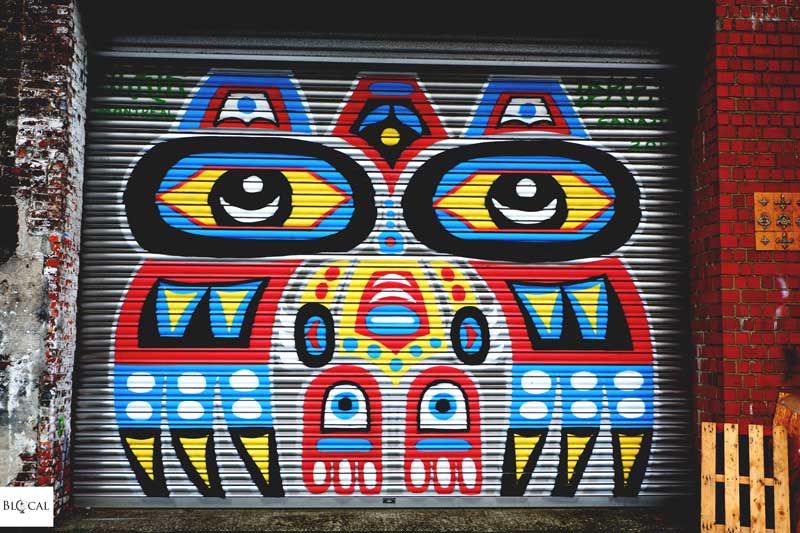 Artworks at Kapow include murals by FeoFlip, whose piece was commissioned and inspired by the glass workshop 'Gent Glas', which is in the same courtyard; a shutter by the Canadian artist Chris Dyer;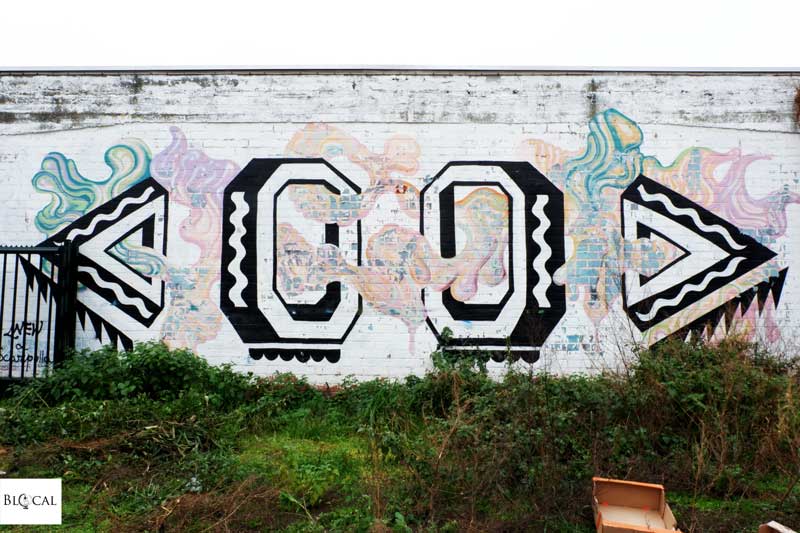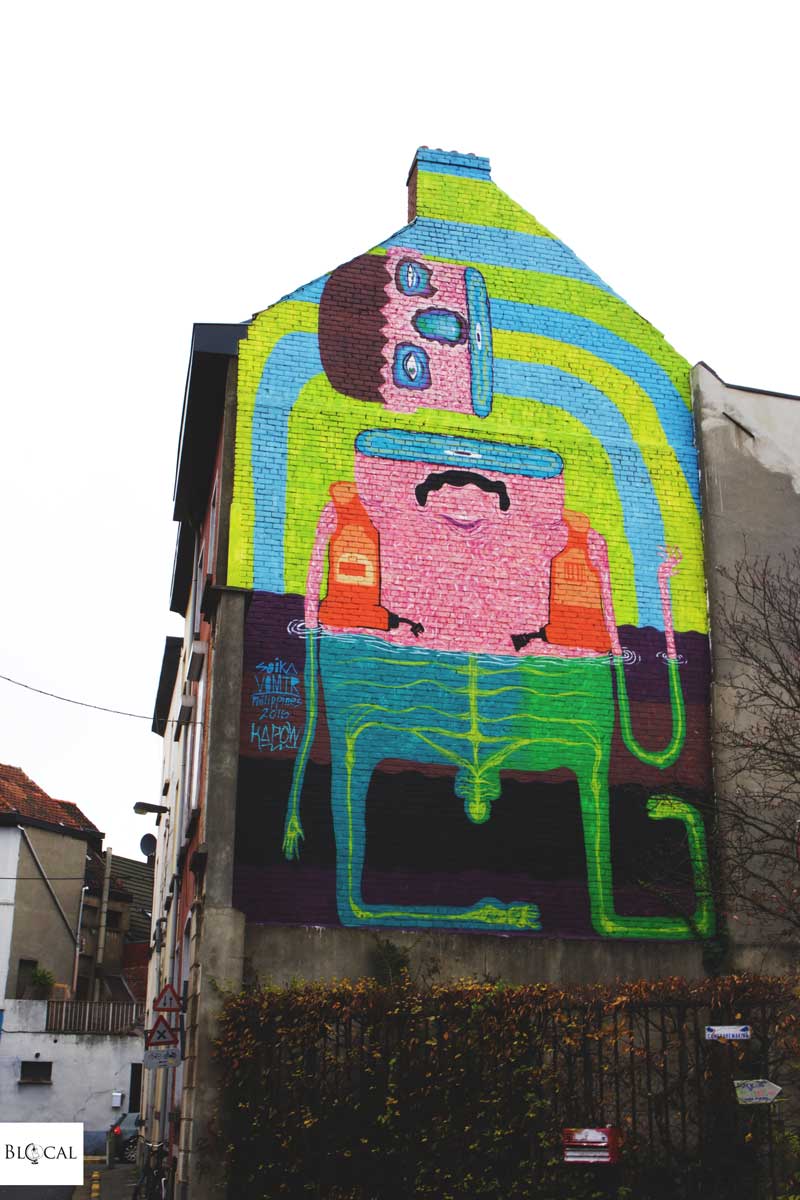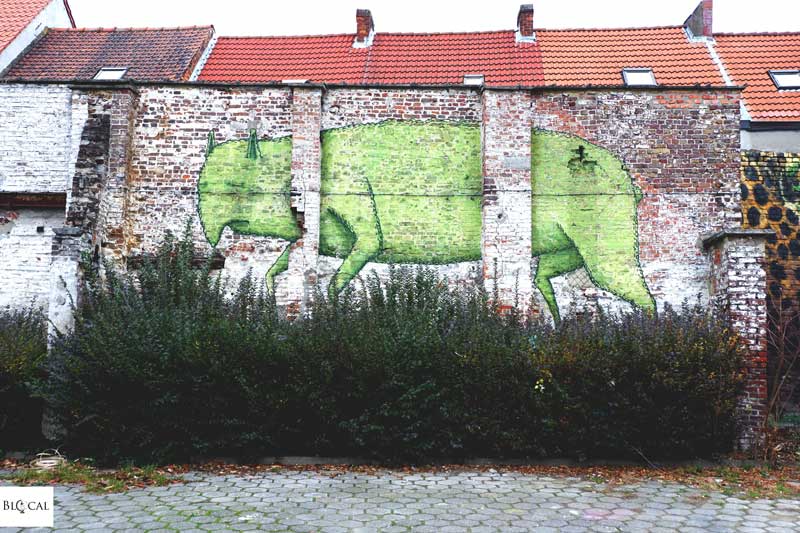 a collaboration between Sam Scarpulla and Leeroy New; a huge, vivid mural at the entrance of the parking lot painted by the Philipino artist Soika Vomiter; a green figure by Bisser;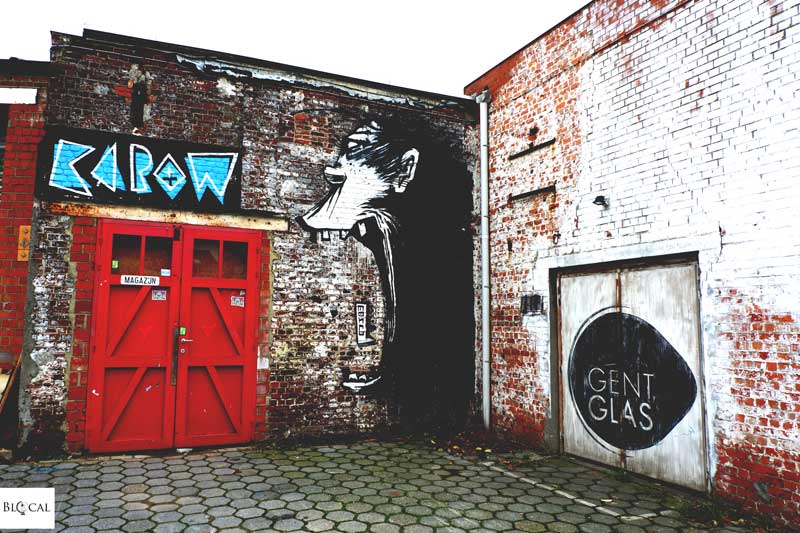 a black-and-white monkey painted by Mr. Mong;
Mr. Mong: My favorite areas in Ghent are the city center and the Blaarmeersen & Bourgoyen-Ossemeersen. I work as an art handler at the S.M.A.K., so yes that is one of my favorite spots, I'm a lucky ducky. Besides working there I like to visit our neighbors at the MSKGent from time to time to see the old masters. My favorite bookstores in Ghent are Worlds End Comic & Games, Paard van Troye and De Slegte, while for movies I'm a big fan of the movie theaters Sphinx & Studioskoop. When it's not crowdy, like almost never, I like to swim at the historical Van Eyck Swimmingpool. My favorite food places in Ghent are Uncle Babe's Burger Bar, Shinsen, Le Botaniste, Komkommertijd, Frietketel, De Walrus and Indian Curry House just to name some… Coffee and drinks at Le Bal Infernal, Ventura, Steen, Missy Sippy, Jigger's, Boon lunchbar, Julie's house, het Moment. I don't go to concerts a lot, but I saw a few memorable at The Charlatan, Afsnis and Kinky Star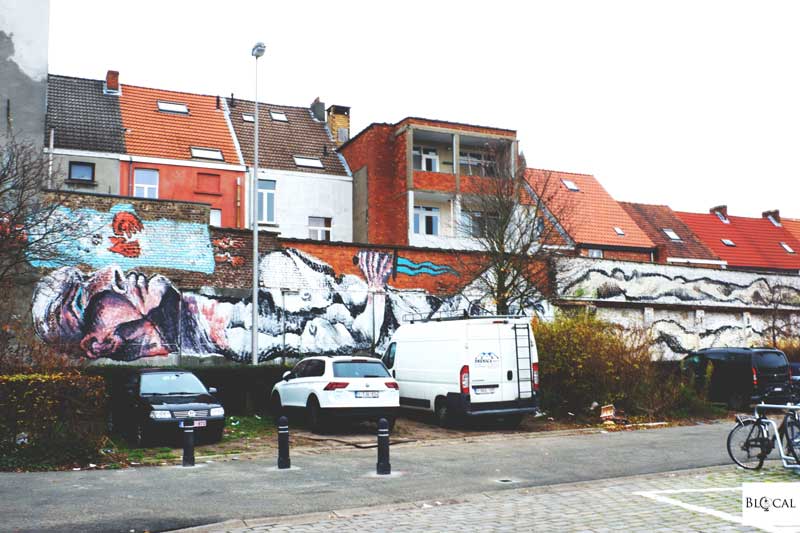 a huge piece by the Italian trio Canemorto, who used to hold their infamous DJ sets at Kapow, as well as their unforgettable "Pizzeria da Canemorto." Trust me, you want to watch this video:
a shutter by the Nepalese artist Macha 73; a black bird by Gijs Vanhee; a collaborative graffiti piece by Klaas Van der Linden and the French Crem, which is next to a green skull still by Klaas Van der Linden.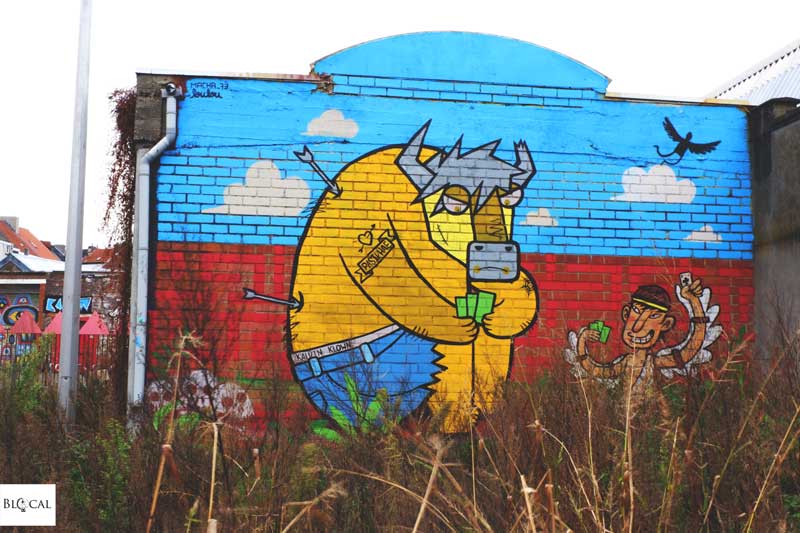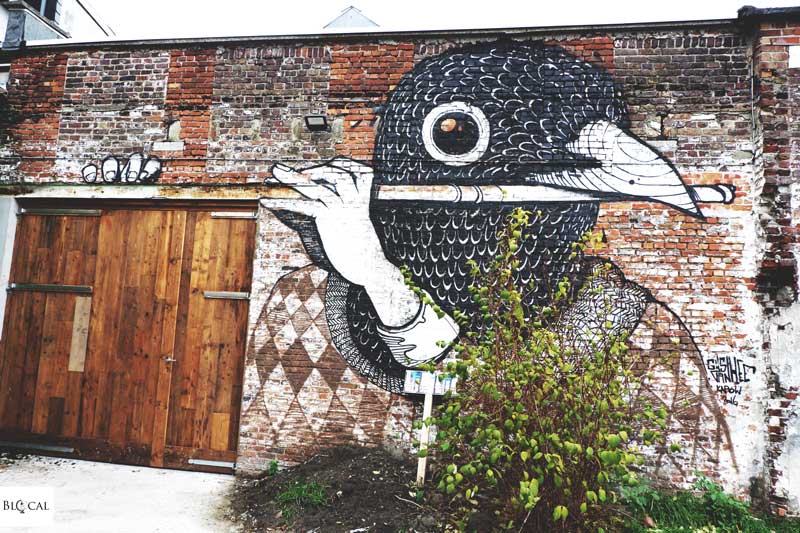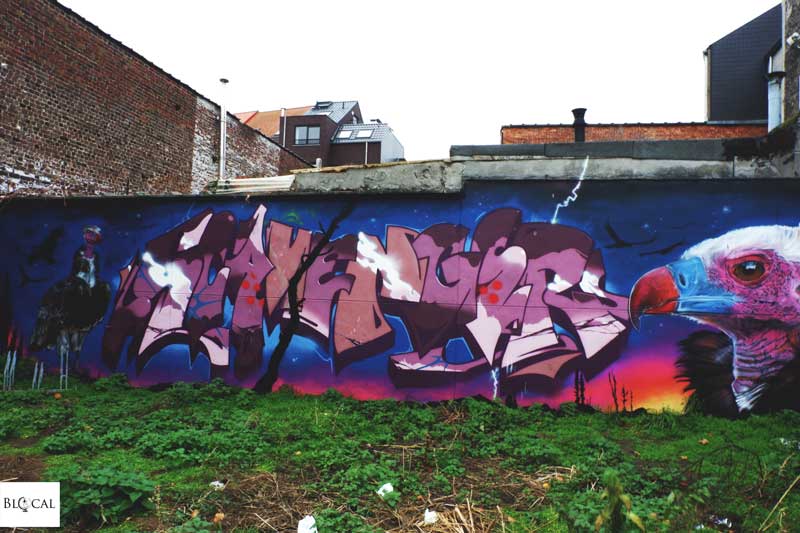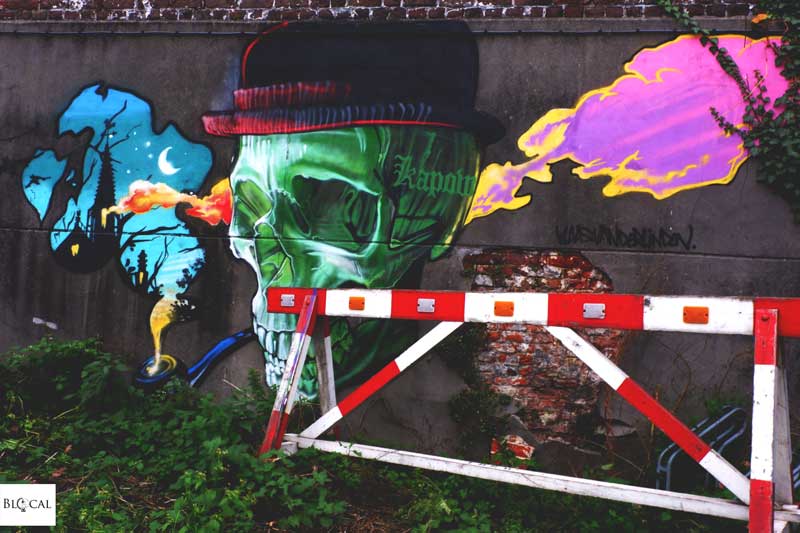 Kapow's creative vibes often extend beyond its colorful headquarters, like in 2015, when they curated four different pieces that follow each other smoothly, since they share the same color palette.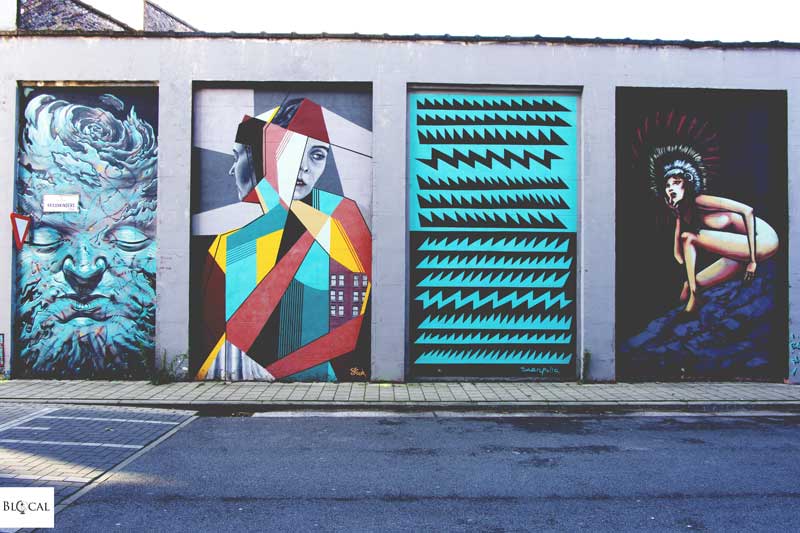 They were painted by four local artists: A Squid Called Sebastian, Strook, Sam Scarpulla and Mr. Mong.
Mr. Mong: For me typical Ghent is the "Gestreken mastellen" (if you haven't taste this delicacy: buy it, try it and thank me later!). The "Botram mee uuflakke". West Flemish people. Coffeebars. Cargo bikes. Cobblestones & tram tracks. The three towers. And everybody that seems to declare themselves a professional art critic
Right next to it, there is The Giant Pitta, painted by ROA, Bué The Warrior and Resto, who used to collaborate a lot back in the day, and Jean Spezial.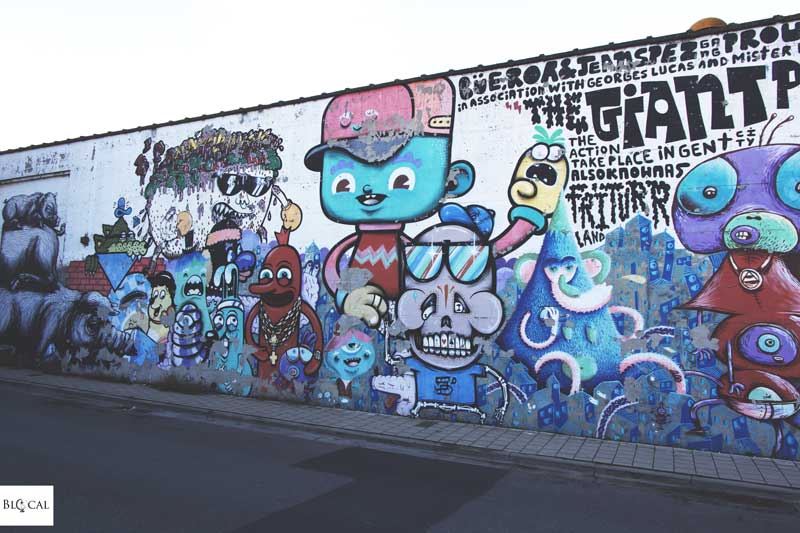 Bisser: In Ghent I saw for the first time "street-art" or big murals. The collab wall of Roa, Bue, Resto… got a impact on me. So after studying animation in Ghent and finding this new way of drawing I transfered it to the wall. And in Ghent I had enough space to practice
In the area I've also spotted two murals by Matthew Dawn, who lived in Ghent for 4 years. They both have a pretty evocative title, so I'm leaving you with those: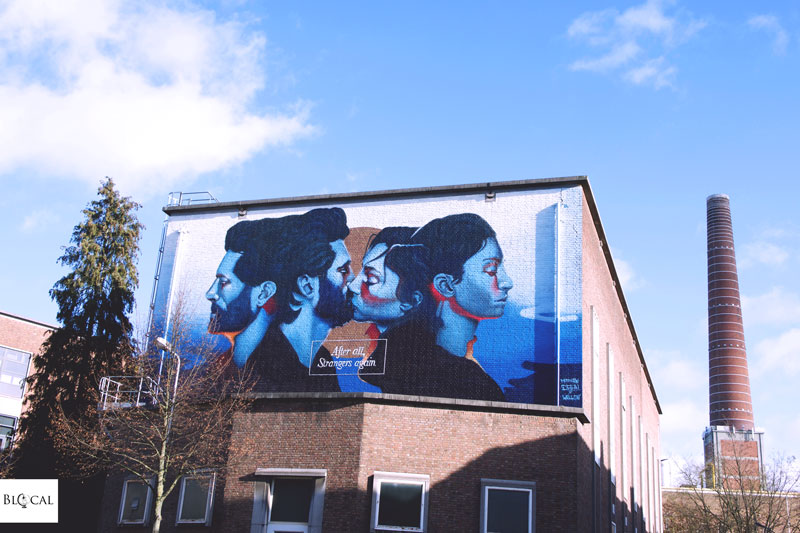 Matthew Dawn: I liked the free vibe Ghent has. The first few months I lived there it reminded me of San Fran. It's a small city and encountering friends on the streets at random moments was a regular occurrence. I loved having a beer with friends during long summer evenings at the Graslei, a cozy place next to the water in the epicenter of the city.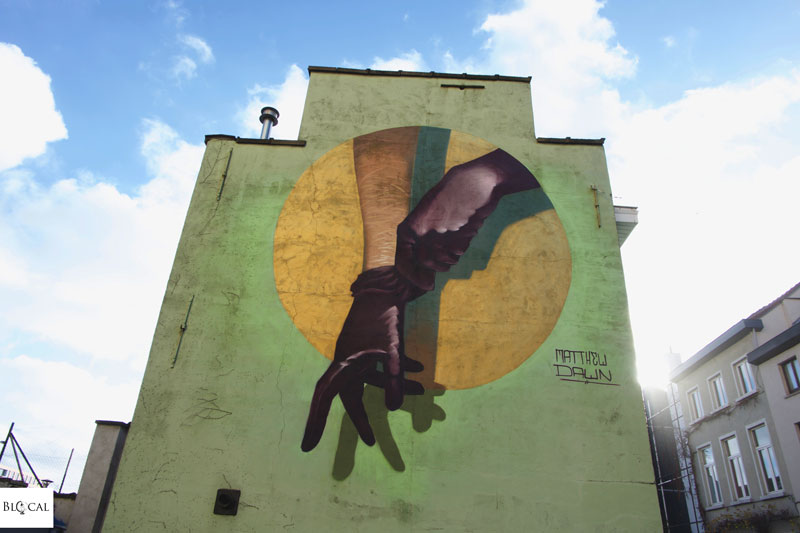 In this area, HNRX painted yet another fun piece of comic-surrealism during his trip to Ghent in 2017.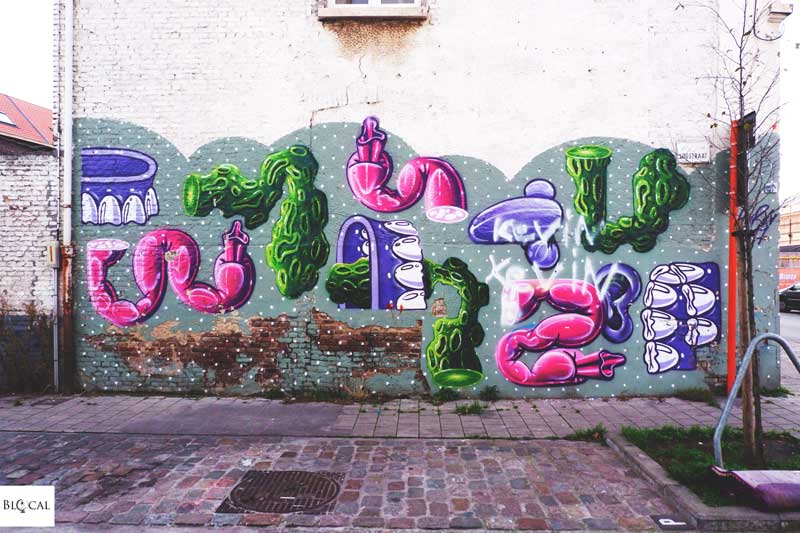 Still from 2017 is the mesmerizing mural by the Portuguese artist Nuno Viegas (a.k.a. Metis), who was invited to Ghent by Wallin' during Sorry Not Sorry 2017. Nuno gifted the city with his iconic paper planes, painted in a hyper-realistic style strongly influenced by his background in graffiti.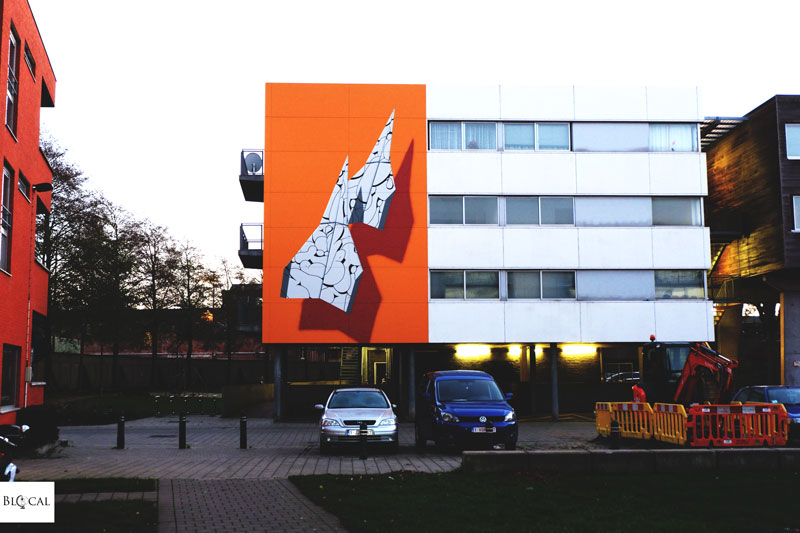 Another large-scale mural in the neighborhood is "Goodnight" by Sam Scarpulla, painted for Sorry Not Sorry festival in 2016 (curated by Kapow).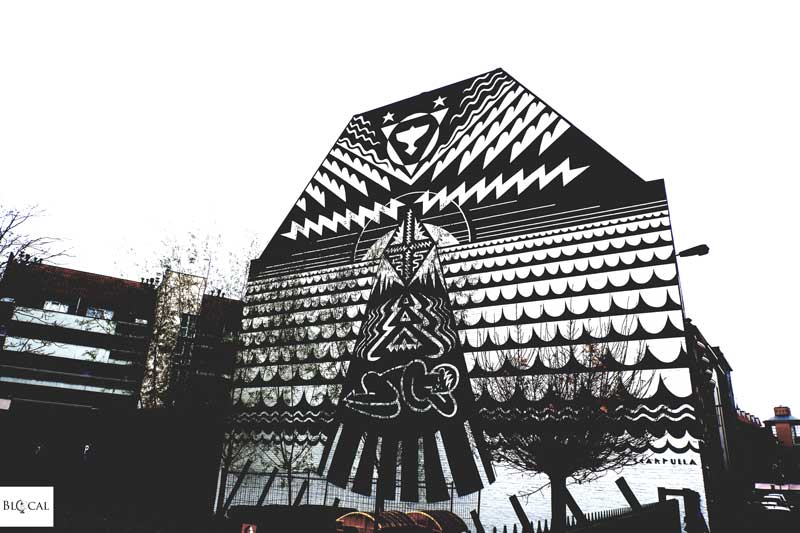 However, the walls that I liked the most in this area are both collaborations by Bastardilla and Ericailcane, realized respectively in 2014 and in 2018. Both murals were curated by the Street Theatre Festival MiraMiro, which offers a wall to the artists that win their annual contest to design the festival's poster.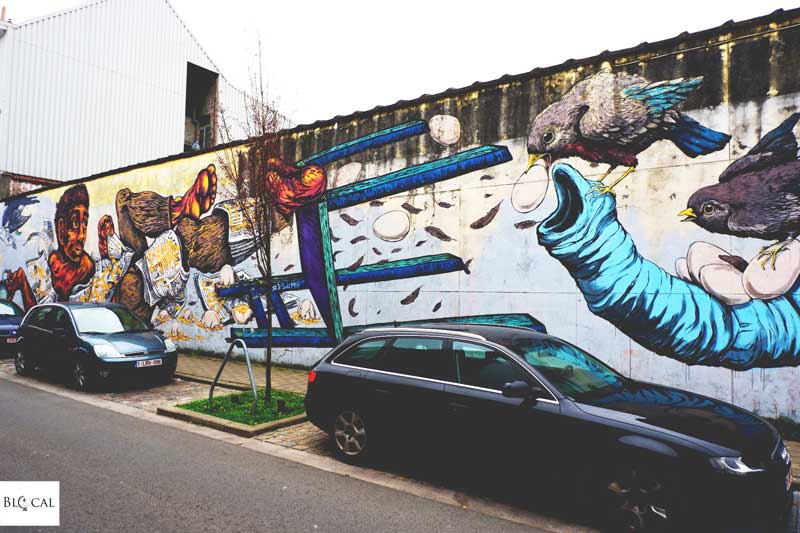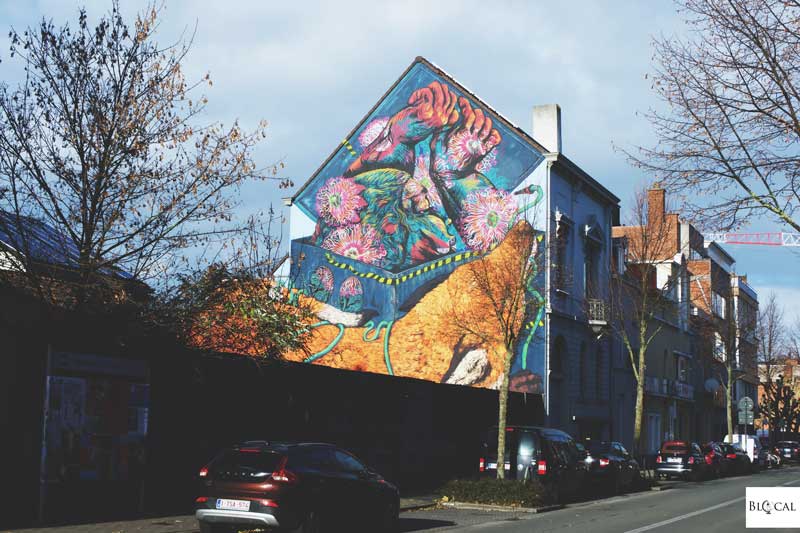 Bonus Track: On the wall surrounding the latter mural, I spotted a mini-sculpture by AfT (which stands for Art for Thought), the Belgian Artist who uses little china statues that he finds at flea markets to spread his ironic messages around the city.
AfT: When I'm away from Ghent I miss its flea markets! Every weekend in the summer there are several ones all over the city. A great place to find interesting objects to make art (during the winter) and a perfect place to meet friends, hang around, forget about time and work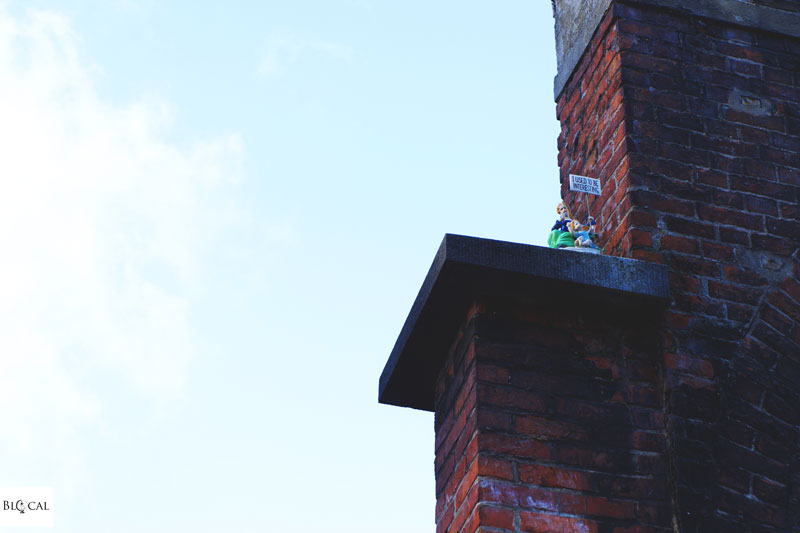 The last spot on this side of the old harbour is another well-beloved Hall of Fame in Ghent: the Grindbakken, a former warehouse for sand and gravel.
Cee Pil: My favorite spot in Ghent is the Grindbakken. It's a bit away from the street and it develops underground, so there is no wind and it feels warmer. People go there to chill out, relax and –of course- to paint walls
Update Sorry Not Sorry festival 2019: Don't stop at the Grindbakken, keep walking! All around here, you can spot many urban interventions from Sorry Not Sorry 2019, among which this "Lady on the swing" by local artist Ann Cardinael. The artwork is made with crayons, so it won't last long.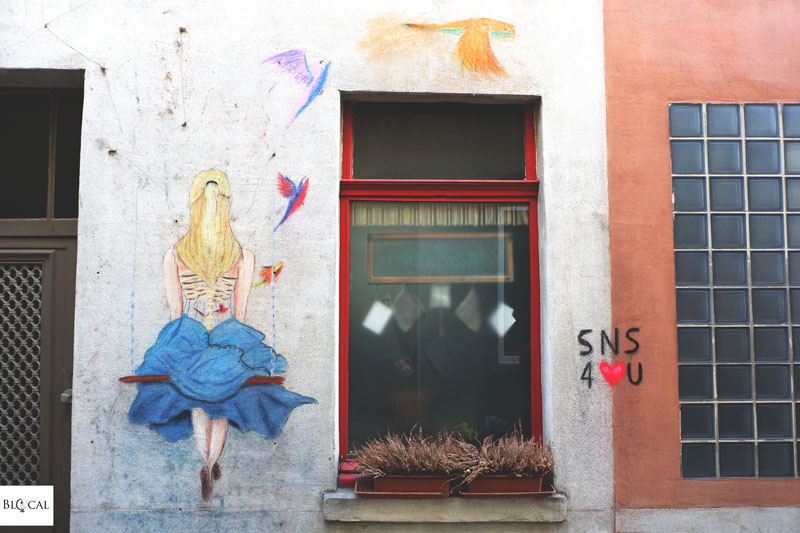 Still in this area, you can find an old piece by Roa: "Birds Nest". For me, it was fascinating to see the evolution of ROA's style on the walls of his city!
Where to Find Street Art in Ghent: At the Other Side of the Old Harbour
The Handelsdok (a.k.a. Oude Dokken) is the area of the former harbour of Ghent, a place where the past meets the future. However, at the present, the area is a vast construction site characterized by old cranes, abandoned factories, warehouses. This is juxtaposed with visionary projects of urban development through fancy architectures (including an open steel structure covered with plants), a new school, sport infrastructures and green spaces.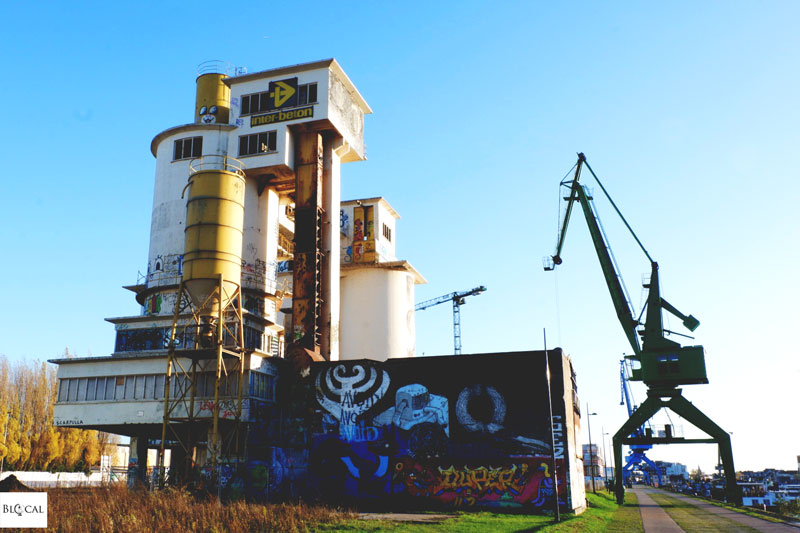 Bisser: I like the area around the harbor. The Interbeton factory, Dok Noord… I like it because it has this wide stretched feeling, it's not too busy and you can paint wherever you want!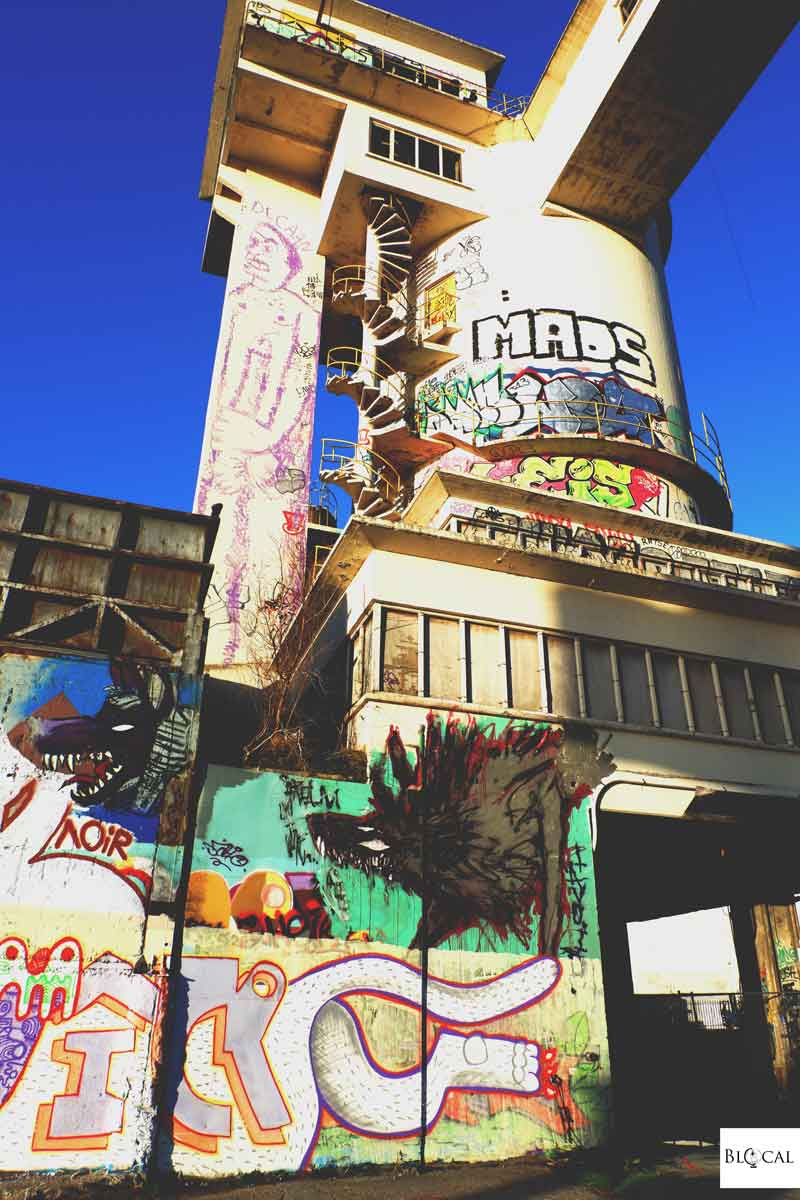 Most of the decadent charm of the area is due to several beautiful examples of industrial archaeology, including the former cement factory "Interbeton Ghent". The factory was build after WW2 and, since shutting down in 2009, has been taken over by graffiti writers and street artists. Part of this industrial complex has already been demolished to make room for new residential buildings; sadly, that was the part featuring many pieces by ROA.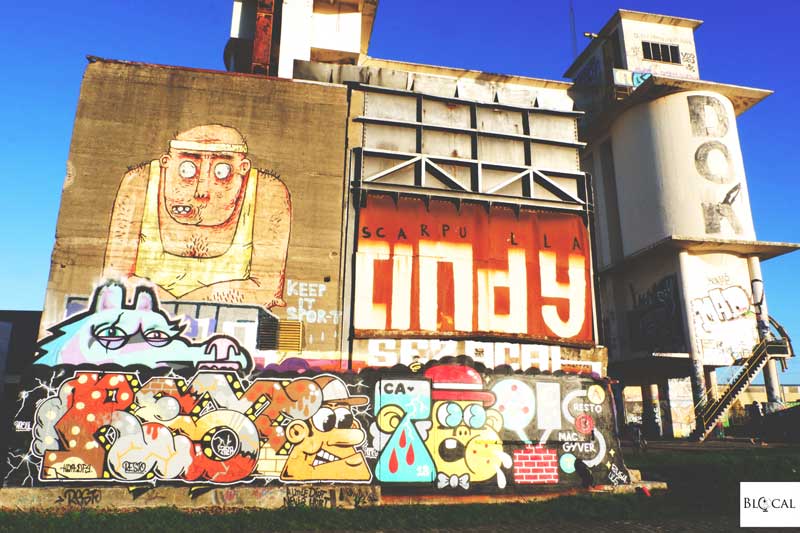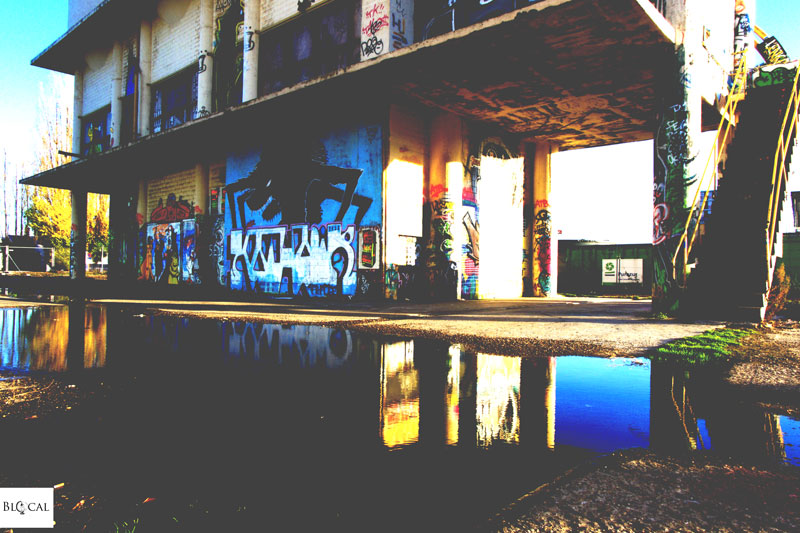 However, at the Betoncentrale you can still find lots of amazing street art, among which you will find pieces by Resto, Avoid, Cee Pil, Jamie Answord and more!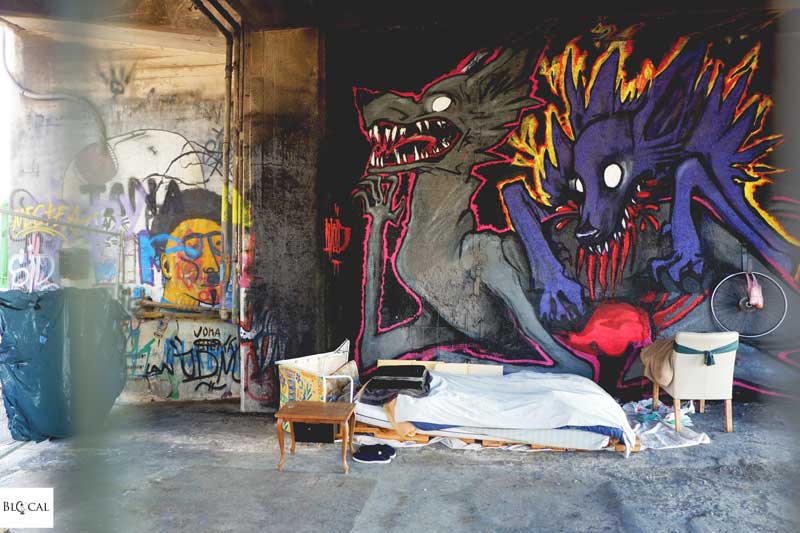 [Update 2020: Sadly, this abandoned factory was demolished. In 2022, I wrote a street art book about Betoncentrale and the artists who painted there. Published by Lannoo.]
Right next to the abandoned cement factory there is the skater's place, B.I.Y. (which stands for "Bring It Yourself"). Opened in 2017, this indoor skate park is housed inside an old abandoned warehouse. Its backyard is a popular painting spot (not sure if it's legal or just highly tolerated), featuring an amazing piece by Sam Scarpulla (On fire, which reflects on detachment from property) and the iconic dog by the Italian trio Canemorto.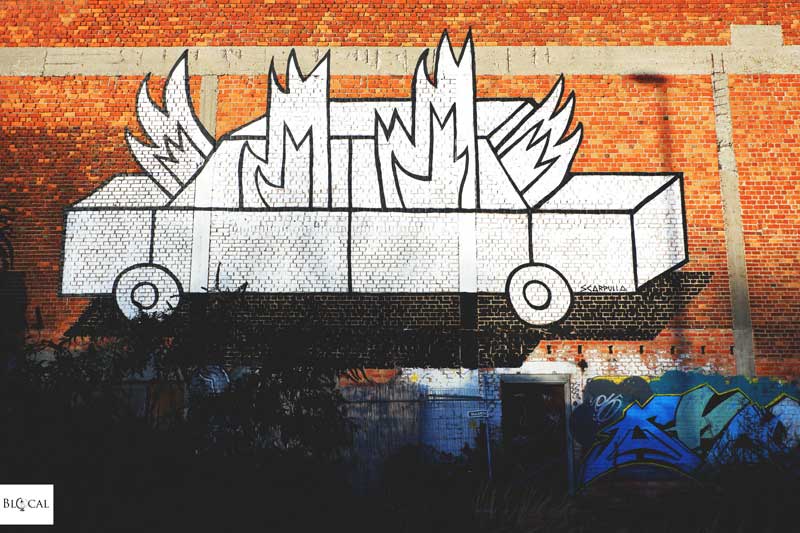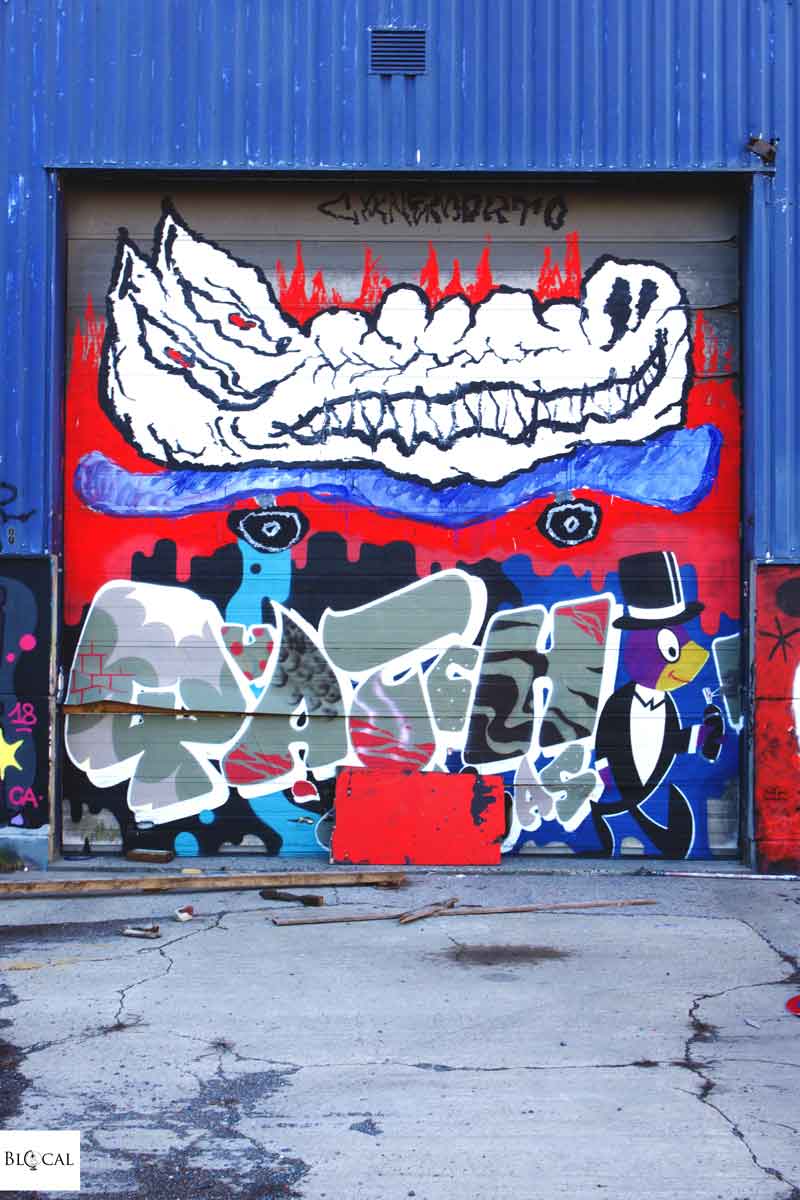 (next photo: same spot, one year later)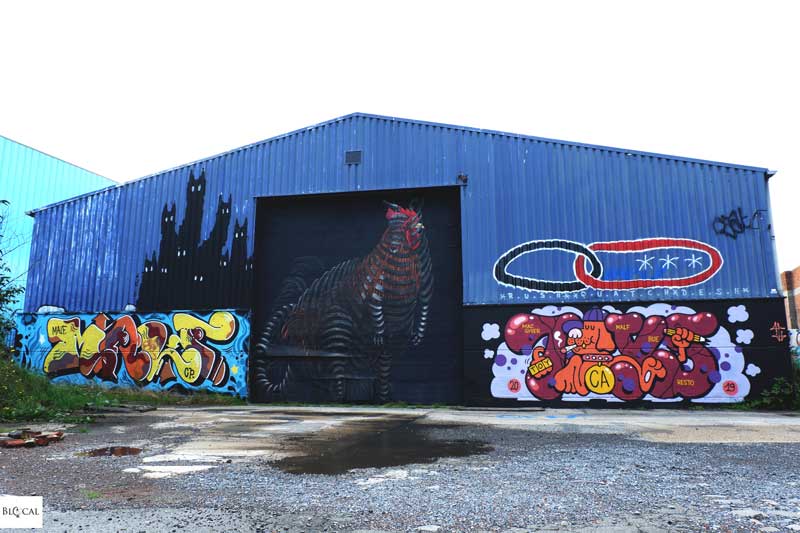 However, the highlight of this painted yard is a big jam mural created with the project Sticky Fingers Graffiti, an occasion for local artists to meet their Dutch peers from Breda during Sorry Not Sorry in 2017. The project was initiated by Graffiti vzw.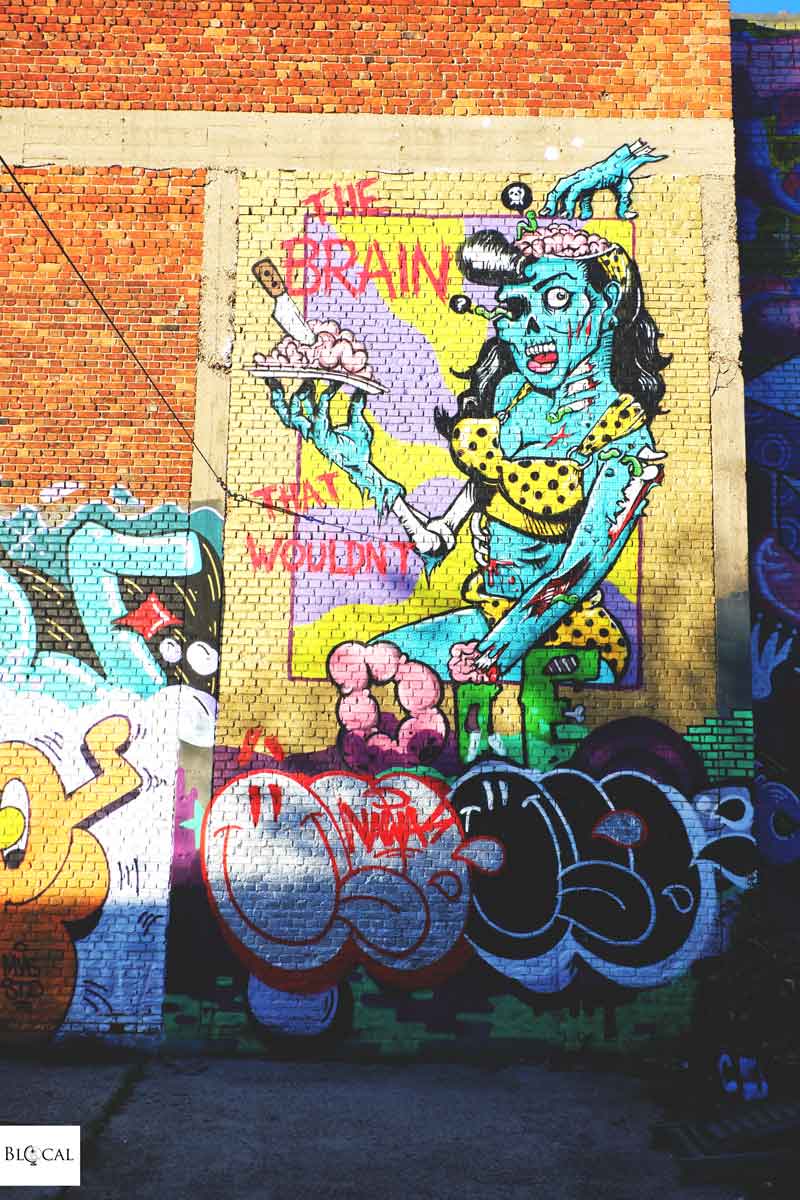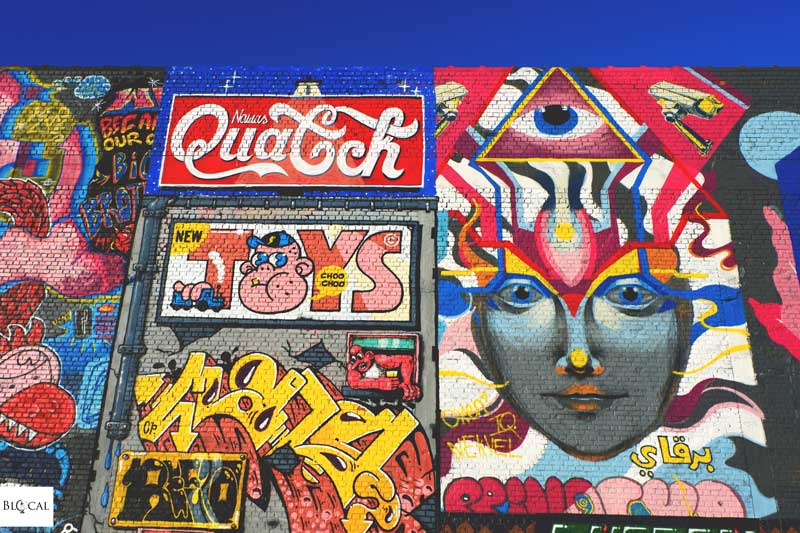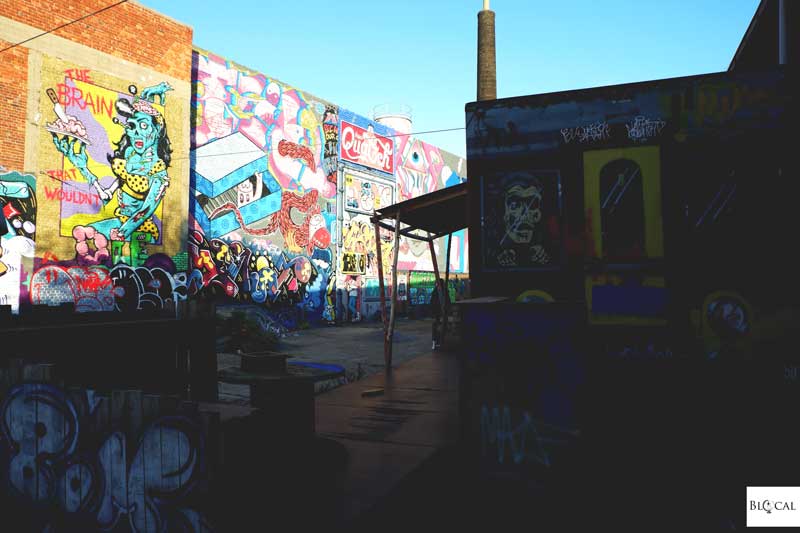 Just outside the B.I.Y. skate place, there are three pieces by Cee Pil, one next to the other (on two shutters and on a small wall). They perfectly show his signature technique recalling electronic glitches, an optical effect representing today's digital machines (as opposed to older machines of the industrial revolution, which Cee Pil used to paint before, as you can see in the chicken on the right shutter).
(next photo: same spot, one year later)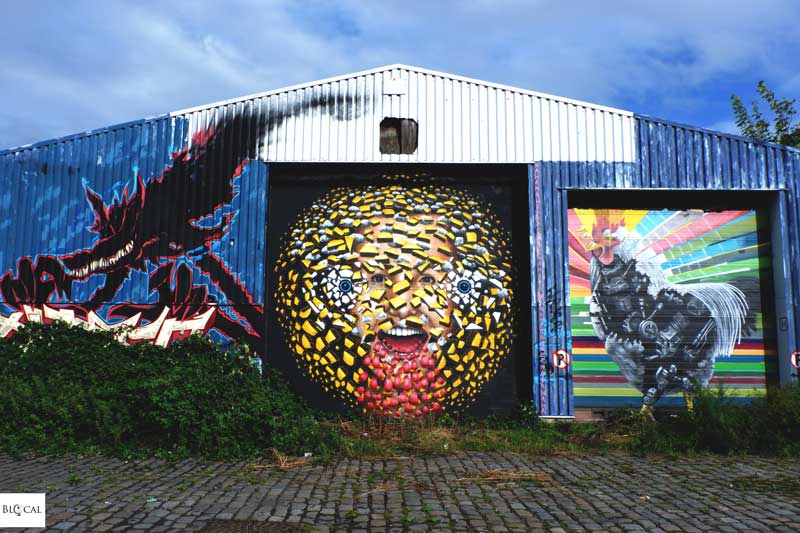 Cee Pil was so kind to meet me for a quick interview, which we did at DOK: a space for artists and creative people housed inside a former factory. Founded in 2011, DOK is a temporary project bringing artists and creatives into an abandoned building that is waiting to be repurposed. There are many similar projects around Ghent, but this one stands out because it also serves as a huge event venue during summer (concerts, sports, flea markets, expos, BBQs… you name it!).
DOK is also a working place for its residents, who run several innovative projects not only in the arts, but also activities with social or environmental purposes, like the wall of potted plants to purify rain water or the guy renting canoes free of charge to those who come back with plastics collected while canoeing around the old harbour.
Update 2019: Sadly, DOK has been shut down -but you can still enjoy my photos below: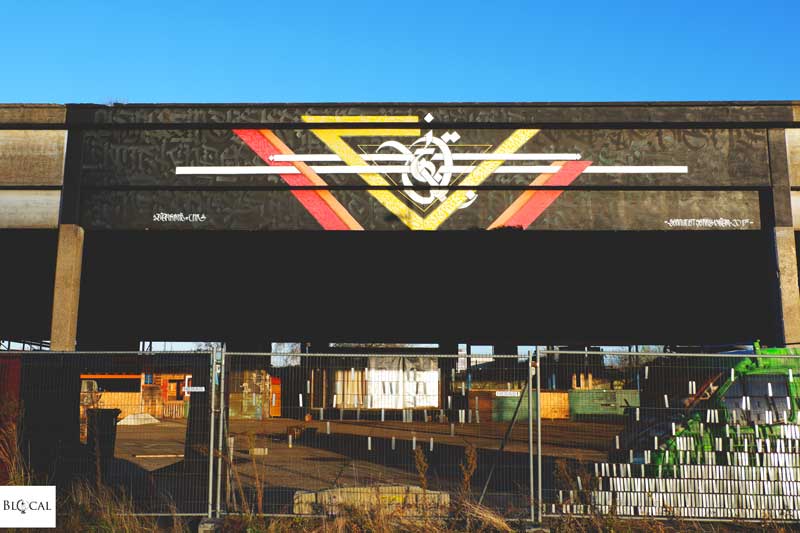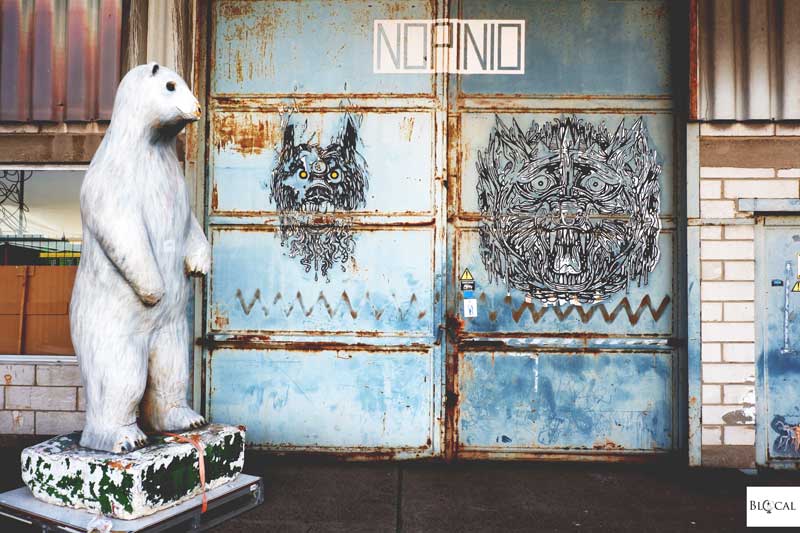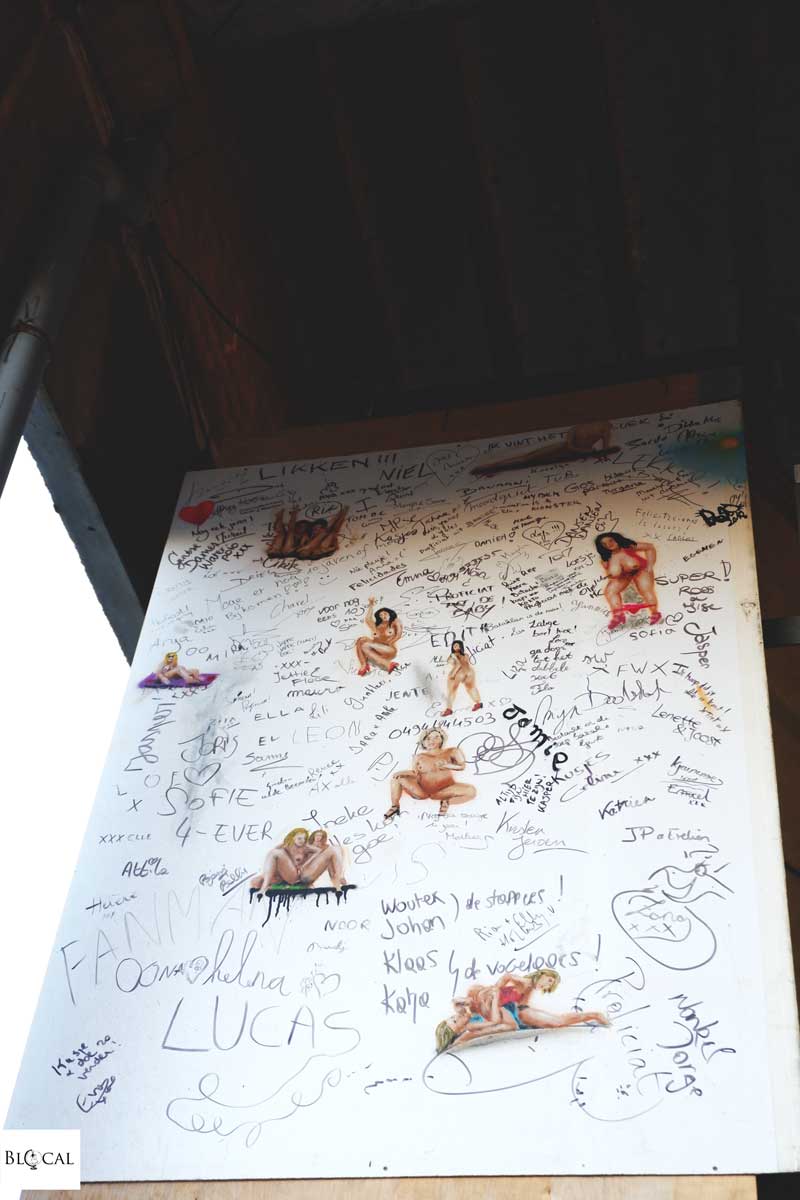 Street art-wise, DOK has a huge amount of pieces by Cee Pil, the pornografic little figures by Jamie Answord, some joyful characters by Bué The Warrior, two very old pieces by Dzia (I love that you can see already where he is going with his art!), an amazing calligraffiti piece by Dema from Brussel's CNN crew, Pol Cosmo's posters, a bright piece by Jango Jim, and more.
Pol Cosmo: What I like the most in Ghent are all the local initiatives by young people, like DOK, Bar Bricolage or De Bijgaard. Some temporary projects become permanent, others disappear and make room for new ones. A lot of them also involve street art, like DOK
Back on the cobbled path that charmingly runs under the old cranes, I checked out the three large-scale murals that were painted for Sorry Not Sorry in 2017. Facing the calm water of the old harbour, there is a mesmerizing piece by Lucy McLauchlan, inspired by psychedelic art and nature; a detailed black-and-white bird by the Belgian Illustrator Gijs Vanhee; and a realistic mural by the Dutch street artist Super-A, whose work often starts from familiar iconography (in this case: the four men of the apocalypse, which is also the title of the artwork) twisted into more inquiring pieces.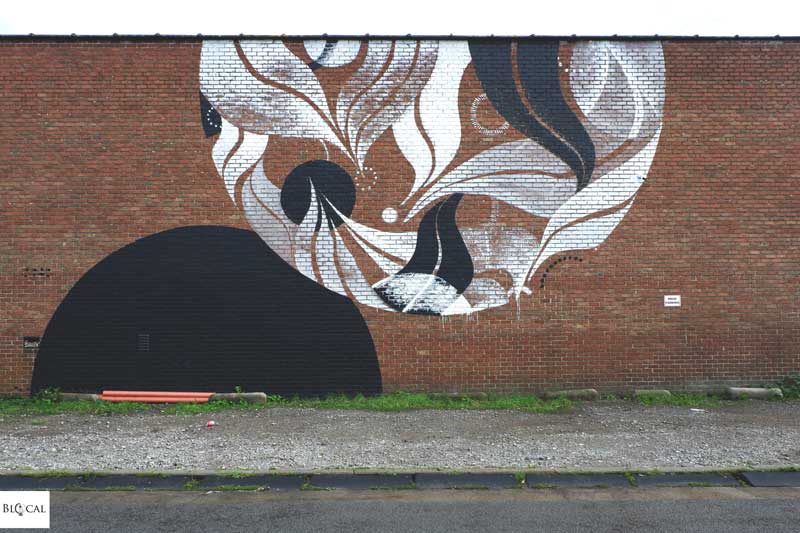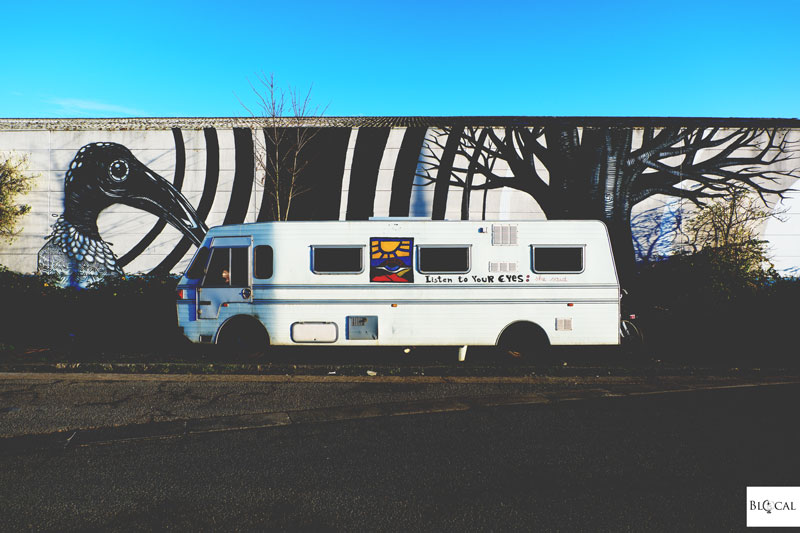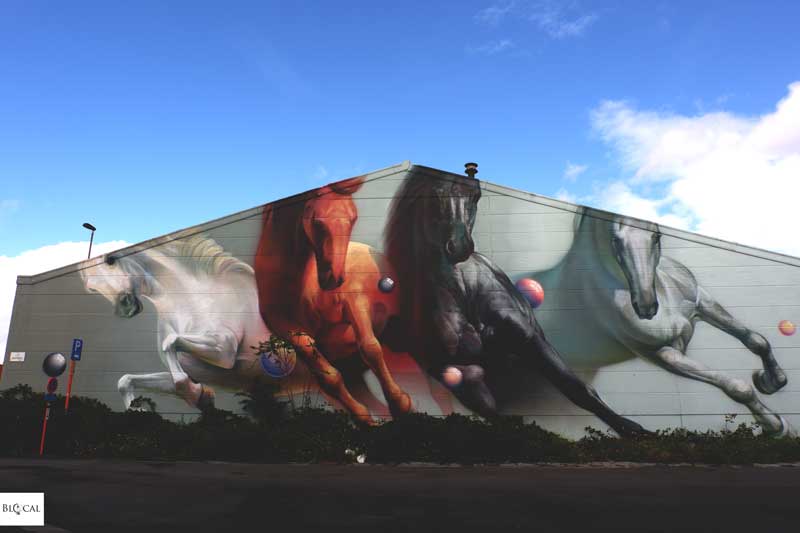 Although this area is undergoing a massive transformation, it's far from being gentrified. In fact, this is still the spot where truck drivers stop to rest on their long routes across Europe. I even heard some funny stories about Super-A mingling with them during Sorry Not Sorry 2017 ☺
Fast forward a few months, and I'm back in Ghent for Sorry Not Sorry 2019. The festival took place in this same area, adding a few murals and several street art interventions to the already excellent collection of public art in Handelsdok.
The largest mural was painted by Dutch artist I am Eelco, in his signature style in between graffuturism and 3D optical illusions.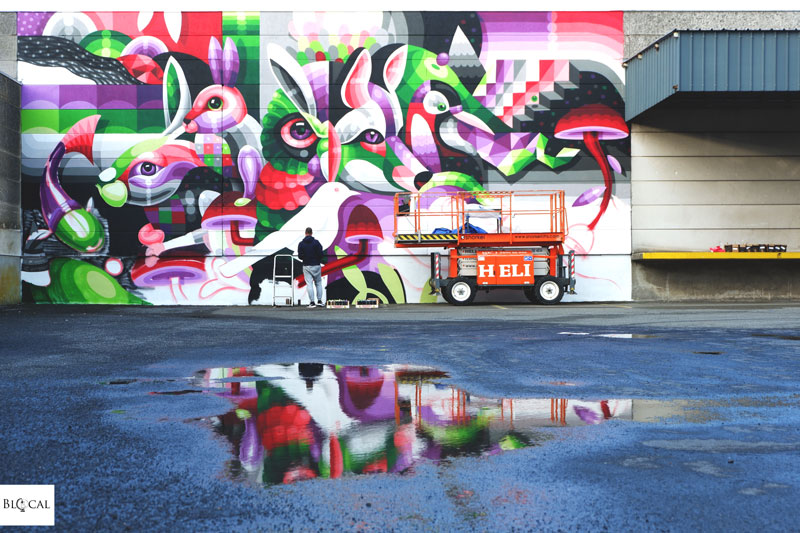 Still from The Netherlands, Miel from the street art duo Telmo Miel painted an Asian girl -a reference to the name of the street: Chinastraat.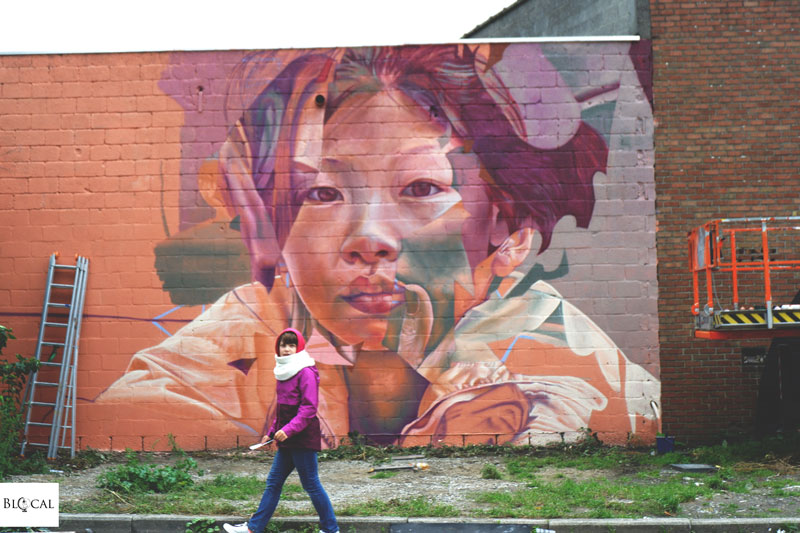 Opposite to that, there is a mural by Belgian artist Philip Bosmans depicting a surrealistic bird.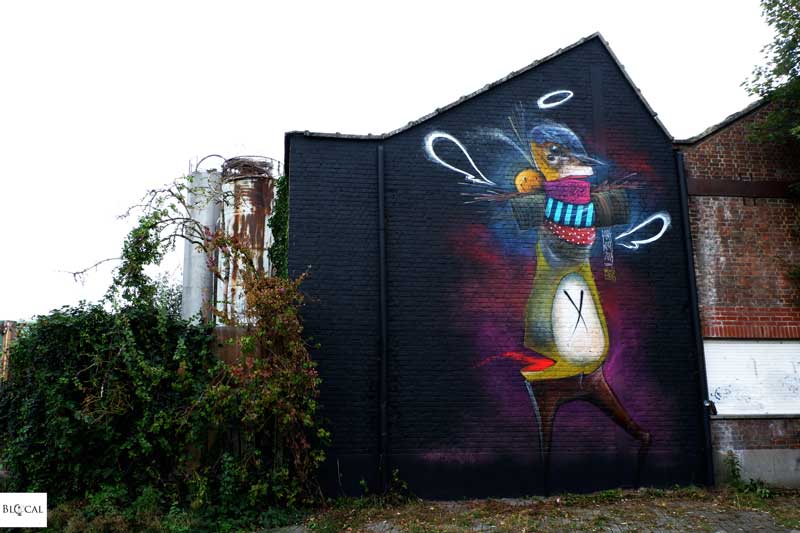 Just around the corner, Palestinian artist Belal Khaled painted a bright calligraffiti piece.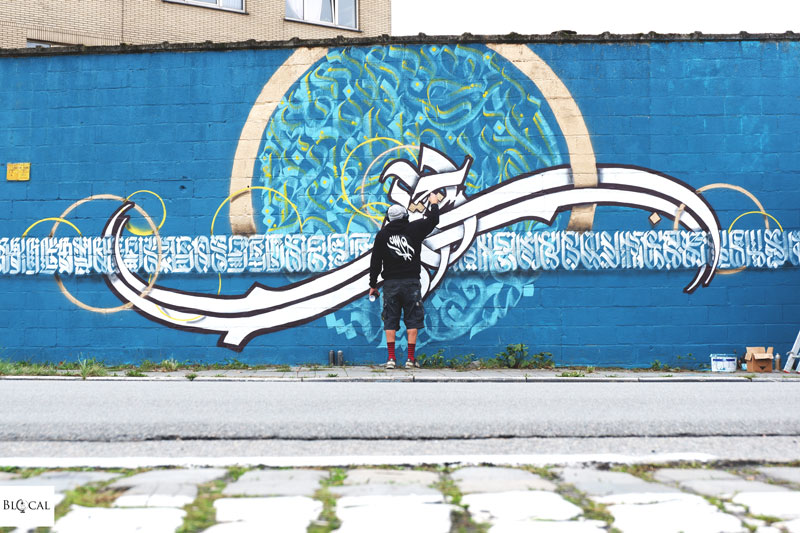 At the other side of the festival area, local artist A Squid Called Sebastian created a piece that comes to life through an AR (augmented reality) app. It's inspired by Sebastian's passion for tattoos: when he is not traveling around the world to paint at street art festivals -in fact- Sebastian works as a tattoo artist in Ghent.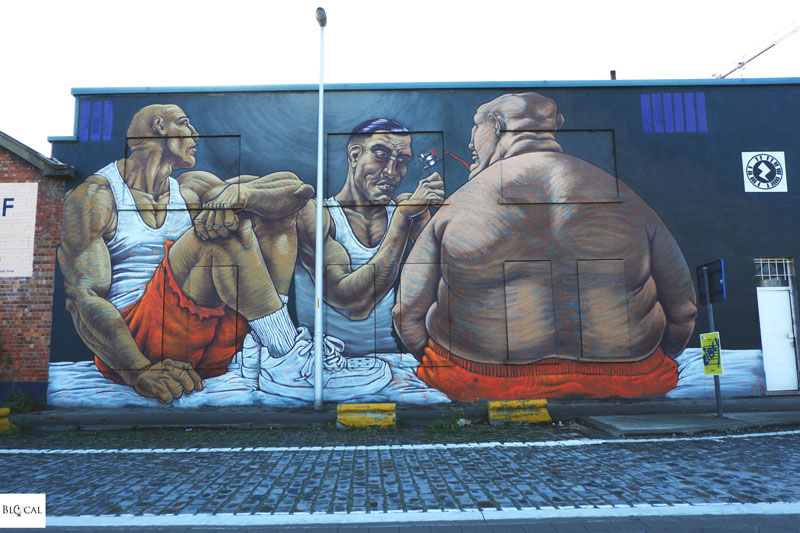 A Squid Called Sebastian: I like that there is still a lot of water through the city. Many cities just covered that up eventually, because location-wise it is important real estate ground. For example, Bruxelles covered up all the water that runs through the city, there were canals before. A city that covers up its water loses a lot of charm. But Ghent still has its water, which keeps the energy of the city alive.
During Sorry Not Sorry 2019 this area turned out to be the perfect playground for local and international artists that specializes in urban interventions. Local artist Jamie Answord painted something less pornographic for the occasion: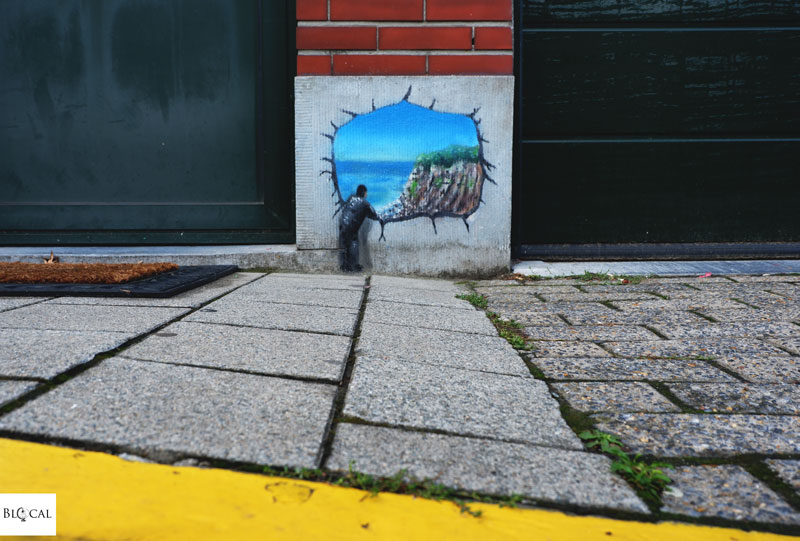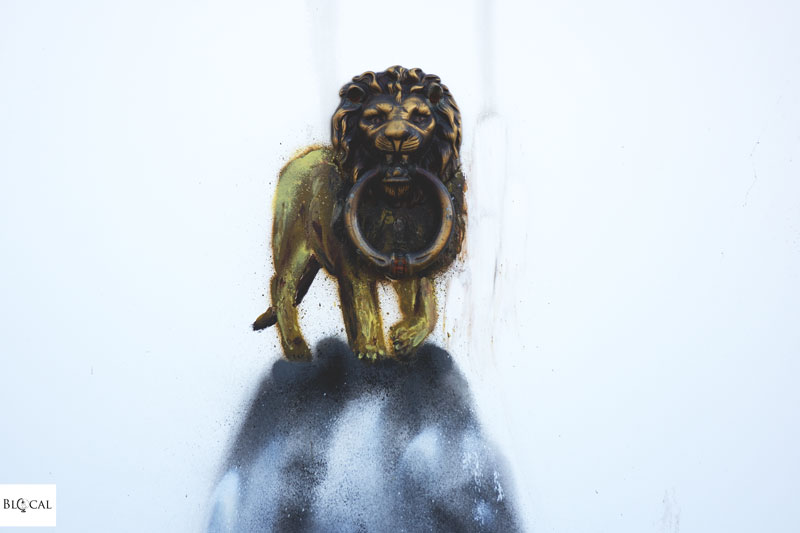 While walking around the old harbour, I could spot several tiles by local artist 7emplo. His tile artworks are made of concrete, and composed by many little pieces.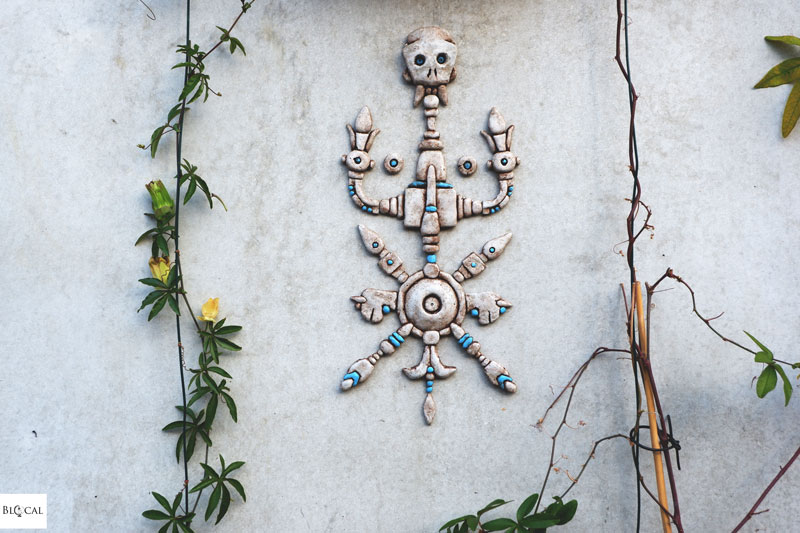 7emplo: I find it very inspiring to move around Ghent by boat. From its waters you get such a good sight at the architecture and the age of the city. The walls faced to the waterside are mostly the ones who are less taken care of. That gives a more authentic feel than walking the center streets. Along the water I always find some nice spots to install some of my work. Its such a nice idea to be seen by people floating by while discovering the city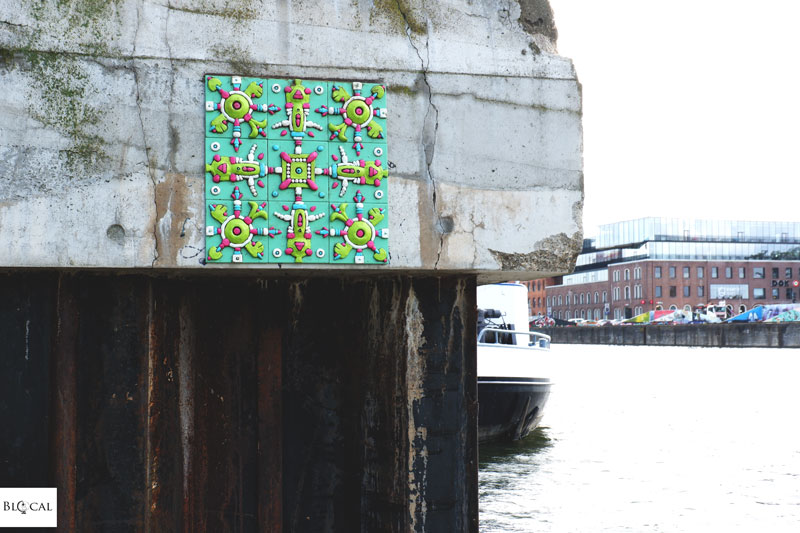 Another artist who scattered his interventions all around the festival area (and beyond) is French artist OakOak. OakOak plays with urban elements, like a zebra crossing or a crack on a wall, spicing up the urban environment with irony and poetry. When in Ghent for Sorry Not Sorry festival 2019 he left many interventions around, mostly in the old harbour area.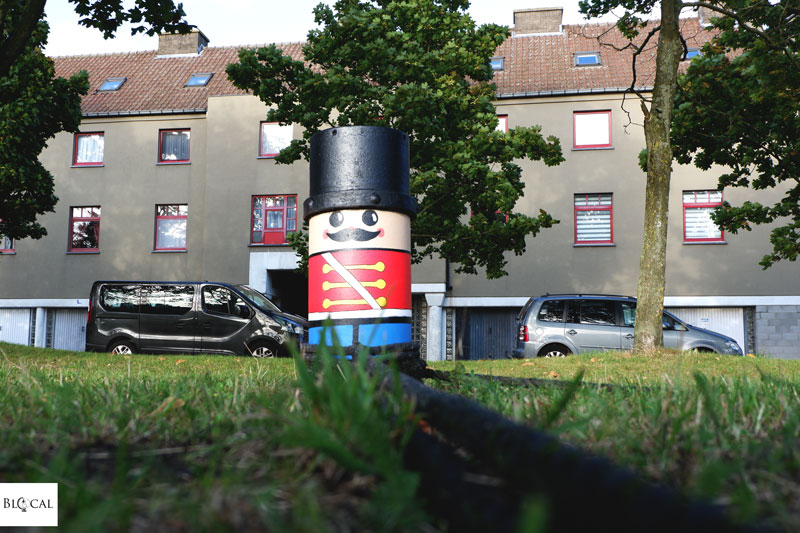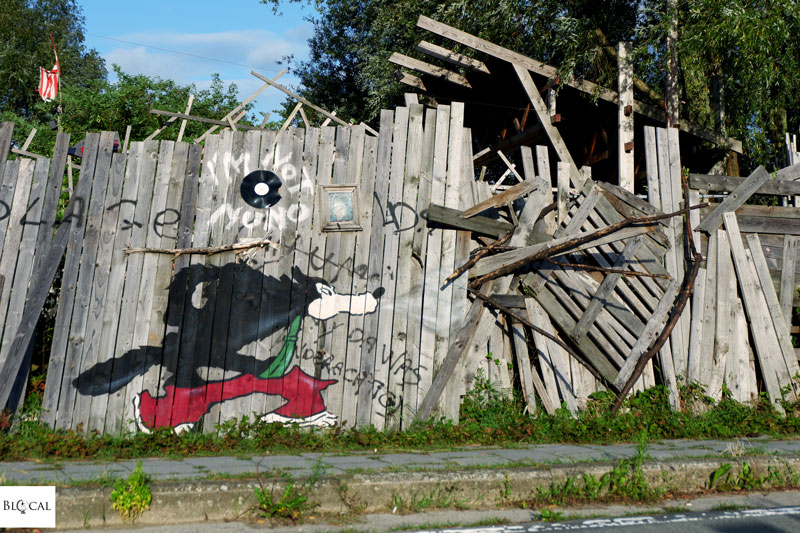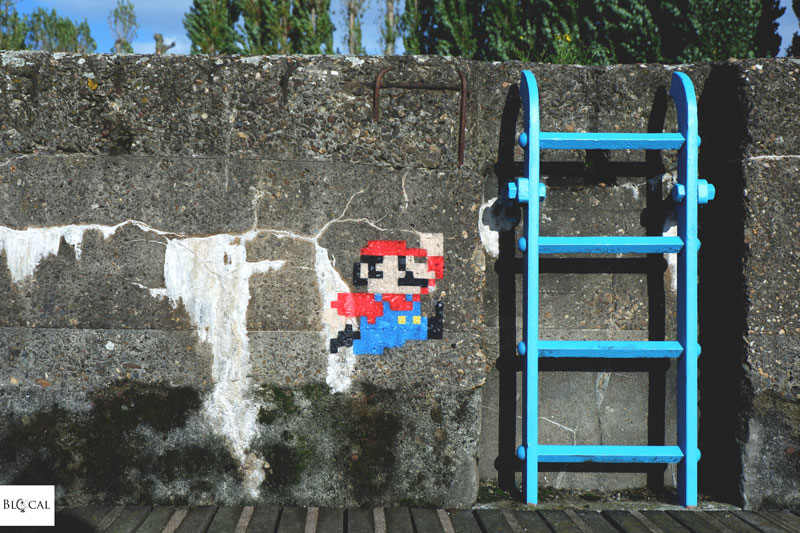 Oak Oak is one of my favorite street artists and I loved to catch up with him in Ghent. I like the way he brings you seeing the world through his (humorous) lens, making you smile in the most mundane moments of your day. And this, to me, is the authentic power of street art ;)
https://www.instagram.com/p/B3CV-SZA2PZ/?utm_source=ig_web_copy_link
More Murals in Ghent
Another winner of MiraMiro's street theatre contest was the Spanish artist Aryz, who painted this mural in 2016. Being in Belgium, I thought that the two shapes at the top of the mural would represent hops, but – apparently – the artist said that they are two artichokes.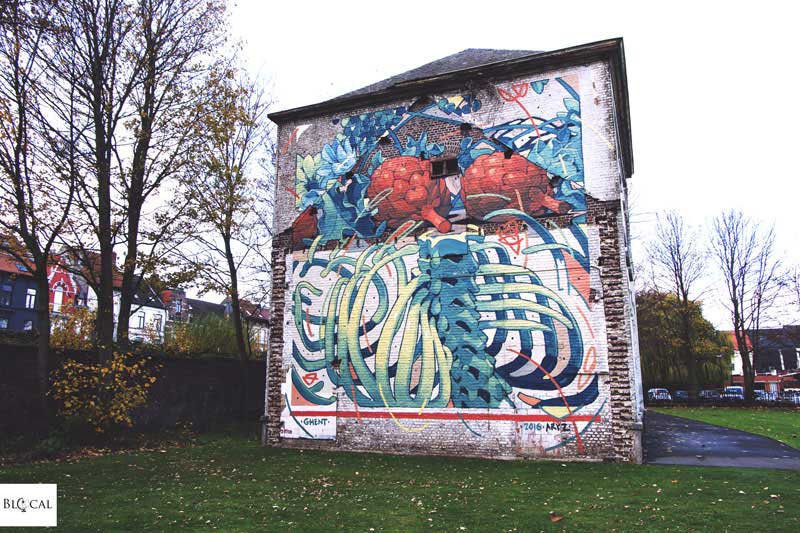 At the other side of the park, there is a Hall of Fame (which goes under the name of Wallin' Denderlaan) where many artists have painted. The most impressive work among those currently visible is by Avoid Graffiti, who painted his iconic dog.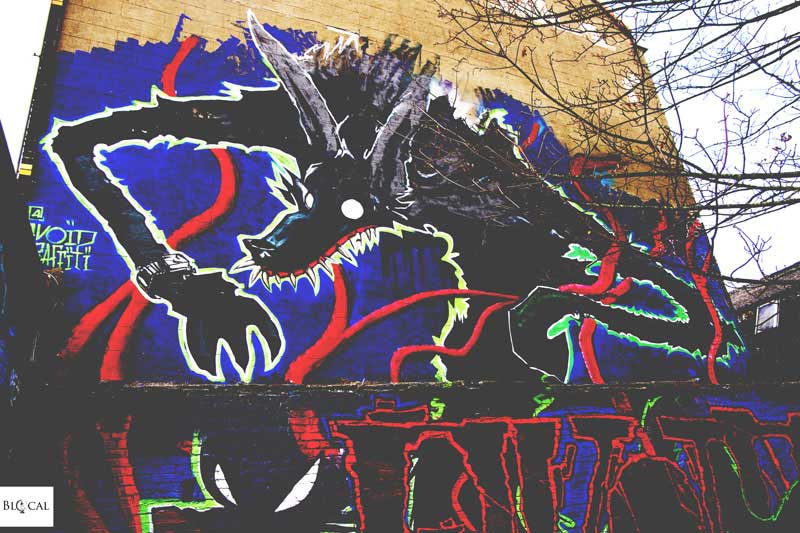 Bisser: When I'm away from Ghent, I miss these places where you can paint legally all day and not be bothered by anyone. In Leuven where I live now I don't have these kind of spaces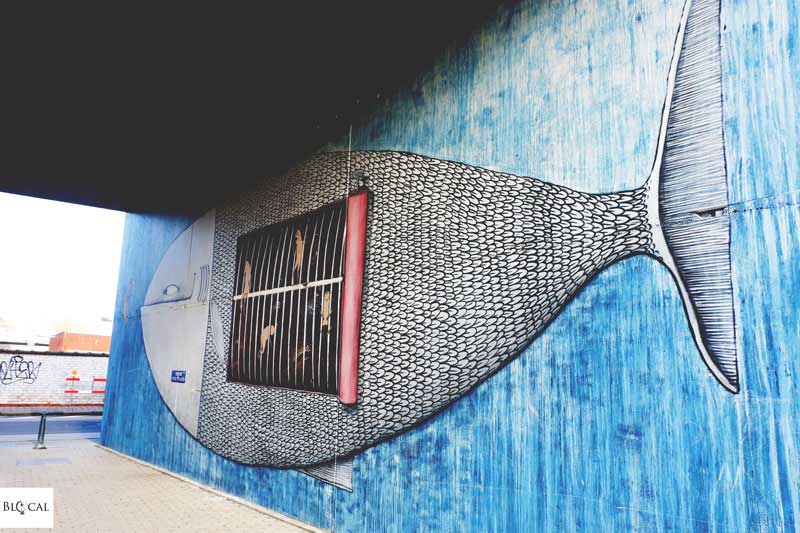 Not too far away, there is a beautiful mural by Bisser, titled Big fish in a small pond that ironically depicts a big fish catching fishermen. I liked the detail of the window opening onto the belly of the big fish, which is shaped like a tuna can.
Bisser: There is a frituur in the most terrible street in Ghent: de Overpoort. It's called De Goude Saté and there they sell een Julieke. For me this is something you can't find anywhere else and typical for Ghent
In a private backyard just opposite this mural, there is a very old ROA piece depicting a rhino.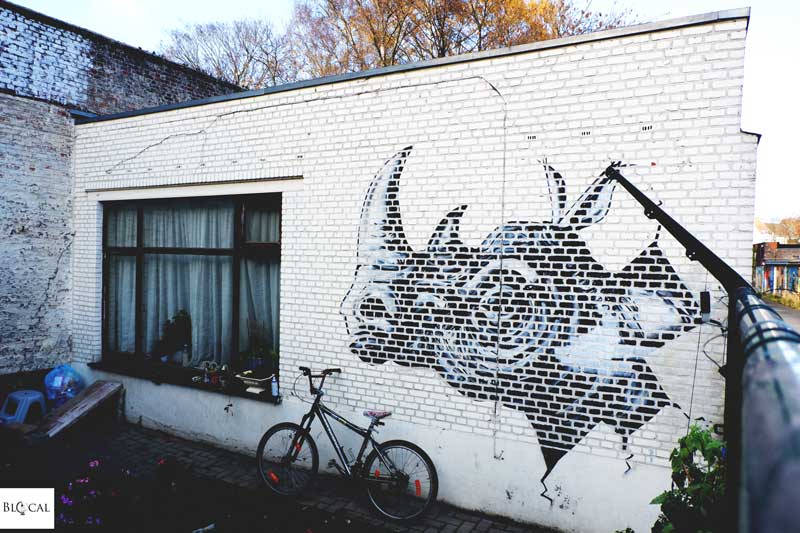 Another large-scale mural you can't miss in Ghent is Joachim's "From Ghent with Love", which was painted on the canal last year fro Sorry Not Sorry. On the wall, there are some holes by the French artist Michel François, through which the sunshine hit the water of the canal, creating a mesmerizing brilliancy. They were carved to highlight (no pun intended) limits created by borders.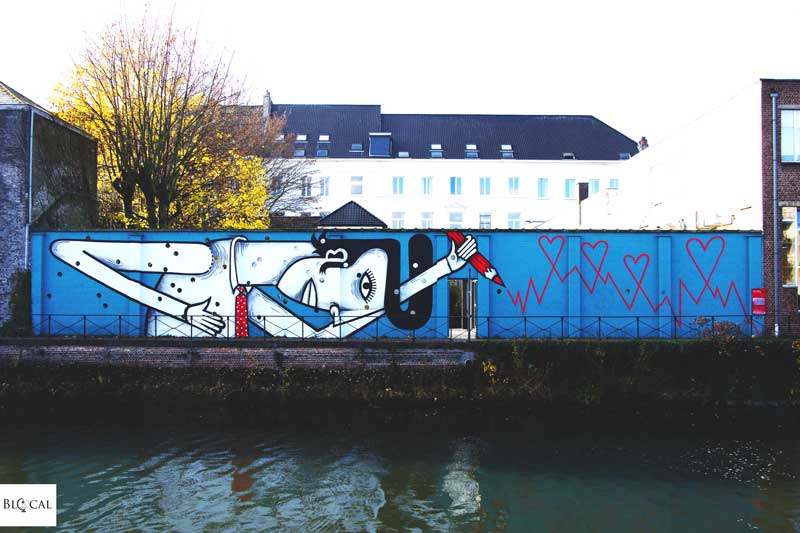 Similarly, Gleo's vivid mural, which is strongly influenced by her lively Colombian culture, brings brightness to even the most cloudy days in Ghent.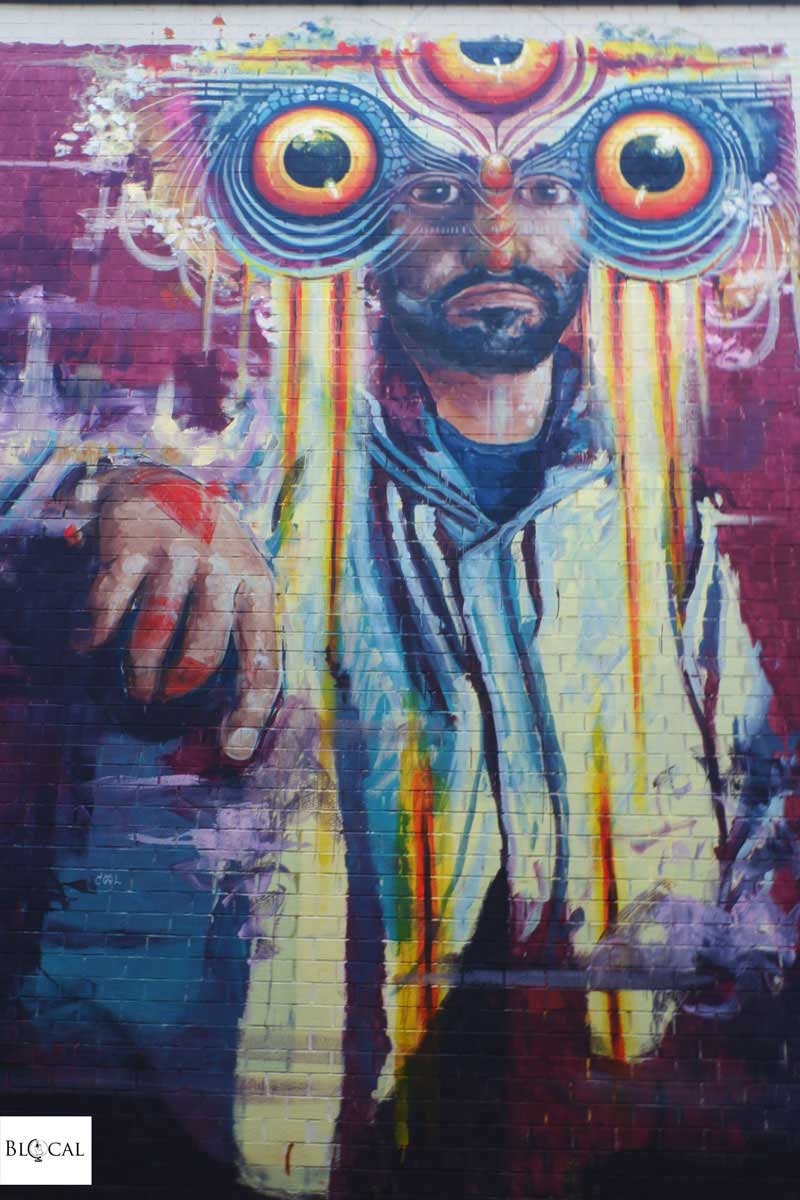 Update 2019: When Bué is back in town, he goes painting with his old friends. Here is a colorful piece he made together with Resto.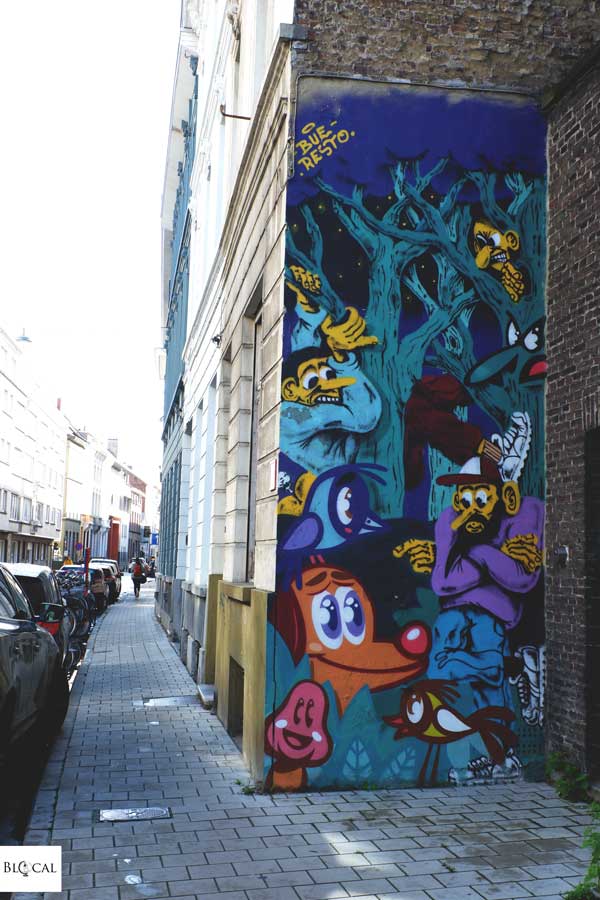 While from Bué's old days is the piece below, which he painted together with Jamz.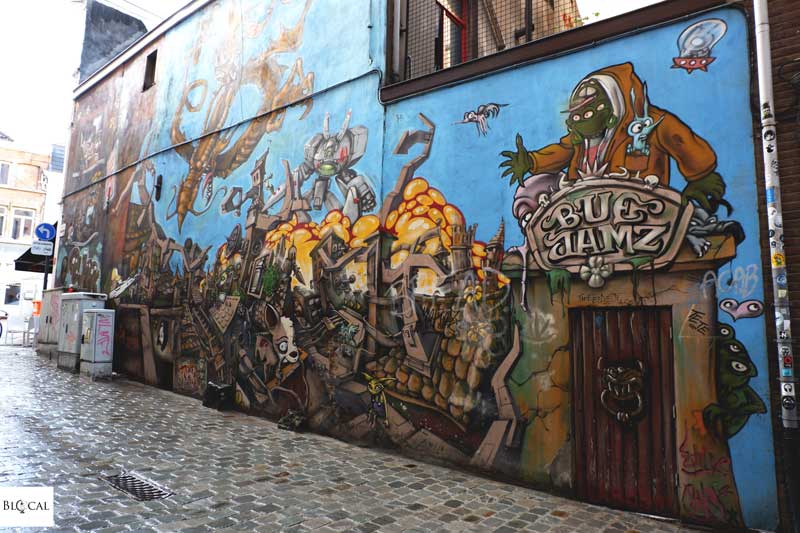 "The boarding of the fleet with no return" is a surreal mural by Klaas Van der Linden, which looks like a scene from a dream.
Klaas Van Der Linden: For more than 14 years I've lived in the heart of the city, really in the centre point. Afters all those years the city centre feels like a small town, I know everybody. And after all those years I don't feel the edge anymore, I think :) but it's still an awesome city!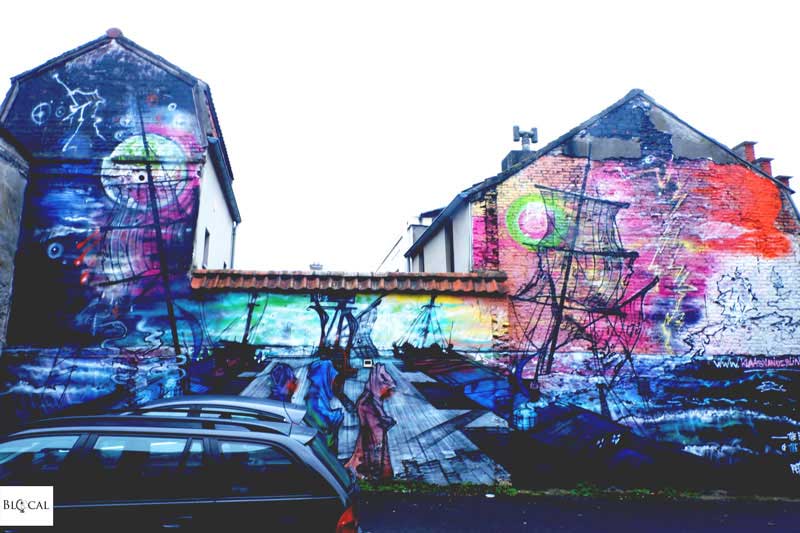 An old collaboration by the 3 street art legends of Ghent –Roa, Resto and Bué- on the wall of a private car park. The outcome can be seen from the nearby Kortedagsteeg bridge.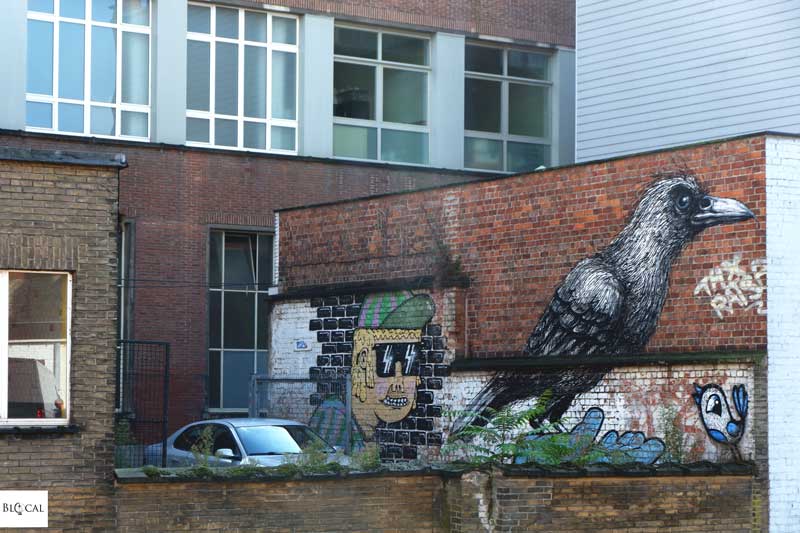 Belgian artist Smok painted three realistic murals featuring elders of Ghent. The artworks were commissioned by the Elderly Care Department of the city, in order to highlight the three centers where old people can go for services and activities.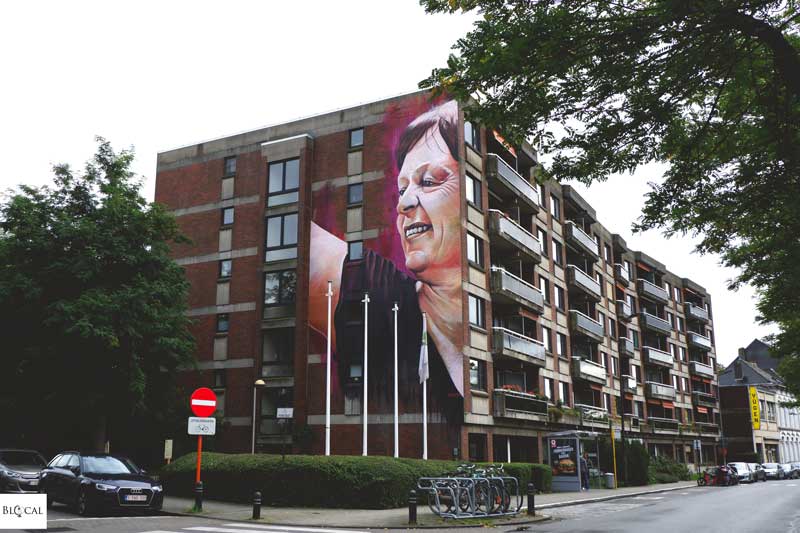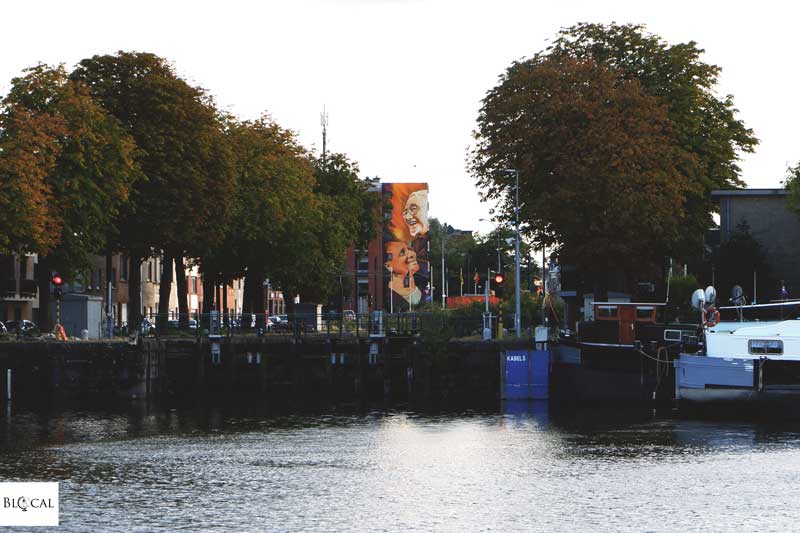 Of course, there is so much more street art to see in Ghent, and this was just a selection (of almost 150 murals, but still… a "selection") of the murals that I liked the most (you can download my Ghent street art map to track down more!).
In Ghent, even more than in other cities, the most important thing is keep your eyes open and always look up. Ghent's street art scene is still very spontaneous, which means that it will surely surprise you if you venture through its hidden alleys and less popular painting spots.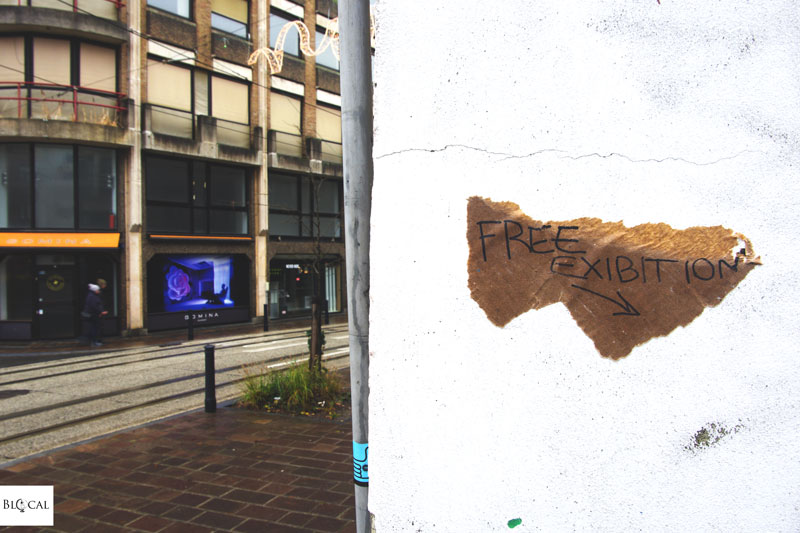 Also don't forget to look down, to street level, where Pol Cosmo is pasting up his little treasures!
I like to think that now that Bué The Warrior left the country (he runs a waffle bar in Mexico! ☺), the proverbial torch – or the spraycan, if you prefer – of keeping Ghent's street art scene authentic has been passed to Pol Cosmo.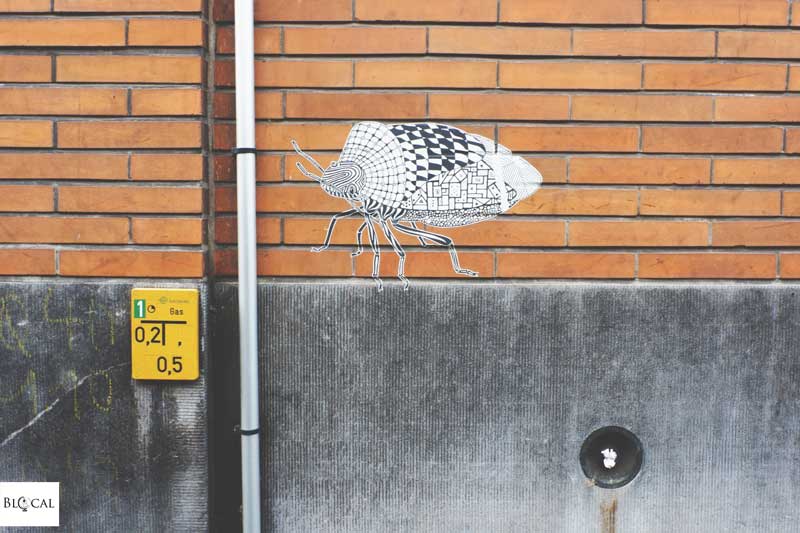 Locals are very enthusiastic about his insects and keep sending their addresses to the artist requesting one of his whitepastes next to their front doors, keeping the Ghent tradition and the link between the artist, the street, and its people strong and true.
Pol Cosmo: Ghent has always been a progressive, rebellious city. In the more distant history, but also today. An example: for years you can see an uprise of more conservative, right-wing parties in Europe and also in Belgium. But Ghent has always been more or less immune for that. Probably because the local politicians still listen to 'the people on the streets'. I know my illegal paste-ups of little insects are forbidden by the law, but it's funny to see that one of the first people who asked me to paste an insect on her house, was our politician responsible for cultural affairs :-) A perfect illustration of our open mind!
Disclaimer: I was a host of Visit Gent and Cultuur Gent. However, and as always, all opinions expressed here are my own (and of the extremely kind Ghent's street artists who replied to my questions: thank you again!).
Download my Ghent Google Map for the exact locations of these murals (and many more!) together with more cool places I liked in Ghent.
For more info about the abandoned factory you can write to my friend Ferdinand Feys.
[This article and the relative Ghent street art map have been updated after Sorry Not Sorry festival 2019]
Check out my Instagram Stories from Ghent!
You can hover over this (or any image) to quickly pin it!