Last week, Amsterdam housed two events evoking how the urge of name writing in public space goes across boundaries, centuries and mediums: The Tag Conference and Unlock Book Fair.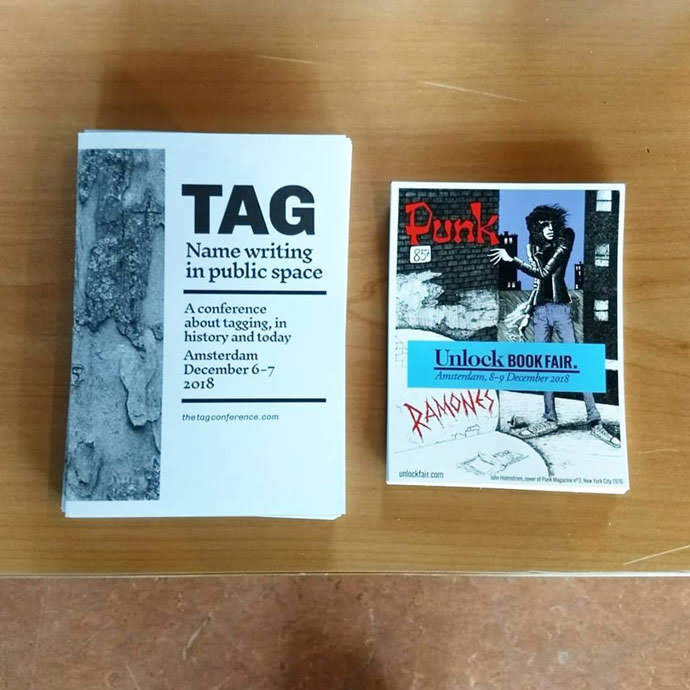 Academics, artists and aficionados from all over the world, who gathered in Amsterdam to discuss tagging, graffiti writing and punk culture. It was a vibrant event filled with fascinating insights, which all together revealed the magnitude of tagging within our culture.
Tagging across boundaries
All the compelling talks at the Tag Conference proved that tagging goes beyond the best known representation of it, which is the popular New York style that spread all around the world from the 1970s. Tagging as name writing in public space is part of human culture, a "necessity" if you will.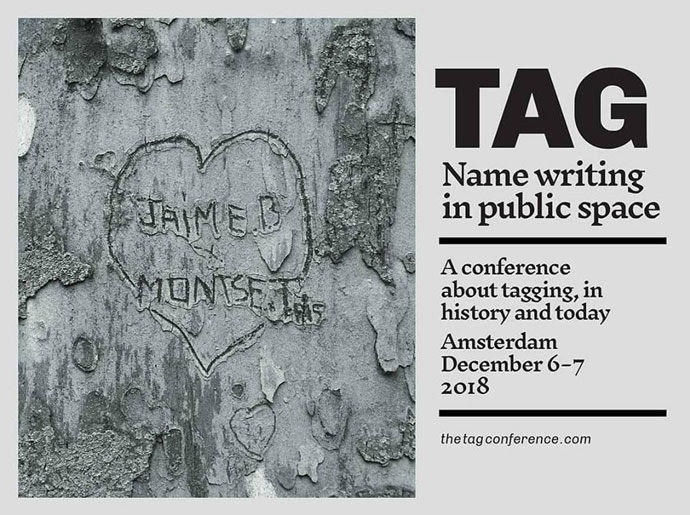 In Amsterdam, the graffiti movement arose from the punk subculture -as Dutch punk eminence Diana Ozon (NL) showed through photos taken in the '60s and '70s.
Diana was joined on stage by another Amsterdam's punk hero, Hugo Kaagman (NL), who shared photos and anecdotes about his career from punk to stencil art.
Amsterdam wasn't the only example of tagging styles other than the dominant New York tradition. The director of the conference Javier Abarca (ES) presented Madrid's indigenous graffiti, the 'graffiti flechero', which dominated the subway billboards of his city in the 1980s.
While comparing tagging to skateboarding (both are ways of taking public space back) Maria Fernanda Lopez Jaramillo (EC) spoke about 'chapeteo', a style of graffiti born in Ecuador. Similarly, the Colectivo ArdePixo (BR) from São Paulo brought on stage the activist art form of 'pixação'.
German artist Ludwing Schult (DE) recounted strategies of singularisation by his fellow artists in Berlin. Aiming at being original, they distance themselves from the dominant style in many creative ways, like tagging hidden spots or creating anonymous abstract graffiti.
Moreover, all over the world tagging has been influenced by the local art of handwriting, which in Poland and in Japan is especially important to define the individual –as explained by Tobias Morawski (DE). The art of calligraphy was mentioned in more than one talk during the Tag Conference, such as in the presentation by Lisa Garcia (ES) of tags in Madrid city centre and the mathematics-led explanation of gestural calligraphy by Jake Carter (AU).
Some talks were more interesting than others, but surely everyone who attended could relate with some of the speakers, whatever their backgrounds and fields of interest: from sociology to anthropology, art history, gender studies or philosophy, name writing has been appraised from multiple points of view.
Tagging across centuries
The universality of tagging as part of the human nature makes it a phenomenon that crosses space and time. Michael Macdonald (UK) brought us examples from archaeological sites in Jordan, Syria and Arabia, where nomads tagged since the 1st century BC.
Similarly, Giovanni Kezich (IT) researched tags by Italian shepherds in the Dolomites Mountains, who have been writing their names on rocks from the 16th century. Moreover, they have been competing amongst each other on who tags the highest, less accessible spots –which is yet another similarity with more contemporary graffiti culture.
Lastly, Charles Nolan van Linden (USA) studied the persistence of tags in Atlanta in a more recent time, examining examples that are up to 13-year old through an impressive research system based on Google Street View.
Tagging across mediums
As part of this continuous spread, tagging has left the wall and entered pop culture. Carlo McCormick (USA) showed that graffiti could be found on many posters and album covers of punk bands. Which –by the way- used to advertise their concerts by spray-painting their logo on walls.
Similarly, Orestis Pangalos (GR) found multiple visual examples of tagging and graffiti in books, movies, album covers and advertising.
The visual presence of tagging and graffiti in pop culture highlighted the fact that this art form is still awaiting a clear copyright legislation that could prevent companies to exploit artists, a topic brought to the table by lawyer Enrico Bonadio (IT).
Finally, the fact that the tag travels across mediums -leaving behind the individual who physically wrote it- supported the thesis of Erik Hannerz (SE): the absence of the physical body in graffiti culture (as opposed to similar subcultures such as skateboarding and punk) amplified stereotypes in graffiti, strengthening the assumption that the writer must be a male between 16 and 30 years old.
Unlock Fair in Amsterdam: independent publications on graffiti and street art
The most represented medium was –obviously- the book. Dozens of independent publishers gathered in Amsterdam to showcase their precious treasures at Unlock Book Fair.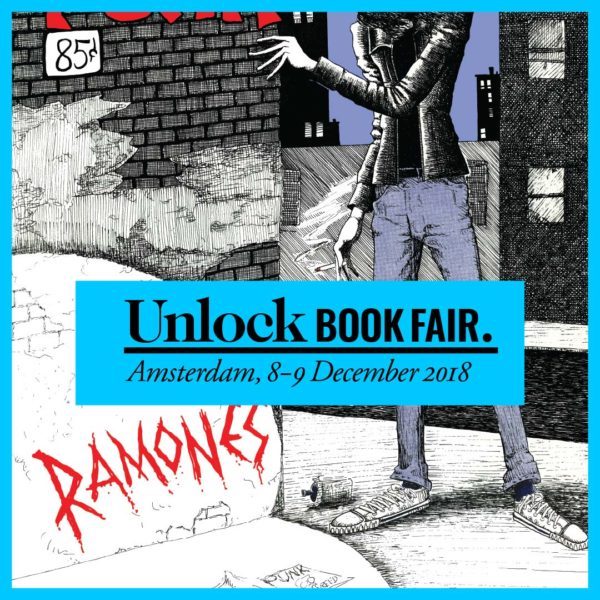 Through hundreds of different publications, they actually showed that both graffiti and street art could be approached and debated from many different and fascinating points of view. There were colouring books for kids featuring blank, outlined trains to scribble, rare fanzines, photo albums, swanky magazines, in-depth academic publications, vintage stickers and playful sticker books.
Several long-awaited appointments took place during the book fair weekend:
The book signing by Amsterdam graffiti legend Delta (NL), who launched his book "OH" featuring sketches from 2013 until now. These quick sketches were used during his latest big project of painting freight trains with the letters "OH", which is the code written on coal mine trains;
Again (NL), one of Amsterdam's finest bombers, presented the book he is working at right now, which will feature the history of Amsterdam's graffiti from 1978 to 1985. The book will be out in March 2019 and it will be titled "Amsterdam on Tour!";
After being off press for 6 years, the legendary Bomber Magazine released a special 30-year issue. Totally devoted to trains, this magnum opus issue features an out-of-the-ordinary interview with the very elusive graffiti writer and yet another Amsterdam hero Rhyme (NL) from GVB Crew.
Bomber Magazine launch party was held on Friday 8th December at the Vondelbunker, a significant location in the history of graffiti and punk in Amsterdam. It was a memorable evening, whose grandeur spread as far as the Vondelbrug, which was covered by celebrated writers such as Again, Rhyme, El Soré, DEFS crew and Abuse – as in the best of Vondelburg's traditions. It was a great night, although already on the next day the city whitewashed all the fun.
This overwhelming meeting of cultures ultimately showed that tagging not only crosses boundaries, centuries and mediums, but also brings us back to the very beginning: at the core (or, if you prefer, at the margins) of today's more institutionalized forms of public art.