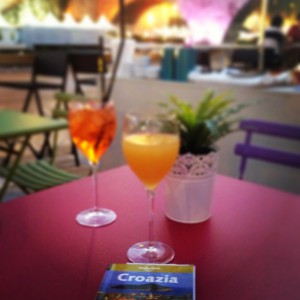 At last, I'm planning my summer holidays! :-)
This summer my priority is relaxing, 'cause I had the hell of a year and I will be working 'till the end of the month, so I want to begin my holidays with a week of Sun-and-Sea in an isolated village in the north-east of Sicily.
I need to recharge my battery before the next step: one-week road-trip through Slovenia and Croatia.
The Sicily part doesn't need to be planned at all. I will be at my friend Marta's and my only activity will be going to the beach to read, knit, write and swim.
Then, I will be ready for the road trip through the Balkans. We will stay 3 nights in Ljubljana at my friend Elena's and, from there, we will explore western Slovenia: one day on the Alps admiring the amazing colours of the river Soca and the breathtaking landscapes of the Slovenian lakes and one day in the Carso area with its magic caves and its amazing landscapes.
Heading south, we will cross the border and enter Croatia. Although I've spent almost two years in Slovenia, I've been to Croatia only twice. Once I've been on a girls trip to the capital town Zagreb and the second time I've been visiting my Croatian friend Dino, who is from Pula. This time, I'm planning to explore the country, starting from the Plitvice National Park and then heading to Zadar to spend our first Croatian night there. Day two, we will be driving from Zadar to Split, and then… who knows!
So here I am, planning and enjoying the first part of the trip, that time when you read about all the beauties you still have to see, and you plan to visit friends and places you don't see since a very long time… the moment where everything is possible, and you book only the essentials to keep the holiday spontaneous and able to adapt to the on-the-road state of mind.