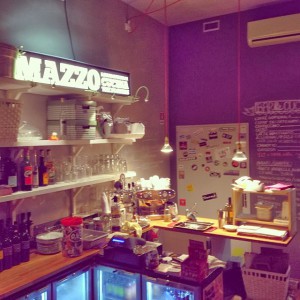 Mazzo Centocelle, Rome | Food
On the very first occasion I had a foodie friend to impress, which happened last week when my Macedonian friend Elena came to visit me in Rome (do you remember her exquisite selection of the best places to eat out in Ljubljana?), I booked a table at Mazzo, a new restaurant in the Centocelle neighborhood. 
Better to say, I booked the table, as Mazzo happens to be an extremely intimate place (one table inside and, as long as the weather allows, one table outside), according to the way of saying "good things come in small packages". It was Elena's last dinner in Rome and, so far, I played a good game (bringing her at Pasticifio San Lorenzo and, believe it or not, also cooking a home-made dinner), but of course the outcome is always determined by the last card… which, in this case, was an out door table in Centocelle! But I wasn't worried, 'cause Mazzo is managed by "The Fooders", a project born as "a live cooking performance, in order to condense cooking, music and graphic in the same performative act" and then transformed into "a real working team that deals with food design, food production and events". No need to say that when such an amazing and dynamic group of people opens its own restaurant you can't expect anything ordinary coming on your table!