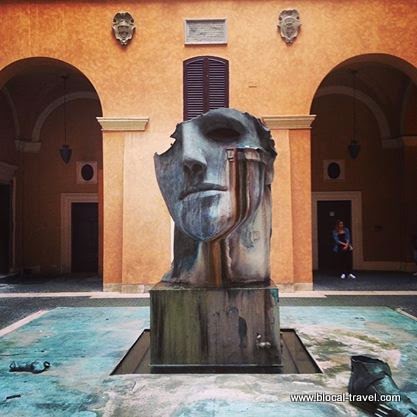 Peeking into courtyards is a great way to explore a town literally going beyond the surface of a destination. Rome's hidden inner courtyards were meant to recreate the atmosphere of the village's main square. They are places where you can hang out the laundry, let the kids play all day long, and where neighbourhood relationships are built.
You can find these hidden gems of beauty both within the medieval buildings of the city centre and in the suburbs of Rome, especially in those suburban neighbourhoods planned as 'garden cities'.
Here are 5 of my favourite hidden courtyards in Rome:
Hidden courtyards in Rome > ARCO DEGLI ACETARI | CAMPO DE' FIORI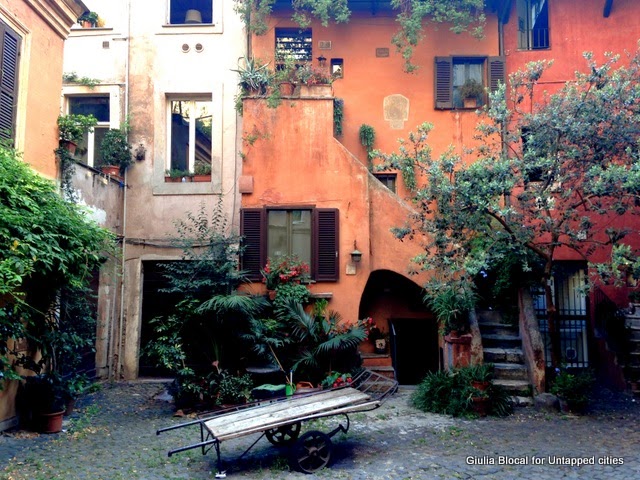 This is probably one of the most popular hidden courtyards in Rome, portrayed in many postcards and featured in several movies. You can enter it from a striking passage from via del Pellegrino just a few blocks away from the popular piazza Campo de' Fiori. Here time seems to have stopped; you will find a characteristic hand-cart parked in the middle of the courtyard and some sleepy cats resting on the outer stairs of the beautiful medieval buildings.
Hidden courtyards in Rome > GARBATELLA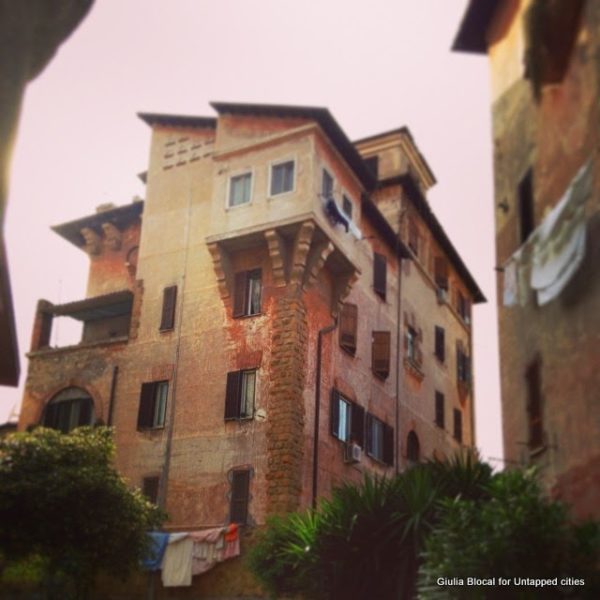 Thanks to a visionary public housing project inspired by the English concept of "garden cities", Garbatella neighbourhood is full of beautiful courtyards where locals love to gather. Rose gardens, orange blossoms, fountains and paved paths: each courtyard has its own peculiarity and you can cross the whole neighbourhood stepping from one courtyard to another.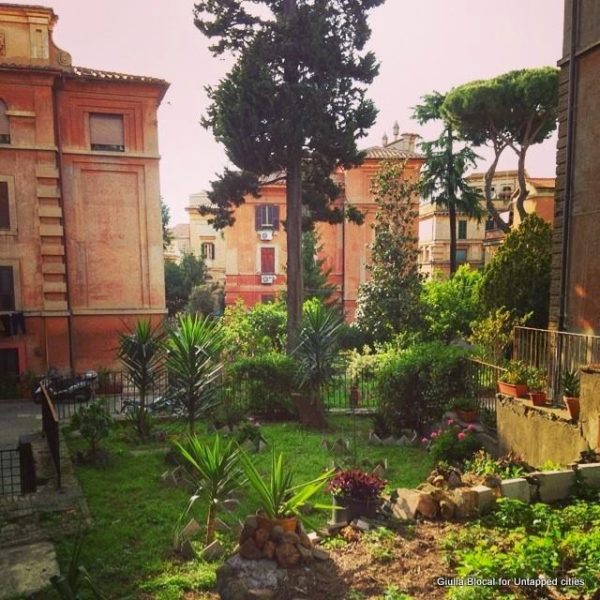 Hidden courtyards in Rome > TESTACCIO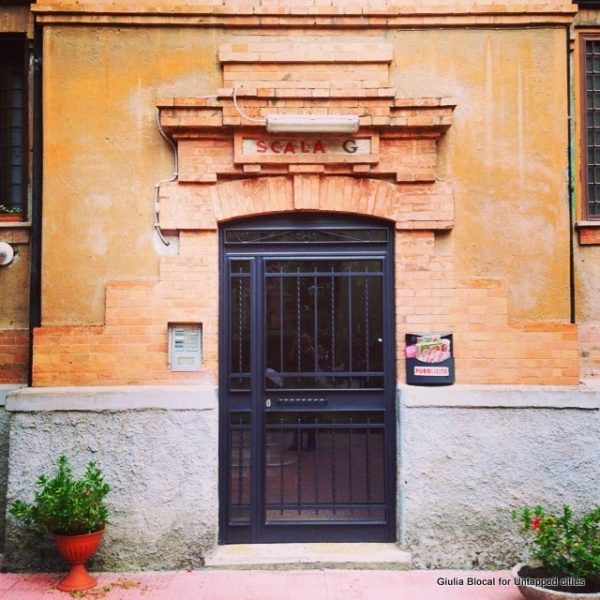 The charm of Testaccio is strictly connected to its sunny courtyards where you can forget about the chaos of one of the most dynamic neighbourhoods in Rome and simply sit in a corner to people-watch and enjoy the bustling life of this hood.
Hidden courtyards in Rome > TRULLO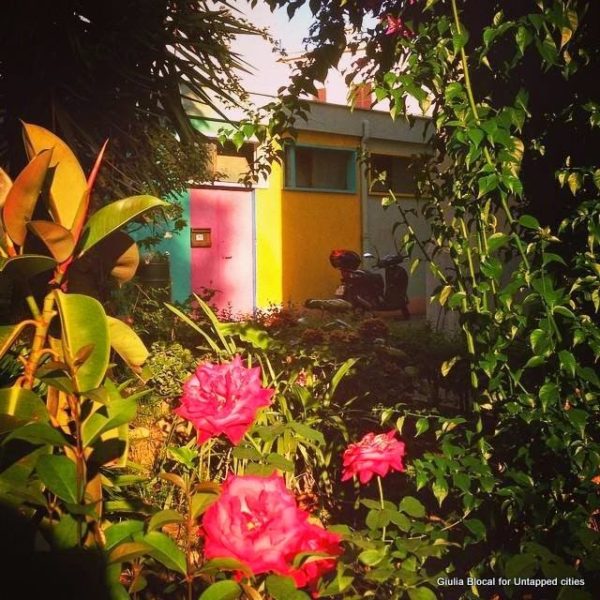 Trullo is one of the poorest neighbourhoods in Rome, whose name is also sadly linked to the criminal organisation '
Banda della Magliana
' born in this area during the 1970s. But this violent aura originating from a criminal past has been color-washed for good thanks to a recent makeover undertaken by the
Anonymous Painters from Trullo
, an independent group of local artists who are repainting the hood with a colourful style, making this garden city even prettier.
Hidden courtyards in Rome > VIA DEGLI ORTI D'ALIBERT | TRASTEVERE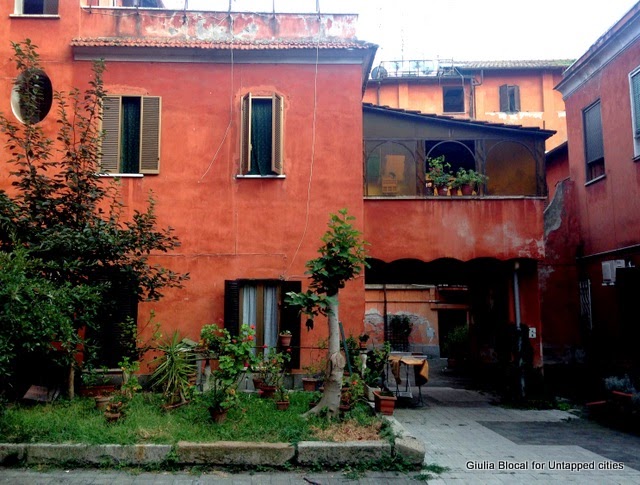 If you think that Trastevere neighborhood lost its charm becoming an area overcrowded with tourists, think again: almost halfway down via degli Orti d'Alibert you will discover one of Rome's best-kept secret: entering a small arch you find a maze of hidden courtyards and characteristic alleys adorned with lovely potted plants and clothes characteristically hung out. Still part of a public housing complex, these beautiful buildings with traditional red-ochre facades remind us about the working-class origin of this neighbourhood, which now is sadly known as the drunken tourists' top destination in Rome. But, as always, all you need is peeking beyond the facade.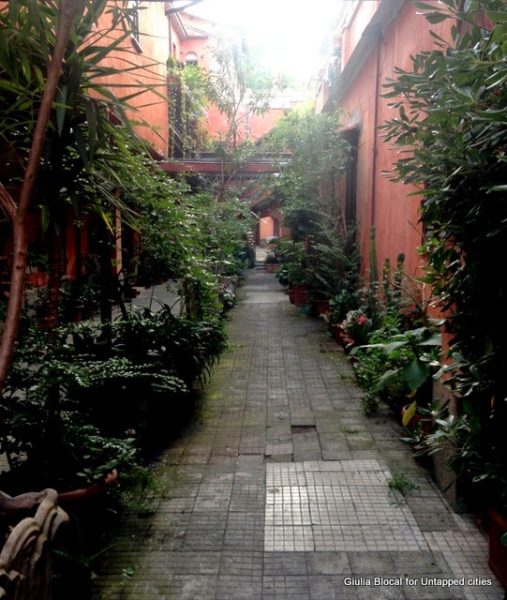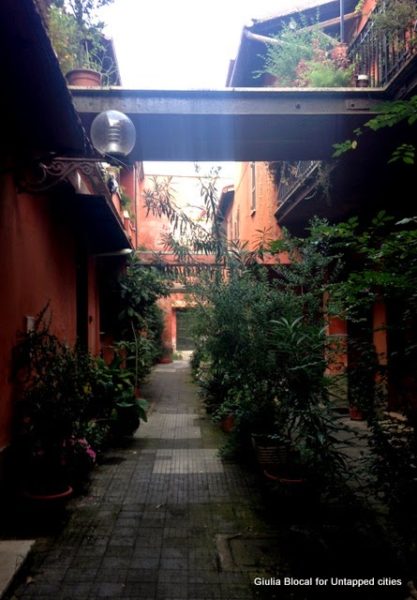 Would you like to explore Rome off the beaten path with me?

Then book one of my alternative walking tours in Rome!
Find these secret spots (and many more!) in my Rome Google Map!
You can hover over these (or any image) to quickly pin it!